5 Easy Tips For A Quick Back To School Breakfast
I always love to do something a little extra special during back to school for my kids, and this year we did an outdoor surprise breakfast! Today I will be sharing my 5 easy tips for a quick back to school breakfast that will knock their socks off! Or should I say flip flops since summer is sadly just about over?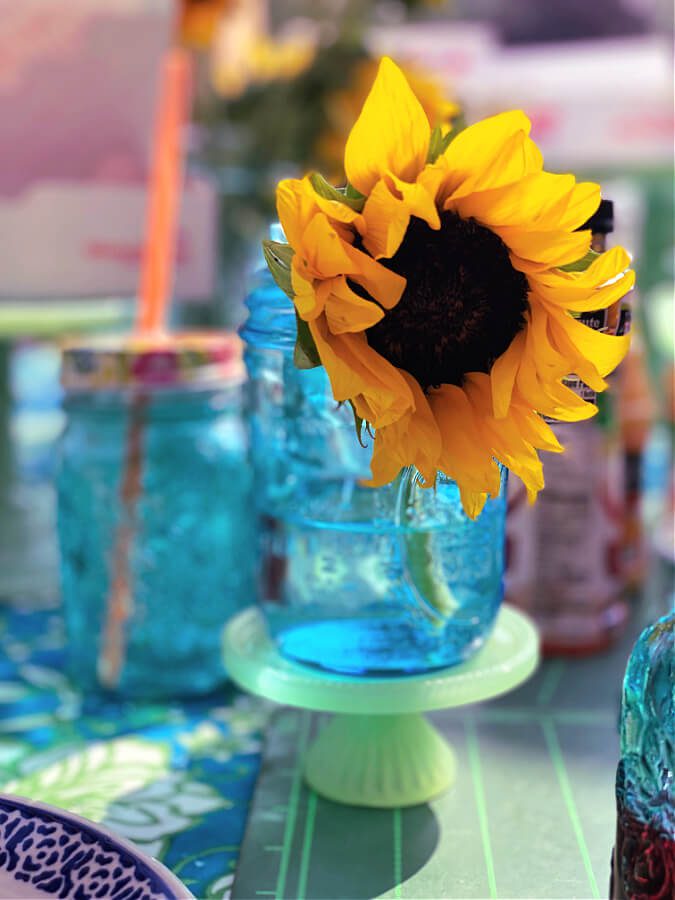 5 Tips for A Quick Back To School Breakfast
As a teacher and a mom back to school time can creep up quickly and sometimes can feel rushed and hectic. Since I am a teacher and go back to school earlier than my kids our time is even shorter. Kids pick up on that stress and then it becomes a not so fun time. I don't know about you but I want them to LOVE back to school!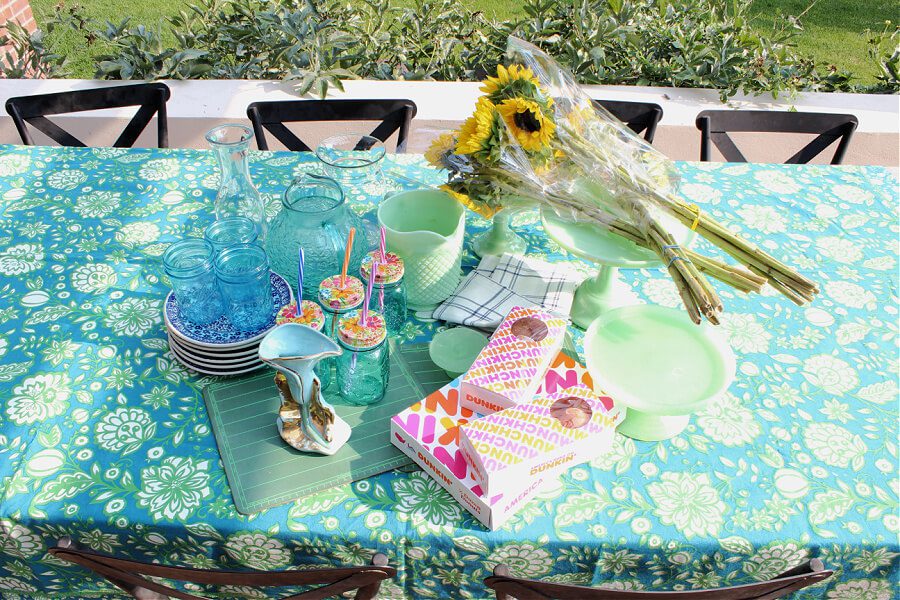 Even though it may be crazy for me as a teacher and working mom that doesn't mean I don't want to make it special for my kids. It's truly the though that counts and they just want to feel like they are important so I am constantly looking for ways to do that…enter the surprise back to school breakfast!
1. Build The Excitement
This year with just the girls home (we have one heading to college next week and one in college) I decided to invite my nieces to breakfast. I built it up a few days before saying how fun it would be to have a back to school breakfast in our new backyard. The girls kept asking what we would be having and all I would say was…it's a surprise!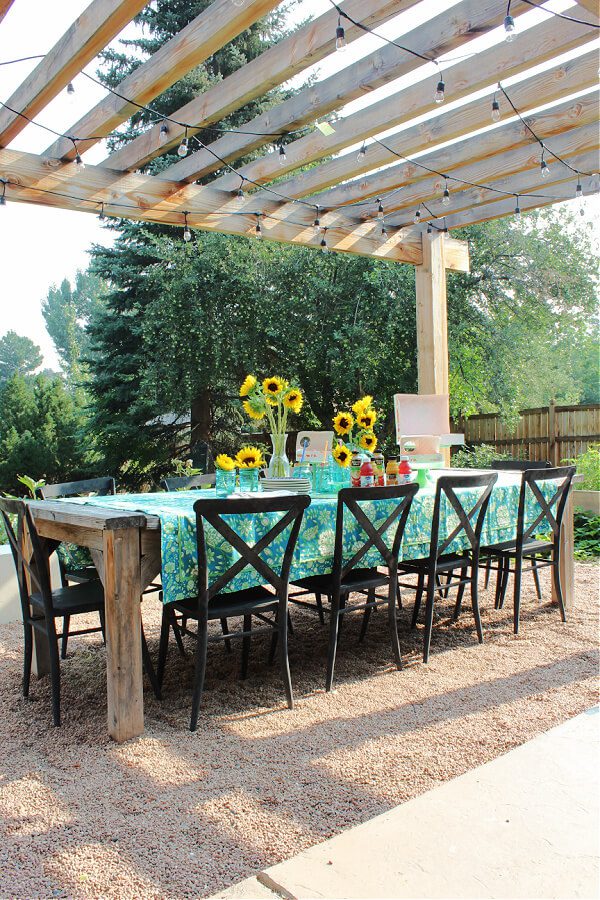 This drove them crazy but got them excited.
Whenever they would ask I would give little clues too. This made it more fun and built the excitement for sure!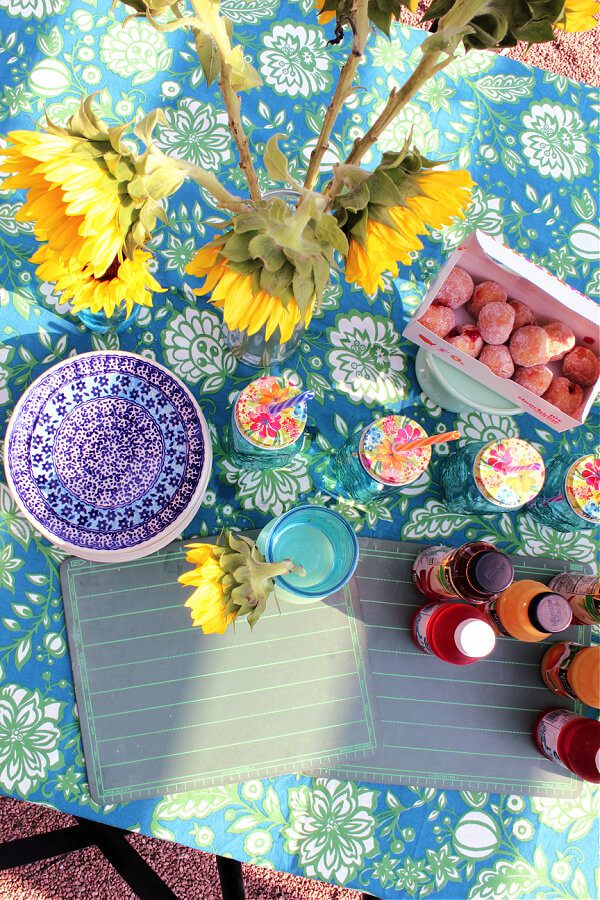 2. Quick and Easy
This shouldn't be an activity that stresses you out. There is already enough going on during this time of year especially if you are like me and just moved! Ha!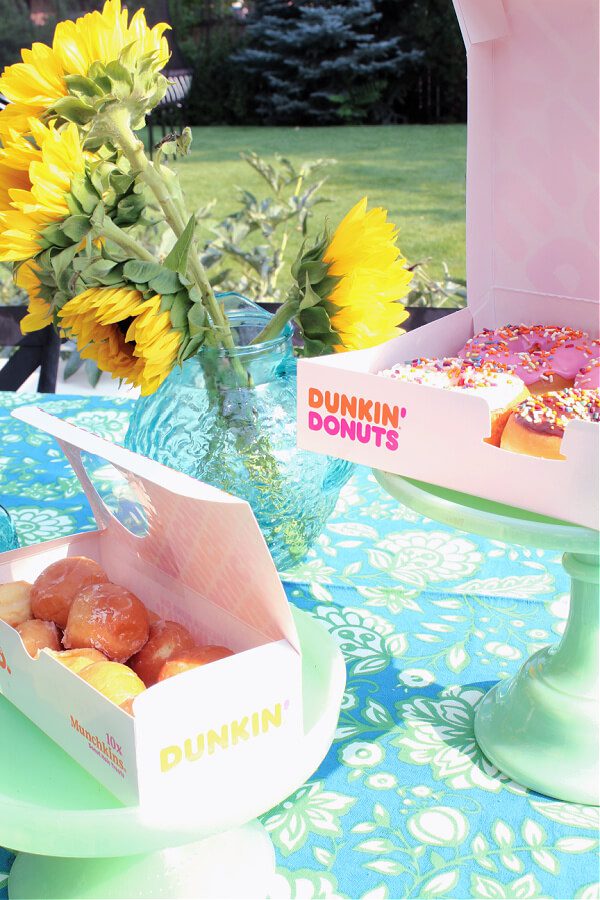 So keep it simple.
I did this by just choosing one special treat to enjoy for breakfast…donuts! My kids LOVE Dunkin Donuts and I didn't have to do anything but pick them up. Win Win, right?! Of course I went for the sprinkles and donut holes. Yum! I even tossed in a few fun juices with these darling Pioneer Woman cups from Walmart!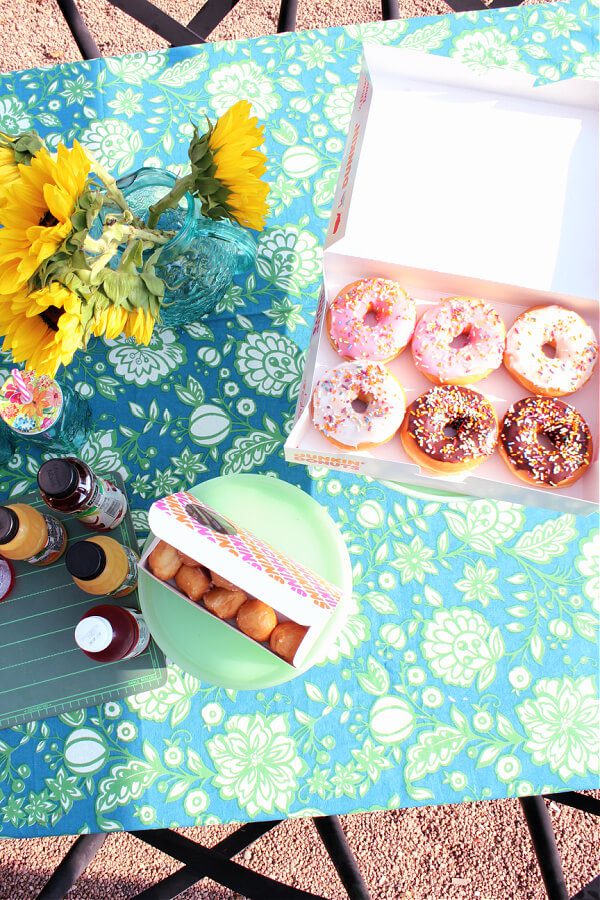 3. Choose Your Colors
Lately my motto has been… give me ALL the color! Well being a back to school breakfast and being that it's warm outside color is very appropriate! I thought about going with greens (apples) and reds for back to school but then while I was unpacking I noticed that I had a lot of blues and greens. Shocker, right? I found this gorgeous tablecloth and went from there.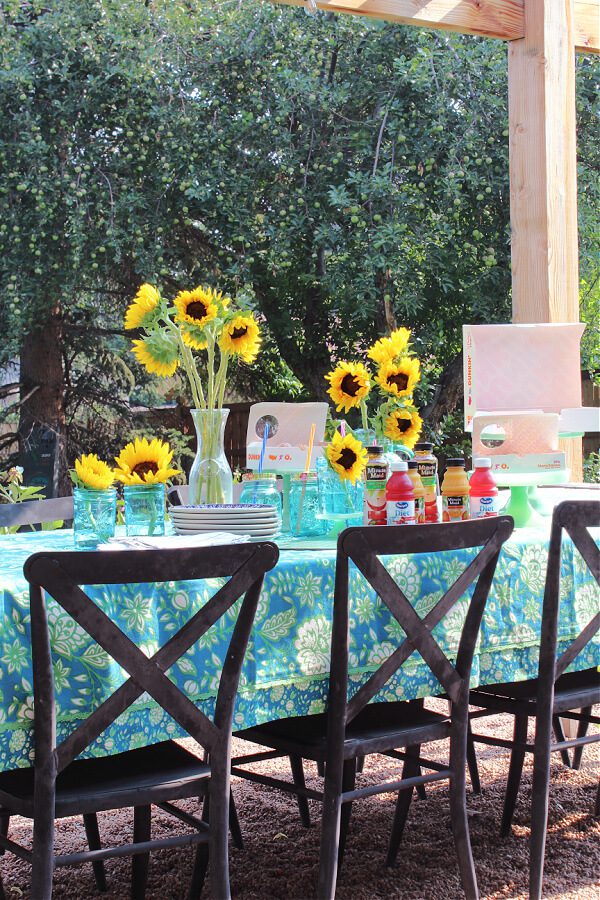 So I went around my house and collected all the teals, blues, greens and colorful items that fit my theme and piled them all on the table. It took me 5 minutes! And waalah..instant cohesive feel that was so easy and quick! Plus it had the feel of being special because it wasn't just our everyday plates and cups. Always remember to think special!
4. Choose Your Centerpiece and Keep It Simple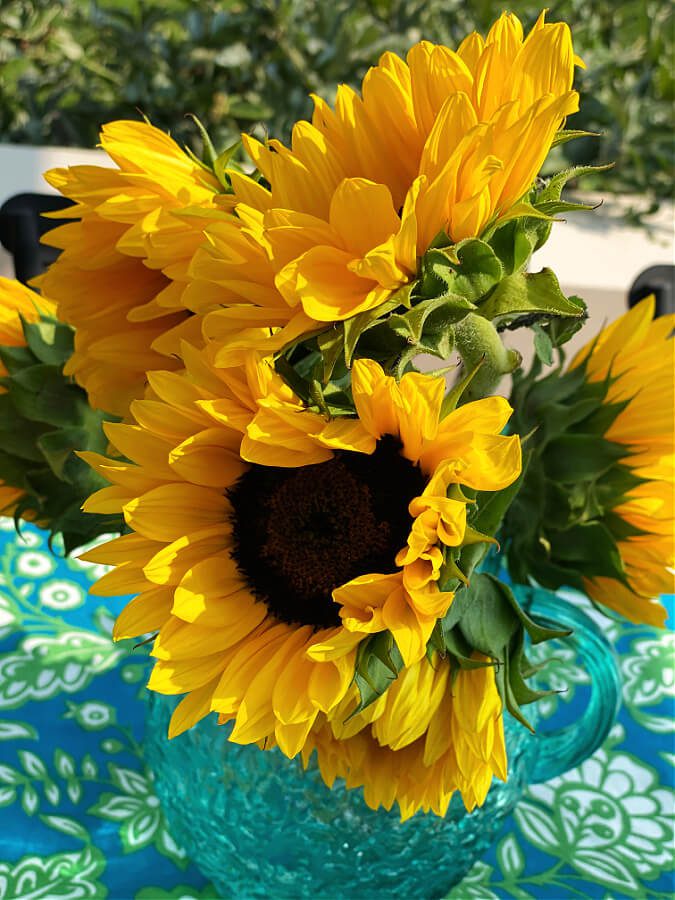 This is the fun part. My centerpieces always revolve around flowers! I just love them. Once again, don't go too crazy with tons of different flowers even as tempting as it may be. Keep to one color scheme. I decided to go with sunflowers because they were cheap ($4 a bunch). I stuck to bright yellow for the flowers because they pop against most colors and they are basically symbolic for summer early fall, right?! Sometimes it's fun to grab flowers from your garden too…this is simple and saves money!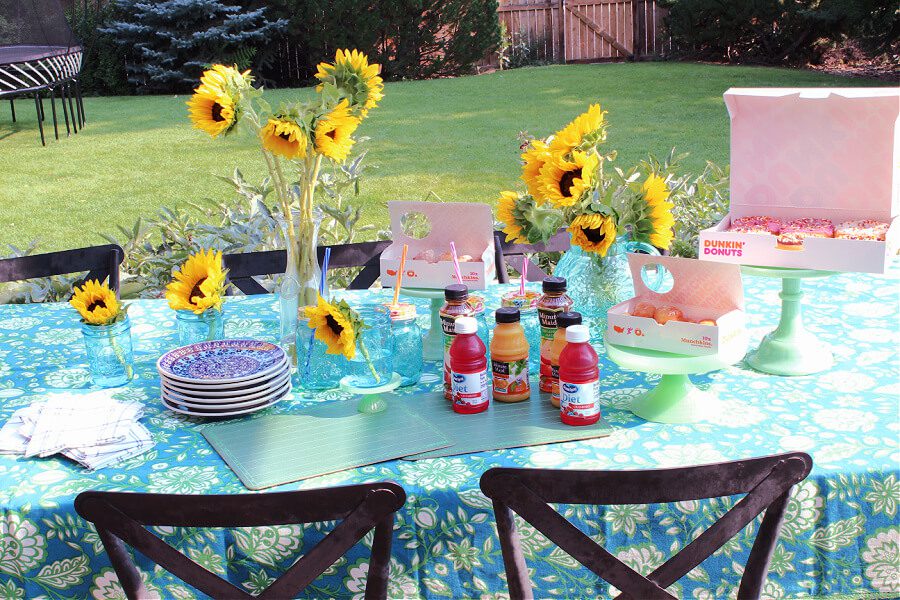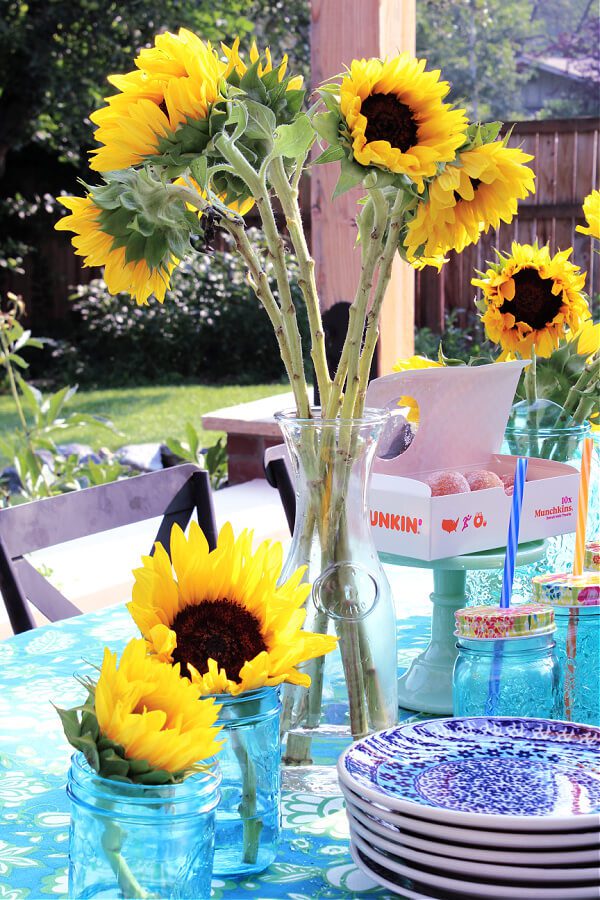 5. Be Intentional
This can be such a special time for you and your kids and maybe even a yearly tradition. Why not make it intentional? Here are some ideas for questions or activities that you can do during the breakfast:
Ask, what are you most excited about this year?
Ask, what are you most nervous about?
Have a verse for the school year and share it with them.
Say a prayer for a wonderful school year, for the teachers, for friends.
Invite friends (we invited cousins)! Make it a party! (my sister always has a back to school tea party!)
Talk about what they need to feel prepared so they can feel at ease for the new school year.
Take pictures to document this special breakfast each year.
5 Easy Tips For A Quick Back To School Breakfast
So friends what do you think? Is this a fun tradition that you think you might want to give a go? Its easy, quick and oh so meaningful! And, if you already do something similar are there any tips or pointers you have for me? Please share with me in the comments below!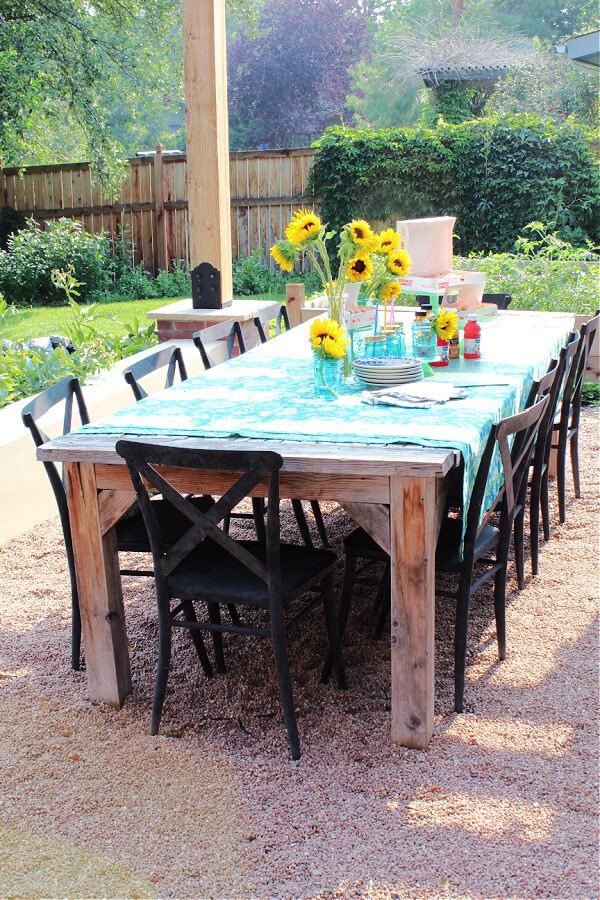 Thanks for stopping by and if you have kids heading back to school good luck and hang in there! BONUS: you may want to visit these back to school posts linked below from my blogging friends:
xoxo,
Kelly
Did you like this post? PIN it for later!