Simple cozy fall bedroom ideas that you can add in to your own space. Tour our master bedroom and see how to easily make your space cozy too.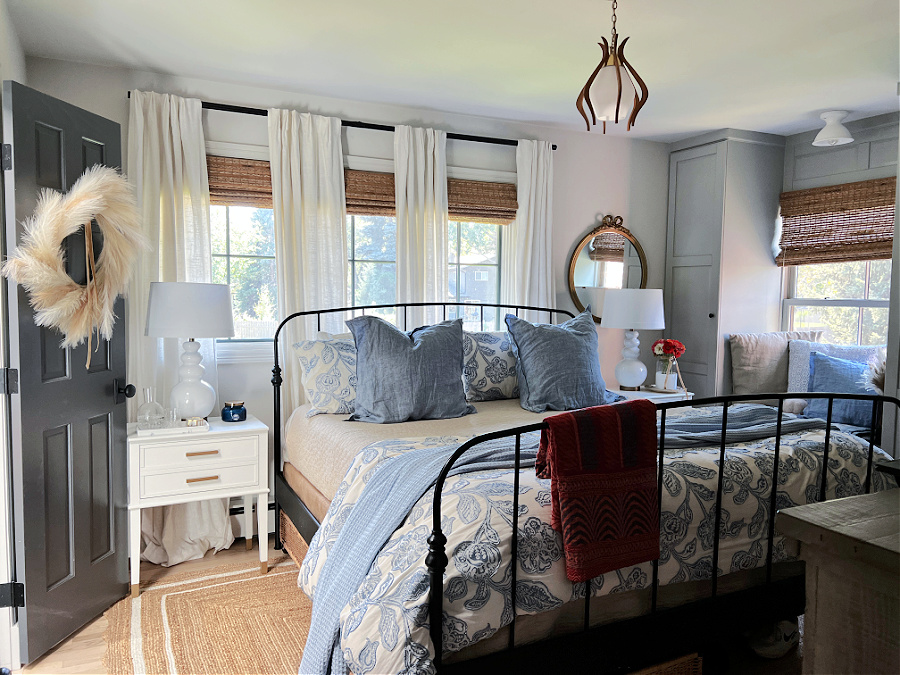 *As an Amazon Associate, I earn from qualifying purchases. This post contains other affiliate links too for your convenience. Click here to read my full disclosure policy.
Come on in, I'm so excited to have you here! If you are new here, welcome! I'm Kelly and I live in beautiful Colorado with my husband, kids and two dogs. I'm just a hot mess mom who needs Jesus, loves to decorate (especially with blues & greens) for all the seasons and enjoys an occasional gin and tonic.
A big thank you to Marty at A Stroll Thru Life for hosting and organizing this week long fall tour. Make sure you check out her fall home HERE.
A warm welcome if you are coming over from my dear, talented and personal friend, Brendt from She Gave It a Go. Her Fall decor always inspires me!
You can see part 1 of my fall tour HERE where I shared our entry, family room and dining room.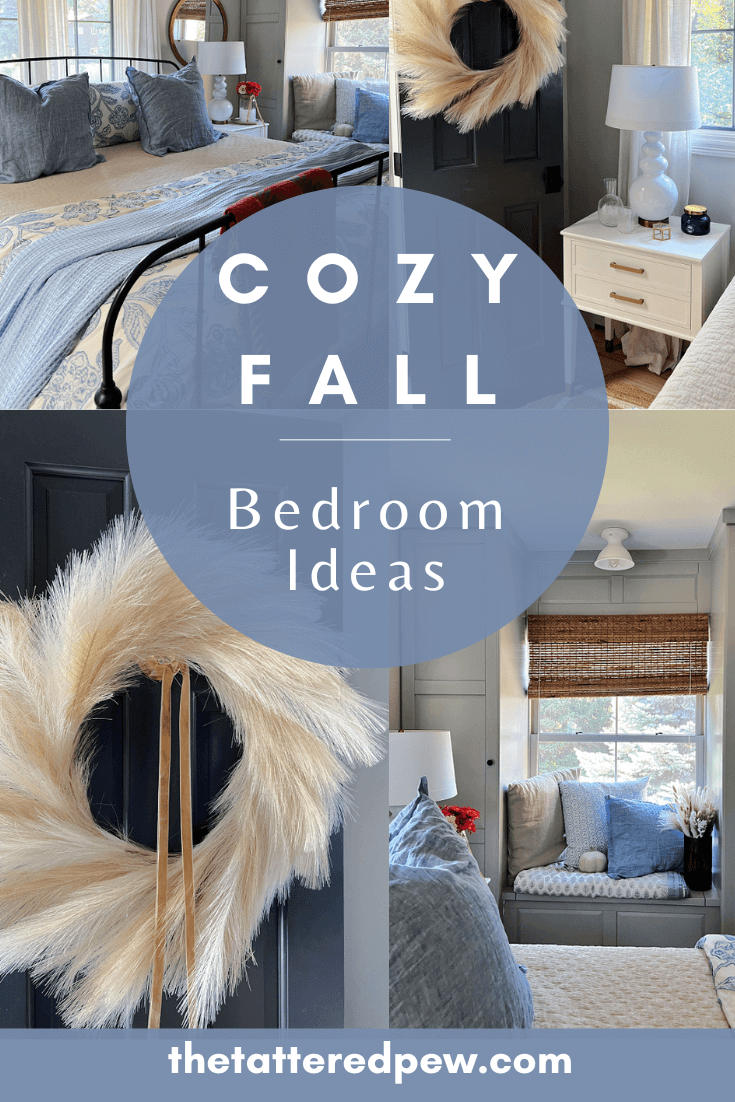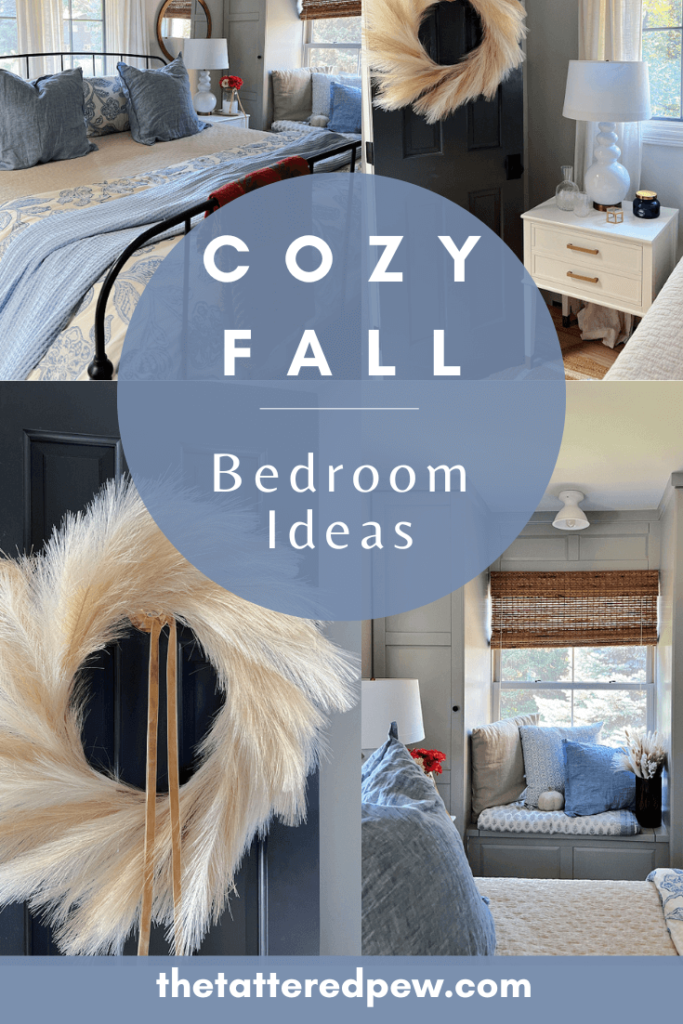 Cozy Fall Bedroom Ideas
As the leaves outside transform into vibrant hues of red and gold, it's the perfect time to invite the cozy feel of fall into our master bedroom. Join me on a cozy fall bedroom tour, where I'll show you how I've added warmth and autumn charm to our space while sticking to the timeless appeal of our beloved blue and white color scheme and my favorite floral duvet.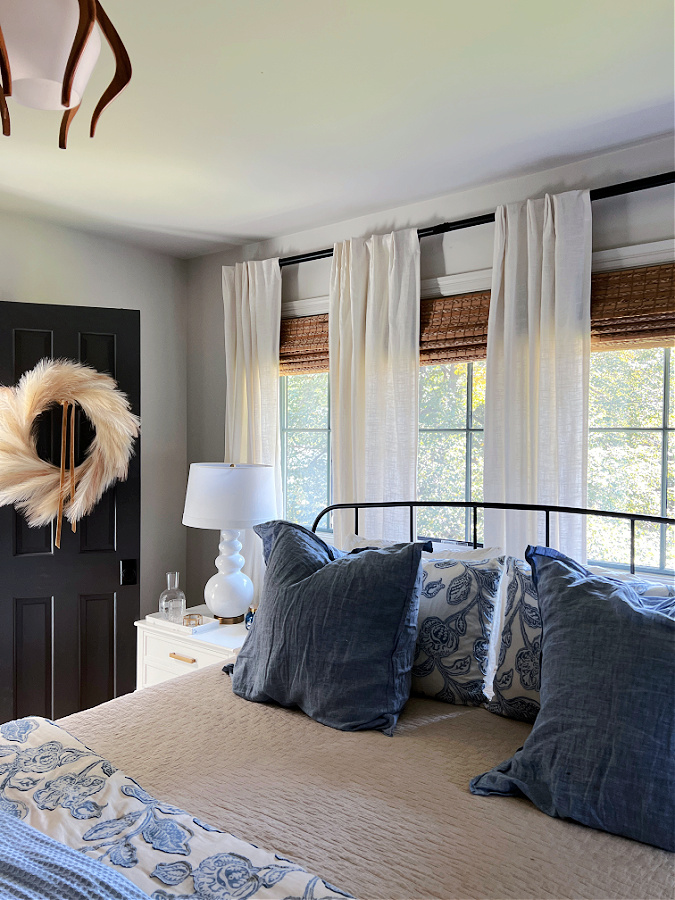 As you read below you will find a few of my favorite tips and tricks for bringing cozy fall vibes into your bedroom! Our room has recently undergone a bit of a transformation and I can't wait to show you all the new details. You can see the before here if you are curious!
1. Embracing Warm Colors
With a smaller master bedroom, I wanted to create a snug and inviting atmosphere for the season. One of the easiest ways to do this is by infusing warm, earthy colors. These colors are not my norm when it comes to decorating, so I added them sparsley.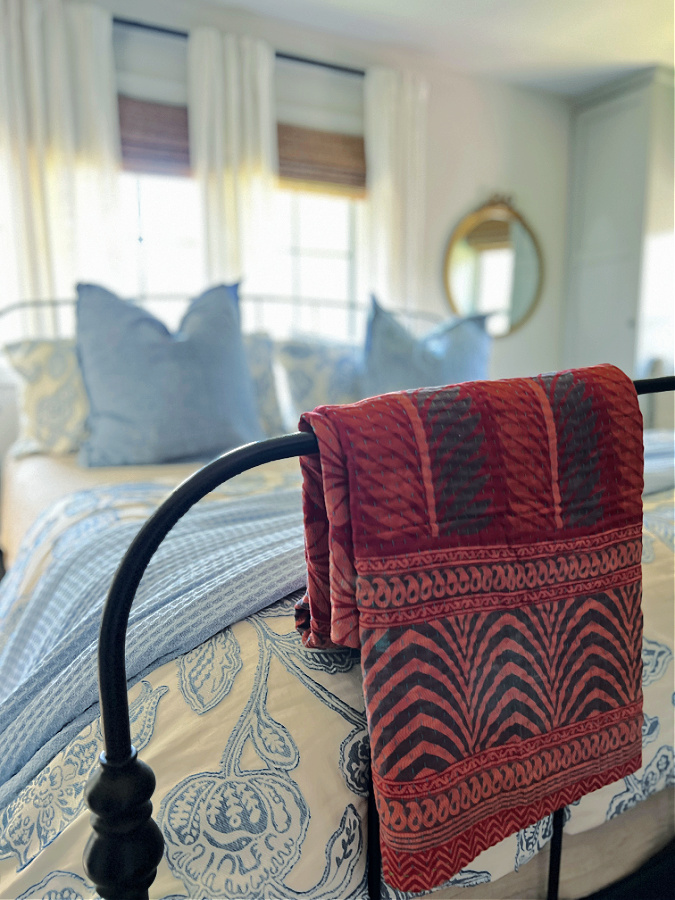 At the end of our bed, you'll notice a rust-colored kantha throw with touches of blue, adding a subtle yet delightful touch of autumn. The deep, rich tones instantly make the room feel cozier and more inviting. I purchased this through at our church through the U Count campaign which is an organization that fights human trafficking. You can shop the marketplace HERE!
Remember, sometimes it's the little touches that make a big impact!
2. Layered Bedding for Extra Comfort
Our blue and white floral duvet has been a favorite of ours for over a year now, and I didn't want to part with it for the fall season. Instead, I decided to enhance its fall charm by layering it with a light blue king size waffle weave blanket at the foot of the bed. This not only provides extra warmth but also introduces a subtle contrast and texture to our bedding.
In the cooler months I do add a thicker insert though (or double up down inserts) as we tend to pull up the duvet at night because here in Colorado it can definitely get chilly!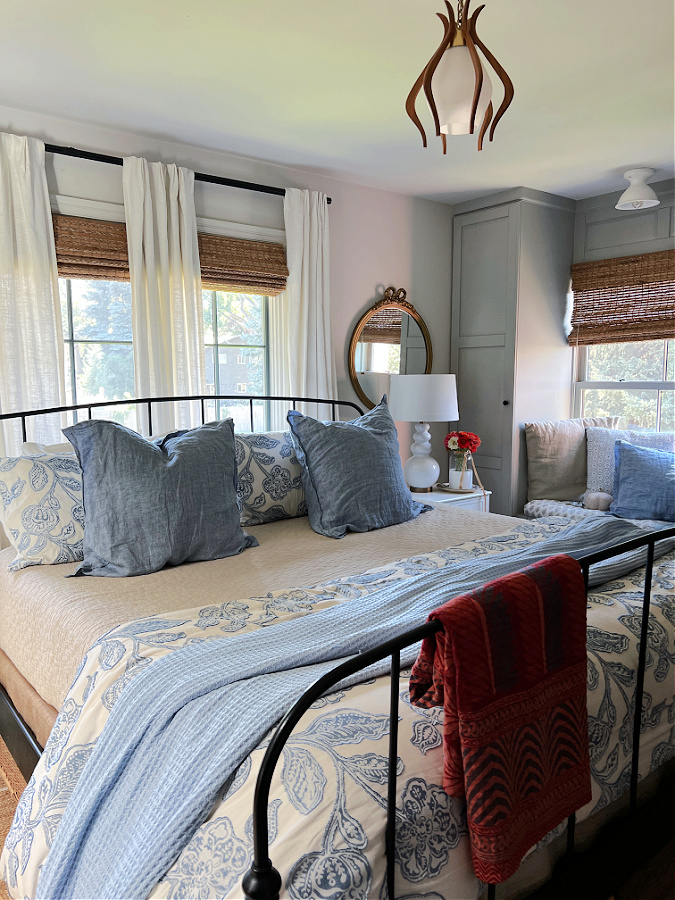 The base layer on top of our sheets is a neutral tan quilt that is perfect for hiding the dirt from our dogs who sleep with us at night. The blue chambray linen euro shams are from Lands End and are so incredibly soft. I love how they pull the blue out of the matching shams to our duvet.
Speaking of our duvet, it has been sold out now for a bit in King size but no worries, I rounded up 14 blue and white floral duvet covers that are just as beautiful. See that post HERE! But if you love mine I did see that it is back available in twin and queen as of yesterday. See it HERE.
3. Soft, Ambient Lighting
Candles have a magical way of creating a warm and welcoming atmosphere, which is exactly what I aimed for in my list of cozy fall bedroom decorating ideas. You'll find candles adorning our nightstands, casting a soft and cozy glow. The flickering candlelight sets the perfect mood for relaxation during the autumn evenings.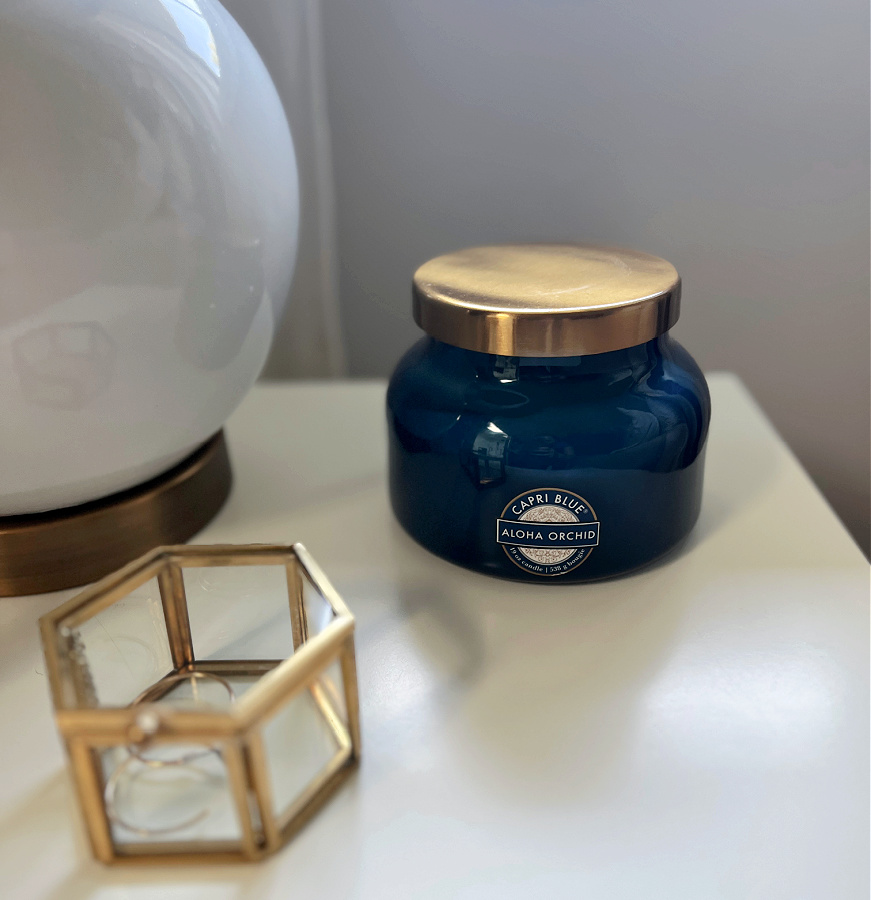 Candles play a crucial role in making our bedroom feel snug and inviting. I've strategically placed them on our nightstands so the soft flickering light adds a warm and tranquil ambiance.
PRO TIP: Keep a candle lighter next to your bed for easy lighting!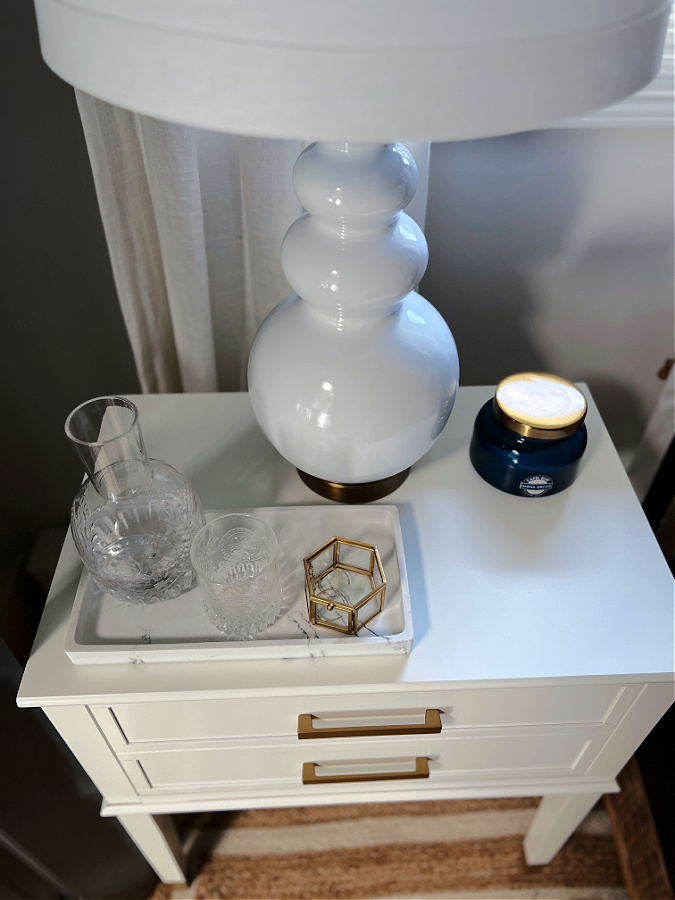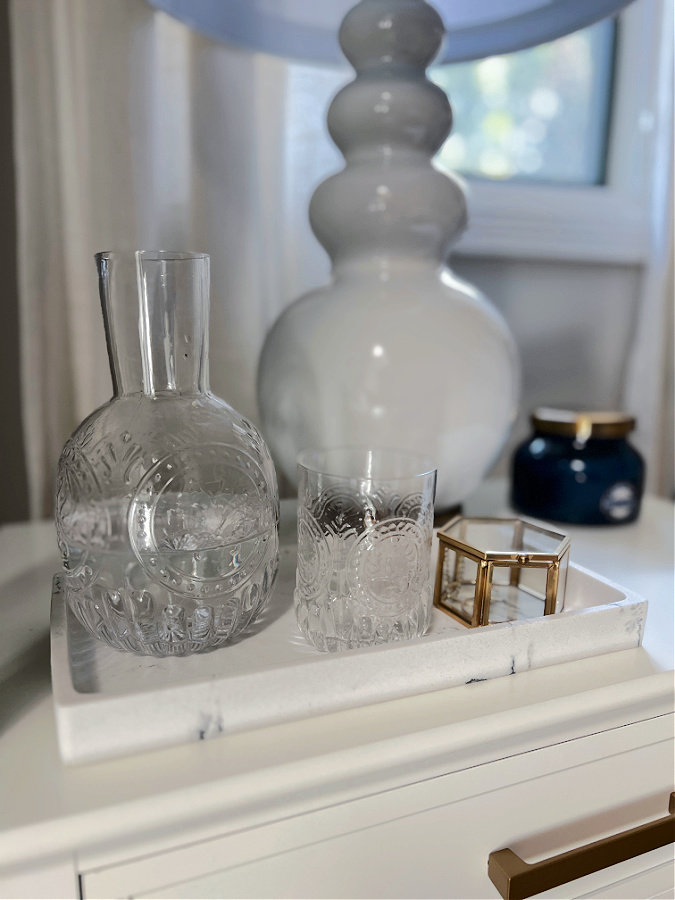 4. Bringing Nature Indoors Cozy fall Bedroom Decorating Ideas
Our fall bedroom wouldn't be complete without a touch of nature. A lovely faux pampas wreath adorns the door that leads to our bathroom, and a vase of fall-colored zinnias graces our bedside table. These natural elements add a fresh and vibrant feel to the room, connecting us with the beauty of the changing season.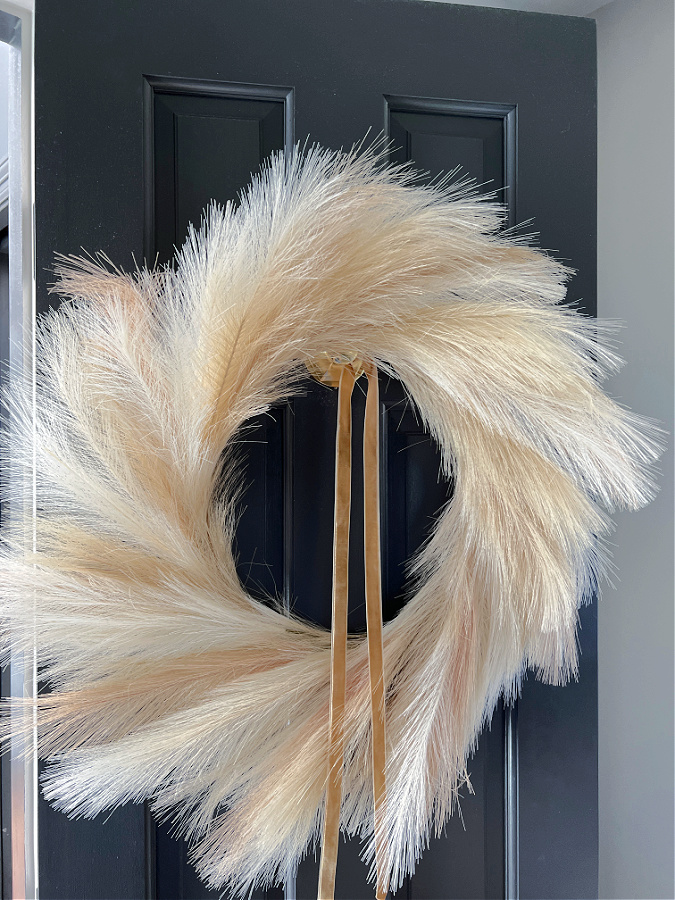 I added skinny gold velvet ribbon to both the wreath and the vase for some extra cozy touches for fall. Under the vase of zinnias I layered a brown vintage plate and a blue flea market plate, both thrifty finds!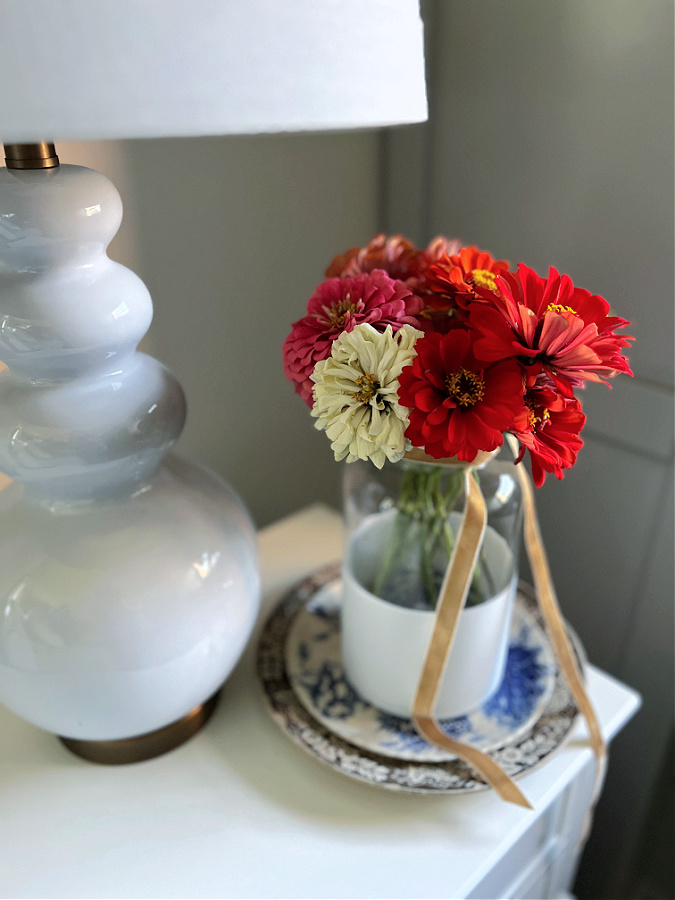 PRO TIP: Do you love free fall floral gift tags? I just made 18 beautiful tags just for you! Sign up below and get them sent to your email today as my way of saying thank you for subscribing to my blog newsletter!
5. Creating a Cozy Window Seating Nook with Storage
Our bedroom may be on the smaller side, but we've made the most of every inch. One of my favorite corners is the window seating nook, complete with built-in storage.
It's the perfect spot to curl up with a book on a crisp autumn afternoon. The soft block print quilt and group of pillows make it even cozier.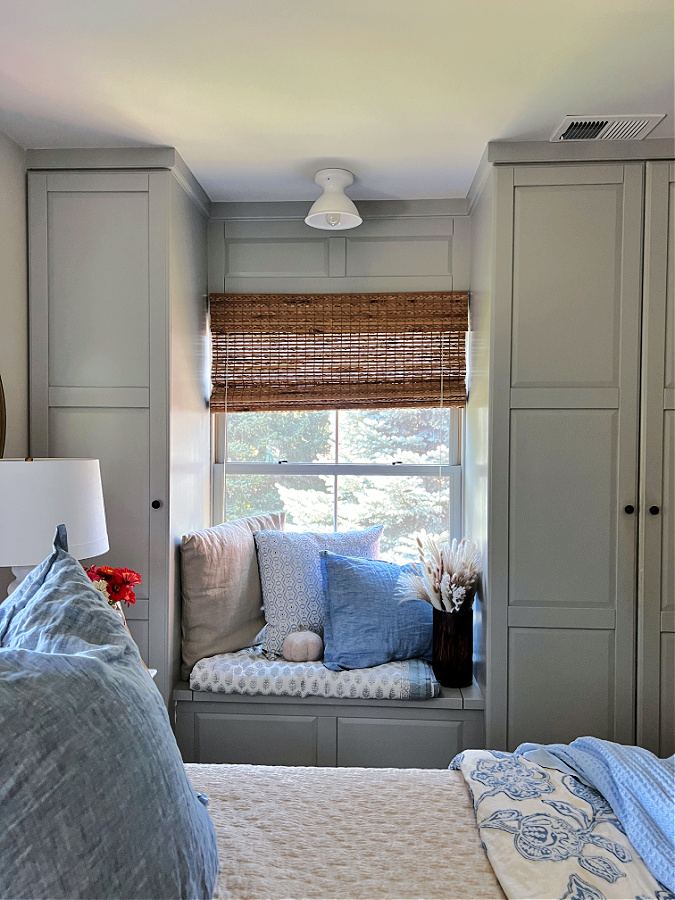 Of course I had to nestle in a soft little felt pumpkin and a tortoise shell vase full of the best assortment of fall grass fillers!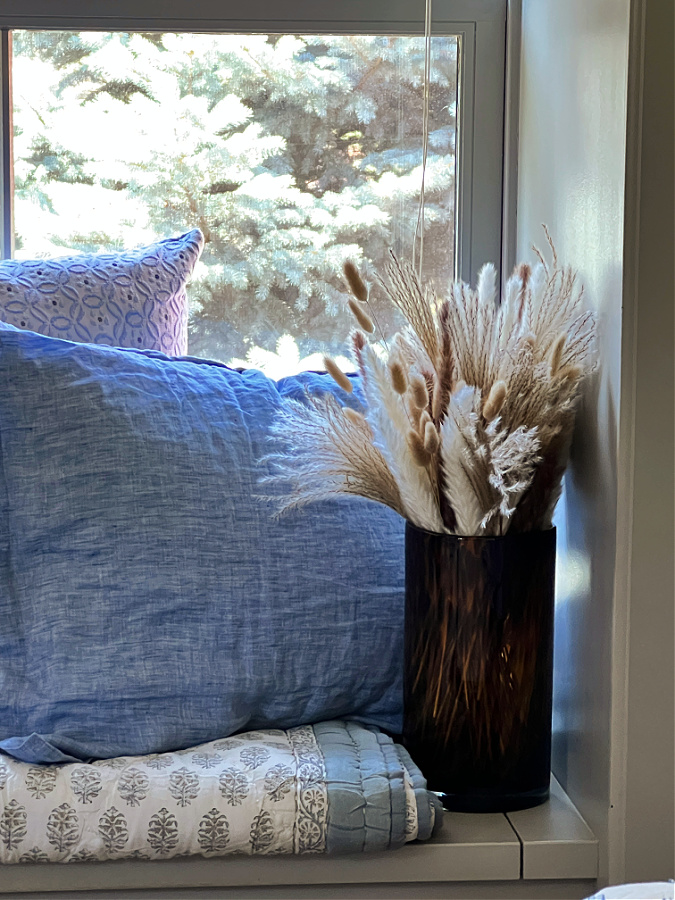 6. Maximizing Space with Underbed Storage
With limited space, we had to get creative. Under the bed, we've added rolling basket storage drawers to keep extra linens, blankets, and seasonal decor neatly tucked away.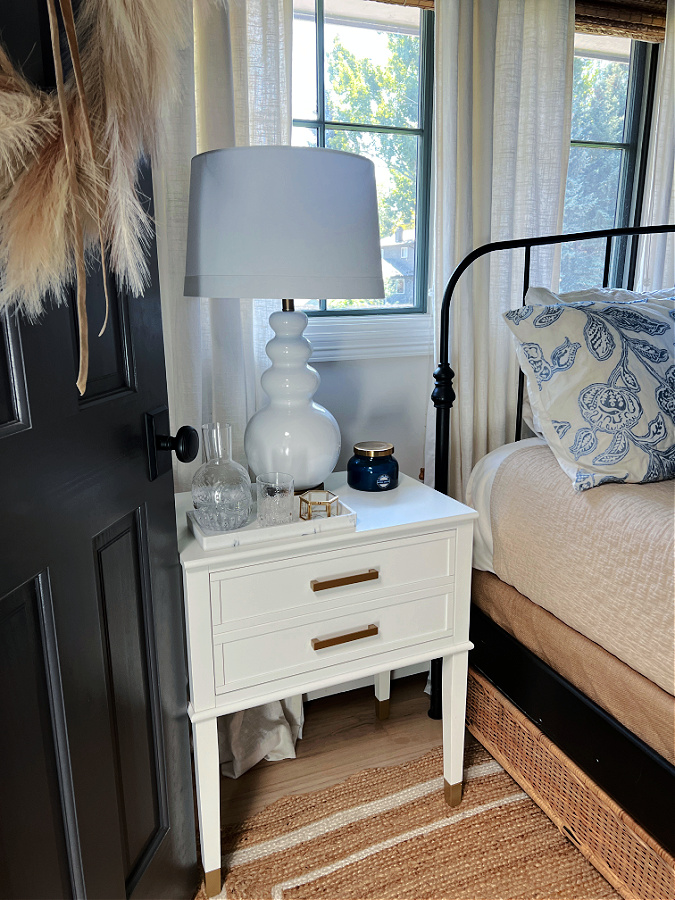 It's a game-changer for staying organized and maintaining that cozy atmosphere. I found the rolling underbed storage on Facebook Marketplace but learned they were originally from IKEA. I have linked similar baskets for you that you could easily add wheels to to make your own.

7. New Nightstands with Smart Storage Solutions for Cozy Bedroom
We recently upgraded our nightstands to ones with built-in storage. This change not only adds style to our bedroom but also provides a convenient place to stow away essentials, ensuring a clutter-free and cozy atmosphere.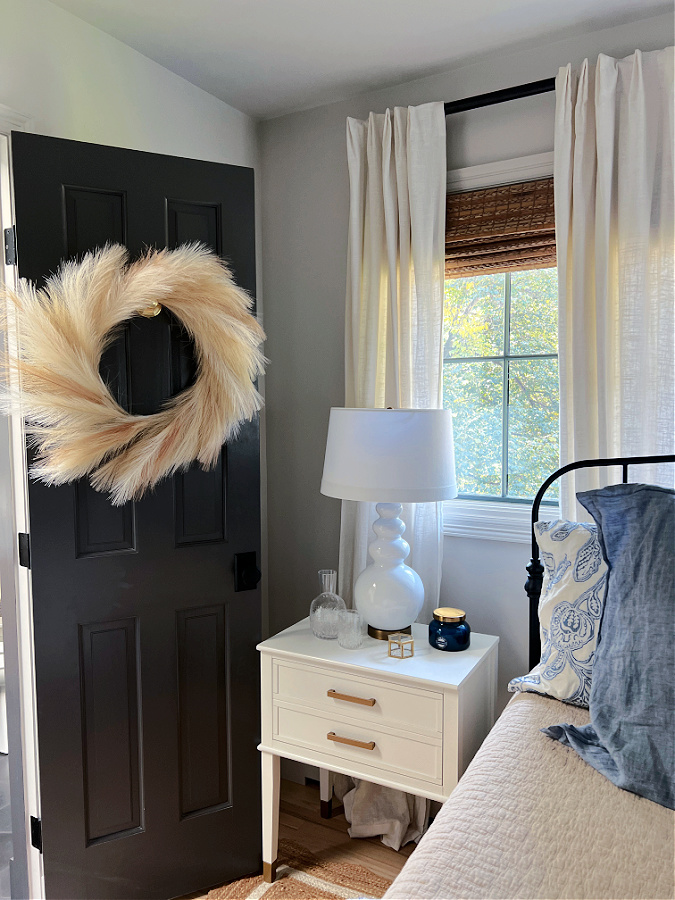 These nightstands come in several different colors and are very affordable. I love the gold accents but have a feeling that I might get the itch to change out the handles here pretty soon to give them more of a custom look.
But aren't they pretty? Even my daughter said she loves the change.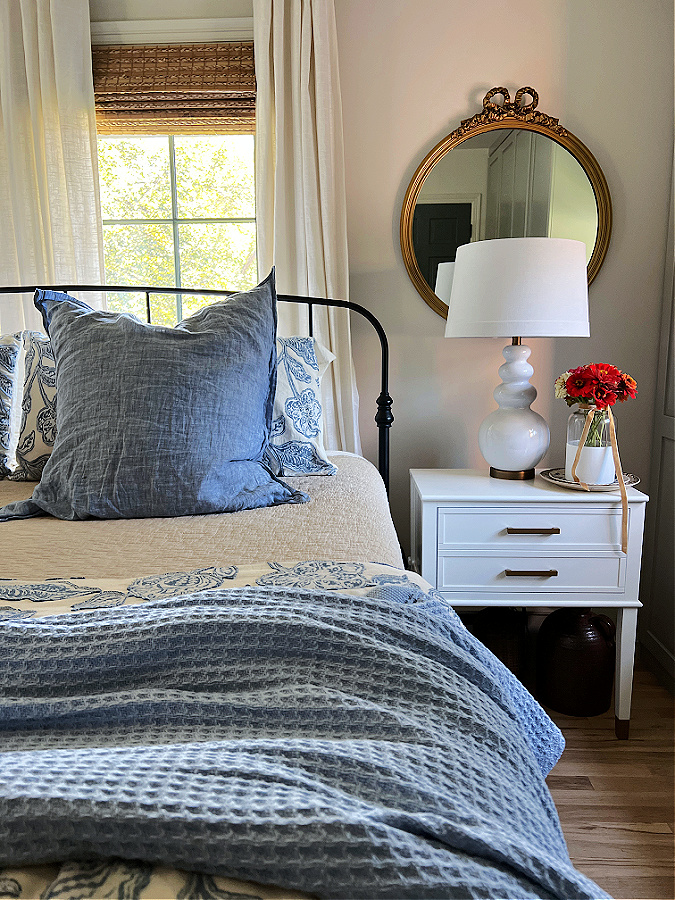 Our closet may be on the small side, but luckily the previous owners installed a built-in wall of closets to ensure we have plenty of room for our fall wardrobe. It's a lifesaver for keeping everything tidy and accessible. You can see some of them just to the side of our window seat.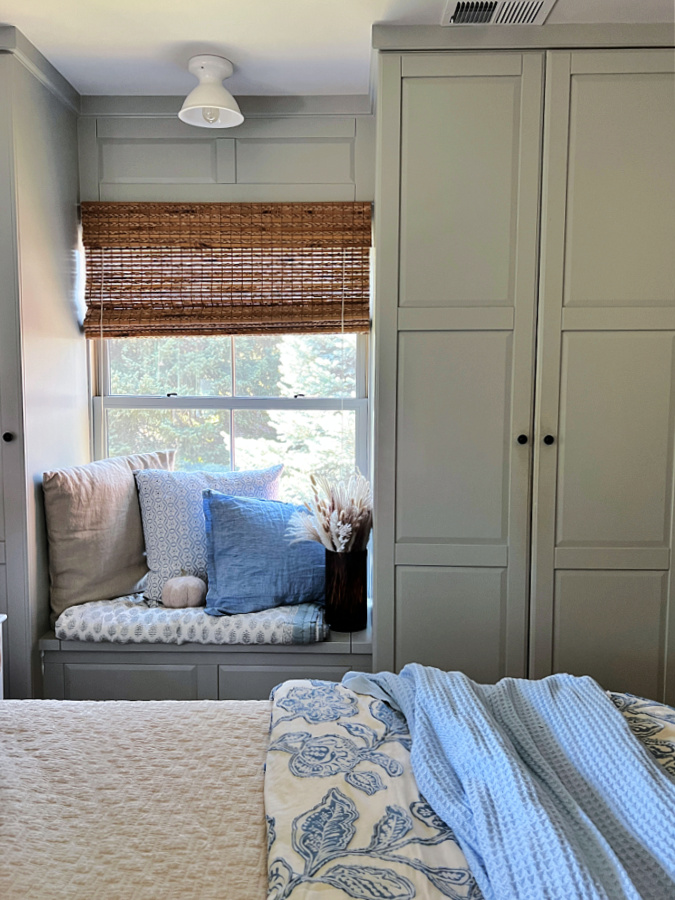 8. Soft, Inviting Rug for Fall
Finally, to warm up the space a bit, we introduced a braided jute rug, with scallop details and white inlay trim. It instantly transforms the room and I absolutely adore it.
I first saw a similar one on Serena and Lily's website and fell in love with it butjust couldn't swallow the price. So when I saw this almost identical one on Amazon I asked Mike his opinion and he loved it too, so I scooped it up!!!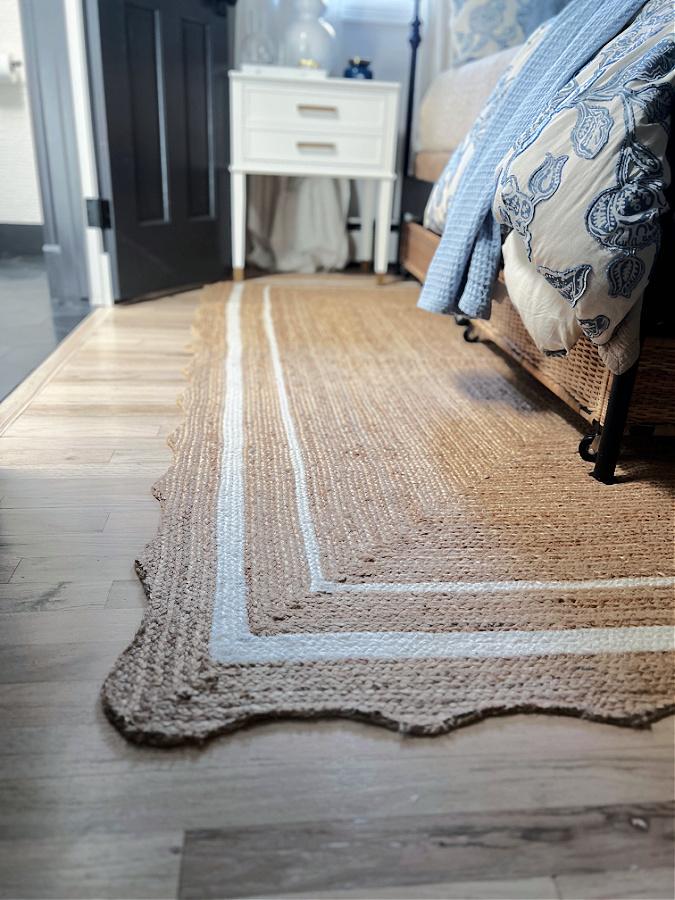 I paired it with new white gourd lamps from Home Goods that cast a soft, golden glow, which also creates a cozy ambiance that's perfect for relaxing evenings. The gold round mirror you see behind the lamp is actually on loan from my mom and was a flea market find. Isn't it beautiful?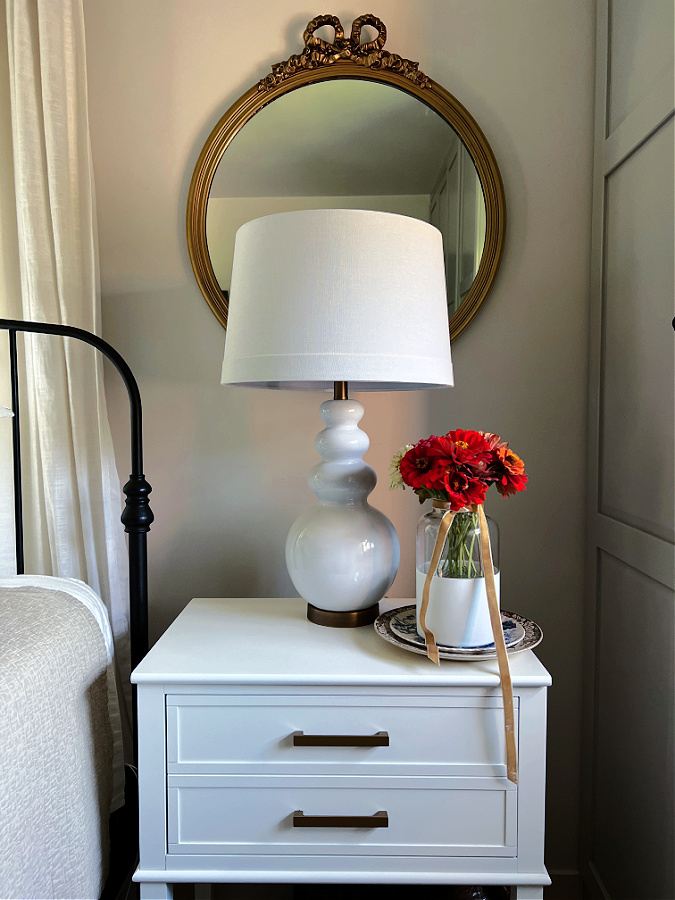 It feels like our room has come together and I am here for it. Sometimes I walk in after a long day and have to pinch myself that I get to sleep here! I truly love it.
Frequently Asked Questions about Our Bedroom
What colors are your walls? Drifts of Mist by Sherwin Williams
Where did you get the bamboo shades? They cam with the house actually. I looked and they have labels from Lowes!
How about the curtains? These also came with the house but I linked similar ones HERE.
Where did you get your bed? This bed was a Facebook Marketplace find but it is originally from IKEA.
Shop My Master Bedroom
Below I have linked exact items as well as similar items from our master bedroom. Just click on the pictures!

Cozy Fall Bedroom Ideas
As you can see, our cozy fall bedroom is a haven of comfort and style, even if it is a smaller space. It's all about making the most of what you have and infusing it with the spirit of the season. I hope you've found some "cozy fall bedroom decorating ideas" to inspire your own fall decor adventures.
Thank you for joining me on this tour of our fall sanctuary. I hope you'll take these ideas and create your very own cozy retreat for the season. Please let me know in the comments below if you have any questions or need a source. Happy decorating, and may your fall be filled with warmth, comfort, and joyful moments!
Thanks for stopping by! Now, please visit my lovely friend Christy from Our Southern Home who is next on the tour! Then visit the other tours all linked below!
Monday September 11
A Stroll Thru Life – Peacock Ridge Farm – Eleanor Rose Home – Worthing Court – Southern Home and Hospitality.
Tuesday Sept. 12
Decor To Adore – DIY Beautify – Amy Sadler Designs – Calypso in the Country – The House on Silverado
Wednesday Sept. 13
StoneGable – My Wee Abode – Thrifty and Chic – Chalking Up Success – Pasha is Home – Thistle Key Lane
Thursday Sept. 14
Our Southern Home – Whispering Pines Homestead – Follow The Yellow Brick Home – County Road 407 – She Gave It A Go – The Tattered Pew
Friday Sept. 15
White Arrows Home – White Lilac Farmhouse – Midwest Life and Style
I'd love to have you hang out with me some more! Feel free to follow along with me on any of the platforms linked below.
LTK | Facebook | Instagram | Pinterest | Amazon
xoxo,
Kelly
Did you like this post? PIN it for later!