5 Simple Ways to Decorate With Flea Market Finds
I have figured out that when it comes to decorating, my love language is all about mixing the old with the new and the high with the low. To achieve this you can usually find me shopping at our local flea markets. If you are like me then you will enjoy these 5 simple ways to decorate with flea market finds.
5 Simple Ways to Decorate With Flea Market Finds
And as a bonus I'm sharing this for this month's Thrifty Style Team post which is hosted by Julie of Redhead Can Decorate. Each month on the 2nd Friday of the month my friends and I get together to share our thrifty ideas with you. You can find all of this month's posts linked at the end of mine.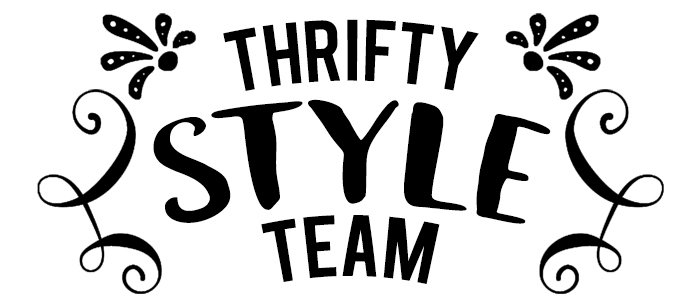 When it comes to shopping for home decor it's the thrill of the hunt that gets my juices flowing!
Finding a great deal or a unique piece excites me more than buying new and trendy things. So that's why my first stop before decorating any space in my home is the flea market.
My absolute favorite flea market in Northern Colorado is A & J Antiques. They have so many incredible booths to look through and I usually can find something that calls my name. 🙂
Below you can find what is usually on my scouting list and some examples of how I decorate with these items!
1. Books
When it comes to decorating my home you will quickly learn that I love to use books. One time I even created a DIY book garland with books all found at the flea market. I thought it was pretty clever!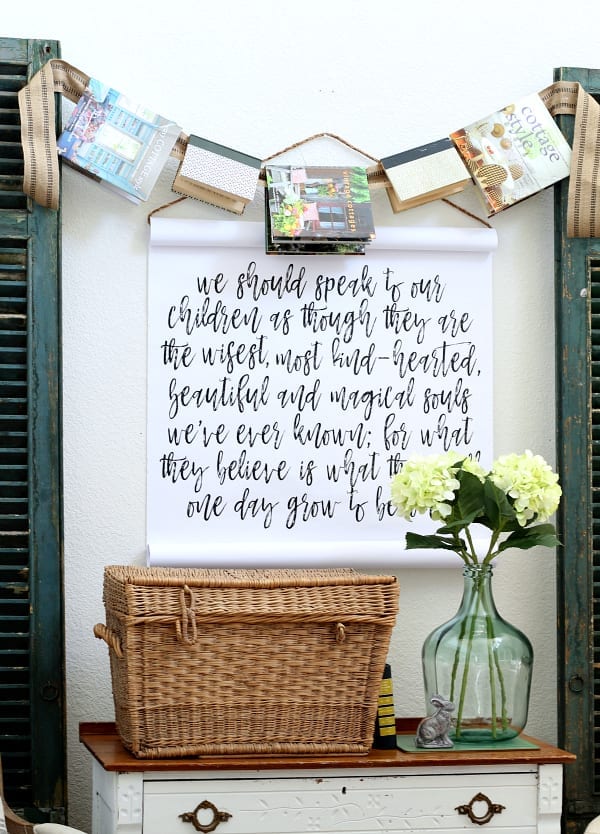 I also love to stack them on my bedside tables, in my printers cabinet or even in our entry cutout. Stacking adds height and fills spaces. Color coordinating them (think red and green for Christmas) is a thrifty and simple way to add charming decor to your home.
2. Art
Art can be expensive and sometimes that is ok and necessary. And sometimes all you need is a thrifty piece of art to make your heart sing! Whenever I enter a flea market I always keep my eyes peeled for paint by numbers pieces. Below you can see my paint by numbers gallery wall in my former master bedroom. I'm currently looking for a new space for them in our new home!
A great way to decorate with flea market art in your home is to group similar pieces, add art in unexpected spaces like your mug rack (see below) or layered on furniture.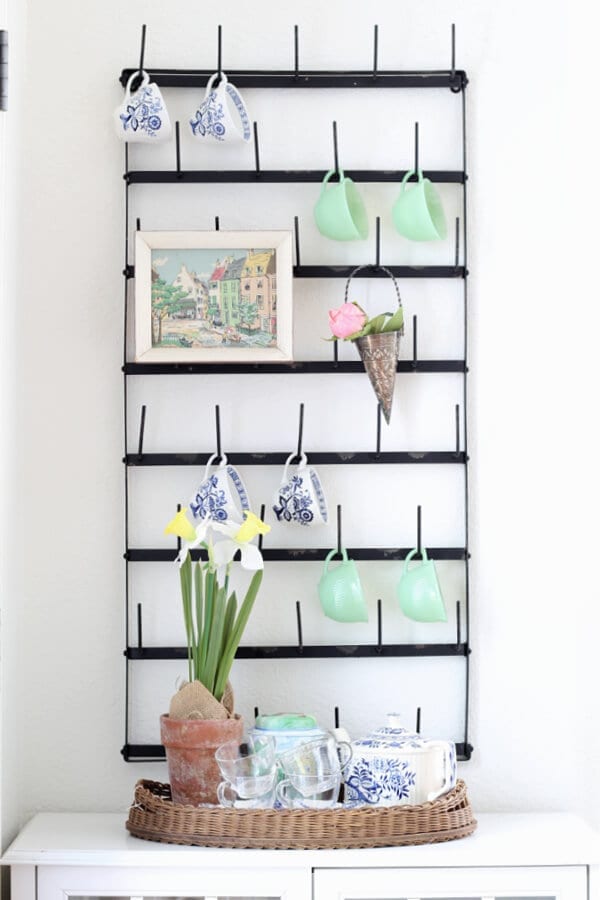 3. Linens
Another thing I am constantly hunting for at flea markets that are easy to decorate with are linens, namely quilts. You can decorate with quilts by stacking them in baskets, on beds, used as tablecloths, draped on pews or sofas.
Nothing is off limits.
I love how they add fun pops of color and texture. They offer that vintage touch I love too.
4. Architectural Pieces
Flea markets are constantly getting in neat, vintage architectural pieces usually at a fair price. I have scored huge shutters, old window panes , old doors, old fences, railings and many other cool pieces too! They usually add height or interest to any space. They are fun to paint or leave weathered and usually become a talking point in the room.
One of my favorite tips for decorating with architectural pieces is to layer them. You can place art on them, layer a window in front of a window, hang wreaths or garland on any large piece and it becomes a statement piece.
5. Flea Market Furniture
Flea market furniture is my favorite. It's where it all began for me. Ever since I can remember my mom has taken us to flea markets to shop for furniture and decor. When I went to college we furnished my entire condo with flea market finds that we revamped or painted.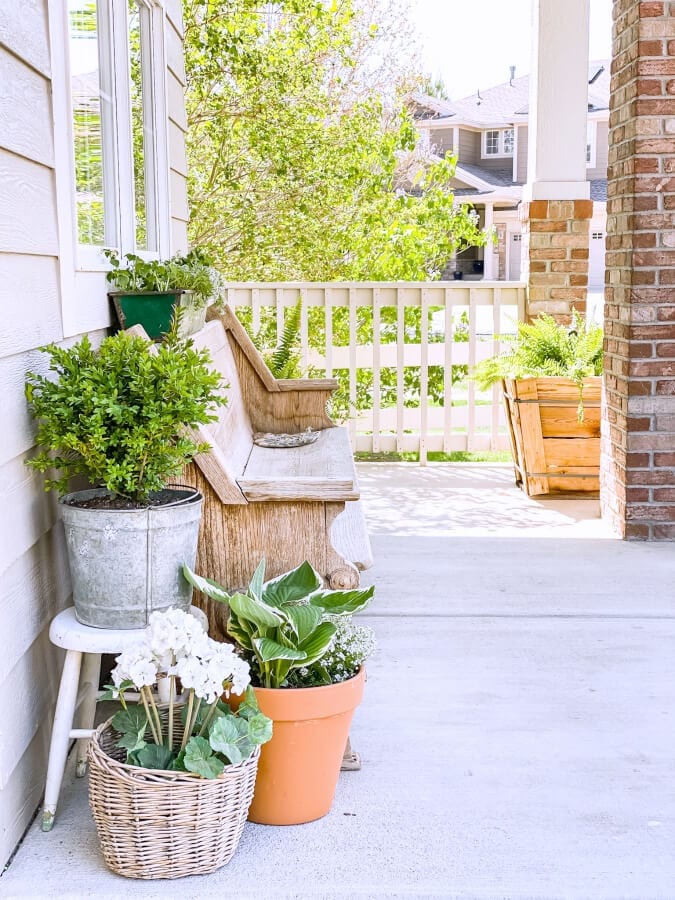 That's when I really got bit by the thrifty bug! I quickly figured out that breathing new life into old pieces brought me joy. You can see how I breathed new life into this old dresser and this one too!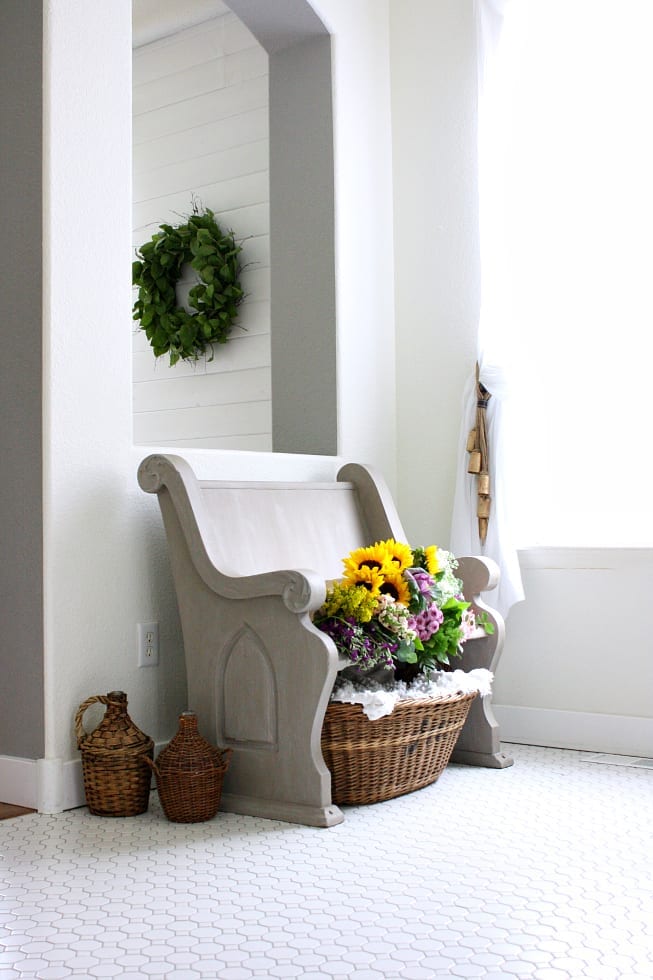 From there I started collecting cool flea market finds like my pews, several side tables, dressers, hutches, chairs, old shoe racks and kitchen tables! I love mixing and matching old and new decor and flea market finds always make that possible. Don't be afraid to mix your Pottery Barn sofa with your flea market rattan table like I did! Also, I highly recommend moving things and digging around in booths…sometimes the best pieces are buried! Oh…and always ask for a discount because they usually will give you one!
I shared another great post that goes into even more detail on how to seamlessly mix, vintage, thrifted and new decor into your home that I think you might enjoy!
Simple Ways to Decorate With Flea Market Finds
Well there you have it, my 5 simple ways to decorate with flea market finds in your home! What's your favorite flea market item to decorate with? I would love to know…I'm always on the hunt for new treasures.
Now make sure to visit the other Thrifty Style Team posts linked below for even more inspiration!