A Mother's Day Tea Party Blue and White Style
Today is all about the Mother's Day Tea Party blue and white style and making that special mom in your life feel loved and pampered! Oh, and there is a bonus at the end of my post…I have joined several other talented ladies for a Mother's Day Brunch Blog Hop! A huge thank you to Taylor  of Uniquely Taylor Made and Sandra of Charmed Crown Blog for hosting this special event.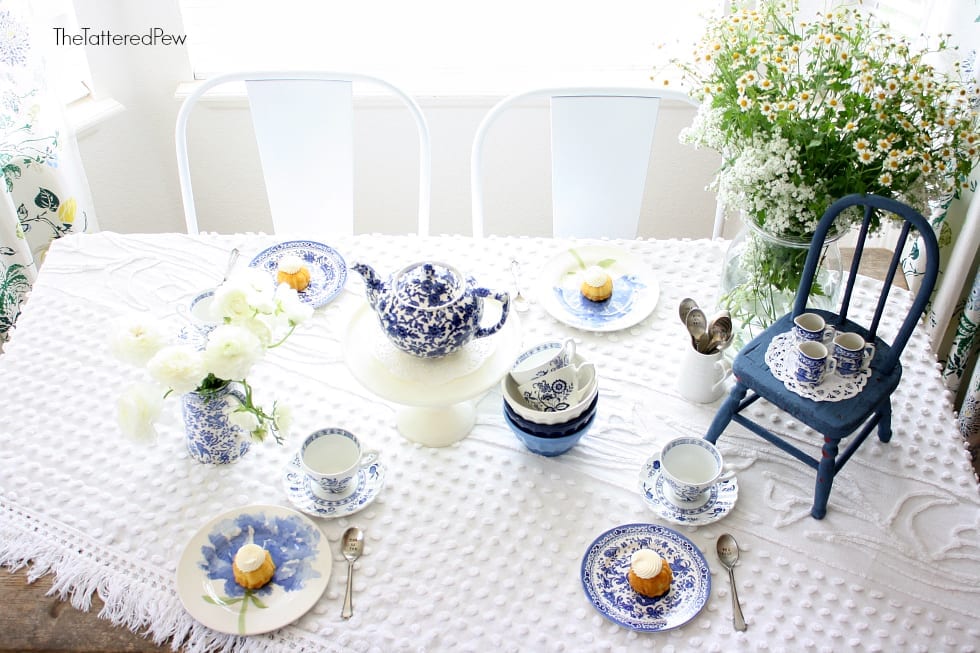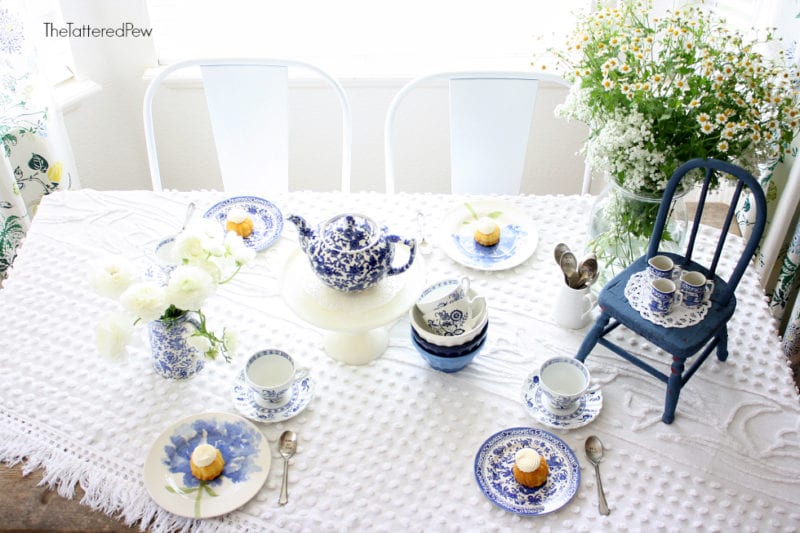 A Mother's Day Tea Party Blue and White Style
This past Friday my mom came over and we had such a fun time putting together this blue and white tea party. We decided that less is more and tried to keep this table simple yet elegant, and ready for the perfect Mother's Day Tea Party. Welcome to my favorite little spot in out kitchen!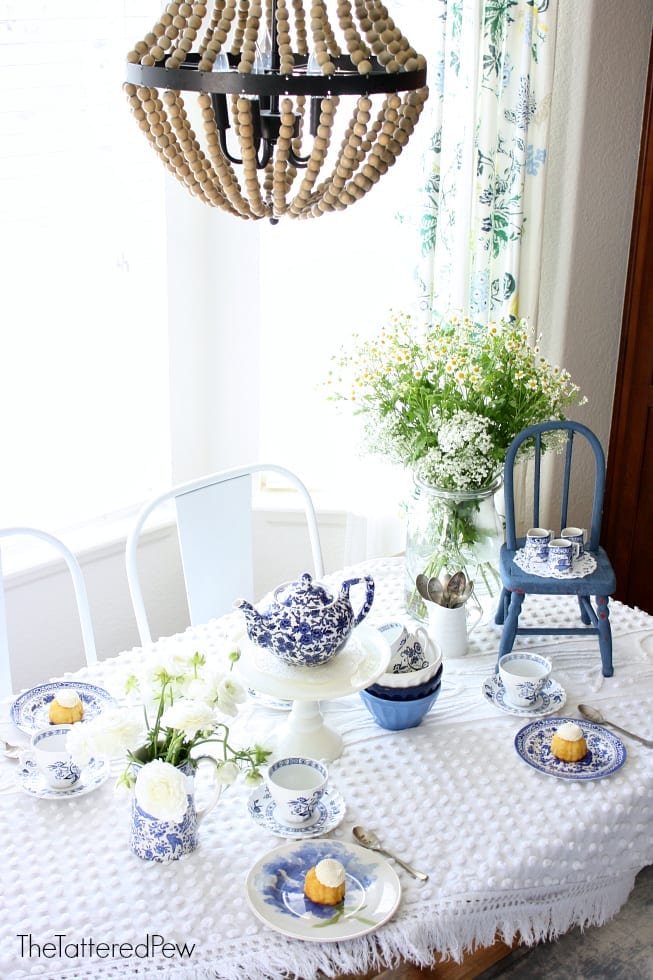 Blue and White
We obviously share a love for the blue and white color scheme and of course tea parties too. This allowed us to bring our two collections together to keep the costs for this tablescape at a minimum.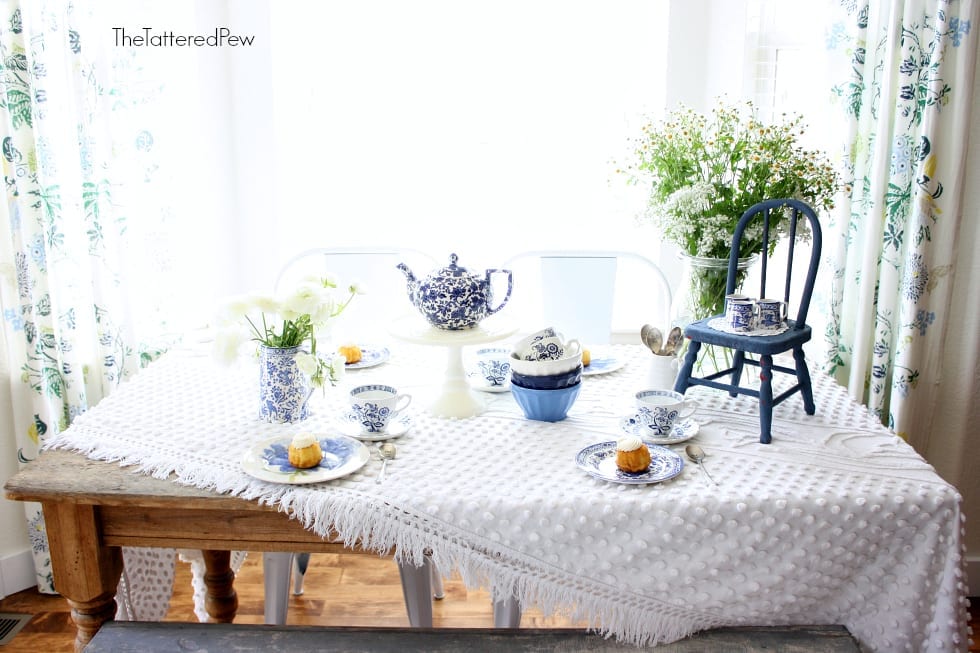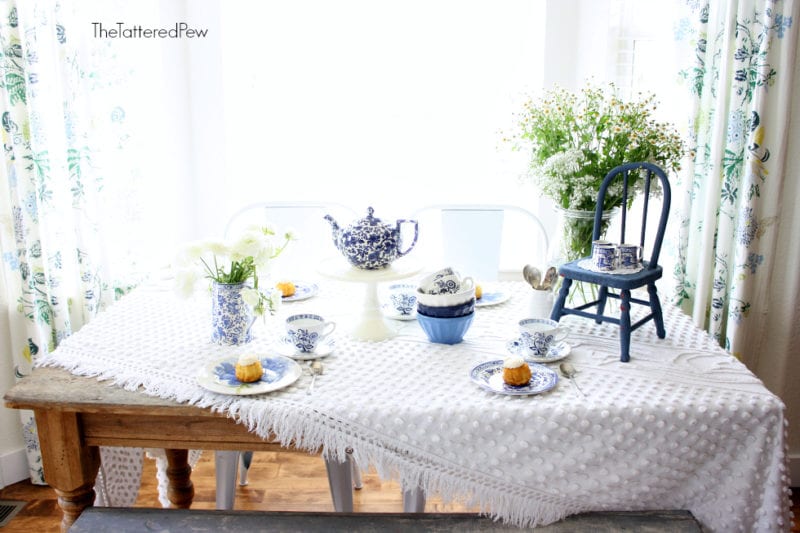 The Details
The vintage chenille tablecloth you see is actually an old bedspread! It adds the perfect amount of texture and character to this tea party. See how I also used another chenille bedspread for a tablecloth for this tea party!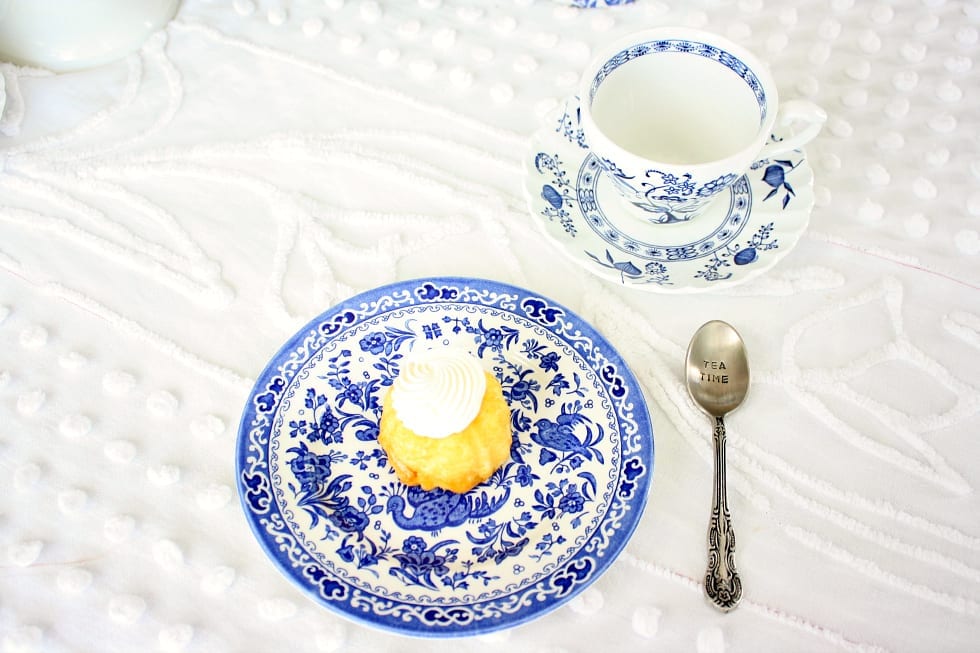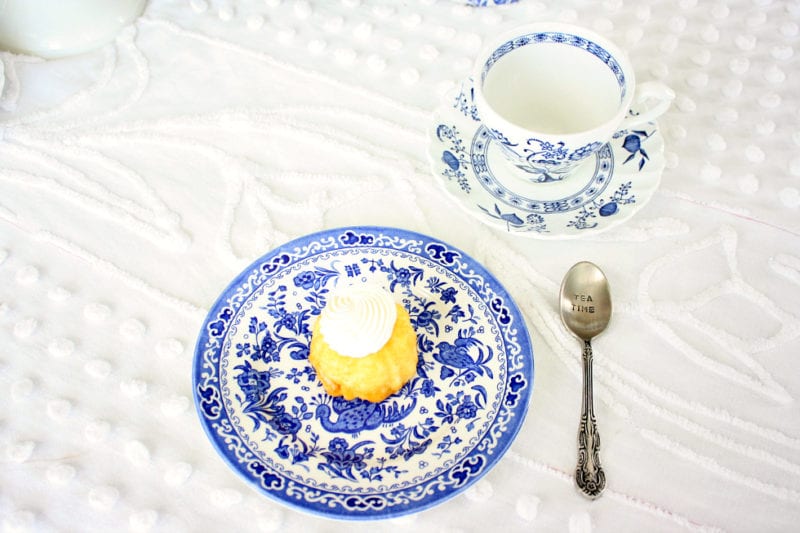 The spoons and plates are my mom's. The spoons were a gift from my sister and get used quite often at our family tea parties! The tea cups are mine and you may remember them from my fall kitchen tour.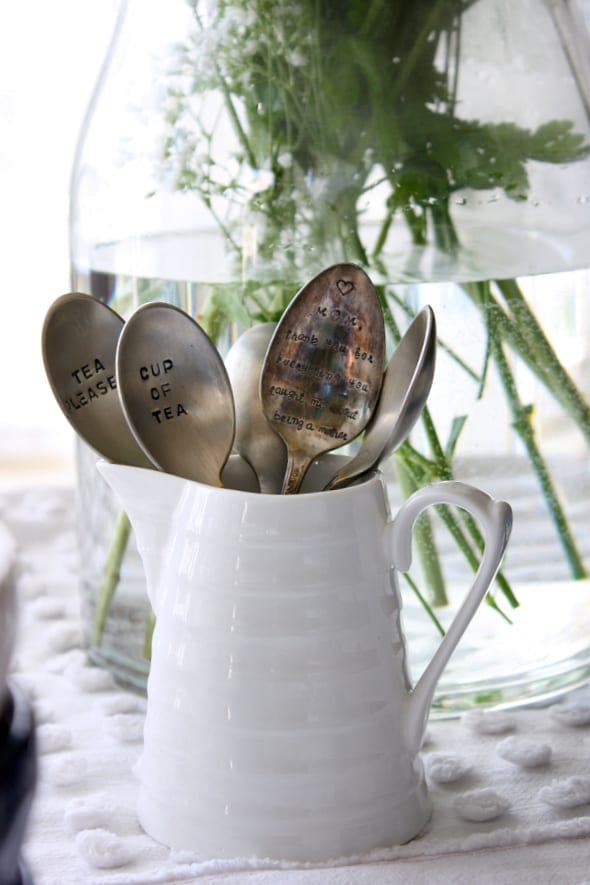 Aren't they just the cutest?

The Flowers
Finally, flowers are a must around here and I can always count on Trader Joe's to have the best flowers and at a reasonable price. I found these gorgeous white and yellow chamomile flowers that paired perfectly with the babies breath. I added them to my IKEA vase and instantly fell in love!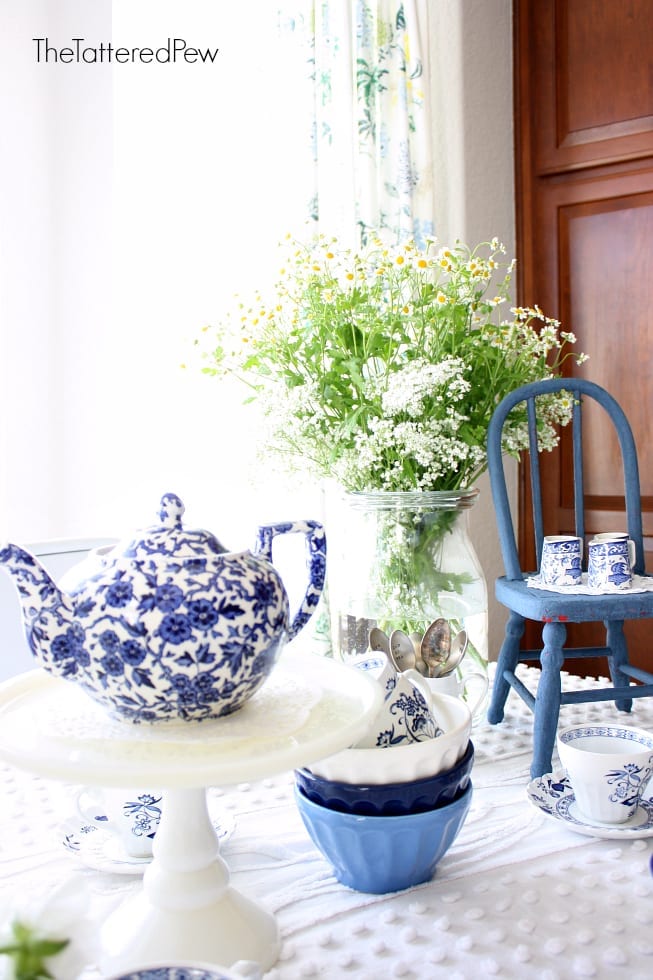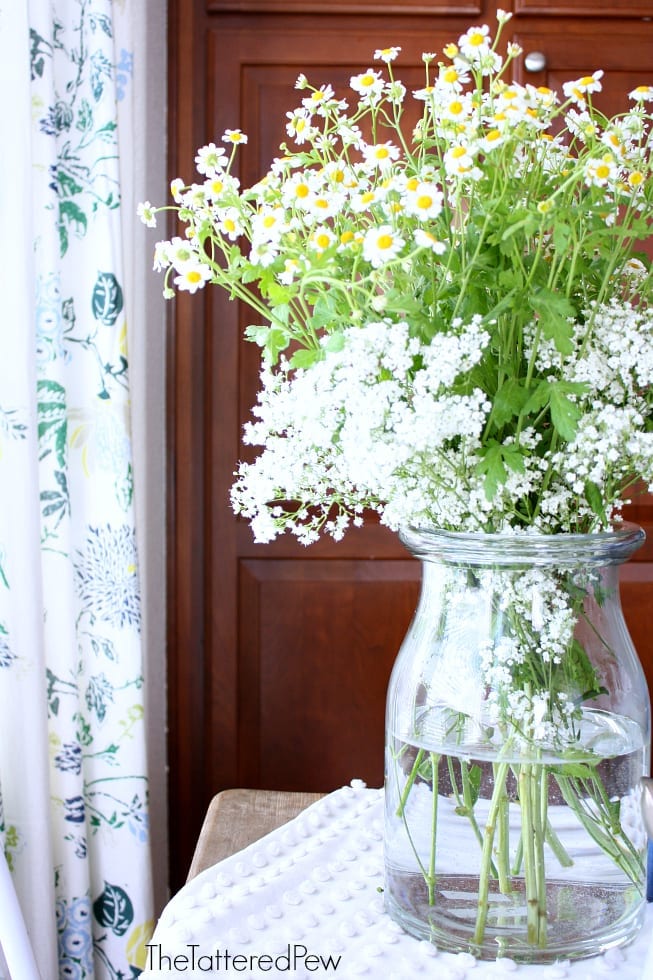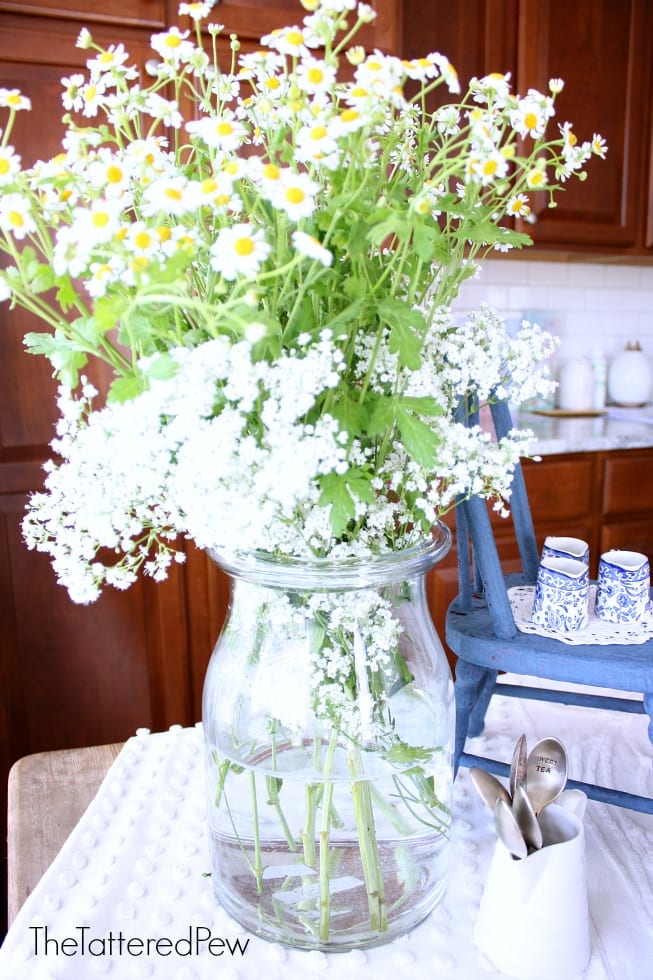 As I was checking out I spotted these gorgeous white ranunculus that fit perfectly with our color scheme, so I scooped them up too!
The Treats
We kept the food to a minimum and splurged on some mini bundt cakes from the shop Nothing Bundt Cake. It was hard not to eat them while we set up the table! 🙂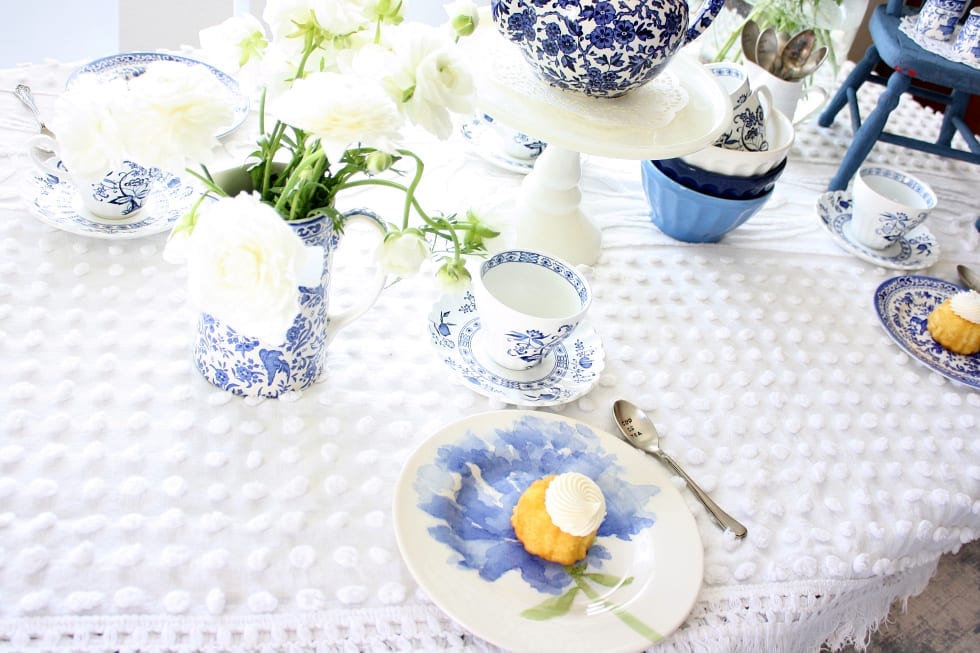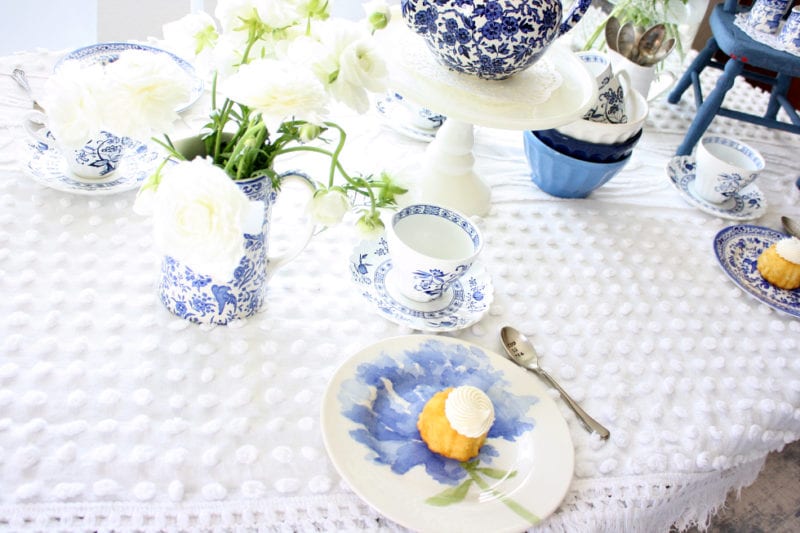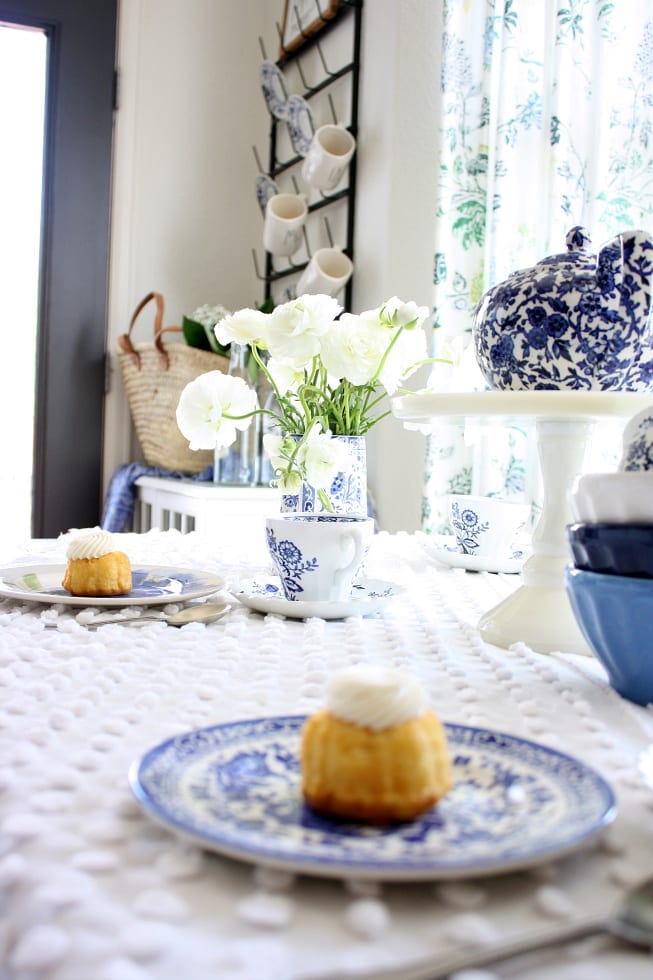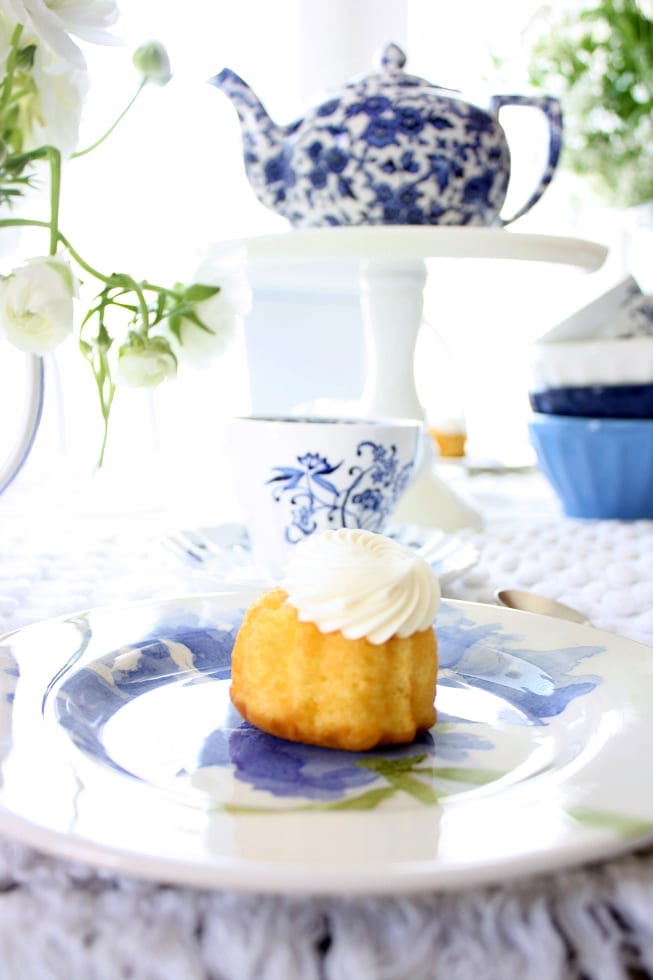 The Blue Chair
If you saw my last post on painting with milk paint then you know this sweet little blue chair just recently got a new paint job. I thought she added that vintage flair that this blue and white tea party needed!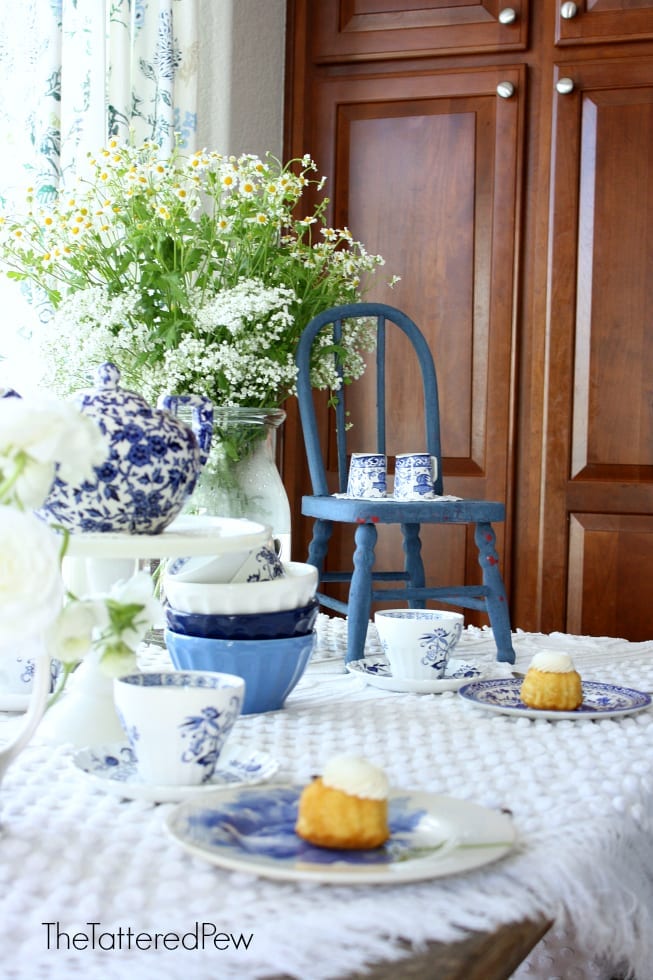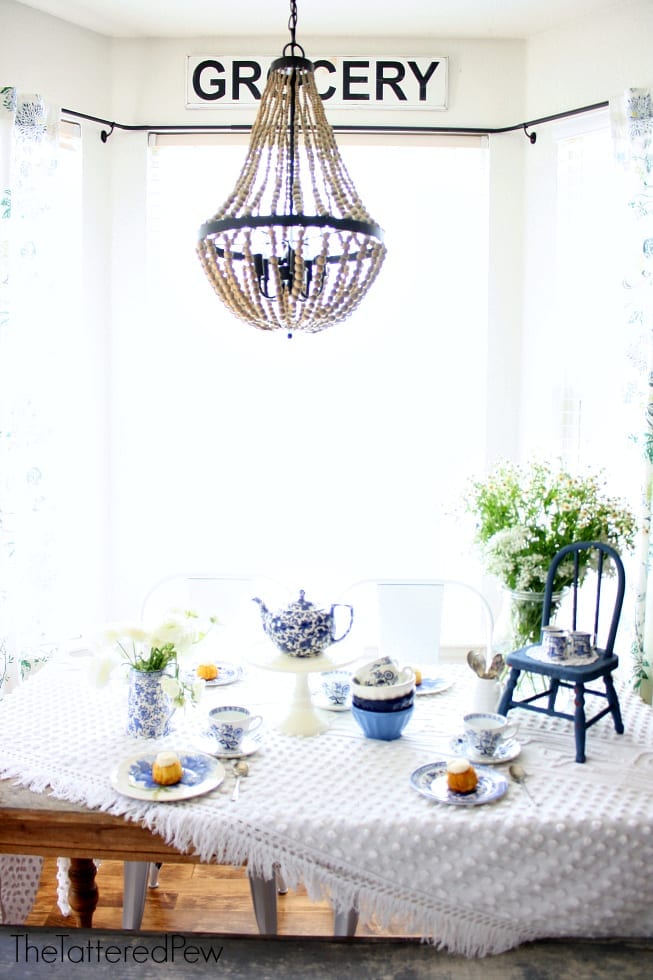 Tea Time
The table came together so nicely and once again my mother and I make the perfect team. She is such a huge blessing to me and I am so thankful we had this time together.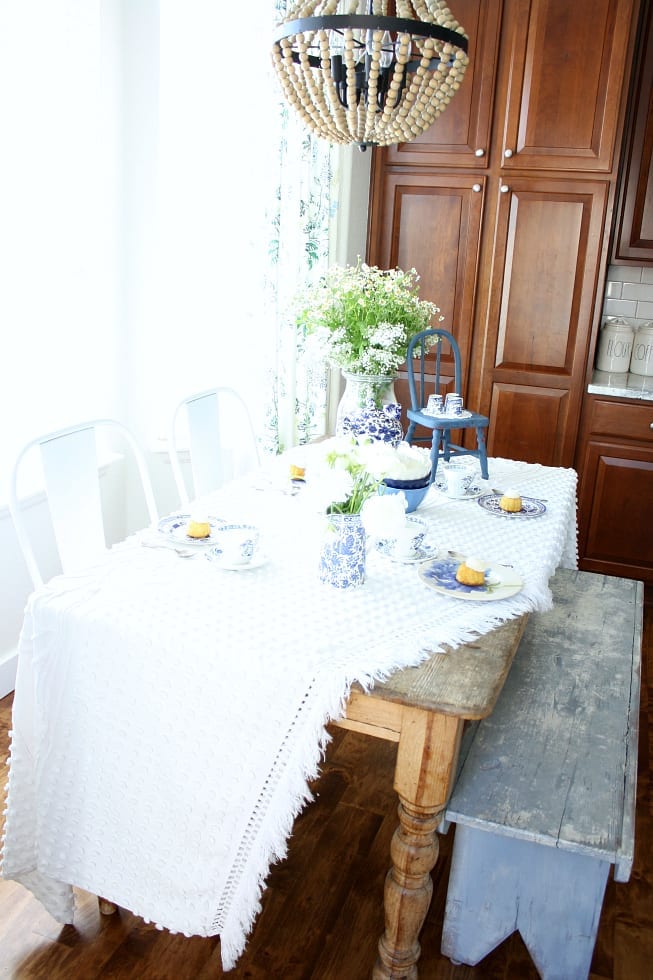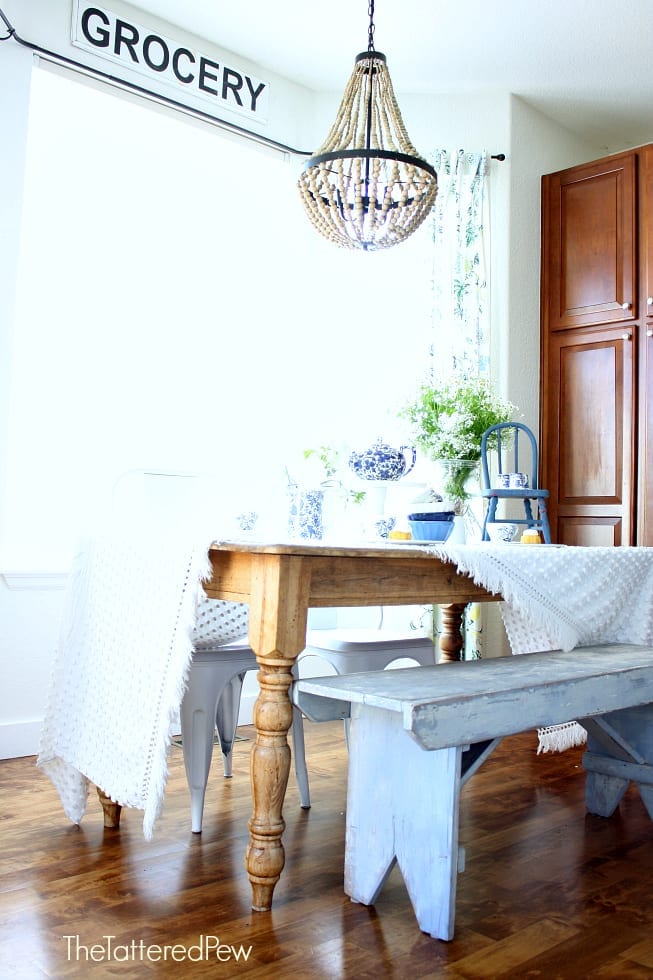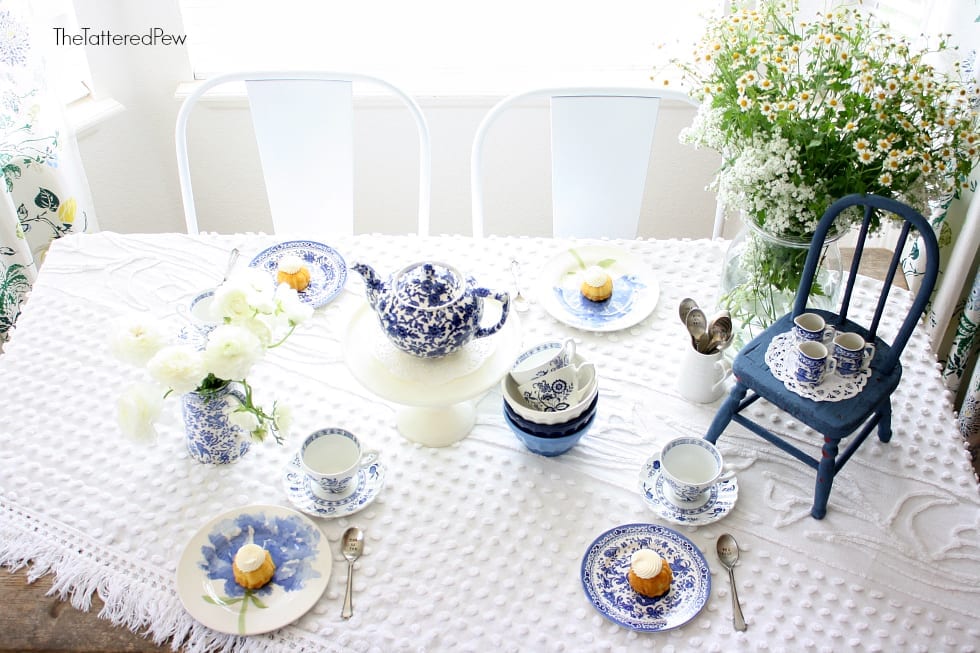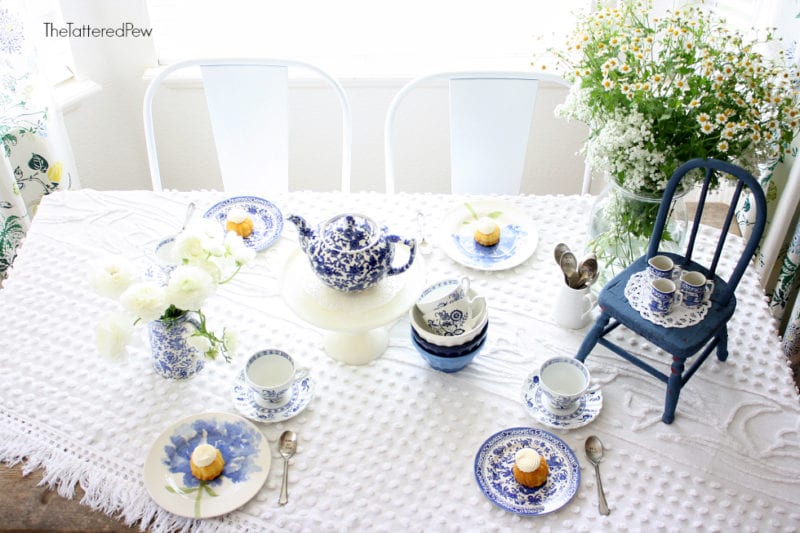 Thank you for stopping by today and sharing in this blue and white tea party that I was blessed to work on with my mother. I hope you found some style inspiration and that you and that special mom in your life are celebrated in a memorable way next weekend!
xoxo,
Kelly
Click below for Sources: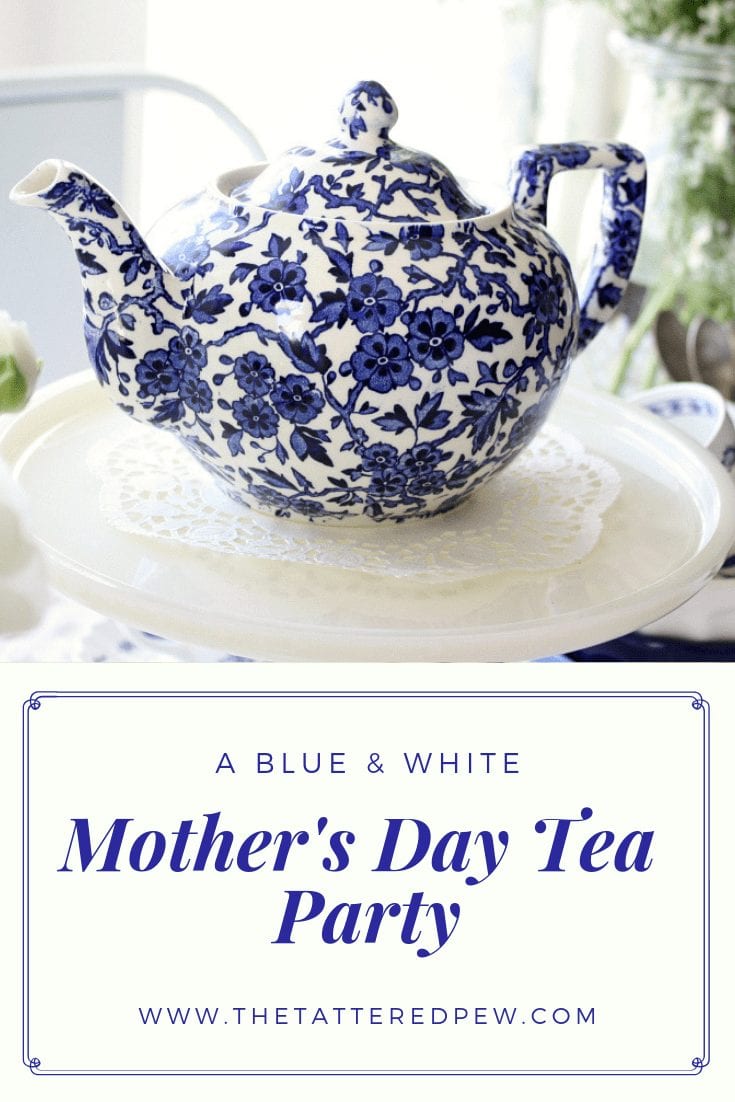 For even more Mother's Day tablescape and brunch ideas… please visit the lovely blogs below!
Uniquely Taylor MadeThe Tattered Pew| Charmed Crown Blog |
The Crowned Goat |The Simply Distressed |Rose and Whistle Home |Down Shiloh Road
Chelsea Woods Cottage| My 100 Year Old Home | The Homemaking Momma | Joy in Our Home