Coastal Cottage Master Bedroom Makeover


I am constantly on a mission to find and create happiness in our home. So when Wayfair asked me to be a part of their Joy at Home campaign I was truly grateful and knew just where I wanted to add joy….our master bedroom! Hopefully our coastal cottage master bedroom makeover will inspire you to add and find some joy in your home too!
Coastal Cottage Master Bedroom Makeover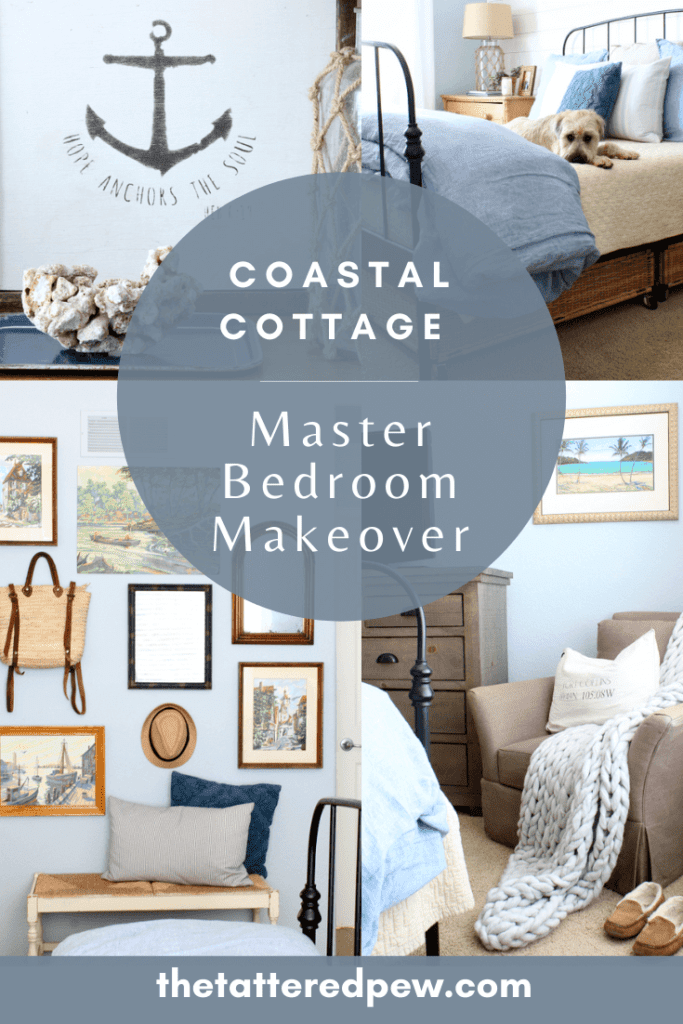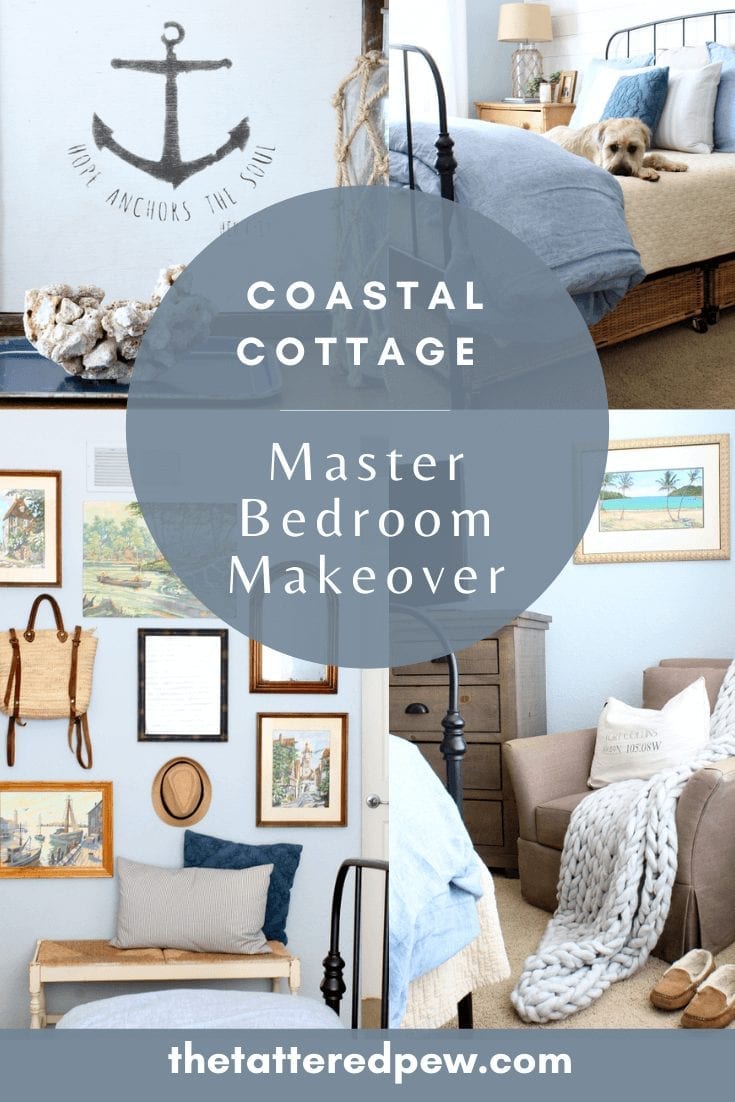 Thank you to Wayfair for generously sponsoring this post. All opinions are my own. Thanks for supporting the brands that keep The Tattered Pew sharing! This post contains some affiliate links for your convenience. Click here to read my full disclosure policy.
Master Bedroom Reveal
Today is reveal day and I am over the moon excited with how our coastal cottage master bedroom makeover turned out! My husband and I are total beach people so I wanted to make our room a reflection of our love for the ocean.
And ever since I shared my mood board I have been busy getting this room ready. I have been shopping, collecting, re-purposing, decorating, and even wallpapering our space! In the hopes that we would have our own private beach retreat.
The Before
Here is what she looked like before. She was going in the right direction with the lamps and the wall color, but besides that she was pretty bland! I had basically neglected her.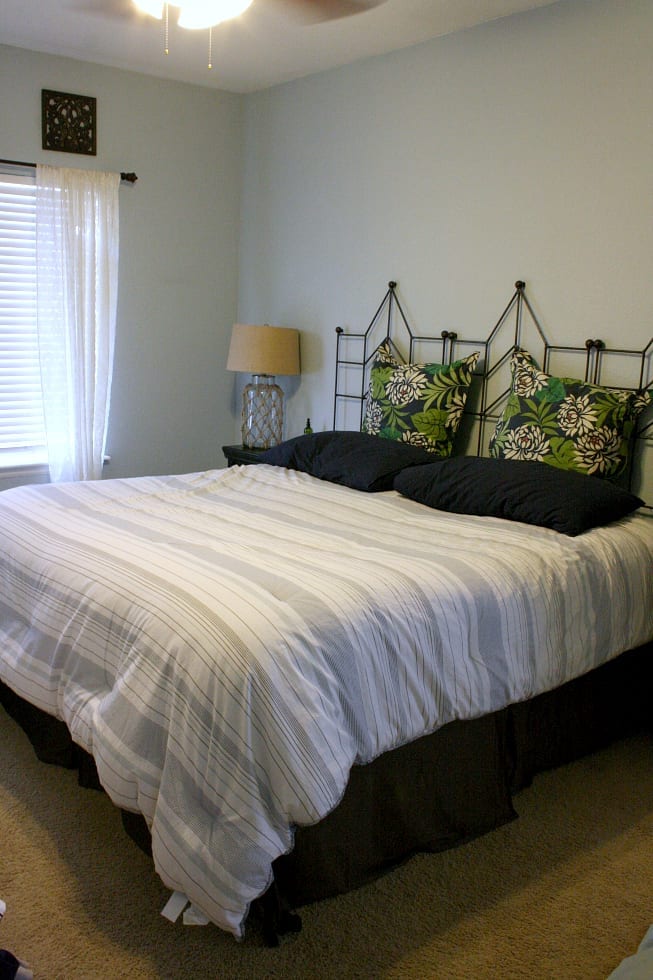 And here she is now, our new coastal cottage master bedroom! No longer neglected. 🙂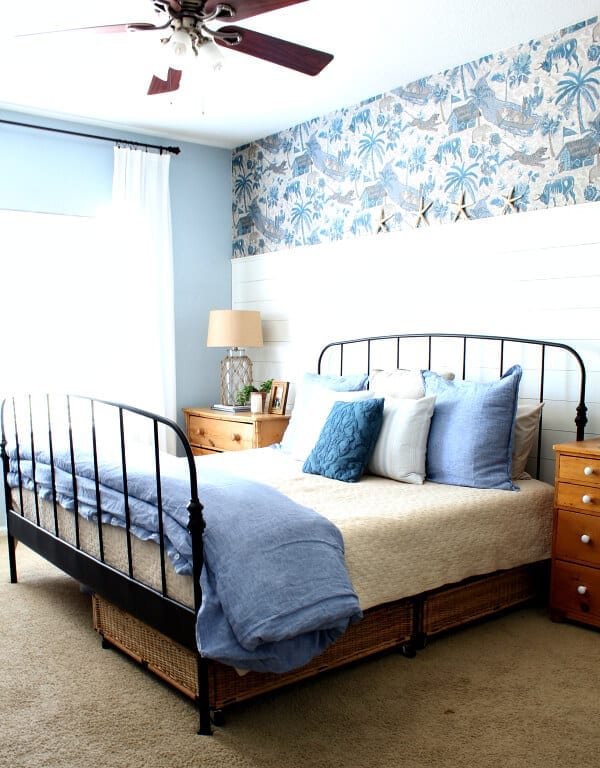 Can you even believe it's the same room?! I LOVE it and so does my husband!
Let me tell you how all of the pieces came together.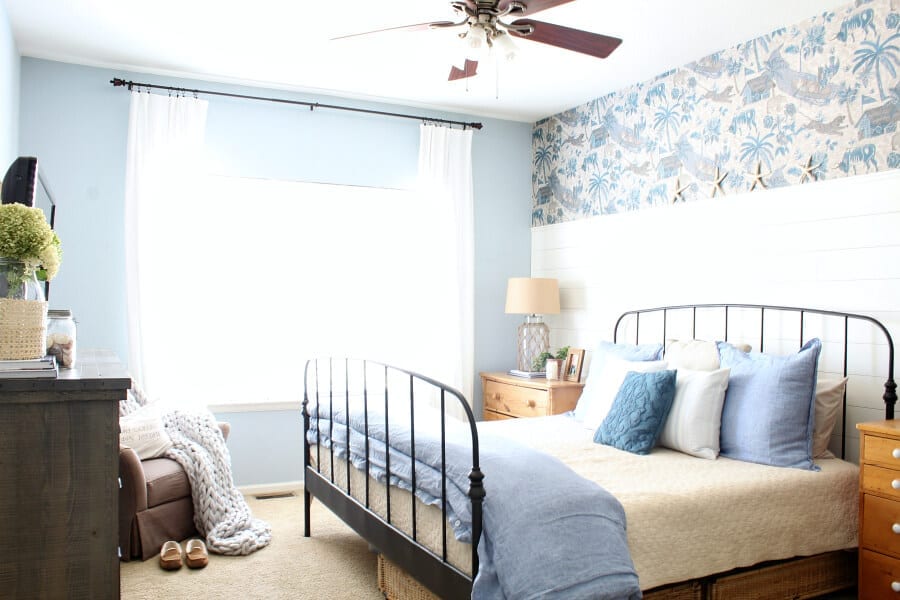 Paying Attention To the Details
When I started this makeover I focused on two key details of this room…the wallpaper and the dresser from Wayfair. I will share more on the gorgeous dresser later in the post.
Even though I only wallpapered a small section above our bed and shiplap, I really feel like the wallpaper sets the tone for our bedroom! I fell in love with this Thibaut wallpaper the moment I set eyes on it in Curate Consignments.
You can read all about the wallpaper details and the whole process in my beginners guide to wallpapering!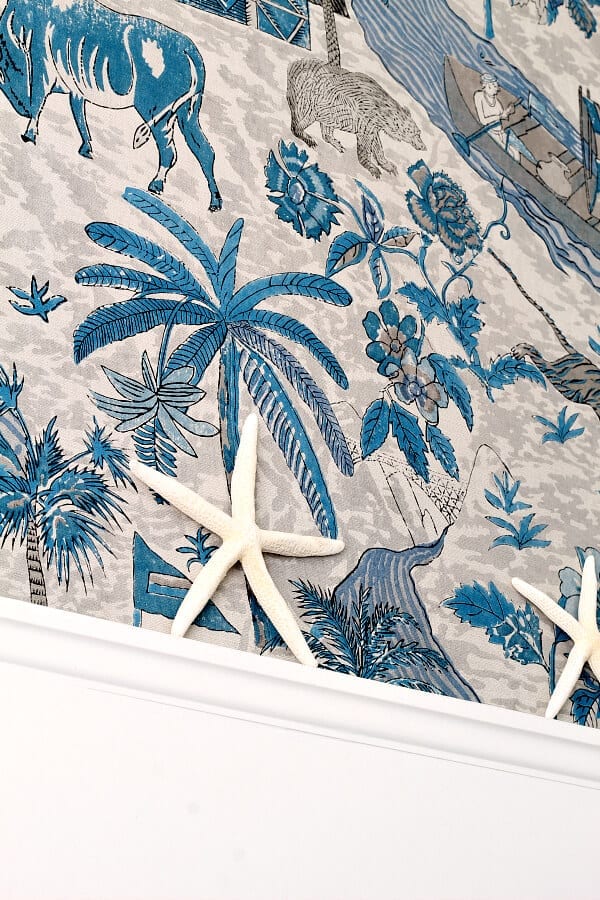 A Touch Of Vintage
The two nightstand on either of our bed are second hand. I found the one on the left side of our bed on Facebook Marketplace for a steal ($60) and the one shown in the picture below I found at a local consignment shop.
I changed out the knobs with the same milk white ones that I used on my favorite green boxwood dresser. The knobs are from Hobby Lobby! I love the warmness they bring to the room. They really balance the cool grey and blue tones.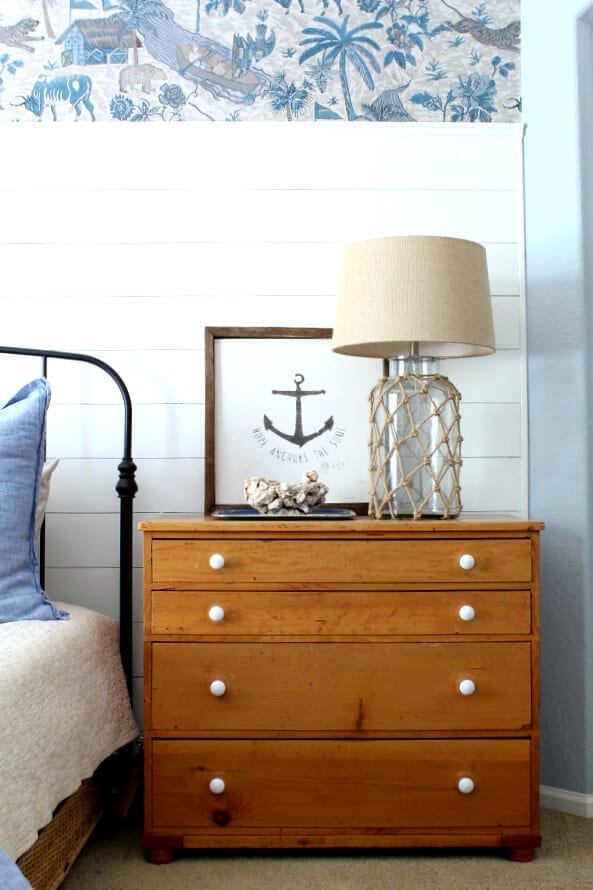 I went for the less is more approach on our mismatched vintage nightstands. The coral you see on my husband's nightstand is coral we found on our honeymoon in Maui! It sits on a vintage tin blue tray I found at a flea market.
The lamps were a Home Goods find from years ago but I linked a similar one HERE from Wayfair. The sign, with a very timely verse, was a gift from my husband several years ago and I was excited to include it in our makeover.
I really tried hard to mix the old with the new for more of a collected and cozy feel. The thrill of the hunt for things like these bedside dressers always brings me joy! Plus, it's a great way to keep a makeover affordable!
The candle says it all…beach cottage! My husband found this candle and one called Hawaii from a company called Homesick. They smell divine! He got them for me as a surprise.
He is amazing! You can shop for similar coastal frames from Wayfair!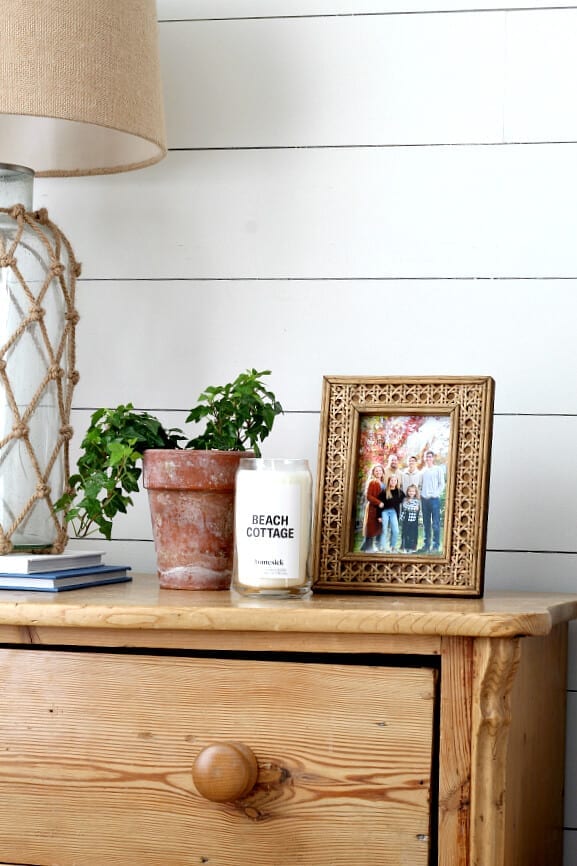 Don't Forget The Curtains
I know this sounds funny but the curtains in a room really make a huge difference! While I was hanging the beautiful wallpaper my lovely sister was helping me move my curtain rod up and out. It previously was low and tight above the window and looked out of place. (You can see them in my before picture above)
The minute we hung these white curtains that were previously in my family room, I was in love. The room instantly felt more elegant and larger! So the moral of the story is..hang those rods high and wide! And make sure your curtains are long enough to touch the floor!
I'm hoping to add some bamboo shades in the near future. I just love their texture!

Bedding
This is where I splurged a bit and had some fun. The blue chambray duvet is linen as well as the two euro shams.
I have always wanted linen!
The tan euro in the middle is from IKEA, while the striped pillows were a gift from my mom. The blue patterned pillow in the middle and over on my bench were originally on our sofa downstairs but matched the wallpaper perfectly so I moved them up!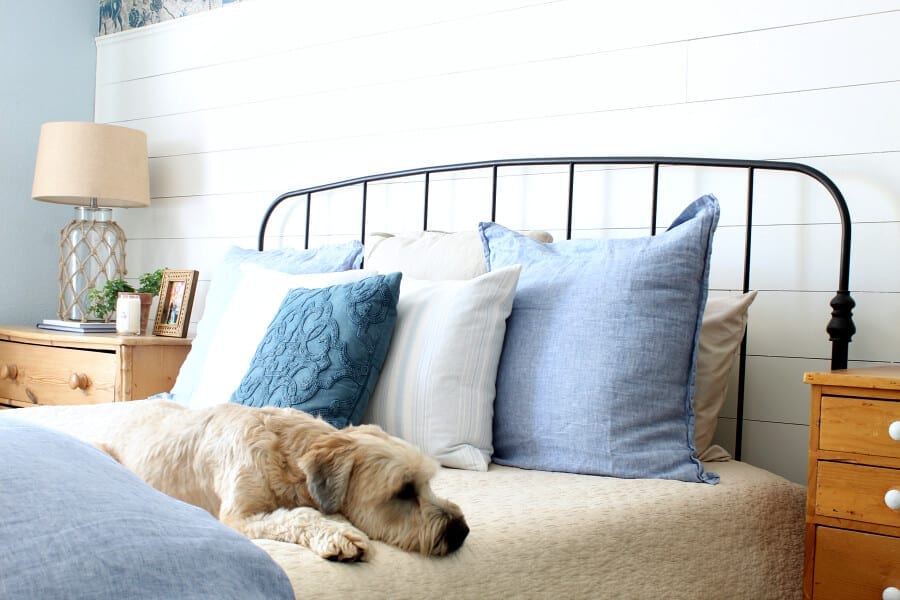 Kona loves the sand colored quilt too! I love that it feels like the sand at the beach and covers any stains left by our dogs or kids! SO practical!
The black metal frame and wicker under bed storage were Facebook Marketplace finds that I have had for a bit now. I always seem to find great gently used items on there. The brown chair in the corner of my room was also a Facebook Market place score. Here are a few underbed storage options that Wayfair has!
I love hunting for bargains that hold their value.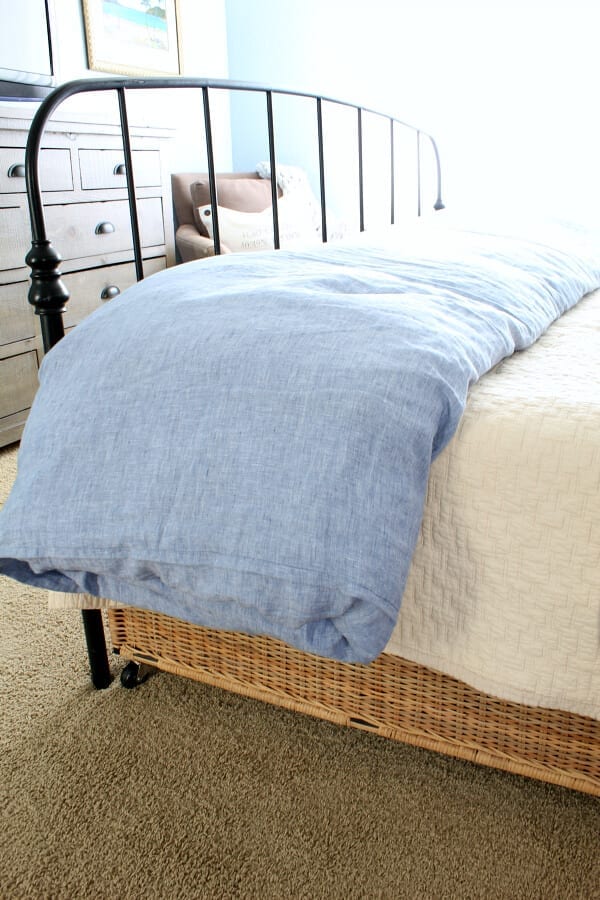 Cozy Coastal and Cottage Accents
All of the little details and accents in our master bedroom makeover add up to the perfect coastal cottage touches. The large cozy knit blanket, the brown swivel chair and my favorite Ugg slippers give off the cozy casual feel I was craving for this space.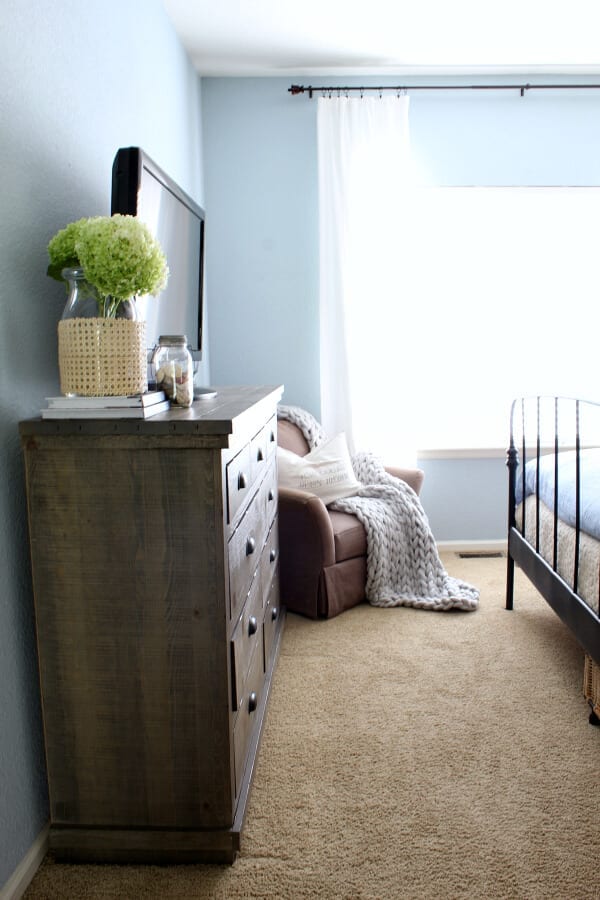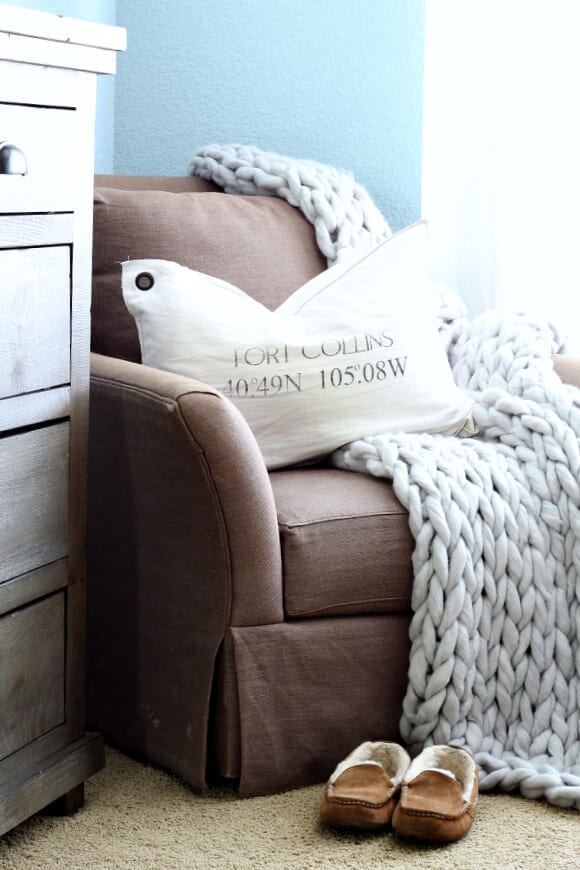 A Gorgeous New Dresser
But the true star of the show is my new weathered gray Castagnier 9 drawer dresser from Wayfair! I had fun browsing through their large selection of coastal dressers and loved that they had so many great options!
Narrowing it down was tough.
But once I discovered that one of my blogging besties, Brendt from She Gave It A Go, had this dresser and loved it, I knew this was the one! Wayfair makes it so easy to shop by category and their website and app making ordering a breeze. It was here so quickly and delivered right to my doorstep. My kind of service!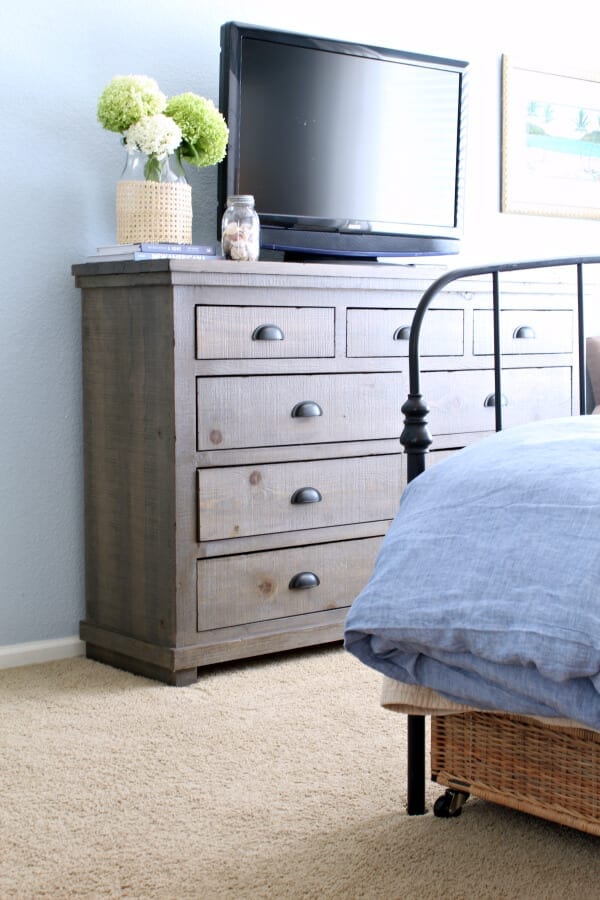 When we moved it into our room and placed it at the foot of our bed I knew it was just what our room had been missing. Isn't she beautiful? I love her weathered gray color and wood texture. I also love all of the storage!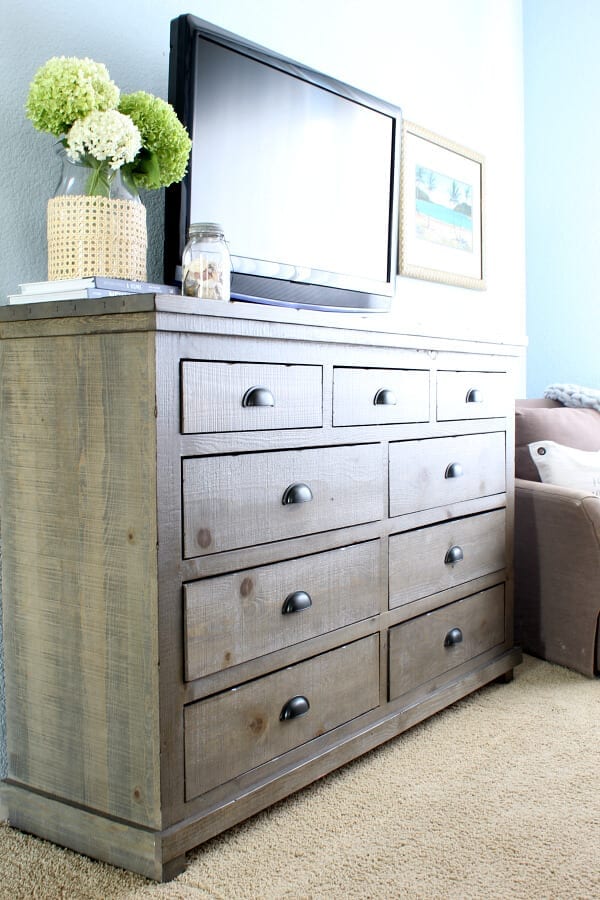 It has so much space so I was able to include our TV, and a cute little vignette on the top. Did you notice my DIY cane wrapped vase? It is holding some of my beautiful Annabelle hydrangeas!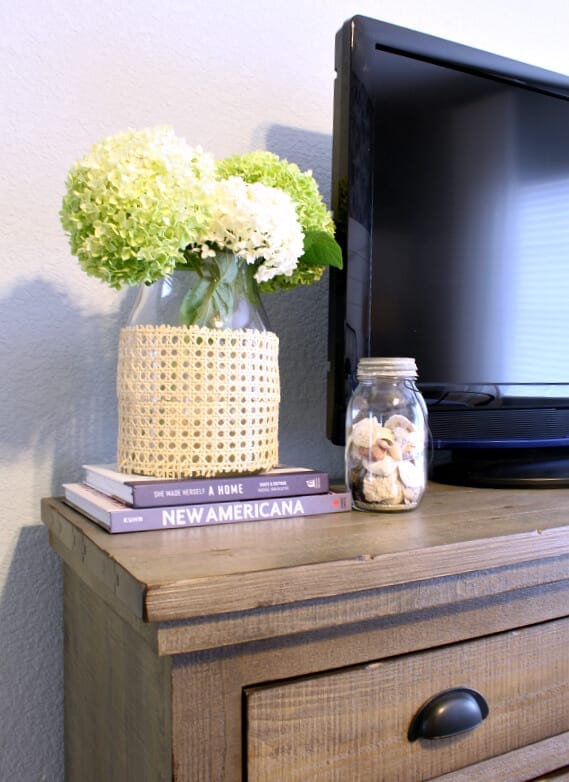 This darling old jar is full of shells we have collected over the years on our beach vacations.
Adding Coastal Cottages Touches With a Gallery Wall
Finally, the last space in our room is the wall adjacent to our bed. Here I created a "collected" gallery wall with my vintage paint by numbers collection, some mirrors, a hat and a straw bag I picked up in Hawaii. It's so fun and unexpected and brings one more vintage aspect to this coastal cottage master bedroom makeover.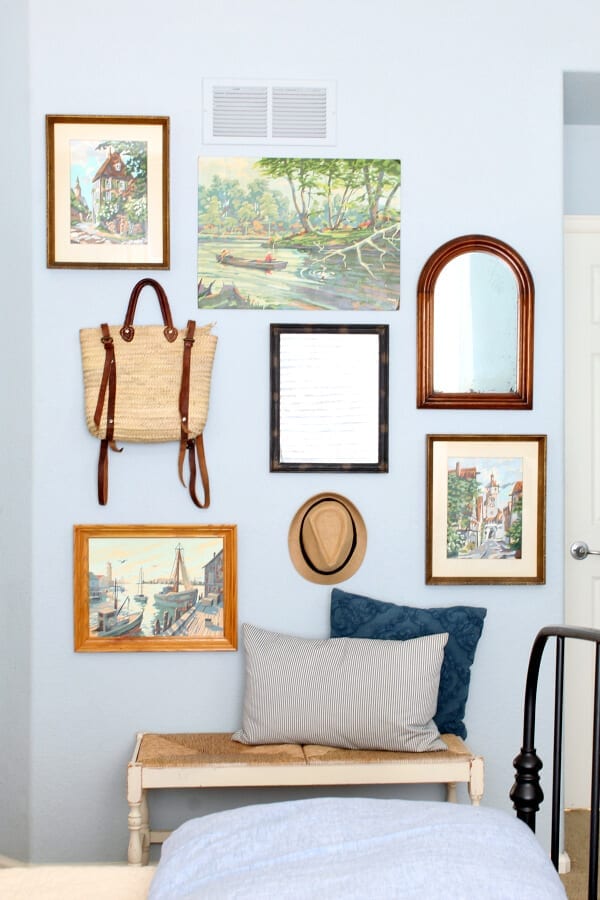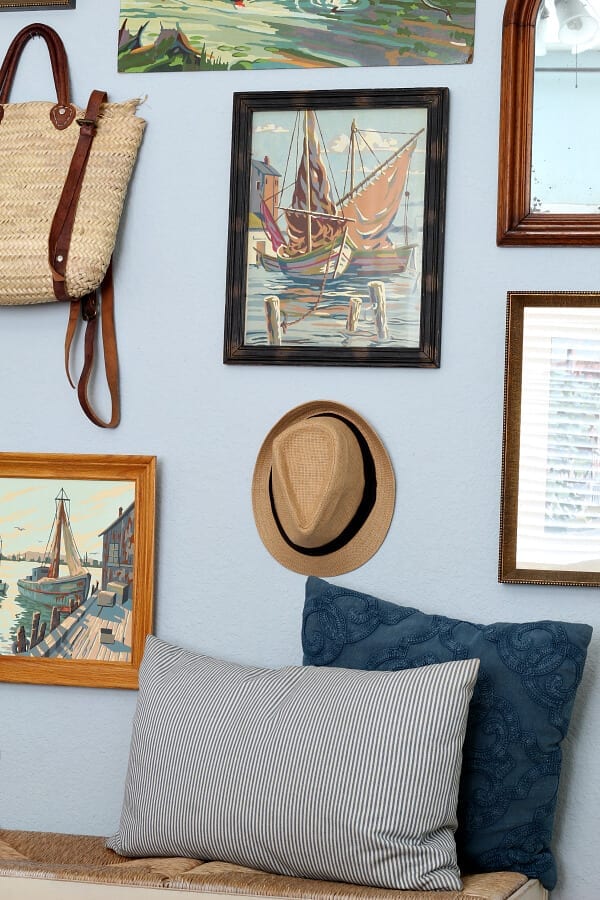 I love how perfect this darling bench fits under it. It was a find from Curate Consignments along with the wallpaper!
Our Coastal Cottage Master Bedroom Makeover
Well, there you have it, a tour of our newly made over coastal cottage master bedroom. I am smitten and so thankful to have partnered with Wayfair to make this dream come true!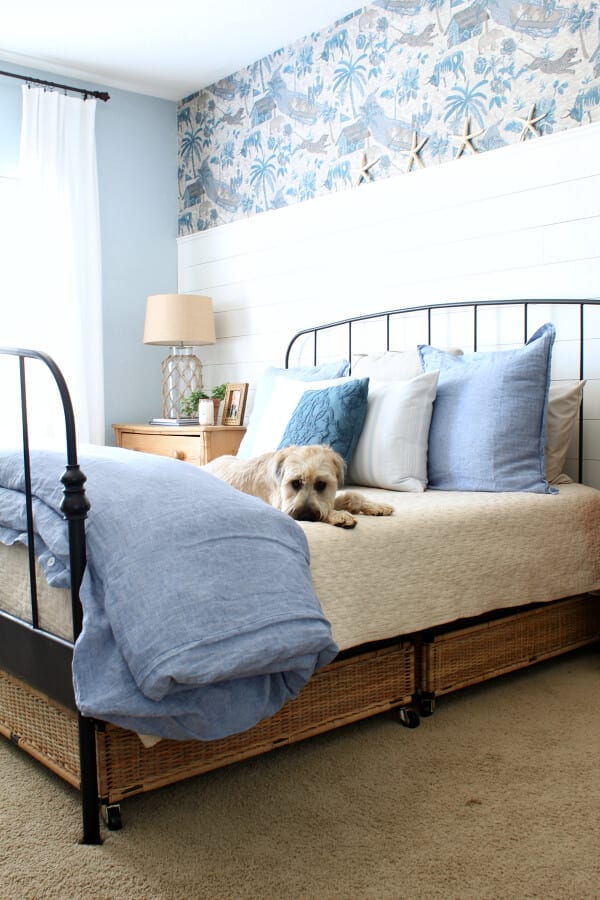 I sure do appreciate you stopping by today and touring our master bedroom. I'm curious, what's your favorite part? Do you have any questions for me?  I can honestly say it has brought joy to our home especially during these very uncertain times.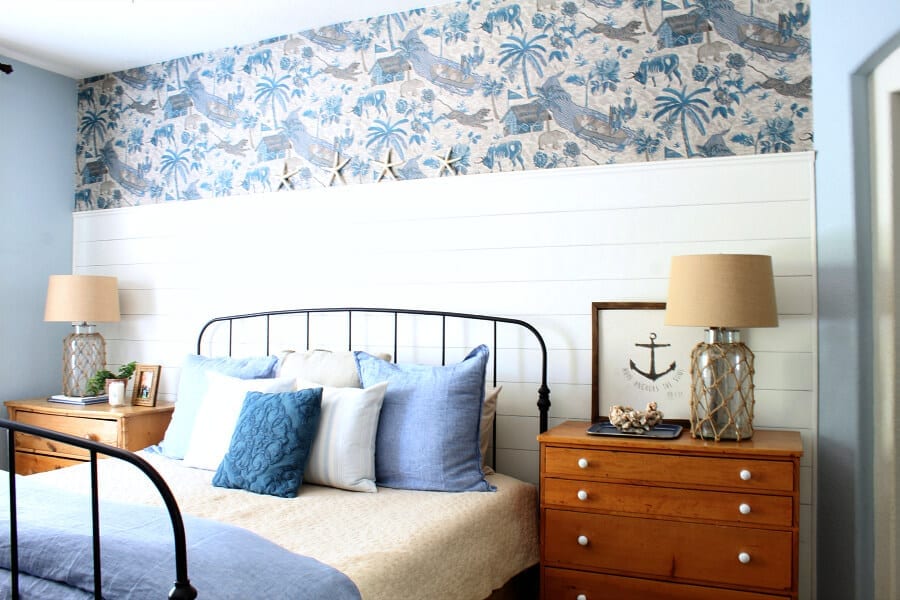 Other Wayfair Posts You might like…
I'd love to have you hang out with me some more! Feel free to follow along with me on any of the platforms linked below.
LTK | Facebook | Instagram | Pinterest | Amazon
xoxo,
Kelly
Did you like this post? PIN it for later!