Simple Spring Porch Refresh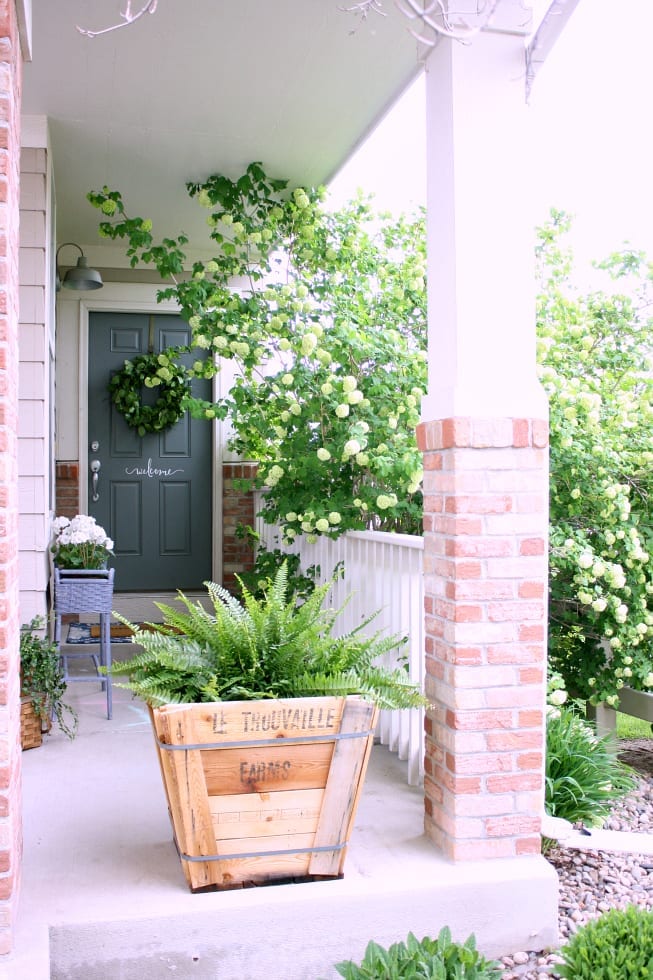 Hi friends! Today I am so excited to be bringing you some simple Spring porch refresh inspiration! Here in Colorado we can finally say that Spring is in full force (even though summer is just around the corner) and if you know me, you know that I was out decorating my pew and porch as soon as I could. It was well worth the wait!
Simple Spring Porch Refresh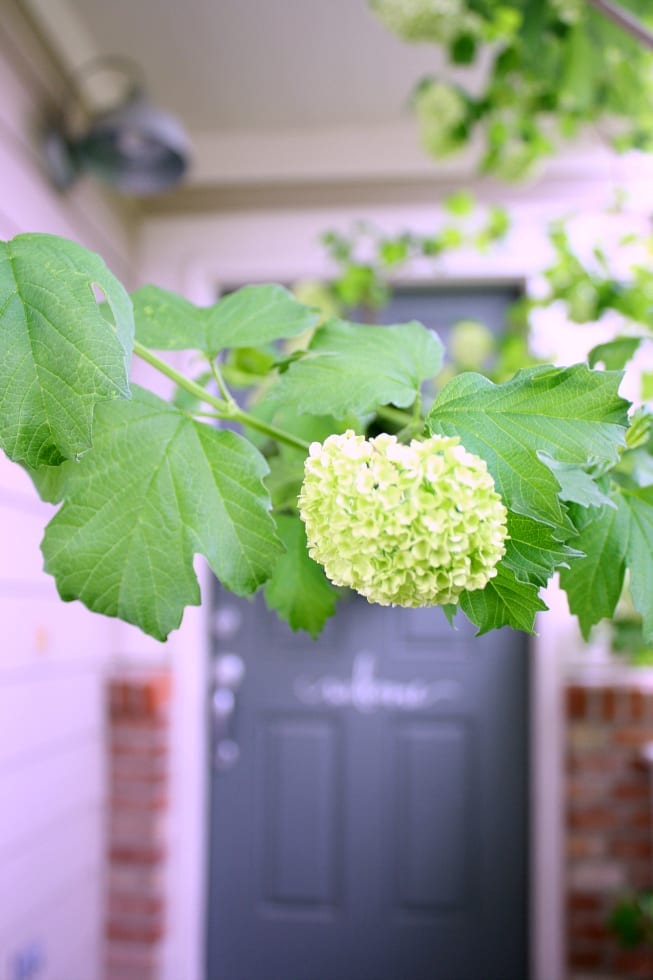 Each Spring I always look forward to when our viburnum bushes bloom. We have a total of four bushes but the one next to our porch is my favorite! It has these gorgeous white snowball blooms that greet you as you enter our porch and instantly give off the cottage vibe I love!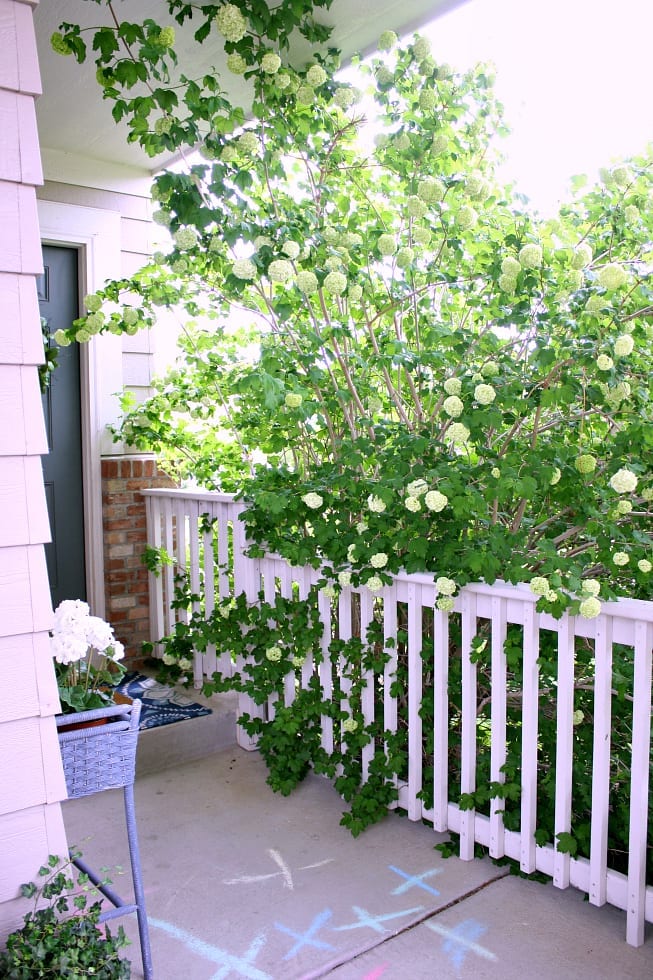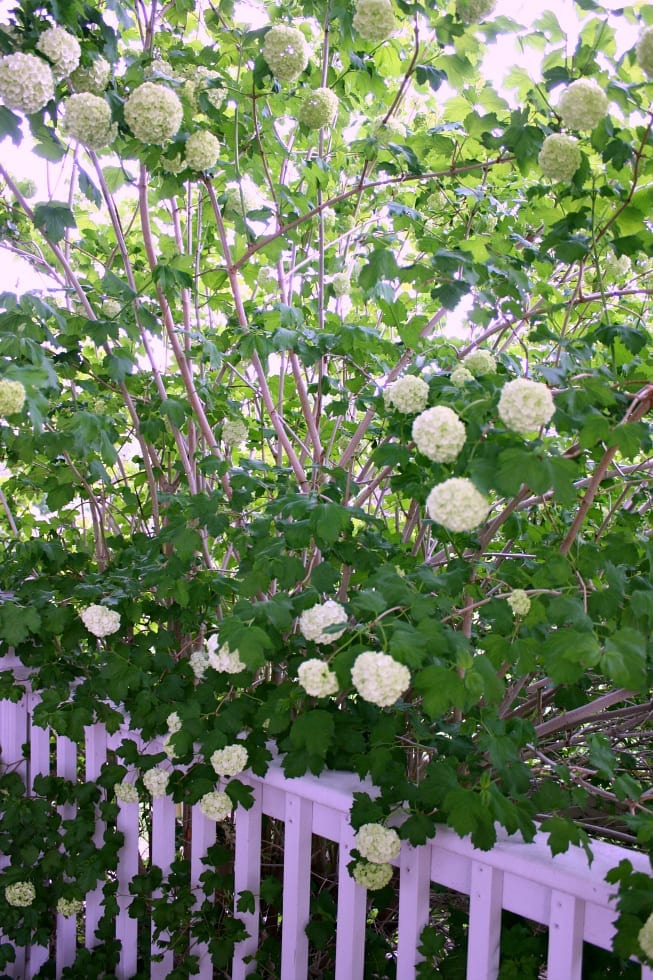 Porch Decor
Like the title of this post eludes I kept our porch decor simple and easy and used mostly what I already had on hand! The blue and white color scheme was inspired by my family room and Mother's Day tea party tablescape.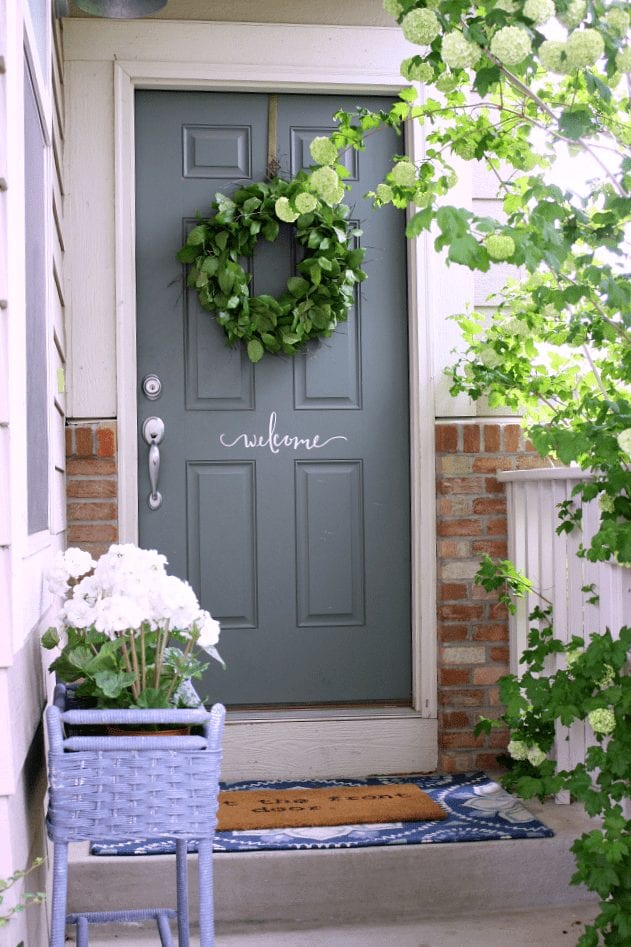 Our doormat we have had for awhile now and it always makes those who visit giggle! My husband picked it up for me at a local store here in Colorado called Knapsack. Rather than leave it by itself I decided to layer it with this blue floral rug from Target. Doesn't the layering add the perfect pop of color and texture to our boring front step?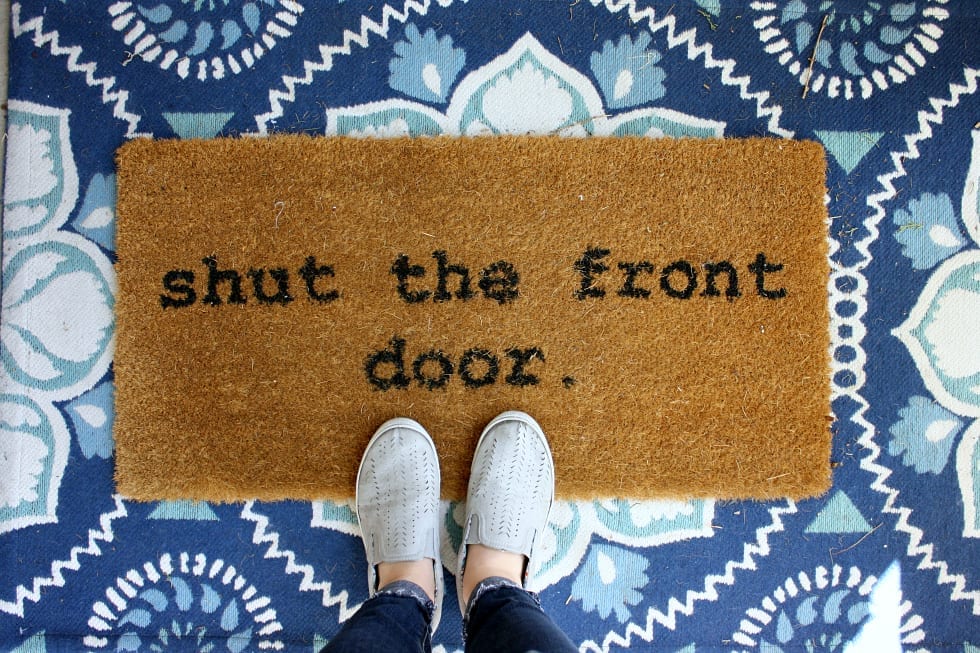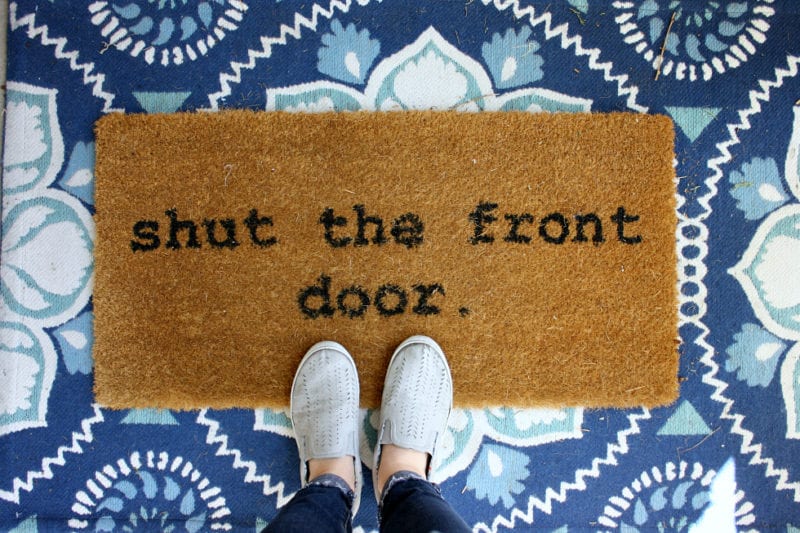 Vintage Items on the Porch
As you walk away from our front door and towards our front yard you pass by a blue vintage wicker plant stand that I found at a vintage market last year. It was already painted the most perfect blue. Inside the stand I placed some faux white flowers that I found at JoAnn's Fabrics last summer. I love to mix faux and real plants out on my porch because honestly, I have a hard time remembering to water the real plants. I will say though, I am pretty picky about which faux plants I use… they have to be good quality!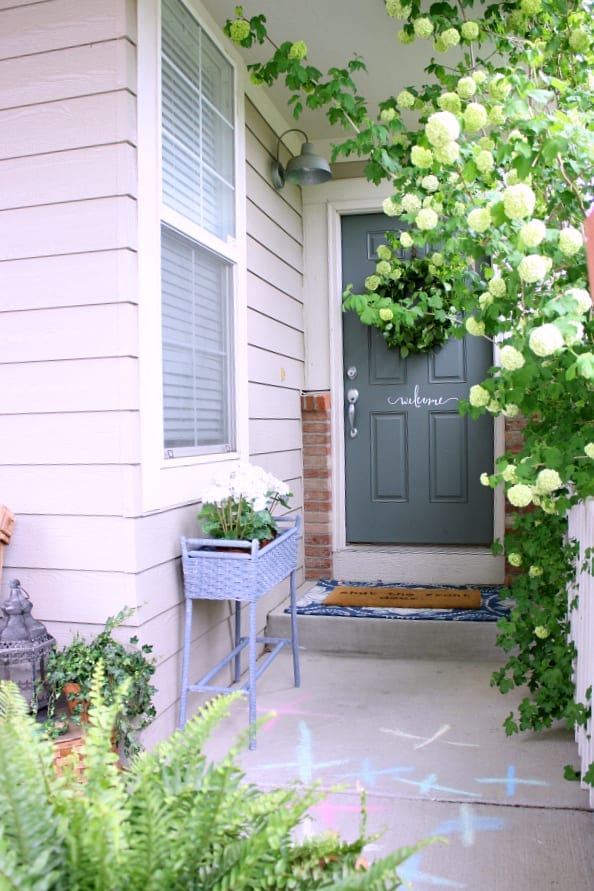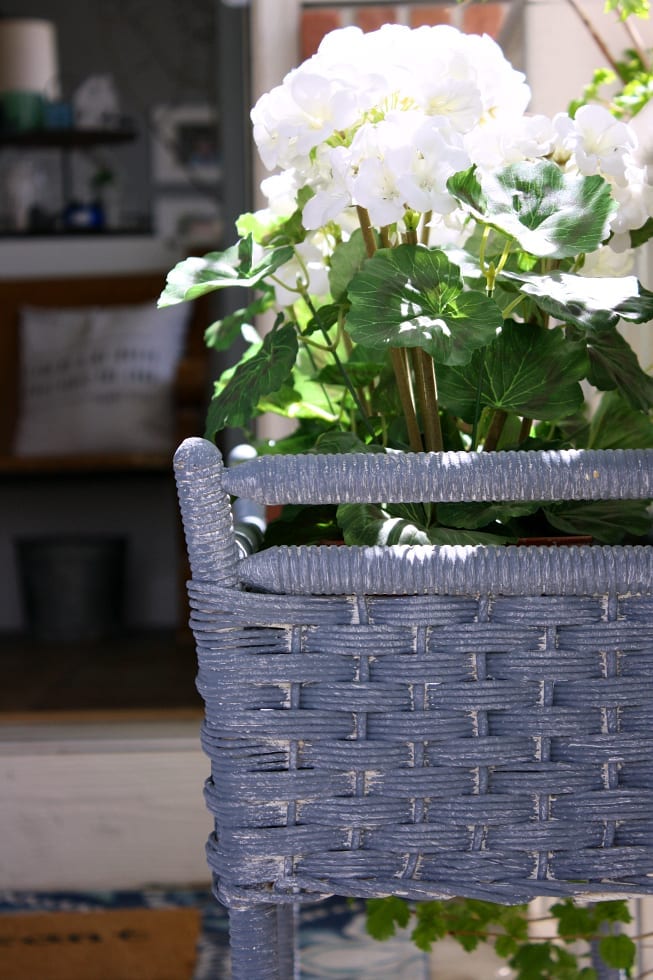 Love Fern
You might also notice that I have a gorgeous Boston fern sitting in an old tree crate. Does the crate look familiar? You might remember that it held our indoor Christmas tree this past year. You can take a peek at some pictures of it here in our house. I love that this unique crate can be used anywhere. It too was a vintage market find.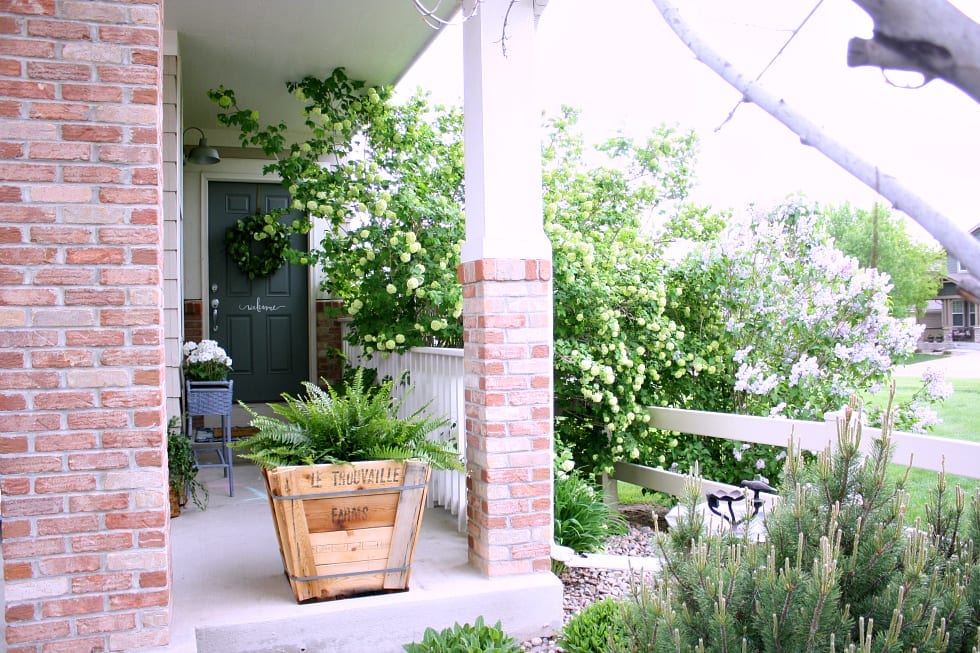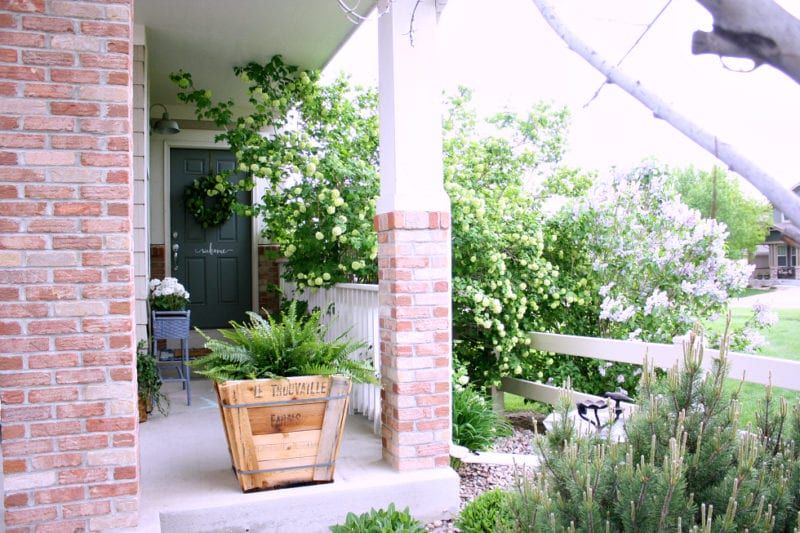 Speaking of ferns, after having them on our porch last summer I knew I wanted them again! So I basically stalked our local grocery store and talked about them non-stop until they got them in this year. I love a great deal and these huge Boston ferns were only $12!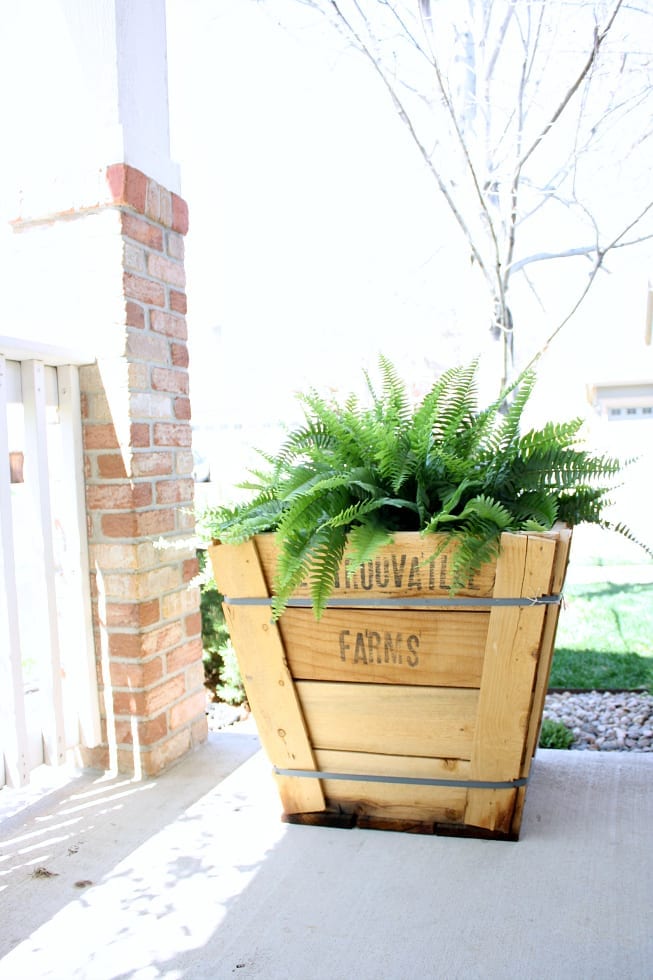 A Peek Into Our Funny Text Messages
Well as you can see I finally got my hands on two of them and now my husband and I have a joke about how he never knows when a new fern will just show up on our porch. Luckily for him I only have the 2 currently…but he knows there is always the chance I could grab another one while out grocery shopping!;) Below is a text from last week between the two of us that I think will make you chuckle…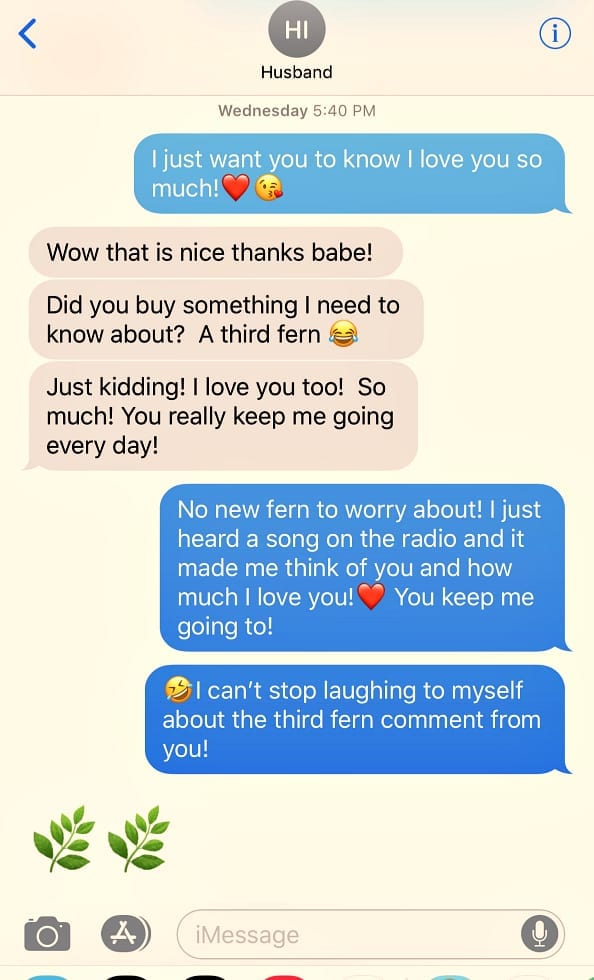 Hilarious, right?! He knows me well and I am definitely lucky to have him in my life! Not many men would put up with a fern addiction! Hee hee My sister has affectionately started to call them our Love Ferns!:)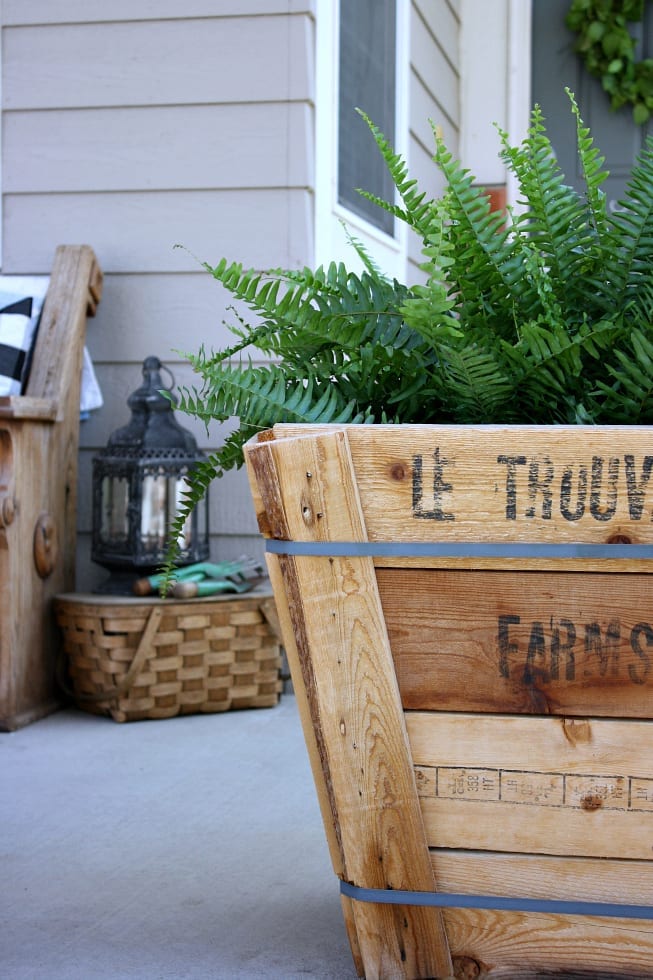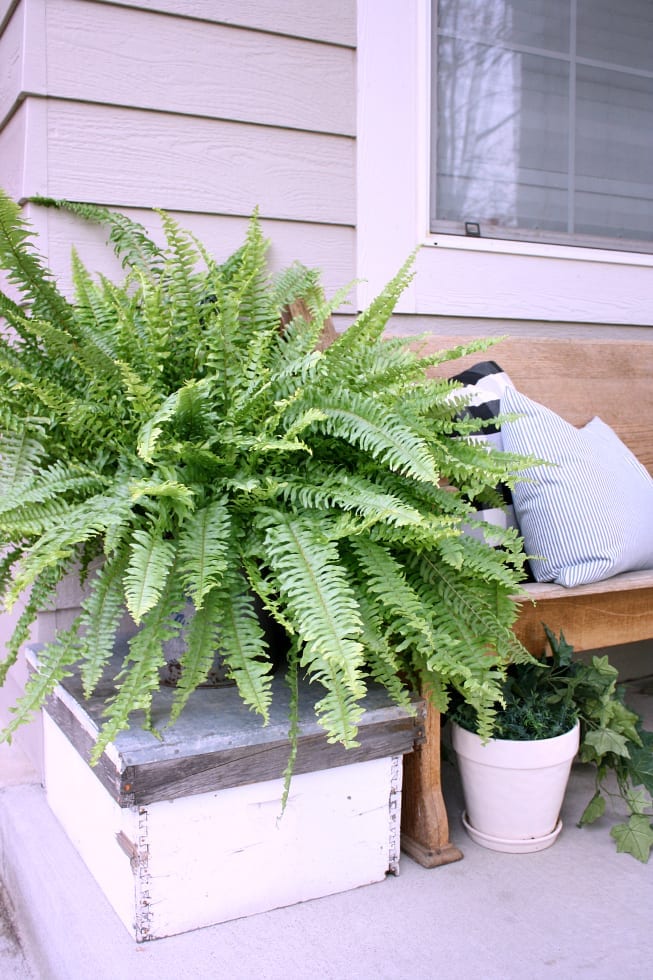 Miss Fanny the Pew
Our last stop on the porch tour is my beloved pew. This is the first Spring that my pew, Miss. Fanny, has had the chance to grace our porch. I found her last summer from a dear friend and loved her immediately. You can read all about how I found her here!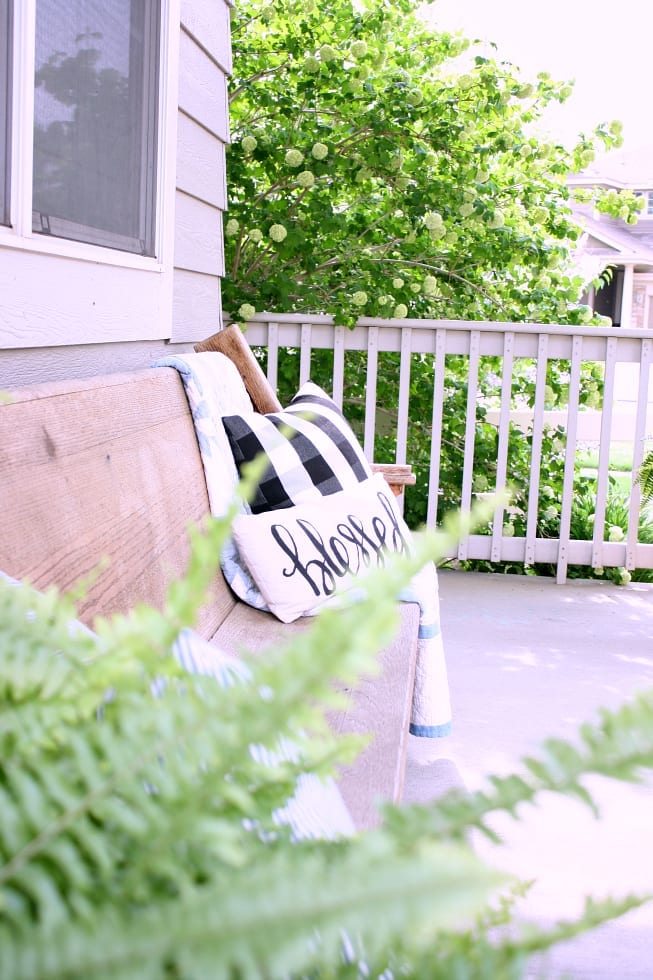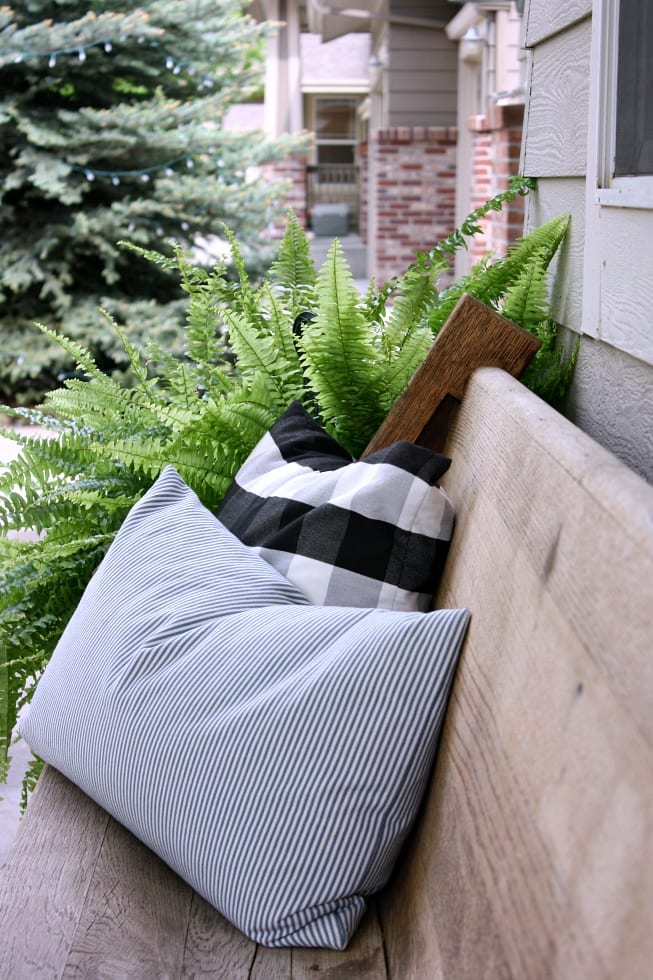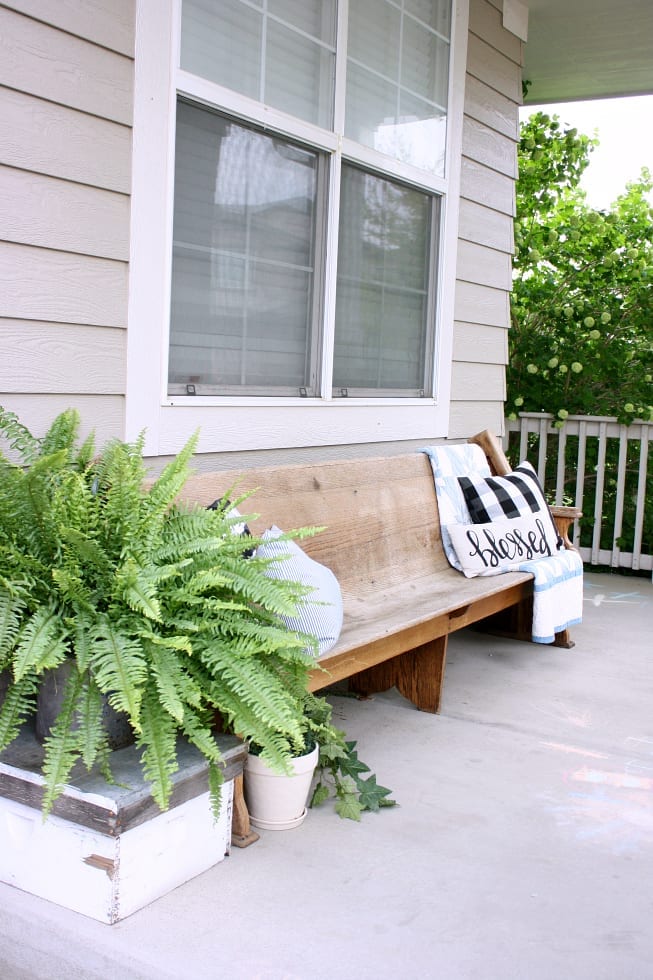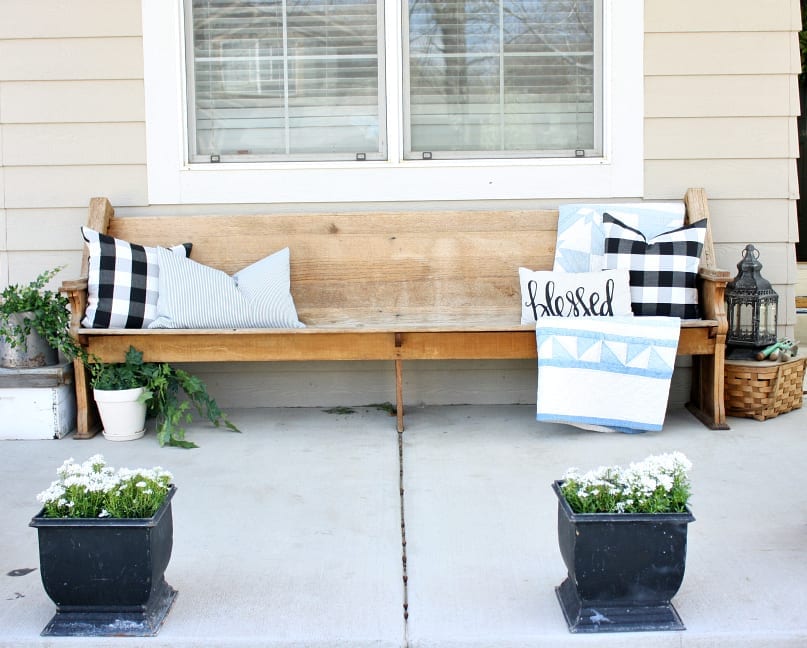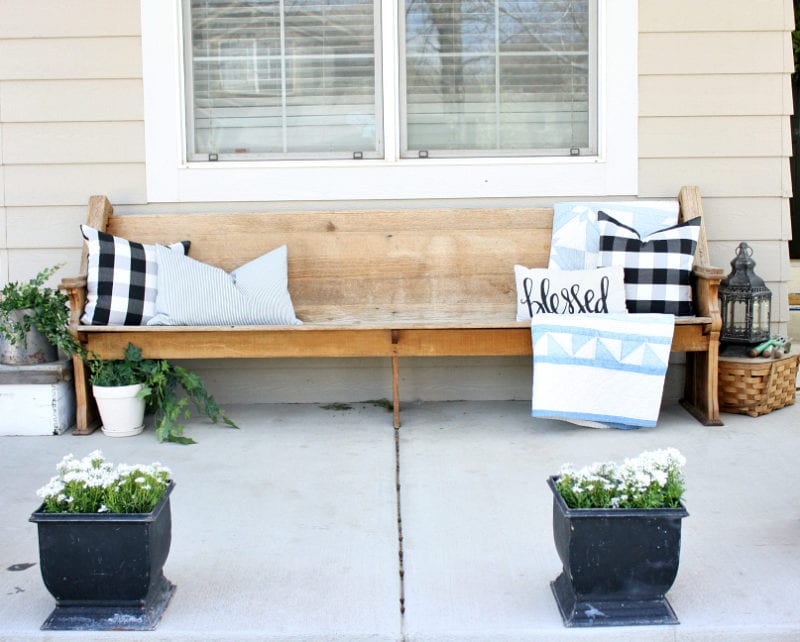 Thanks for stopping By Our Spring Porch
Well there you have it, our Spring porch! A simple color scheme that says cozy and inviting all at once. It honestly didn't cost me much (I only bought the ferns) and came together so nicely! I love when that happens. Do you have a porch you love to decorate? If so share it with me below or tag me over on Instagram, I would love to see it!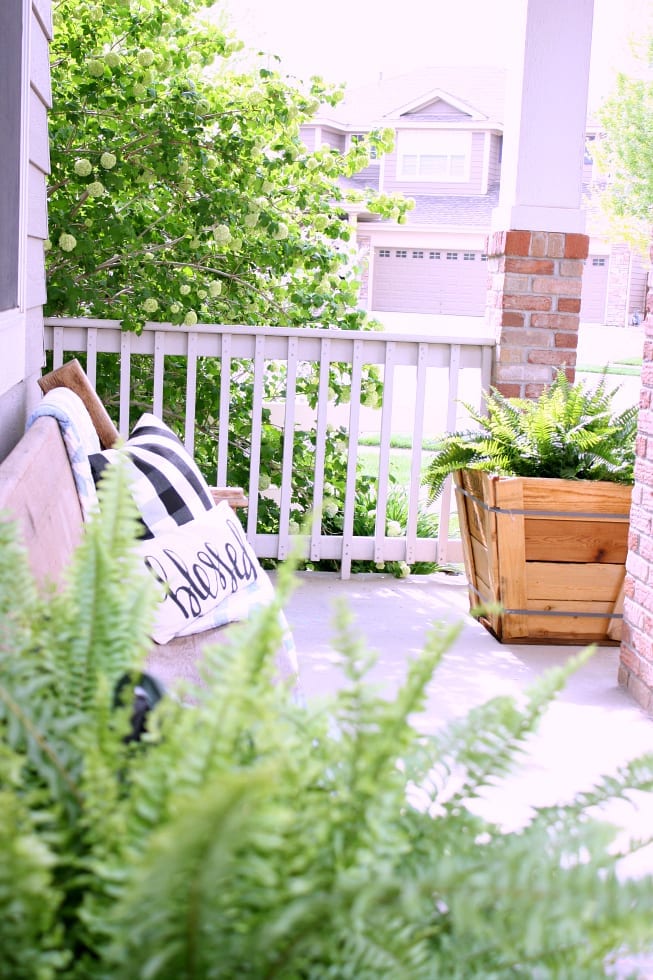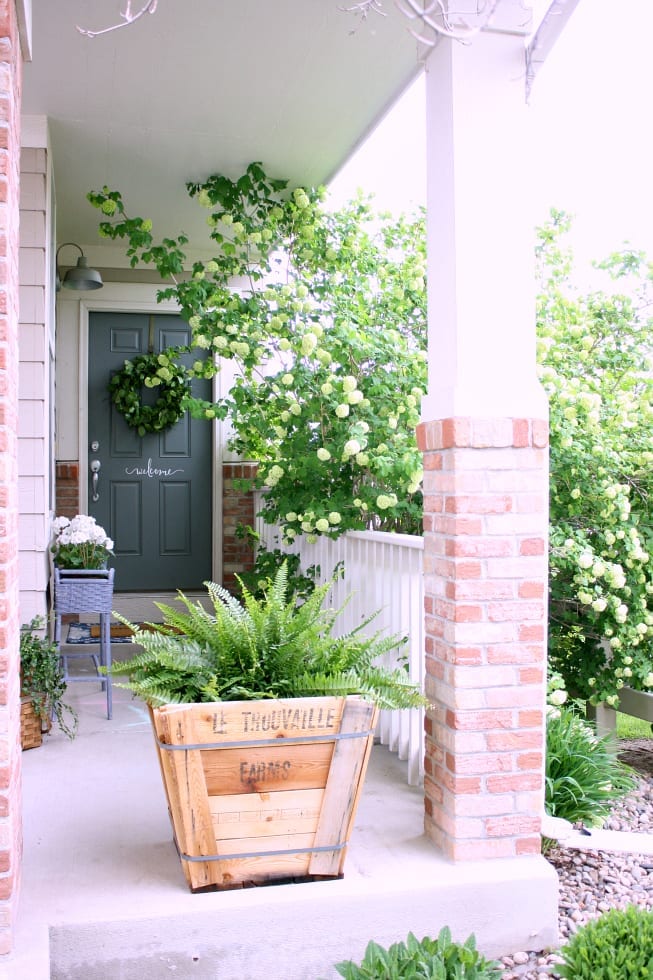 I am also thrilled to be joining some of my Instagram and blogging buddies as they each show you how they have been decorating for Spring/early Summer around their homes! You can find each of their links at the bottom of this post along with sources for my simple Spring porch refresh!
xoxo,
Kelly
Lindsay, Aratari At Home
Brendt, She Gave It a Go
Sarah, Dreaming Of Homemaking
Jessica, Patina Gray Home
Porch Sources
(**The links in this post contain affiliate links and I will receive a small commission, at no additional cost to you, if you make a purchase after clicking my link below. )
Door mat– Knapsack
Blue rug-Target
Porch light-Lowes
Blue wicker plant stand- vintage market find (similar one here)
Faux white flowers-JoAnn's Fabric
Blue and white striped pillow-IKEA
Black and white buffalo check pillow – Hobby Lobby
Live ferns- Kroger Grocery Store
Blue and white quilt- flea market find
Blessed pillow- made by my sister