A Simple and Organic Easy to Make Fall Centerpiece
Are you on the hunt for an easy and inexpensive fall centerpiece ideas that will add an elegant touch to your dining table this season? Look no further! In this DIY blog post, I'm going to walk you through creating a modern and beautiful fall centerpiece for your fall or Thanksgiving table. The best part? It's easy, affordable, and entirely organic. So, let's dive in and learn how to make this simple and organic easy Fall centerpiece step by step.
*As an Amazon Associate, I earn from qualifying purchases. This post contains other affiliate links too for your convenience. Click here to read my full disclosure policy.
A Simple and Organic Easy to Make Fall Centerpiece
Now that Fall is in full swing my mind is shifting a bit to Thanksgiving preparation and decor. And this simple and organic easy to make Fall centerpiece came into my mind in the middle of the night one night. I couldn't wait to wake up and create it.
And good news, it turned out better than the vision I had in my head! I love when that happens.
The Cozy Creative Collaborative
But first, I am so excited to be joining some amazing fellow bloggers for our monthly blog series that are calling it the Cozy Creative Collaborative! This month our theme is anything pumpkin!
Let me introduce you to the ladies. Make sure to visit all of their posts too!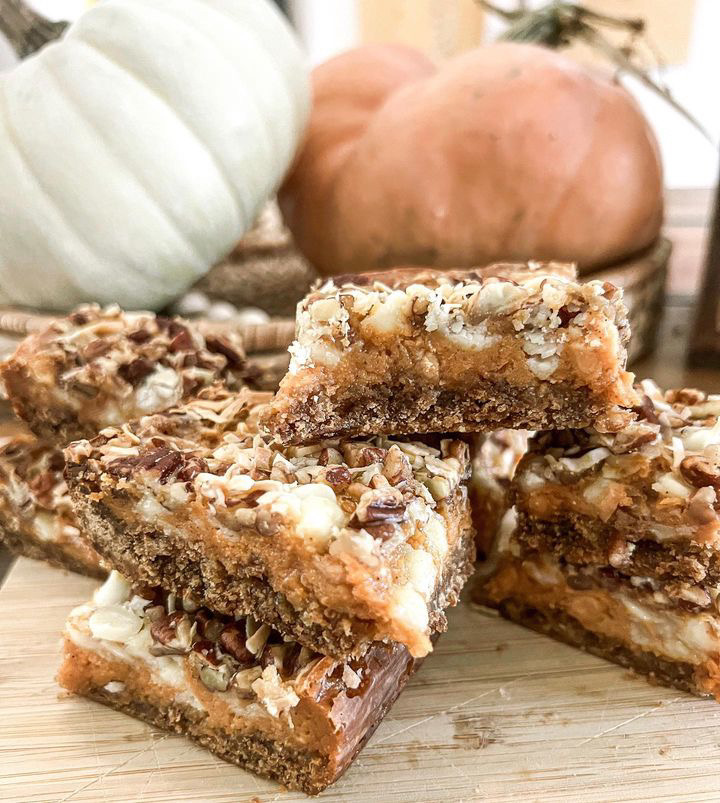 How to Steps for Making an Easy Fall Centerpiece
Now let's get into the simple steps for this showstopper of a centerpiece.
Materials You'll Need:
Large white bowl or vessel
Pinecones (gathered from your yard for that organic touch)
One large, colorful pumpkin (for the focal point)
Additional scattered pinecones for the finishing touch
Step 1: Gather Your Supplies
Before you begin crafting your fall centerpiece, make sure you have all your materials ready.
The large white bowl or vessel will serve as the base for your centerpiece. The pinecones, pumpkin, grapevine, and moss will come together to create a beautiful and natural arrangement.
I had fun collecting pinecones straight from our yard and this is how I prepare them for indoor use.
As for the pumpkin I wanted a real one that was unique looking. I found the gorgeous multi colored one at Walmart! I already had the moss and grapevine so this came together very quickly for me.
PRO TIP: Use sticks from your yard if you don't have access to grapevine garland. Sticks will also give your centerpiece that gorgeous organic and natural look!
Step 2: Create the Foundation
Take your large white bowl or vessel and fill it with pinecones. These can be gathered inexpensively from your yard, giving your centerpiece a truly organic feel.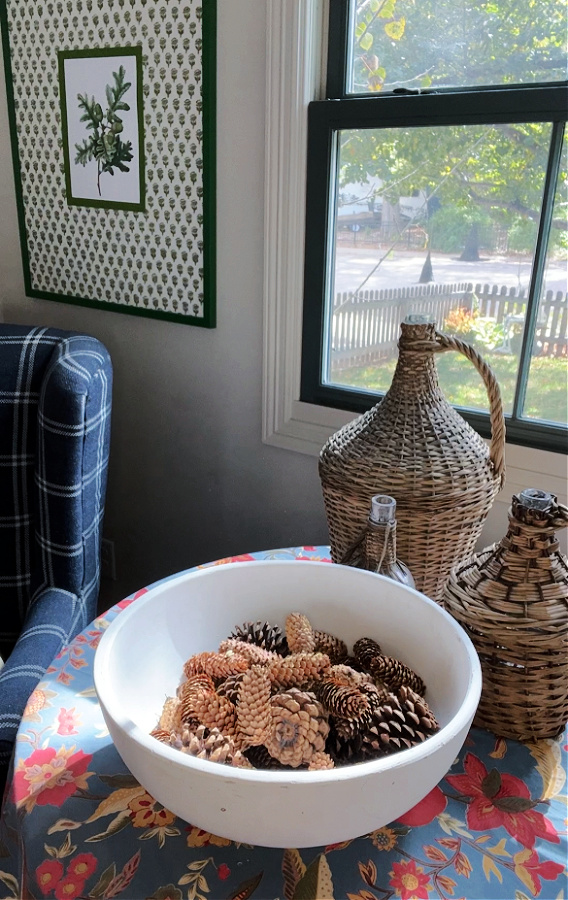 Make sure to pack them in snugly; this will serve as the foundation of your fall centerpiece.
Step 3: Add the Focal Point
Now, it's time to introduce the star of the show – the large, colorful pumpkin. Place it right in the center of your pinecone-filled vessel and then push it to one side so it is slightly off center.
This is what will draw everyone's attention and give your centerpiece that elegant fall touch.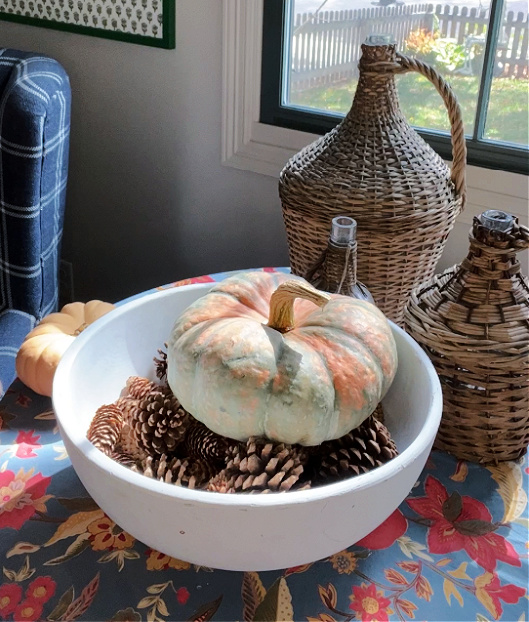 At first I tried adding two other little pumpkins but it just didn't look right. Play with your placement and enjoy the process until it feels right to you!
Step 4: Wind the Grapevine
To create that organic and natural look, wind the grapevine around the pumpkin. Don't be too concerned about perfection; this is meant to look simple and effortless.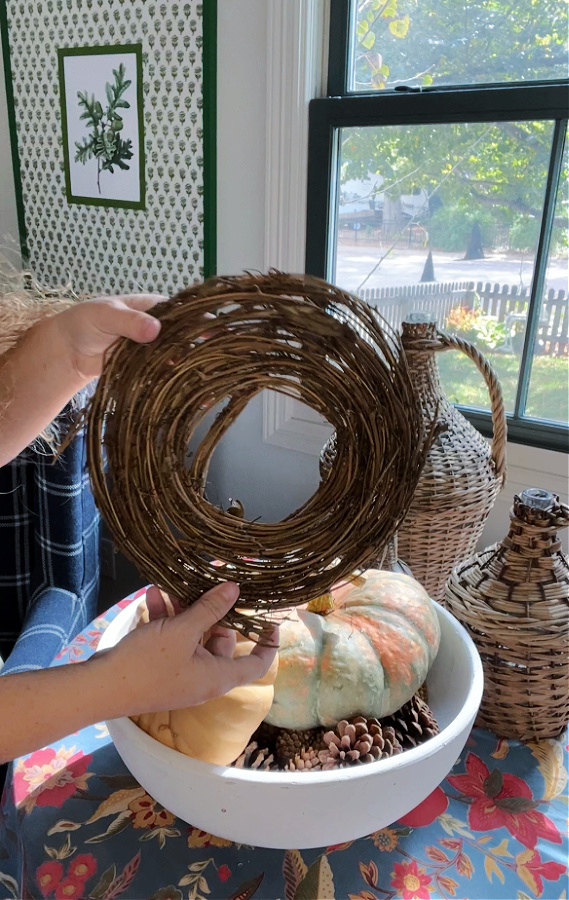 Tuck the grapevine in between the pinecones and let it meander its way around the pumpkin.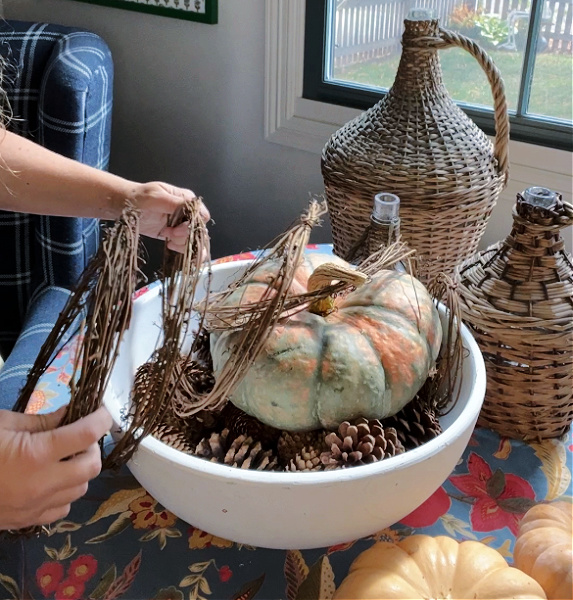 Step 5: Enhance with Moss
To add a pop of color and a touch of whimsy to your centerpiece, tuck in pieces of moss around the grapevine and pumpkin. This step brings a modern twist to your fall centerpiece and makes it all the more inviting.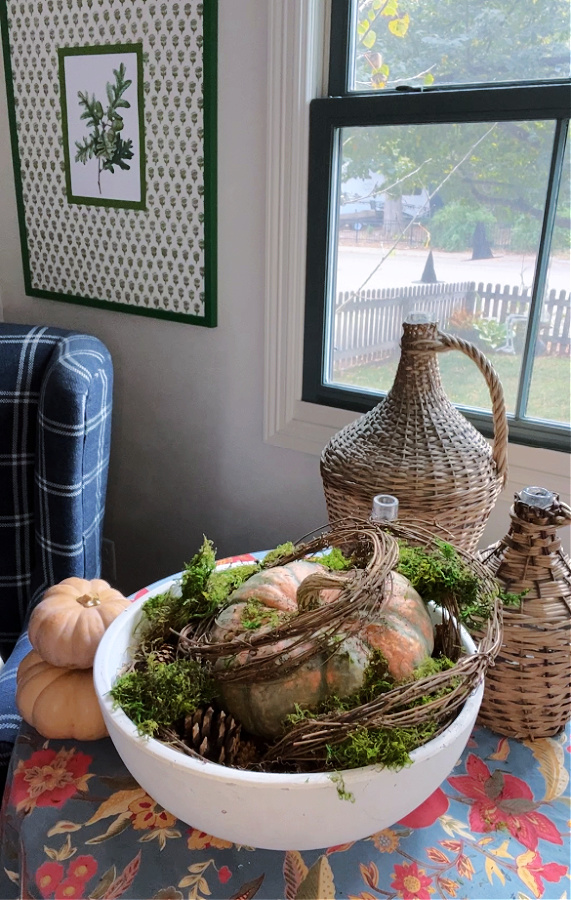 This can get a bit messy so be thoughtful of where you are creating this Fall centerpiece. I loved the look of the moss bits that stuck to the top of my pumpkin so I kept them. Use the moss to your liking, neat or messy it will still achieve that elegant look when added.
Step 6: Scatter More Pinecones
To complete the look, scatter a few more pinecones throughout your centerpiece. This adds depth and texture while maintaining the organic and natural aesthetic.
I like to cluster them for a simple natural look.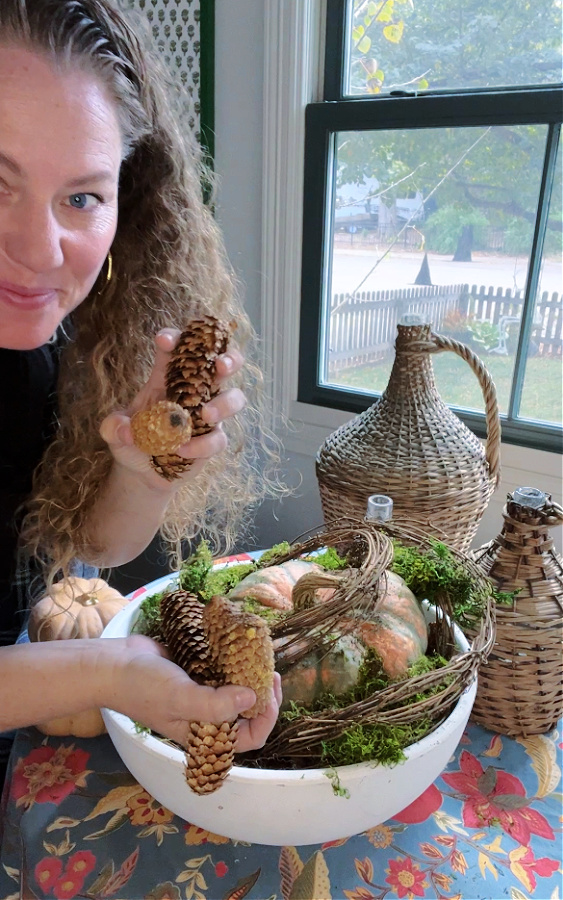 Step 7: Admire Your Handiwork
Step back and take a moment to admire your handcrafted centerpiece. It's simple, organic, and perfectly suited for a round table or other surfaces as well. This DIY fall centerpiece for your dining table is both elegant and effortlessly charming.
How to Use and Display Your DIY Fall Centerpiece
Now that I have this gorgeous Fall centerpiece created I am having so much fun moving it around our home and displaying it.
First up I love how this Fall centerpiece looks on the round table in our entry next to my wicker demi john bottles.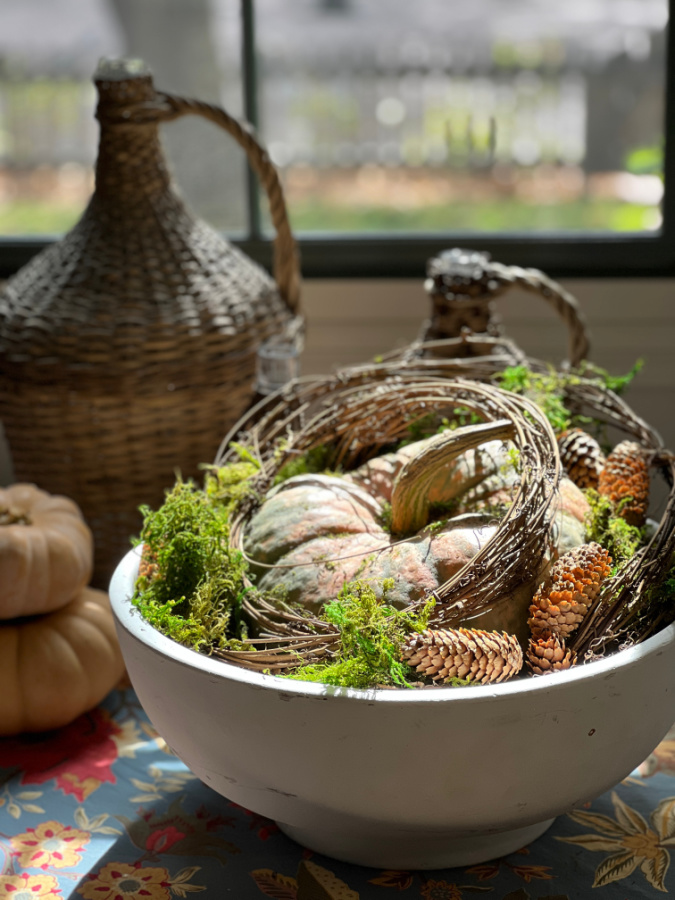 And since it is in a bowl and mobile I of course had to try it as a Thanksgiving centerpiece on our dining room table. Spoiler alert… it steals the show!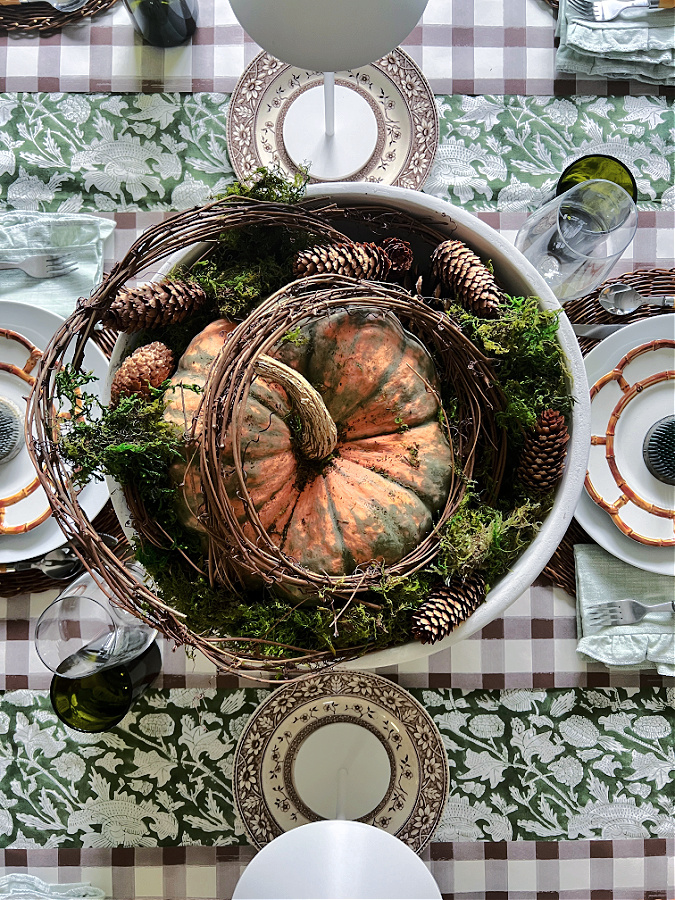 Now can't wait to make a Christmas centerpiece in this bowl as well, remove the pumpkin and add a nativity, tree or some lovely paperwhites! What would you add?
Fall Centerpiece FAQs:
Now, let's address some frequently asked questions:
Q1: Can I use artificial pumpkins for this centerpiece?
Certainly, you can use artificial pumpkins if you prefer. They will still create a beautiful fall centerpiece, and you won't have to worry about them rotting over time.
Q2: Where can I find grapevine for this project?
Grapevine can often be found at your local craft store or garden center. You can also consider using twine, sticks or other natural materials for a similar effect.
Q3: How long will this centerpiece last?
With proper care, this centerpiece can last throughout the fall season. However, be mindful of the pumpkin, as it will eventually start to decompose. Keep it out of direct sunlight and it should last a few months!
Q4: Can I customize the colors of the centerpiece?
Absolutely! Feel free to use a pumpkin in a color that complements your existing decor. This DIY allows for endless creative possibilities.
Q5: Can this Fall Centerpiece work for a Round table
Yes this fall centerpiece is perfect for a round table. But honestly, a centerpiece in a bowl could work in so many different surfaces.
Simple and Organic Easy to Make Fall Centerpiece
Creating a simple and organic fall centerpiece doesn't have to be a daunting task. With just a few materials and a bit of creativity, you can have an elegant and eye-catching focal point for your round table. This fall centerpiece DIY is not only budget-friendly but also a delightful way to celebrate the beauty of the season. Happy creating!
Shop this Post

More Fall Decor Ideas!
Enjoy these simple yet elegant ideas for more fabulous Fall decor!
I'd love to have you hang out with me some more! Feel free to follow along with me on any of the platforms linked below.
LTK | Facebook | Instagram | Pinterest | Amazon
xoxo,
Kelly
Did you like this post? PIN it for later!