Welcome friends. Today I would love to take you on a tour of our backyard! We just moved into our dream home a little over a month ago and we have been having fun making it ours. I recently shared a tour of our front yard and now it's time for the real show stopper…the large backyard!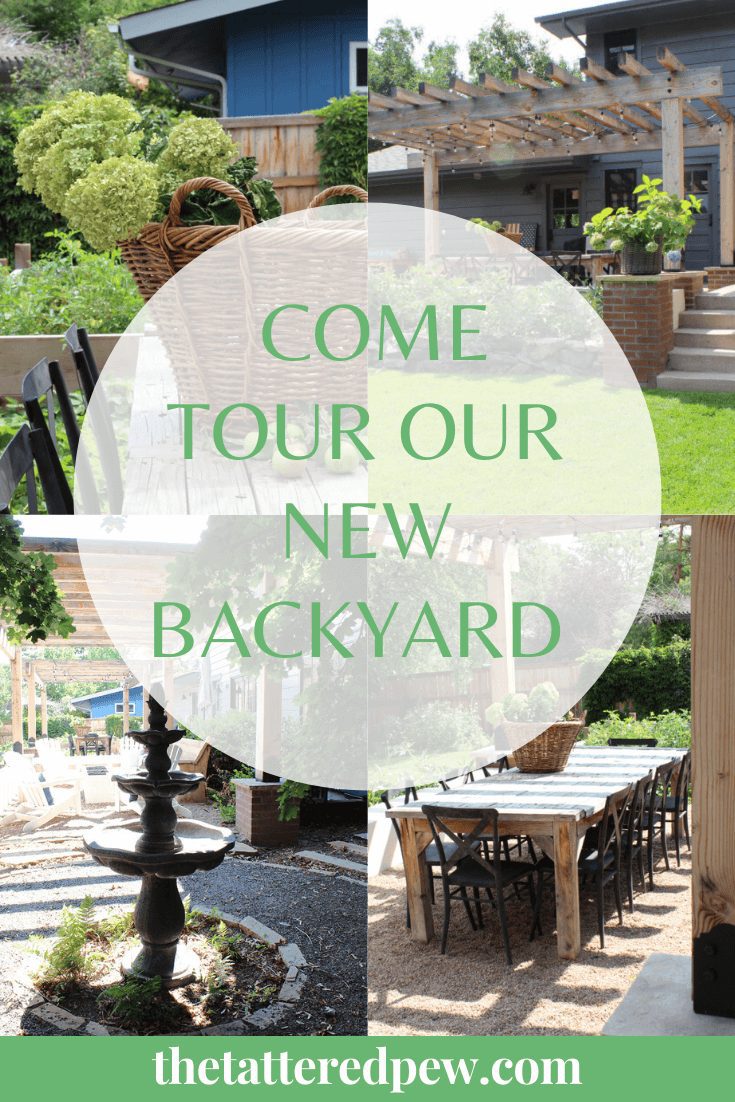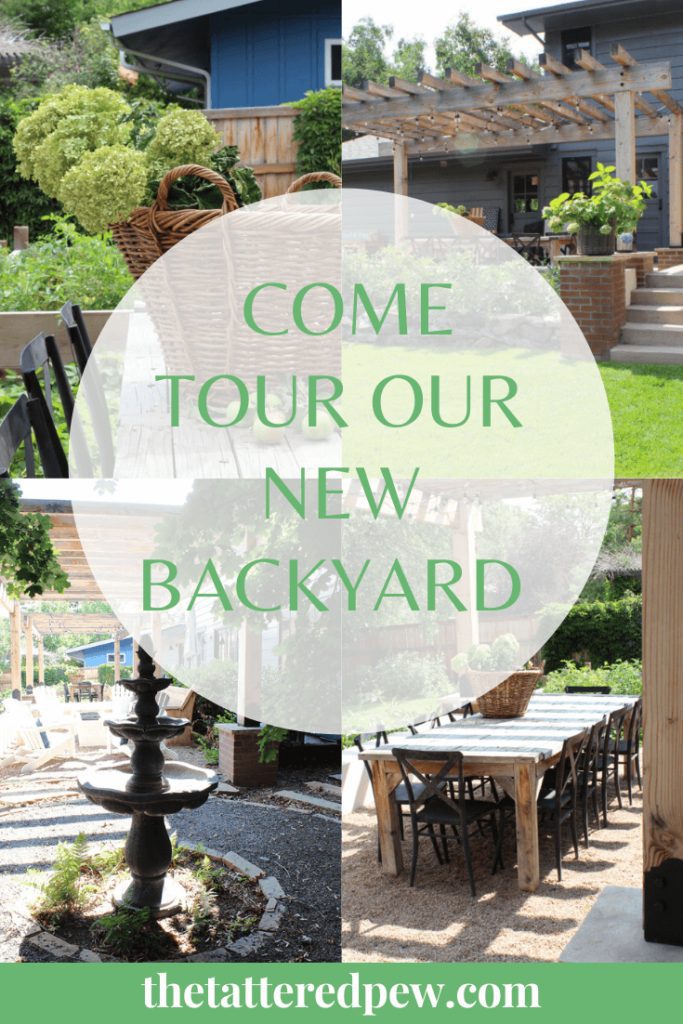 A Tour Of Our Backyard
The tour begins in our kitchen. We have amazing trifold doors that open all the way up and lead out of our kitchen and into our backyard!
Pretty cool, huh?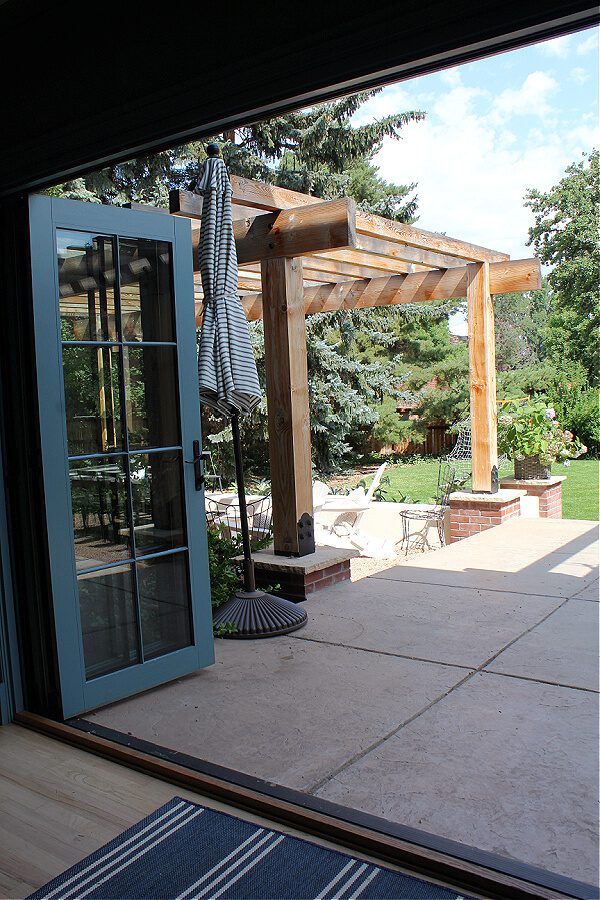 When Mike and I first visited the home for the open house they had these trifold doors open and it was like they were beckoning us out back.
And let me just say…this won my husband over right away! Can you blame him?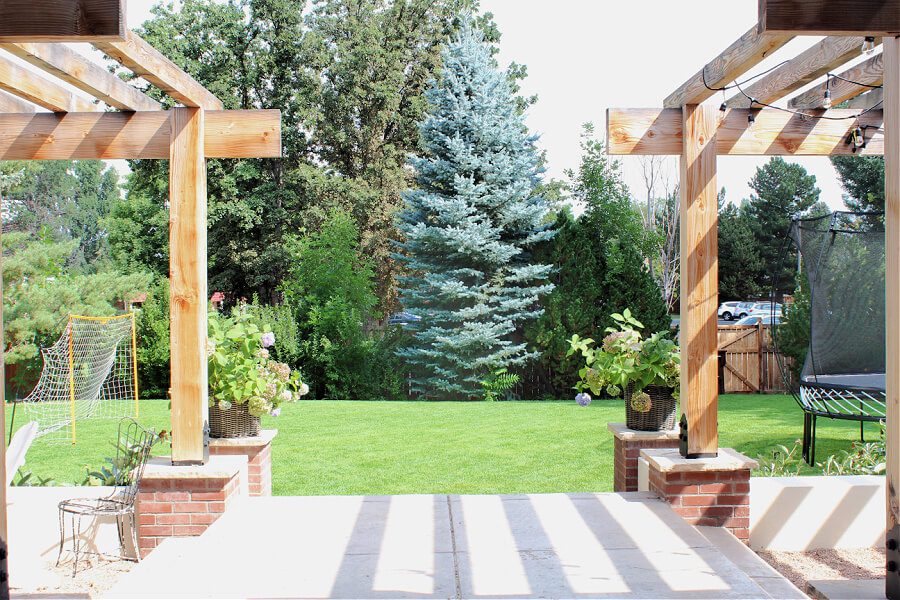 The entire backyard is lined with beautiful mature trees and is very private. I've had fun discovering the variety of trees and already found some great ones that will be perfect for making wreaths!
Another great feature is that we don't back to any other houses. We have a church directly behind us and our gate opens up to their parking lot. It's really neat and very private.
Our previous home had a VERY small yard so of course the girls were in heaven that we could finally have a trampoline and soccer net in the new yard. We all are LOVING the space we have in our new yard! I am enjoying the fact that we have not one, but two huge pergolas!
The Fire Pit Area
As you walk out and look to the left you will see our fire pit and seating area under one of those huge pergolas. Did you spot the pew that we had on our porch before? It fits perfectly here in this space. It's a large gas firepit and we have already had friends over for smores! I definitely see us making many more wonderful memories here.
As far as the seating goes I'm still trying to decide if I like our Adirondack chairs here or not. It feels a bit crowded but for now it will work!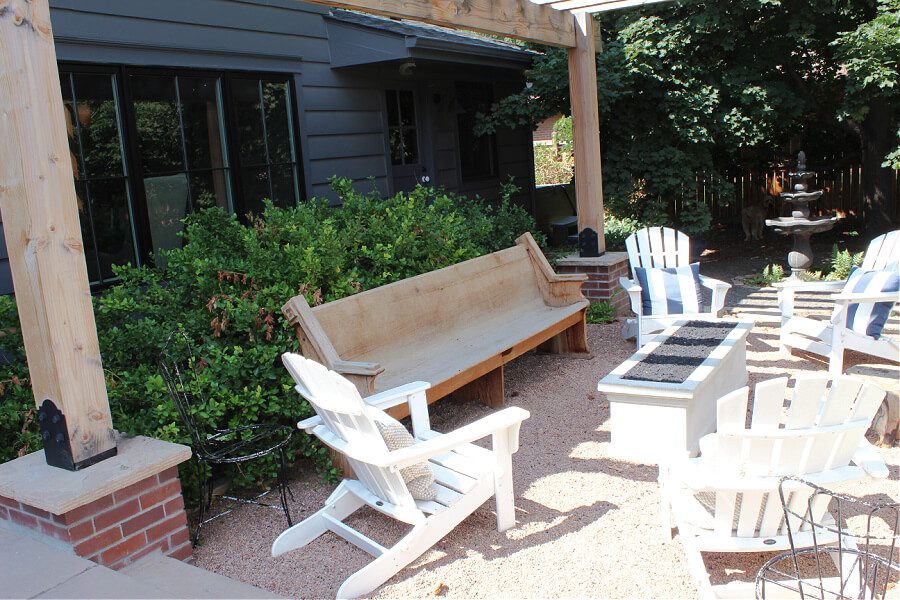 Did you notice the fountain on the other side? It's another fun and unexpected feature that the previous owners added. They really thought of everything!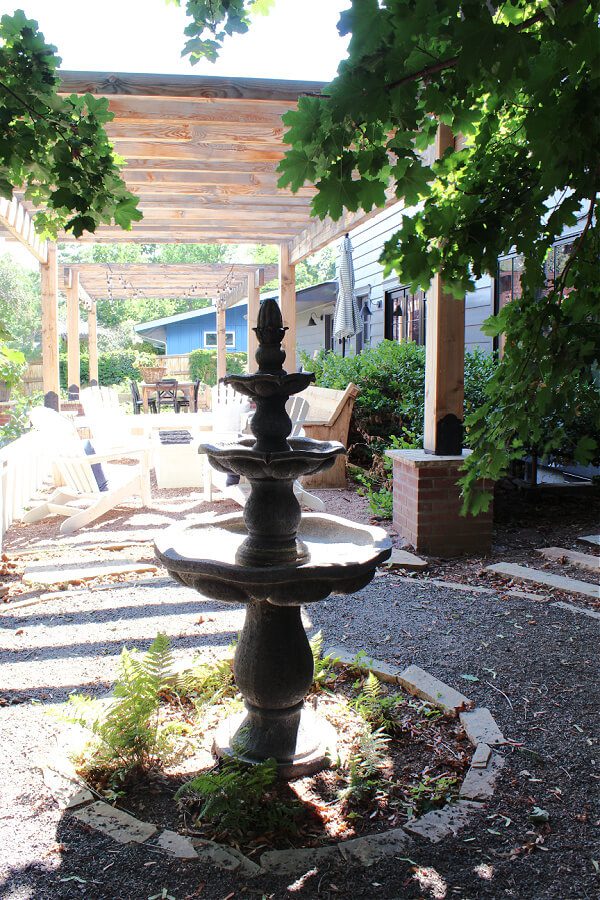 I love the ferns around the fountain and can't wait to add some hostas and pretty flowers next year! And when you look past the fountain you can see all the way over to the other pergola which I will show you more of below!
A Side View
Just on the other side of the fountain and past the pergola is our side gate and the holding area for our hot tub. We are currently waiting on getting the correct electrical, a cement pad for it to sit on and the trees trimmed a bit before we can use it. The door you see leads into the office area just off of our dining room. Aren't the rock paths and greenery charming?
The two pictures below show the view of the expansive yard from under the pergola with our fire pit. Can you spot Zoey? Both her and Kona are in heaven with all the new space. They literally spend hours out back chasing the squirrels. Ha!
A Full View Of the Back of The House
This view gives you a good idea of the symmetry of the two pergolas. I am in LOVE with this view looking back at the house.
Do you see the rock wall? All of that greenery above the rocks is actually several peony plants. All white peonies to be specific! They were in bloom at the open house and absolutely gorgeous. And if you know me you know that my favorite flowers are peonies and hydrangeas and this house has them both! It was meant to be for sure.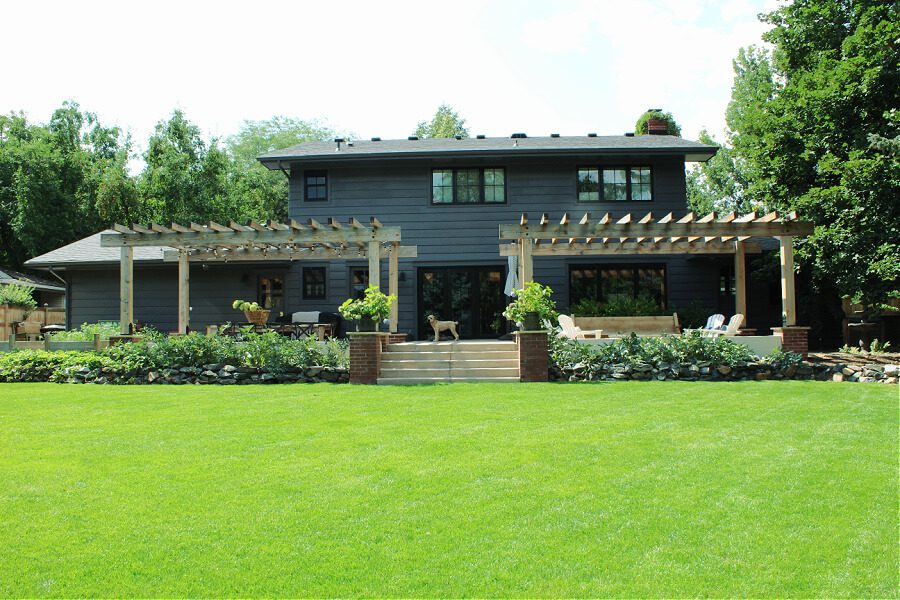 I added my endless summer hydrangeas in baskets on the two brick pedestals. It's honestly too much sun for them but I loved how they looked in this spot! I will be looking for full sun planters for the posts next Spring.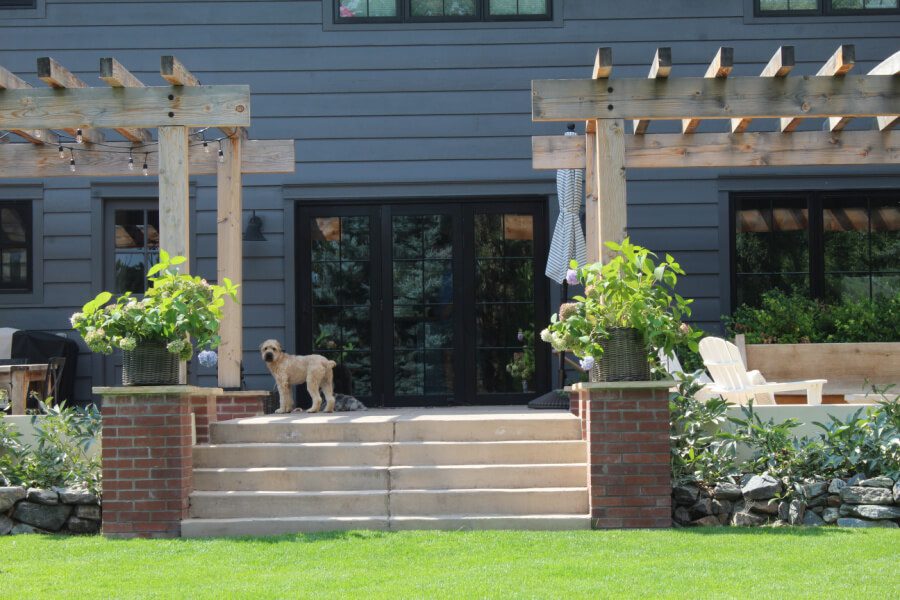 An Outdoor Dining Space
Under the pergola on the other side is a gorgeous outdoor dining area. One of the first things Mike and my brother in-law Ryan did on move in day was put up the outdoors lights. You can't have a pergola and not have outdoor lights, right?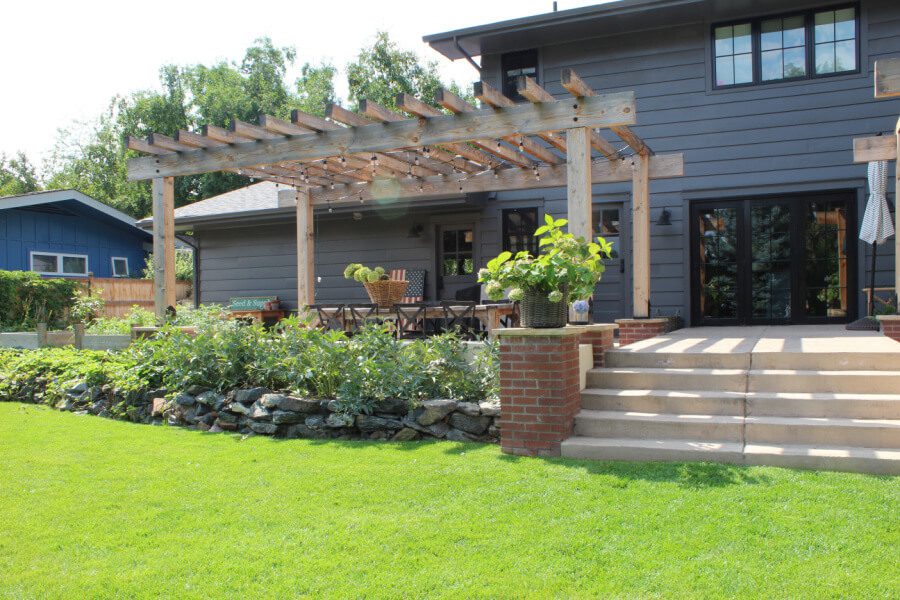 This view of the eating area is from our kitchen. The proximity is perfect for dinner parties and family dinners. Our plan is to have a ton of them…we want our house to be a gathering spot for family and friends. I feel like the Lord has big plans for us here and that hospitality is one of those!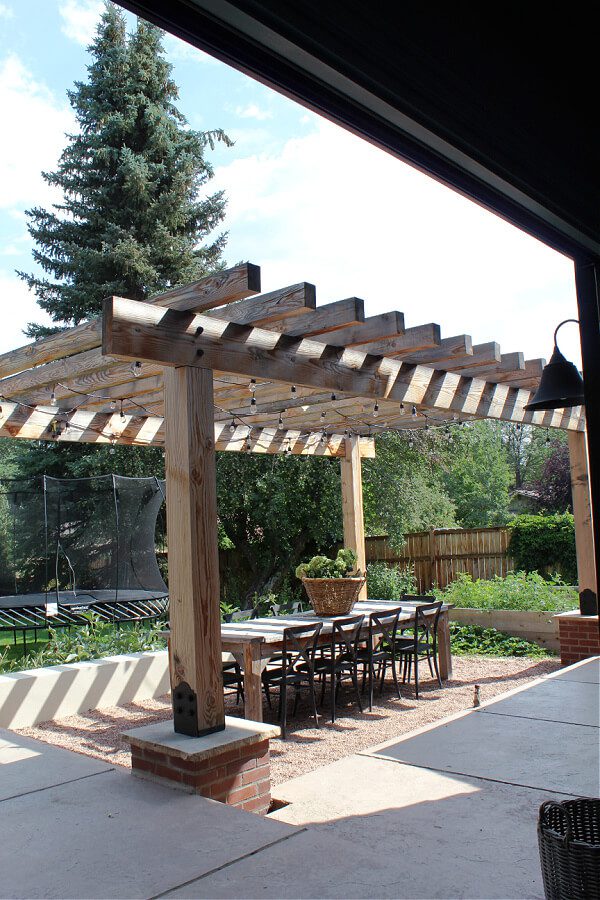 We bought the beautiful wood table and black metal x-back chairs from the previous owners. They fit this space perfectly and we couldn't imagine it without them! I of course had to add a vintage basket and some drying hydrangeas. I can hardly wait to style this space for all the seasons!
See the apples on the table? We have our very own HUGE apple tree in the yard just to the left of this picture. It is currently very heavy with apples. I am so excited to use them to bake with. I'm thinking they would be perfect for my rosemary browned butter apple pie!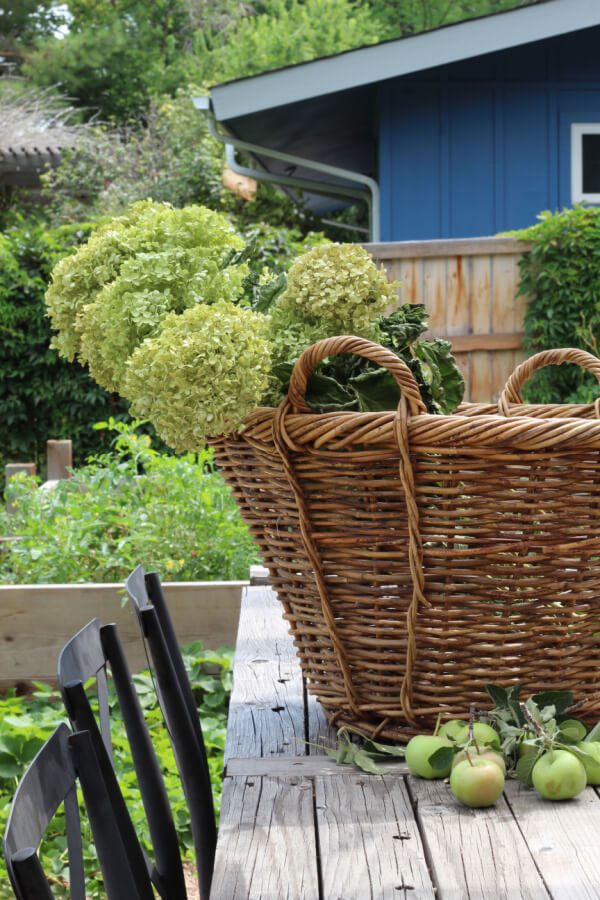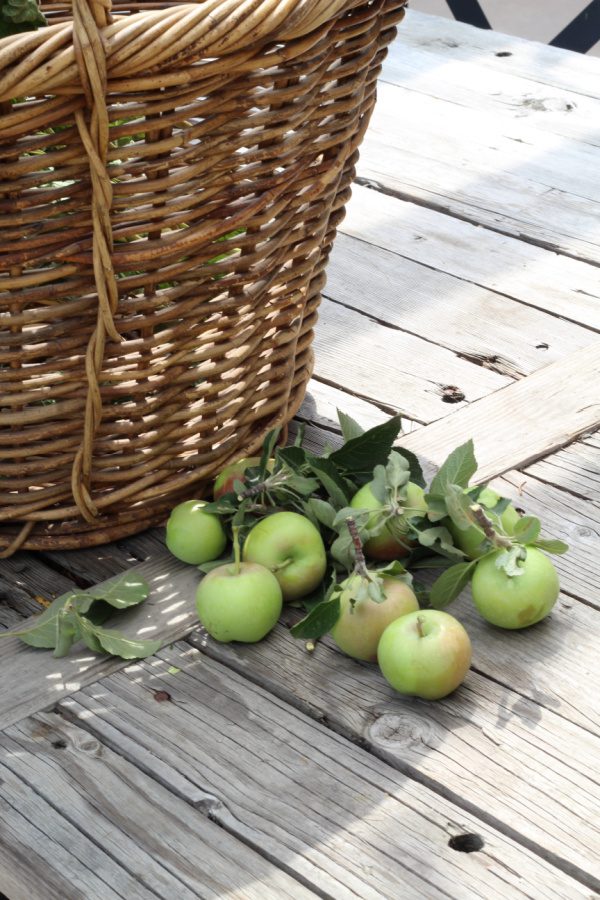 I might have had a little too much fun taking pictures. But hopefully you will enjoy them as much as me! See the apples on the tree in the background?
Garden Boxes
On the other side of the table are two garden boxes! One is full of tomatoes and the other one is empty and ready for us to fill up. I'm dreaming of using one for veggies and the other for a cut flower garden! It even has a built in drip system all ready to go. I could not be more excited about this bonus space!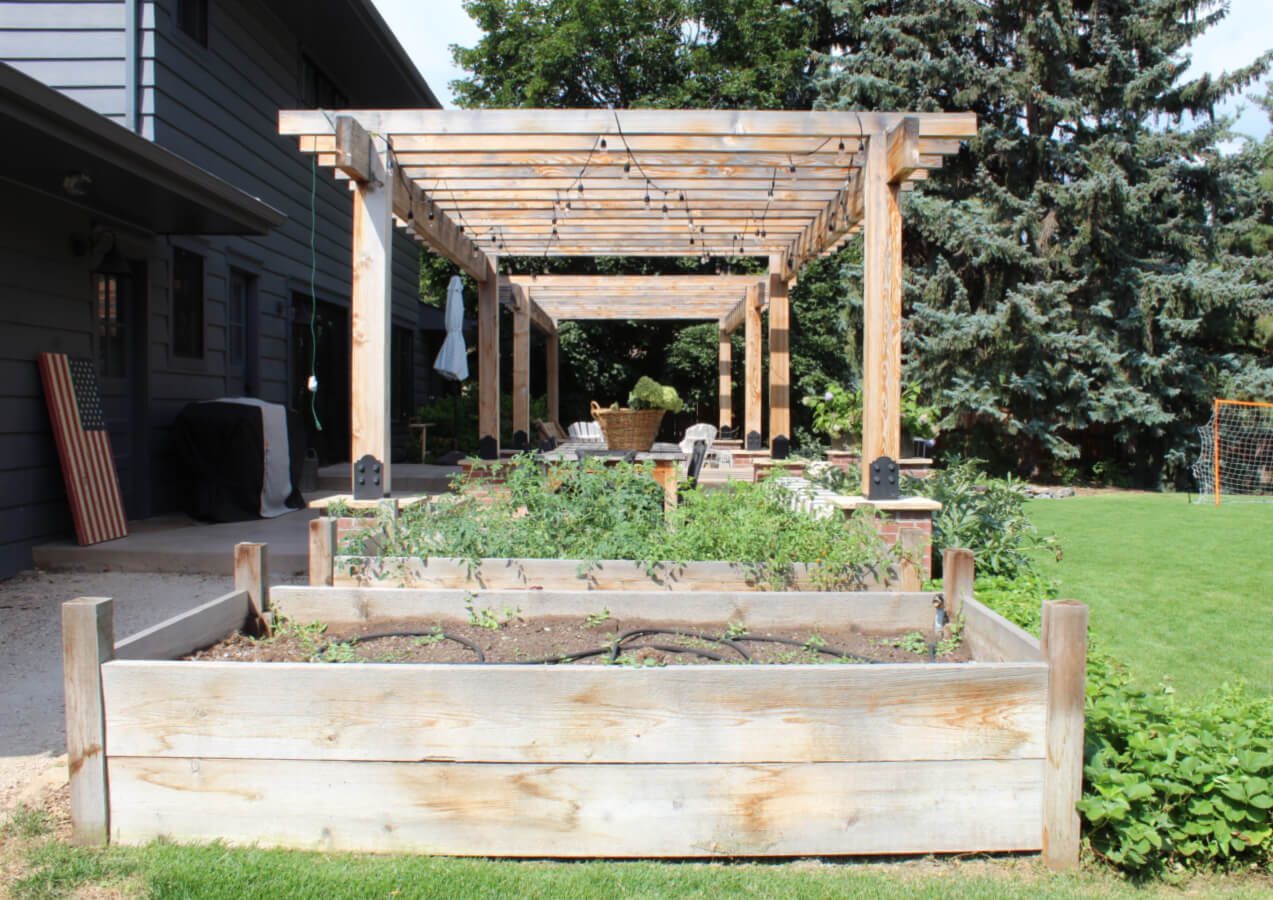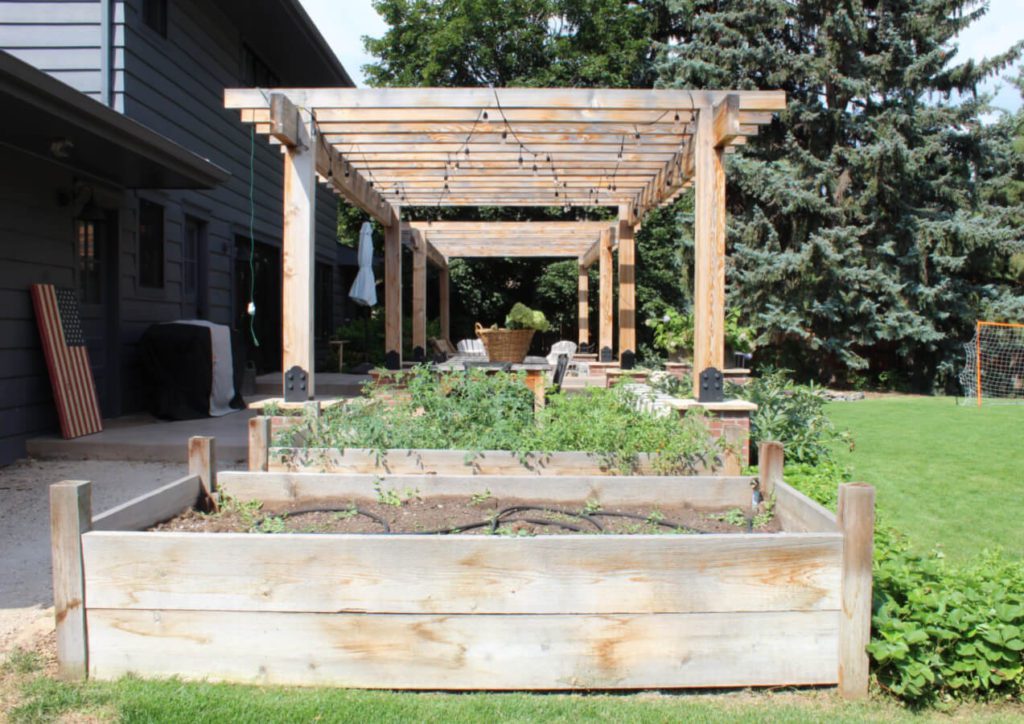 Around the boxes on the front are some strawberries. They are growing like crazy and butt right up to the peonies.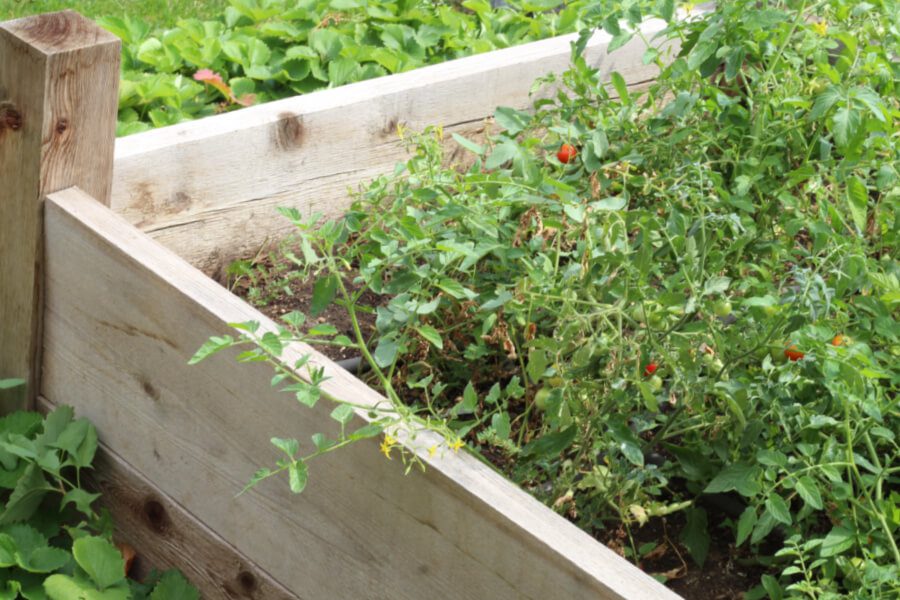 Potting Table
Finally, against the back of the house there is a long empty space and I had originally thought of putting my long pew here. But then I had this crazy thought…what if I put our old wooden kitchen table out there and used it as a potting table?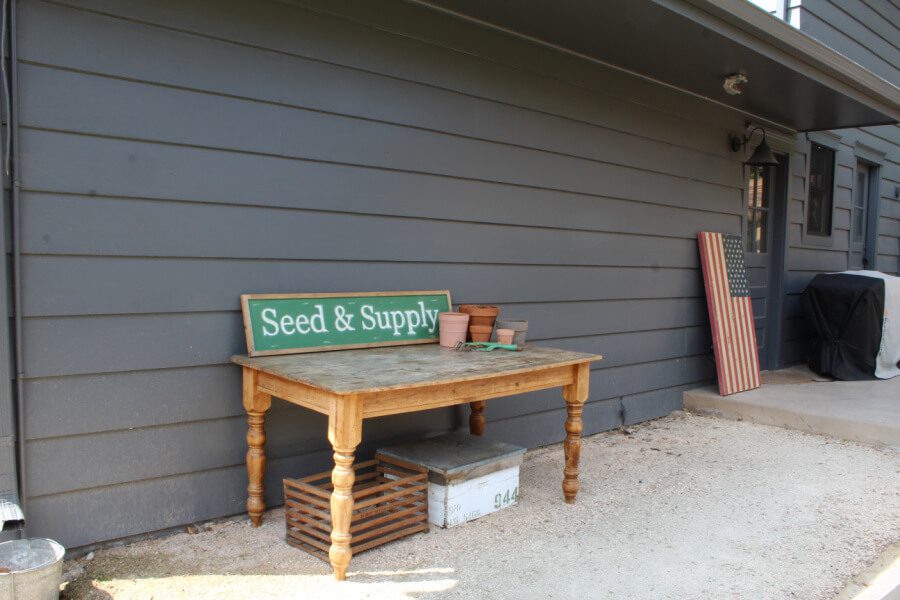 So I did, and I instantly loved it! I still have my green potting bench but it just seems too small for this space. And since we don't have a kitchen eating area in this house, and I love this table to pieces, I figured it would be put to good use in the yard! What do you think?
The good news is that when I originally scored this table for FREE it was outside! So it doesn't worry me at all!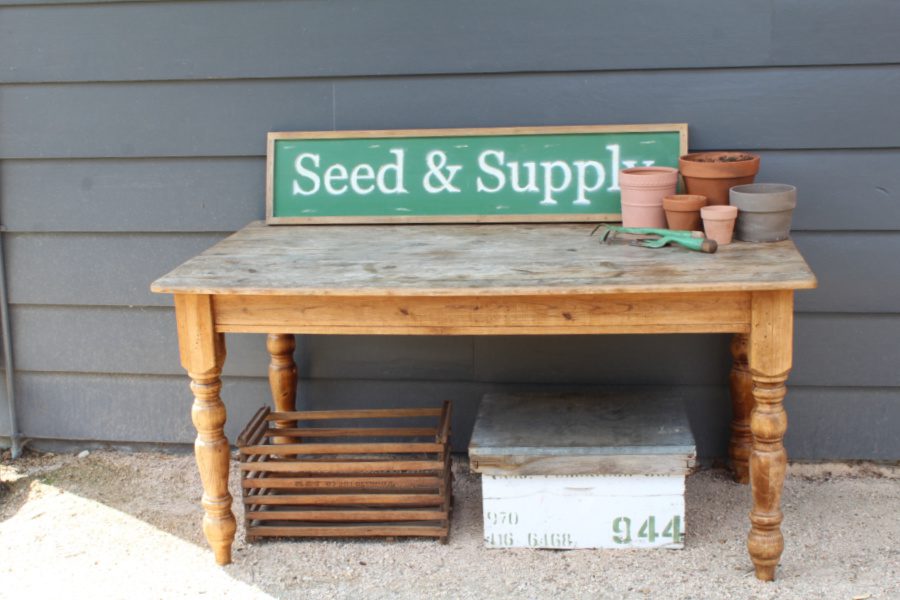 Looking Around The Yard
Like I mentioned above our dogs are in heaven in this huge backyard. Kona loves just laying in the sun. Behind her you can see my old wheelbarrow from our previous yard as well as the golf tee box marker my husband and boys scored from a local golf course.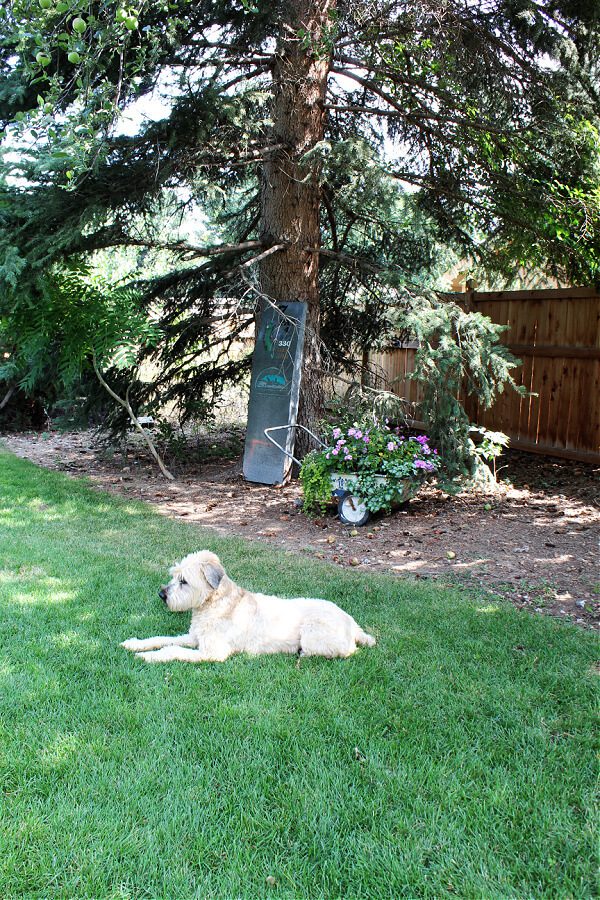 Of course I would be remiss if I didn't mention the story of the new trampoline. My husband wasn't a big fan of getting a trampoline but we found one that was "spring free" and supposedly safer from Scheels here in town, so he gave in. It was a beast to put together (one of the three boxes in the original shipment was the wrong size) and thanks to my Hudson and a couple of his buddies, Mike, my sister and myself we were able to get it up just in time for Crosby's 9th birthday party!
It has already had a ton of use and I love that they have another outdoor option!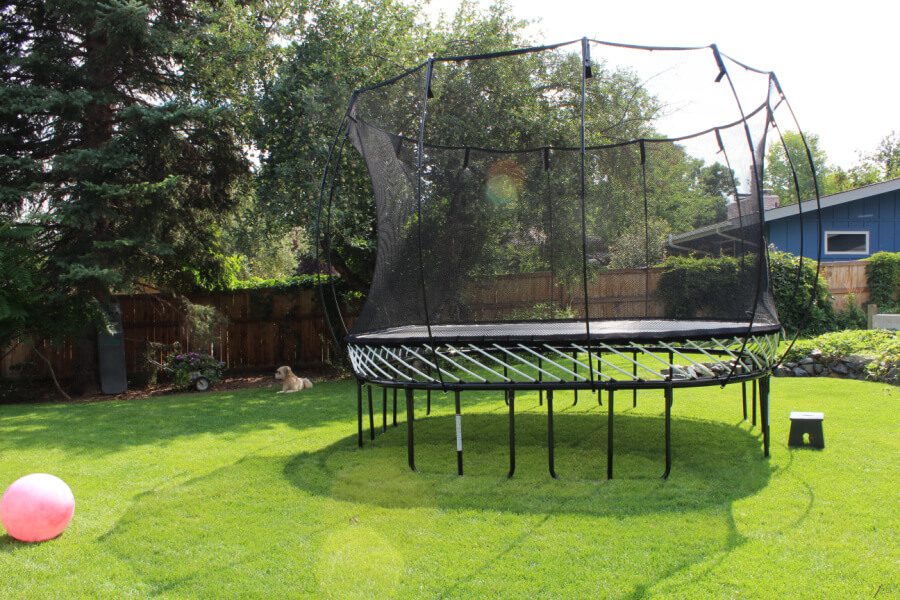 A Tour Of Our Backyard
Well that concludes the tour of our new backyard! I had so much fun showing you around. Honestly, I can hardly wait to see how it changes with the seasons. We have some plans to add our touch to it but that will most likely start happening in the spring.
Thanks for stopping by and make sure to subscribe to the blog and follow me over on Instagram and Facebook too! I have been sharing some tours of the inside that I think you will enjoy. Plus, I plan to share more of the inside real soon here on the blog and you don't want to miss it! Leave me a comment below with any questions or let me know your favorite part!
xoxo,
Kelly