My Favorite Boxwood Green Dresser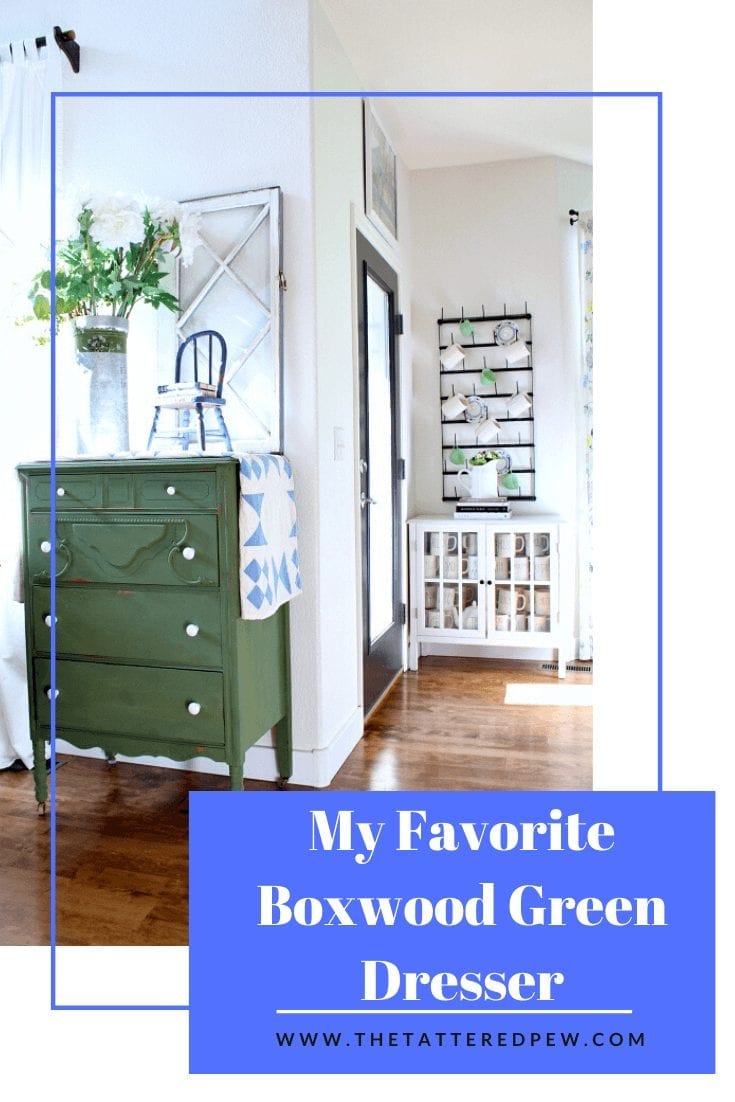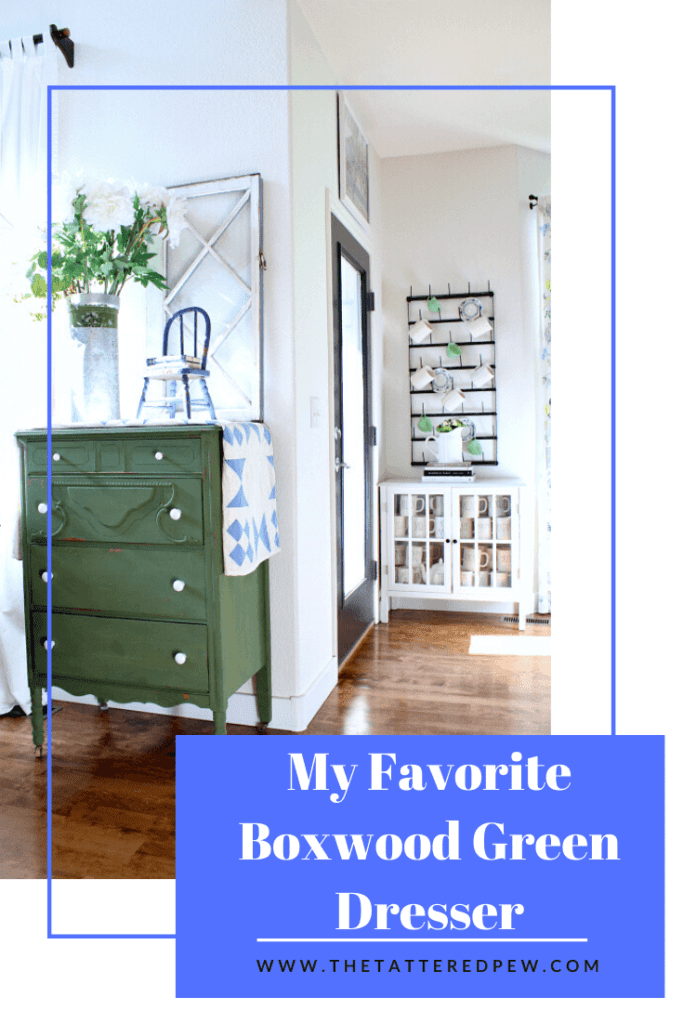 I never dreamed that finding and making over a $50 dollar dresser with a bit of paint would end up being one of my all time favorite projects. My favorite Boxwood green dresser has become a staple not only in our home, but here on the blog, Facebook, Instagram and even Pinterest! I often get asked questions about her so I figured I would answer a few of those here as well as share how I have decorated her through the seasons.
*This post contains some affiliate links for your convenience. Click here to read my full disclosure policy.
My Favorite Boxwood Dresser-Before
I found this beauty on Facebook Marketplace but she sure wasn't as pretty as she is now. In the picture below you can see what she used to look like. She was in bad shape but had good bones! My way of saying she had potential! I always look for "good bones" when searching for a project piece. 🙂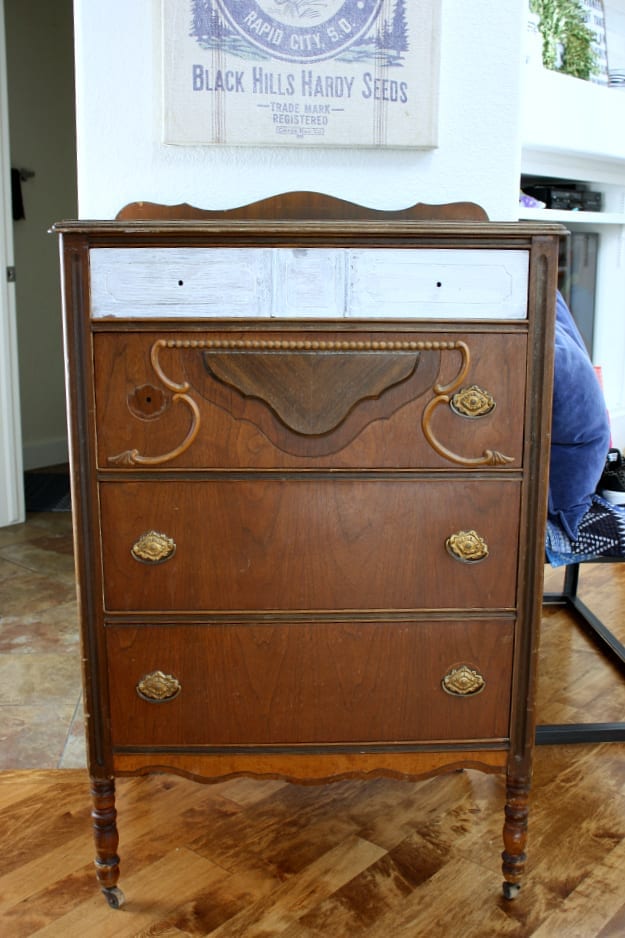 The Boxwood Green Dresser-Questions Answered
Here is a peek at the dresser after I painted her with the color Boxwood Green by Miss Mustard Seed Milk Paint. (The paint color is my number one asked question!)
(You can use my code : 10OFFTP for 10% off all Miss Mustard Seed Milk Paint products)
The second most asked question is about where I found her knobs. I found these white ridged knobs at Hobby Lobby. They look like vintage milk glass, and I love how they pop against the green! Finally, people are always curious if using milk paint is hard. Honestly it's not hard at all and it is rather forgiving for the most part. But I will say, milk paint can be very unpredictable so you have to be OK with it not looking absolutely uniform.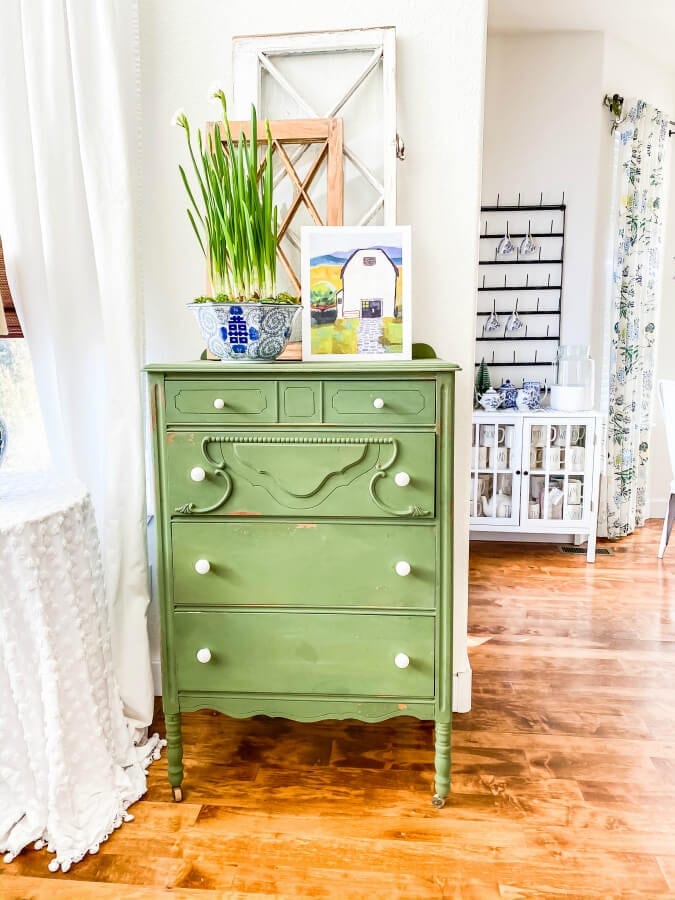 This blog post, Everything You Need To Know When Using Milk Paint, shares the entire transformation process from beginning to end with this fun dresser! It also answers so many questions like… what I sealed it with after painting it. So if you are still wondering anything about this Boxwood beauty I suggest you click on the green link above! Also, you can always leave me a comment below with any questions and I will answer you right away.:)
My Favorite Boxwood Green Dresser
Now it's time for a few more pictures! Are you ready to see how I have had fun decorating this Boxwood green dresser through the seasons and holidays?
Decorated for Winter
See more pictures and the full post here!
Decorated for Spring
See more pictures and the full post here!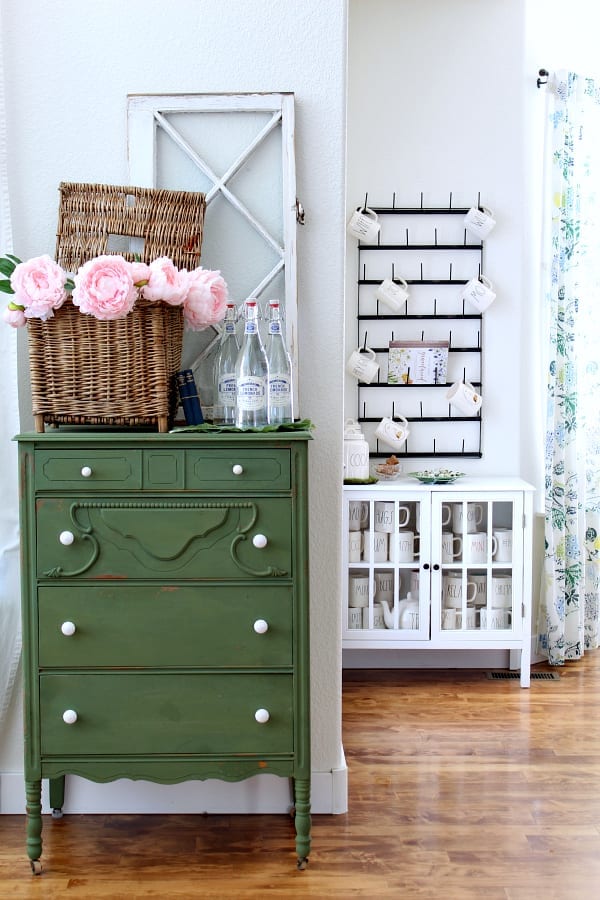 Decorated for Summer
See more pictures and the full post here!
This is the picture that caught the attention of Cottages and Bungalows magazine over on Instagram! Not going to lie…I almost peed my pants when they featured her!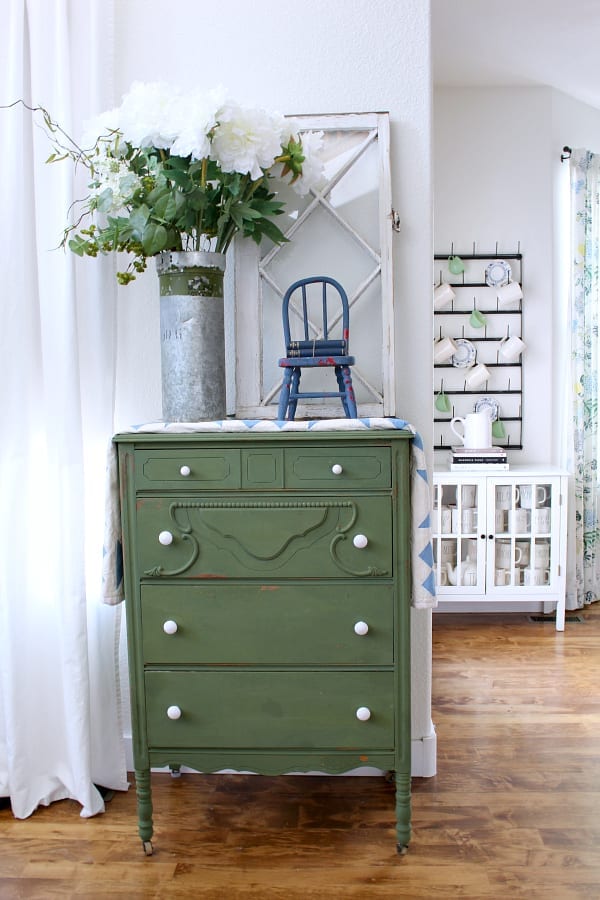 Decorated for Fall
See more pictures and the full post here!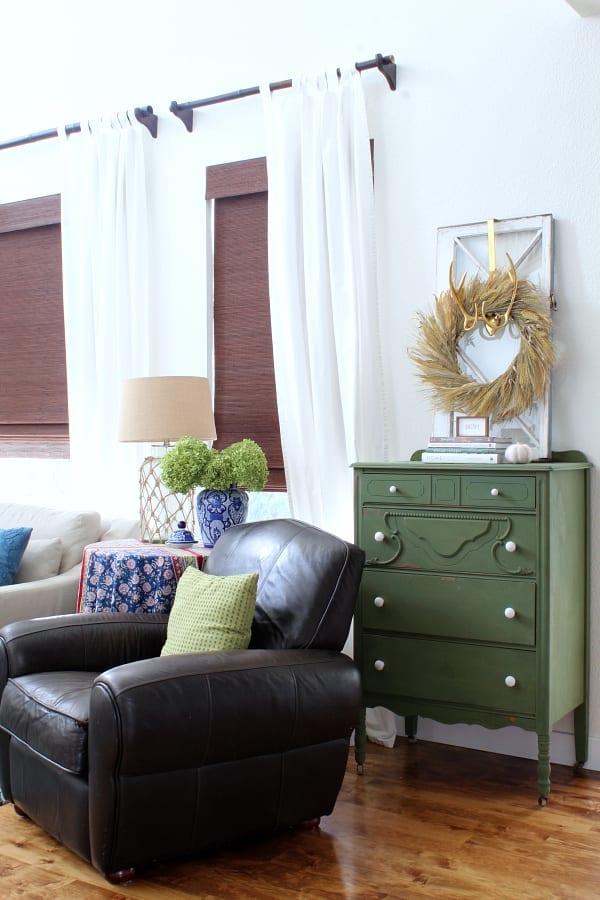 Ready for her Christmas Debut
See more pictures and the full post here!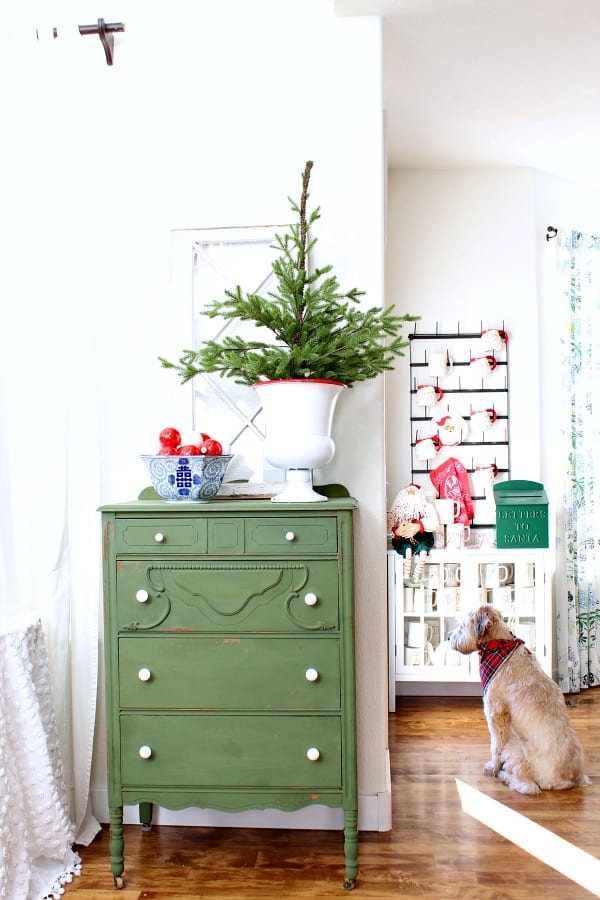 Valentine's Day
See more pictures and the full post here!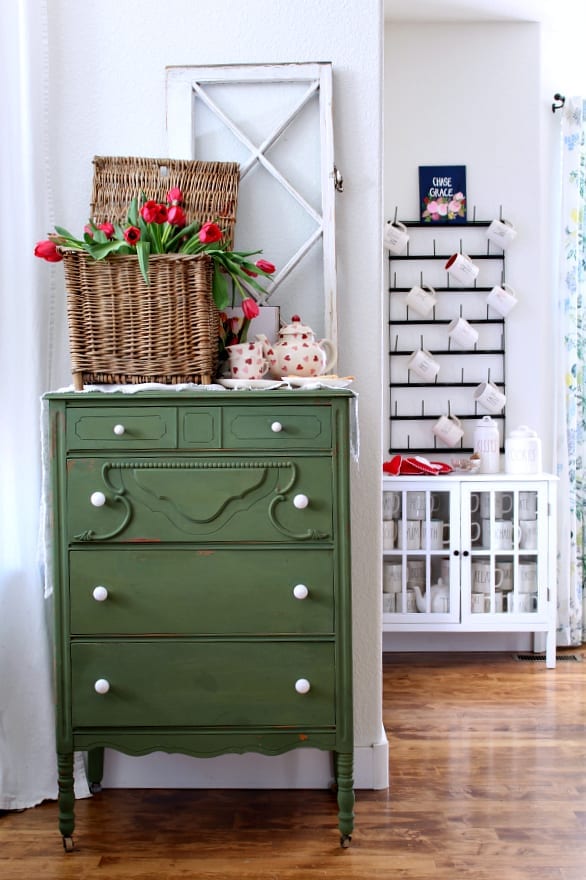 Just sharing and looking back at all of these pictures of how I have decorated this green dresser makes me smile. I love how she can so easily be styled for all of the seasons and honestly, I always look forward to changing her up! She hasn't disappointed me yet. 😉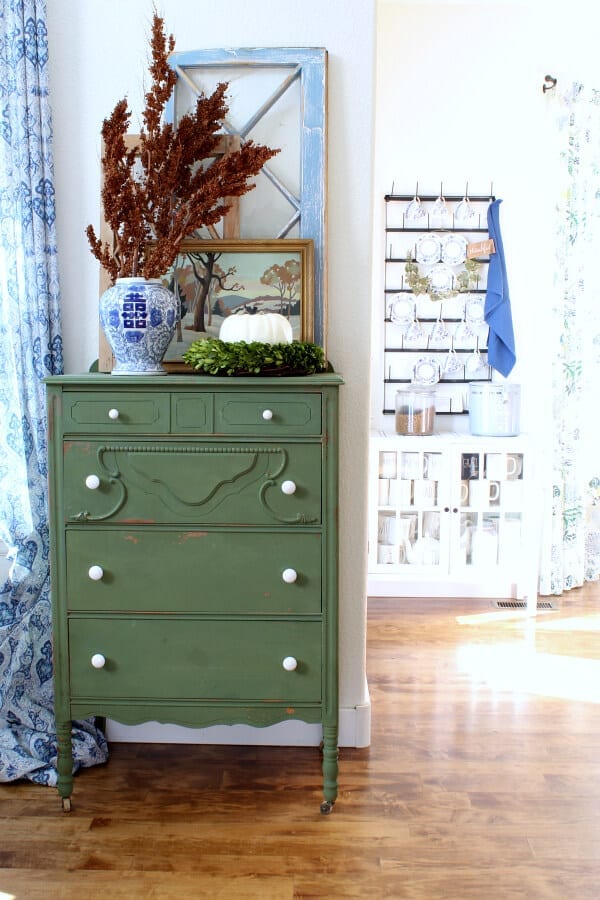 See her in my recent Fall Home Tour Here
Creating a Statement Piece
My favorite Boxwood green dresser has become what I like to call a statement piece in our home. The moody green color acts as both a neutral and pop color. Not many colors can do that and that is precisely why I fell in love with this gorgeous Boxwood paint and color by Miss Mustard Seed milk paint. Thanks for letting me show her off a bit more. Like I said above let me know if you have any questions!
xoxo,
Kelly
Did you like this post? PIN it for later!