3 Ways to Style a Faux Flower Arrangement
Now that it's February for some reason my brain seems to think that it should already be Spring. I am dreaming of the day when I get to cut fresh flowers from our garden rather than shovel the snow in our driveway. Until that time comes I will hold myself over with some lovely faux flowers. Last weekend I found myself bringing my tub full of faux flowers up from the basement and playing around with a few different flower arrangements. (Please tell me I'm not the only one!) After having some fun playing around with the flowers I thought it would be fun to share with you 3 different ways to style a faux flower arrangement!
*This post contains some affiliate links for your convenience. Click here to read my full disclosure policy.
Why a Faux Flower Arrangement?
Much to my husband's dismay I have become a bit of a faux flower hoarder . But in my defense I have several good reasons why having a faux flower obsession is a good thing! The first reason is that using what I already have and shopping my stash (and sometimes my mom's and sister's stashes) saves me a ton of money! The second reason is that faux flowers never die and that means I get to enjoy them day after day and year after year. Can I get an amen? OK, there might be one more…I love the instant pop of color they add and how seeing flowers make me happy! Happiness is a good thing. 🙂 All good reason to use faux, right?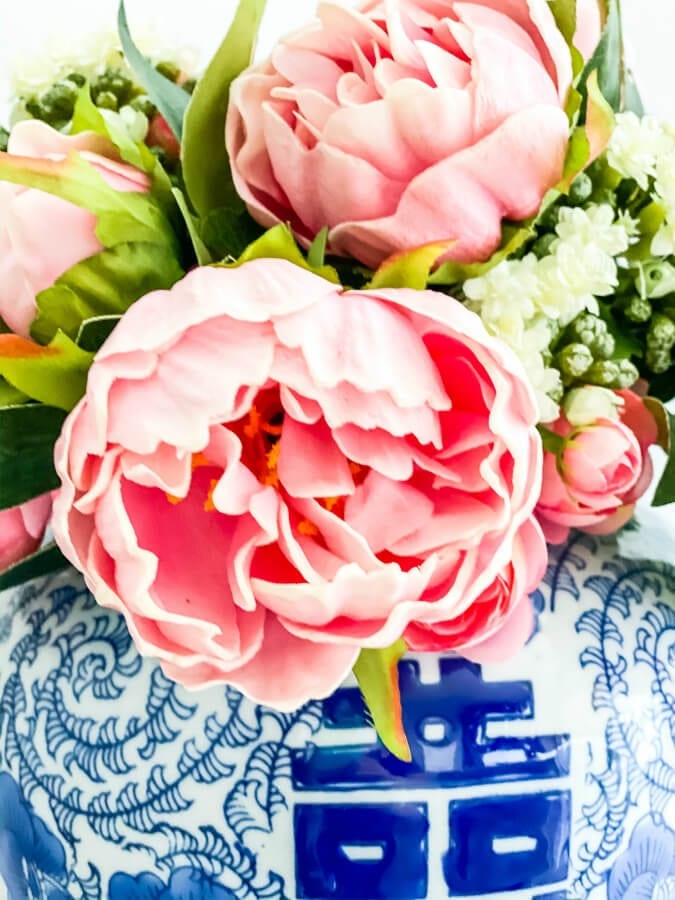 Ways To Style A Faux Flower Arrangement
Here is the method to my madness! I always start with all of my faux flowers spread out. Imagine tubs of colorful flowers…large and small as well as several varieties) I like to lay them out so I can see what I have. Next, I choose the color scheme I am feeling for the season and gather all of those that speak to me.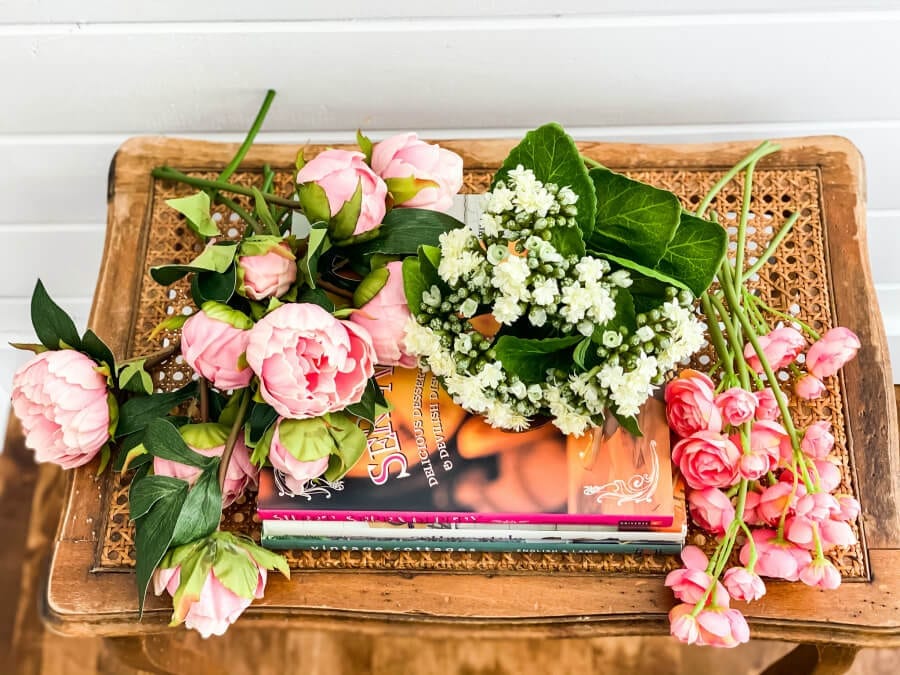 Since Spring is currently on my mind, I was drawn to pinks and whites. And of course I had to use my absolute favorite flowers…peonies! Don't they look so realistic?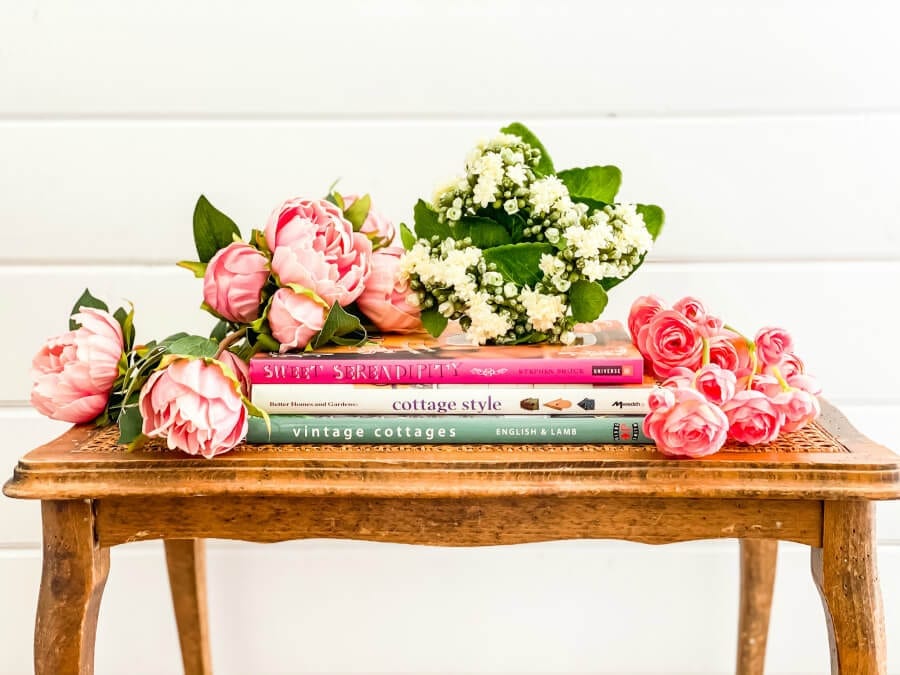 After I choose my flowers I like to look for items with similar colors to add a bit of interest. I love decorating with books so I chose a few that complimented the flowers. Then I like to challenge myself to find different containers to use as vases. I ended up finding 3 different vases I wanted to try. Variety is the spice of life, right?
Come check out what I used!
A Green Jadeite Pitcher Arrangement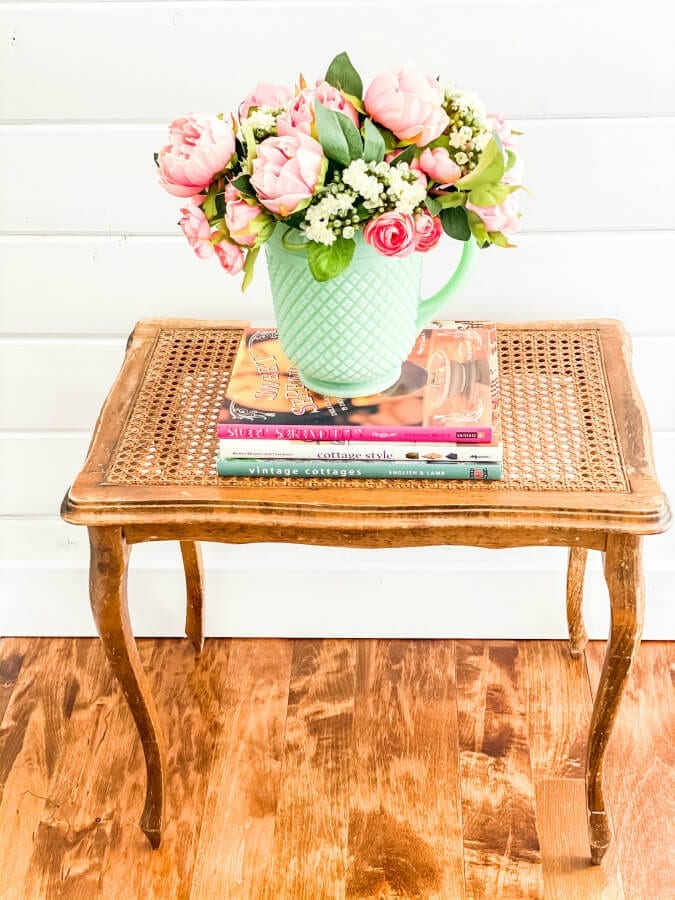 For my first faux flower arrangement I decided to use my favorite jadeite green pitcher. I have a small but fabulous collection of jadeite that I especially love to use in the springtime. Some are real vintage pieces and some are remakes. If you have ever wondered how to tell the difference then you might want to check out my post all about jadeite: old vs. new .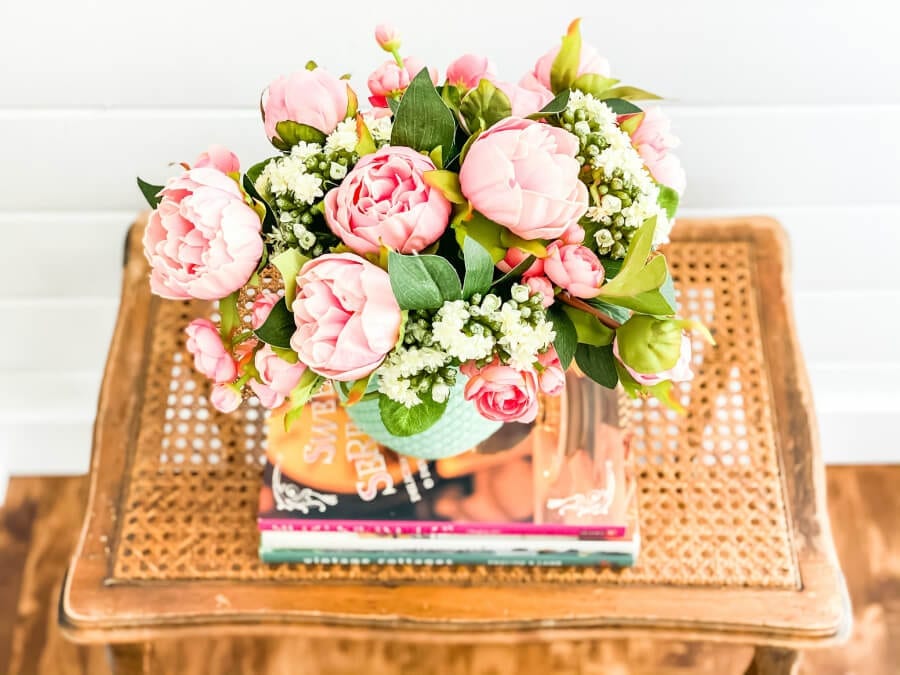 Don't you think the green jadeite looks perfect with the greenery in my faux flowers? I am loving all of the texture!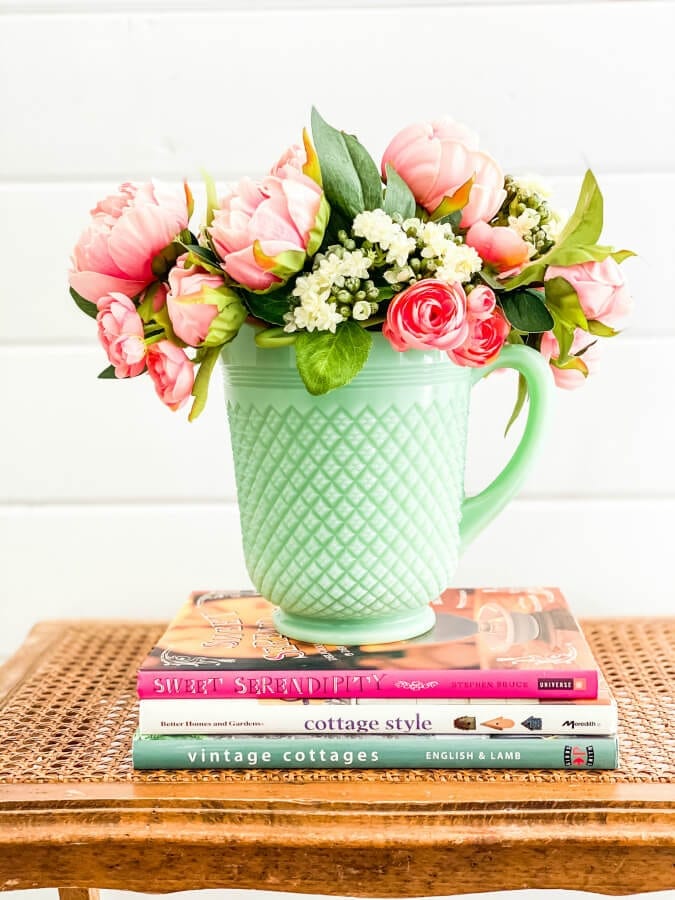 A White Soup Tureen Arrangement
For my second faux flower arrangement I channeled my inner Miss Mustard Seed and pulled out my white soup tureen that I found at a local flea market and styled her up with the same flowers and books.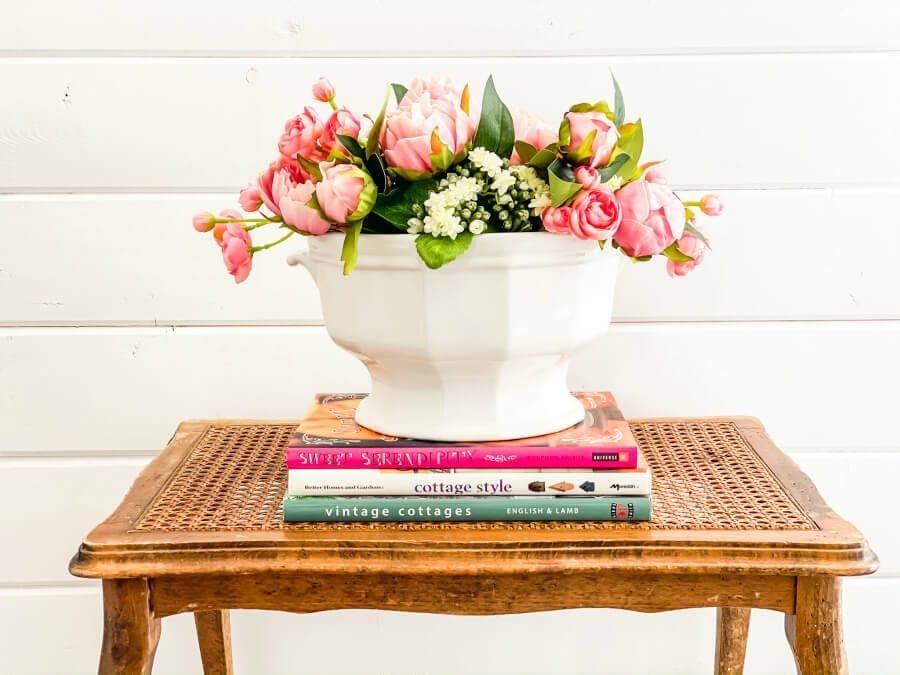 The lower profile of this soup tureen is a fun twist on the traditional vase. I have used her for several other flower arrangements through the seasons and she never disappoints me.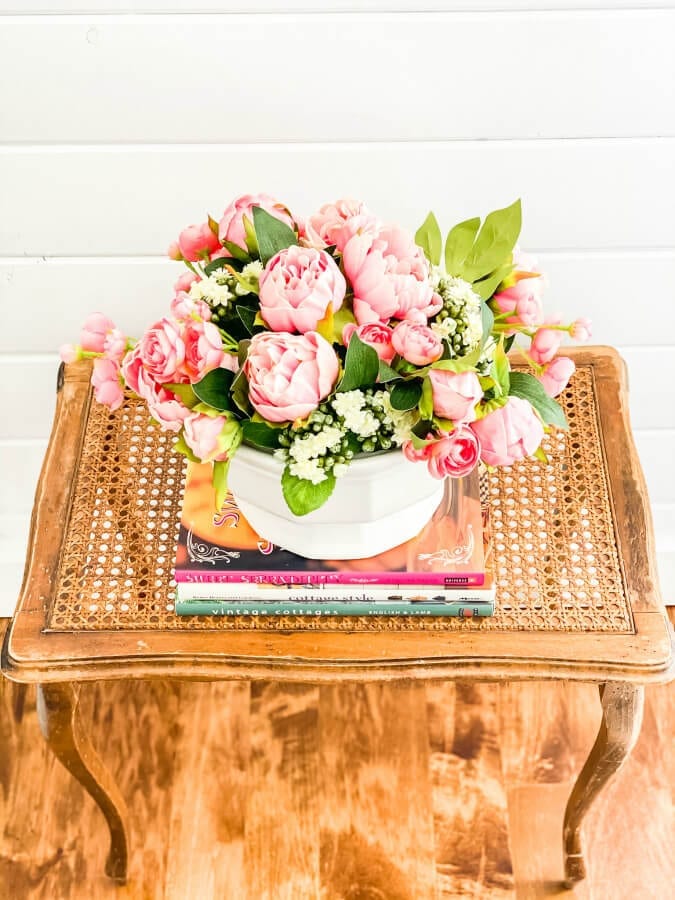 Don't you love how realistic these peonies look!? I found them at a local store here in Colorado called Cozy Cottage.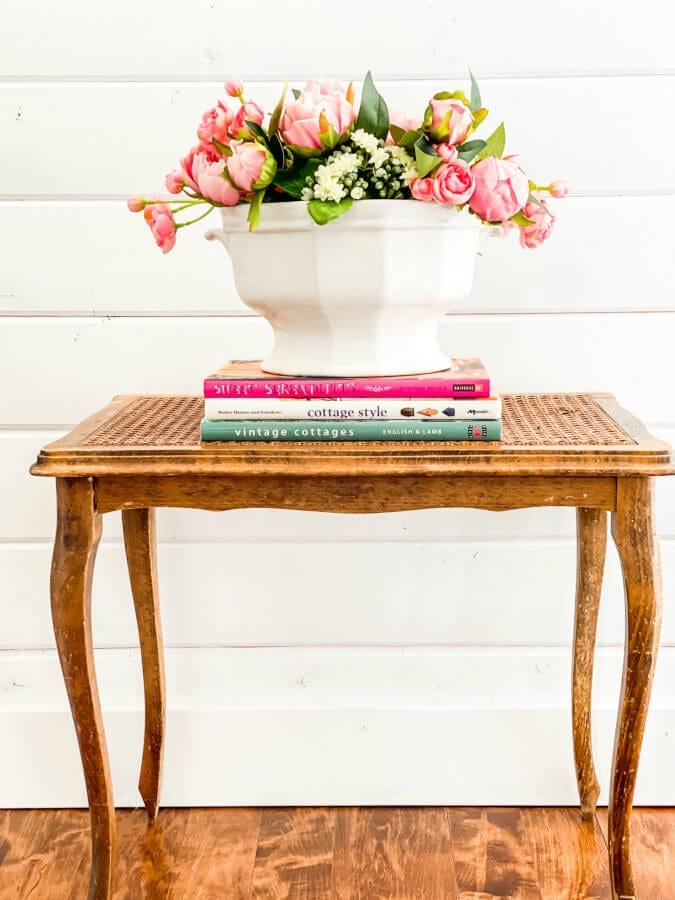 A Blue Ginger Jar Arrangement
For my third and final styled arrangement I used my blue ginger jar I found at HomeGoods. Not going to lie, I saved the best for last. Well at least in my opinion. 🙂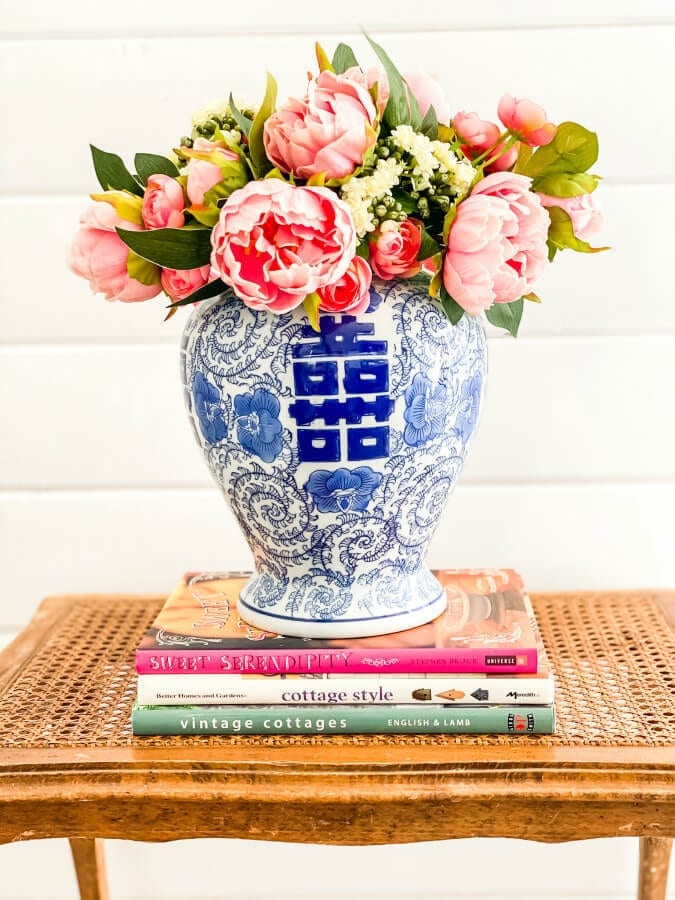 My advice is to find flowers you love and find vases you love and you can never go wrong. (The flower hoarder in me says you can never have too many!) Don't be afraid to just throw some flowers in and move them around until they look right. That's exactly what I did and I was able to find 3 different styles I loved!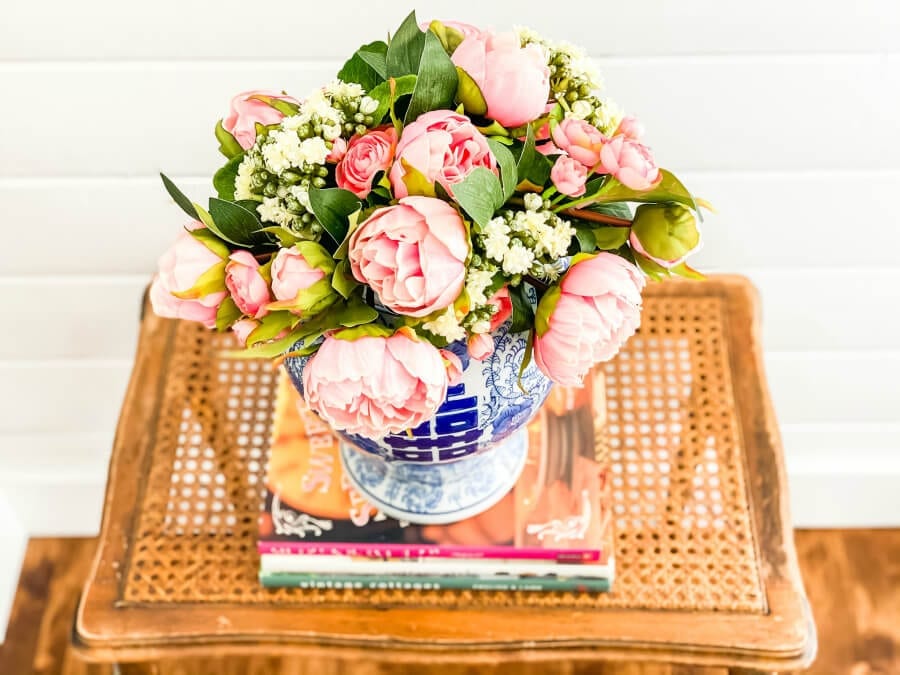 I loved this last one so much that I used my super special watercolor art trick to turn this picture into some art for my home. Come see my trick here and read why it can save you some major money!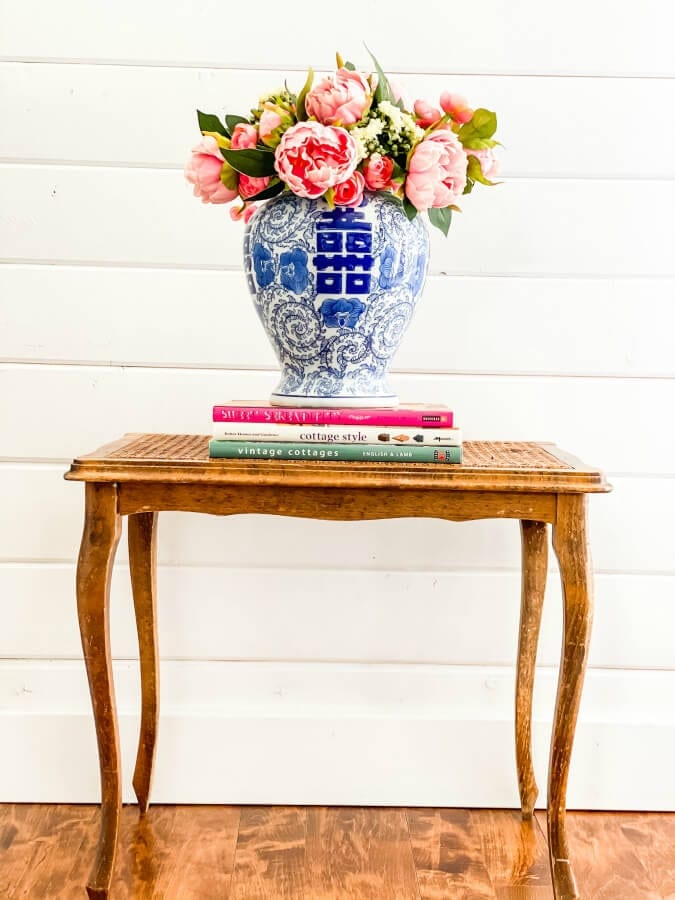 Shop The Post

Faux Flower Arrangements for the Win!
All I can say is that I had a whole lot of fun playing around with and styling these three different faux flower arrangements! Which one is your favorite? Are you team faux or team real? I like to think I am a mix of both at times! Don't forget to visit my friend's posts below for even more flower arrangement inspiration!
xoxo,
Kelly
20 Beautiful Flower Arrangements
Click the links below each group of images to visit these inspiring ideas for spring!

Creative Flower Arrangement Ideas for Spring – Happy Happy Nester // How to Arrange Grocery Store Flowers – The DIY Mommy // Grocery Store Roses Spring Arrangement – Craftberry Bush // DIY Easy Tulip Arrangement – A Blue Nest

Spring Floral Arrangements – My 100 Year Old Home // A Flower Arrangement in a Vintage Find – Finding Lovely // Farmhouse Flower Arrangement – My Sweet Savannah // Simple Spring Tulip Floral Arrangement – Zevy Joy

DIY Faux Eucalyptus Garland – Modern Glam // Elegant Tulip Eucalyptus Floral Arrangement – Inspiration for Moms // Easy DIY Flower Arrangement – She Gave It A Go // DIY Color Block Vase – Lolly Jane

Easy Flower Styling Ideas – The Handmade Home // 8 Ways to Style a Big Vase with Faux Spring Florals – The Happy Housie // Spring Floral Table – Taryn Whiteaker // Moody Spring Floral Arrangement – Cassie Bustamante

Easy Spring Flower Arrangement – Twelve on Main // 5 Tips to Make Faux Flowers Look Real – Hallstrom Home // Spring Flower Arrangement – Jennifer Maune // 3 Ways to Style a Faux Flower Arrangement – The Tattered Pew