It's the most wonderful time of the year and I am beyond excited to be welcoming you in to our home all decked out for Christmas! Today I am sharing Our Christmas Home Tour and hoping it brings you just as much joy as it is bringing us. Get ready because I may have gone a bit crazy with how many pictures I took. You can never have too many pictures, right? Just like you can never have too many Christmas trees!
This year I am linking our Christmas Home Tour up to Jennifer Rizzo's Holiday Houeswalk 2020 linky party!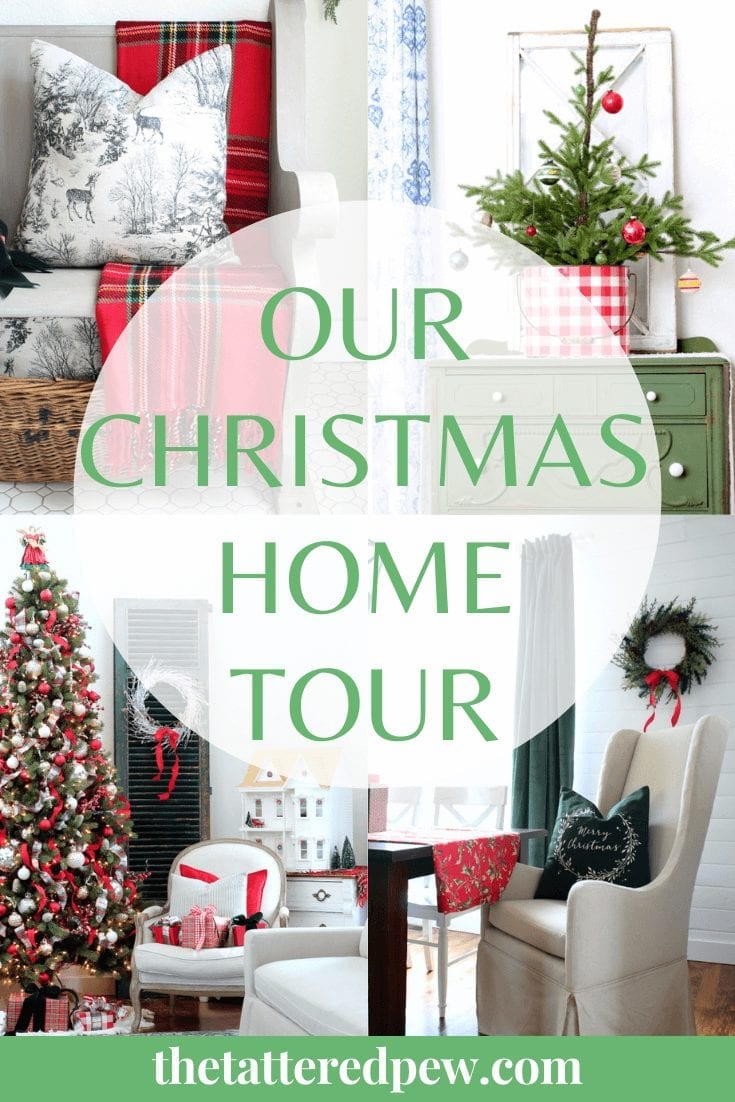 This post contains some affiliate links for your convenience. Click here to read my full disclosure policy.
Bloggers Best Holiday Home Tour 2020
Today is day one of the Bloggers Best Holiday Home Tour! If you are hopping over from Aliya of Open Doors Open Hearts gorgeous tour, welcome! I'm Kelly and I live in beautiful Colorado with my awesome family and two dogs. I am a kindergarten teacher by day and decorating diva by night. But really, I'm just a hot mess mama who needs Jesus, coffee and good wine.
Want to come in and see how I decorated for Christmas?!
Our Christmas Home Tour
This year's Christmas decor is all about the plaids, patterns and of course pops of red and green. A bit different from last year's blues!
I was blessed to have my amazingly talented mom help me decorate our home again this year. Each year she lovingly hauls over a bunch of her decor to share with me and I bring mine up from the basement and we get to scheming. It's something I look forward to every year! We are a great team.
The Entry
I always like to start our Christmas home tour off in our entry because that's what guests see as they enter our home. It holds my precious little pew and is such a fun spot to decorate!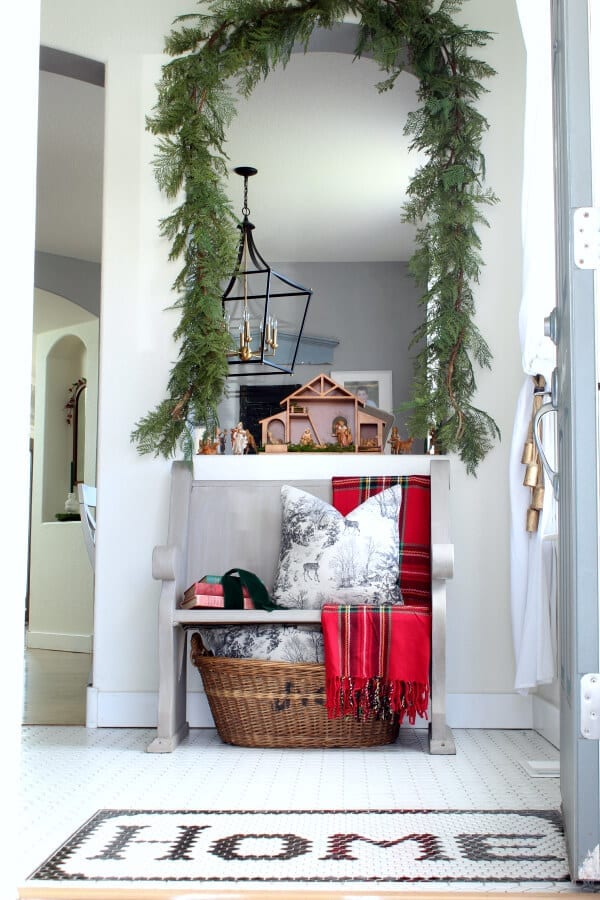 My mantra for Christmas decor this year was… bring on the greenery and garland! I was basically a crazy lady searching on-line and in person for real and realistic looking garland. My mom scored me some gorgeous faux garland at Costco that you will see when you head into our kitchen. This garland above the pew is from Cozy Cottage (a local shop) and I found it at their after Christmas sale last year.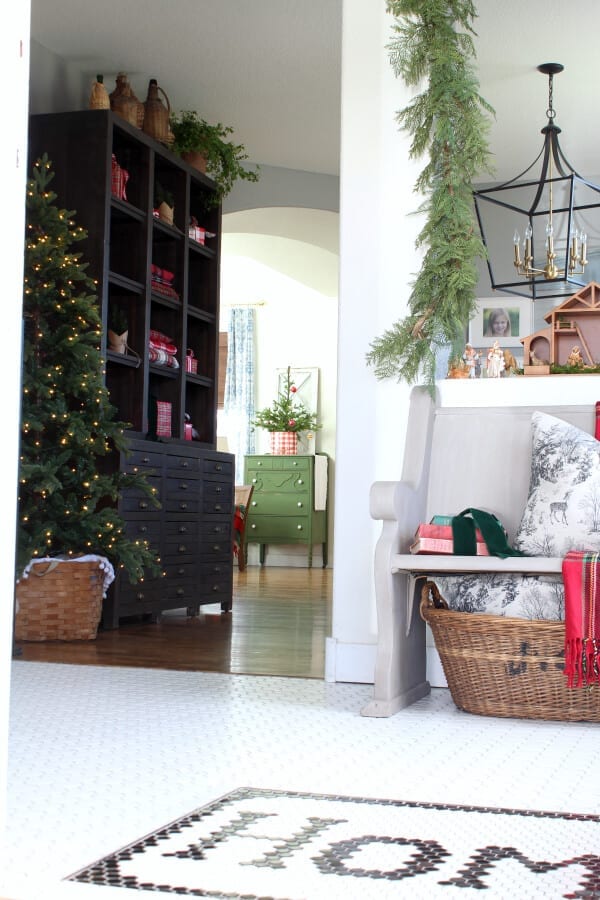 The black and white deer pillows on and below the pew are from H & M Home. They were only $5 for the covers but sadly I think they sold out. But I highly recommend their pillow covers for price, quality and style! You just have to remember to shop for them early!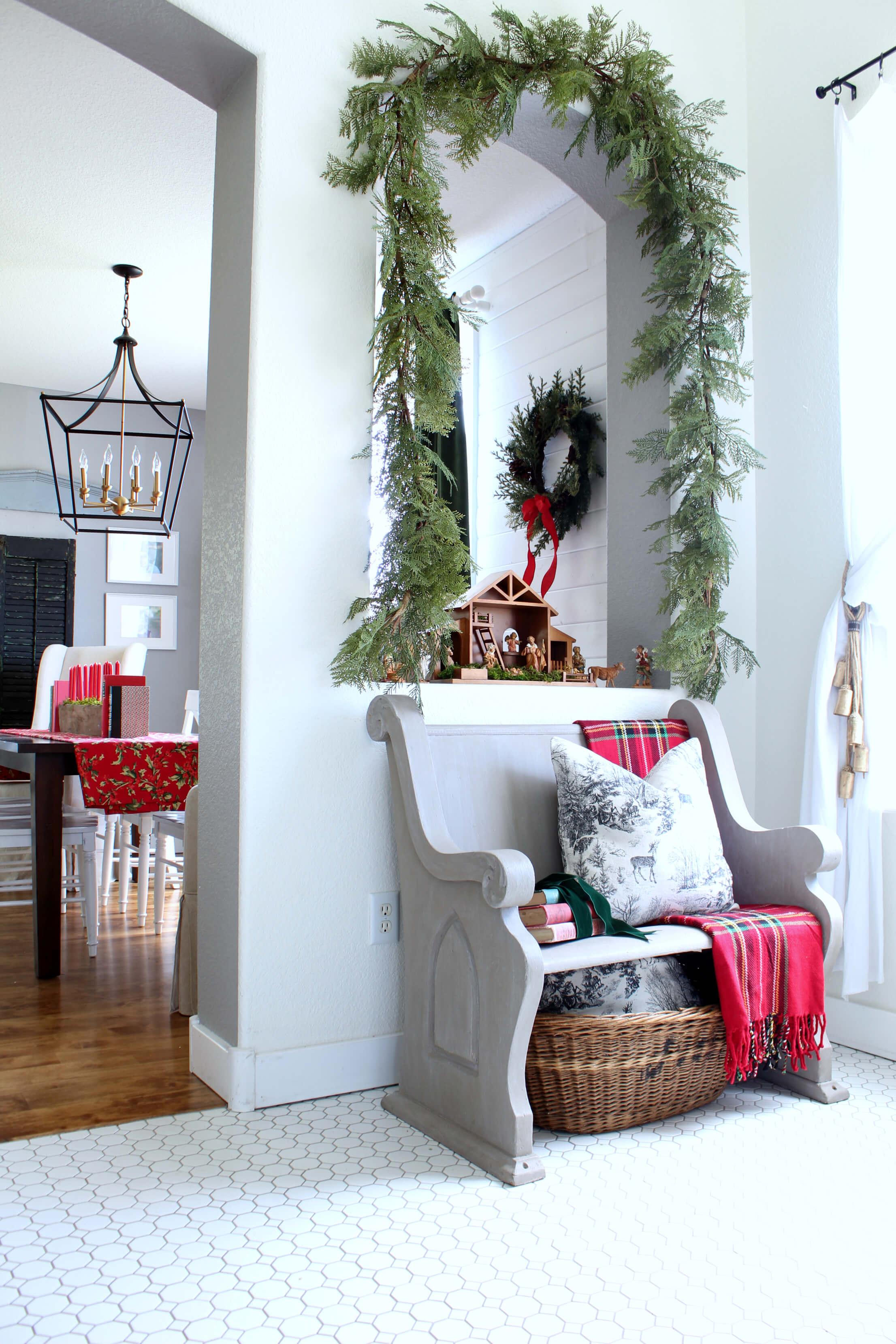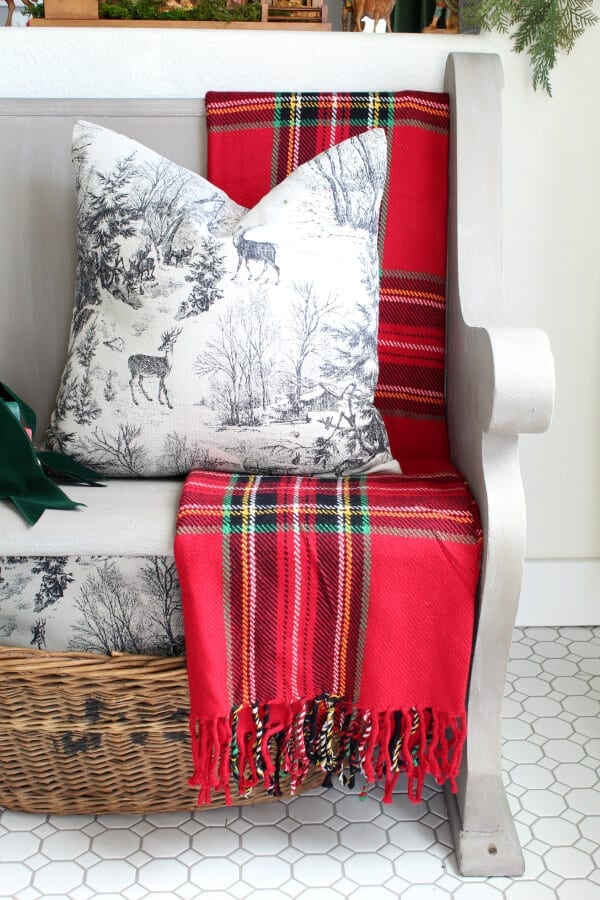 All About Jesus
For our family Christmas is all about Jesus! (Check out my Advent post if you want more details about how we celebrate!) One of our favorite traditions is not putting the baby Jesus into the manger until Christmas morning. He is in there now just for the pictures…and that reminds me, I need to go take him out!

This is my favorite nativity of ours and the same one I had growing up as a child. I have so many fond memories of playing with it every Christmas with my sister. Now I love seeing my own children play with it!

I had fun adding special little Christmas touches around our home like these vintage books tied up with green velvet ribbon. They give a slight nod to the velvet curtains just behind my pew in our dining room.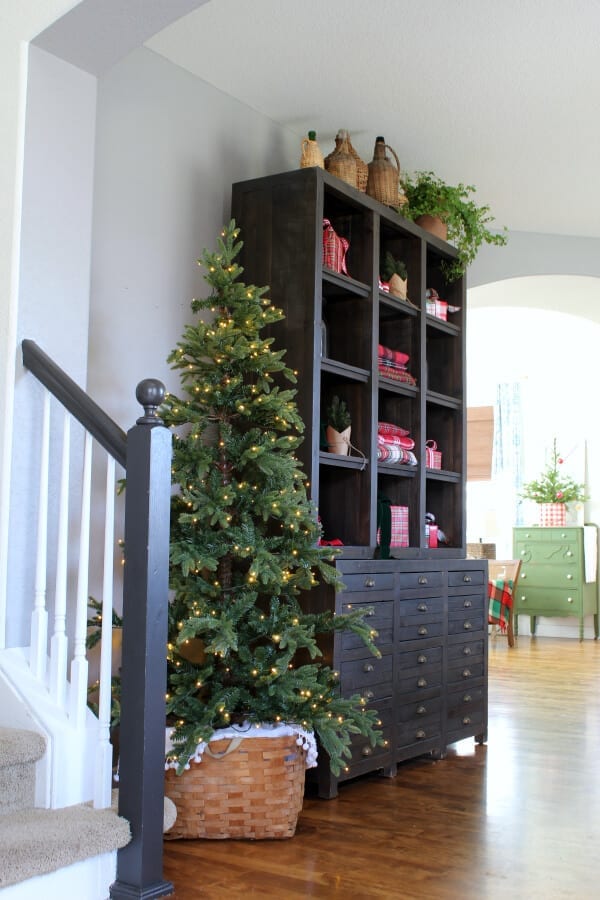 The huge dark hutch/printers cabinet you see as you enter was one of my most favorite consignment shop finds! It is originally from Restoration Hardware and is always so much fun to decorate.
The Dining Room
For the cabinet my mom and I pooled our plaid wrapping paper and ribbon together and had fun mixing and matching the patterns! We were inspired by a picture over on Pinterest from designer Nora Murphy Country House. Once we saw the fabulous mix we knew we had to add plaid throws as well. Every time I walk by this printers cabinet it makes me smile.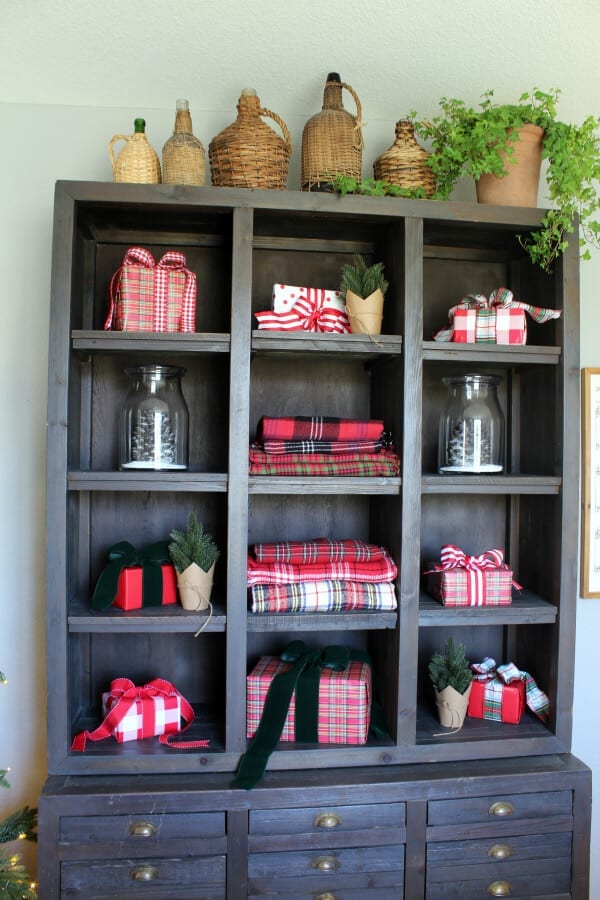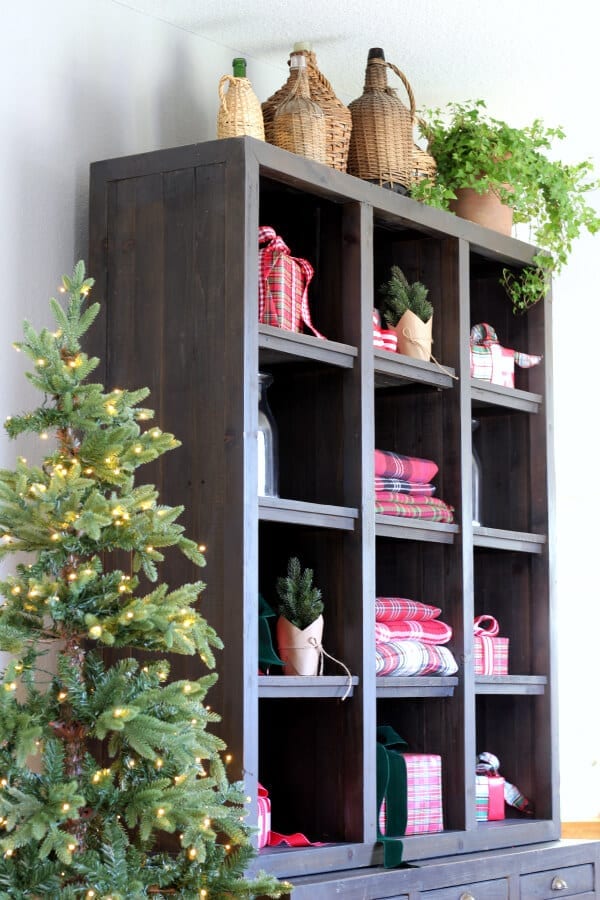 The small tree next to the printers cabinet I recently scored from Facebook Marketplace for only $50. It was in an unopened box and is the perfect size for our dining room. I nestled it in an old basket I found at Mag Pies here in town and softened it up with a chenille pom pom quilt at the base.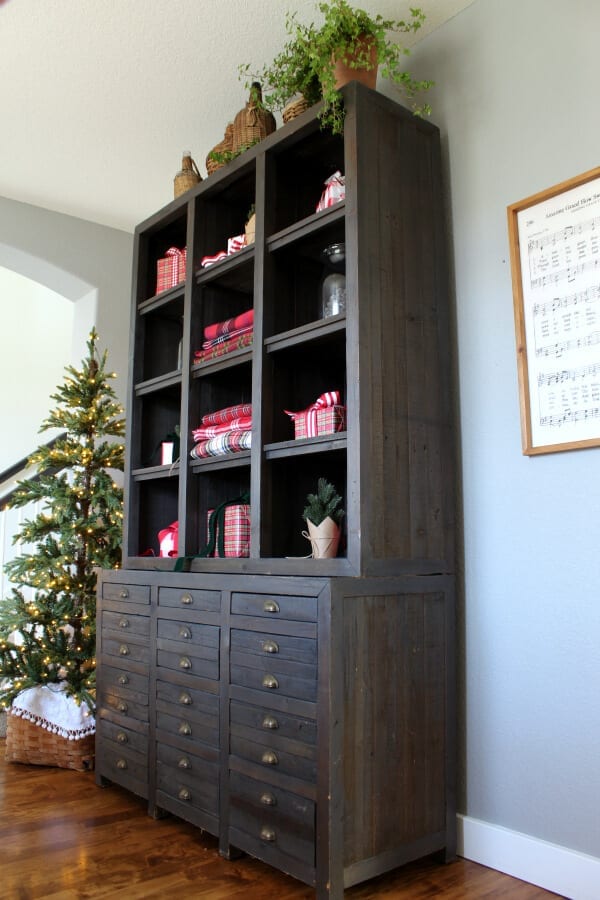 Across from the cabinet is our dining table. Did you notice my new green velvet curtains? I love their dark green color and how they bring warmth to the room and all white shiplap wall. Contrast makes me happy!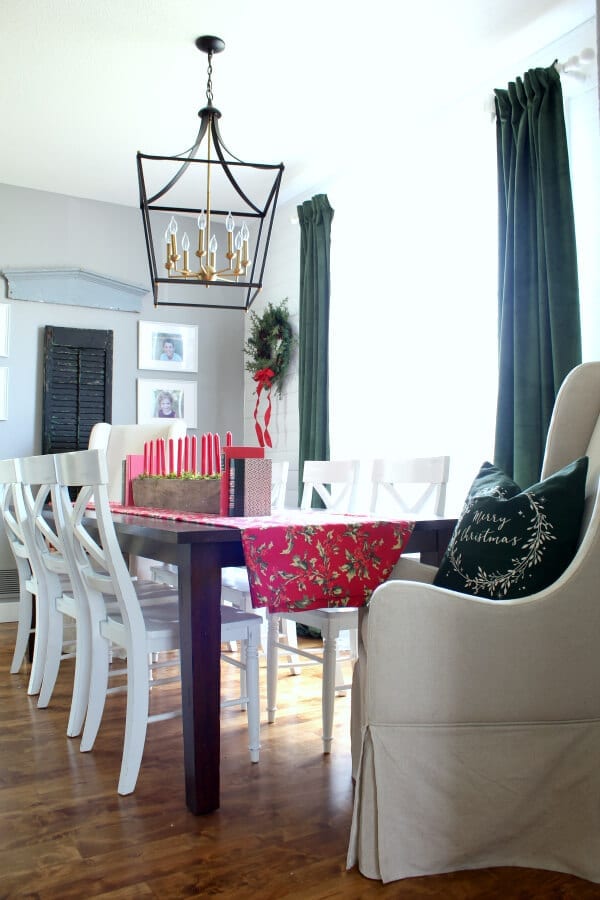 Facebook Marketplace Finds
As I look around our dining room it's fun to see all of the items I found on FB Marketplace. These captains chairs at the end of the table were also found on Facebook as well as the candle holder on the middle of our table. However, I have noticed lately that FB marketplace has turned into more ads than things for sale and it's been driving me nuts. Anyone else notice that?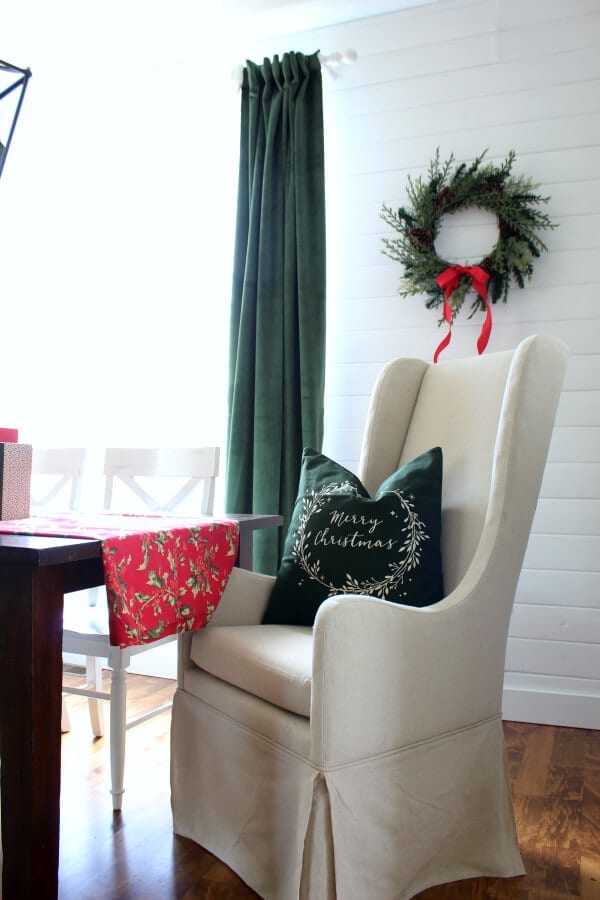 The dark green Merry Christmas pillow is another H & M Home pillow cover I got this year. I love changing up my pillows each season.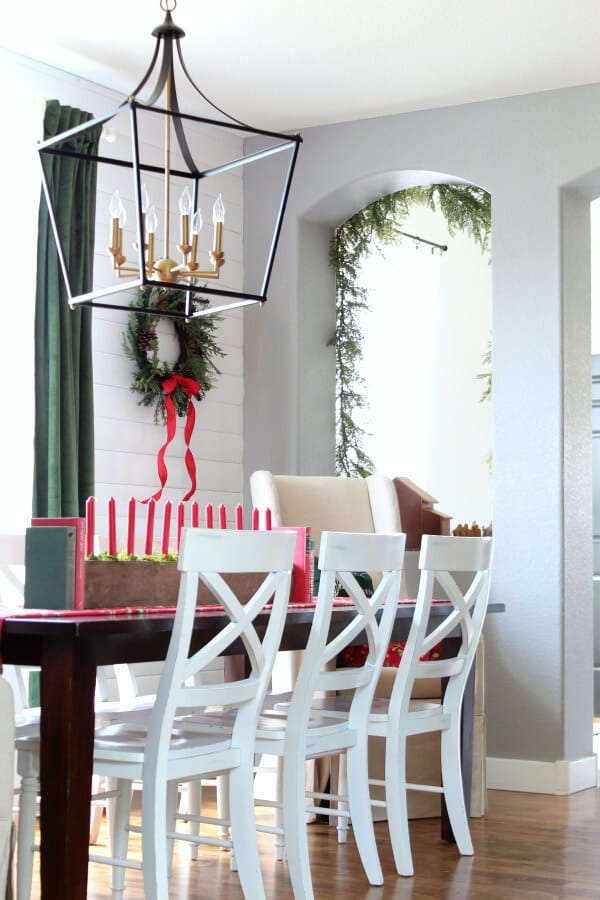 The wreaths I found at Walmart for only $13! They are really well made and so pretty. I was so excited that I found them. There is one on each size of the window which offers symmetry and contrast!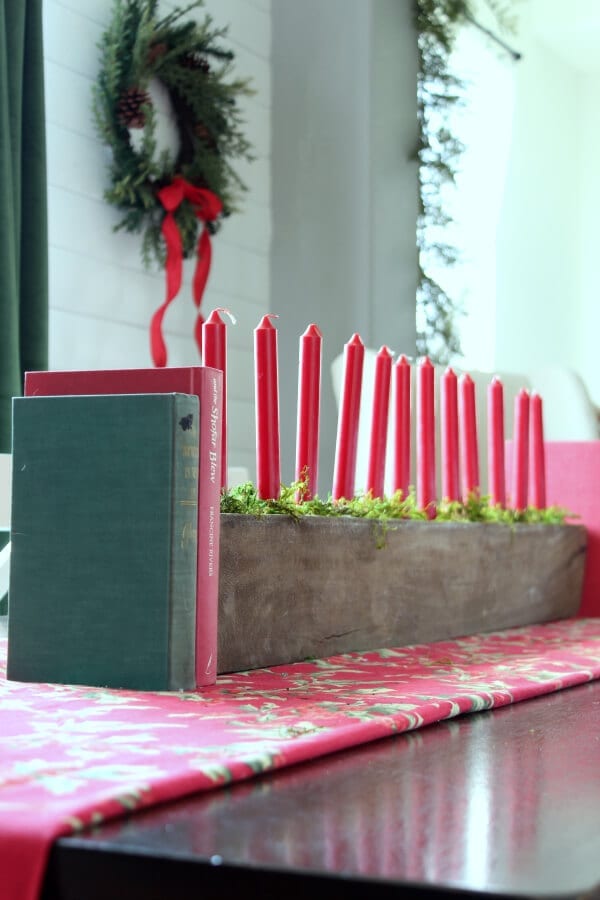 Shop Our Entry & Dining Room

The Kitchen Nook
Come on in through the dining room and you will see our kitchen on the right and our kitchen nook straight ahead. We recently had our cabinets refinished and painted so this space feels brand new! I had so much fun decorating in here. Do you spot the garland from Costco? It's above the cabinets!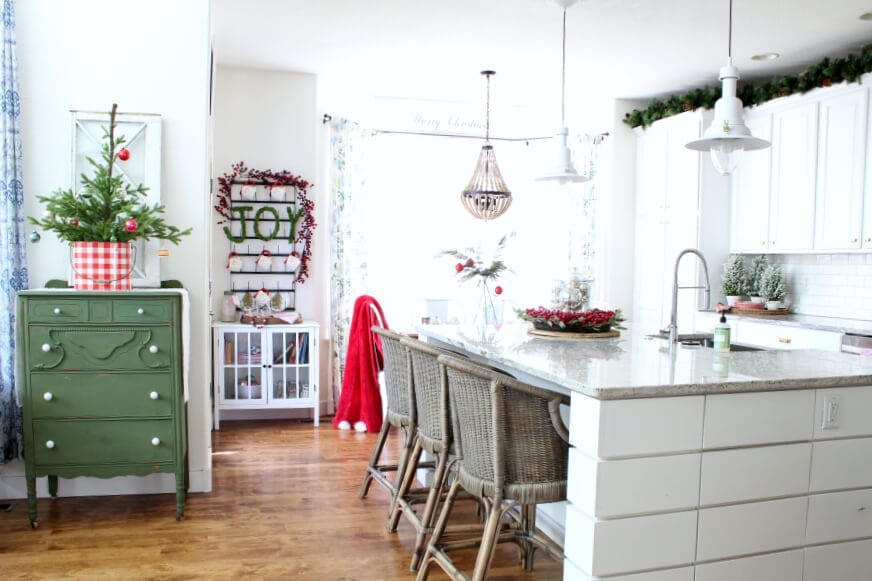 My favorite little hot cocoa bar is in the nook. I shared all about it in my 5 tips for creating a family friendly hot cocoa bar post! It truly brings our family JOY and that makes me happy!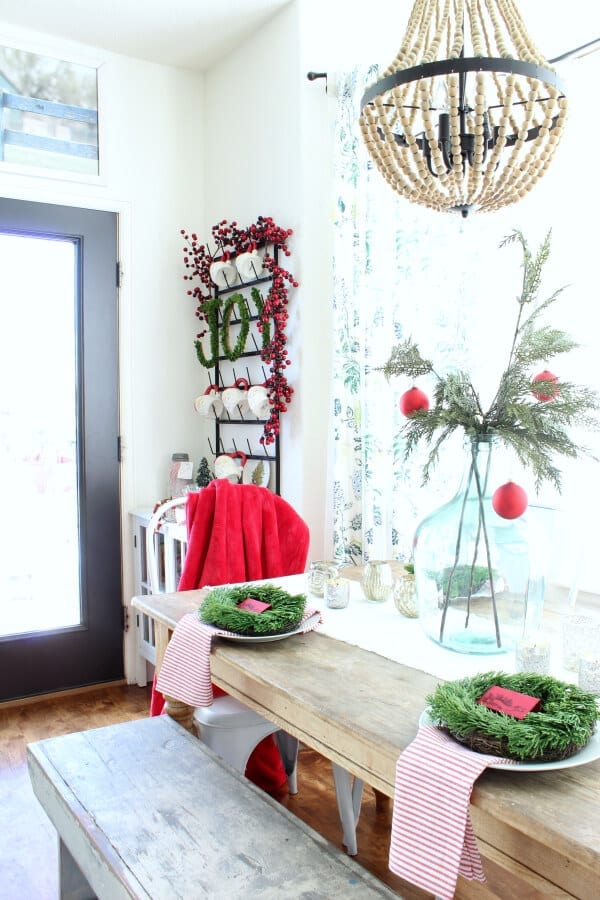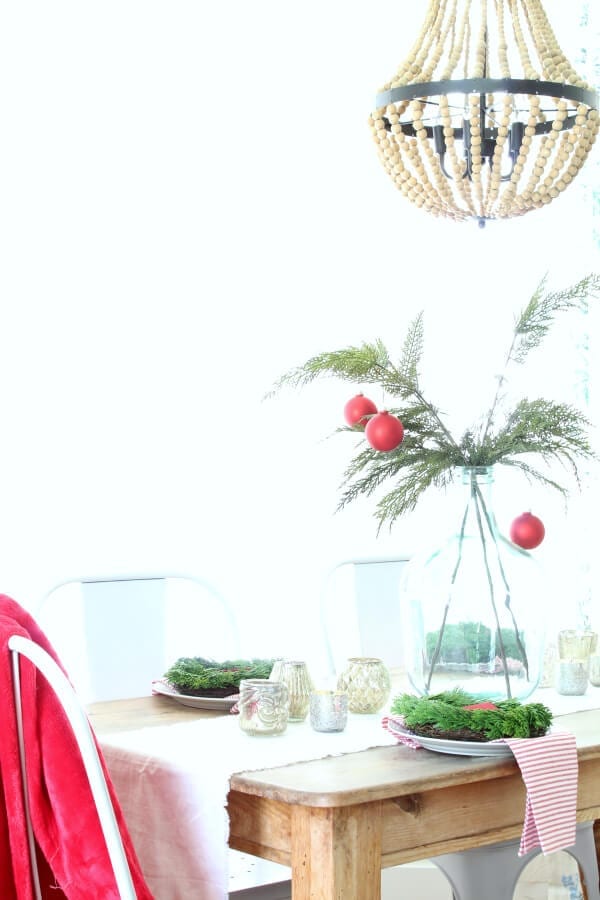 This sweet little table looks so pretty with all the touches of red and white. The light the streams in here is always so beautiful especially in the mornings.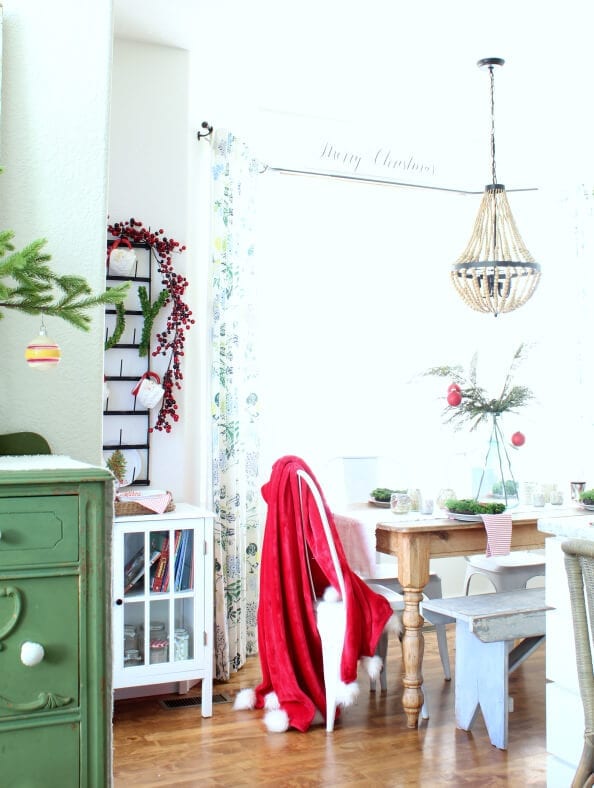 The Kitchen
Connected to our nook is our kitchen. This space gets a lot of love so I kept it simple and just added a few fun touches. Plus it looks out to our tree and she is so fun to look at as we cook or do the dishes.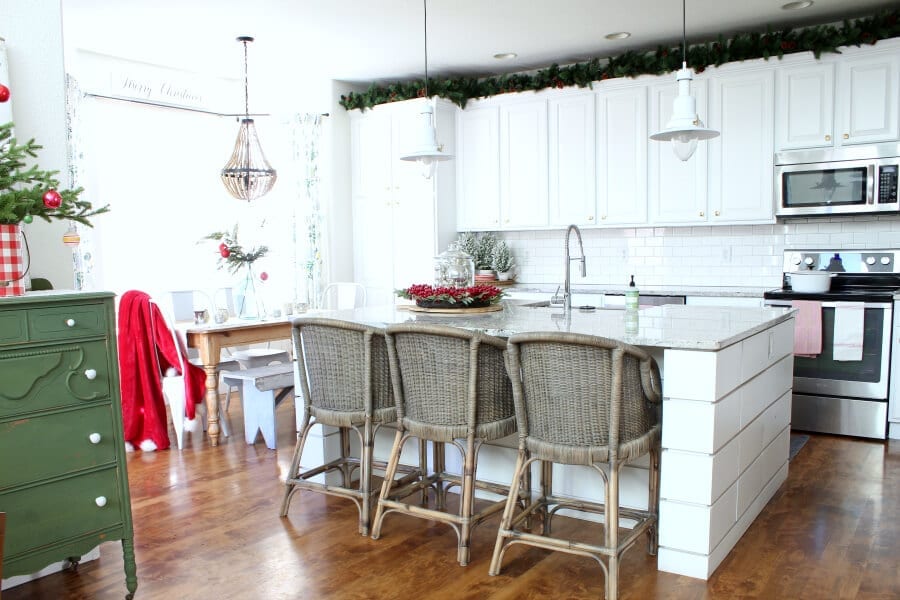 A little vignette sits in the corner of our counter and is a mix of old and new. The cloth cocktail napkins are from Hearth and Hand Magnolia line at Target, the trees are from Rod Works Colorado, and the plates are from Home Goods. The spoons are vintage and so is the tray. My favorite thing to do is mix old and new!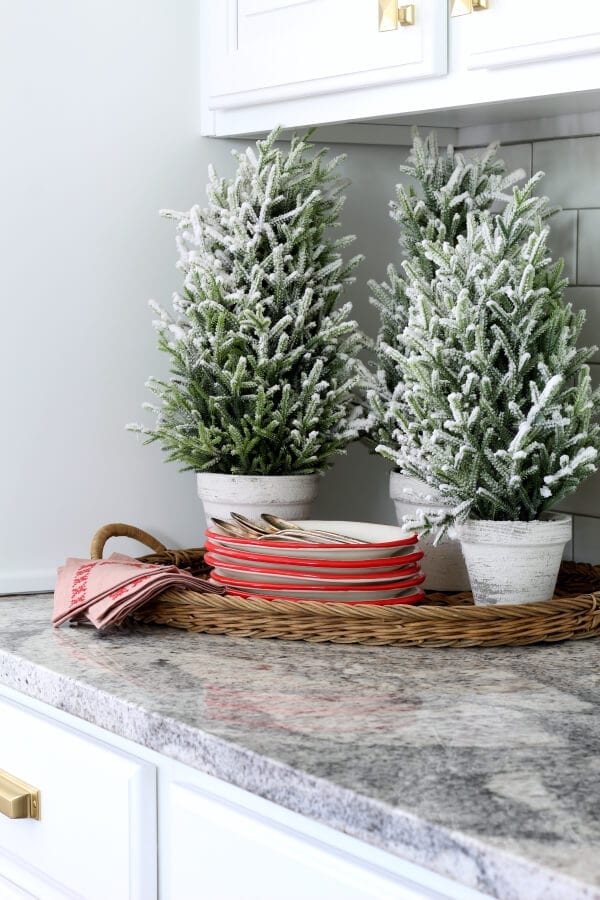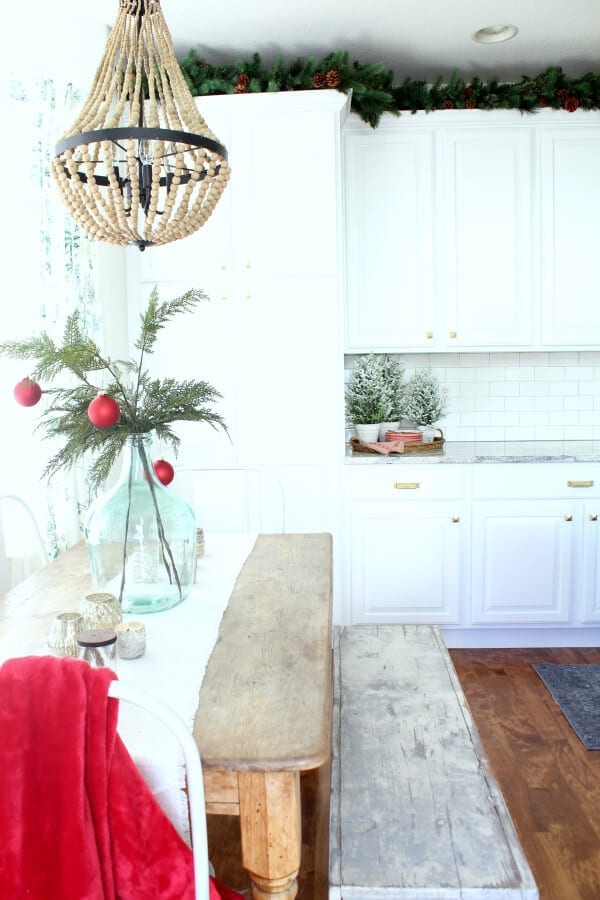 On the counter this fun little display came together when my mom placed the berry wreath on my bread board and then set the jar of vintage ornaments in it. We both instantly loved it! Simple yet stunning!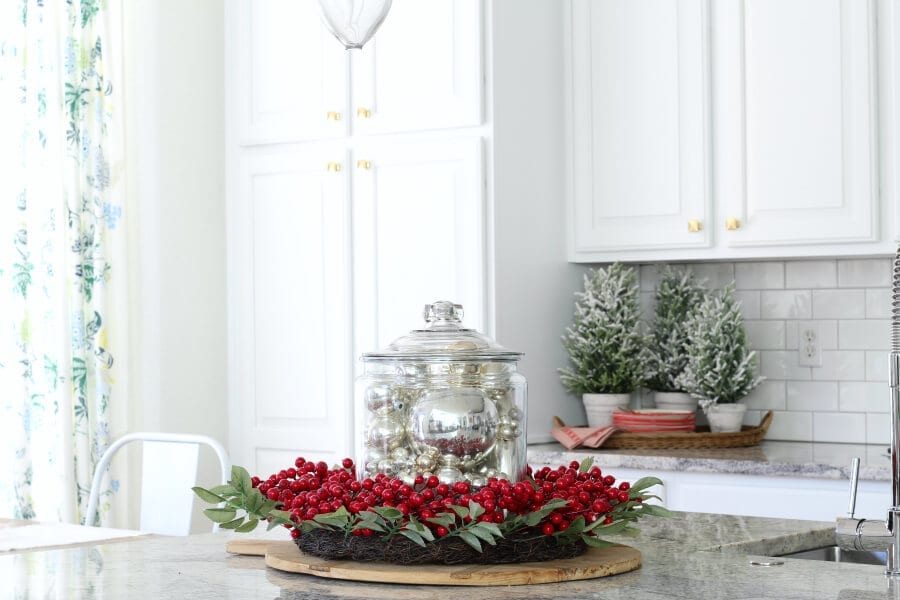 Here is another view of it.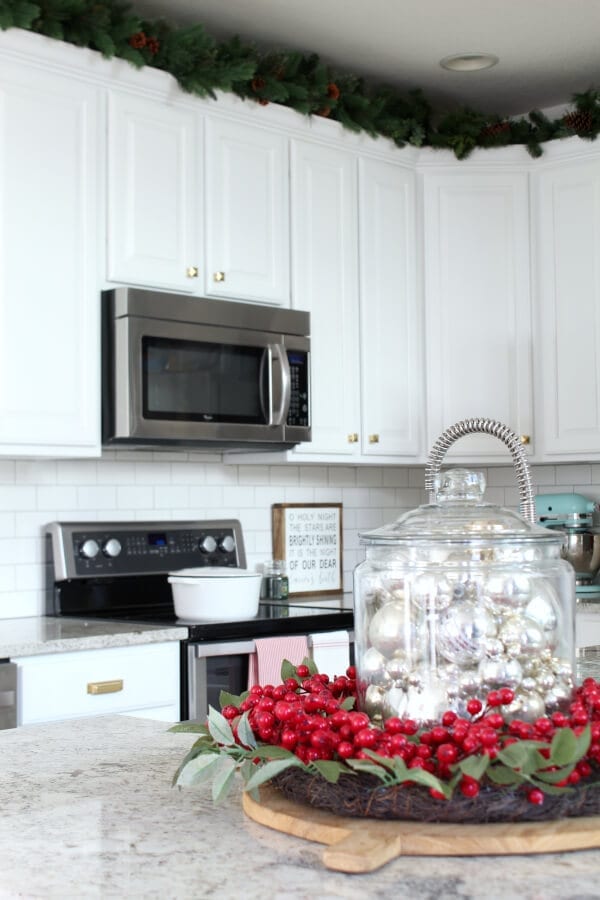 Each year this beautiful sign from Treasured Pearl Handmade makes it's way somewhere in the mix. It features one of my favorite songs!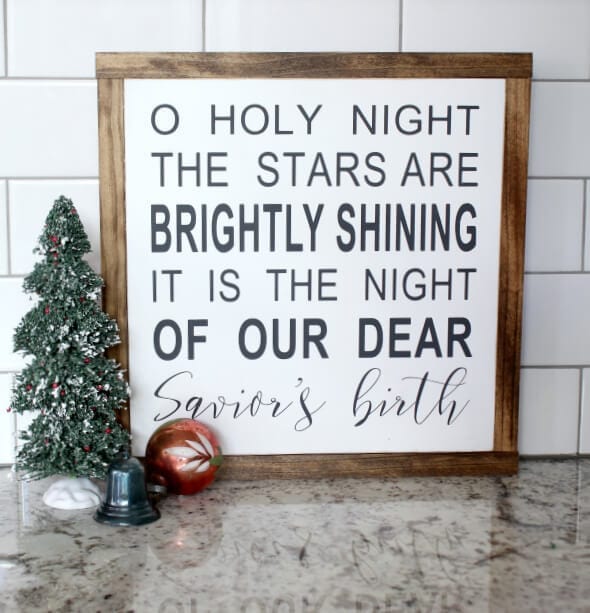 Ok and looking back into the dining room you may notice that letter board on the wall. Well funny story…it has had happy birthday on it since last May when we celebrated our son's birthday.
So my husband suggested I might want to change it up.
We love Home Alone so I tried to do a quote from the movie. Well sadly I ran out of the letter "a" so I had to settle with the word you, instead of ya. It still works and makes me giggle! But now I'm thinking I should have left it since it's actually Jesus's birthday we are celebrating!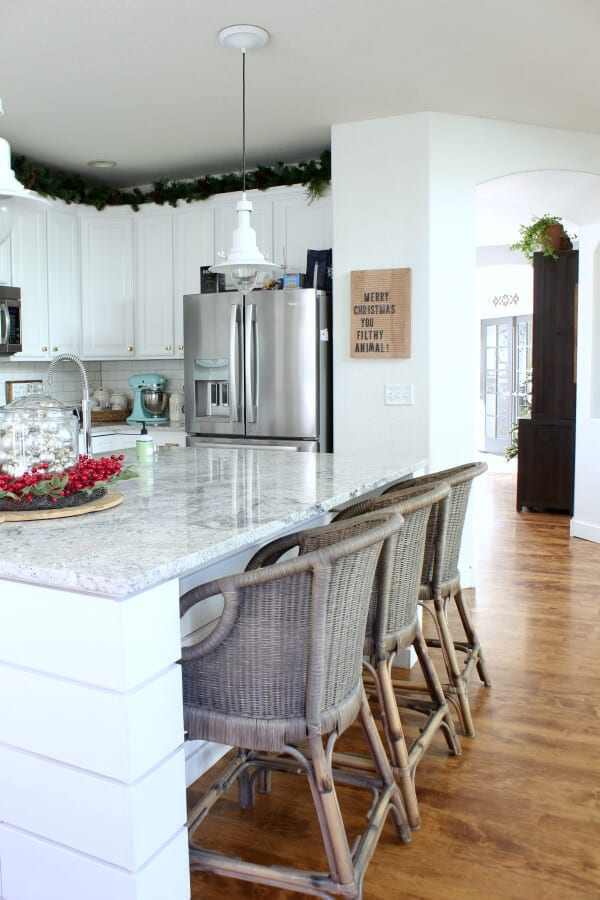 Swinging back around you may notice my favorite boxwood green dresser! She is half in the kitchen and half in the family room. Because of her green has now become my favorite color to decorate with in our home.

Shop Our Kitchen

The Family Room
This dresser has been a favorite of mine from the moment I placed it here. It too was a Facebook Marketplace find that I painted with milk paint. Each season I have fun decorating her and featuring it here on the blog as well as over on Instagram.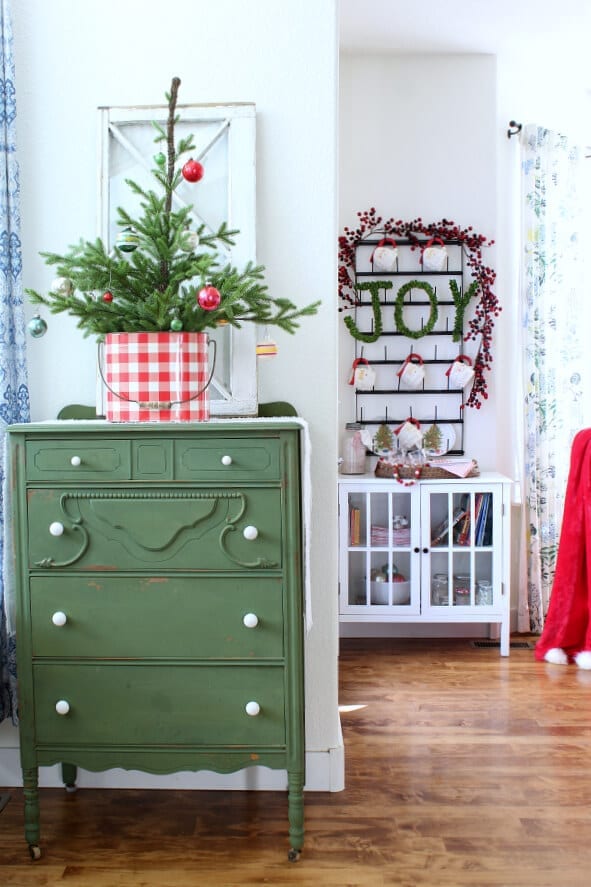 This year I borrowed this metal checked oval tin from my mom and placed this tree in it. But the best part is that this tree is holding some very special family ornaments. These shiny brite vintage ornaments were my husband's granny's ornaments and ones his mom used too. My sister in-law kindly dug them out of storage for me. She uses them on her tree and I have always admired them. I am so excited to use them in my Christmas decor this year!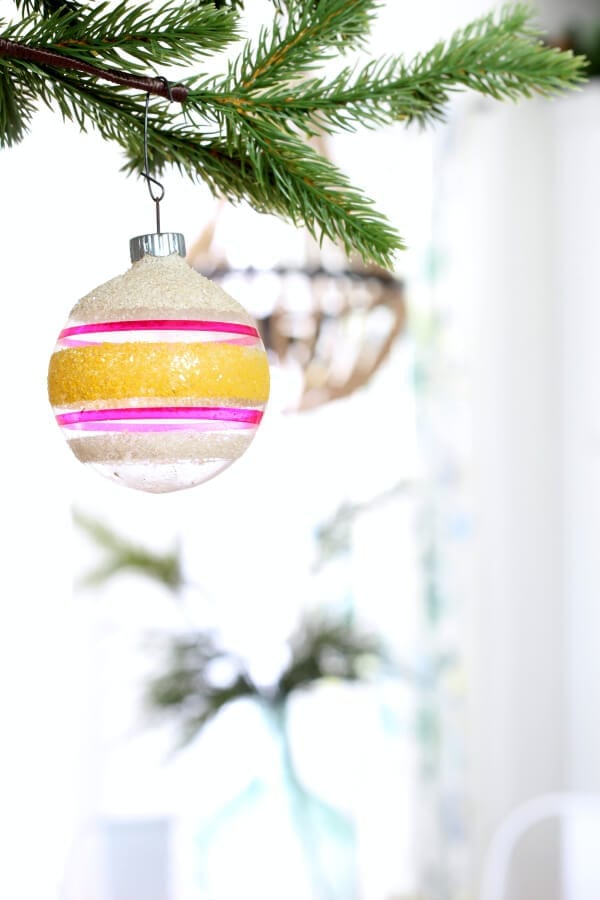 Beautiful, right?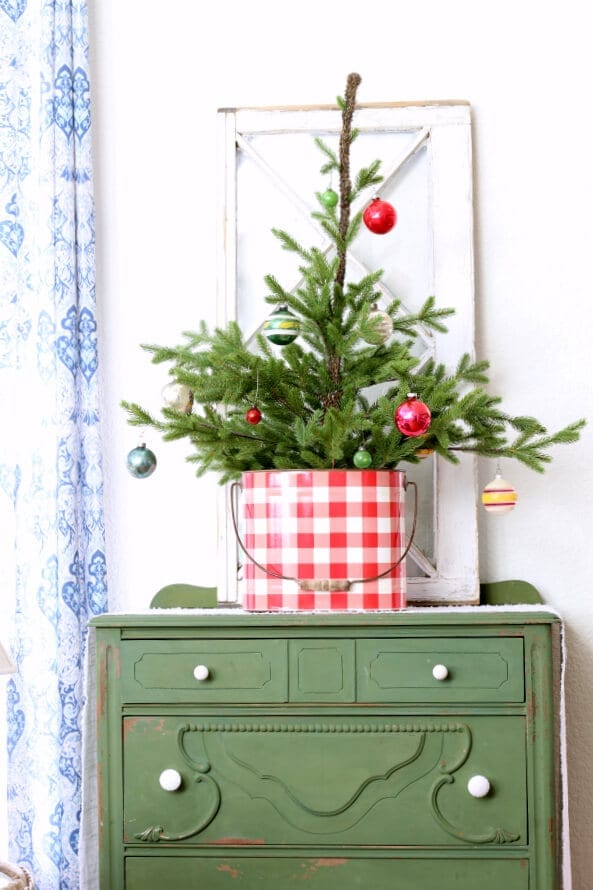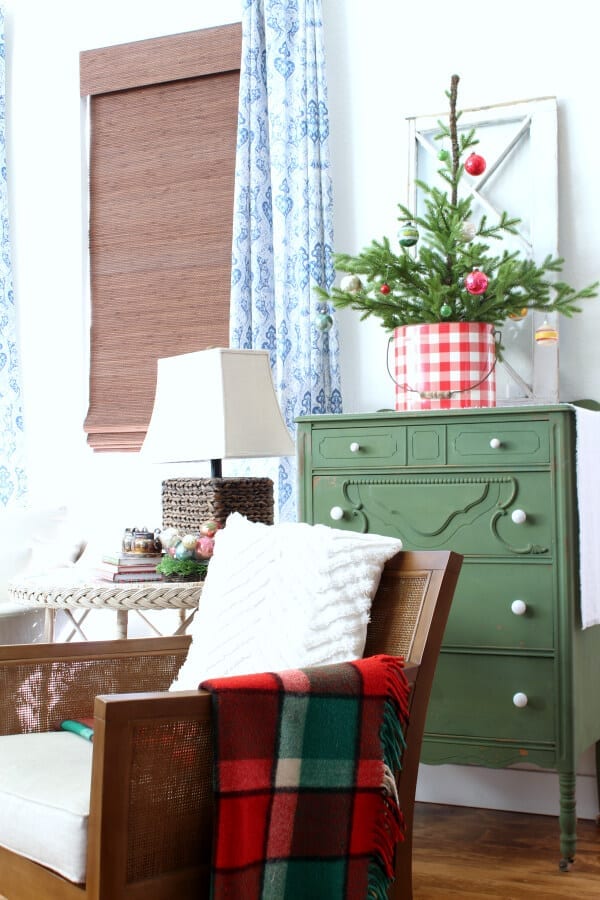 There are a few more of her ornaments on this side table. There are so many fun ways to display them! You may notice I used the trick from the kitchen and placed this owl of ornaments in this small wreath. I have a feeling this might be my new go to!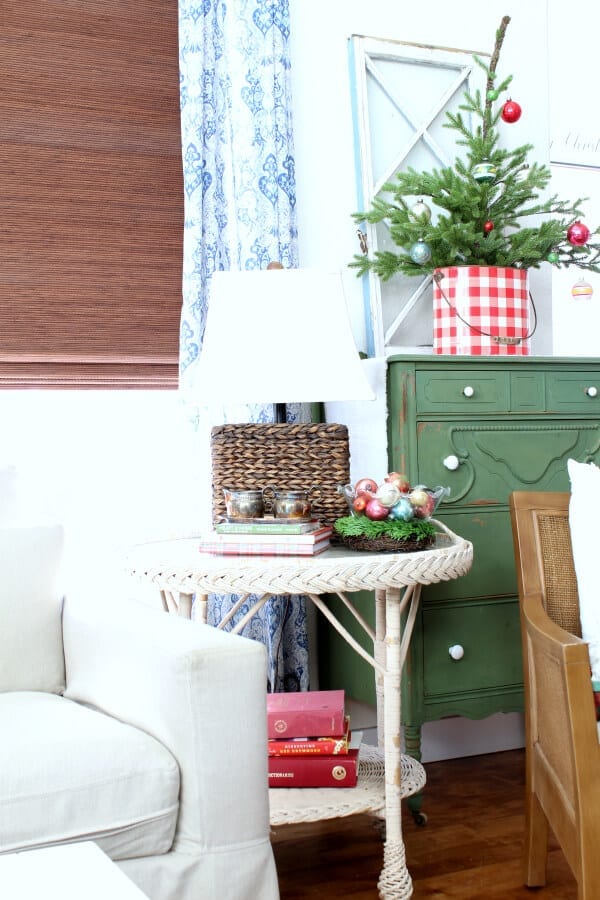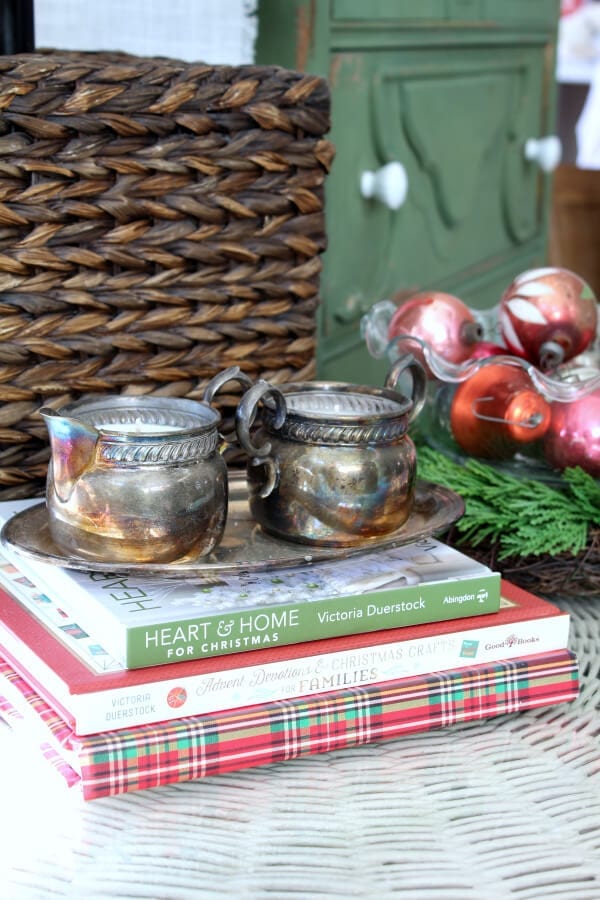 Just to the left of this dresser is our family room and the spot where our tree is!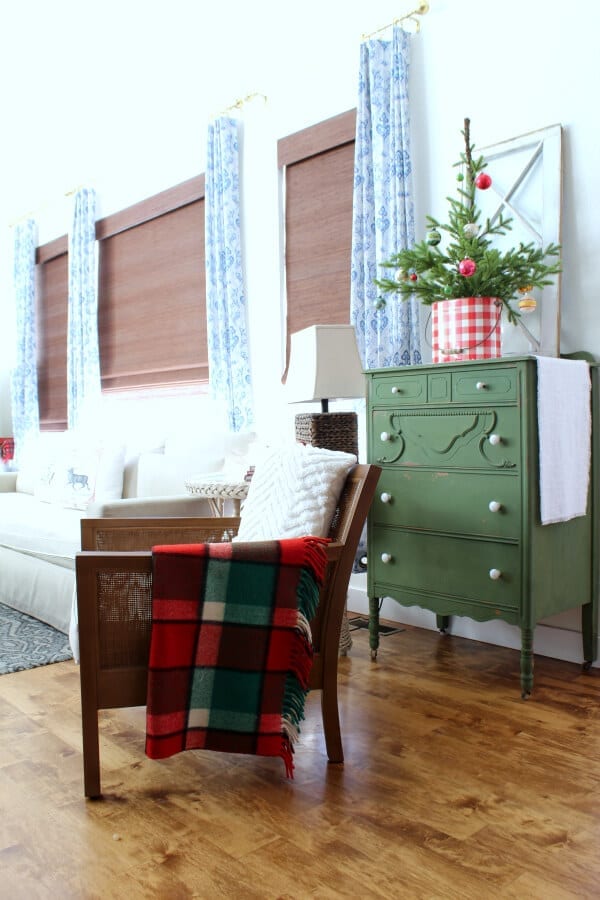 See all of the details of our tree in this post. Plus, I have already shared way too many pictures and I want you to come back! Isn't the doll house a fun touch?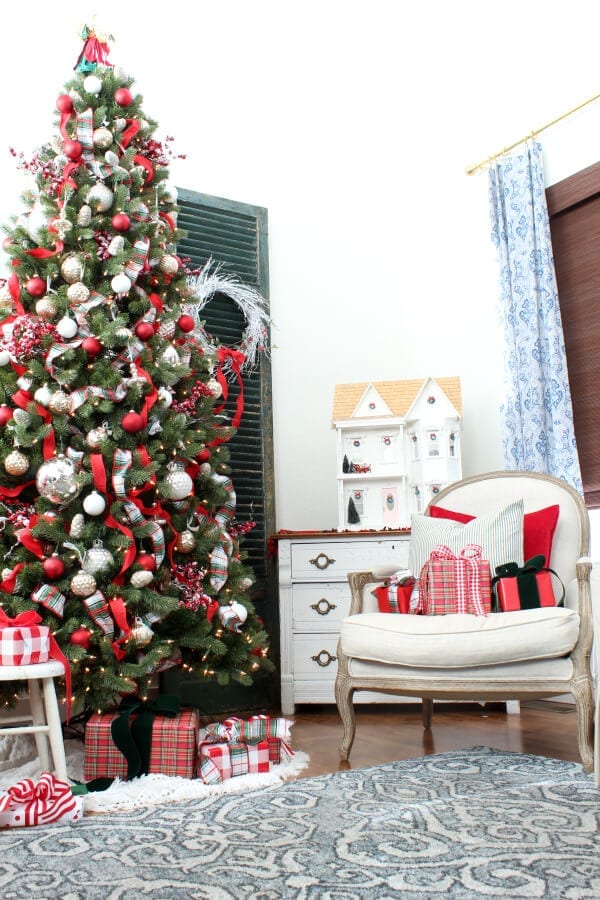 I'm sure you noticed that plaid and patterns have made their way to our tree as well. I adore it!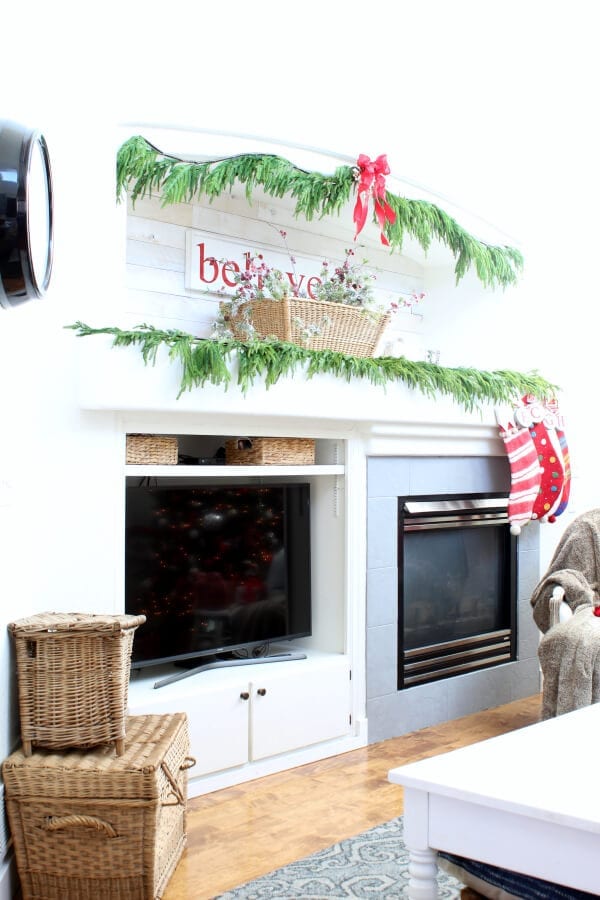 And the last area on our Christmas home tour is our fireplace and mantel. I hung some more garland here that I just love as well as our stockings. I purchased the garland new this year from Alforal.com and love it's realistic look! It's sold out but I found it here! It's called the Norfolk Pine real touch garland and it's on sale!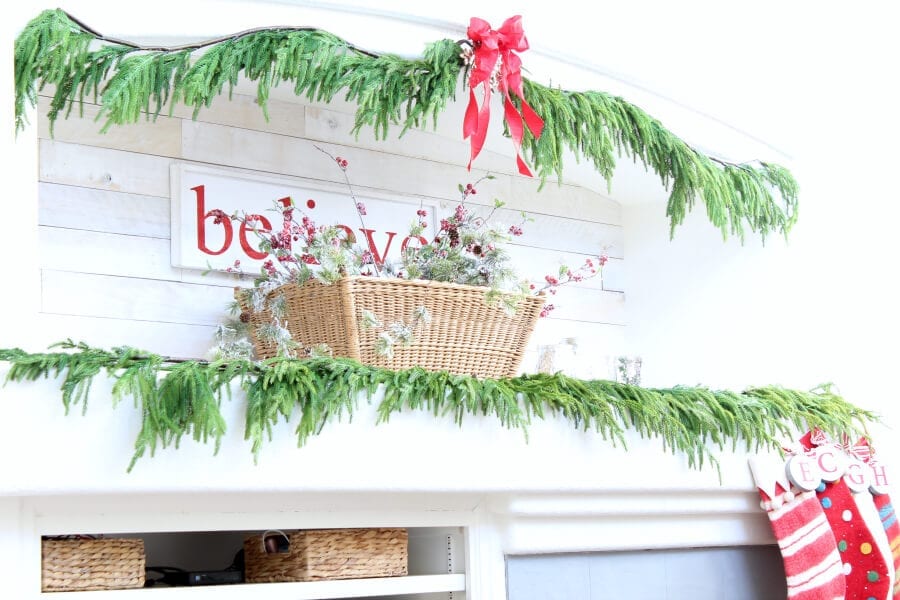 Shop Our Family Room

Our Christmas Home Tour
Well friends if you made this far you I owe you some coffee! That was a long one. I plan to share more of the porch and upstairs in the coming weeks so I would love it if you subscribed! I also love sharing over on Instagram, Pinterest, and Facebook too if you want to join me!
Next on the tour is my friend Cecilia At My Thrift Store Addiction and her beautiful home! The rest of my friends can be found by visiting the links listed below. Thanks again for stopping by and please let me know if you have any questions!
xoxo,
Kelly

Monday's Tours

The Tattered Pew // My Thrift Store Addiction // Simply 2 Moms
Worthing Court // Bricks N' Blooms // Open Doors Open Hearts
Tuesday's Tours

Lora B Create and Ponder // This Is Simplicite
Shiplap and Shells // The Ponds Farmhouse //
Wednesday Tour's

Stone Gable // Midwest Life And Style // Follow The Yellow Brick Home
Noting Grace // My Wee Abode // The Farmhouse Life
Thursday's Tours

Aratari At Home // Caitlin Marie Design // Sweet Pea
Fiddle Leaf Blog // First Day Of Home // White Arrows Home
Friday's Tours

Cottage On Bunker Hill // The Aspiring Home // Lantern Lane Designs
DIY Beautify // Cassie Bustamante // The Flowering Farmhouse
Did you like this post? PIN it for later!