How To Decorate a Spring Mantel With Blues and Greens
Thank goodness Spring is just around the corner because I have been in a funk lately. I'm sure it's just the weather but goodness am I ready for some color in our home! And as many of you may have guessed, I have been slowly pulling out my Spring décor and having some fun. First on my Spring decorating list was our mantel and I am loving how it turned out. And today I'm sharing my thought process and tips on how to decorate a Spring mantel with blues and greens in case you need some color in your life as well.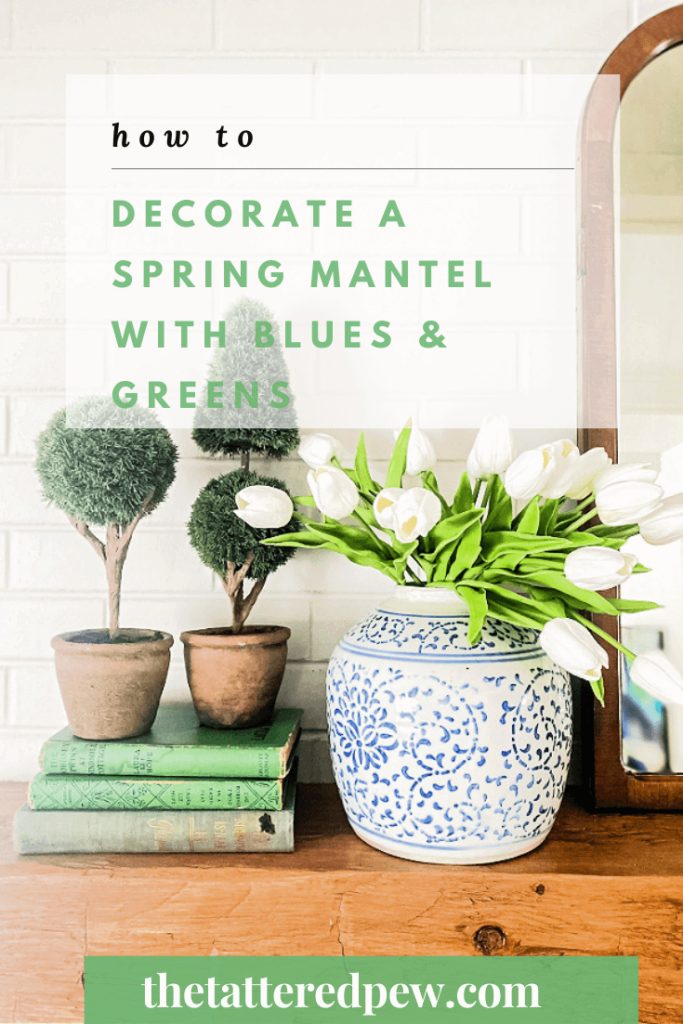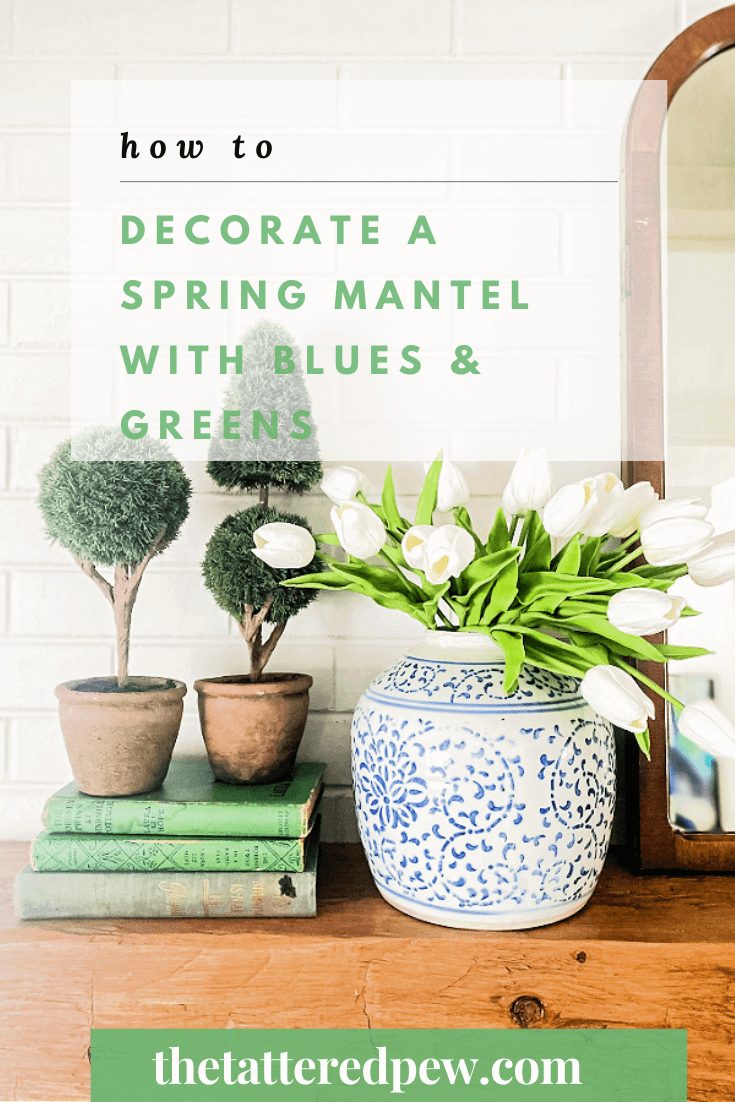 *This post contains some affiliate links for your convenience. Click here to read my full disclosure policy.
Spring Mantel Inspiration
If you are like me and tired of the blah cold weather and ready for some Spring color and decorating ideas, then read on my friend!
But first, let me share that some of my friends and I have some gorgeous Spring mantel inspiration for you! Today I am joining 11 other bloggers for the Spring Seasonal Simplicity series hosted by Krista of The Happy Housie.
So make sure sure to visit the links from my friends at the bottom of my post for fresh, new and beautiful Spring mantel isnpiration!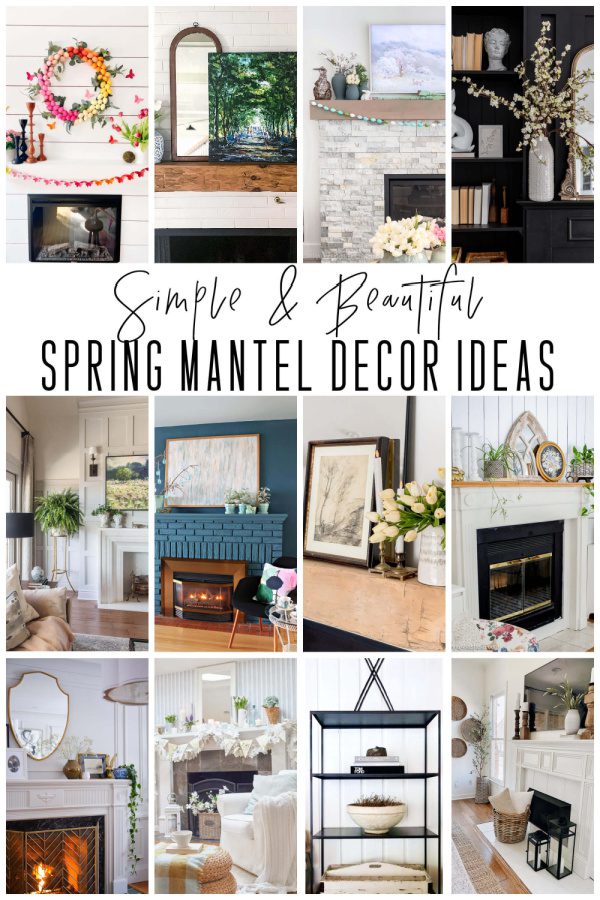 How To Decorate A Spring Mantel With Blues and Greens
If you have hung out with me here for awhile, welcome back! If you are new to my blog I'm so glad you stopped by! I'm Kelly and I live in beautiful Colorado. This past summer we moved into a new home that we are still figuring out how to decorate. It's been a slow and but totally fun process.
It's been fun to see if what I used in our other home works here and it's been fun to collect new finds as well. I love thrifting, consignment shops, flea markets, small shops, Amazon and Home Goods (to name a few)for adding to my home décor collection!
Styling and Decorating Our Spring Mantel
Our main living space has a gorgeous white painted brick fireplace with a rustic wood beam mantel. I've never had a mantel before and so decorating it has been a blast! Here is a little peek into my thought process as well as where I found and collected the items I used.
1. Choose Your Colors and Collect
Whenever I Choose a space to decorate, like our mantel, I always start with picking colors! I am obsessed and drawn to blues and greens. So that is what I picked for our Spring mantel.
When you have decided on your color scheme walk around your home and collect a variety of objects that contain those colors. Make sure that they are different shapes and different textures. And remember that it is ok to have a few items that have more than the colors in your color scheme. (My painting is a great example of this)
My go to's for mantel décor are usually books, mirrors, greenery/flowers and art.
2. Vary The Heights of Objects
Once you have collected your items you should first decide if you want your décor to be centered or asymmetrical.
I went with centered.
Then start by layering the larger items in the middle of your mantel. I layered an old vintage mirror with an original painting I bought at a street fair in NYC when I lived there years ago.
From there I worked my way out. I stacked books and grabbed topiaries and a ginger jar I found at a flea market. I moved them around a lot and stepped back to make sure the height of my objects were balanced.
Trust me you will know when they aren't balanced. (More on this later!) I also made sure that the shapes were different. Like the ginger jar was round while the books were rectangular. The topiaries and faux tulips add texture and dimension!
3. Have Some Fun
Make sure to have fun and pick pieces that mean something to you. Or pieces that will get people talking. You know, the ones that draw your eye to a space? Don't be afraid to mix styles! I mixed our rustic mantel with old books, and a classic ginger jar. They are all different but somehow work beautifully together!
For me that was 2 pieces , my grandmother's mirror and the art I bought when I lived in NYC when I was in my 20's. When people visit they always ask about the art and boy do I have stories to tell! Most of them revolve around teaching 6th grade in the Bronx, living in a 4th floor walk up and surviving on Ramen. NYC will always have my heart!
4. Get A Second Opinion
Finally, walk away, take a break from decorating your mantel and come back later. Then find a friend and see what they think.
For me that friend was my mom.
She came over and immediately noticed that it was unbalanced. I originally didn't have the topiaries on the far left. So I added them like she suggested.
And guess what? She was so right! Once I added them it just felt right.
5. Seek Out Inspiration
If everything I mentioned above still seems like gibberish and you just want a pretty Spring mantel don't be afraid to seek out inspiration. I am a visual person so I like to look for inspiration in places like Instagram, Pinterest, magazines or catalogs.
Be specific in your search terms, for instance on Pinterest I like to type in Spring Mantel ideas. Or blue and green Spring mantel décor. Being more specific to your colors or style will help narrow down your searches.
Then look at what you find. What do you like? What inspires you? Can you create something similar? Do you have most of the items or do you need to buy a few?
Then start experimenting and remember to have fun! Also, remember there is some Spring mantel inspiration linked below to also check out! And if you like my style then you might enjoy peeking at my Amazon storefront for similar items to these I shared today!
A Spring Mantel With Blues and Greens
For me decorating is fun and always brings me joy! But I know for some it can be tedious and altogether not fun. Remember to do what makes you happy, seek inspiration and don't feel like it has to be perfect.
Hopefully I was able to share a few practical tips on how to decorate a Spring mantel with blues and greens or whatever colors you love. Please let me know if you have any questions. And if you want to hang out with me some more subscribe below!
xoxo,
Kelly
Today some of my friends are sharing their Spring and Easter mantel decor ideas too! Be sure to visit their posts by using the links below the images.