Spring Home Tour 2023 Part 2
Happy first day of Spring! Ah, the sweet smell of spring! As winter melts away and sunshine brings in new life, is your home getting an update as well? With this new season comes a unique opportunity to create a vibrant atmosphere full of cozy comfort and bright colors. I always use it as an excuse to switch things up! Today is all about our Spring Home Tour 2023 Part 2 – which gives you a look into our home all dressed up for Spring. From uplifting colors (mostly pink) to simple décor additions, hang out with me as I explore some exciting colors and Spring finds.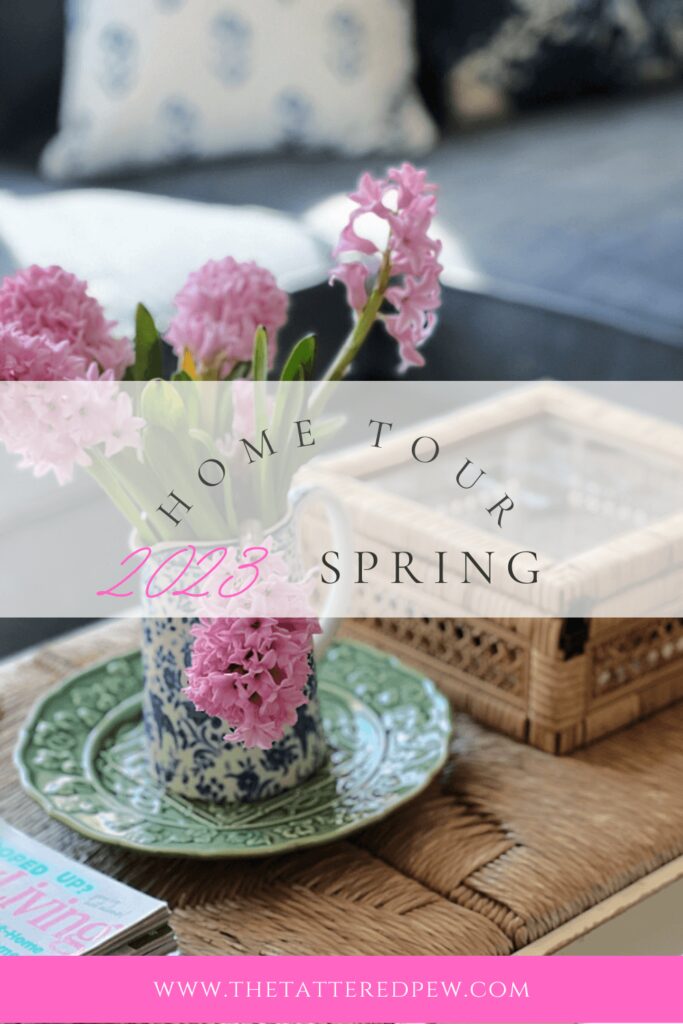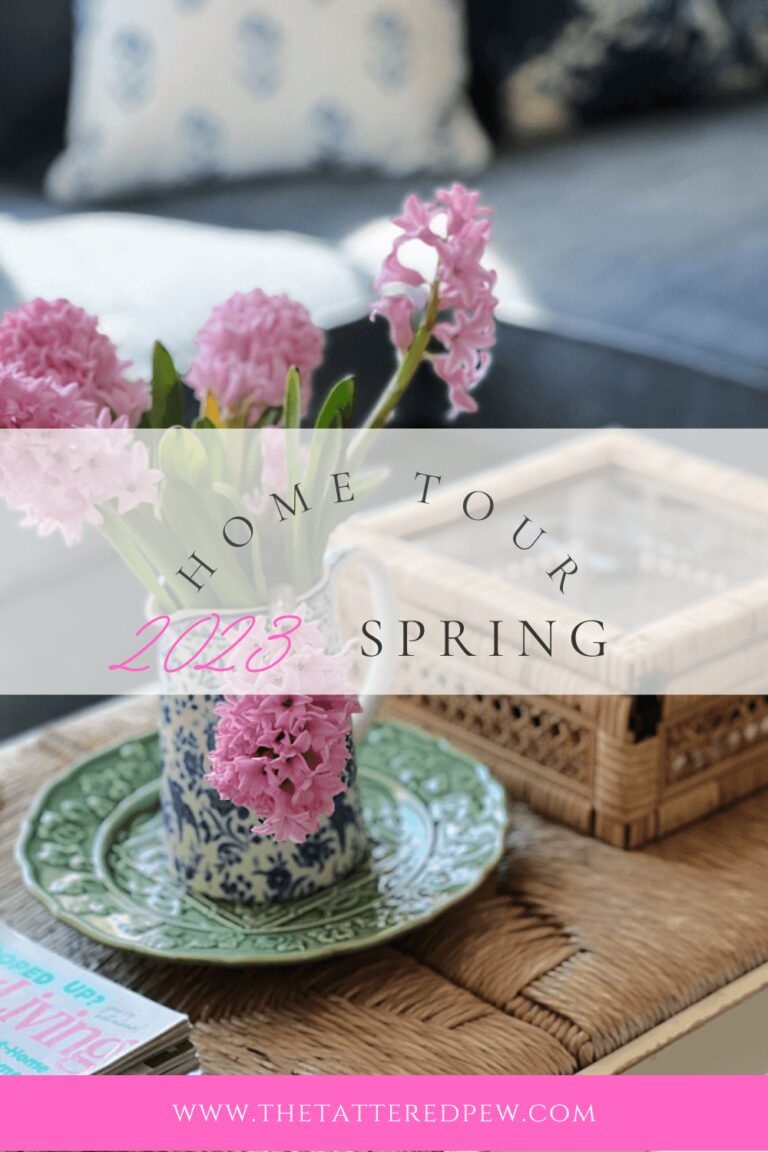 *As an Amazon Associate, I earn from qualifying purchases. This post contains other affiliate links too for your convenience. Click here to read my full disclosure policy.
Welcome to Our Home!
It is finally here…SPRING! I am so excited to welcome you all to part 2 of our 2023 Spring Home Tour! If you missed part one you can visit that post here. I love to keep things casual and colorful and fun. And I had to split this up into two tours because I took A LOT of pictures! ha!
I am beyond excited to be hosting this week long tour where each day 6 new bloggers open the doors for you to come tour their homes all dressed up for Spring! You can find all of them linked at the bottom of my post. I host these tours 4 times a year and each time I swear they get better and better!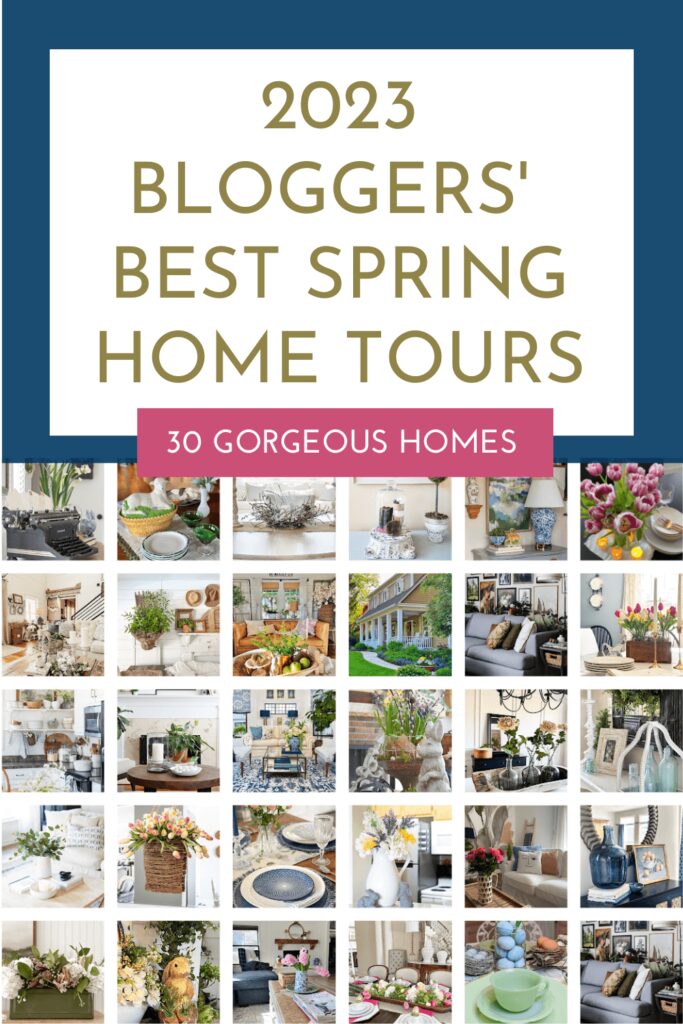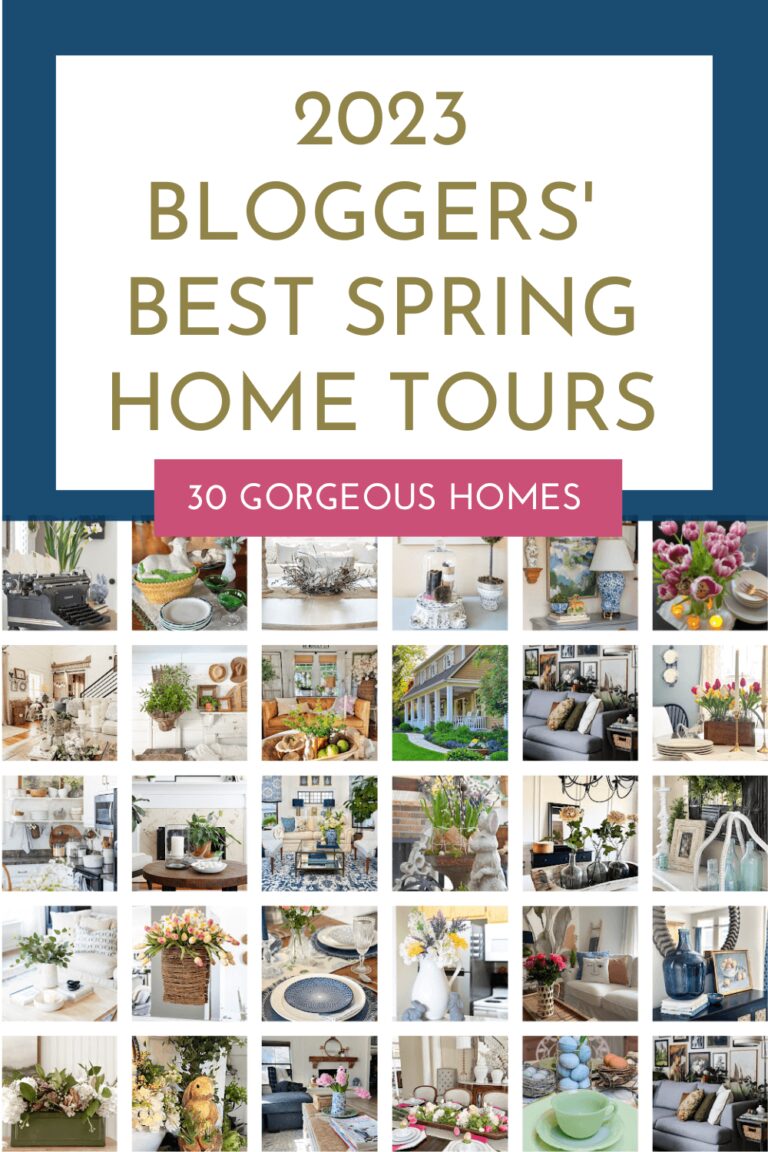 If you are like me then you LOVE checking out other people's homes to gather inspiration.
If you are coming over from Brendt of She Gave It a Go and her lovely tour, welcome! Brendt and I are real life friends and she inspires and blesses me everyday.
Now let's get this tour started and take a peek at how I have added some colorful Spring touches to our Colorado home.
Spring Home Tour 2023 Part 2
Here in Colorado we have been noticing little promises that Spring is truly near! Just yesterday we were in our front yard and saw tulips and hyacinths popping up and buds on our trees.
Hallelujah!!!!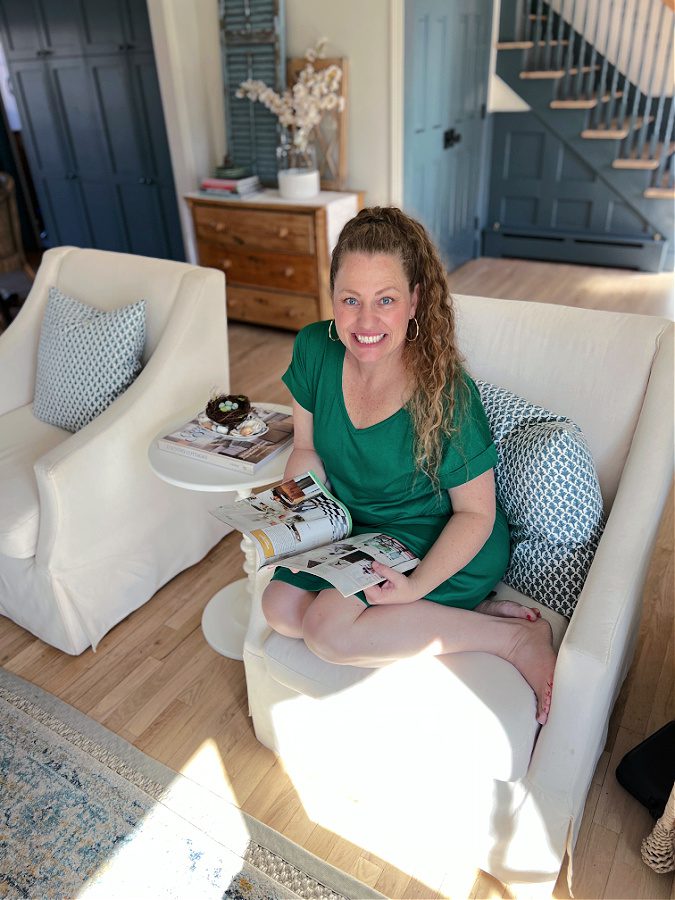 I'm so excited for everything to start turning green. How about you? Is it already green where you live? If so send some our way please!
All this to say that this tour will not be including any outdoor spaces. Just our family room and bedrooms and peeks at other fun spaces!
A New Rug for Spring
In my last tour I shared our Spring entry but it was missing the gorgeous new rug I have been waiting for. Well guess what?!
It arrived.
And I am smitten. It is so soft and so pretty.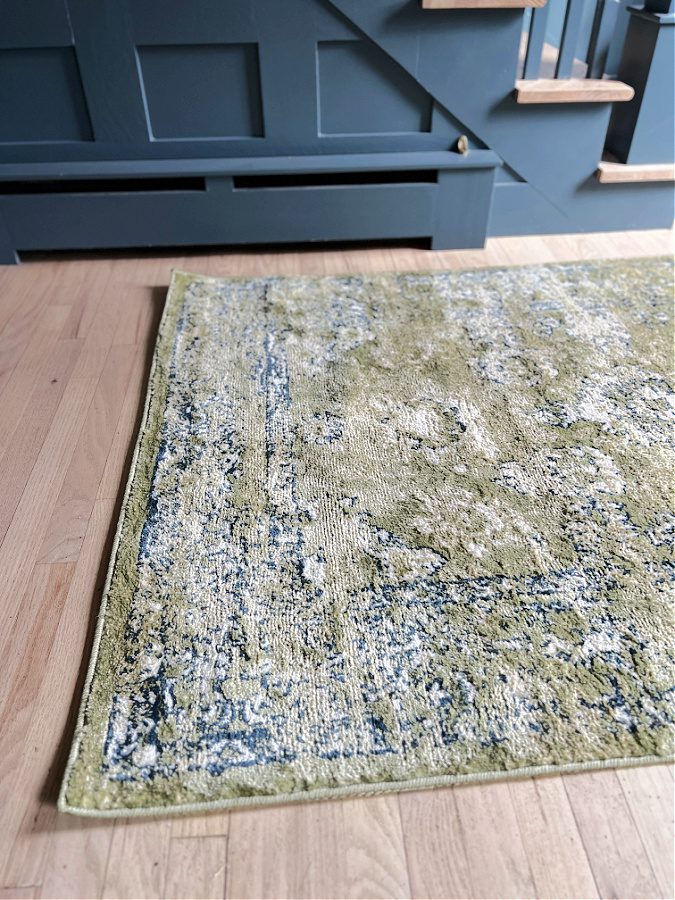 I'm a huge fan of changing or moving rugs around our home. That and pillows. Things are constantly swapped and tried in new spaces in our home.
This is one of my favorite ways to save money when it comes to decorating!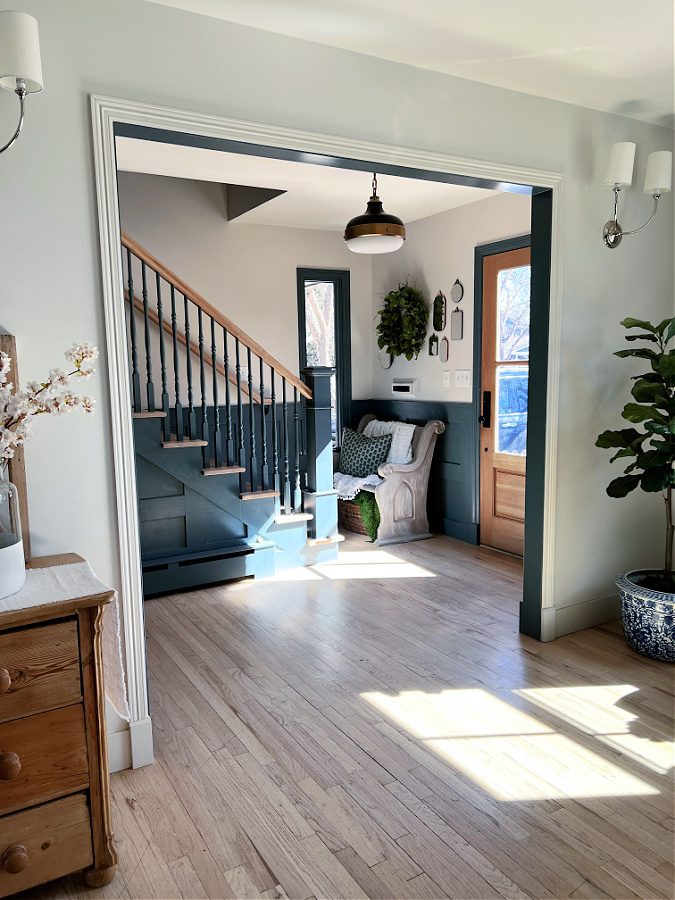 Just around the corner is this gorgeous pine dresser I love to change up seasonally. You can see more of it here .
If you are loving my home and decor then you may want visit and follow my Amazon Storefront. I have curated so many fun idea lists to shop from!
A Glance at Our Kitchen
If you walk past the dresser you are greeted by our all blue kitchen.
The color is Blustery Sky by Sherwin Williams and I simply adore it. I shared the full kitchen and pantry tour in part 1 of our 2023 Spring Home Tour.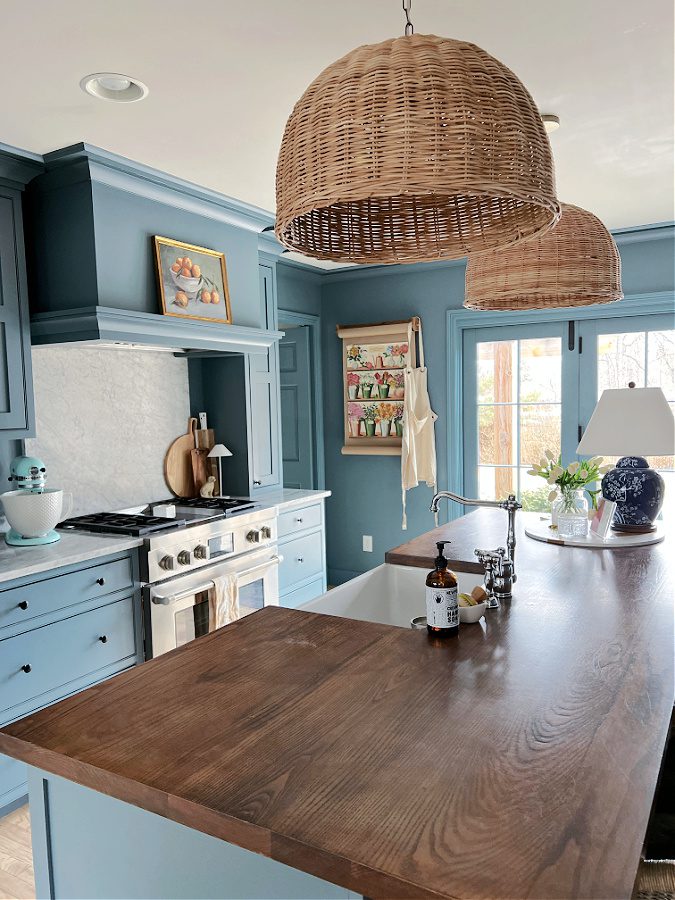 Spring In Our Family Room
Now lets stroll on in to the family room. A space that I have curated over time with items from flea markets, Facebook Marketplace and consignment shops and of course a few big box stores occasionally.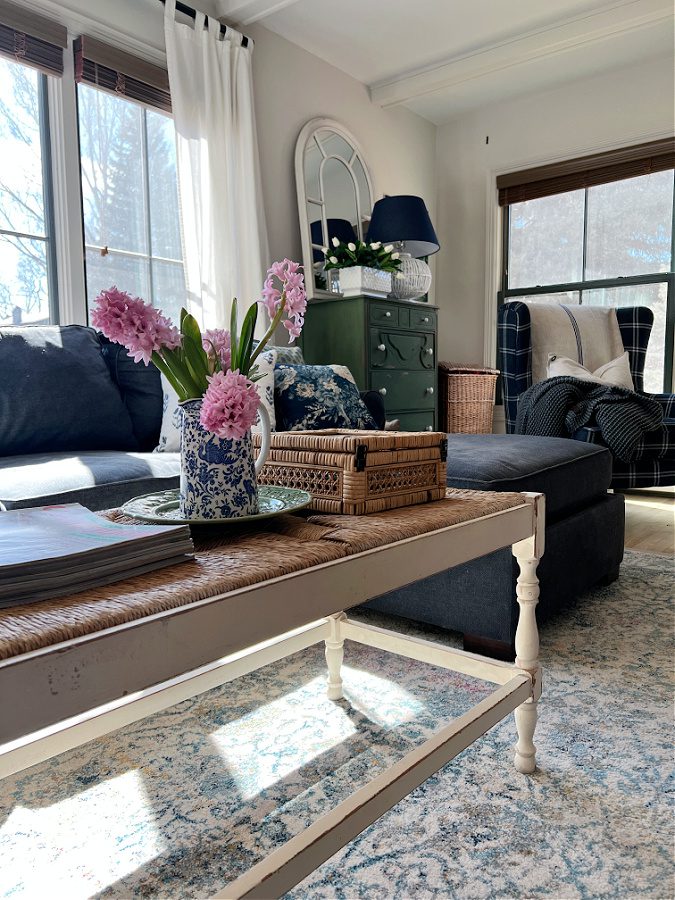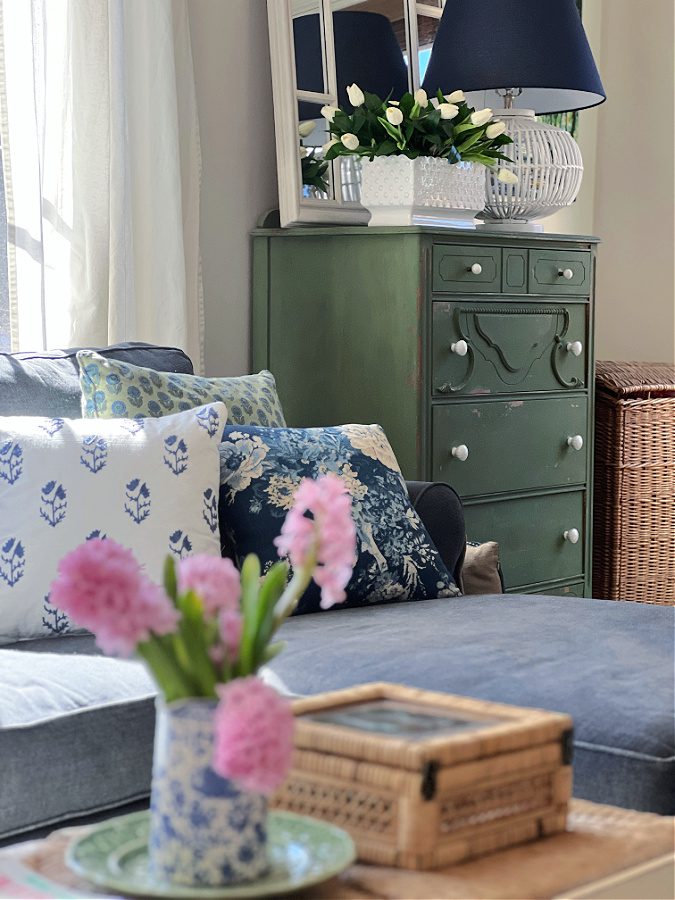 This is where most of our living goes down as a family of six. Well, only 5 of us are currently here but our oldest visits often.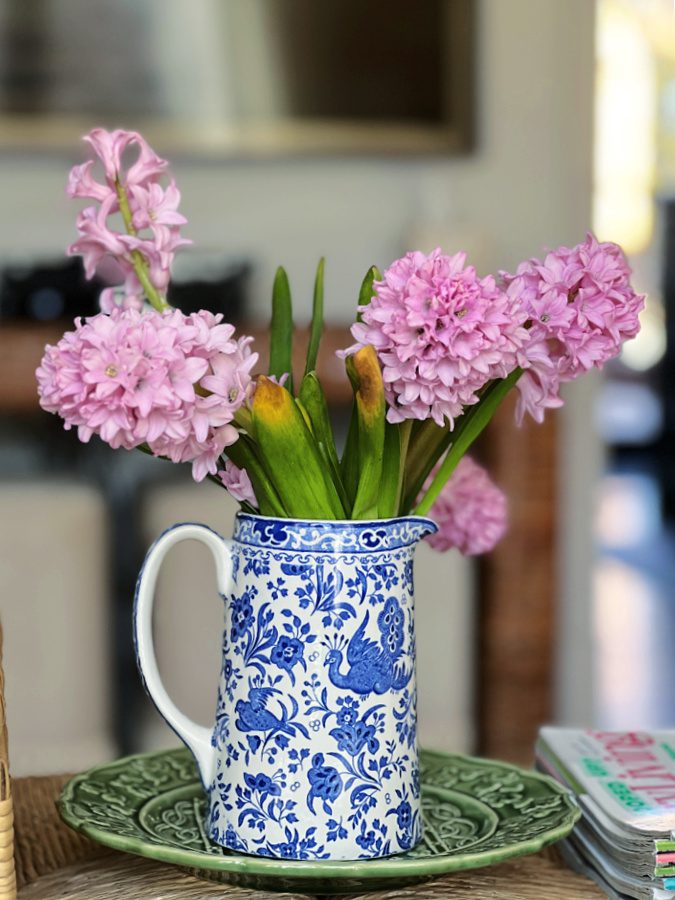 I had fun using my favorite colors in this space. Blue and white! And as of late, PINK!!!
The blue and white Emma Bridgewater pitcher was a gift from my parents from one of their European trips. I placed pink hyacinths in it and set it on a pretty green plate form my favorite flea market.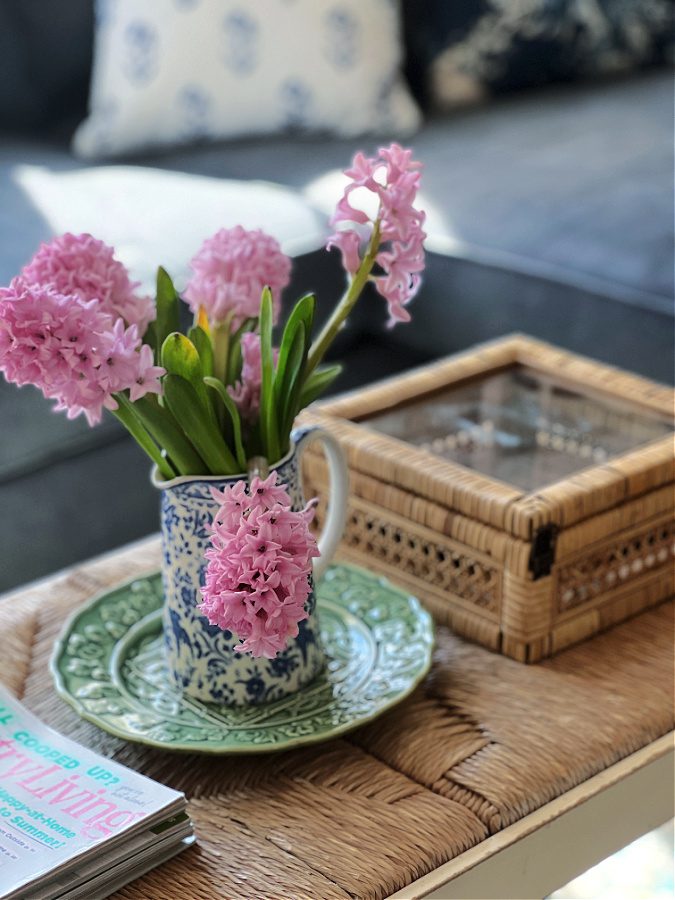 I also use my beloved cane and rattan boxes to store our remotes.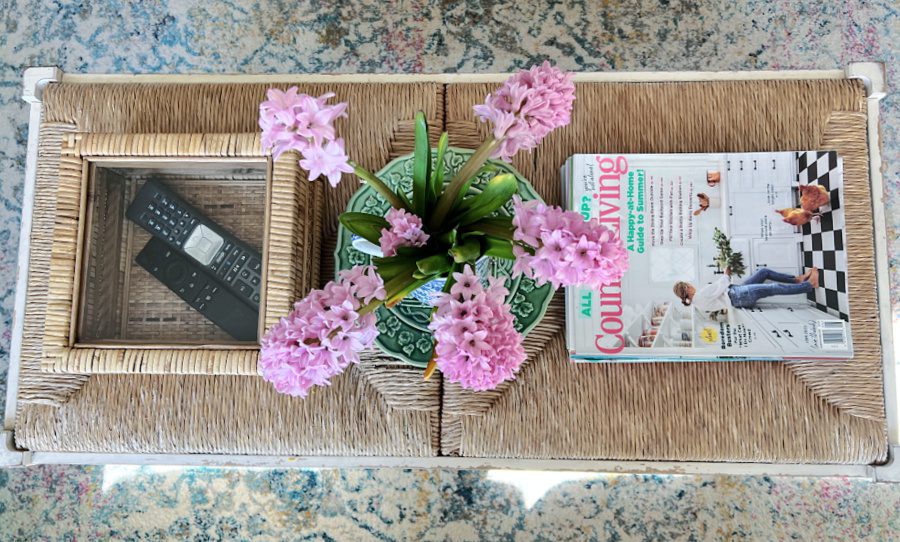 For those of you new around here you will notice that I also have a fondness for the color green and find that it acts as a neutral and goes with everything.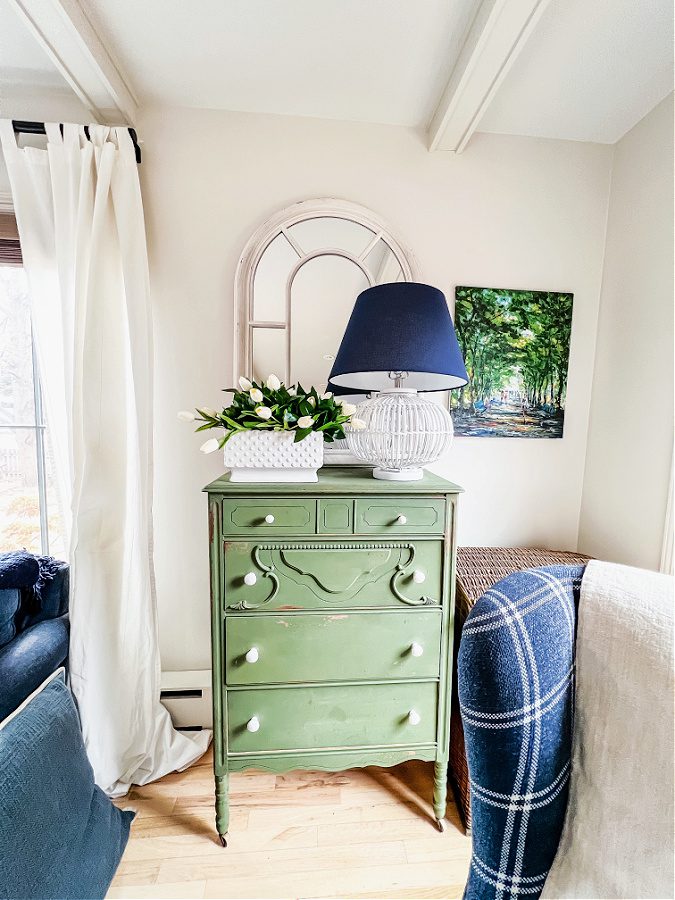 This lovely green dresser wasn't so pretty before I decided to paint her. Now her Boxwood paint color makes her the star of the room. You can see her crazy transformation here!
Do you see that floral display sitting on the dresser? I just whipped that up in under 5 minutes. No joke! See how to make this simple 3 step floral arrangement that I shared in a previous post.
I promise it's good!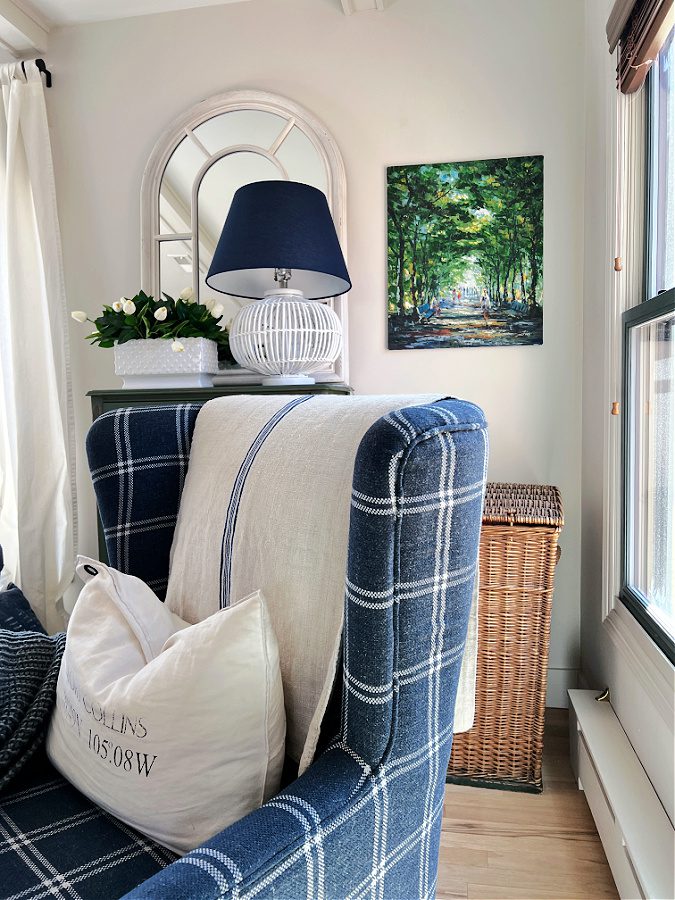 More and more I find myself gravitating to more of a coastal feel. My plans for the future involve a new sofa and new bamboo blinds for this space. But for now it's baby steps.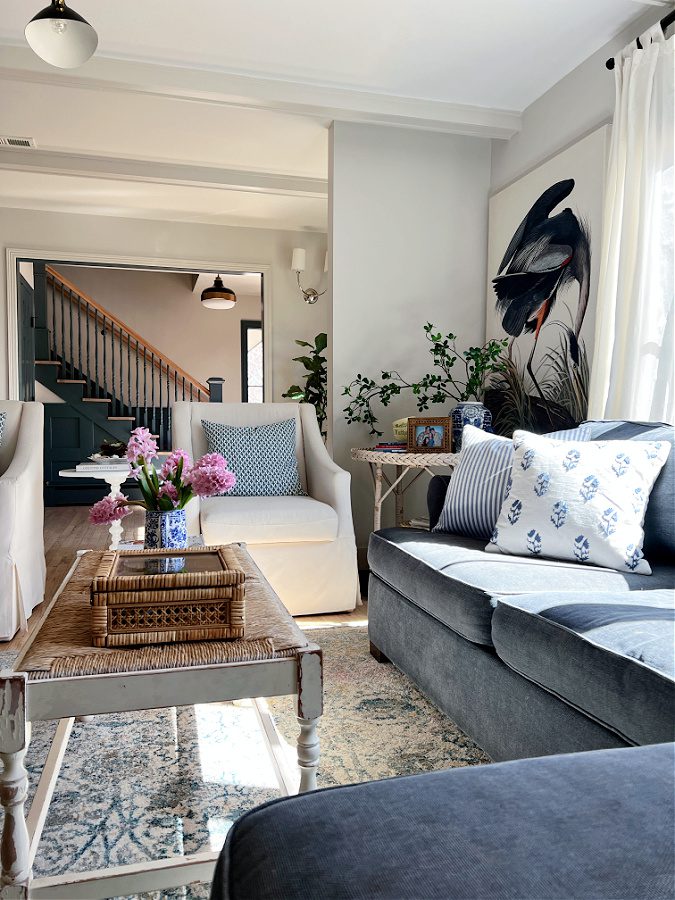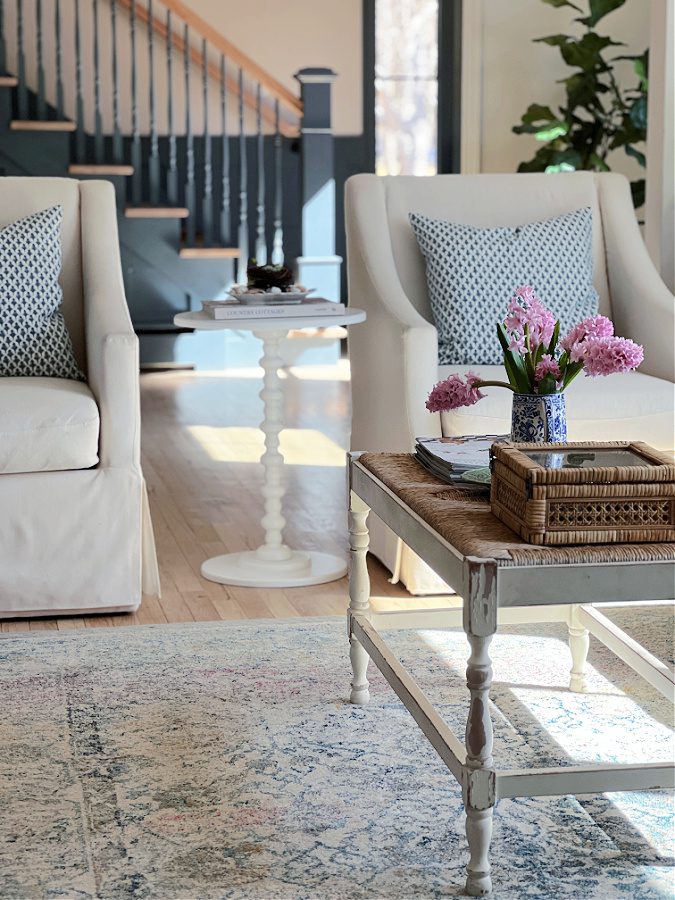 Fresh flowers have helped keep me happy as our winter has been extra harsh this year in Colorado. I miss the sunshine like crazy and can't wait for patio weather!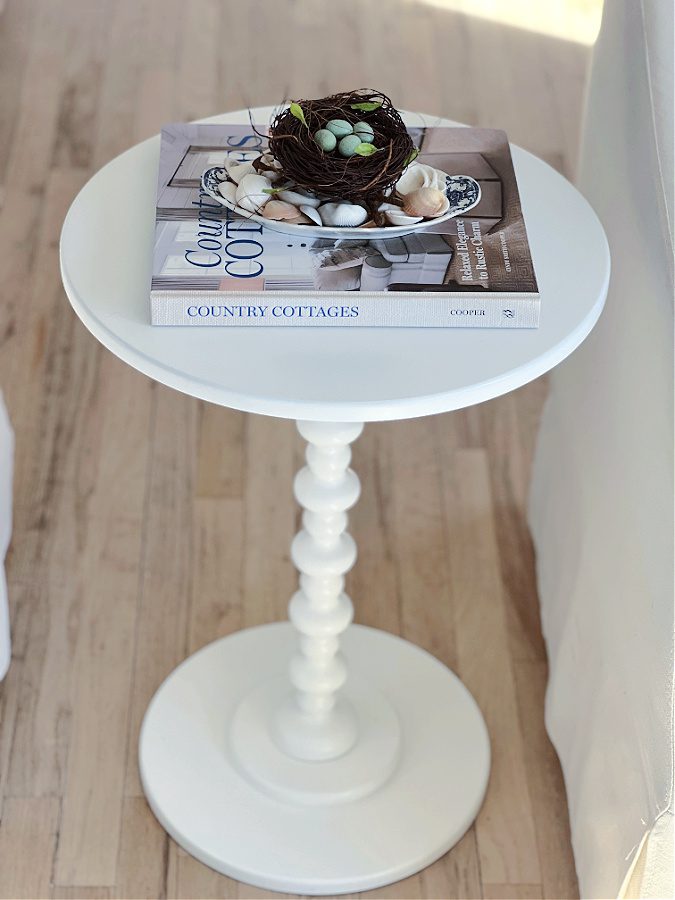 Oh, and how precious is this little white spindle table? My friend KariAnne form Thistlewood Farms shared it over on Instagram and I fell in love with it. Plus, the price is amazing. It comes in other colors too.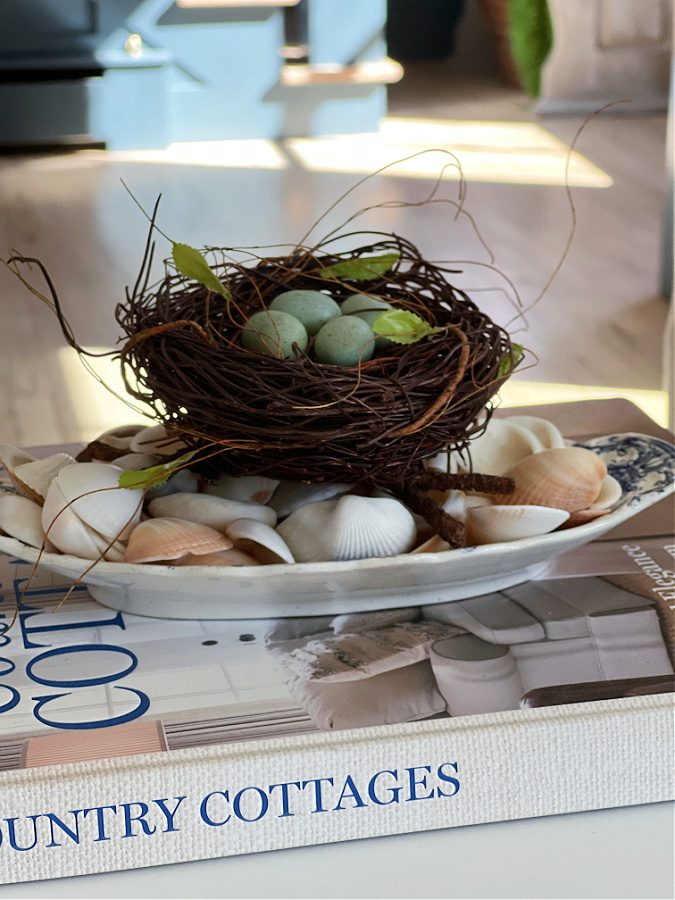 Our pup Zoey wanted in on the action and I couldn't resist capturing her. She was curious why I was taking so many pictures and down on the floor close to her level for this specific one.
Also, you will notice our stairs in the background. So lets head upstairs to the bedrooms!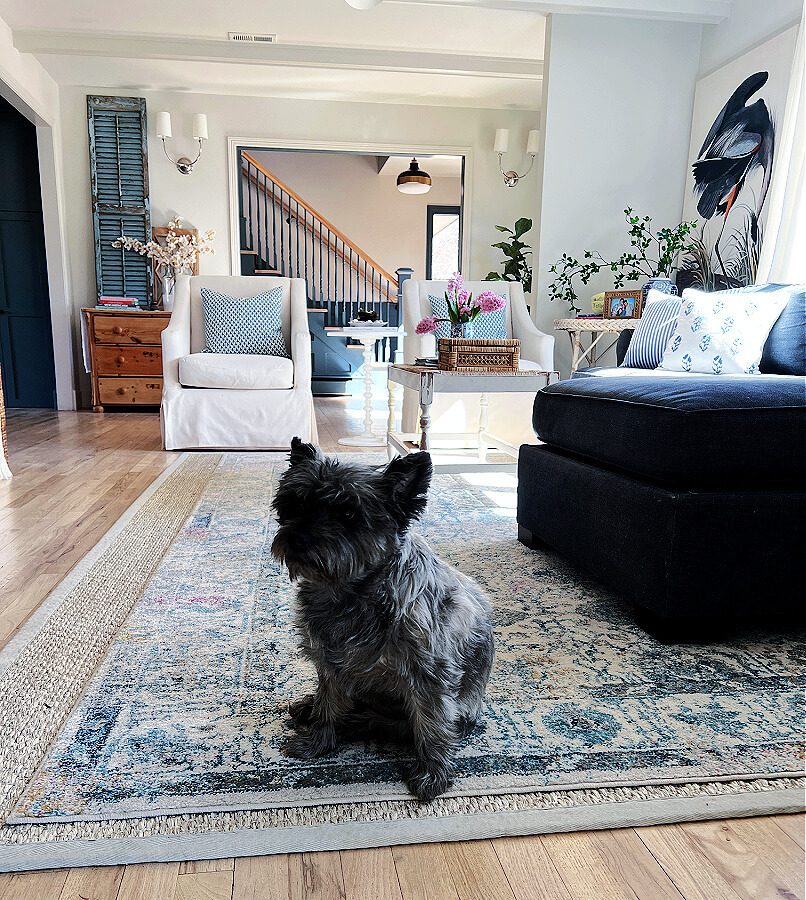 Let's Head Upstairs to the Bedrooms
Our 14 year old's bedroom is upstairs and first up. My mom and I redid her room for her this past fall and her only request was that it was beachy and had black , white and orange.
How did we do?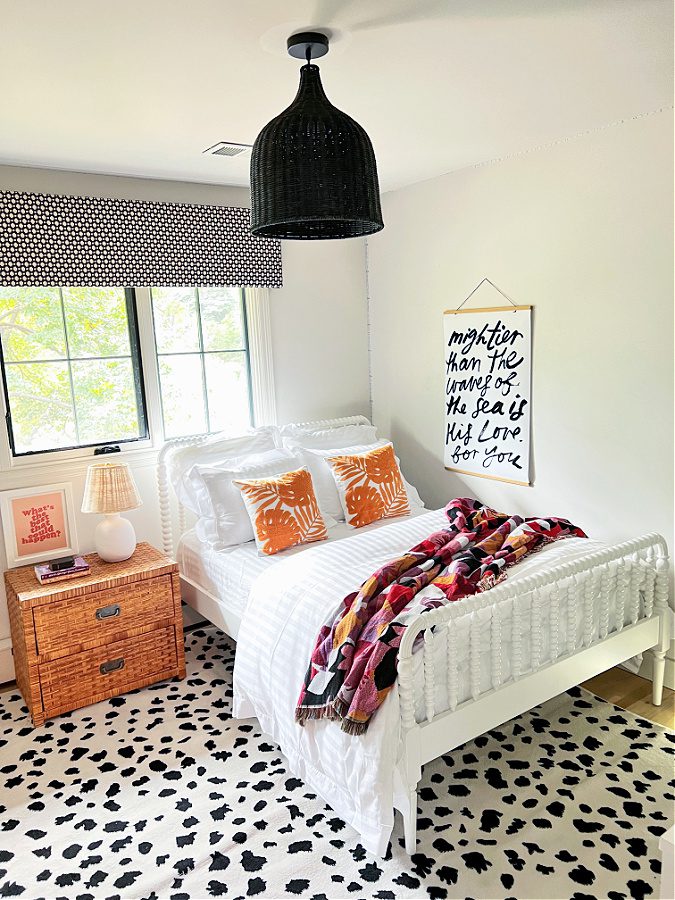 You can see her full bedroom makeover here!
The next stop is our 10 year old daughter's room and our most recent makeover. My mom joined me for her room as well and it turned out so good!!!
We make a great team and she is my go to when it comes to bouncing decorating ideas off of someone.
Can you tell we like color?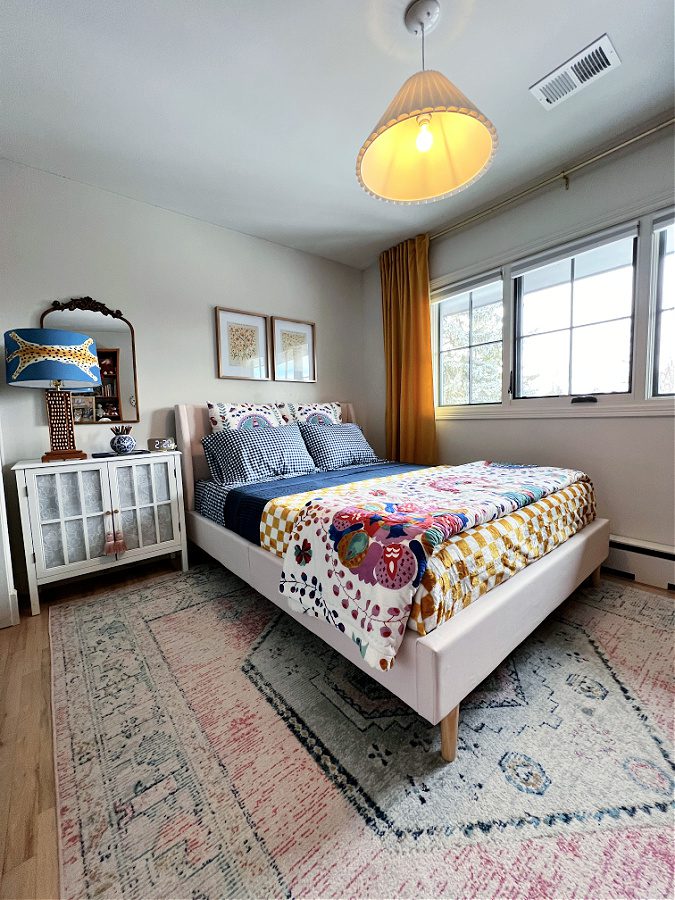 If you want to see her full bedroom makeover from beginning to end just stop by HERE and see all the fun we had. Both girls love their spaces and this makes me happy.
We have another room upstairs (besides ours) but it is currently a disaster and does not look like the picture below. Just ask my husband. Ha!
We took this white bed and nightstand out and moved them to Grace's new room (scroll back up and see them again) so the mattress is currently on the floor.
Remember I swap furniture a lot?
But I did just buy this gorgeous new bed during Wayfair's last HUGE sale. It is still in the garage in a box. I will get to it soon.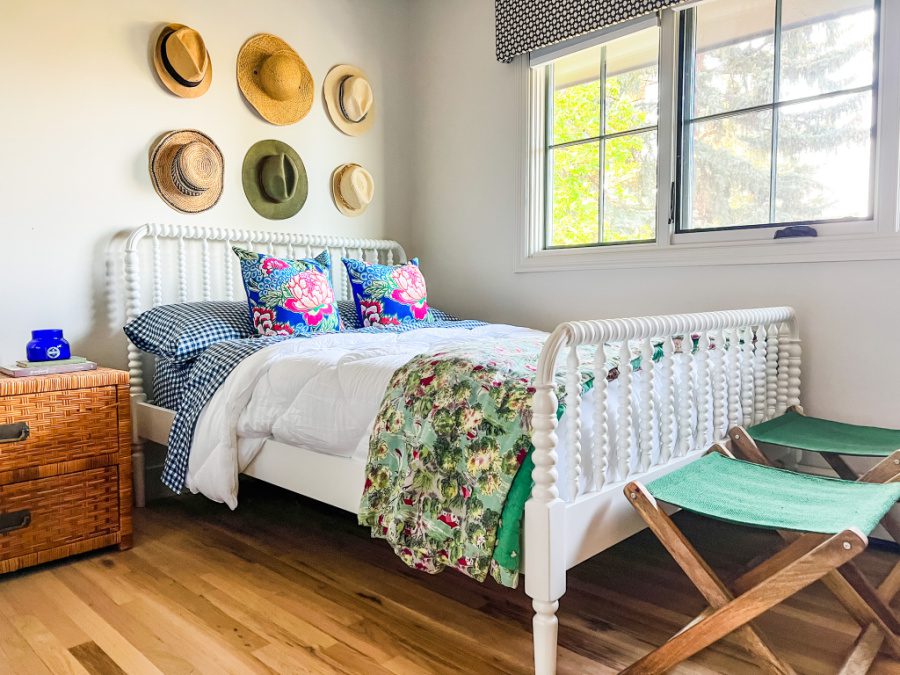 My goal is to get it going here real soon actually so I can show you the plans. It will include a guest bed and office space for me!
A Tour of Our Spring Master Bedroom
The final stop of our tour, and last bedroom, is my master bedroom! Our metal bed was a fabulous Facebook Marketplace find from years ago and the nightstands are from At Home.
The curtains and blinds were left by the previous owners. I LOVE them!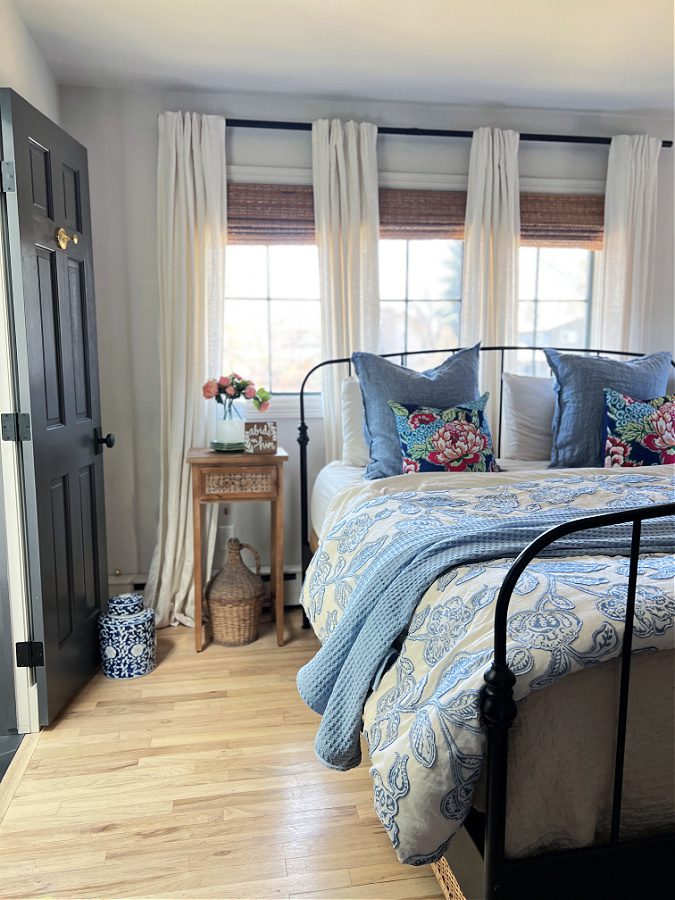 I sure had fun giving this space some much needed color and Spring decor by grabbing the floral pillows from the guest room and bought this lovely new blue and white and cream floral duvet. It gave the space some much needed life! I draped this light blue waffle weave blanket across the bottom and called it good.
But it was still missing something.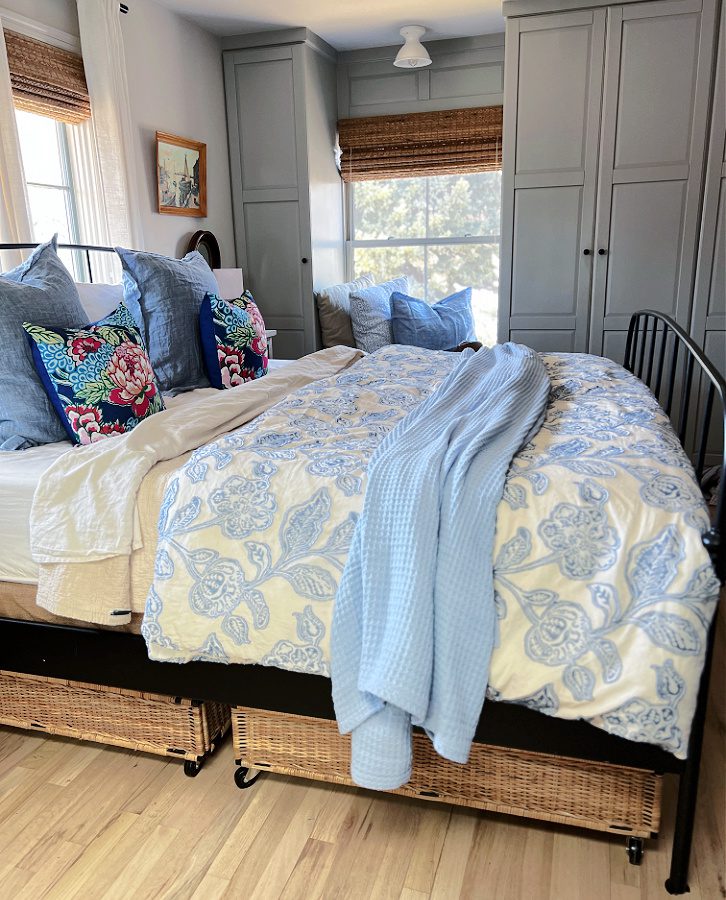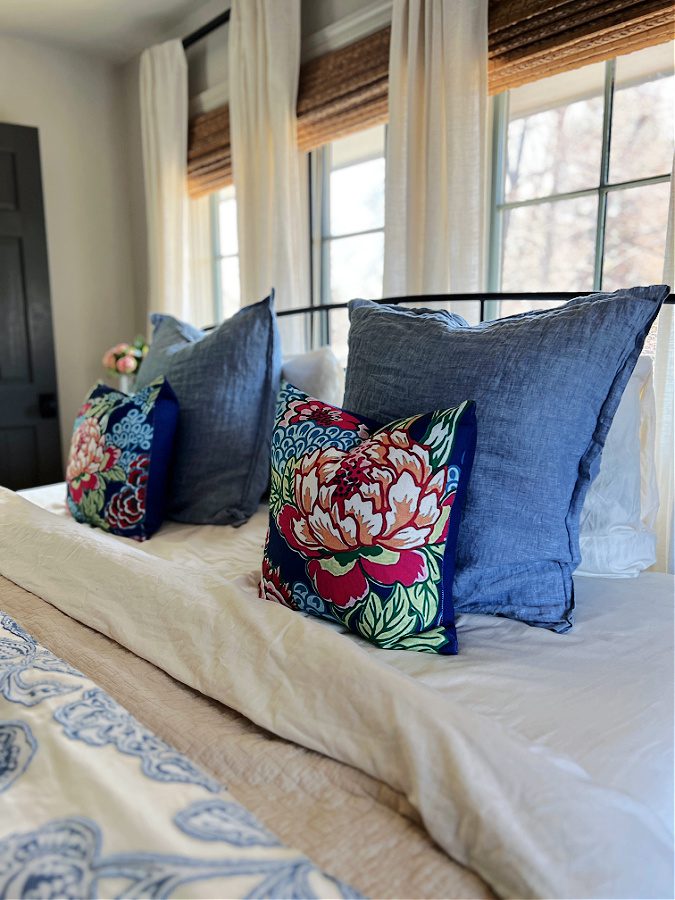 Remember when I said I like moving rugs around?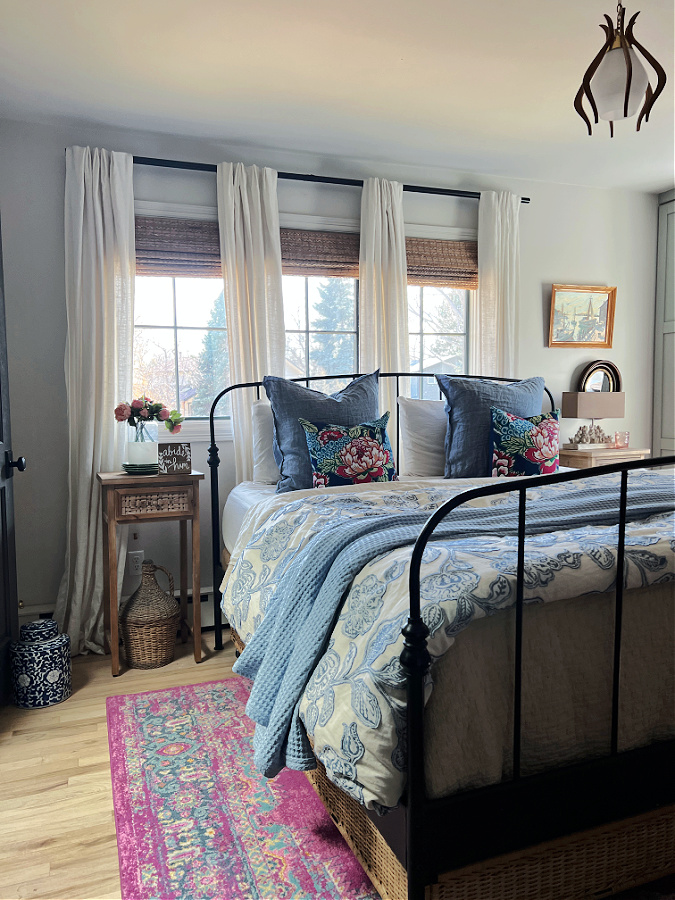 Well we had this unused pink rug that has been rolled up in our closet for months. So I drug it our and put it under our bed.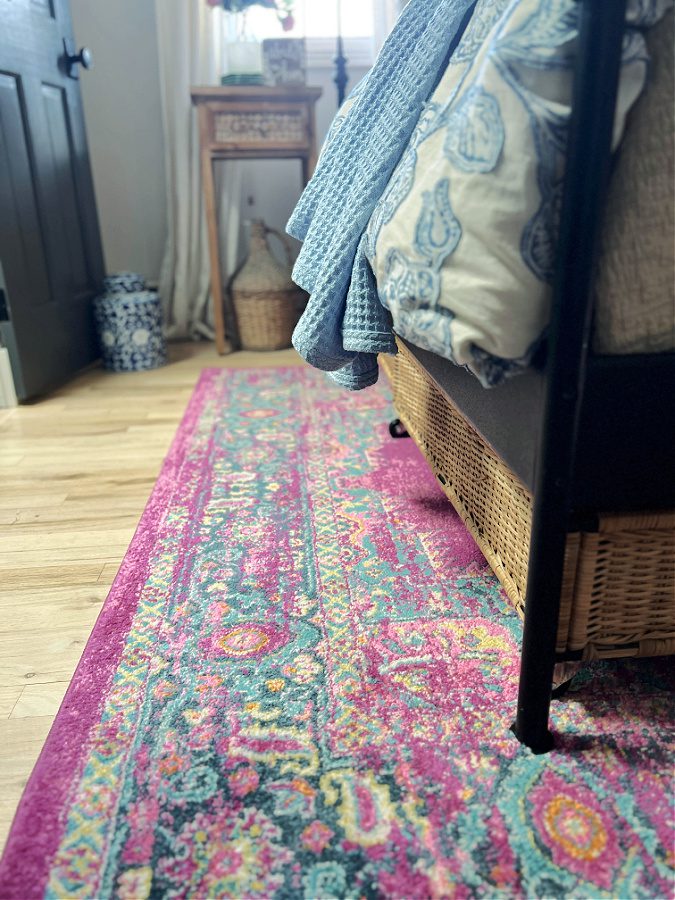 Wow, the color it added to this space is just amazing!
Of course I pulled some more pink in with my favorite faux peonies and the florals found in the pillows. The rest was all neutrals and blues. The rattan under bed storage and blinds add a fun coastal touch that I gravitate towards.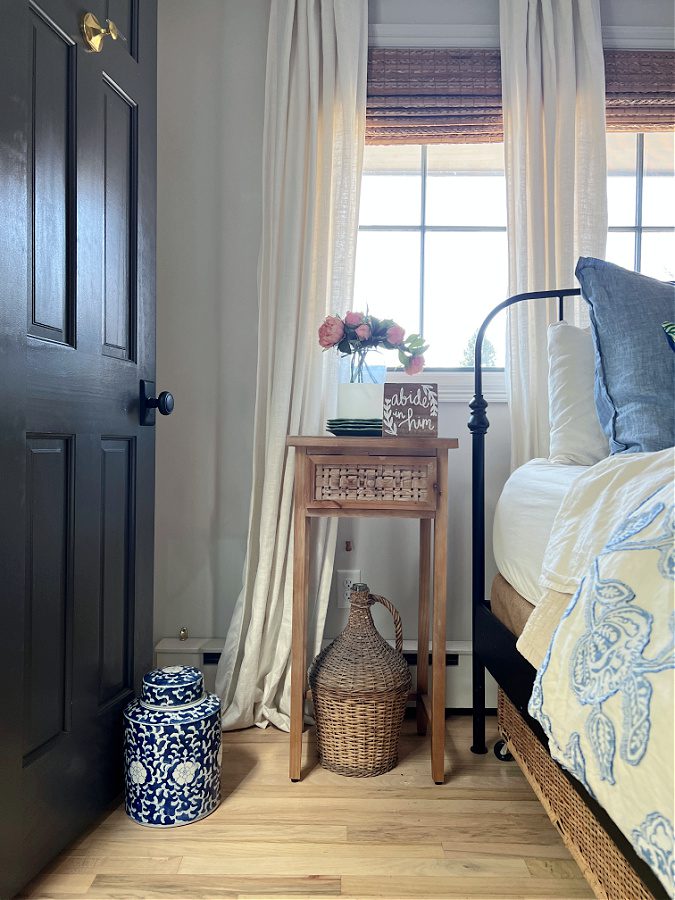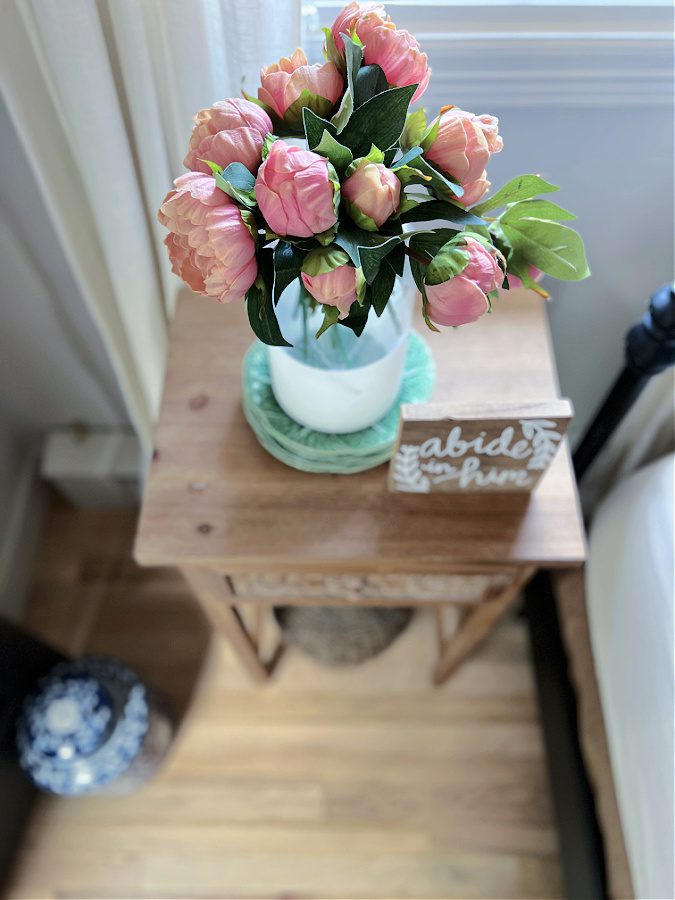 All in all I was craving color in this space and was able to satisfy that craving by being resourceful in our own home. My husband is very thankful for that!
I can't believe we haven't had a rug in here for almost two years now? It was definitely time.
Spring Home Tour 2023 Part 2
Well that's it. I'm so glad we spent some time together today! Did you enjoy the tour? I sure hope so. Come back soon! And if you have any questions or just want to say hi, make sure to leave a comment below!
Now make sure to head over to Yvonne of StoneGable's tour and be prepared to be wowed. Her home is one I often look at for inspiration and she is always on point with her design tips. Plus, she is a dear friend.
Then be sure to visit the other tours being shared today all linked below. And don't forget to come back each day this week for 6 new tours. The fun is not stop I tell you!
Bloggers' Best Spring Home Tours
This week I am joining some of my blogging friends for the 2023 Bloggers' Best Spring Home Tours. Thirty talented and creative women will be opening their homes up for you to tour all week long. You can visit each Spring home tour by clicking the links below.
Monday's Tours


The Tattered Pew // StoneGable // My Wee Abode
Cottage On Bunker Hill // Cottage In The Mitten // She Gave It a Go
Tuesday's Tours


White Arrows Home // Midwest Life and Style // Open Doors Open Hearts
Robyn's French Nest // Cloches and Lavender // This Is Simplicite
Wednesday's Tours


Eleanor Rose Home // Shiplap and Shells // Bricks n' Blooms
WM Design House // Simply2Moms // The Ponds Farmhouse
Thursday's Tours


A Life Unfolding // My Thrift Store Addiction // Pasha Is Home
County Road 407 // White Lilac Farmhouse // Thistle Key Lane
Friday's Tours


Create and Ponder // DIY Beautify // Worthing Court
Southern Home and Hospitality // My Family Thyme // Peacock Ridge Farm
I'd love to have you hang out with me some more! Feel free to follow along with me on any of the platforms linked below.
LTK | Facebook | Instagram | Pinterest | Amazon
xoxo,
Kelly