18 Gorgeous Fall Floral Gift Tags (Free Printables Included)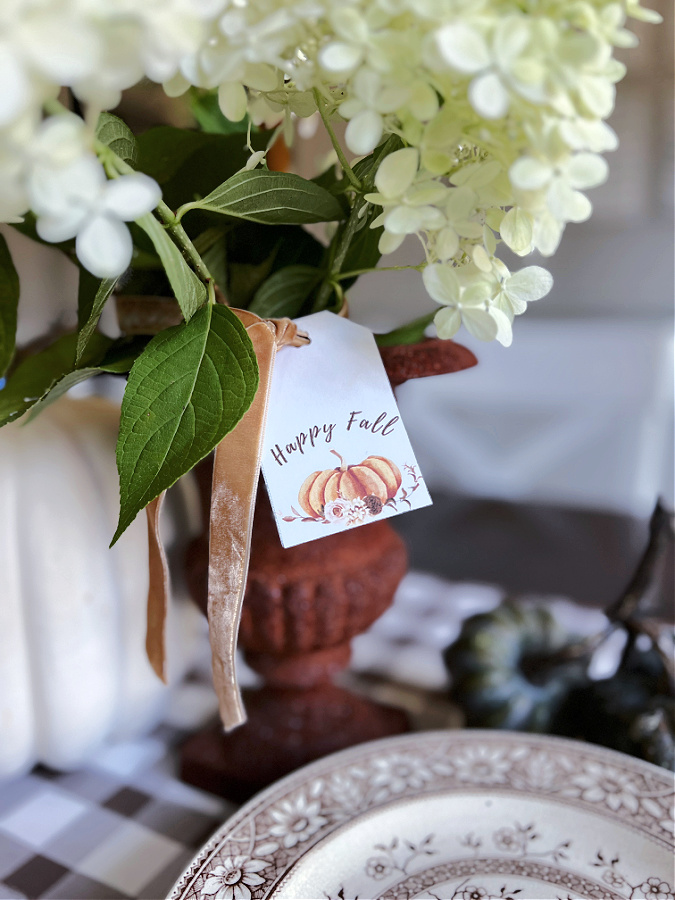 *As an Amazon Associate, I earn from qualifying purchases. This post contains other affiliate links too for your convenience. Click here to read my full disclosure policy.
18 Gorgeous Fall Floral Gift Tags (Free Printables Included)
Hey there, wonderful readers! I can't contain my excitement as I sit down to share something special with you today. You see, I've been working on these fantastic printables that I can't wait to give as a big 'thank you' to all you amazing subscribers out there. (Check your latest email for download details!) It's my way of showing gratitude for your incredible support and being a part of this fantastic community. So, kick back, grab your favorite fall beverage, and let's dive into these awesome printables together! Not a subscriber yet? No worries! Keep reading and see how you can snag these beauties for yourself today for FREE!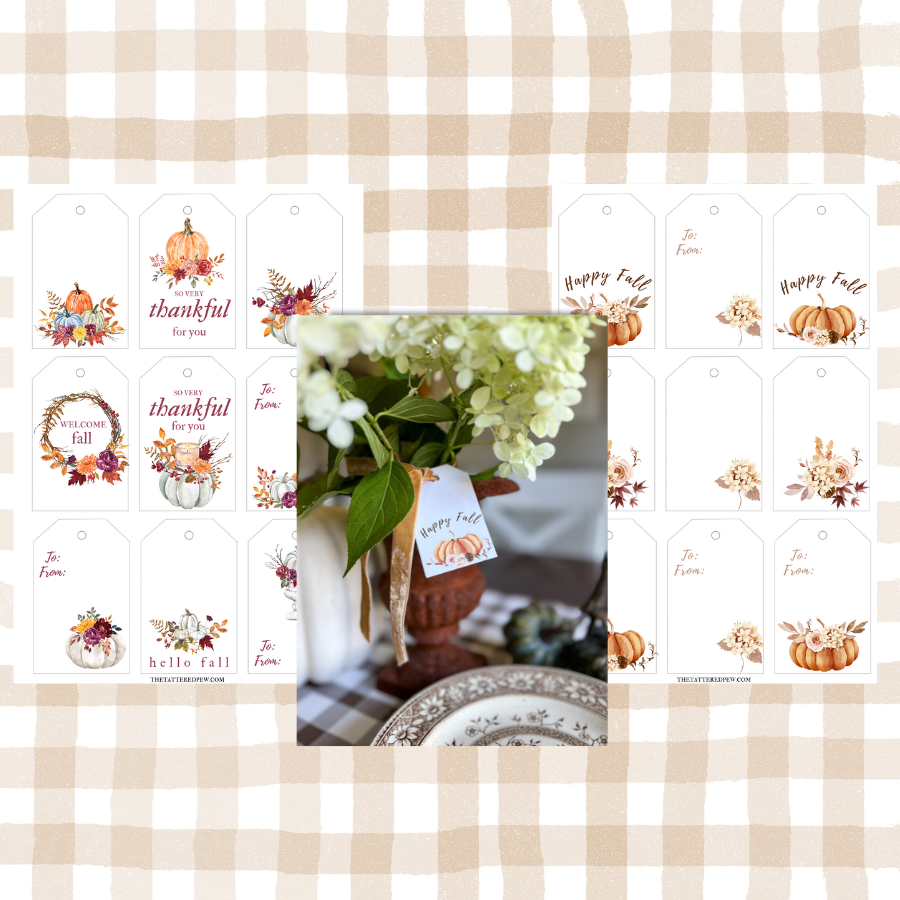 Fall Floral Gift Tags: Adding a Touch of Elegance to Your Autumn Gifting
Autumn is upon us, and with it comes the season of giving and sharing. Whether you're planning to send a heartfelt gift to a loved one or brighten your neighbor's day with a bouquet of fresh blooms, I've got you covered. Introducing my collection of 18 Gorgeous Fall Floral Gift Tags, available as free printables, to make your fall gifting extra special.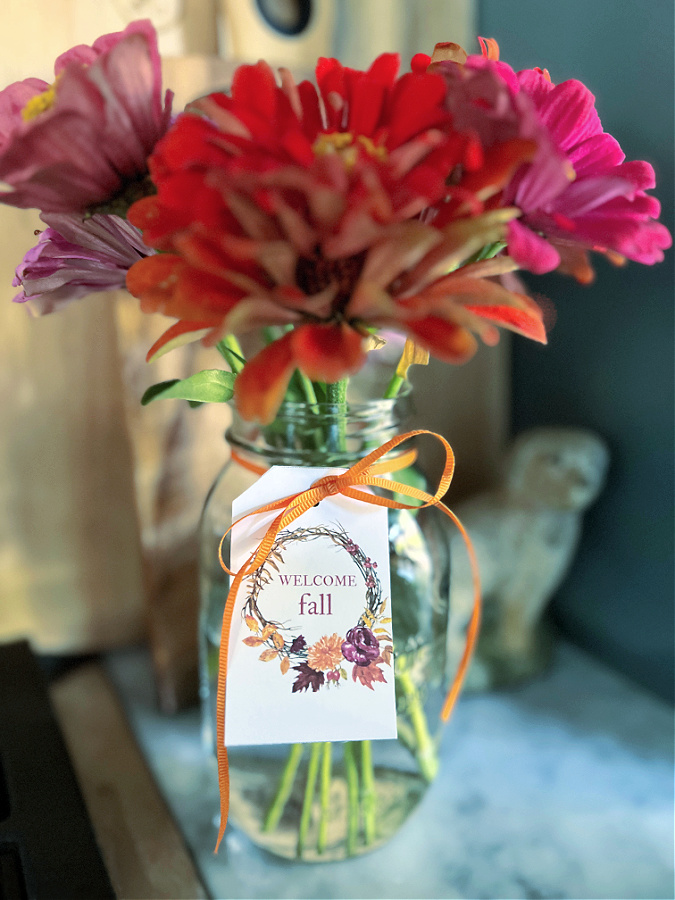 The Four Seasons Printable Collection- Fall Edition
This delightful fall-themed printable is a part one of The Four Seasons Printable Collection, a seasonal compilation of 10 total FREE printables I'm excited to share today. I've teamed up with some fantastic fellow bloggers for this collaboration. Be sure to grab them all by checking out the links at the end of this post!
Two Sets of Watercolor Printables for Endless Creativity
Our Fall Floral Gift Tag collection features not one, but two unique sets of watercolor printables, each offering its own distinctive charm. With a total of 18 tags across both sets, you'll have plenty of options to choose from. Whether you prefer vibrant, eye-catching colors or a more neutral and understated look, there's something for every taste.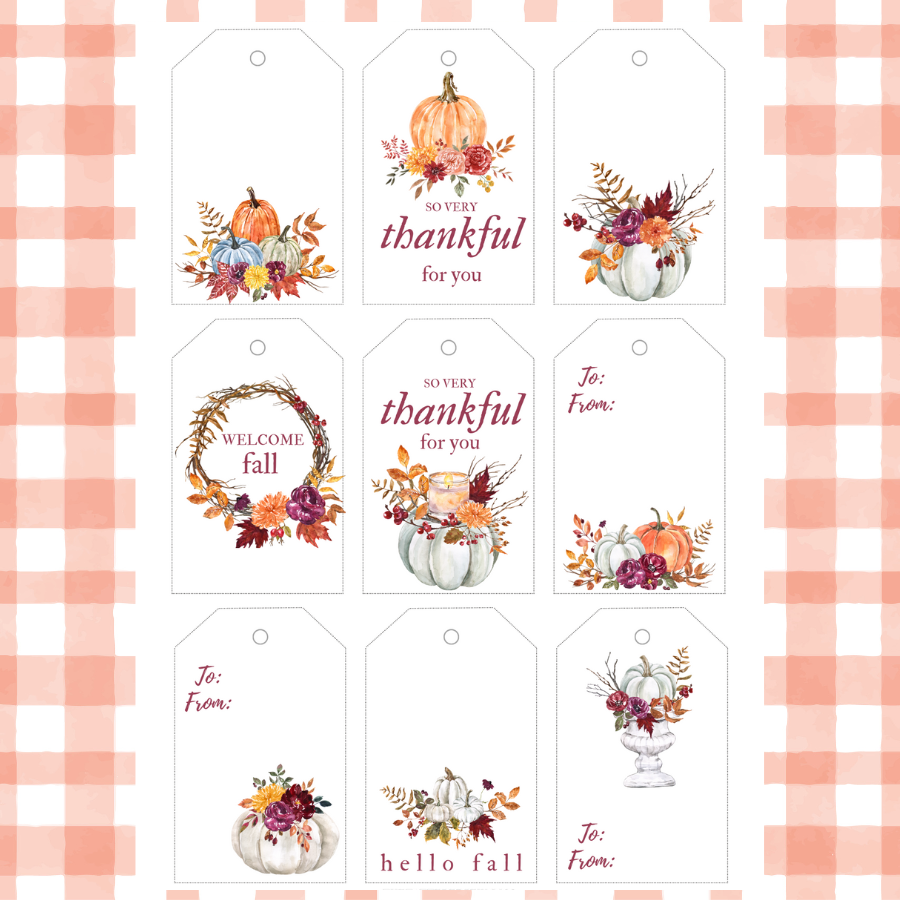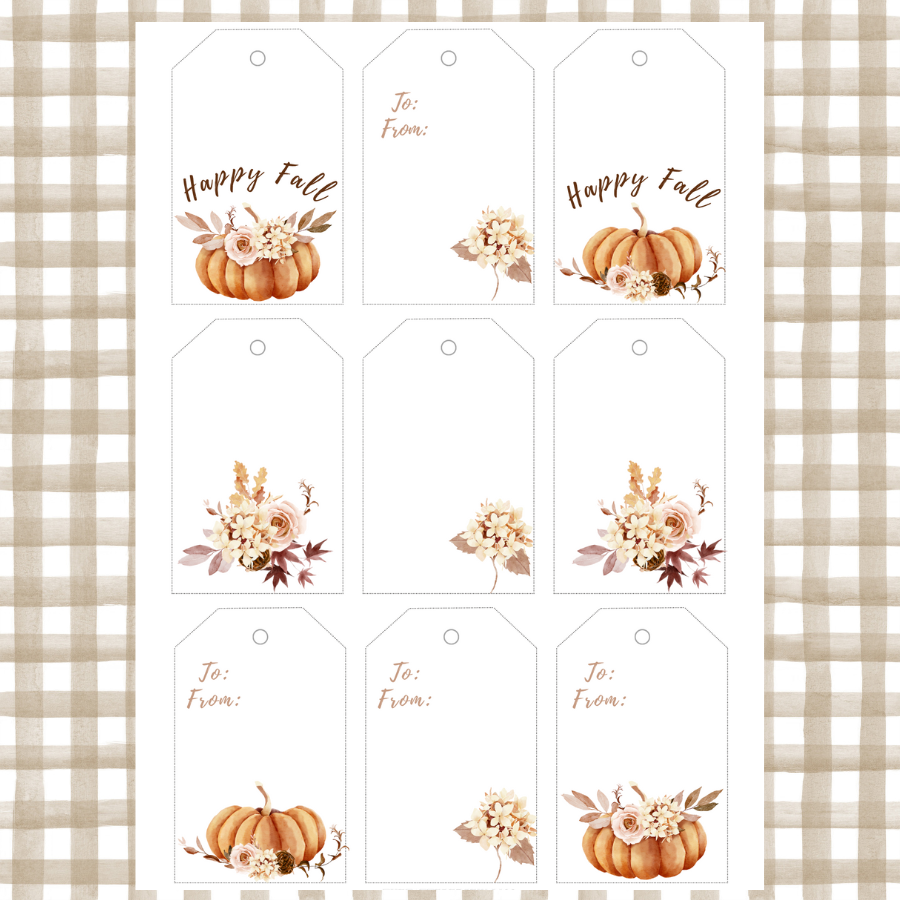 Budget-Friendly Elegance: Perfect for Any Occasion
One of the best parts of using printable gift tags is their budget-friendly nature. You don't need to splurge on expensive pre-made tags or cards when you can easily print these beauties at home. Not only does this save you money, but it also allows for a personalized touch that store-bought tags simply can't match.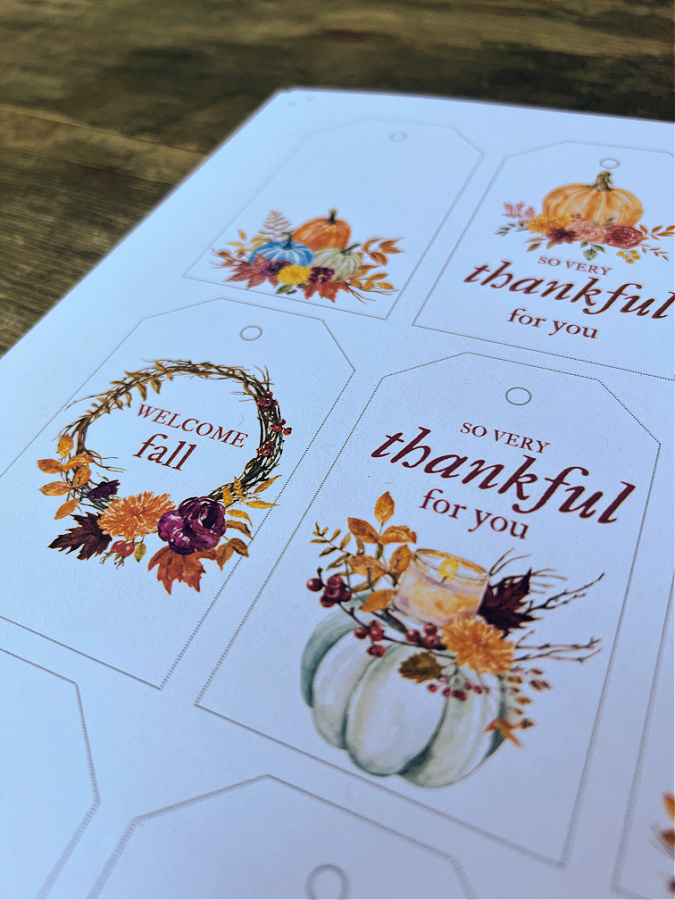 You can customize the tags by the color and type of the paper you print on, whether you use color when you print or keep it black and white the options are endless! I used plain white cardstock and made my tags unique by choosing the color of ribbon I attached them with.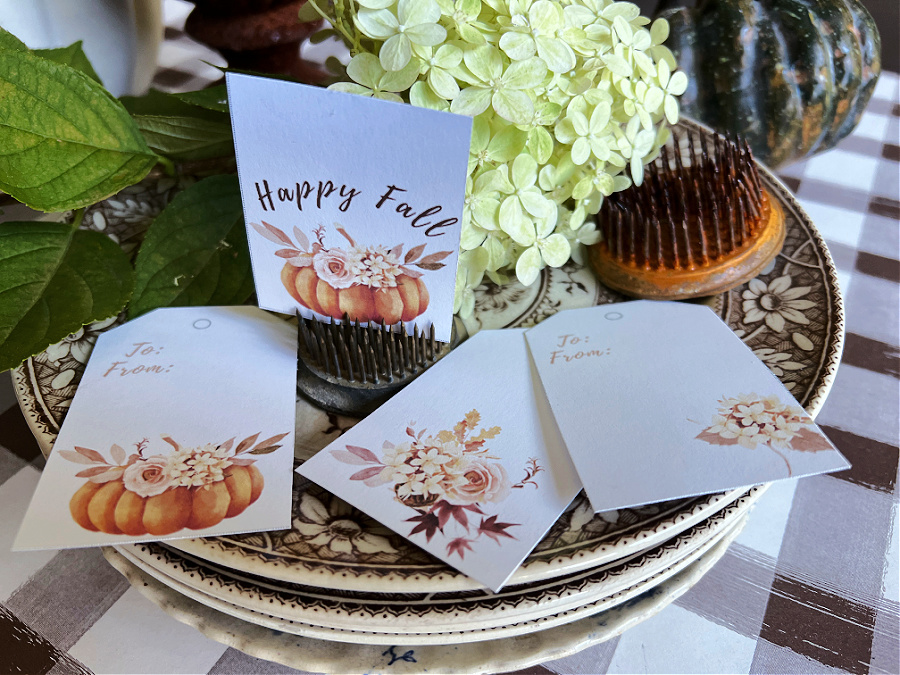 Versatile Uses for Your Fall Floral Gift Tags
Wondering how to put these lovely tags to good use? Here are some inspiring ideas:
1. Elevate Your Gift Wrapping: Attach a floral gift tag to your beautifully wrapped present to add a touch of elegance and warmth.
2. Gifting Fresh Flowers: When you're delivering a bouquet to a friend or neighbor, tie a tag around the vase or jar or the bouquet's ribbon for an extra special personal touch.
3. Thanksgiving Table Settings: Set the table for your Thanksgiving feast with these tags as place cards, instantly elevating your decor.
4. Handmade Crafts: Incorporate the tags into your fall crafting projects. They're perfect for scrapbooking, card making, and DIY decorations. You could even laminate them and use them as bookmarks!
5. Personalized Notes: Use these tags to write heartfelt messages for your loved ones, making each gift or bouquet feel truly unique.
6. Homemade Goods: If you're gifting homemade baked goods or preserves, tie a tag onto the packaging for a rustic feel.
7. Fall Wedding Favors: If you're hosting a fall wedding, use the tags to add a seasonal touch to your wedding favors.
8. Teacher's Gifts: Show appreciation for educators by attaching a fall tag to a gift for a teacher or school staff member.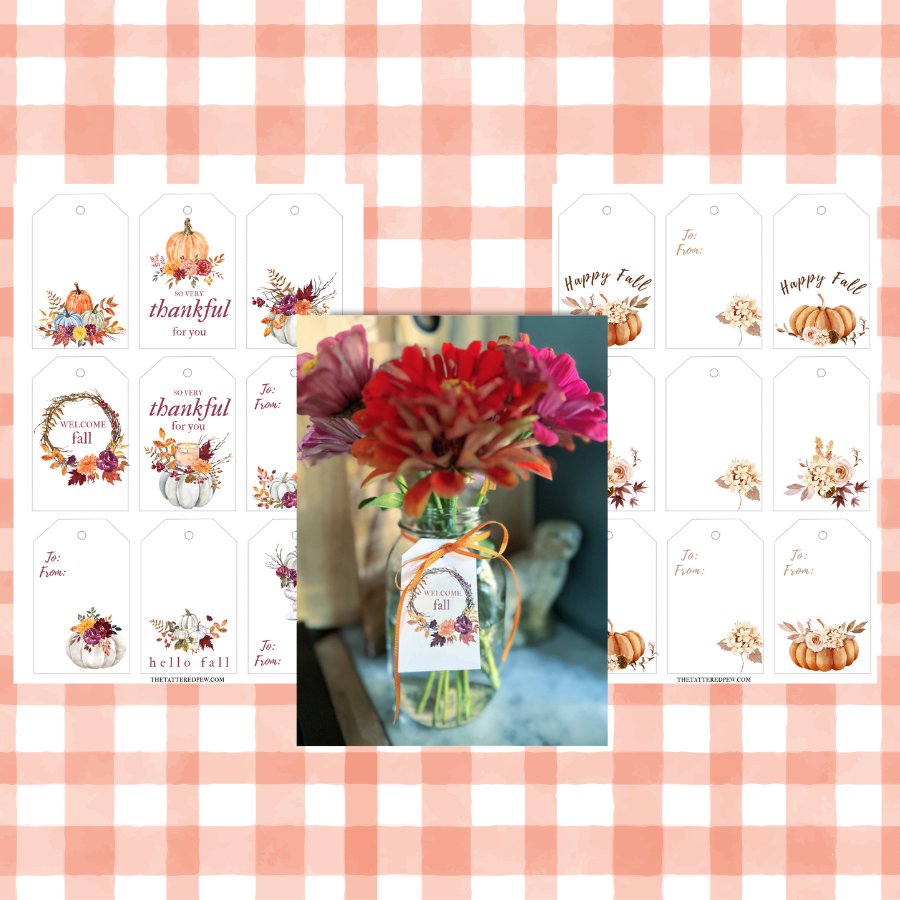 Downloading and Printing Your Fall Floral Gift Tags
Getting your hands on these stunning fall floral gift tags is easy. Just follow these simple steps:
1. Download: Visit HERE to enter your email. Once you have entered your email and subscribed to my list you should receive an email almost immediately. The email contains directions on how to access my "Free Printables Library" to get these fall gift tags and several other free printables too! Once there navigate to the Fall Floral Gift Tag section (at the top). Click on the set you'd like to download.
2. Print: Once the file is downloaded, open it on your computer or phone and print it using a color printer. For the best results, use high-quality paper or cardstock.
3. Cut: Carefully cut out each tag along the provided lines. Take your time to ensure clean edges. Use a hole punch at the top and thread your ribbon through or cut off the top to square them off.
4. Use: Now that your tags are ready, it's time to use them in any of the creative ways mentioned above. The only limit is your imagination!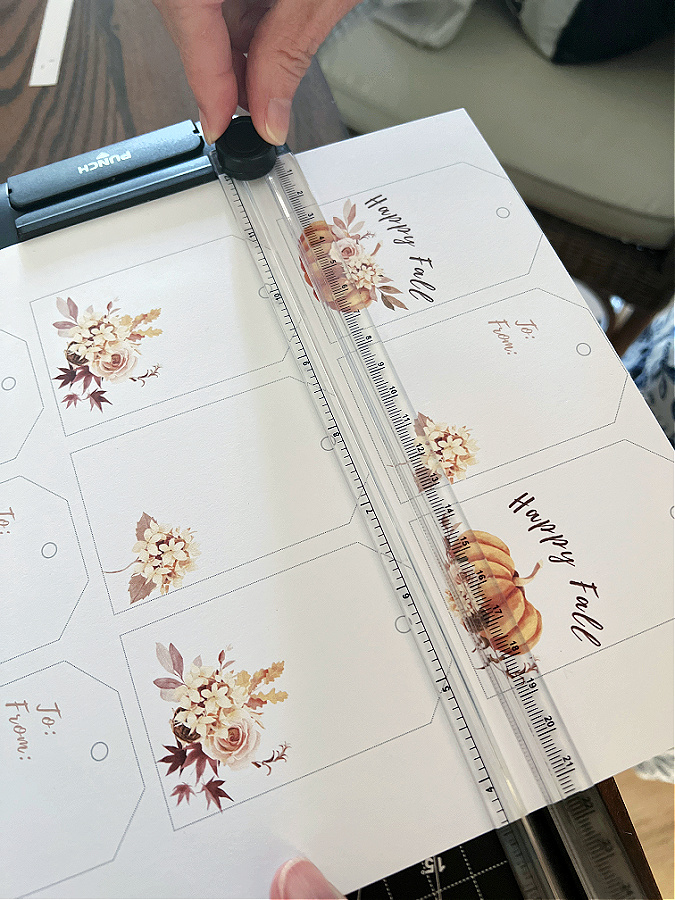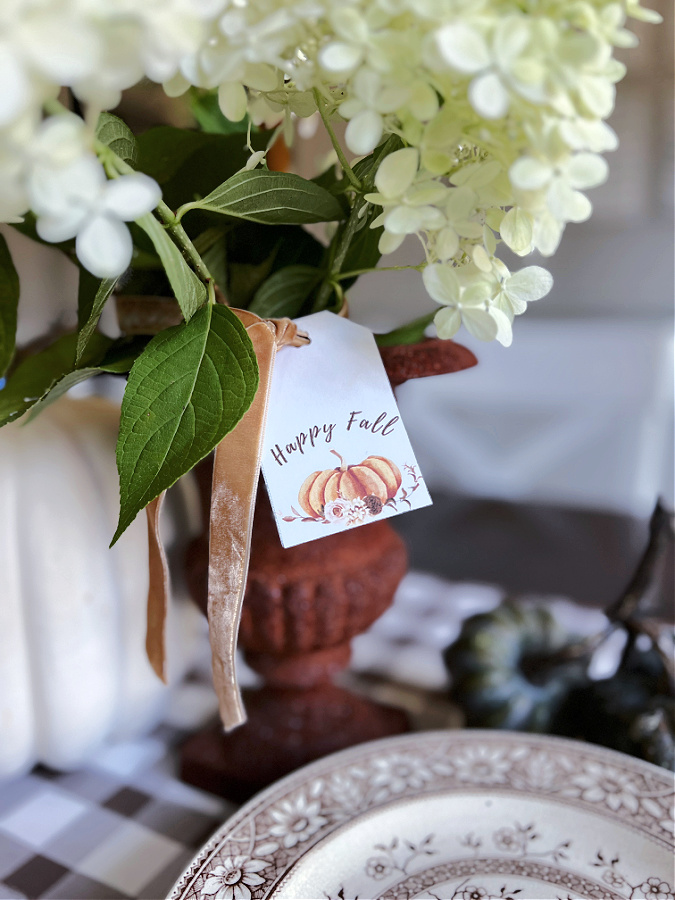 18 Gorgeous Fall Floral Gift Tags
With this collection of 18 Gorgeous Fall Floral Gift Tags, you have the power to transform your fall gifting into something truly personal and special. These free printables offer budget-friendly elegance and endless versatility, whether you're wrapping presents, delivering flowers, or crafting handmade goodies. Choose from vibrant or neutral options, and let your creativity run wild. Download, print, cut, and watch as these tags add a touch of autumnal charm to your gift-giving endeavors. The season of warmth, gratitude, and generosity is here, and these are here to help you make it even more beautiful.
So, what are you waiting for? Dive into the world of fall floral elegance and download your free printables today!
Four Seasons Printable Collection
Enjoy this new quarterly collectible series of seasonal prints for you to display, craft with, or style as home decor. Be sure to visit each blogger's site below to grab your free download!
Happy Fall Y'all!
Southern Crush at Home / Amy Sadler Designs / The Tattered Pew / Jennifer Rizzo / Mother Thyme
Salvaged Living / Cottage on Bunker Hill / Stone Gable / Casa Watkins Living / The Hammons Nest
I'd love to have you hang out with me some more! Feel free to follow along with me on any of the platforms linked below.
LTK | Facebook | Instagram | Pinterest | Amazon
xoxo,
Kelly
Did you like this post? PIN it for later!