5 Simple and Thrifty Fall DIYs
You will love these 5 simple and thrifty Fall DIYs! They are quick, fun and a beautiful way to add Fall decor on a budget.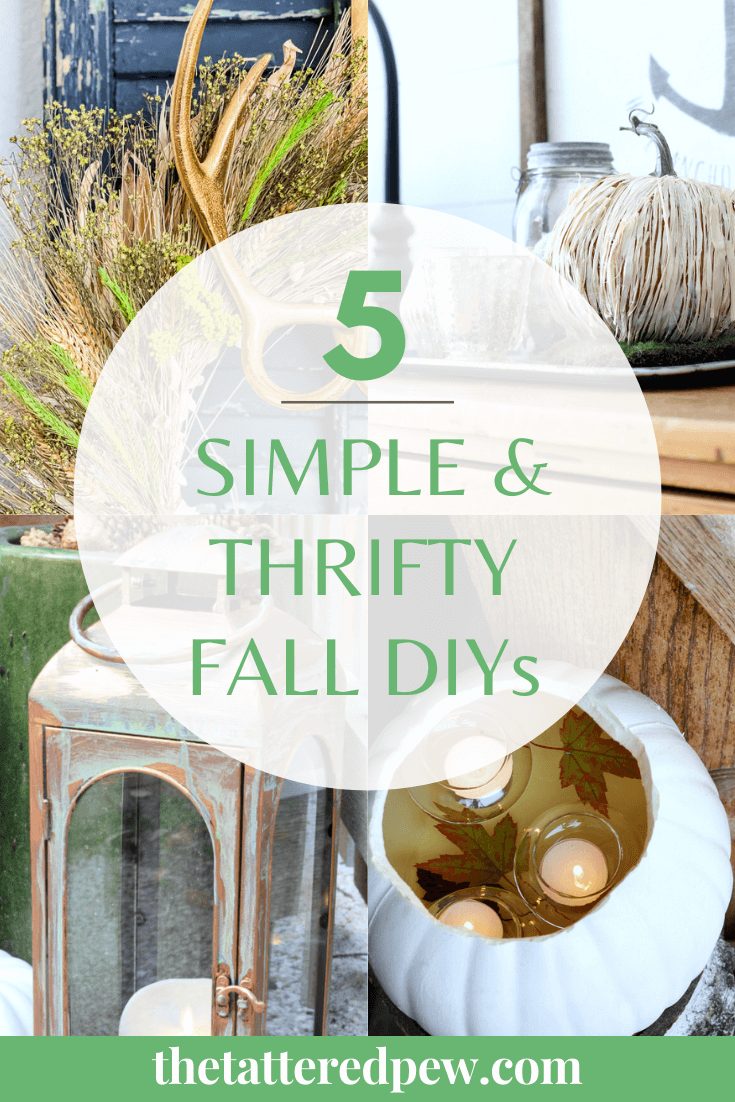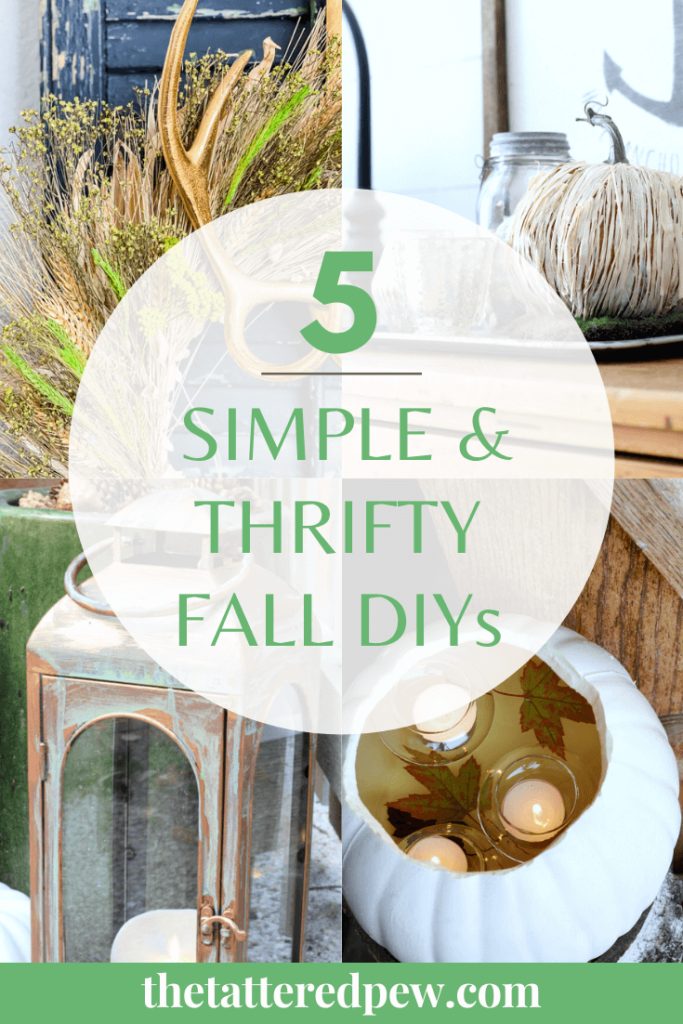 Thrifty Style Team
Today is Thrifty Style Team day! Once a month I join my blogging friends in sharing thrifty inspired projects, decor ideas and DIYs. Julie, from Red Head Can Decorate is our host and every month I look forward to seeing what is being shared and those links can be found at the end of my post. This month I have rounded up 5 of my own budget friendly Fall inspired DIYs that I hope you will enjoy.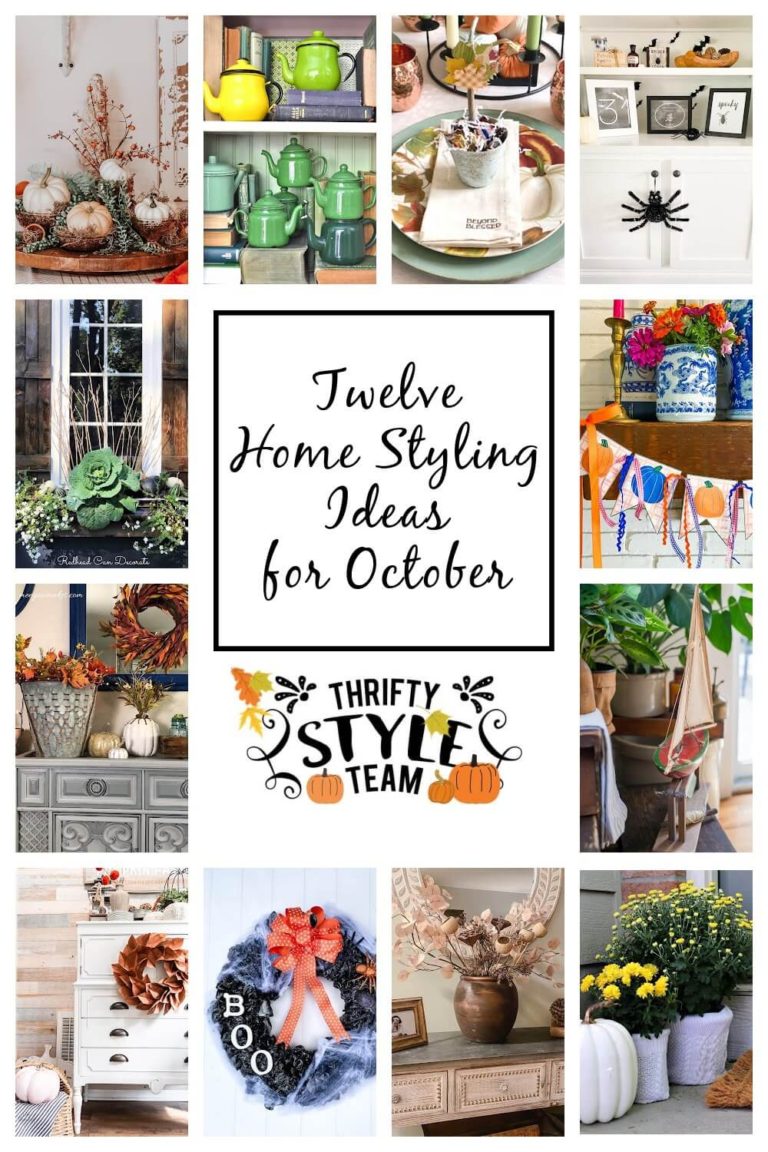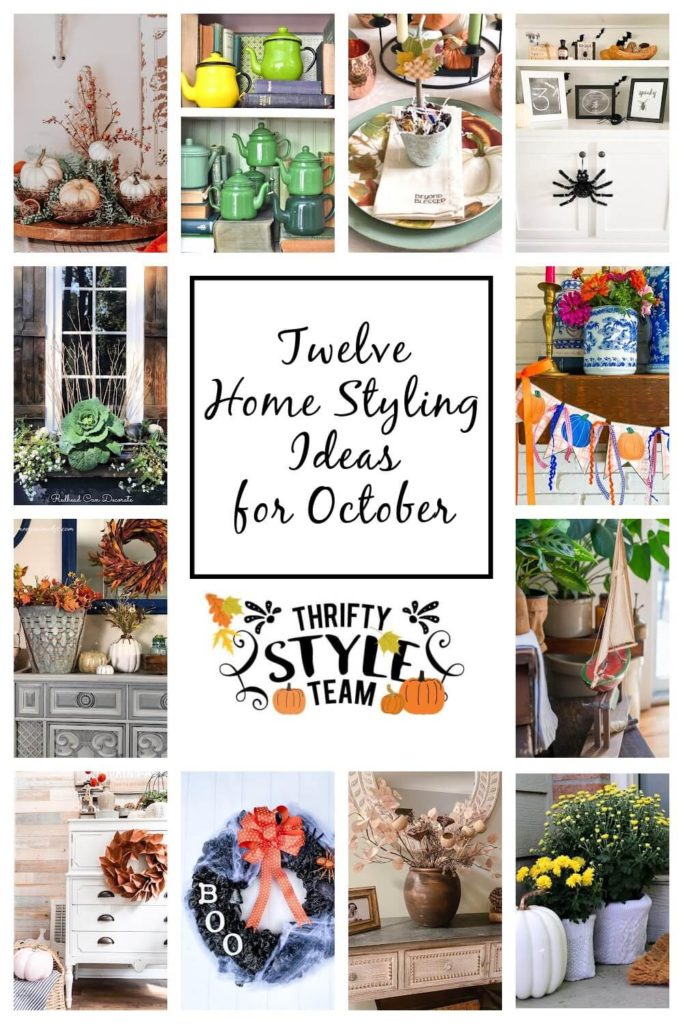 5 Simple and Thrifty Fall DIYs
Each of these budget friendly projects are ones that I have created and shared here on my blog. It was fun looking back at each of them and these 5 (well maybe 6) were all so fun to make! I hope you will enjoy peeking at each of them.
This faux pumpkin with floating votives was a quick and simple Fall DIY that I whipped up for our Fall porch last year. I had this vision of a glowing pumpkin filled with leaves and water and one that would last. It turned out even better than I thought and better yet it was budget friendly!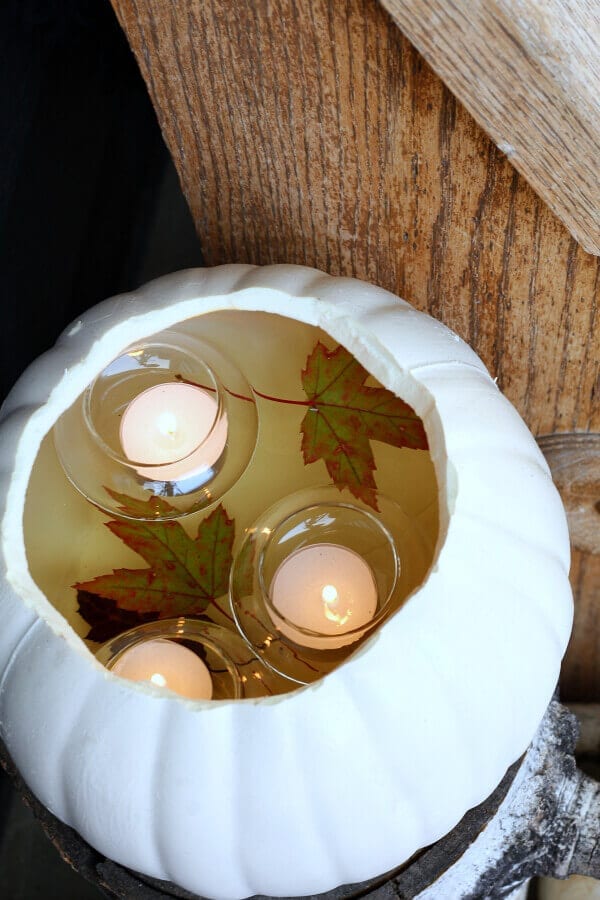 Ok, I couldn't just give you one Fall inspired wreath now could I? These two wreaths could not be any more different but I love them both equally .
The large DIY Fall farmhouse wreath was a lot of fun as I used greenery from around our yard. A simple wreath but lovely all at the same time. It was even featured on The Pioneer Woman's blog. That just about made me pee my pants! Ha!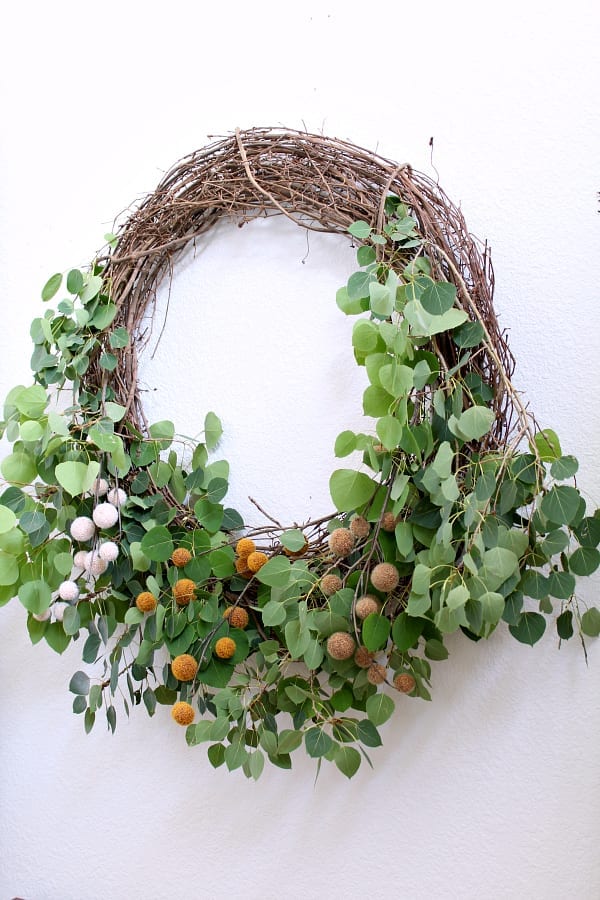 My second wreath is the DIY dried floral wreath that I still have and currently hangs on our new front door! It's an older wheat wreath that I embellished…and I know I will love for years to come. I think you will like it too!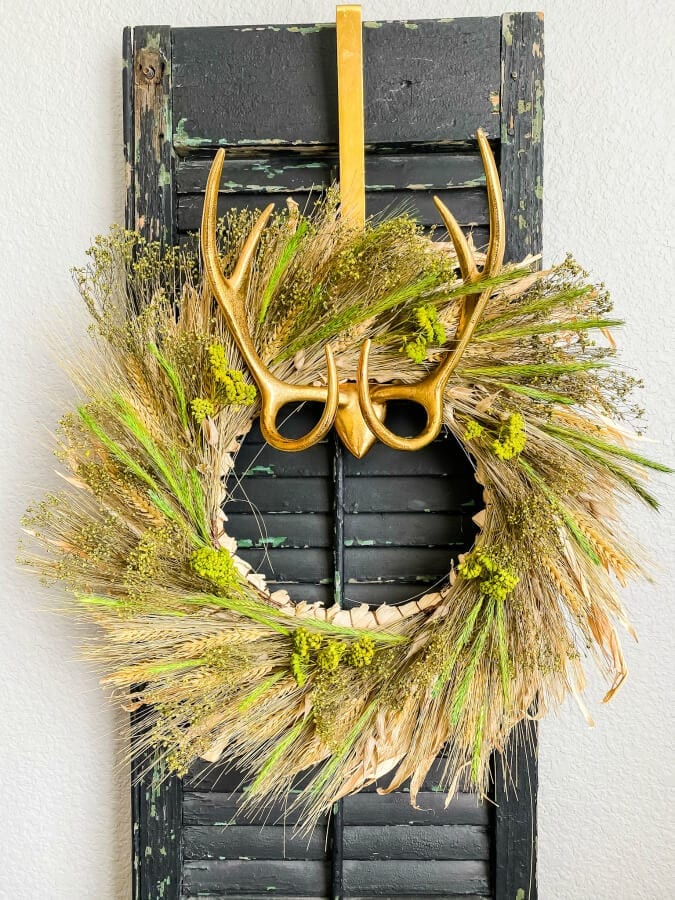 This is my latest Fall DIY and my latest obsession as well! I am currently loving ALL things copper but not the price of ALL things copper. So when I found this incredible paint product that gave you the look of aged copper with a beautiful patina I just had to try it! And guess what…I fell in love with the outcome. Come read all about how to quickly get the look of aged copper patina. I promise it's thrifty and easy to use.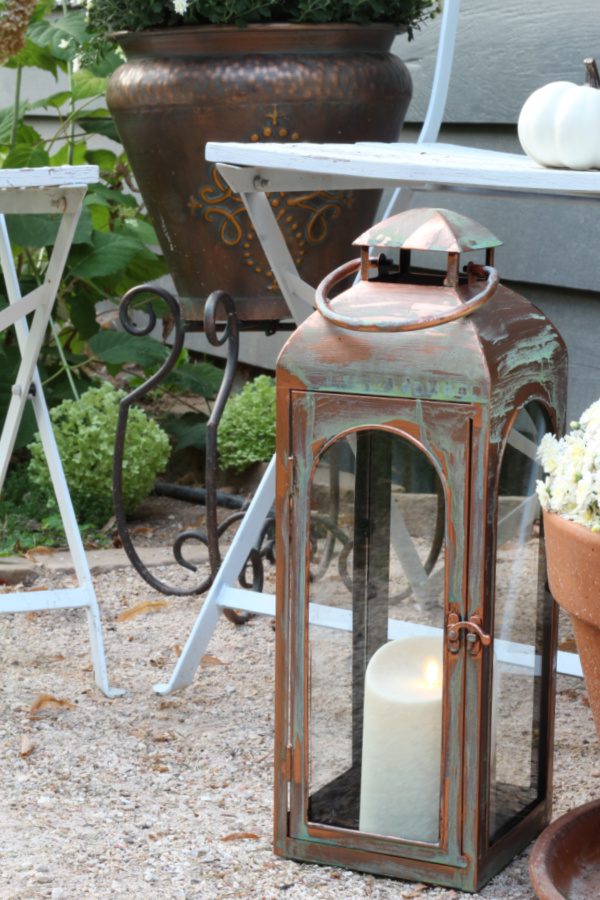 Do you have a love affair with Fall mums like I do? Then you will adore these easy no sew sweater flower pot covers! Do you have an old cozy sweater laying around and a hot glue gun? If so then you are ready to make this DIY in under 10 minutes. This is a fun way to spice up those ugly plastic flower pot containers!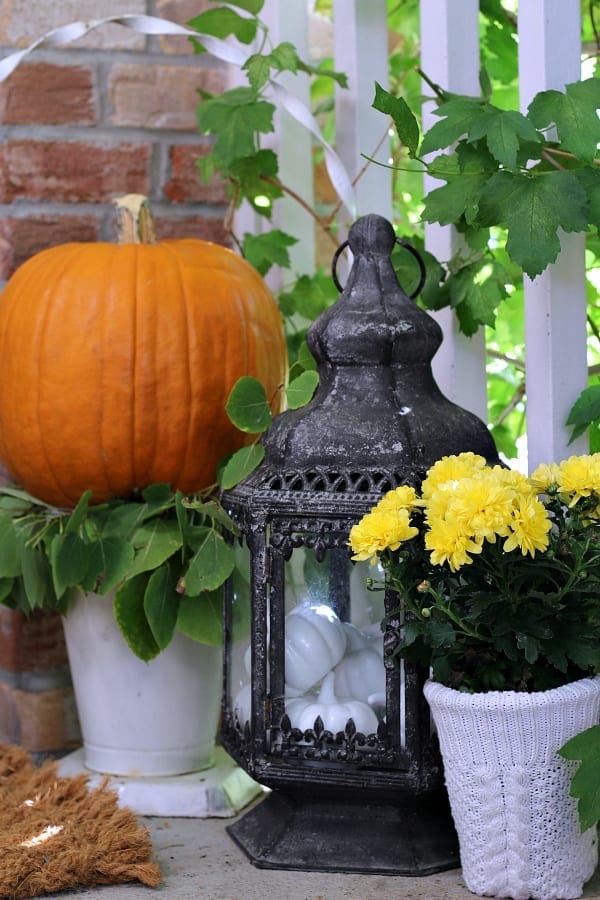 Oh these darling DIY raffia pumpkins sure looks pretty but let me tell you they were a labor of love! I almost gave up on them as they were tedious and very time consuming. I'm sure there is a better way to get the look I was going for but I still love them to pieces. I even used them on my Fall mantel this year!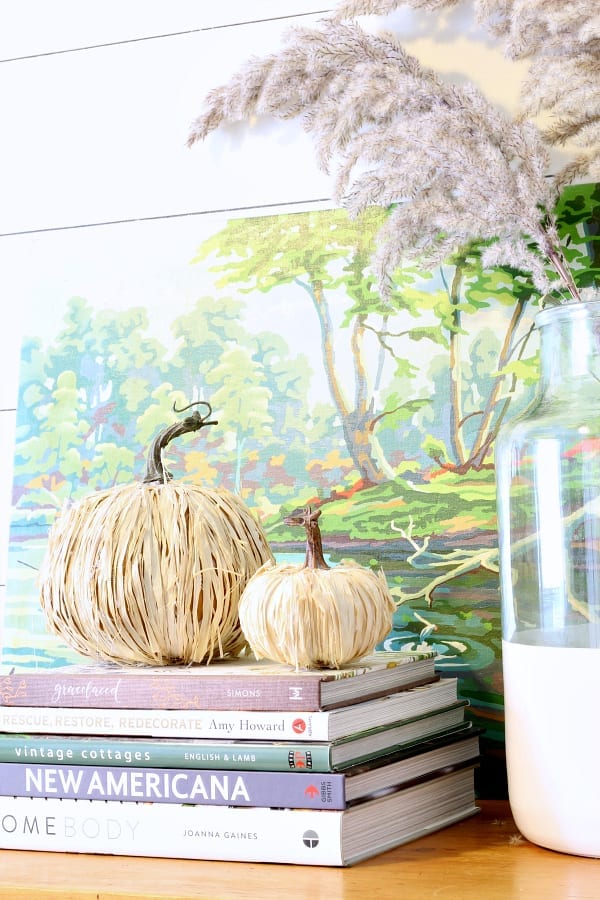 5 Simple and Thrifty Fall DIYs
I'm curious…which Fall DIY did you like the most? It's hard for me to choose, and I'm a bit bias of course and love them all. I'm already on the look out for my next thrifty and simple DIY to share with you!
Now make sure to visit the Thrifty Style Team posts I have linked below…
Redhead Can Decorate –
Affordable Fall Ornamental Cabbage Window Box
Our Crafty Mom –
DIY Candy Cups Thanksgiving Favors
DIY Beautify –
Copper Magnolia Wreath From Paper Bags
2 Bees In A Pod –
3 Free Halloween Printables
The How To Home –
Autumn Display with Depression Glass
Vinyet Etc. –
Styling with Vintage for Fall – DIY Vintage Model Boat Stand
Sweet Pea –
Upcycled Plastic Bag Halloween Wreath
What Meegan Makes –
Decorate an Olive Bucket for Fall
Lora B. Create & Ponder –
Creative Ways to Display Your Collections with Style
The Tattered Pew –
5 Simple and Thrifty Fall DIYs
I Should Be Mopping The Floor –
Free Printable Pumpkin Garland
Cottage On Bunker Hill –
Pottery Barn Dupe Vase
xoxo,
Kelly