How To Create a Simple Hat Wall Using Hooks
Have you ever seen something and been instantly inspired? That's what happened to me when I saw pictures of my friend Tina's house and her stunning hat wall that she lovingly refers to as functional art! I myself have a few hats (several of which are thrifted)…nowhere near as many as hers, but enough to make some wall art with. So, that's what I did, and this post is all about how to create a simple hat wall using hooks.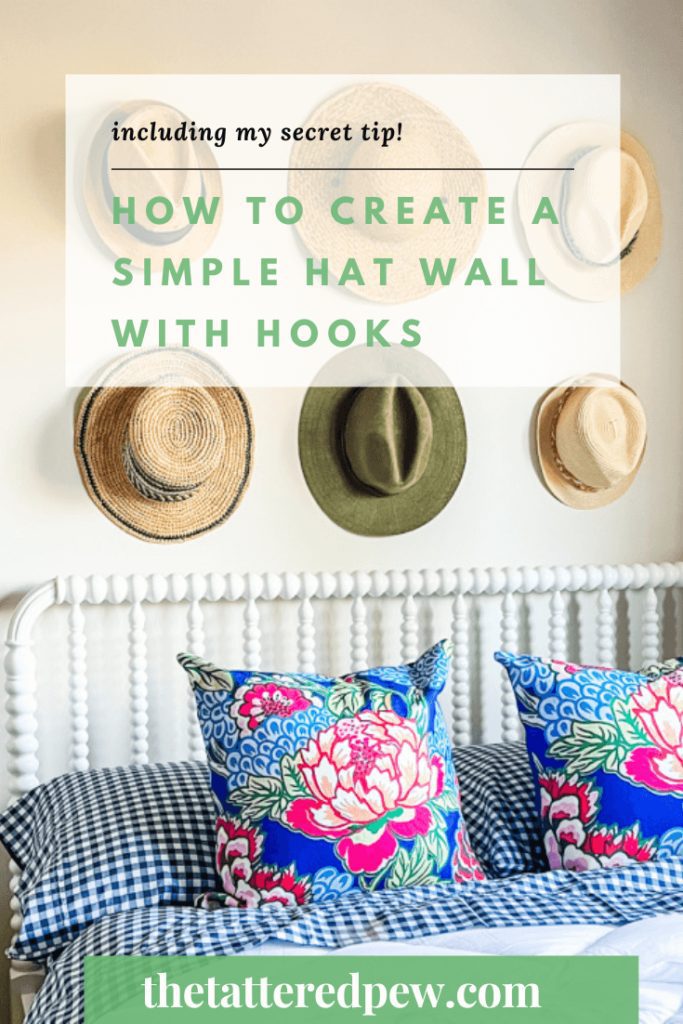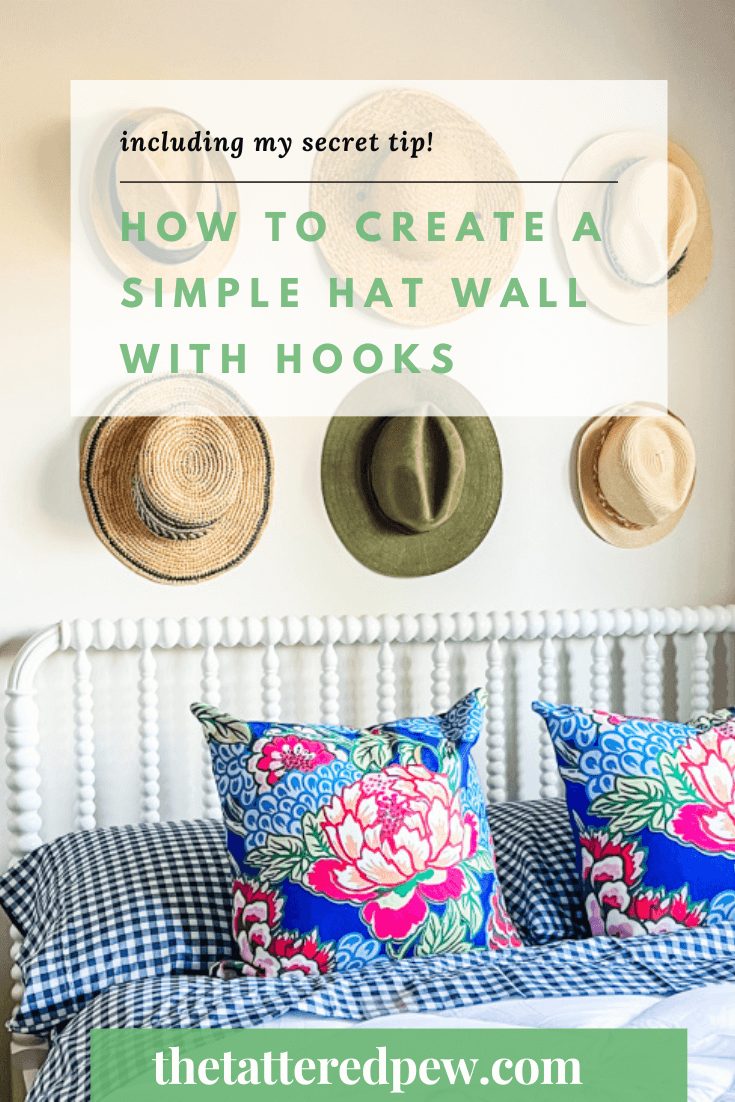 This post contains some affiliate links for your convenience. Click here to read my full disclosure policy.
And guess what?
Not only is it simple it's also quite thrifty!
Thrifty Style Team
Thus being the perfect opportunity to share it for my monthly Thrifty Style Team post alongside The Thrifty Style Team members.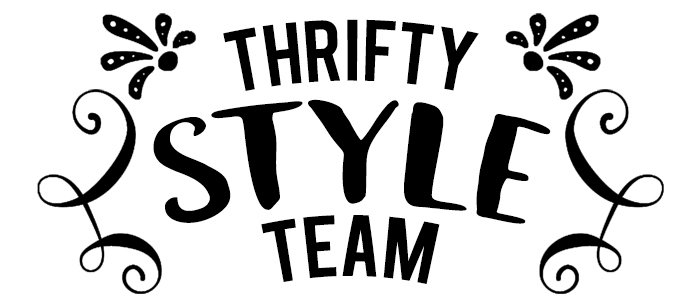 Each month some incredibly talented bloggers and myself gather on the 2nd Friday of the month to bring you a thrifty themed decorating or DIY idea. We are all about budget friendly ideas with high style! And Julie from Redhead Can Decorate is our fearless host.
How To Create A Simple Hat Wall Using Hooks
I think you might be pleasantly surprised with how easy it really is to create a simple hat wall using hooks. So let's be honest, this post is just more about the inspiration. All it takes is some hats, a wall and some rather cool wooden hat hooks.
And yes, the hooks are my secret tip! I found these beauties over on Amazon and was immediately impressed.
What Do You Use to Hang a Hat On The Wall?
Like I mentioned above, you can use these awesome wooden hat wall hooks that I found over on Amazon to hang any type of hat on a wall.
They are sleek, functional and don't leave holes in your walls.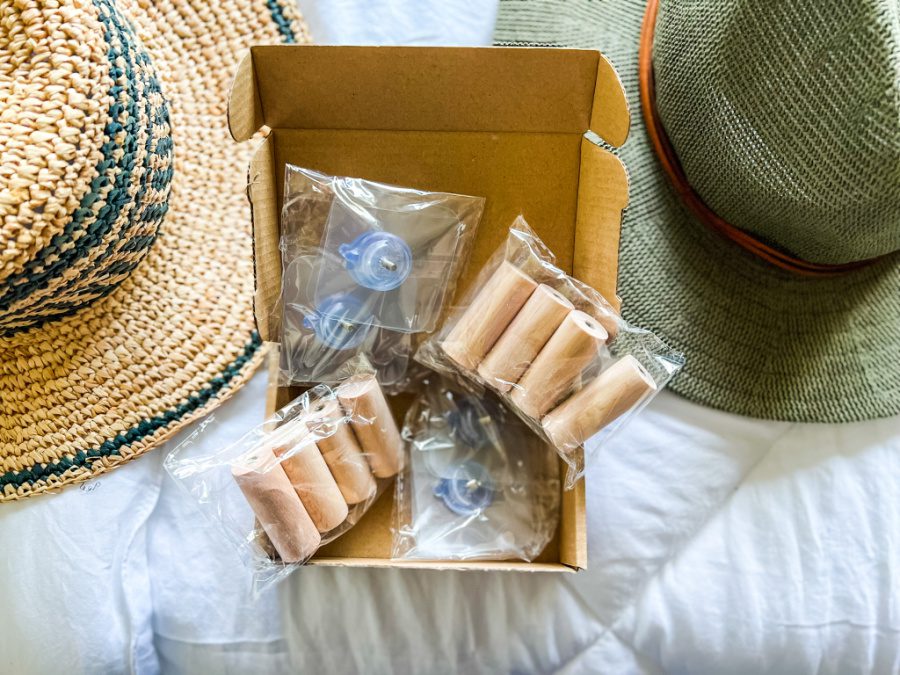 Some people like to use nails, command strip hooks and just regular hooks. But I personally fell in love with the look and price of these hooks. This pack comes with a total of 8 adhesive hat wall hooks for under $15. They ship quick, they are affordable and they look intentional.
How Do You Hang a Hat On the Wall?
Before I answer the question about how to hang a wall on a hat we must chat about choosing your hat arrangement.
Simply lay out your hats on a flat surface and play around with a few hat arrangements until you find one you like.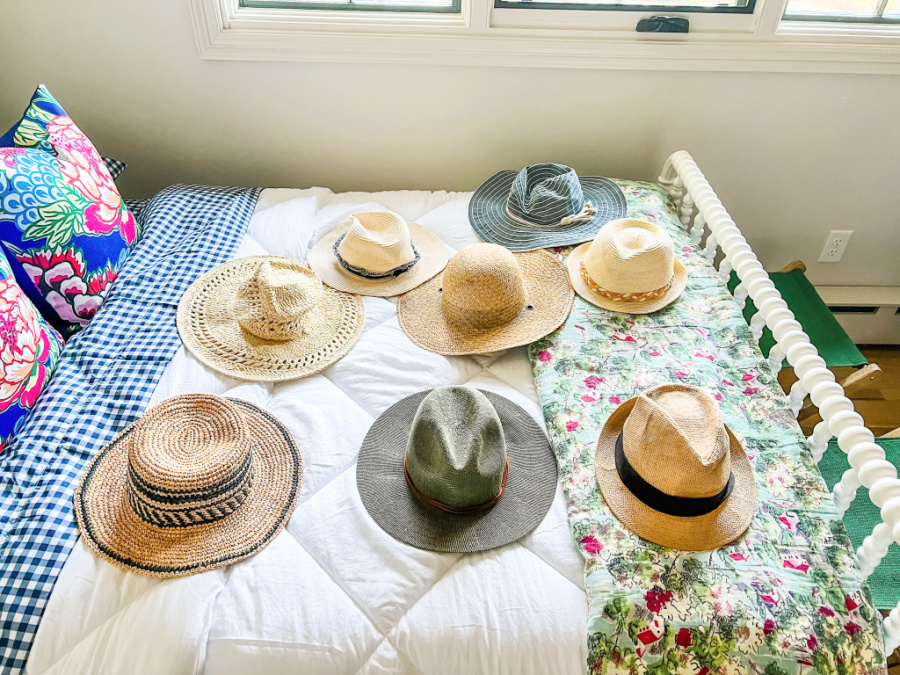 Next, measure the space where you plan to hang your hats to see if your configuration will work. I ended up using the spokes on the headboard of the bed to guide where I attached the hooks to the wall.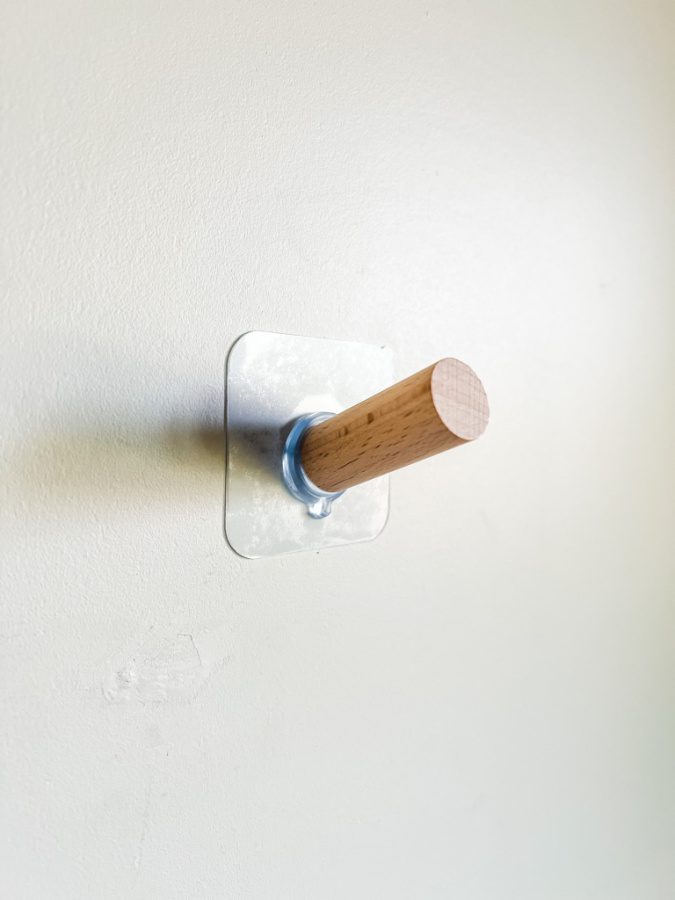 You can be as precise as you want and use a measuring tape for perfectly spaced hats or you can eye ball it like me! Ha! This will definitely tell you a lot about my personality. 🙂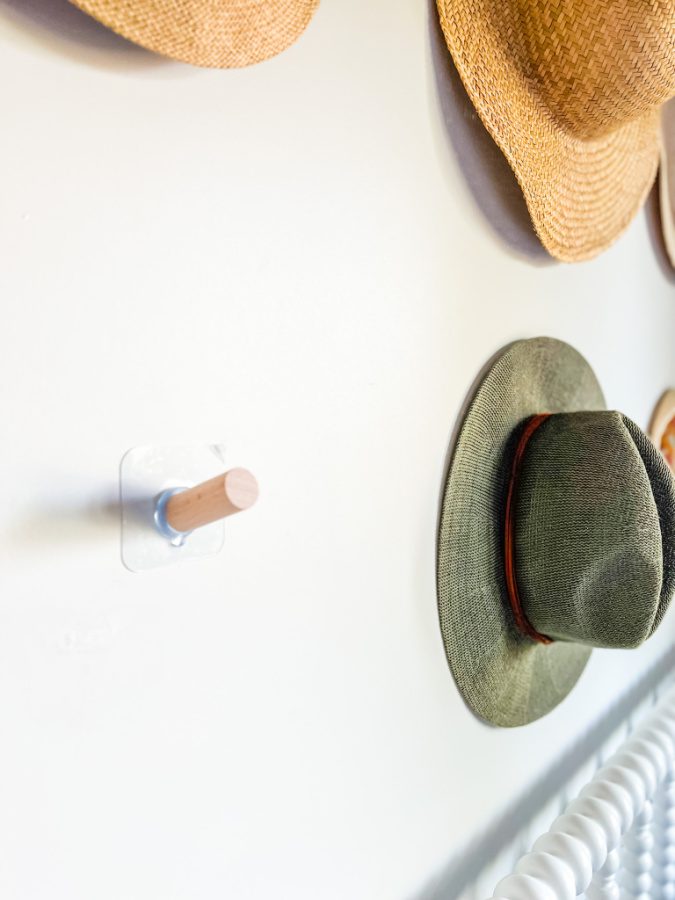 These hook are adhesive and simply need to have a backing removed to reveal a stick side. This sticks to your wall! Continue to add hooks where you want to add your hats on the wall. Then add hats to the hooks and move them around until you find the combination that works for you. And that's it!
How Do I Display My Hat Collection?
A very common question that is often asked is how do I display my hat collection? Or pick how they should go on the wall? This is a great question! This is where personal preference comes into play.
I chose to line mine up with three on top and three on bottom with a very uniform look. But I have seen others group their hats together with the brims overlapping or just spreading them out along their wall.
I always like to look to Pinterest for inspiration or other blogs. Like I mentioned before my friend Tina's hat wall inspired me.
I would also, encourage you to make a Pinterest board or cork board with inspiration to help guide you! And remember, if it doesn't feel right once it's all hung up don't be afraid to change it until it does feel right!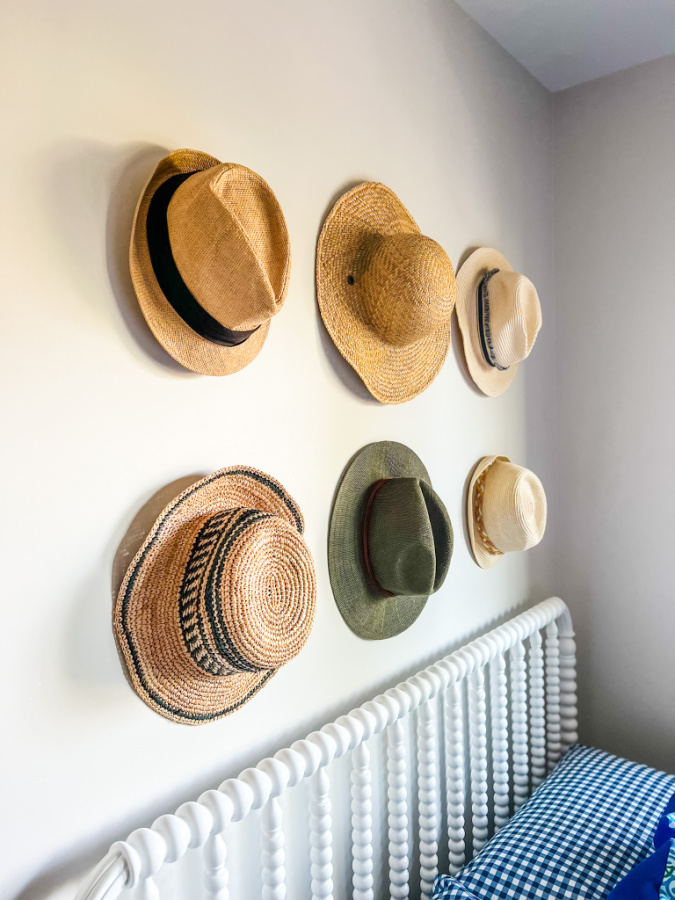 This was my summer hat display from our last home (pictured below). Do you recognize a few of those hats? These are closer together and I used nails to hang these. Ugh the holes in the wall were not fun to fill in when we moved. You can see a few more pictures if you visit my Casual Summer Home Tour!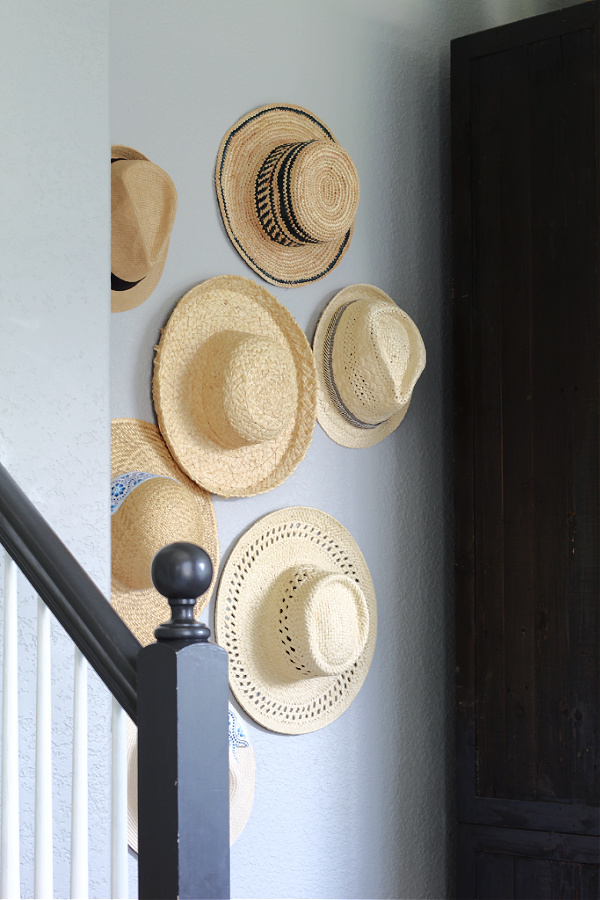 A lot of it depends on the number of hats in your collection as well as the size of the wall you are displaying them on. My hope is to keep growing my collection and to keep expanding it across my wall! I can't wait to start searching for some hats on my next thrift shop or flea market expedition!
Shop Our Guest Bedroom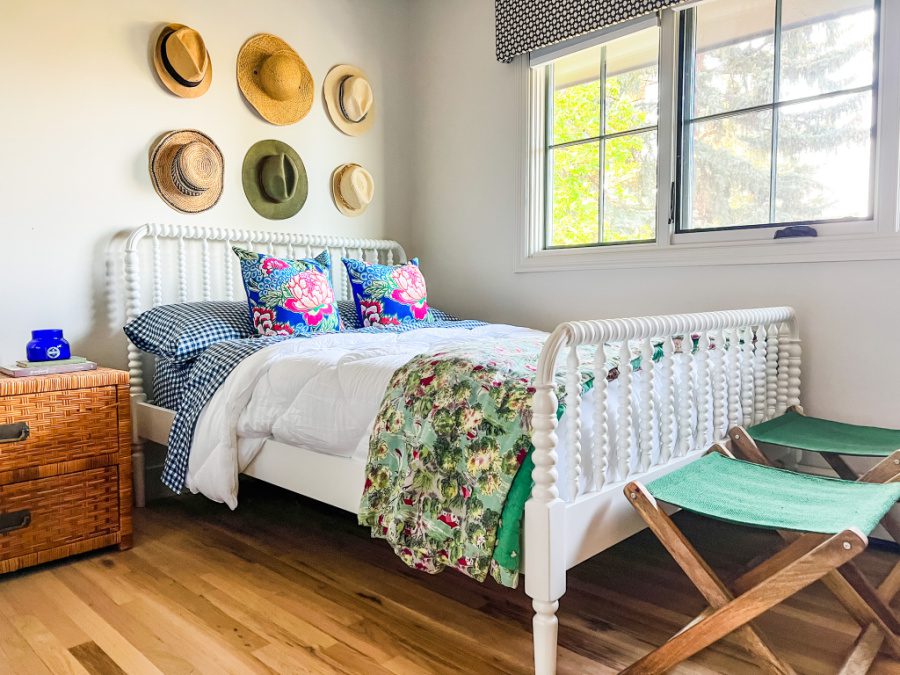 hats (mostly thrifted)
nightstand (Thrifted)
white down comforter from DownLite Bedding
Quilt on the end of the bed is a vintage flea market find
A Simple Hat Wall Using Hooks
Ok, so what do you think about my FUNctional wall art? Do you have some hats you want to display on a wall? Will you try these Amazon hat hooks I used or do you think I'm crazy? Either way just remember to do what makes you happy in your home and you can't go wrong!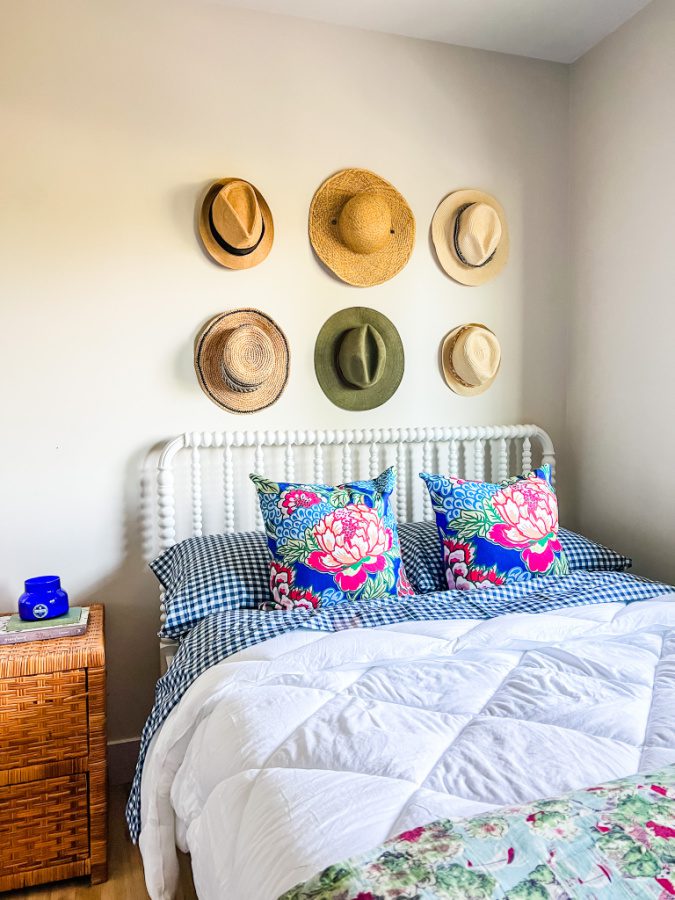 Now make sure to scroll down to see what the rest of the Thrifty Style Team is sharing today!
Thrifty Style Team
Redhead Can Decorate – Milk Glass Fruit & Cheese Appetizer Tower
Our Crafty Mom – Bicycle Tire Sunflower Wreath
I Should Be Mopping the Floor – DIY Bulletin Board with Nailhead Trim
The How to Home – Shabby Chic Decoupage Plant Pot
DIY Beautify – Update Older Exterior Windows with Spray Paint
2 Bees in a Pod – Antique French Hat Boxes
Postcards From the Ridge – How to Decorate on a Budget
The Tattered Pew – How to Create a Simple Hat Wall with Hooks
Cottage on Bunker Hill – How to Press Flowers in the Microwave
Vinyet Etc. – Transform a Vintage Frame into an Antique Mirror
Amy Sadler Designs – How to Paint Flower Pots for the Porch
Songbird – How to Make Lace Napkin Rings Tutorial