Tips for Hosting a Garden Tea Party
I am always on the look out for a reason to host a fun tea party! So recently when a long time family friend was in town visiting I decided that it was the perfect time to have my very first outdoor tea party. It turned out to be a pretty fabulous setup and I can't wait to share with you my best tips for hosting a garden tea party!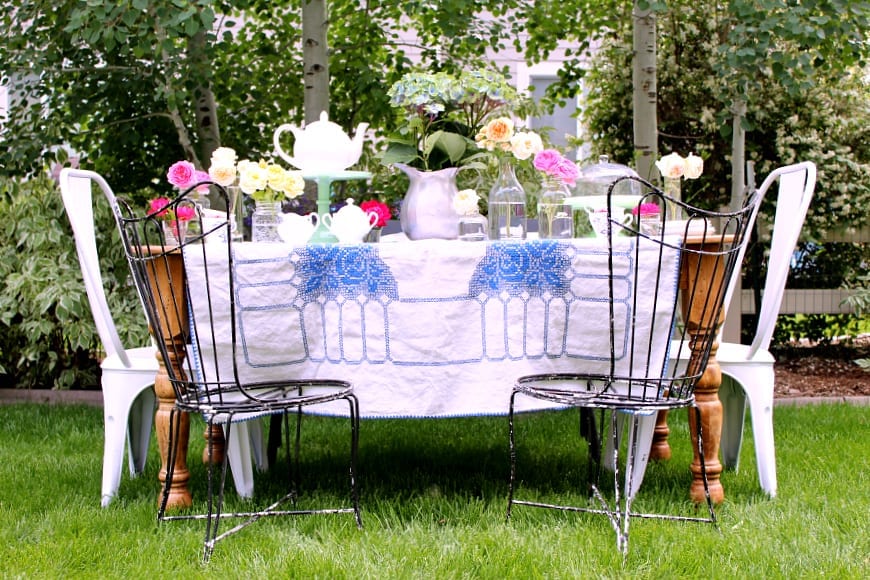 Tips For Hosting a Garden Tea Party
Use Flowers from Your Garden!
For me a tea party out in the garden or outdoors means flowers will be included! Luckily my roses were in abundance this year and were the perfect centerpiece for our tea party. To keep things cohesive and simple I put them in an assortment of clear glass vases. I also added a fantastic green and blue hydrangea that I bought at our local grocery store and I'm hoping I can transplant it to our garden!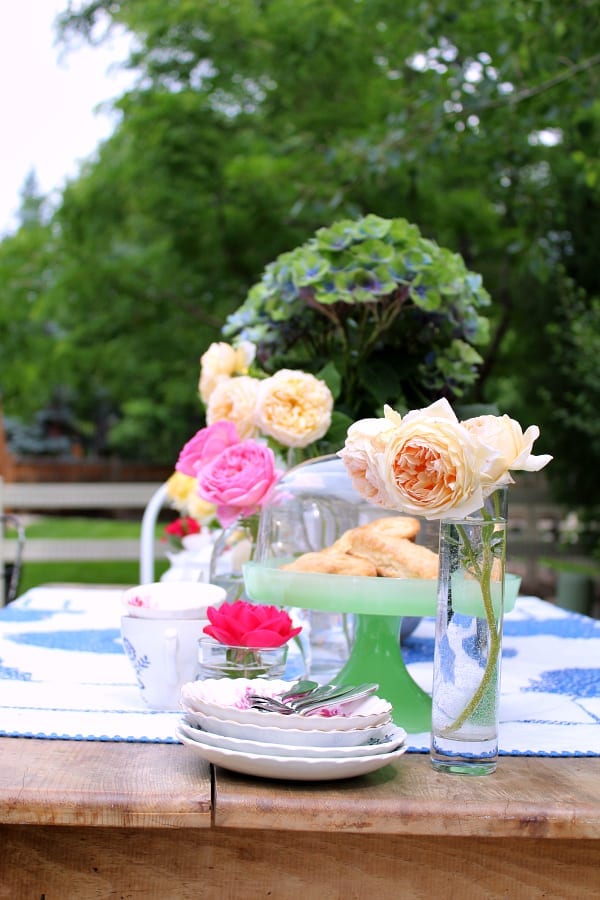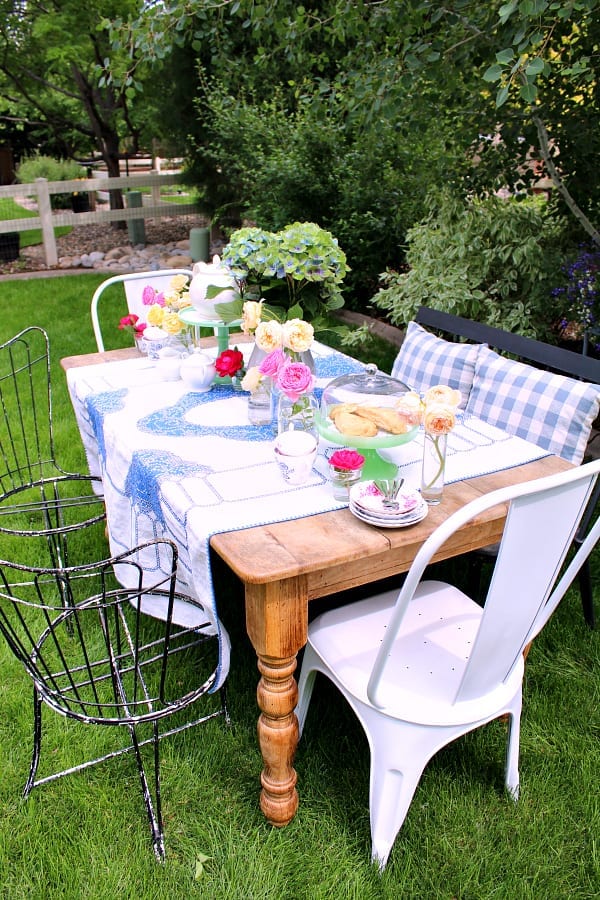 Don't be Afraid to Use Real China Tea Cups!
It makes my heart happy to use real tea cups even with kids and even outside because in my mind, without them it wouldn't be a tea party. My tips is this, if you have some very special tea cups that you absolutely don't want broken, leave those inside for another day. On my table I have an assortment of tea cups that I have picked up at thrift stores and flea markets so they aren't as sentimental as my ironstone ones! Mixing and matching is always ok too!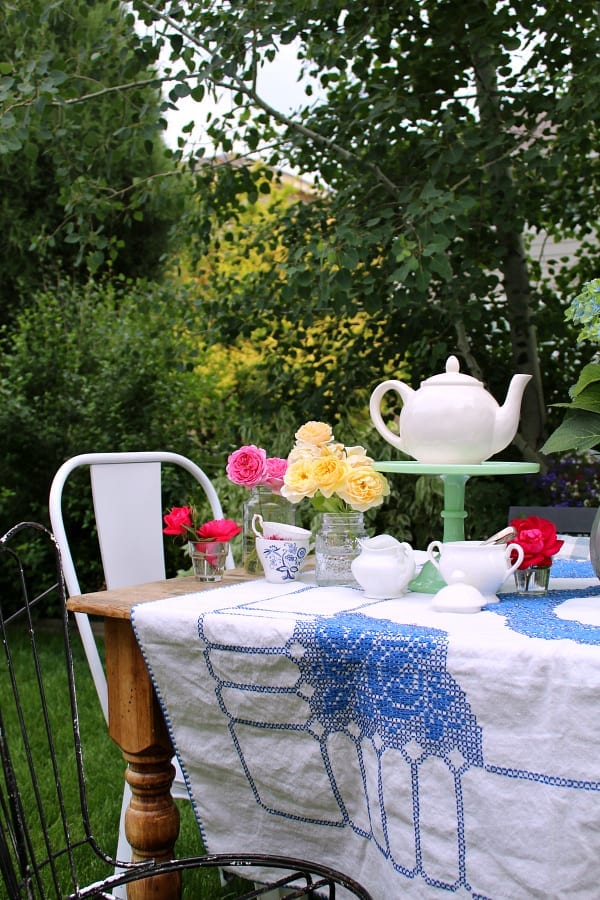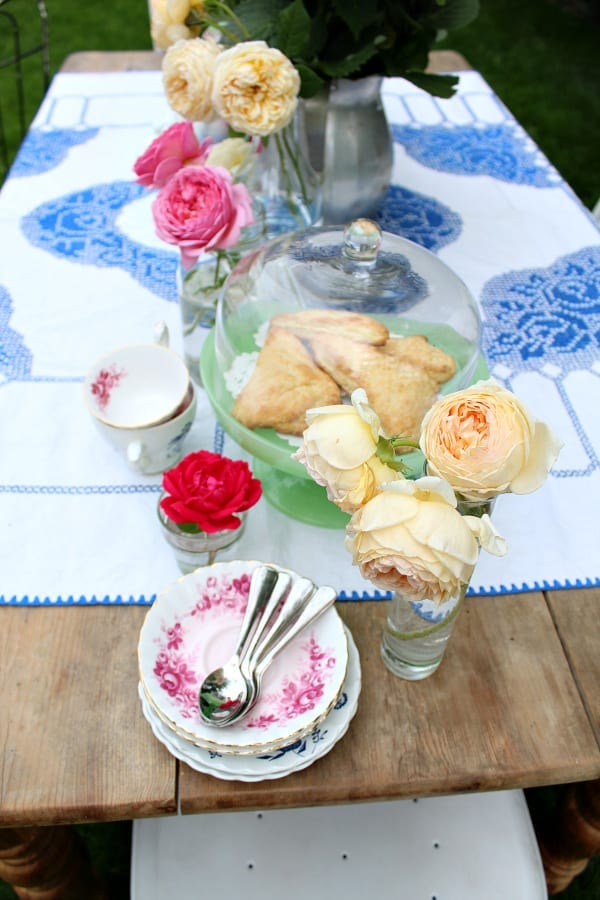 My fabulous periwinkle milk glass goblets that you saw in my summer home tour made an appearance as well!  These were a flea market find and add a fun pop of color against the flowers.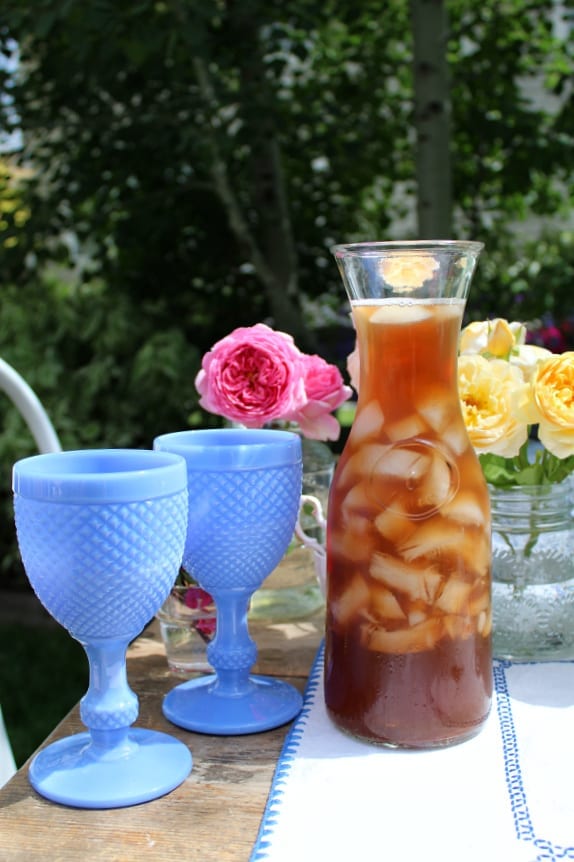 Keep the Food Colorful and Simple
Since this tea party was in the garden and on a warm day I decided include mostly fruit. We also had lemon bars, scones and even some raspberry sorbet!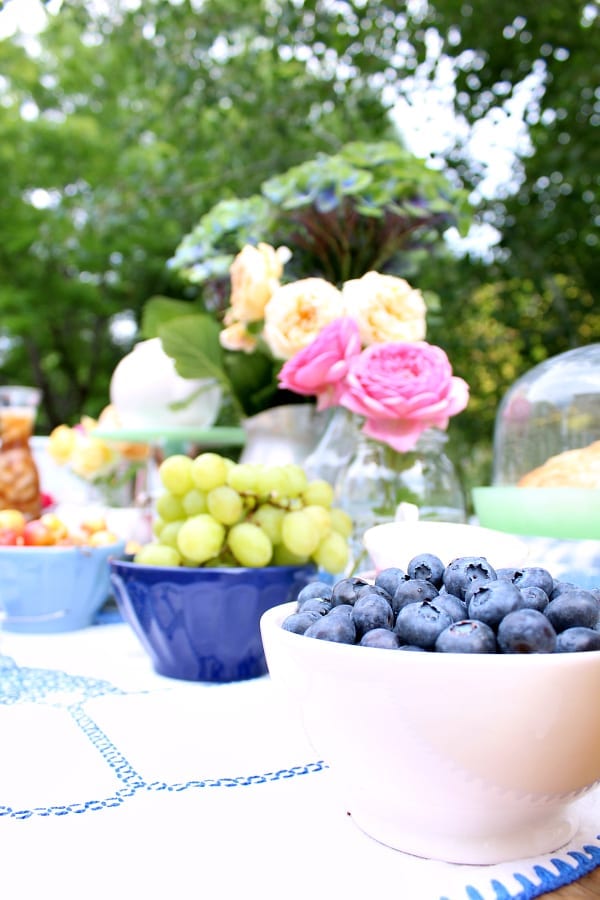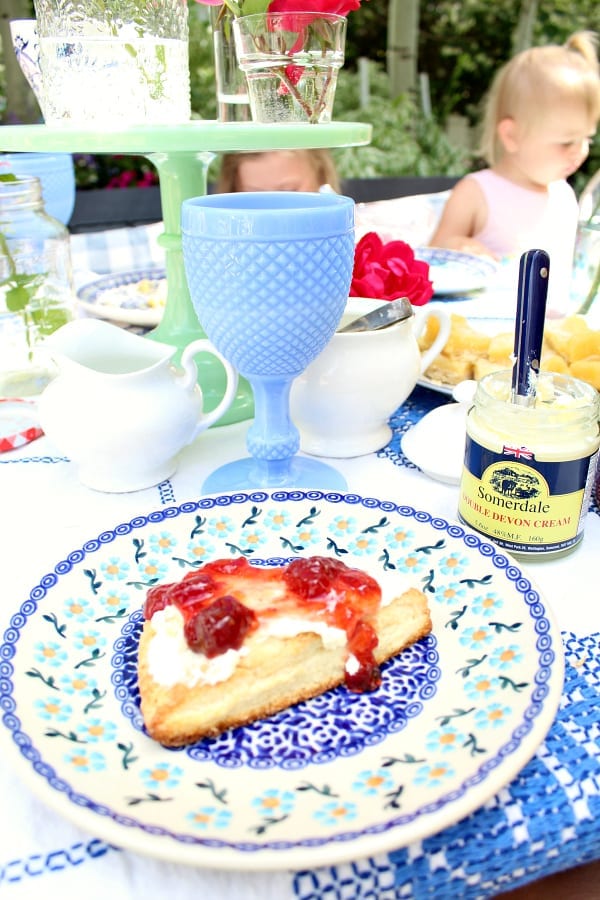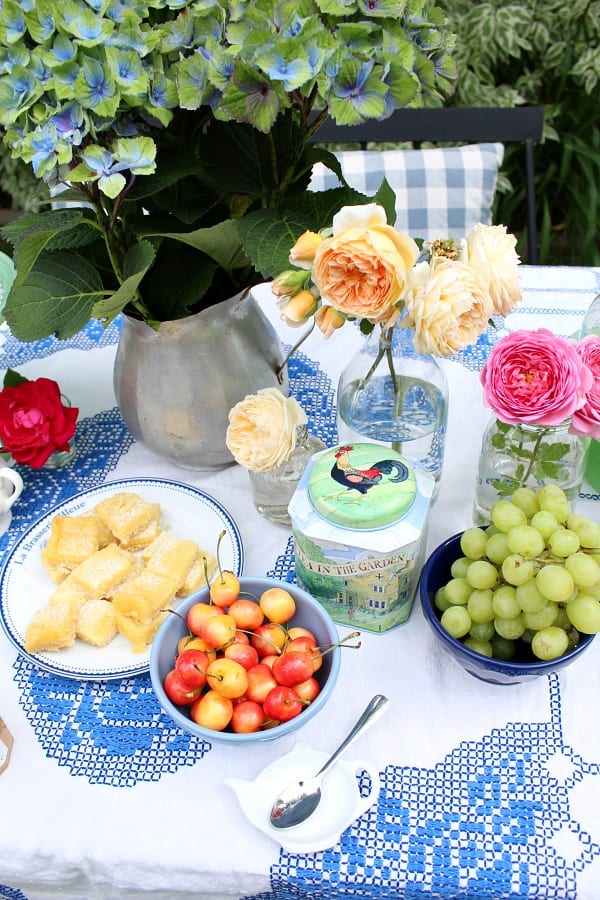 Don't be Afraid to Bring the Inside Out
This is one of my favorite tips. You may or may not have noticed that I brought my kitchen table out to our backyard! I know, I'm crazy, right? My oldest step-son helped me carry it out back and he thought I was a bit crazy too. But guess what…it totally makes this garden tea party special. Right?! The tablecloth and the chairs I brought from inside as well.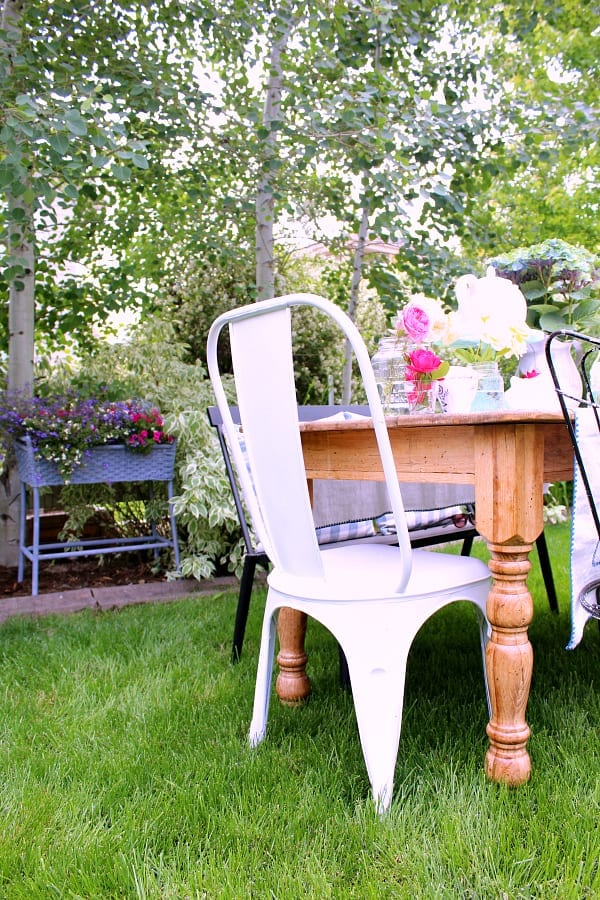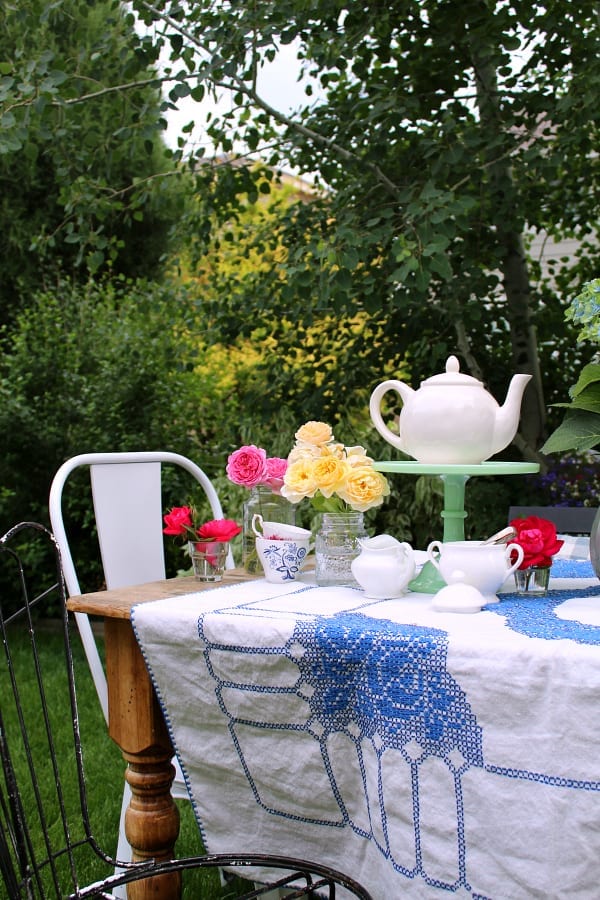 In the Garden You Can Have Both Hot and Cold Tea
Like you saw above in my picture I had both cold and hot tea. It's a good idea to always be prepared…especially in the summer when temperatures can be very hot!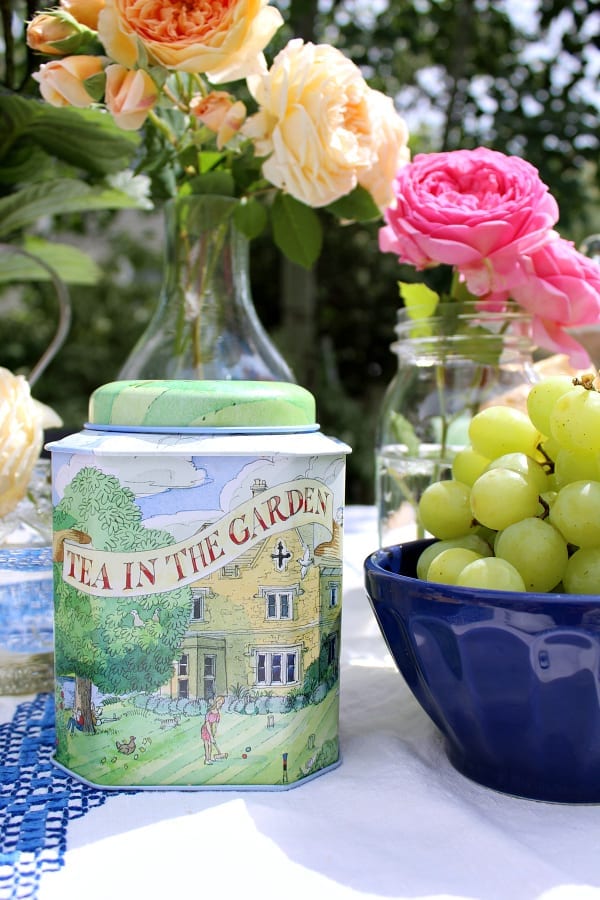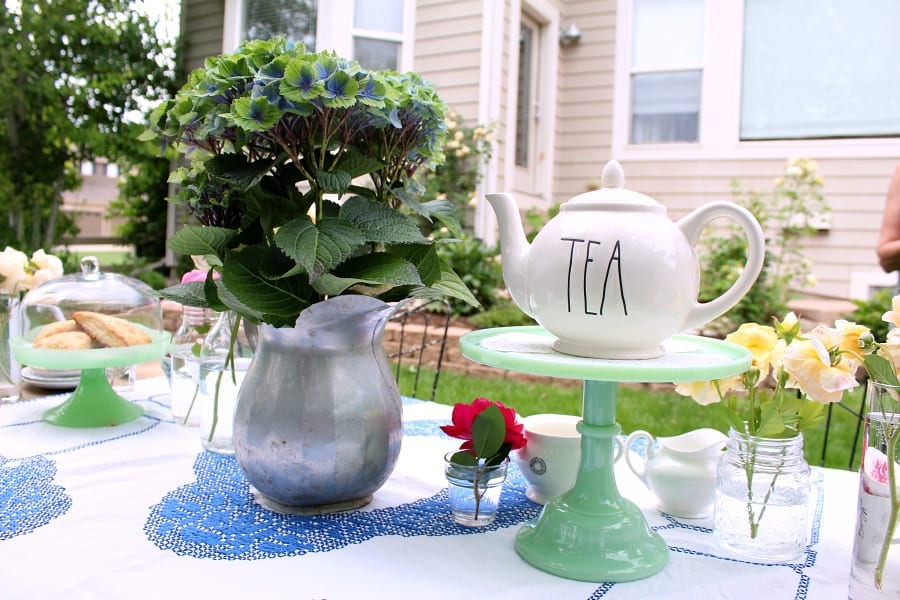 Finally, Everyone is Invited!
And finally, Tea parties are more fun when everyone is invited. There really is no age limit! My sweet nieces love a good tea party and so does our Wheaten Terrier Kona!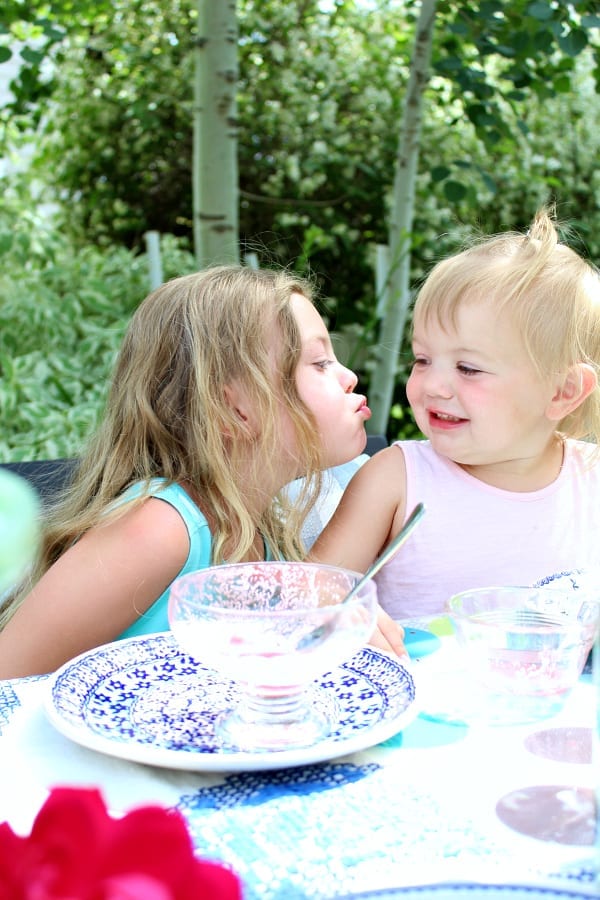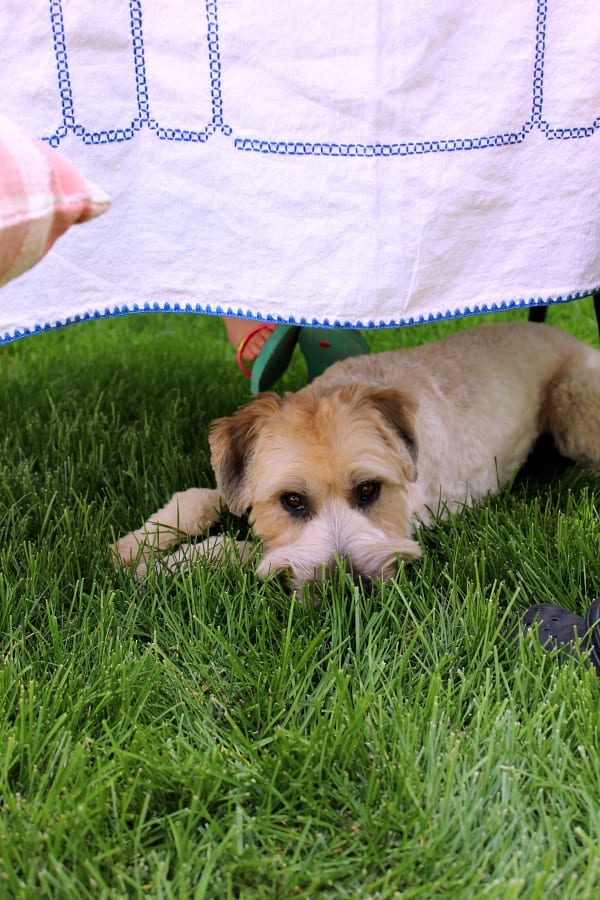 Simple Tips For Hosting a Garden Tea Party
I hope you found my tips for hosting a garden tea party helpful! Do you love hosting tea parties too? Have you ever had an outdoor one? If you enjoyed this one you may want to visit some of my other tea parties as well!
*How to Host an Easy Royal Tea Party
*A Mother's Day Tea Party Blue and White Style
I sure loved this garden tea party and plan to have many more outside!
xoxo,
Kelly
Did you like this post? PIN it for later!