Natural and Simple Fall Home Tour
Can you believe tomorrow is the first day of Fall? It's still very hot here in Colorado but the evenings and mornings are starting to feel cooler and cooler. So with the slow changes happening in our weather I have slowly started adding touches of Fall around our home. I am excited to share part one of my natural and simple fall home tour today!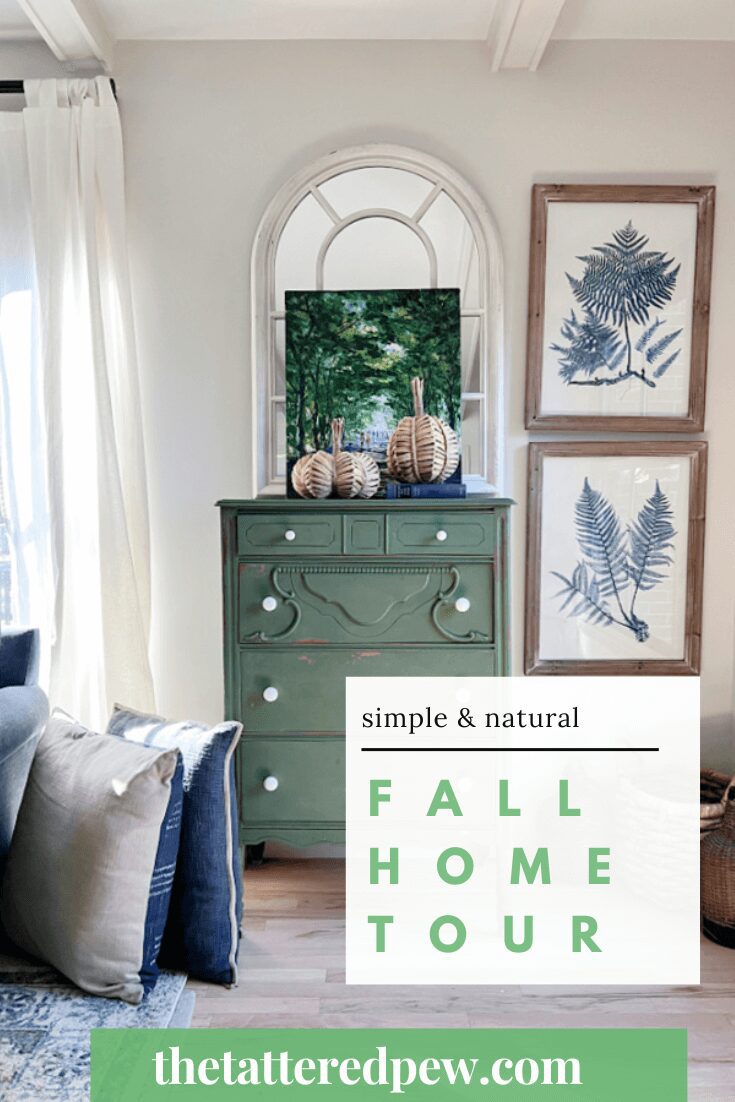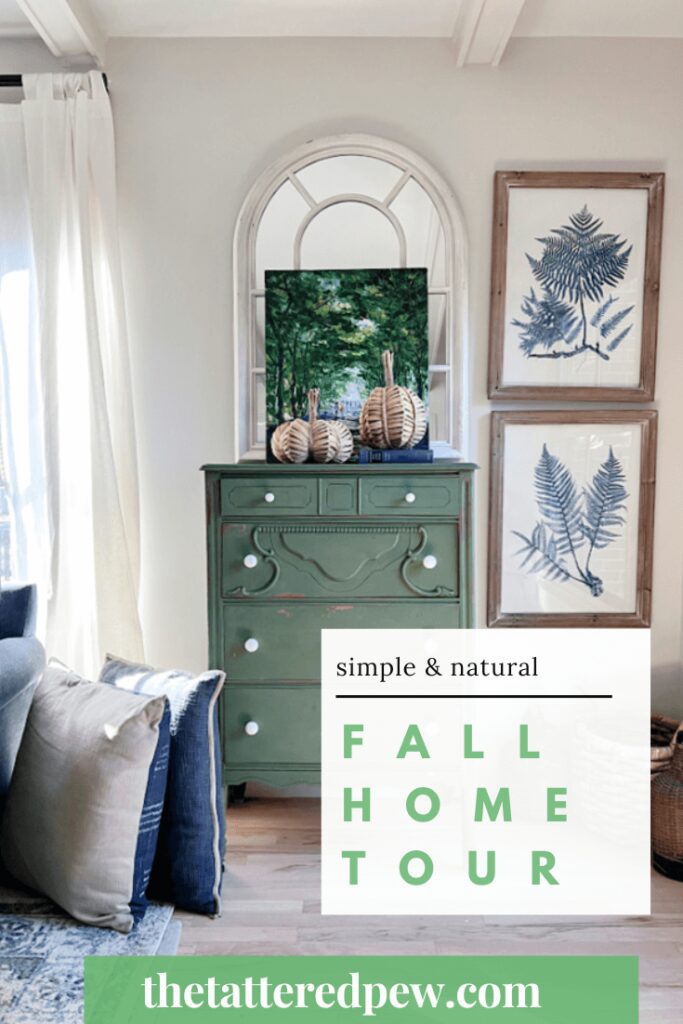 *As an Amazon Associate, I earn from qualifying purchases. This post contains other affiliate links too for your convenience. Click here to read my full disclosure policy.
Welcome to the Celebrate Fall Home Tour
It's finally Fall home tour time (I LOVE Fall! ) and today I am joining 23 other bloggers opening up their homes for you to peek into and hopefully find some Fall inspiration from. This Celebrating Fall Home tour is hosted by Leen of Sand Dollar Lane and you can find all the links to the other homes at the end of my post.
I can't wait to visit them myself!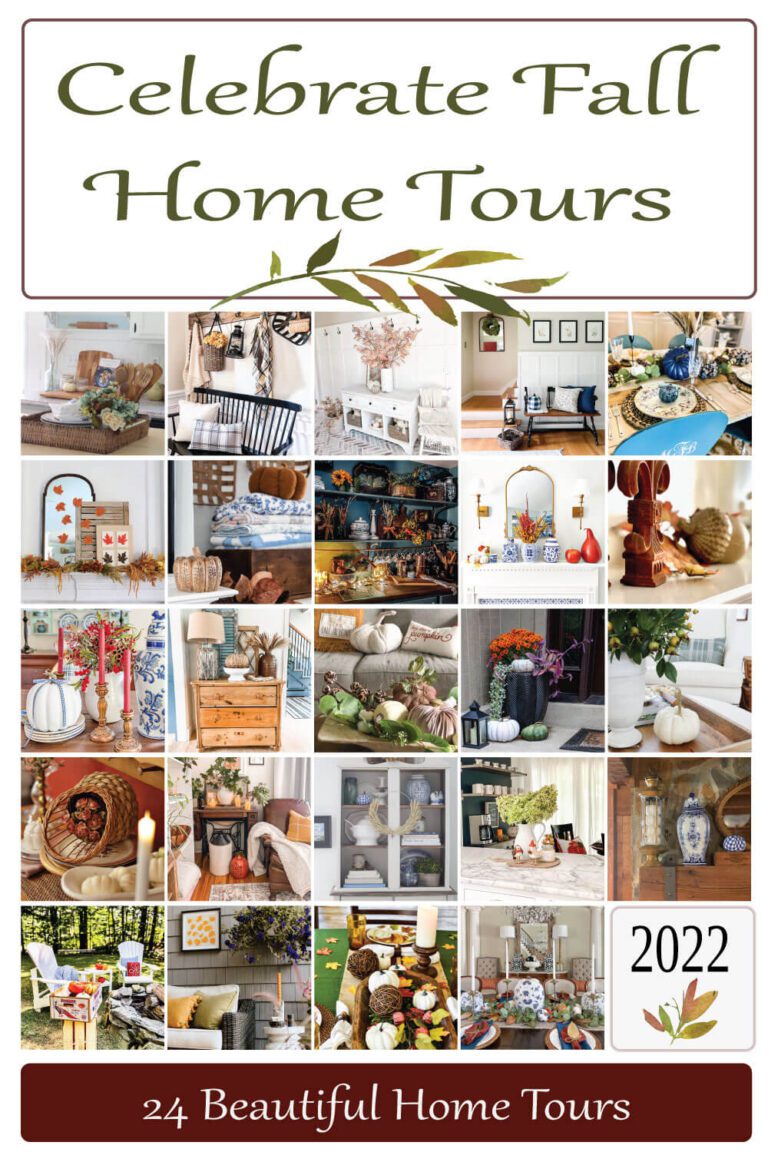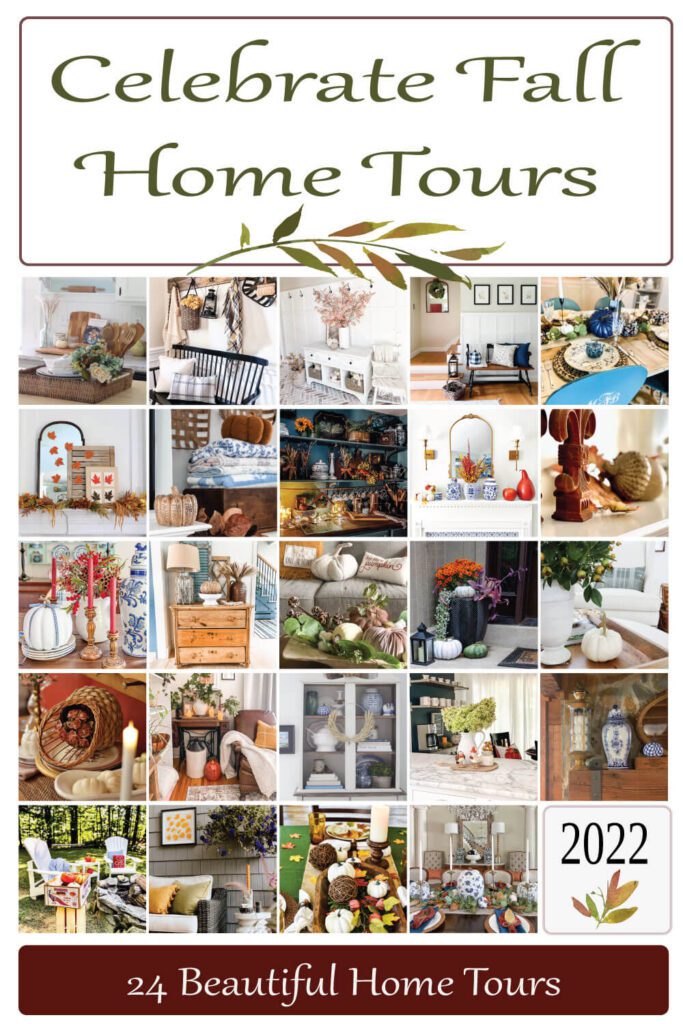 If you are visiting from Suzy over at Worthing Court, welcome! I loved her Fall kitchen and breakfast room decor. She has been a favorite blogger of mine for years and has a beautiful home and style!
I'm Kelly and I'm so happy you are here. Faith , family and flea markets are at the top of my list! I love decorating my home for the seasons but even more, I love achieving that high end look for less. You will find that most of our furniture is from consignment shops or Facebook Marketplace!
Natural and Simple Fall Home Tour
Today we will start in my entryway and make our way through to the family room. We moved into this new to us home just over a year ago so this is just my second time decorating it for Fall. You can see last year's Fall home tour here.
Our entry holds my very first Tattered Pew. You can read the story of how I found her to get a peek into why my blog is named after her. A couple of years ago I gave her a bit of a paint makeover with a fun weathered driftwood look and now she fits into any space nicely.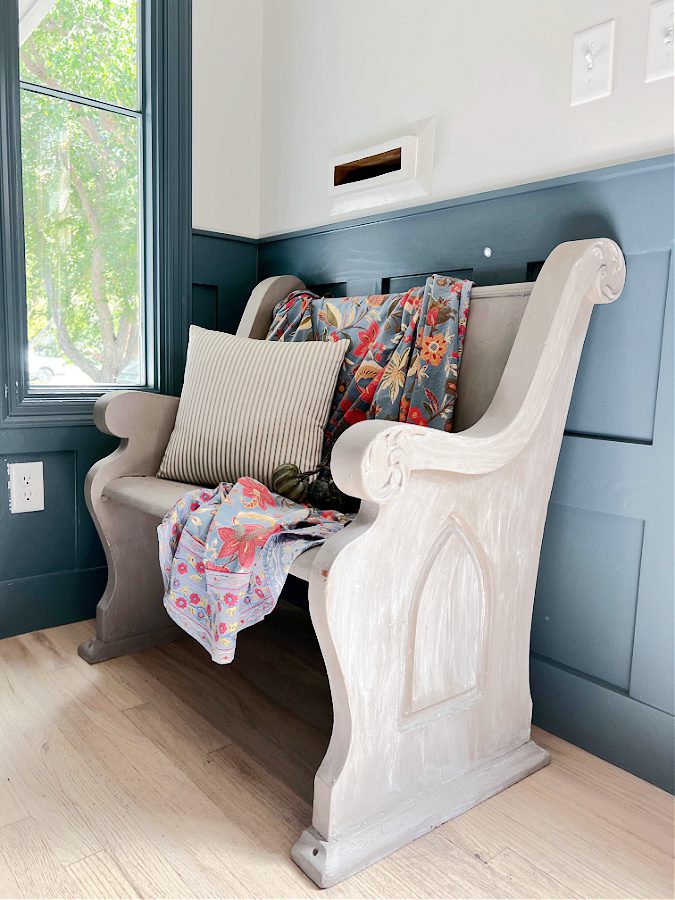 We recently moved her to the bottom of the stairs after I found a new round table over on Facebook Marketplace that has since taken her original home. I like her here because she catches our mail for us!
Did you notice the mail slot just above her?
I draped a colorful tablecloth over her that I have had for years and added a pillow and now she is ready for Fall!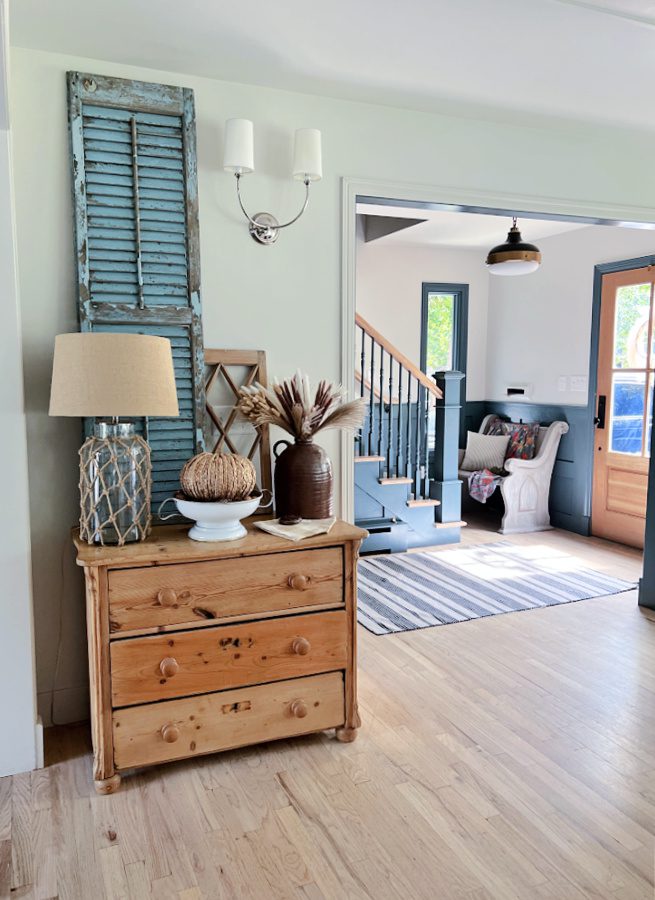 As you walk through our entryway you will come to a wide open space that has my favorite pine dresser. Can you guess where I found this beauty?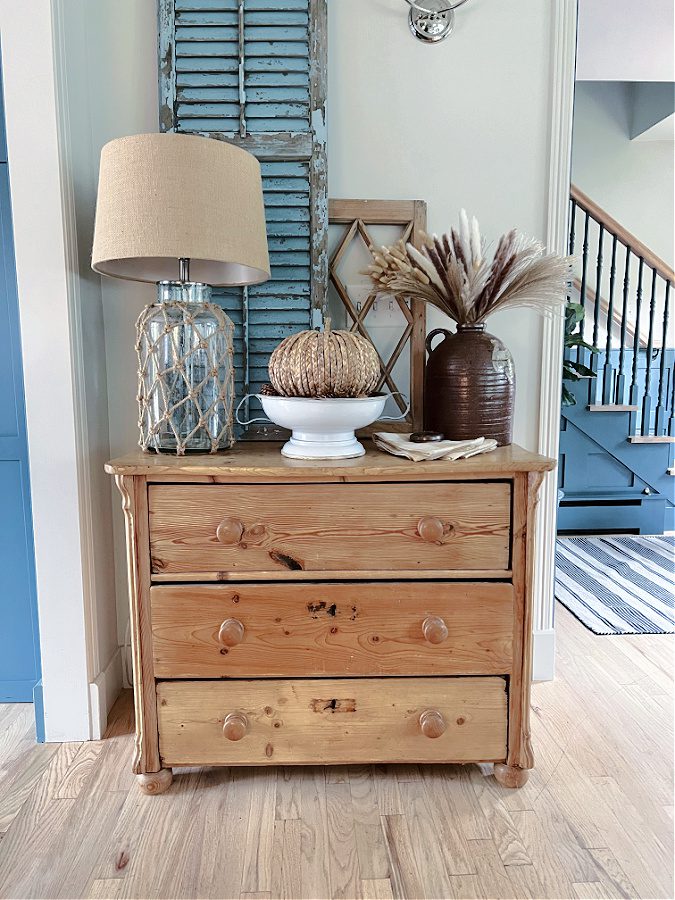 Yep, Facebook Marketplace. I have had the best luck there!
I propped this old painted flea market shutter and window on her and then had some fun adding layers. A lamp, my favorite white pedestal bowl, a raffia pumpkin on some pine cones from our yard and a brown jug full of dried pampas grass.
And I can't forget these darling buffalo check towels from All Cotton and Linen. Neutral and natural was my theme for this area.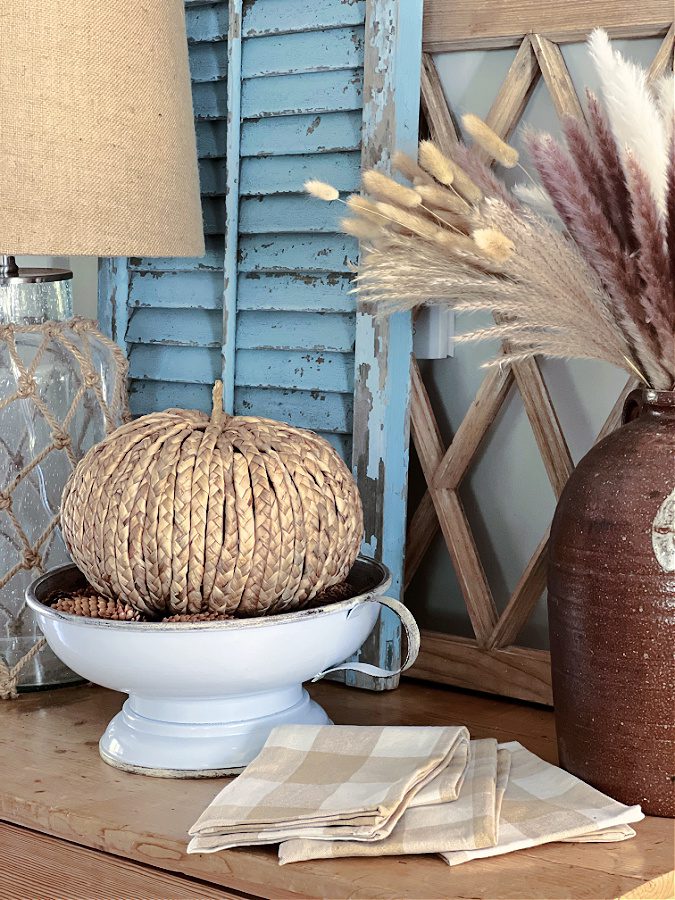 The New Table
Now lets take a peek at where our pew used to live. Now in her place is this new drop leaf table. I have it all decorated for Fall. The table was only $40 and I am contemplating painting her white. Would you paint her or leave her alone?
Once again it's simple with some stacked books, a lovely table linen from the UCOUNT Marketplace and a tortoise shell vase full of dried hydrangeas from our yard.
Just to her left is a large basket I found at a local shop called Magpies. She was in the back in their Nest section and her lid was broken so I got her for a great deal! She holds my plaid blanket collection that I bring out at Christmas.
The framed pictures above her are flea market paint by number finds!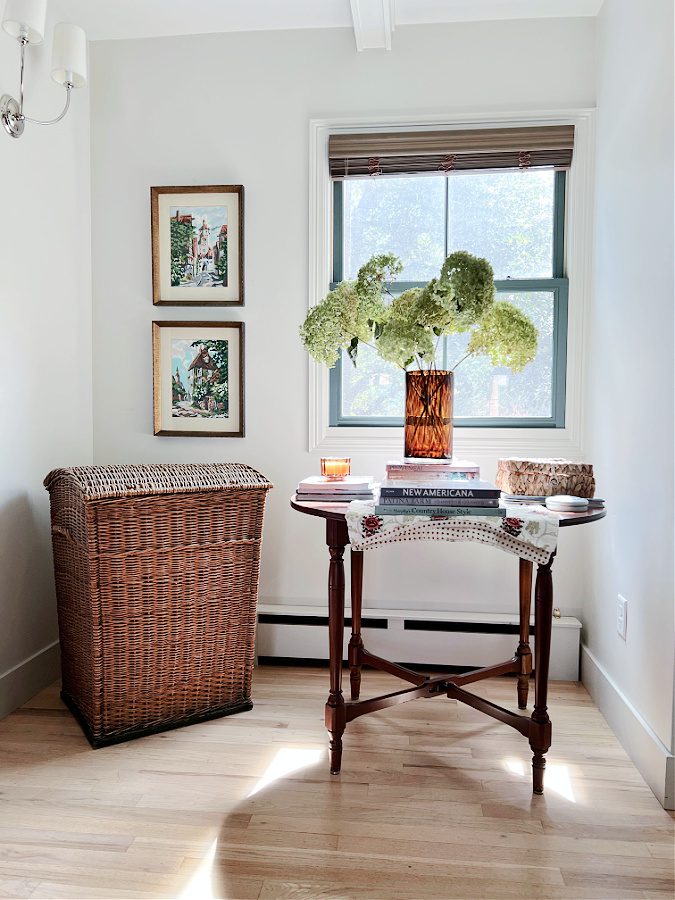 When decorating for Fall I love to bring the outside in and dried hydrangeas are always a must for me! So I figured why not try them in another one of my favorites, the tortoise shell pattern.
If you love tortoise shell items too you can shop my Amazon Idea List HERE full of tortoise shell decor. A pattern that will always be a classic. I found this lovely vase at a local consignment shop and quickly scooped her up! This pattern works for all seasons but I especially love it during the Fall!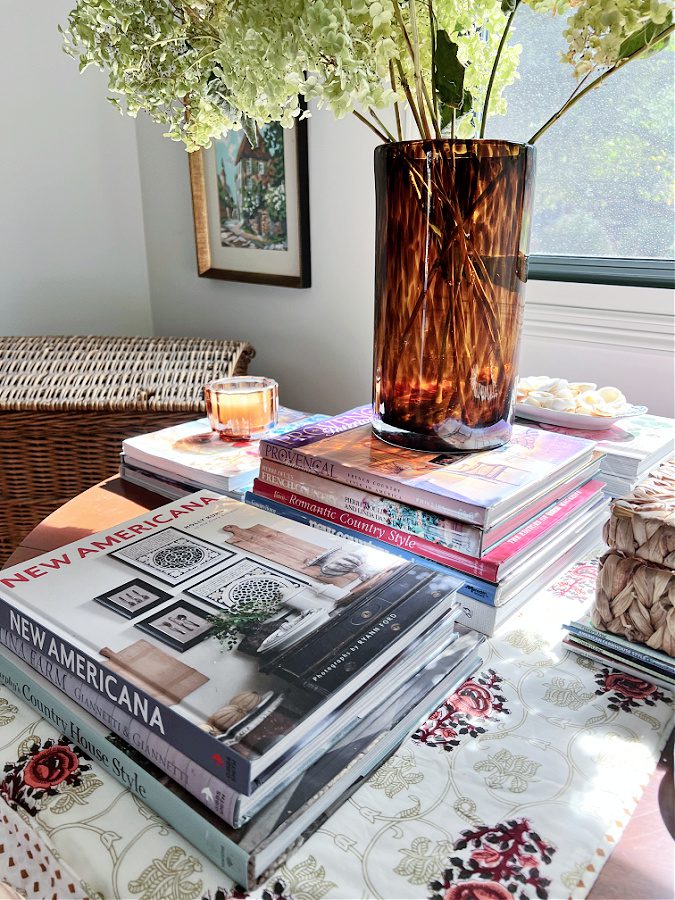 Of course I had to sneak some pine cones into the mix as well. Don't they add that perfect Fall feel? I stuffed them in this cool rattan box I found in Florida this summer.
Gotta love free natural decor! Did you catch my post all about preparing them for crafts and decor? If not head HERE to find out a simple trick for getting them ready!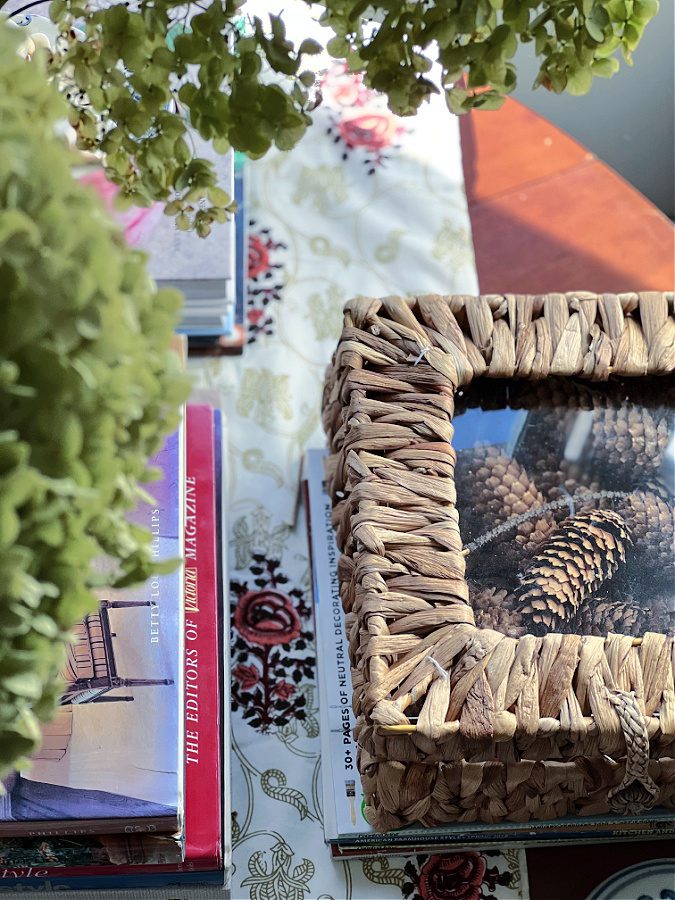 A Natural and Simple Fall Family Room
And how about we check out our family room?
This space is where our family lives the most. To give it a bit of a Fall feel I added pops of warm red to all of my blue and white decor.
This is not typically a color I gravitate towards but when I saw these lovely handmade sari quilts on my white chairs I was smitten!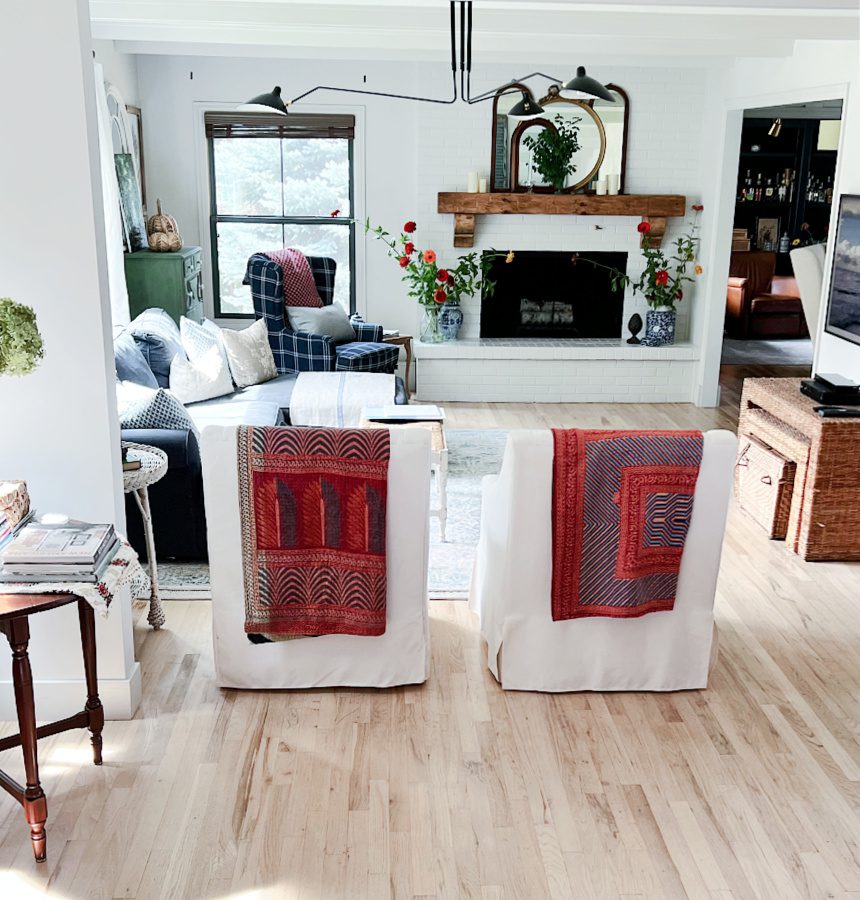 These kantha quilts are handmade by women who have been rescued from trafficking. I first saw them at our church several years ago when the UCOUNT team came and spoke. They then had a marketplace for us to shop and I stocked up.
Since then my mom has joined their team as a volunteer and I help out by shopping and sharing them with you all!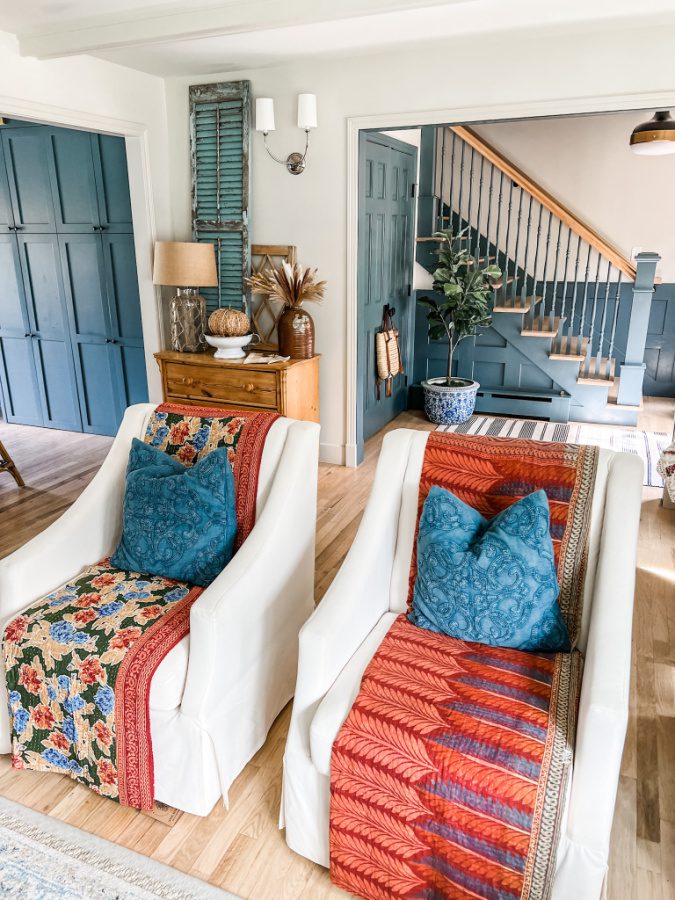 These are just two of the many that I have around our home. If you want to help out too you can shop the online marketplace HERE!
Any online items you purchase offer free shipping and 100% of the money you spend goes back to the women who made the items. There are other items you can shop via their Marketplace. Such a wonderful opportunity to help support these women trying to get back on their feet.
And if you are local our church is holding a UCOUNT Spotlight: October 1st-2nd where you can visit Timberline Church in Fort Collins for a UCOUNT expanded Marketplace. (10/1, 4-7pm, 10/2 8am-12:30pm, 10/3 10am-2pm & Windsor 10/2 10am-2pm)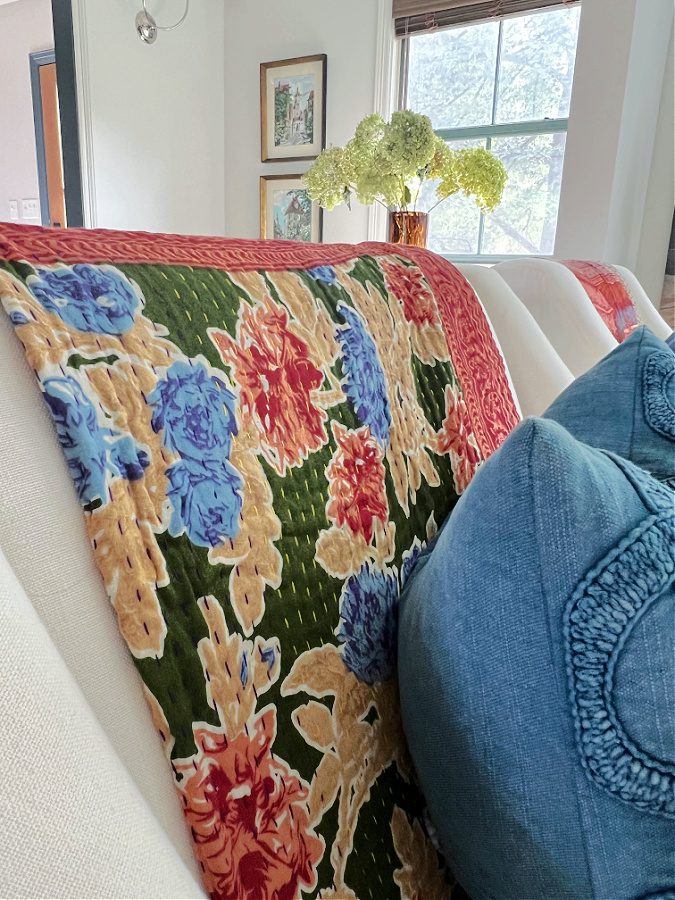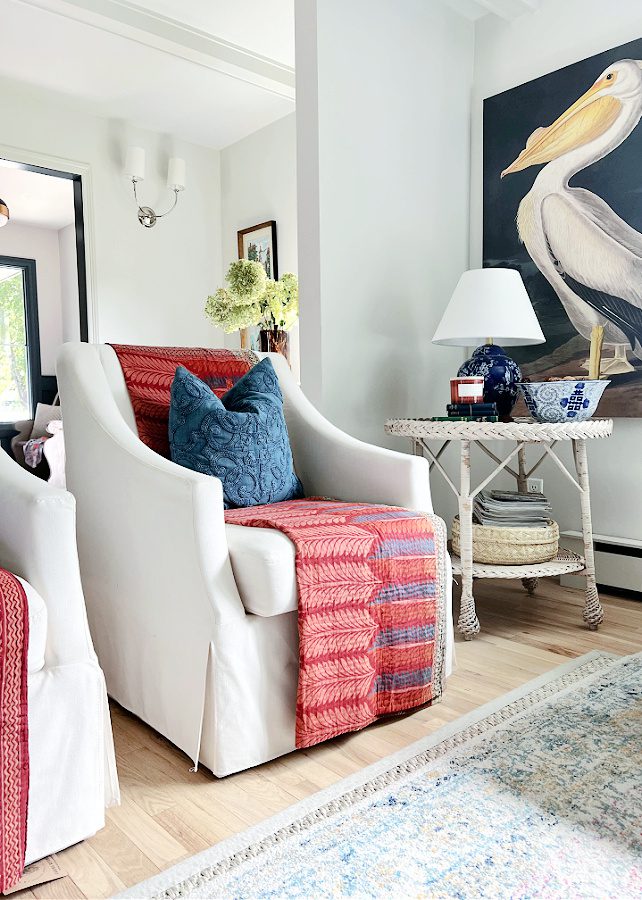 My Green Dresser
Just on the other side of these chairs across the room is my favorite green dresser! I rescued her from Facebook Marketplace too and gave her a new paint job in Boxwood green from the Miss Mustard Seed milk paint line. She is a neutral and goes wonderfully with all the seasons.
I plopped these two raffia and jute pumpkins from Cost Plus World Market on her and called it Fall decor.
So simple once again. Their texture and shape make my heart sing!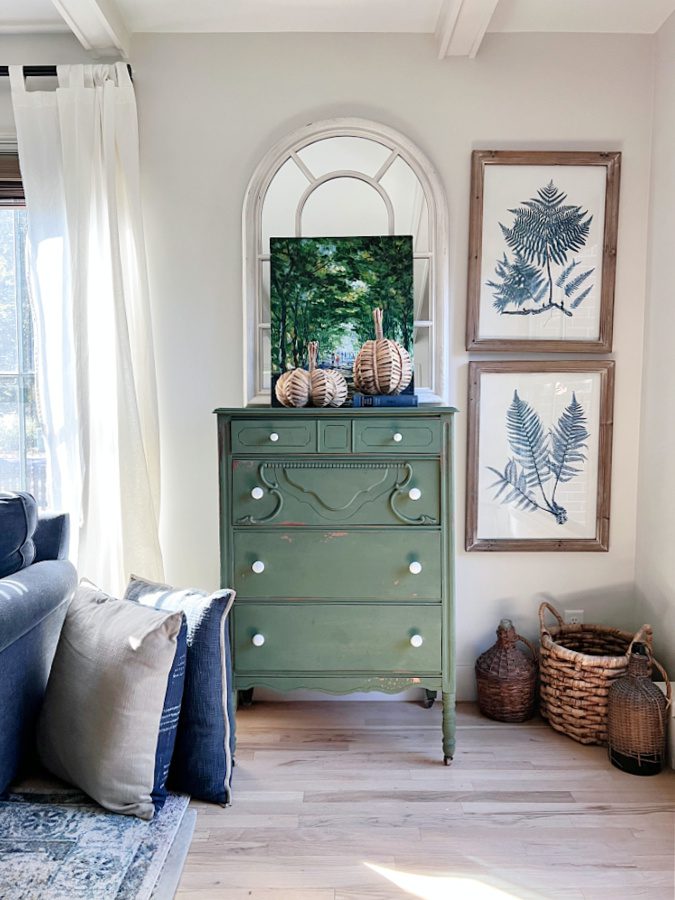 The painting they are sitting in front of I bought from a street vendor when I lived in NYC. It's a scence from central park and it always makes me smile.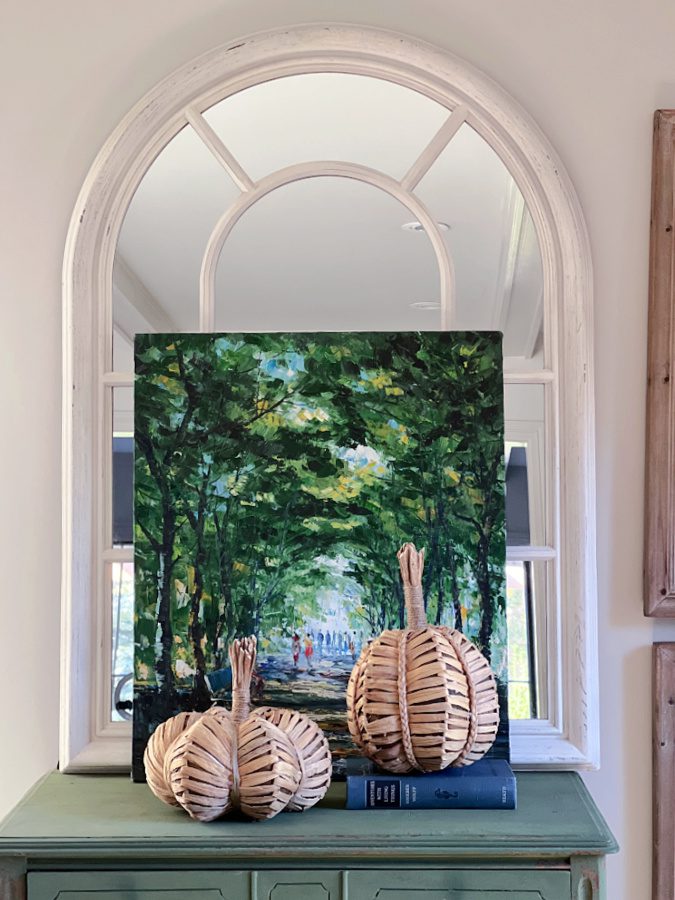 Simple and Natural Fall Mantel
When you walk into our family room our mantel and fireplace is one of the first things you see! I love how the wood contrasts against the white painted brick.
Sometime during the summer I got it stuck in my head that I wanted to gather a bunch of mirrors on the mantel for Fall. So I went around our home and collected all the mirrors I could find. I even called my mom and asked her to bring over a few!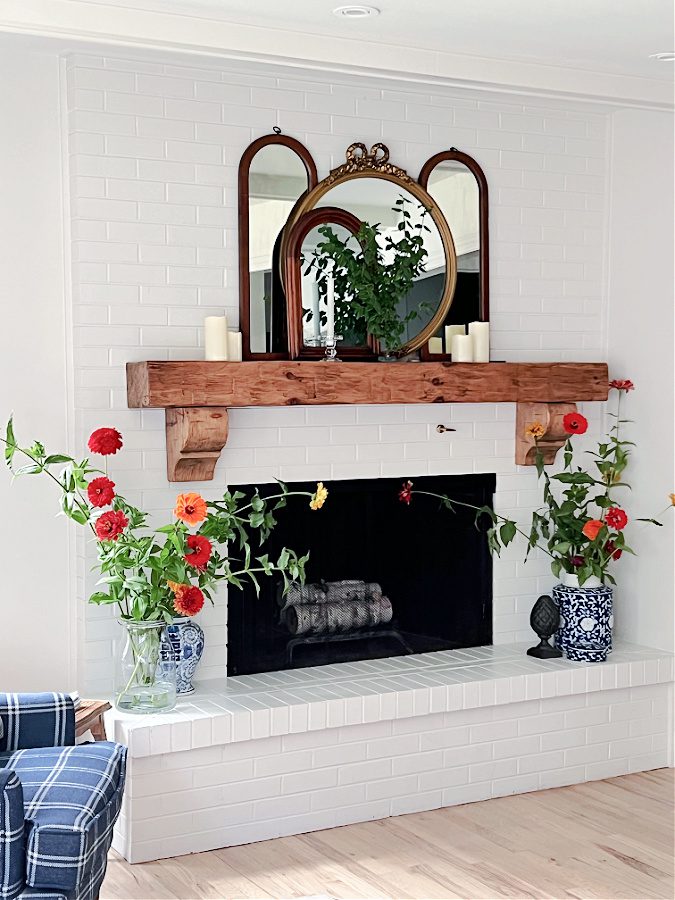 She is my secret weapon when it comes to decorating because it's like I have an entirely different stash of decor to play with and use.
Thanks mom!
Speaking of my mom did you catch her new series here on the blog yesterday? It's called Tuesdays With Tracy. Pop over and get to know her a bit!
Well after we had all the mirrors on the mantel we realized it was WAY too many. So we narrowed it down to these four. They are all vintage and the gorgeous gold round mirror is my moms!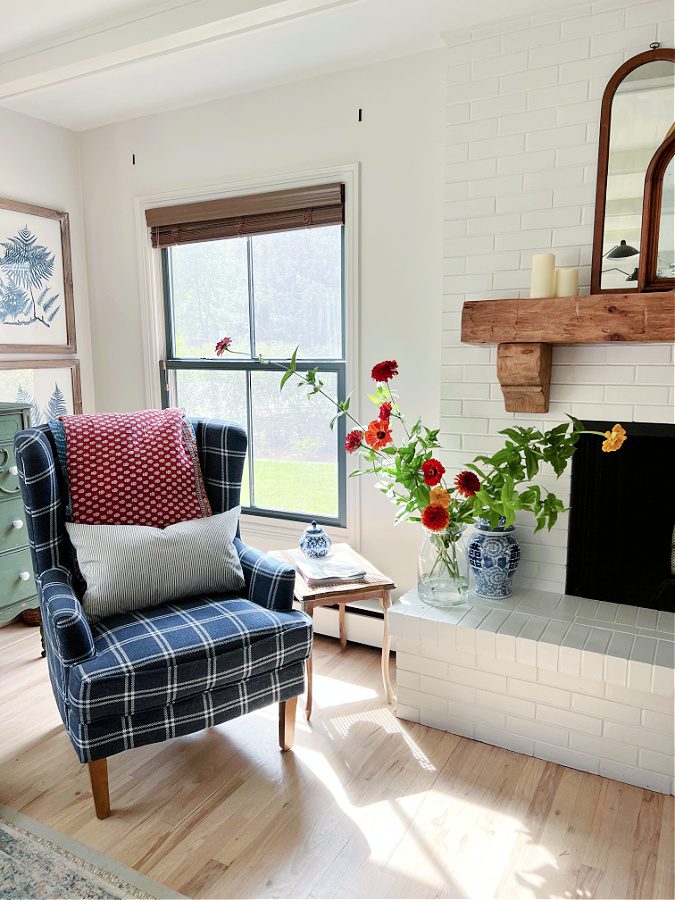 After the mirrors were up we went out to my yard and gathered and cut all the Fall colored zinnias from my raised garden beds. We kept them big for more of a dramatic effect. I put them on either side of the fireplace to anchor it and used big jars and vases. My blue ones are my favorite. The clear glass one is from IKEA. My mom helped me with this too. She is the best and has such a great eye for decorating.
What do you think? I am in love with them and all of the color they add to the all white space. So simple and definitely so natural. The reds work with the kantha quilts too!
The battery operated candles add that extra Fall feel. And guest what? They have a remote…I love turning them on in the evenings for a cozy glow.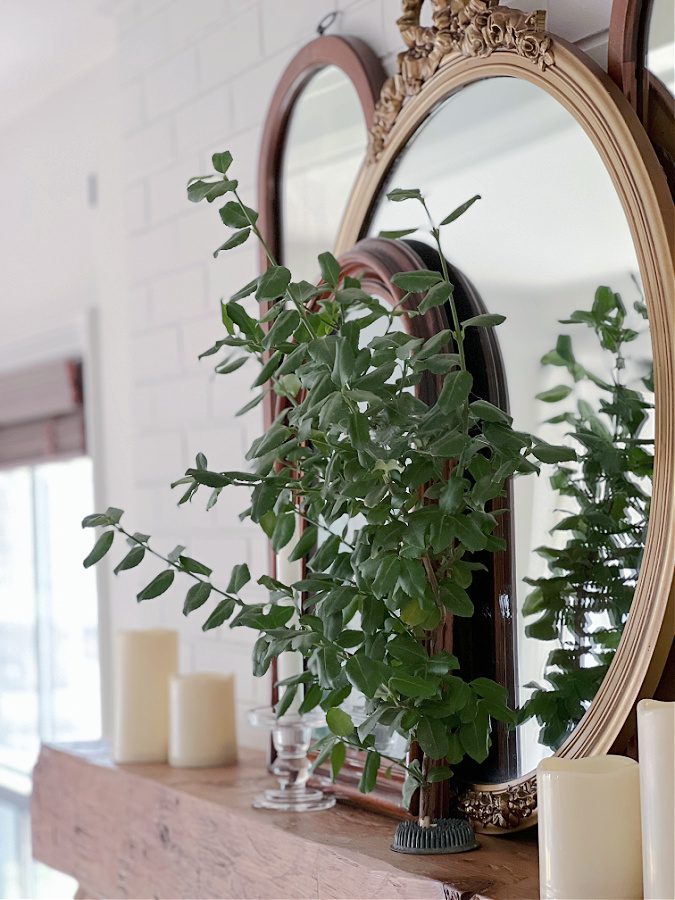 We even cut some greenery that you see in the middle of the mantel from a bush out back. It is simply placed in a floral frog. So cool right? I found some vintage floral frogs here and here if you want to take a peek. Or you can even find some new ones here!
If you like decorating with naturals for Fall then you will love my post on easy ways to achieve this in your own home! All in all I don't go overboard with my Fall decor. I have definitely gravitated to the less is more feel lately. However, pretty soon when it starts to cool down more I will be bringing out the blankets in excess!
Natural and Simple Fall Home Tour
Thank you so much for stopping by my natural and simple Fall home tour today! I hope you found that decorating for the seasons doesn't have to be hard or cost a lot. Next week I will be sharing part two of my Fall home tour which will include our kitchen and master bedroom and maybe a few other surprise places! I hope you will stop back by.
Now make sure to head over to Michelle of Our Crafty Mom to see her lovely Fall decor! Then scroll down to find the links to the rest of the ladies joining the Fall tour today!
I'd love to have you hang out with me some more! Feel free to follow along with me on any of the platforms linked below.
LTK | Facebook | Instagram | Pinterest | Amazon
xoxo,
Kelly
Celebrating Fall Home Tours
Monday
Sand Dollar Lane // Simply 2 Moms // Pasha is Home // My Family Thyme // Southern Crush at Home
Tuesday
Bluesky at Home // DIY Beautify // Amy Sadler Designs // 2 Bees in a Pod
Wednesday
Worthing Court // The Tattered Pew // Our Crafty Mom // Hearth and Vine // Thistle Key Lane
Thursday
Exquisitely Unremarkable // Aratari at Home // Sonya Burgess // At Lane and High // The Roots of Home
Friday
Dabbling and Decorating // A Life Unfolding // Zucchini Sisters
Southern Home and Hospitality // Feet Under My Table
Did you like this post? PIN it for later!