Easy to Do Gallery Wall Ideas
Do you feel like your walls could use some extra love? Are you thinking of ways to spruce up the decor in your living room, bedroom or even hallway? If so, then look no further – I've got just the solution for you! You don't have to be a home decorator pro or an experienced DIY-er; with these easy to do gallery wall ideas, anyone can turn their ordinary space into something extraordinary.
Whether it's a beautifully organized grid layout featuring family snapshots and artwork, or an eclectic mix of frames and memorabilia — follow along as I guide you in creating the perfect statement piece!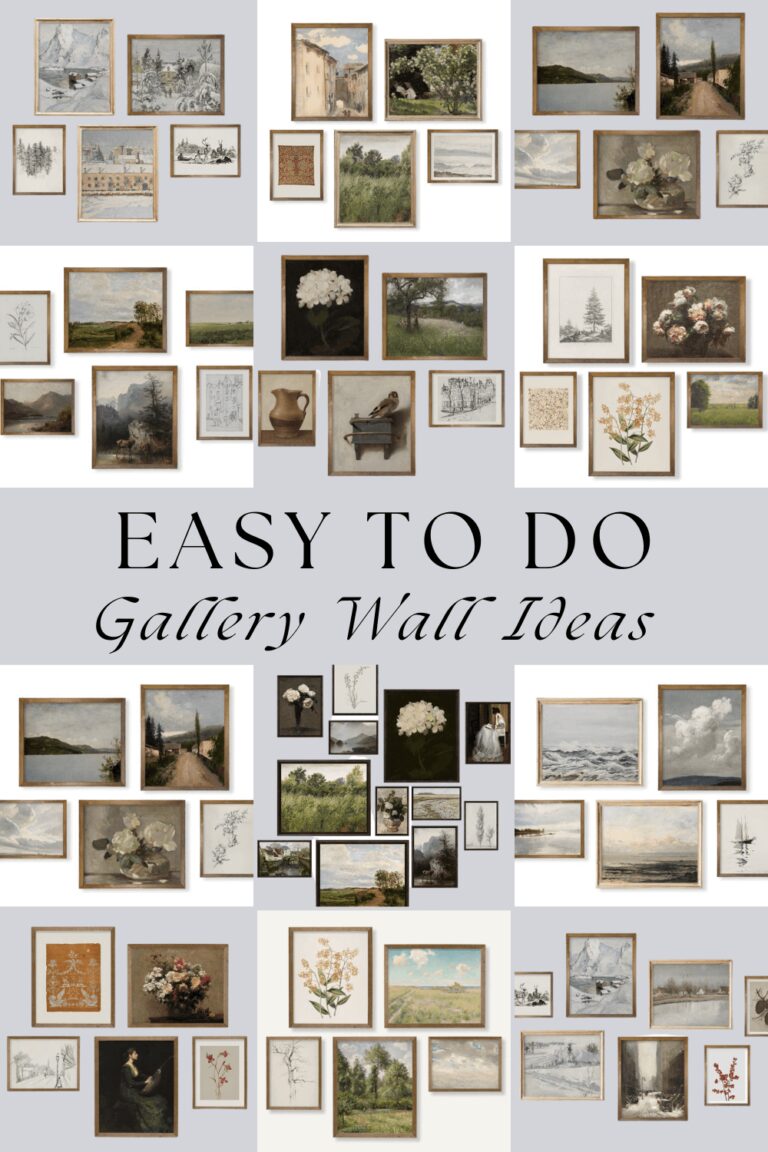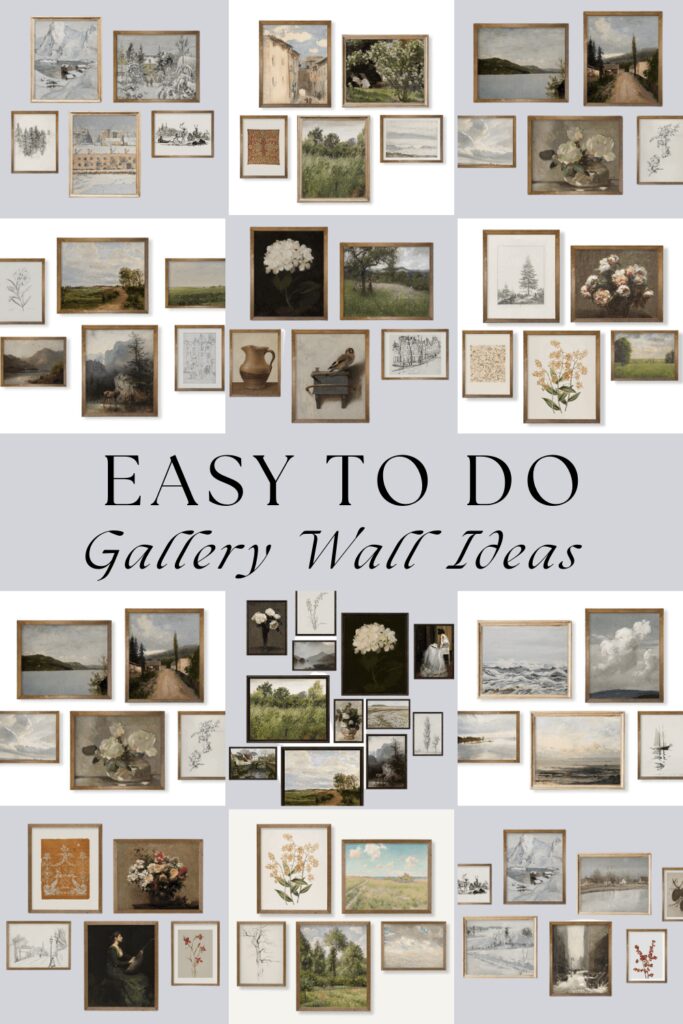 *As an Amazon Associate, I earn from qualifying purchases. This post contains other affiliate links too for your convenience. Click here to read my full disclosure policy.
Easy To Do Gallery Wall Ideas
Ok, let's be honest. Sometimes you just want it done for you. That is usually how I feel when I am putting together a gallery wall with art or even pictures. Measurements can be so hard sometimes. Give me all the ideas and just tell me what to do!
Ha! Can you relate?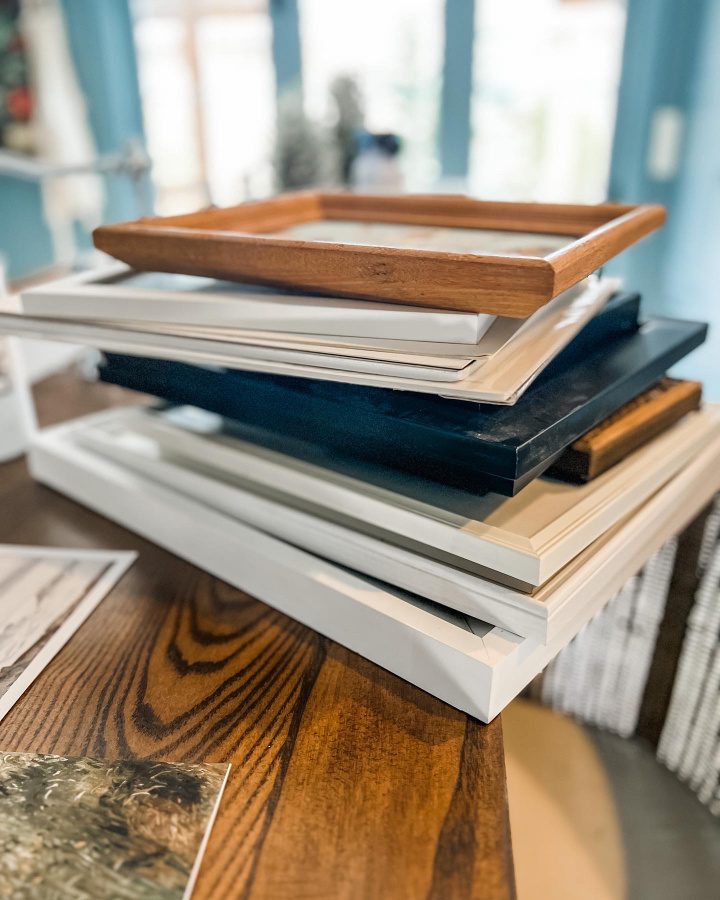 Having the option to mix and match is fun and I have definitely done this but sometimes having a template and pictures to follow just makes it easier and takes the guess work out of what can sometimes be a painful process.
Today's post will be all about where to find easy to do gallery wall ideas, the best places to shop for them and even a few tips. I hope it is helpful. Please feel free to leave any questions in the comment section at the end.
For me art is like the icing on the cake. It finishes spaces and adds that extra character we all love when making our houses into our homes!
Done For You Gallery Wall Art
I personally have fallen in love with the done for you gallery wall art prints over on Amazon. My favorite part is that you can get 5 prints for under $16 dollars. All you need to do is find frames around your home or buy your own.
These prints come with a template for how to layout them out on your wall or you can choose to hang them however you want. There are so many options and so many types of art that there is sure to be something for everyone.
Below is a picture of the ones I purchase for our laundry room. I just love them! If you want to see them in action I shared them up close and personal in my AMAZON LIVE linked here!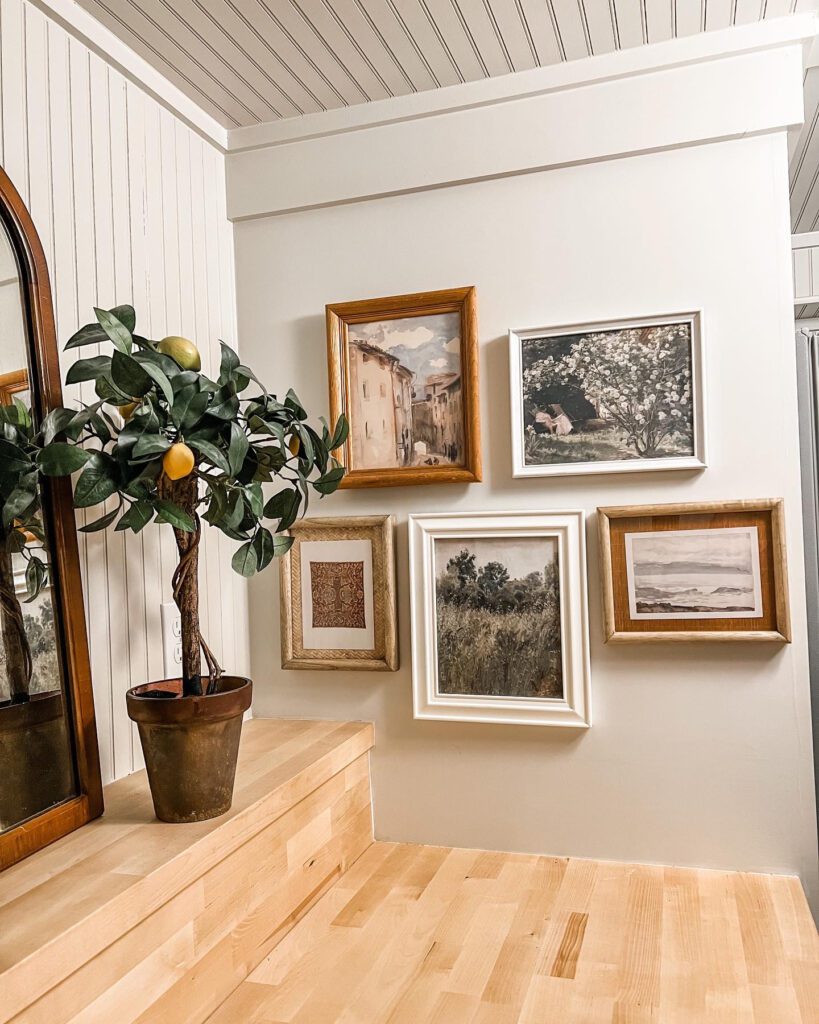 I have also seen where Pottery Barn offers a Livingroom Art Gallery in a box. It is quite expensive but they come framed, some with mats and backed with d-rings for easy hanging. You can buy all 6 framed prints together or buy them individually. There are several options on their page and very high quality.
Another company that helps you with gallery wall ideas for both art and personal pictures is a website called Mixtiles. I have not personally used them but I have had several friends who have and absolutely love them. They help you choose a configuration, upload your pictures and even choose a frame. A fun option for any space and they often offer discounts!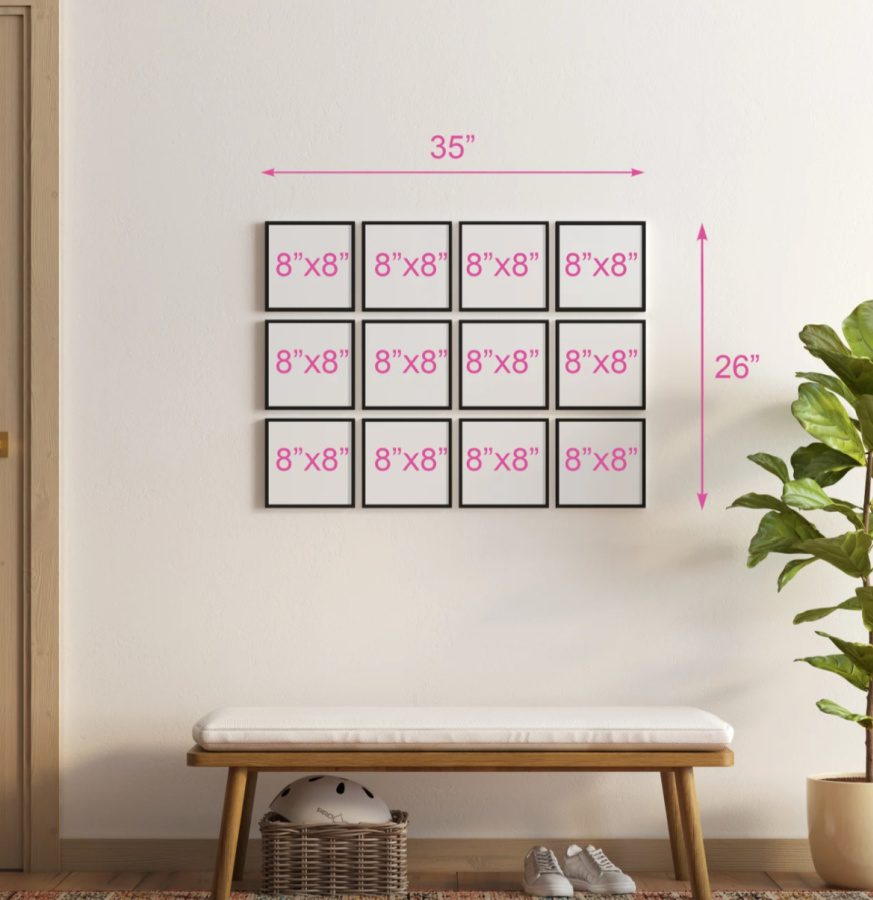 Where have you found great gallery wall ideas? I would love to know!
Places To Shop For Inexpensive Art
It's no secret that art can be expensive Sometimes having that one pricey piece you purchased is not enough and you want to surround it with affordable art options that still look nice and compliment your favorite piece. Below is a list of some places that have excellent art that is affordable and stylish!
Designer Curated Affordable Art- Juniper Print Shop
Shop Home Revivals– Vintage Art Prints (My friend's small shop)
ETSY– so many amazing small shops all in one place
AMAZON– this is a link to my personal idea list!
Society 6– a lot like Etsy & full of small shops
MINTED– a wide variety from prints to wall murals
Thrift Stores or Flea Markets or Facebook Marketplace
National Gallery of Art– over 50,000 free downloadable images
Tips On How To Hang a Gallery Wall
Hanging a gallery wall can be tough but here are a few tips that just might help!
Choose your artwork. This is the fun part! You can choose family photos, prints from your favorite artist, or even mix and match. Just make sure that you love the pieces you choose.
Choose your frame style. Once you've chosen your artwork, it's time to pick out frames that will complement it. If you're going for a more formal look, choose matching frames in a classic style. If you're going for a more eclectic look, mix and match different frame styles and colors.
Layout your gallery wall. This is where things can get a little tricky. You'll want to take into account the size of your artwork and frames, as well as the spacing between each piece. A good rule of thumb is to leave about 2-3 inches between each piece of art.
Hang your artwork. Once you've figured out your layout, it's time to start hanging! Start with the center piece and work your way out from there. Use picture hangers or nails that are appropriate for the weight of your artwork and frames. And don't forget to step back and admire your handiwork once you're done!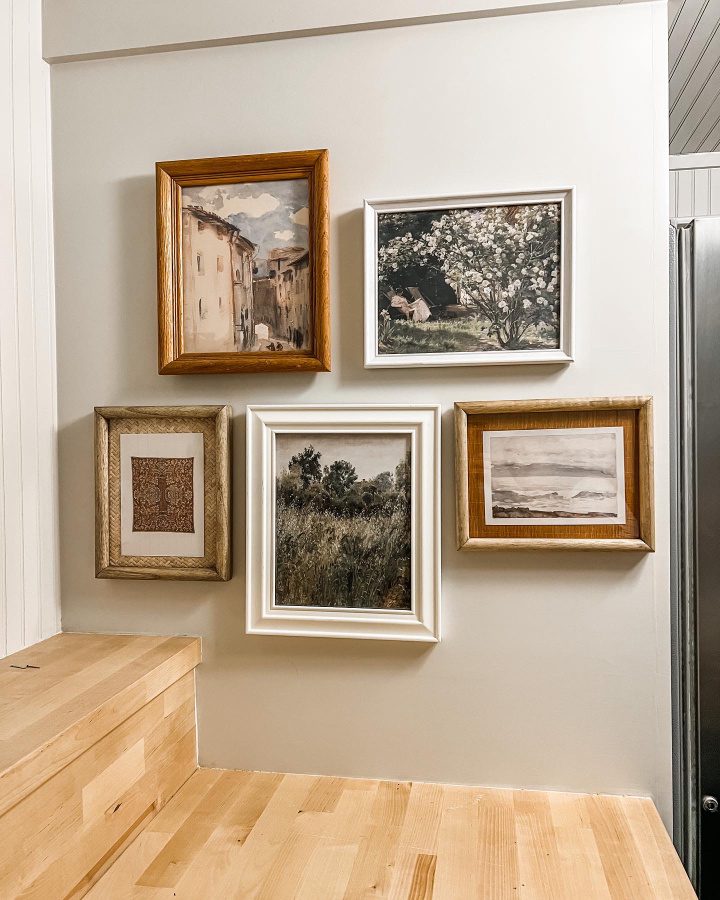 Gallery Wall Inspiration
Before I begin a gallery wall project I always look for inspiration. I like to gather inspiration from Pinterest, magazines, blogs and Instagram. Below are a few images with gallery wall ideas that are inspiring me lately!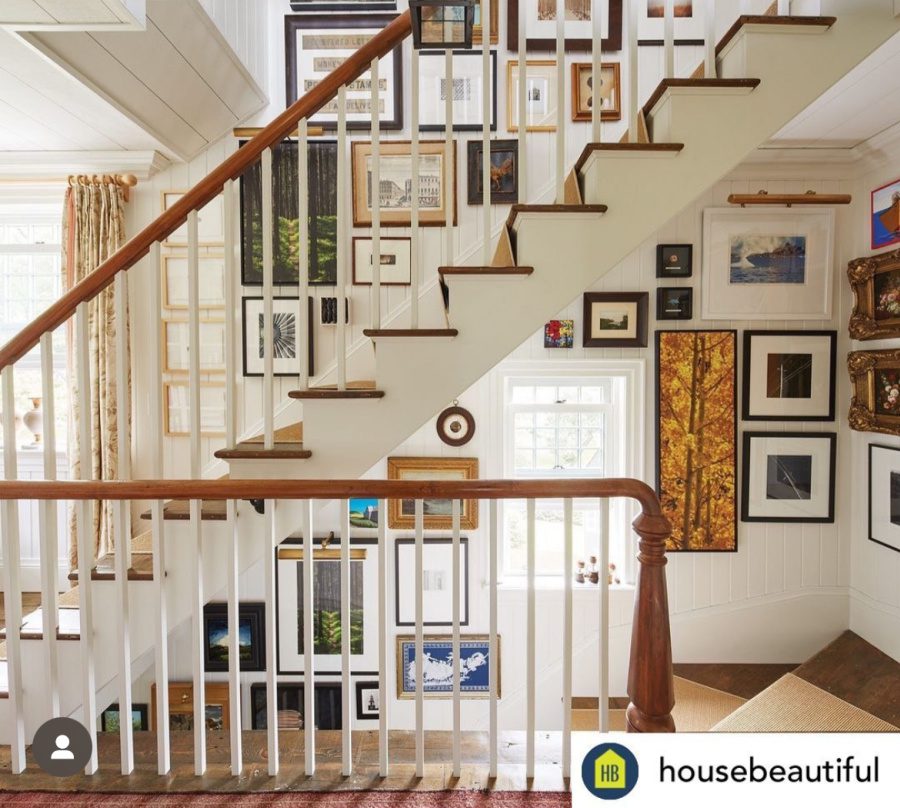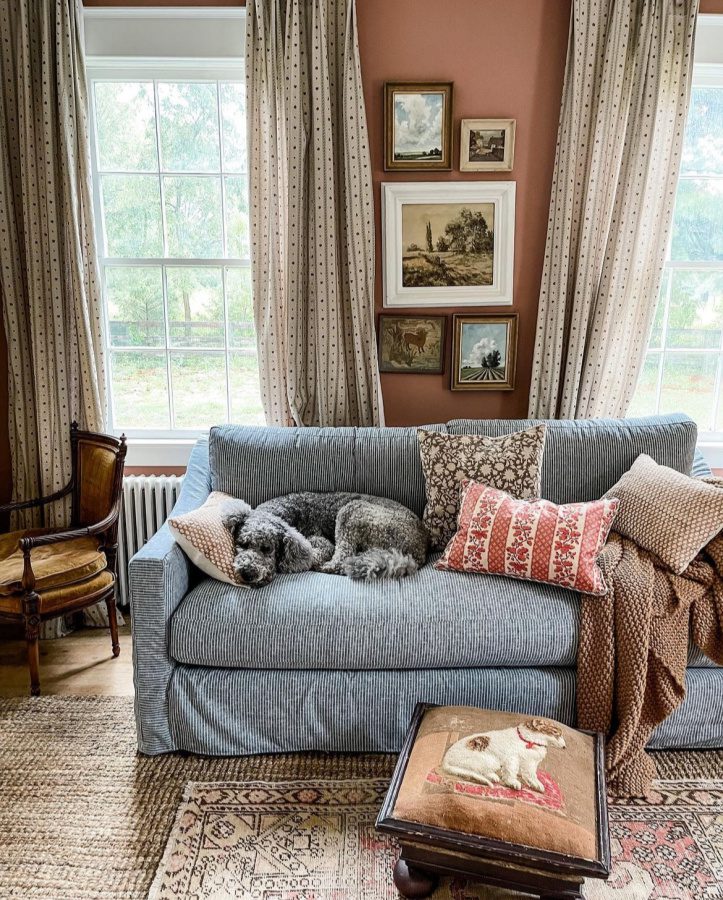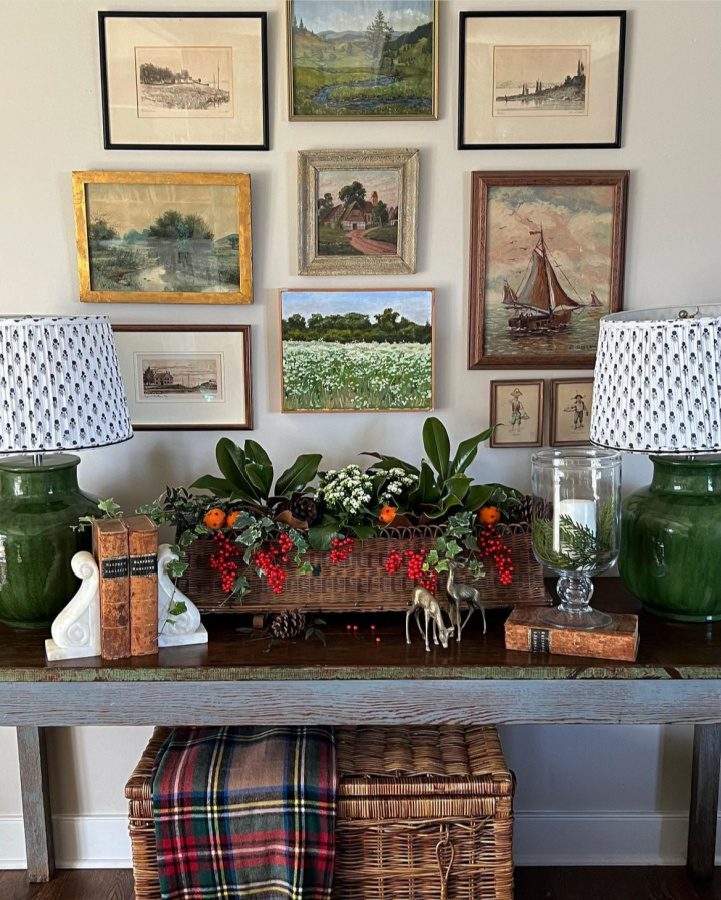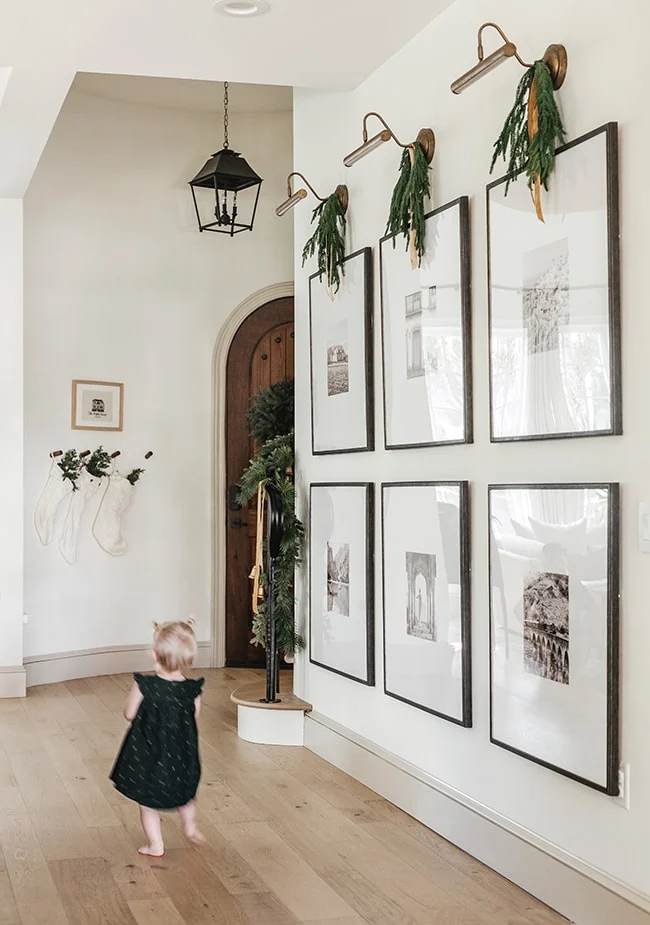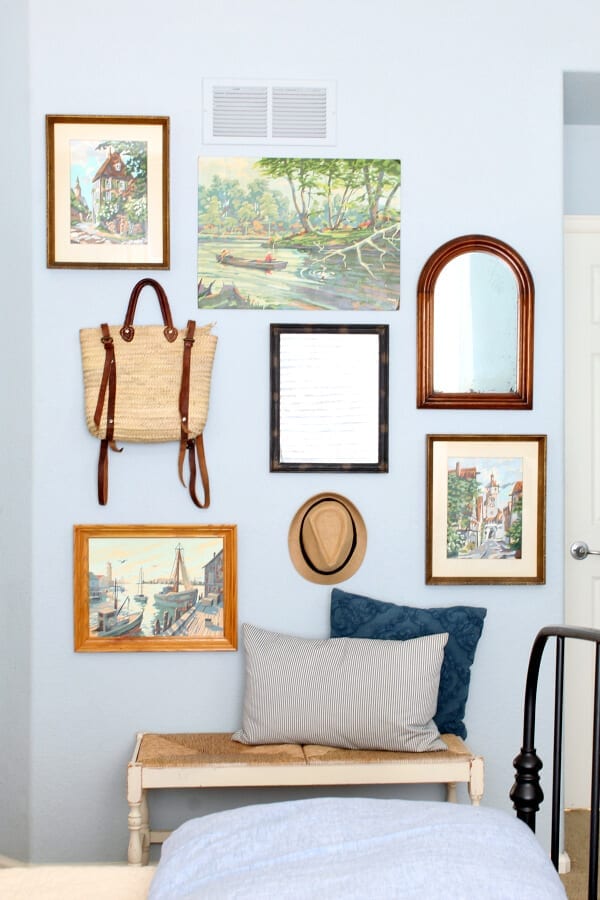 Easy to Do Gallery Wall Ideas
Bringing a gallery wall into your home is a great way to make any space stand out and become beautiful. Embracing these easy to do gallery wall ideas, framing art pieces specifically for your walls and understanding how to hang a gallery wall will help get you started.
Whether you're looking for an artistic and statement-making look or just want something more subtle, there are plenty of gallery wall art options available, as well as decor items that can be used to create interesting designs. You can have fun shopping for and purchasing pieces with unique styles and stories, or create something special that'd just for you.
Gallery walls provide wonderful opportunities for self-expression—so go ahead and use them to turn the perfect vision in your mind into reality! Are you ready to add a gallery wall to your home? Start planning today!
I'd love to have you hang out with me some more! Feel free to follow along with me on any of the platforms linked below.
LTK | Facebook | Instagram | Pinterest | Amazon
xoxo,
Kelly