Our New Blue Accent Chair From Wayfair
---
I can hardly wait to tell you all about our new blue accent chair from Wayfair!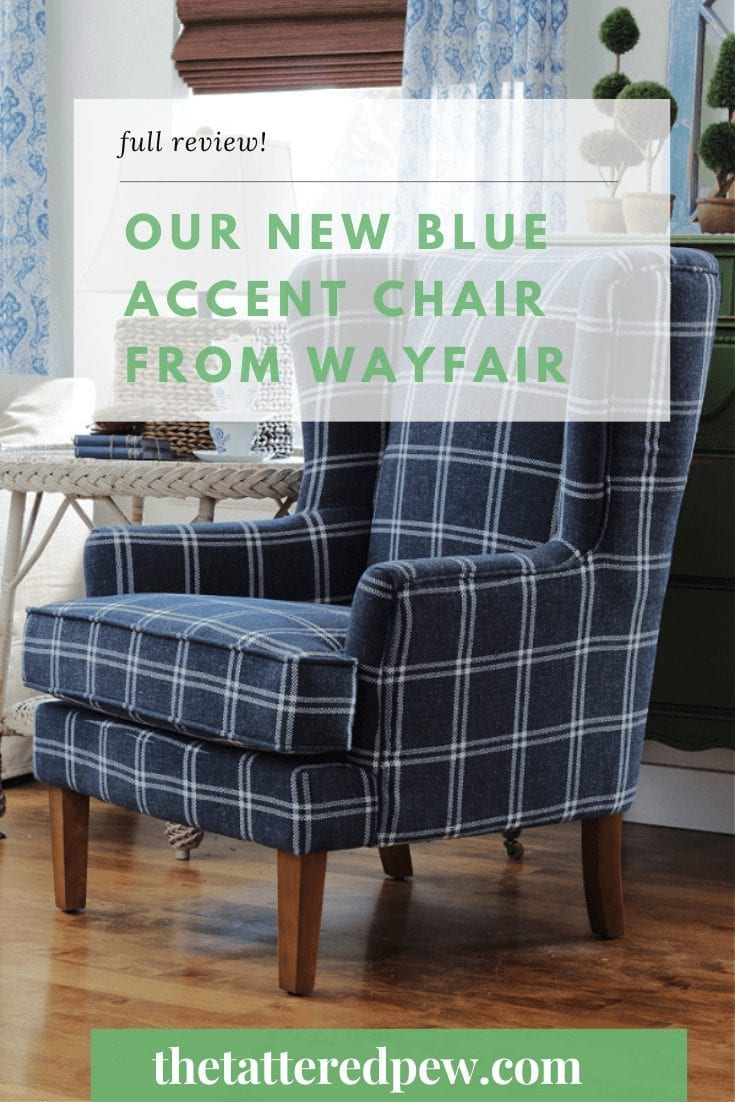 Thank you to Wayfair for generously sponsoring this post. All opinions are my own. Thanks for supporting the brands that keep The Tattered Pew sharing! This post contains some affiliate links for your convenience. Click here to read my full disclosure policy.
Our New Blue Accent Chair From Wayfair
If you read my post last week then you know I have been on the hunt for a new accent chair to add to our family room. I have been a bit picky about what chair we should pick because the chair sits is in a prominent spot in our home.
It sits directly in front of my favorite boxwood green dresser and is the first thing you see as you walk into our family room.
Well friends after much debate, I ended up picking the Cheney Wingback! I bet that surprised a lot of you!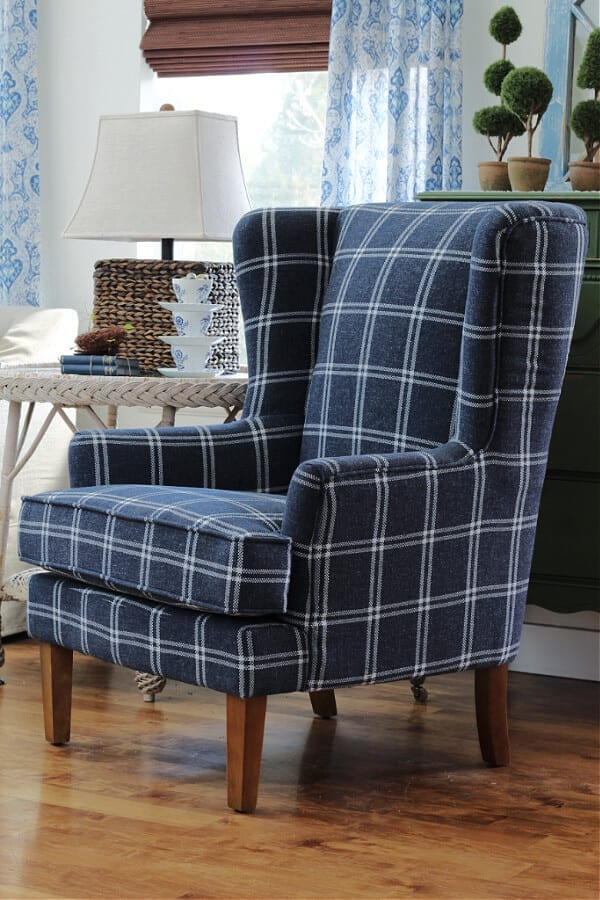 It wasn't an easy choice and I want to thank  all of you who voted for your favorites over on Facebook!
I found so many great blue and white options by doing a bit of on-line shopping on the Wayfair website. It was so much fun and I narrowed it down to 9 beautiful blue and white accent chairs and in the end, the Cheney Wingback won me over!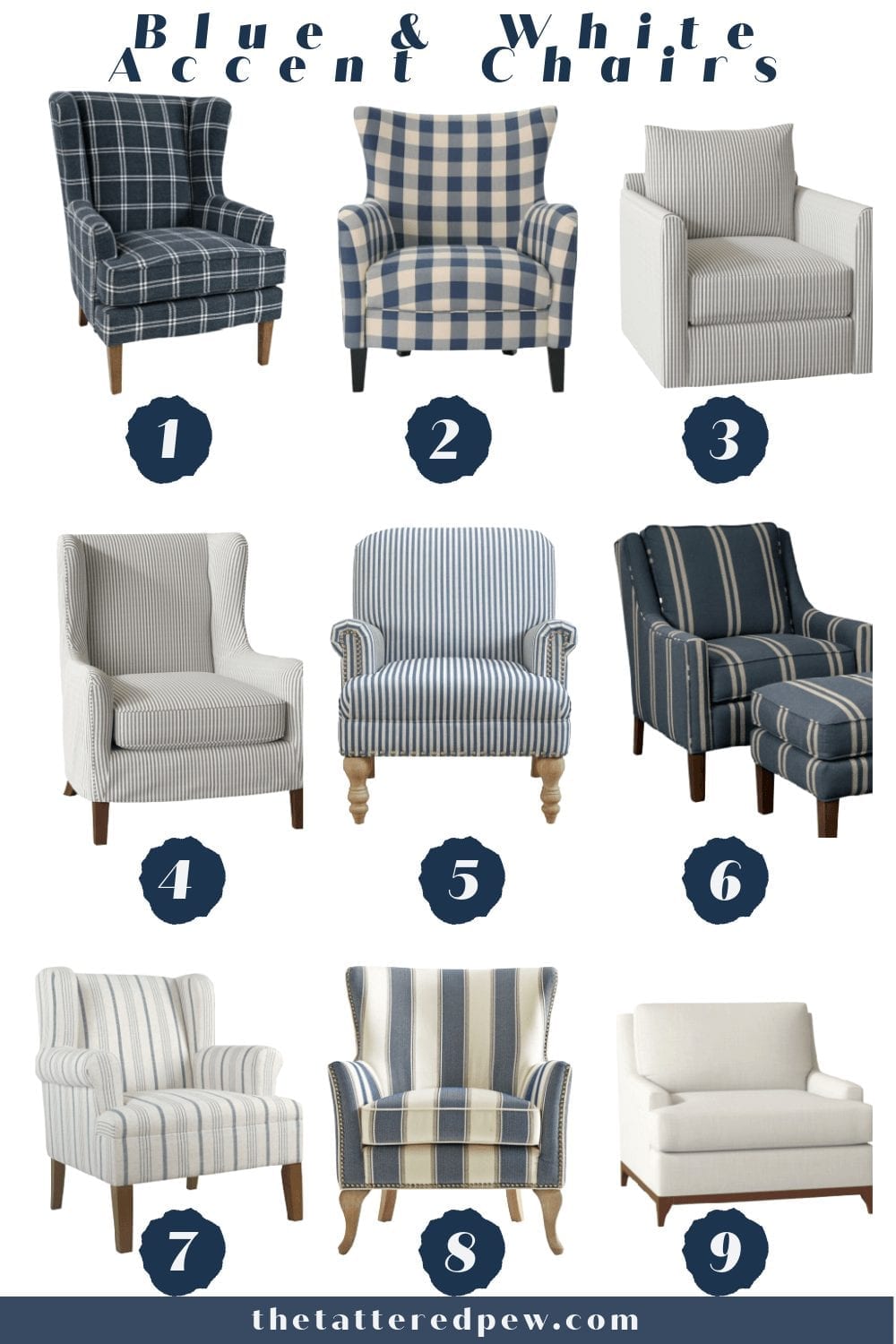 I just couldn't stop thinking about it. (That's usually a good sign, right?!) I mean she is beautiful!
What number do you love?
Accent Chair Must Haves
I had two things that I was looking for in an accent chair…I wanted it to be blue and white to go with our existing décor.
Ok honestly I had a few other requirements as well.
I wanted it to be a statement piece type of chair that had a classic style and would stand the test of time! Nothing too trendy. Also, I didn't want to have the same chair as anybody else.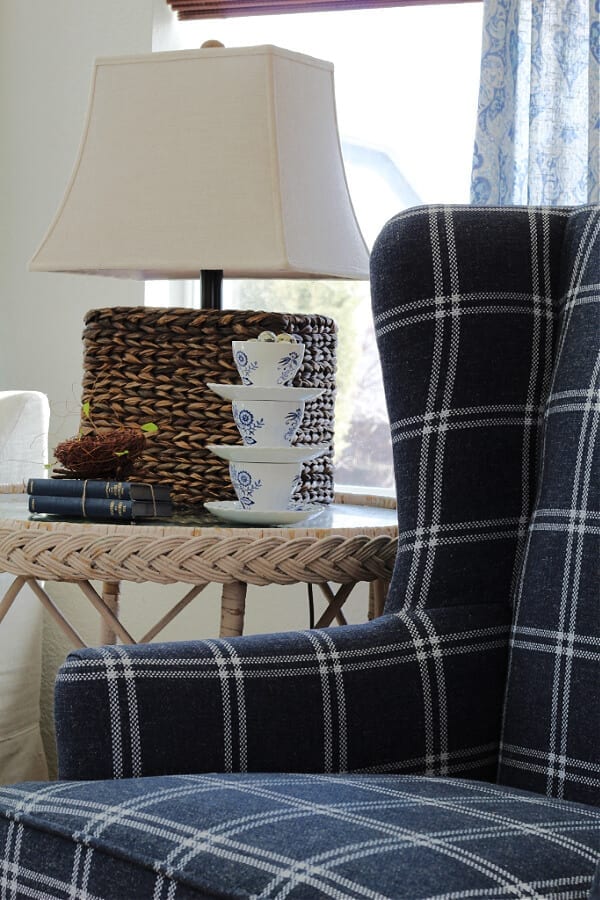 And after sharing the 9 blue and white accent chairs I picked over on my FB page, and having only one of you vote for the Cheney, I guess that was confirmation that my choice was in fact unique! Ha!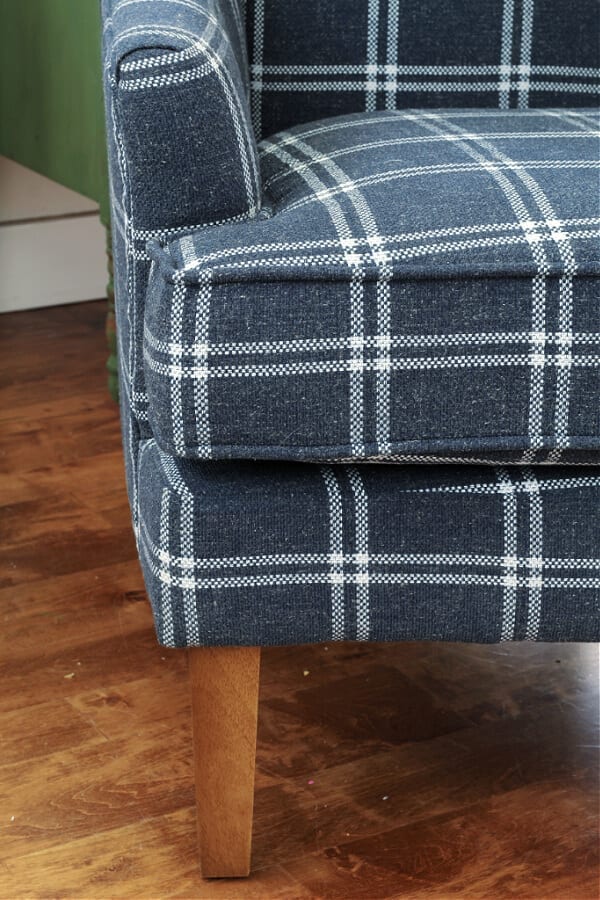 A few other things we were looking for was a fabric that was durable and would hide the dirt from our 2 dogs and four kids. This chair met all of our criteria and more! Do you notice some of that said dirt under the chair? 🙂
How Do You Pick An Accent Chair?
 I am often asked how do you pick out and buy an accent chair on-line?
It's simple.
You do your research, you narrow it down and you go with your gut. Choose the accent chair that speaks to you and that you are naturally drawn to. You don't worry about what others think because in the end it is going in your home and it needs to fit your needs and make YOU happy!  And if you get it in your home and you don't love it, then you return it and try again. Sometimes taking a risk on furniture can bring high rewards!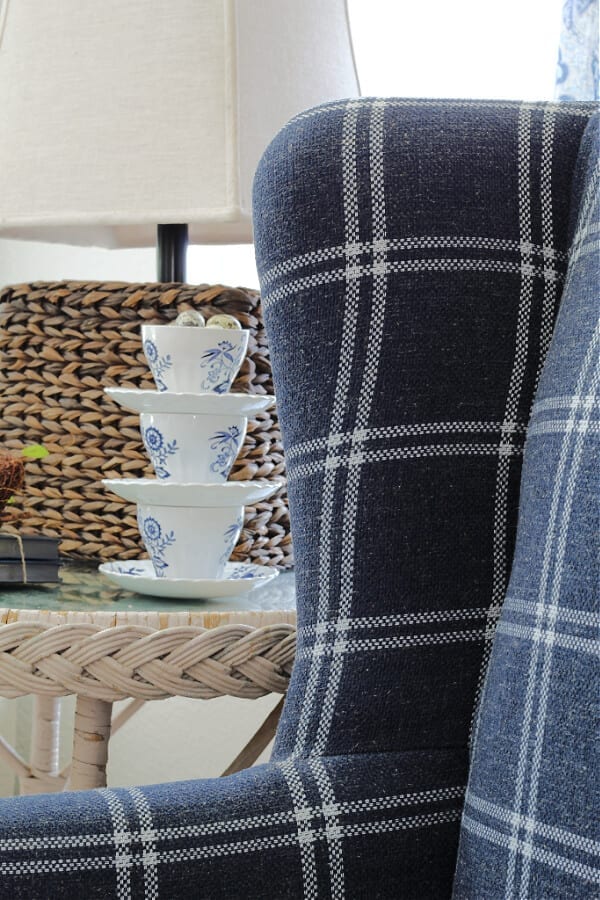 The Delivery
Over the last few years I have found that ordering from Wayfair is the best, especially when you can't be home during the delivery! When our chair was delivered to our porch they sent me a text message with a picture confirming it was indeed on our porch. How cool is that?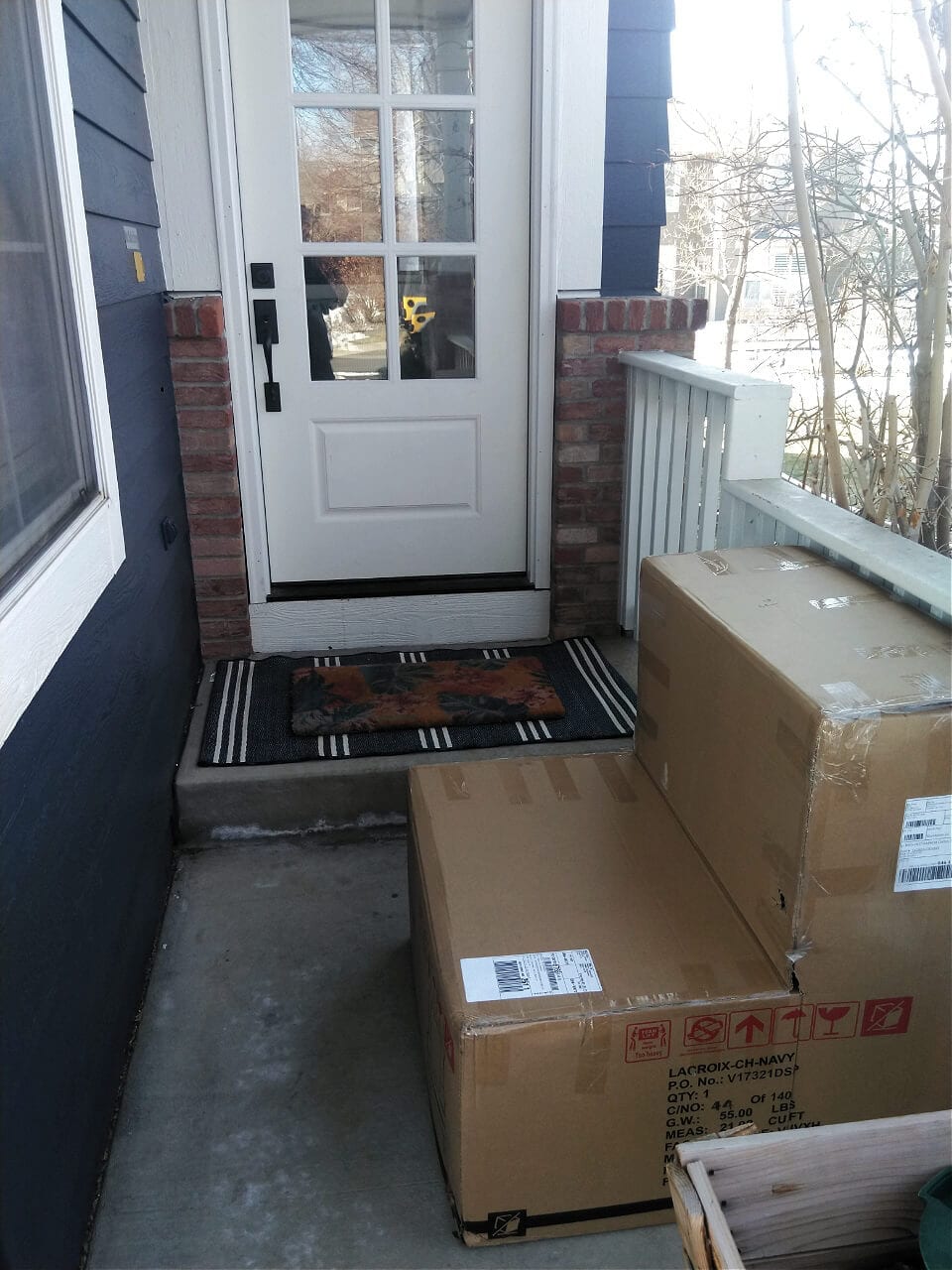 You better believe that when I got that text and picture of the huge box on my porch that I was longing to get home to open it! The same thing happened when I ordered my dresser and our kitchen stools.
Loving Our New Blue Accent Chair From Wayfair
Let me just tell you that I love the classic lines of this chair and the plaid pattern! It's a modern twist on a classic style. I never in my wildest dreams thought I would fall in love with a wingback chair but somehow I have.
The fabric on this chair is polyester and it is very well made. It's not soft but it's not scratchy. It's just right!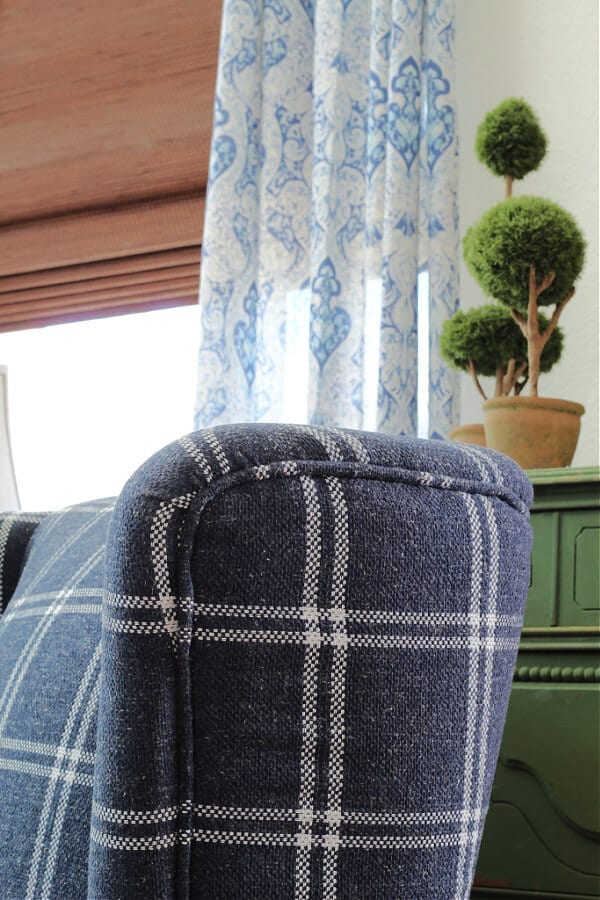 This chair is surprisingly comfy since the seat cushion is rather firm. Recently I have caught my kids and even my hubby sitting in it. Each time I ask them what they think and they have all said it is great. Very supportive!
If you are looking for a plush chair that you can sink into this is not the chair for you. But if you want a chair that you can curl up in and write a blog post or read a book in? Then this might be the chair for you!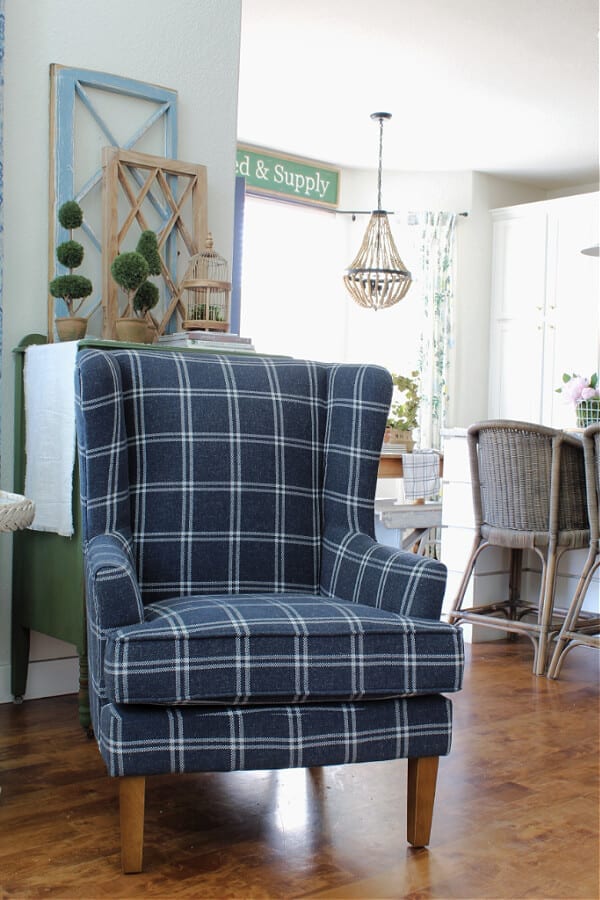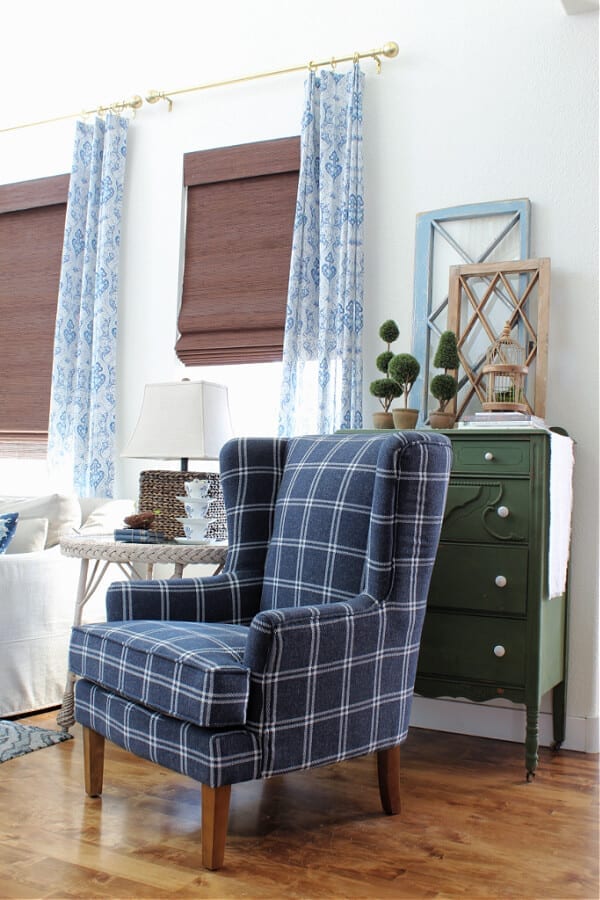 Our New Blue Accent Chair From Wayfair
This chair fits in perfectly with my décor and color scheme. I couldn't be happier with my choice and I feel like it adds so much life to this space! It's like I found the missing piece to the puzzle.
So, what do you think? Did I surprise you with my choice?
If you yourself are in the market for a new accent chair than I encourage you to check out Wayfair's excellent accent chair selection! If you have any questions about my chair or any thing else please leave your questions in the comments below. Now I'm off to watch Rock The Block on HGTV in my new chair.
XOXO,
Kelly