3 Easy Ways to Transition Your Home Decor from Summer to Fall
Today's post is all about 3 easy ways to transition your home decor gradually from Summer to Fall. I'm still savoring summer here in Colorado but I am getting excited about Fall!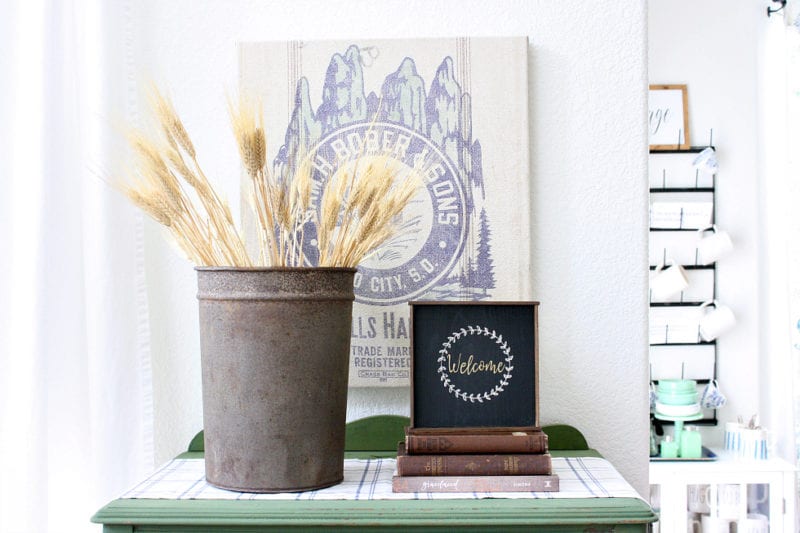 Now that I am no longer teaching Fall has a different feel for me and I have been having fun planning how I will slowly start adding touches of Fall to our home. I thought you might enjoy how I go about it!
*As an Amazon Associate, I earn from qualifying purchases. This post contains other affiliate links too for your convenience. Click here to read my full disclosure policy.
Fall Already?
I know, you may be saying it's too early for Fall decor Kelly, well just hang in there with me. I know a few of you are already starting to think about your Fall and in my mind it's never too early to start planning, right?! Plus those 'ber months are only a few weeks away!
Fall might just be the best time of year…football, cozy weather, warm drinks, changing leaves…do I need to go on?! But don't worry I'm easing myself in and really won't fully transition to all things Fall until September.
3 Easy Ways to Transition Your Home Decor from Summer to Fall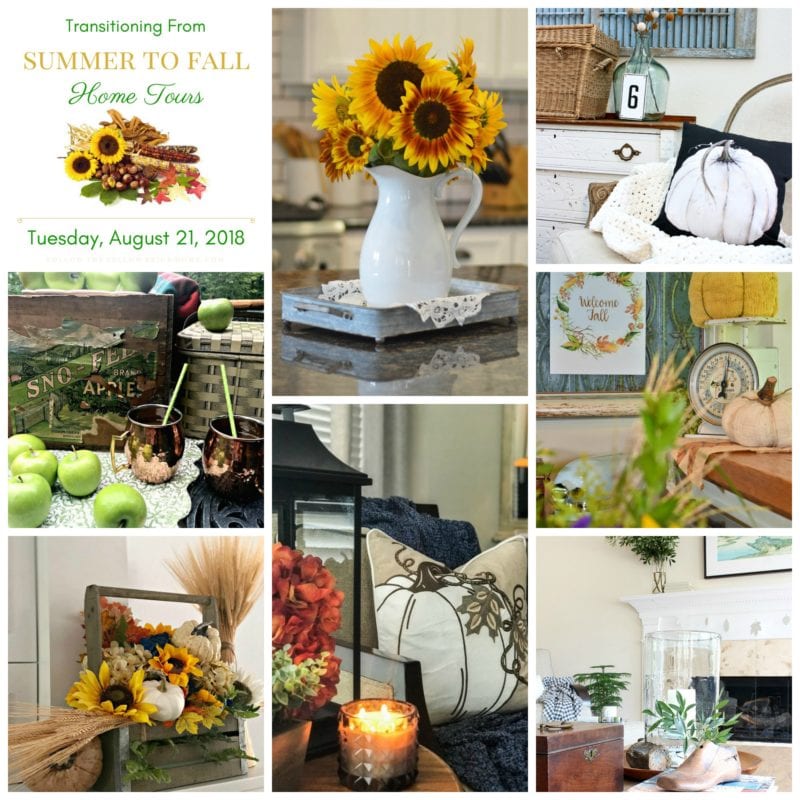 Today I am thrilled to be joining some amazing bloggers for a fun tour of 22 different homes full of fabulous early Fall inspiration. A huge thank you to Amber of Follow the Yellow Brick Home for hosting this tour and including me in this Summer to Fall Decor Tour. If you have just come from The Painted Hinge 's tour, welcome! Aren't her Fall touches just awesome?
Tips and Tricks to transition from Summer to Fall
Just so you know my home isn't ready for Fall at all yet and below you will find a mix of pictures from our old and our current home, as well as how it will happen gradually.
However, it has been rather cool around here lately (80's ha ha) so I am excited to share three simple and easy things I do around our home to gradually usher Fall in with some style!
1. Change up Those Pillows
One of my favorite decor items is pillows! Shocker, right?! I have a closet in our basement that is jam packed with all pillows. I really need to organize it. But I loving having access to choices!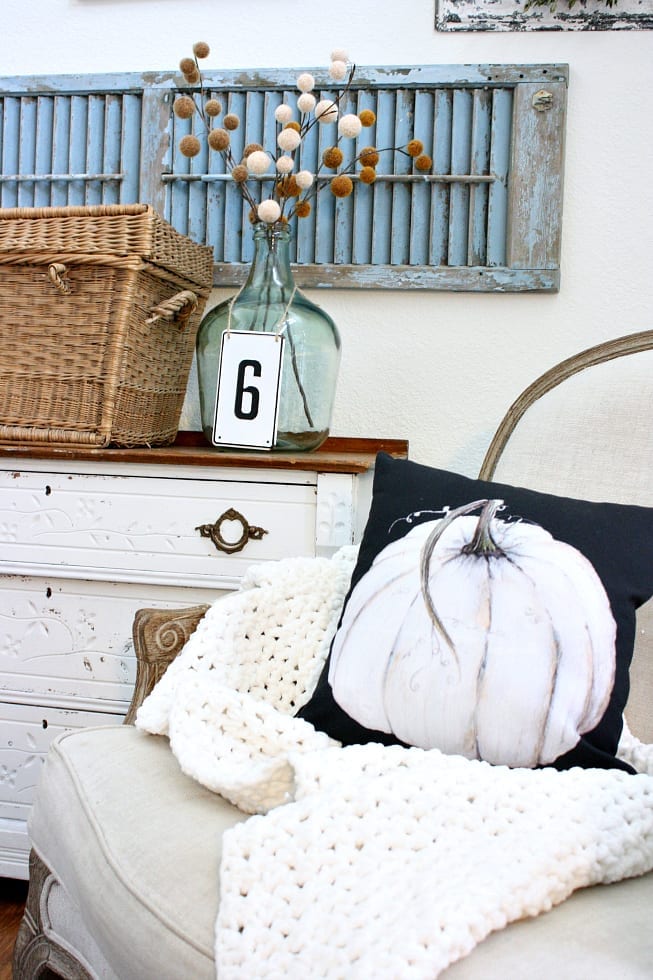 You can always switch out your pillows for a quick and simple new look. I chose to add this beautiful dark navy blue pillow with a white pumpkin on it a few Falls ago in our old home and my kids loved it. I loved that it was blue and a bit non-traditional for Fall.
And I have my eye on these darling pumpkin shaped pillows from Pottery Barn! I'm still trying to see if I can find a cheaper version.
Changing of the pillows =instant fall!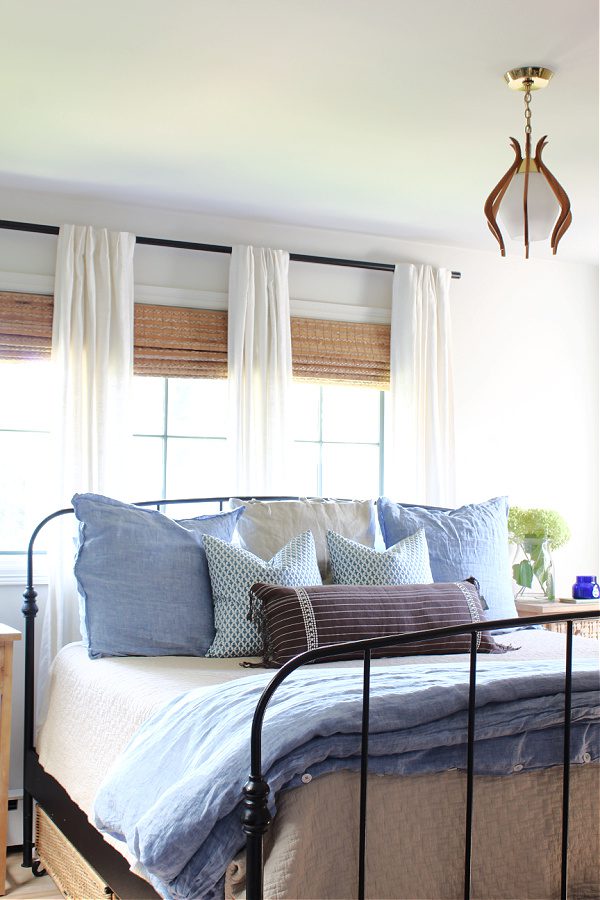 Don't forget those pillows on your bed too!
By simply adding this long brown lumbar pillow from Target (no longer available sadly) I was able to add a casual nod to fall in our bedroom last year. The blue patterned pillows are from my favorite place to find pillows on Etsy, Linen and Oak!
I also love to add velvet pillows and sweater pillows because they add immediate warmth. Great textures equal easy transitions to the next season.
Shop More Fall Pillows Here

2. Throws, Blankets and Quilts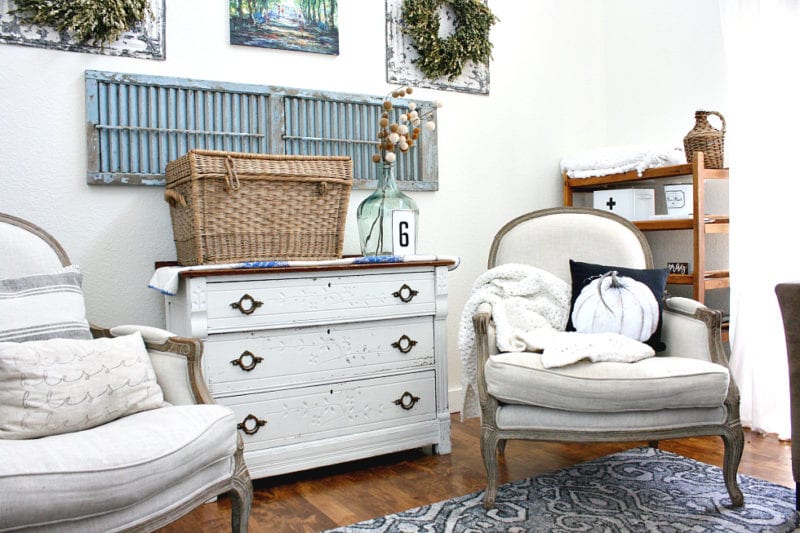 I'm sure most of you do this but when the weather starts cooling down and I am ready to transition to Fall decor, throws, quilts and blankets are one of the first things I grab!
You can never have enough. Am I right?
In the Fall I love the large knit throws like the white one seen above that my friend Karen made me. I love the warmth and the coziness they add to any area.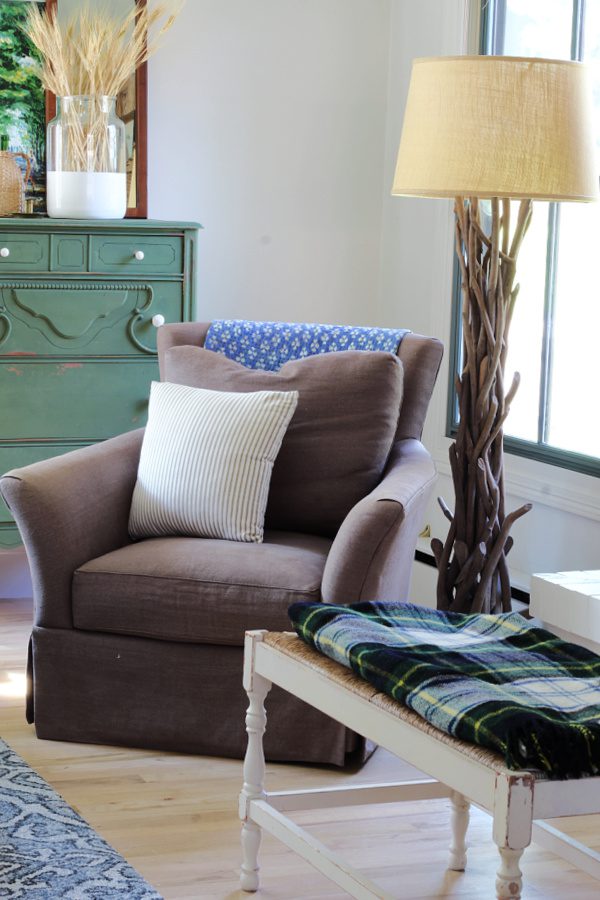 Plaid throws always make their way into my Fall decor as well. I am constantly keeping my eyes peeled for vintage throws at flea markets. Having items in my home that have stories or are different from everybody else makes me happy and plaid throws are perfect for that!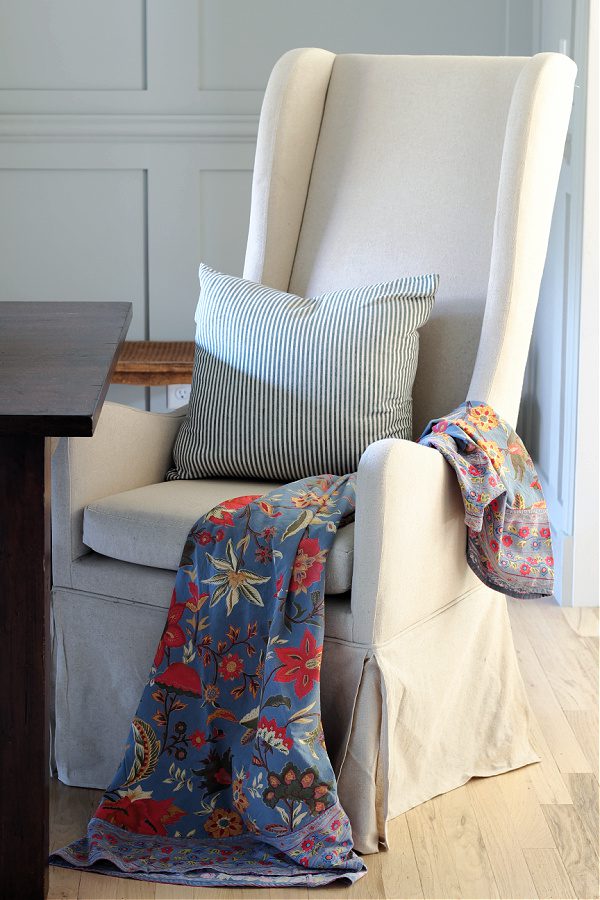 I have also been know to use tablecloths to add color like I did here on the end of our bed and this chair in our dining room. More and more lately I have been drawn to florals as well!
Shop the Post!

3. Accessories
The third thing I always do when I begin moving and transitioing my decor from Summer to Fall is to look at what accessories I have that can be switched out.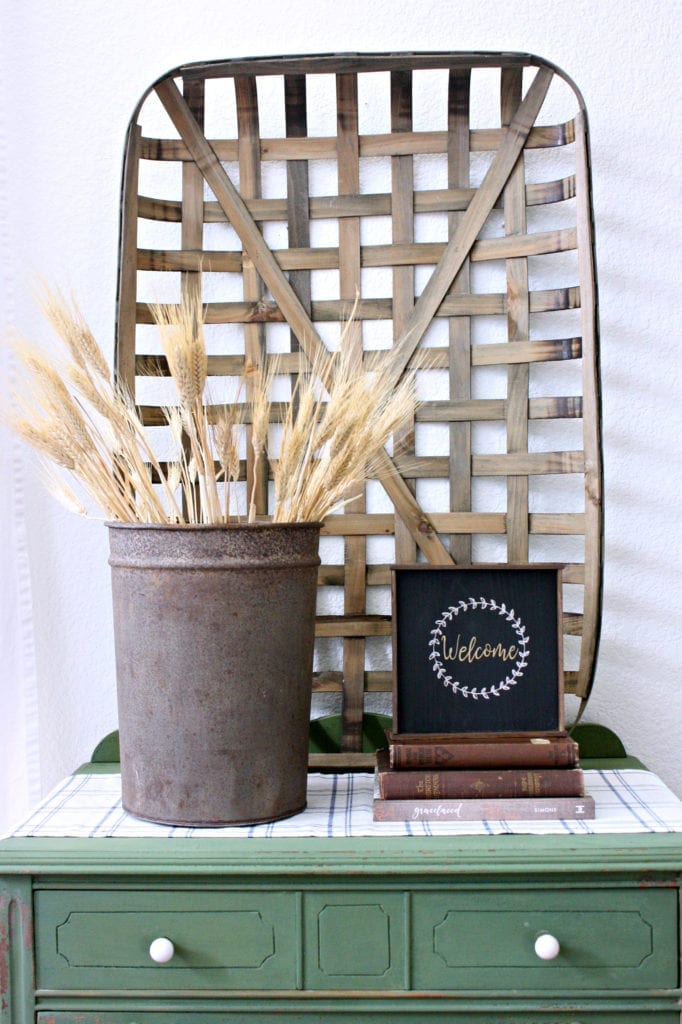 I like to take flowers out of my vases and added fall colored poms, switch out the art above dressers, and even add wheat, wreaths, baskets and signs. Each of these small touches are easy and quick and add that natural element that works perfectly for Fall.
I also love adding dried hydrangeas to as many spots as I can! Free and pretty decor is always a good idea.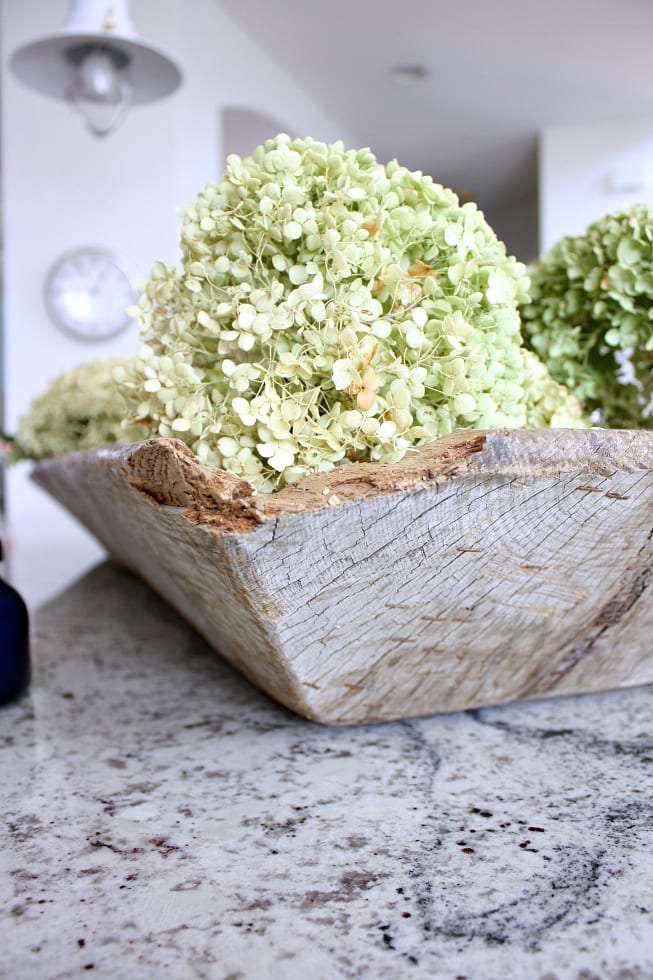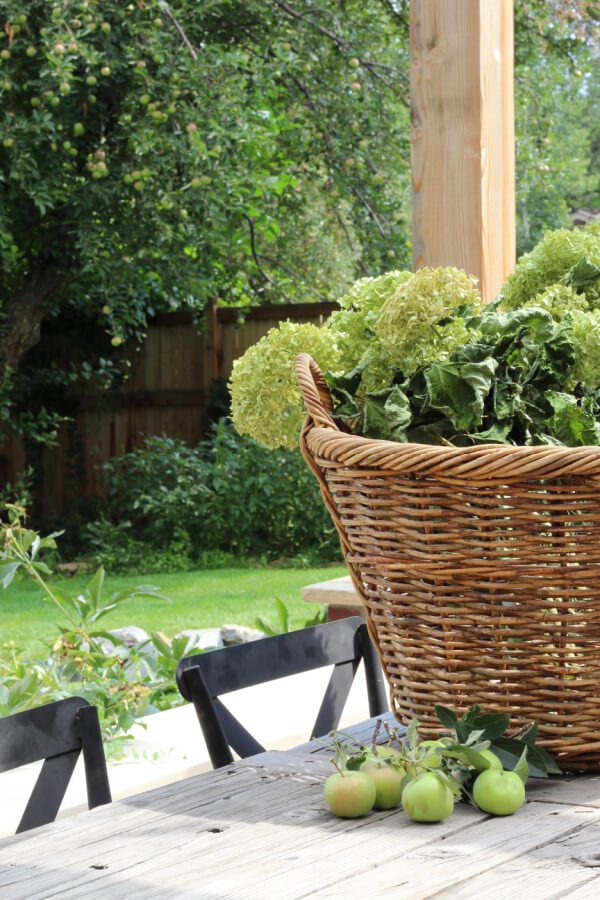 The best part is that I am able to shop my own home or garden and spend no money! It's all fun to see how my favorite Boxwood green dresser has transitioned to our new home so well!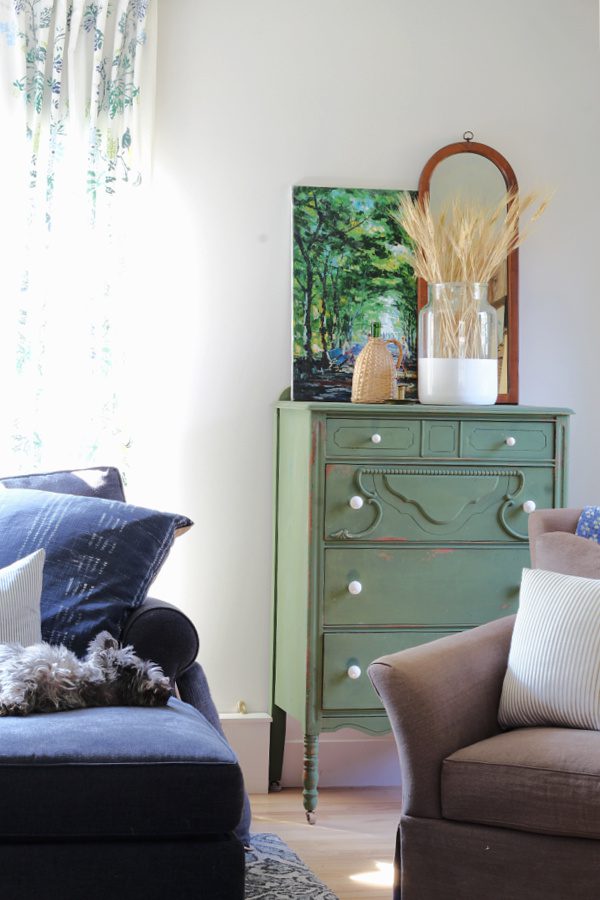 Last year's Fall mantel was a lot of fun to dress up. I haven't started to change our summer one yet this year, but I have been thinking about it for sure! When it comes to Fall accessories nothing is off limits. Think about:
books
collections
art
mirrors
wreaths
dried florals
items with texture
don't forget items from your yard too!
Below I have shared a few cozy fall finds that I currently have my eye on. It's been fun to create idea lists over on my Amazon Storefront and I thought you might like to see what I have found for Fall.
Shop all cozy Fall finds here!
We have the jute rug above as a runner in our kitchen, the vase, blanket and I also have those sweet felt pumpkins and the pampas grass! I love Fall decor.
Check out this collage of gorgeous Fall decor as well!
Easy Ways to Transition Your Home Decor from Summer to Fall
I hope you enjoyed those 3 easy ways for transitioning your home decor from Summer to Fall. I won't be adding my "full on Fall decor" for a bit but I might have had my eye on some mums at the grocery store yesterday.
The pumpkins can wait until late September but the flowers are always hard for me! 😉
Do you have the itch to switch yet or is it too early for you? How and when do you switch out your seasonal decor? If you have any decor tips for getting your home Fall ready I would love to hear about them. Please leave me a comment below.
xoxo,
Kelly
Make sure you stop by Kristin's blog White Arrows Home for even more Fall inspiration as well as the other bloggers listed below. Happy Decorating and thank you so much for stopping by!
Did you like this post? PIN it!