How to Style and Decorate a Vintage Plant Stand
Today I am going to show you how to style and decorate a vintage plant stand. Also included in today's post are the links for 10 wonderful bloggers sharing their own fun Fall "I DIYed" that posts.  This fabulous blog hop is hosted by Jen from Noting Grace , all other links can be found at the bottom of my post. If you are coming from Bree at The Home Making Momma , welcome!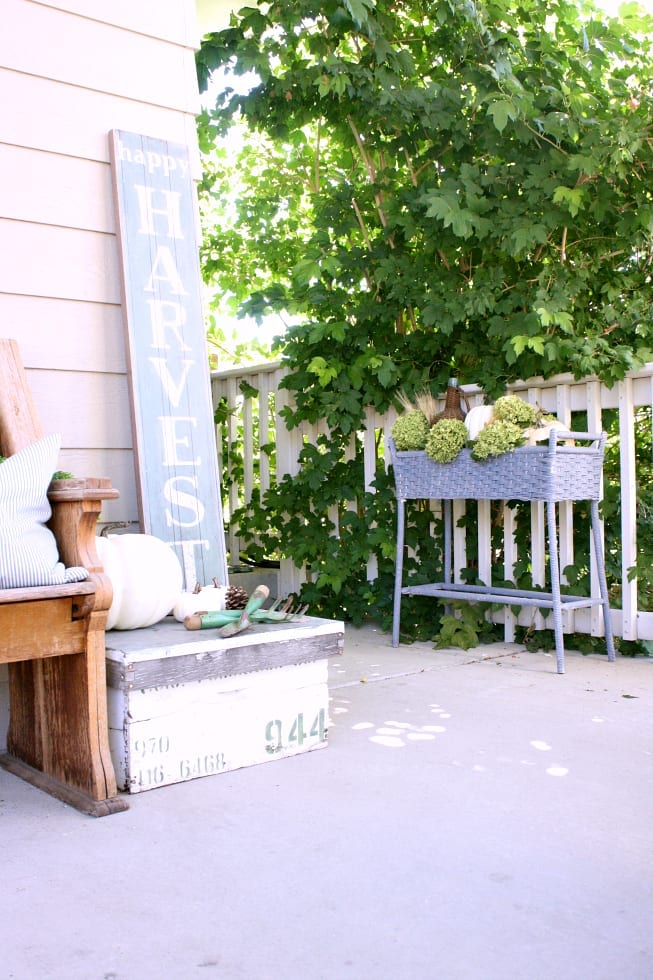 Our Vintage Plant Stand
A good vintage plant stand has always been on my "items to hunt for" list, so when I found this beautiful blue one at a vintage market awhile back I knew we were a match made in heaven.
Inspiration
Our vintage plant stand usually lives on our porch and was most recently spotted on my  Fall inspiration porch but can sometimes be found inside our home like last year's fall kitchen.  As you may know,  if you have visited here before, I love to move things around so nothing is ever safe just in one spot.
How to Style and Decorate a Vintage Plant Stand
I love the ease of styling this planter and wanted to share the steps I used to style it for Fall on my porch. A quick and simple DIY that anyone can do.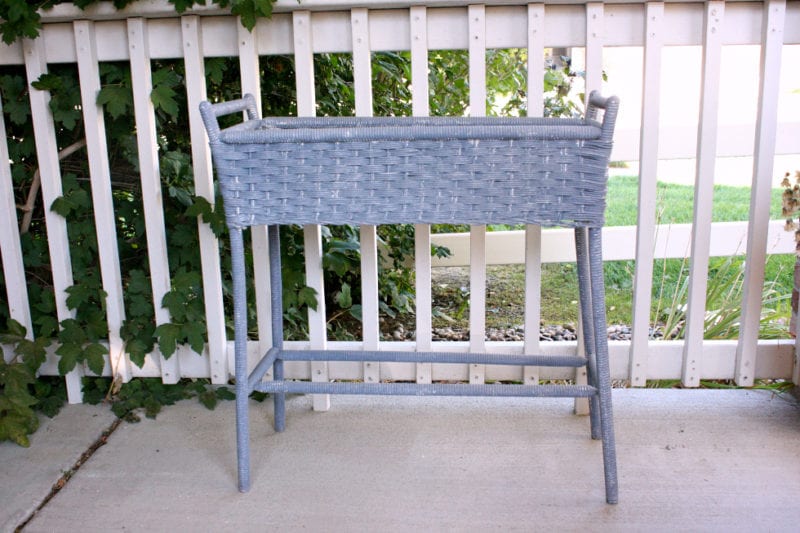 Step One
Gather your supplies and decide on a theme. I wanted a natural Fall look so I gathered wheat stems, dried hydrangeas , faux pumpkins, and one statement piece. I literally walked around my house looking for items and this is what I came up with. TIP: Don't forget to keep it simple! Too many supplies will overwhelm you.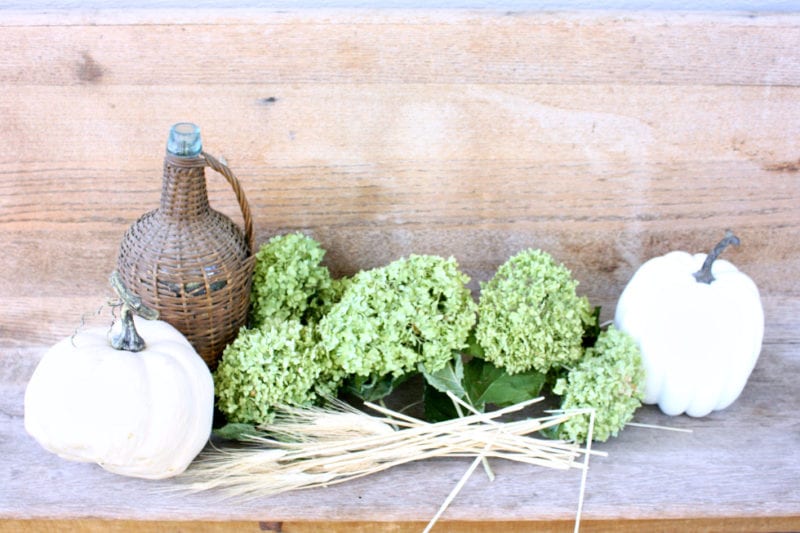 Step Two
Place your largest items in the plant stand and spread them out. I like to decorate with odd numbers as you can see in my picture below. It's also important to give them various heights.  This creates visual interest and allows for decorations to be added in. TIP: I used a mug to add extra height to the white pumpkin in the middle.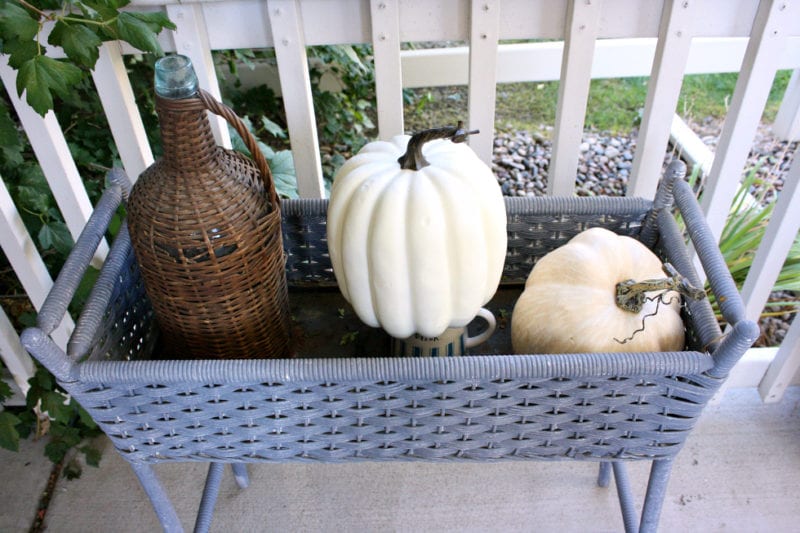 Step Three
This is the fun part and where the styling and decorating happens! I took my dried hydrangeas and started placing them in the open gaps. Make sure to push them down so they are secure and will stay in place.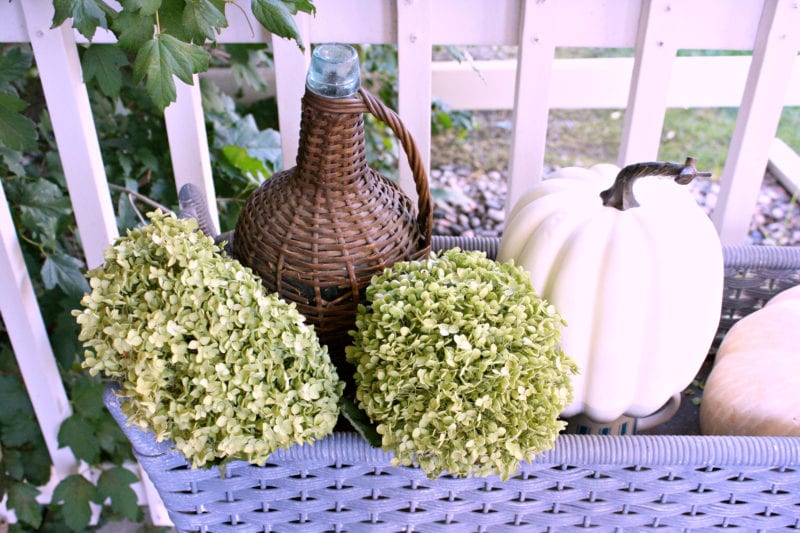 Then you can add and tuck in the wheat for more texture and some Fall flair.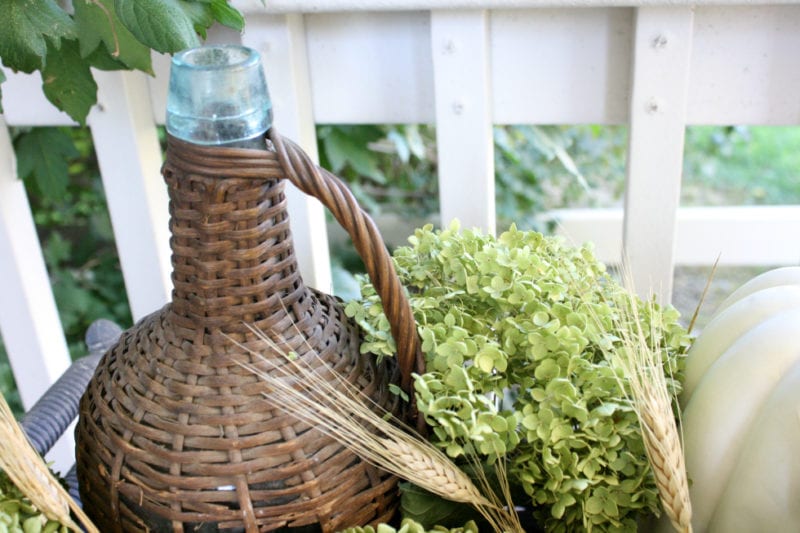 Step Four
Continue to fill the planter with remaining items until your planter is full and you like the look. I had a few gaps that I didn't like so I used the dried leaves from the hydrangeas to fill in the gaps. This was the  perfect solution since it stayed with my natural Fall theme.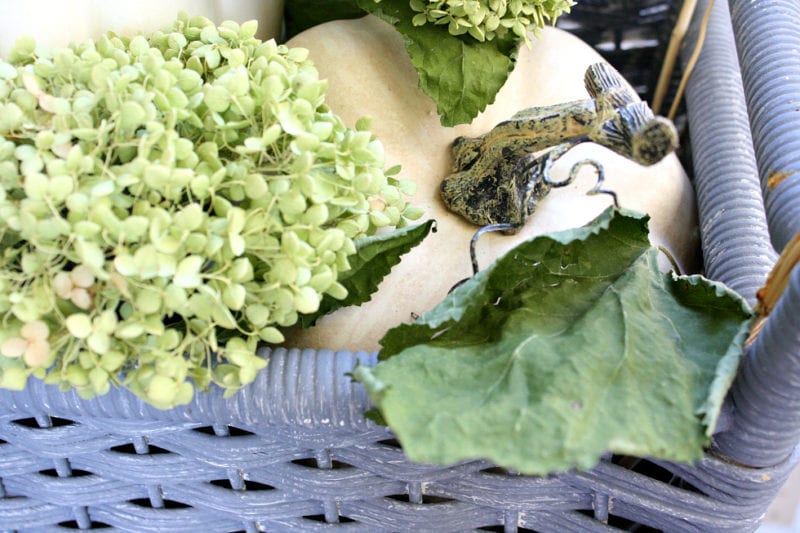 The Styled Vintage Plant Stand
That's it!  A fun and simple Fall DIY that anyone can do. The best part is that this decor can be accomplished in any kind of container. (think dough bowl, buckets, trays, jars, etc.) So no worries if you don't have a plant stand. However, I would suggest you keep your eyes peeled for one the next time you are out junking or at a flea market because they are a really fun statement piece and easy to fill up!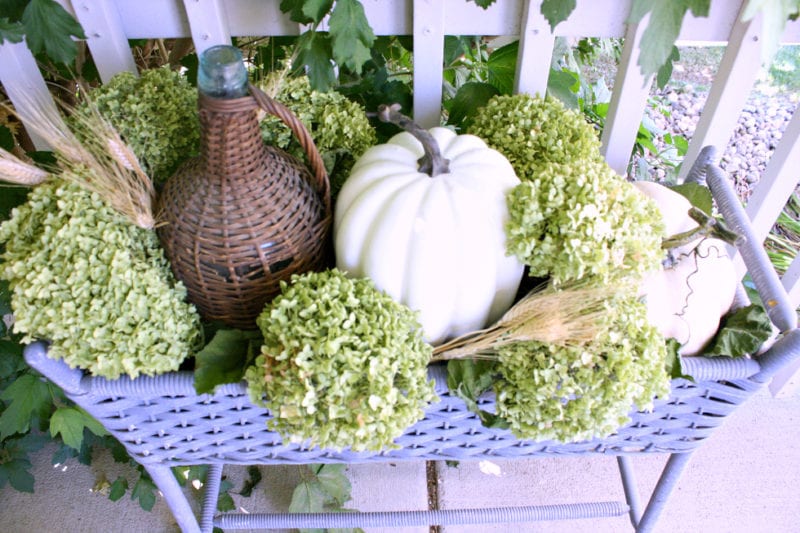 I DIYed That Fall
Thank you so much for stopping by today! I hope you enjoyed my easy tutorial on how to style and decorate a vintage plant stand. Make sure to stop by Taylor at Uniquely Taylor Made next on the DIY hop and visit the other bloggers listed below.
XOXO.
Kelly
I DIYed That Fall Blog Hop
Jordan from A Blue Nest
Amy from Cuter Tudor
Kendra from Joy in Our
Home
Areeba from Mint
Candy Designs
Jennifer from Noting Grace
Bree from The Homemaking
Momma
Kelly from The Tattered
Pew
Taylor from Uniquely Taylor Made