Hello friends! Today I am inviting you to take a walk with me down memory lane for some Fall porch inspiration. I say memory lane because I am sharing how I have decorated my outdoor spaces here on the blog over the past four years. So get ready because I'm sharing all of my tips and tricks for creating a cozy and collected Fall porch in one post!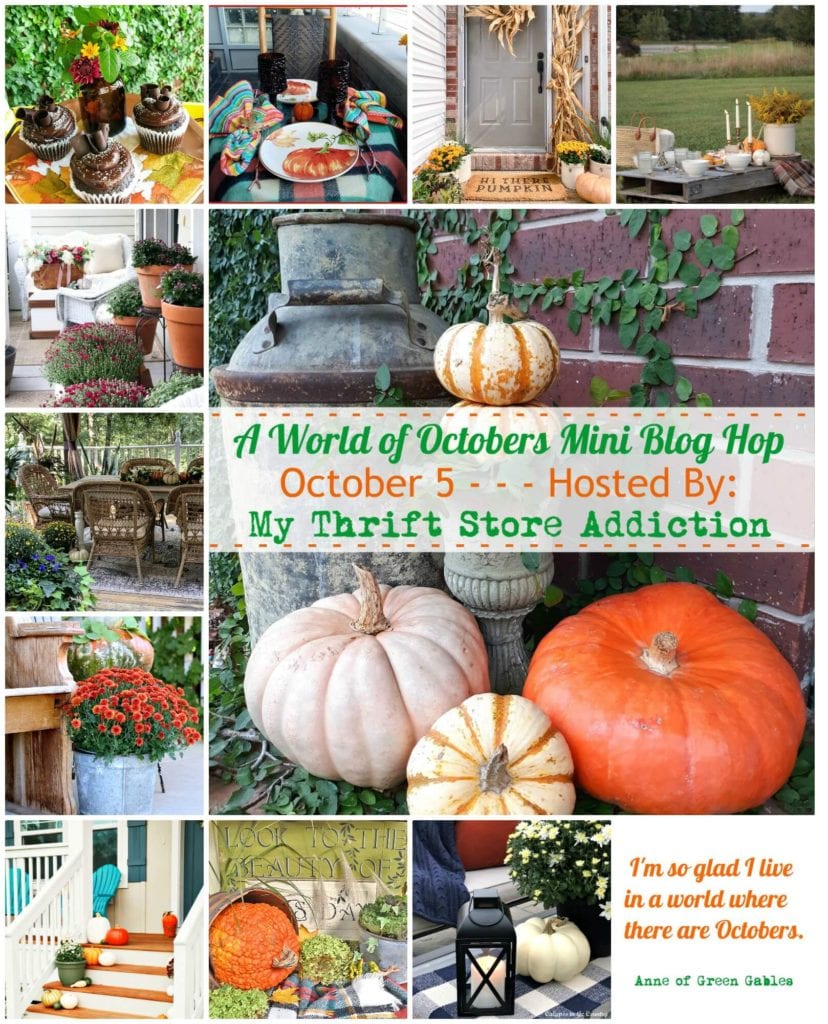 I am also joining the World Of October's blog hop hosted by Cecilia of My Thrift Store Addiction. If you are stopping over from Stacy of Bricks 'N Blooms welcome! Did you fall in love with her garden and Fall decor like I did? Hopefully I can inspire you with a few of my own spaces.
Fall Porch Inspiration
How To Add Vintage Decor To Your Fall Porch Welcome to our cozy Colorado home! Let's start with last year's front porch. I had so much fun using traditional Fall colors with pops of black. My inspiration came from this 1950's imitation Hudson Bay blanket that was my grandmother's.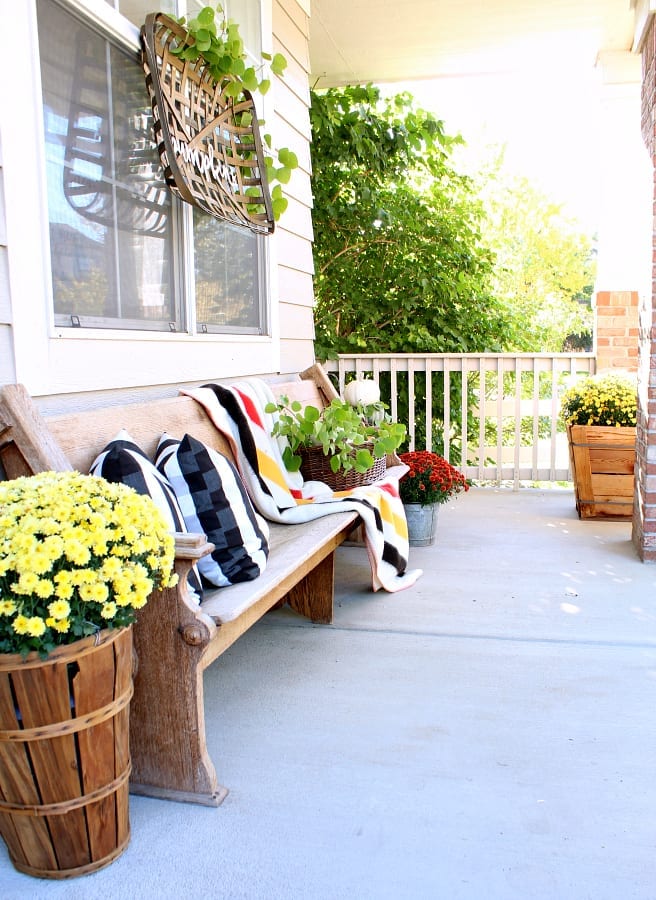 I went a bit mum and pumpkin crazy but I wouldn't change a thing. I had fun adding vintage touches last year and shared tips for adding vintage pieces to your porch.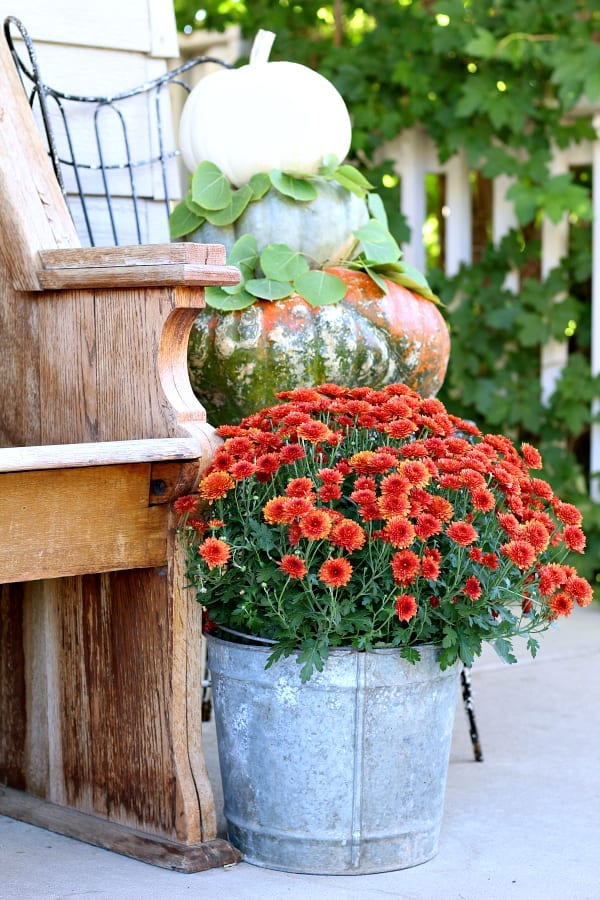 It might have been my most favorite porch of all the time we have lived here! I think it has to do with the fact that several of the pieces hold family memories. Visit last year's vintage Fall porch here!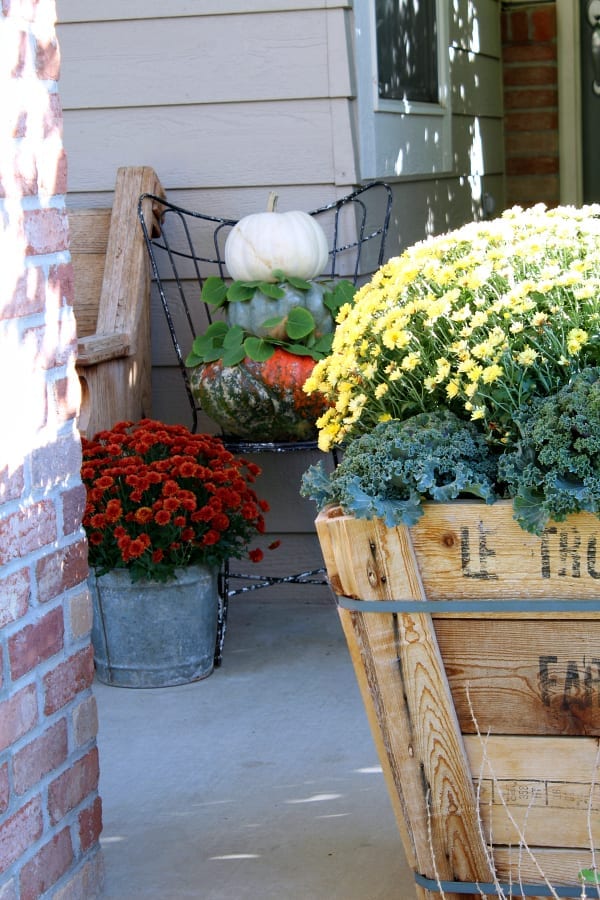 Cozy Sweaters For Your Mums
Looking for a fun Fall DIY? I was feeling a bit crafty last year and used an old sweater to create these darling easy no sew sweater flower pot covers. Maybe a bit silly but they added the perfect amount of texture to our entry and hid the ugly mum containers!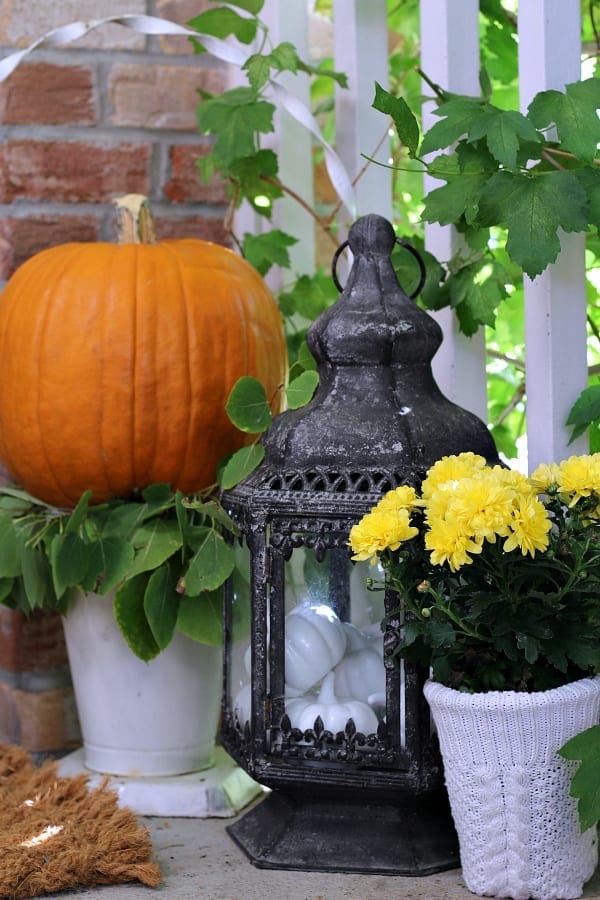 A Backyard Haven
A few years ago I was blessed to work with JOANN on creating the perfect Fall backyard haven! I shared how to decorate with lights and lanterns in your outdoor space. It was a magical outcome and one that I hope to recreate this year!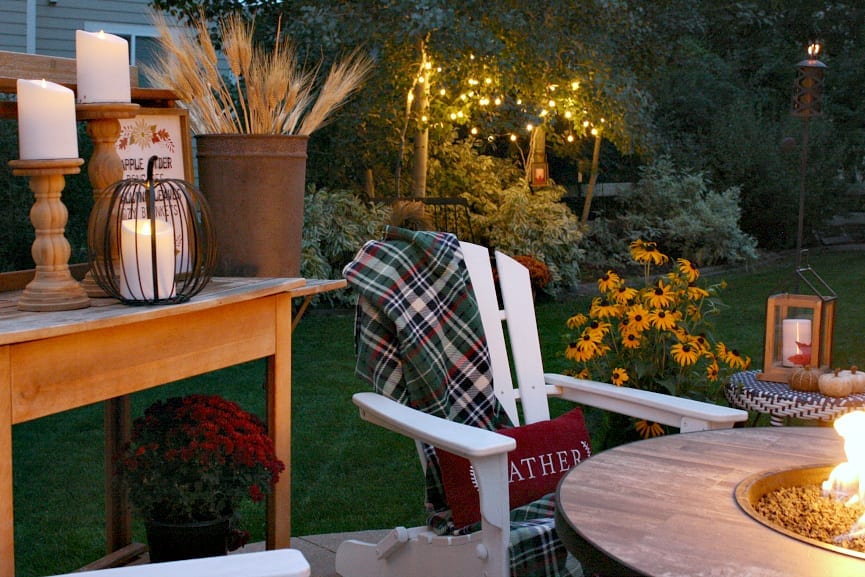 Sadly we had an awful hail storm that destroyed our string lights last summer. I recently bought some more and plan to hang them up as soon as I have time. Since this post we have moved our firepit over a bit to accommodate our new hot tub. SO the string lights might look a bit different but the ambiance will be the same! Magical!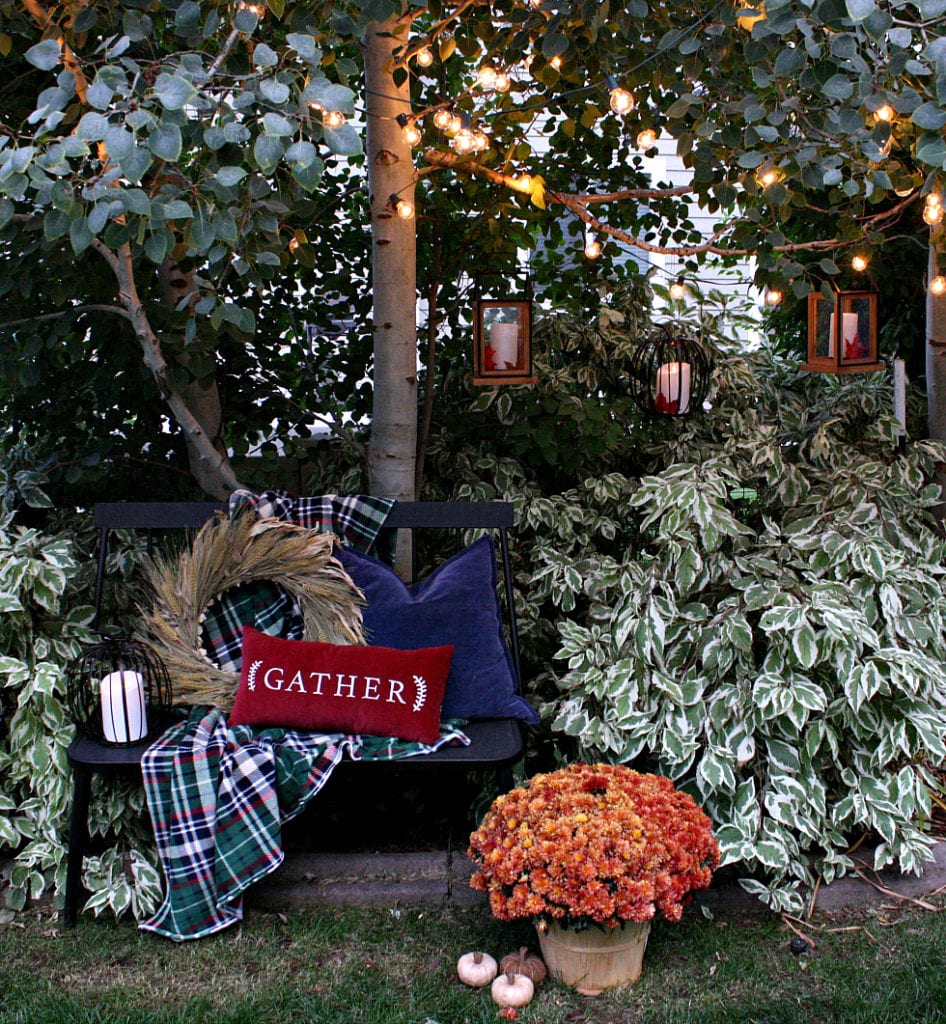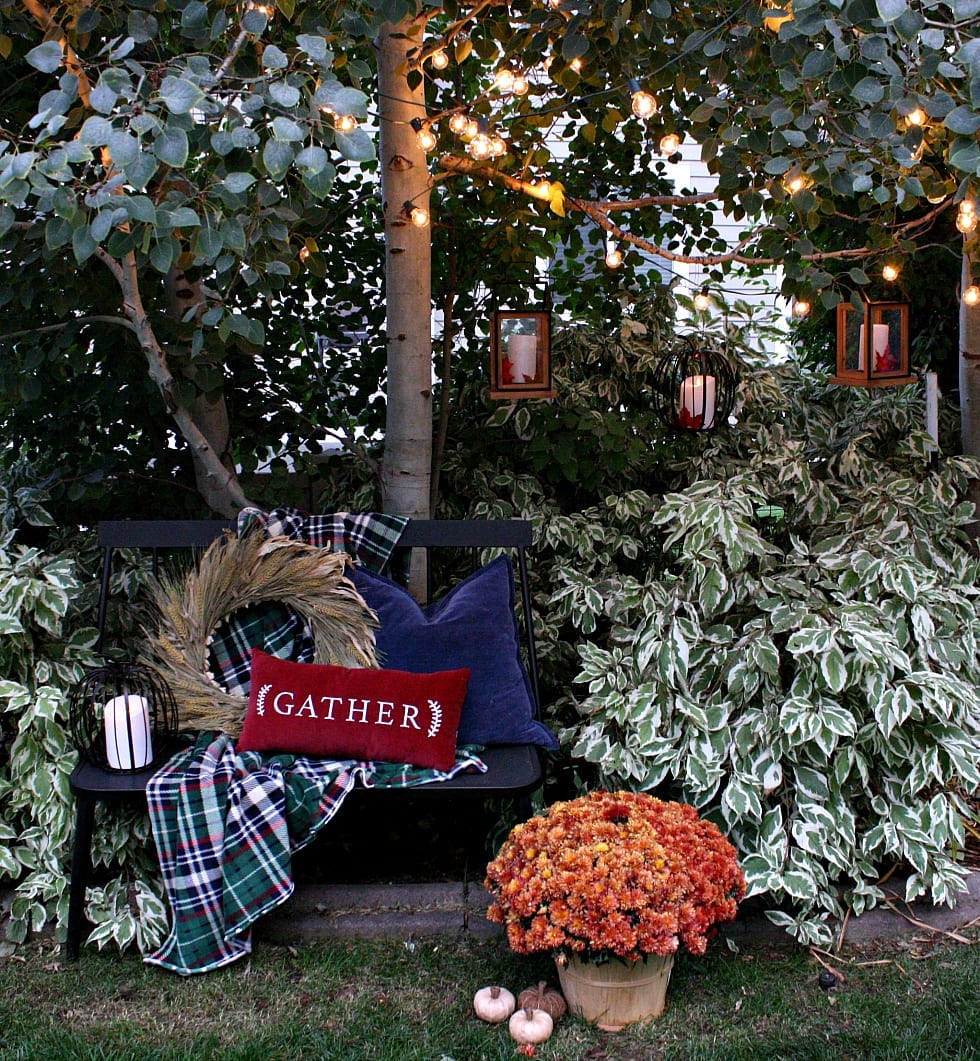 Decorating For Halloween
I'll be honest I never really decorated for Halloween much before I had the blog. It just wasn't a priority. But now that the kids are older they are loving helping me decorate for this spooky holiday. ANd I have to admit, it's actually quite fun! I shared several ideas for how to decorate your porch for Halloween that you might enjoy!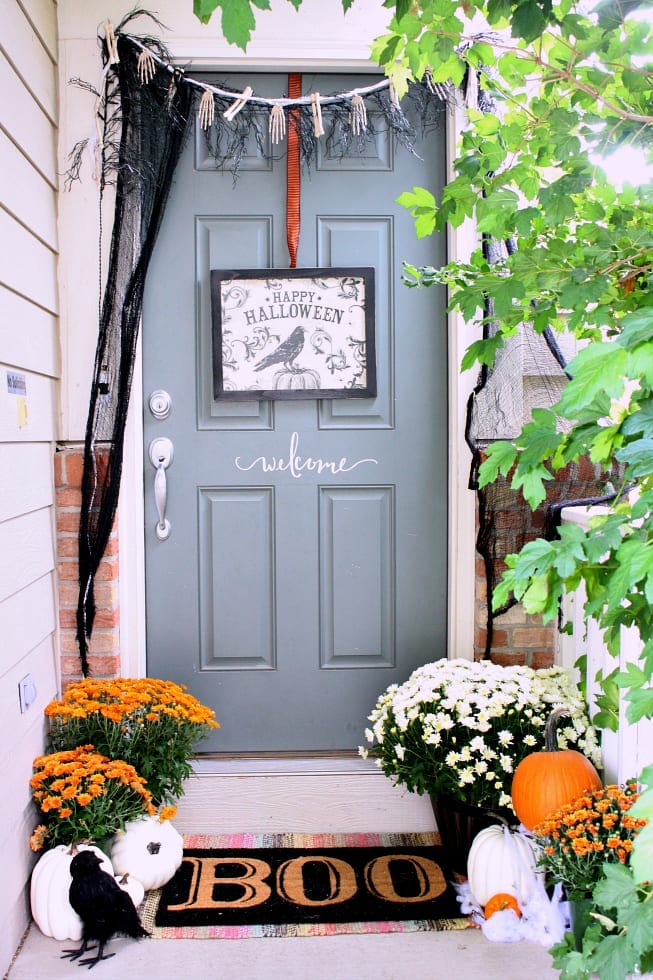 Don't worry I didn't get too gory! But I did just end up buying an awesome new skeleton from Walmart to take the place of Mr. Bones who sadly fell apart last year. Oh and the girls picked out a huge gross spider too!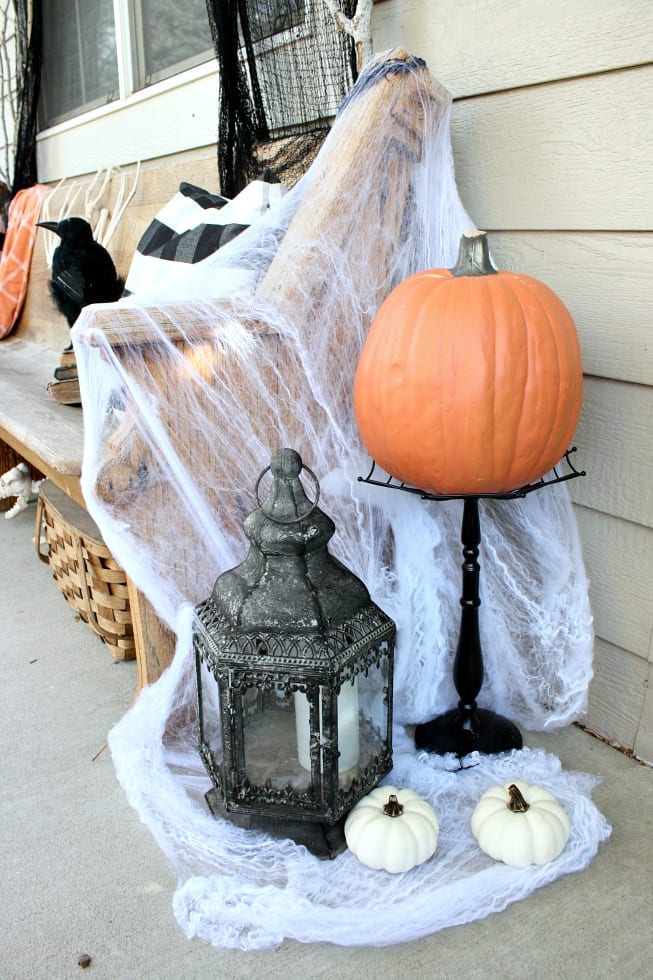 A Blue And Green Fall Porch
I'm sure it doesn't surprise you that I decorated our fall porch a few years ago using mostly blues. If you just saw my Fall Home Tour then you know it was all blues and greens. They are my two favorite colors and of course it spilled out to Ms. Fanny!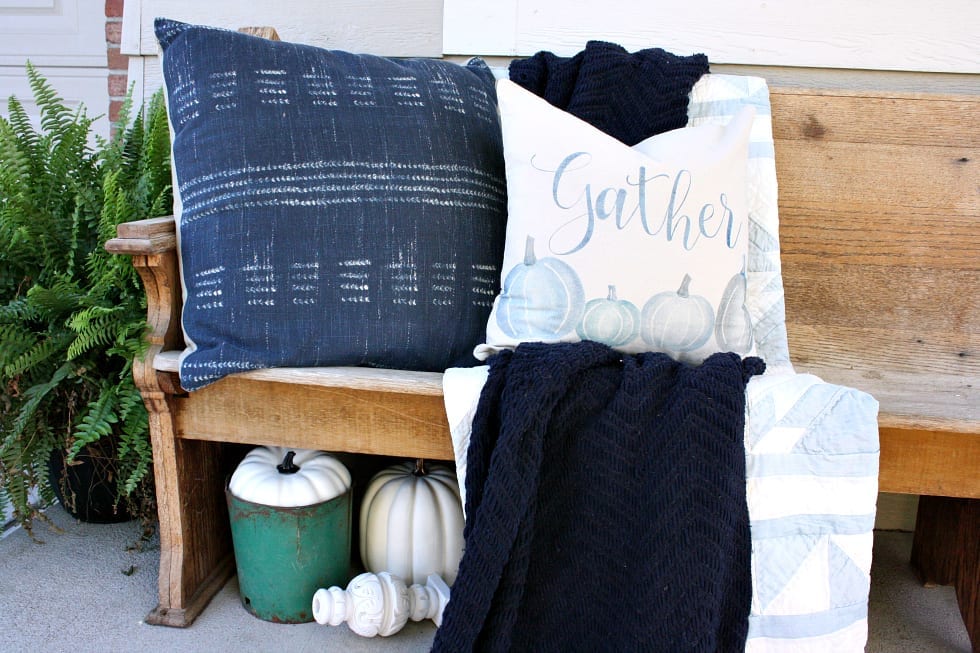 Have you noticed that mums and pumpkins always make an appearance? They are a must when it comes to Fall porch decorating! This leads me to another view of our porch decorated for Fall!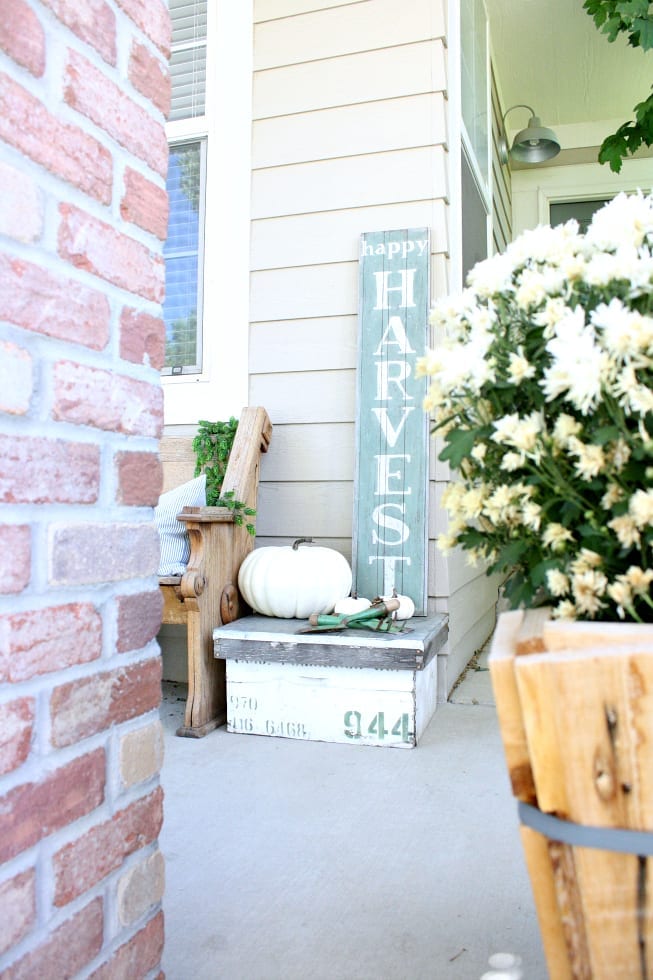 Do You Have These On Your Porch?
The 5 Fall must haves for your Fall porch was a fun post! I used a lot of the same colors as I did this year! This was my first ever Fall porch I shared here on the blog and I still love it!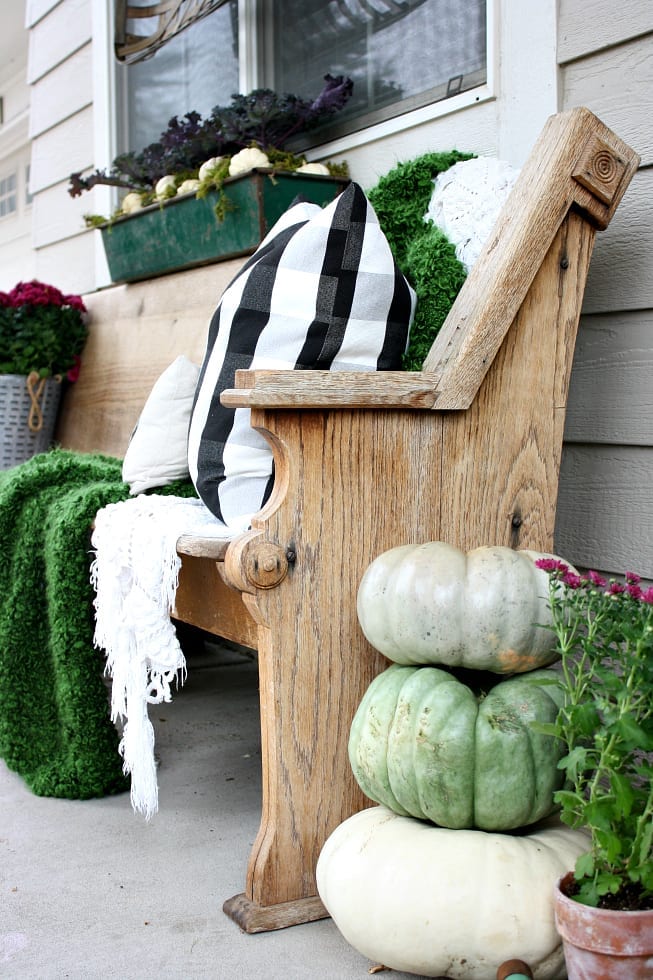 Can you guess what my 5 things were? You better believe pumpkins were on that list! Here in Colorado our Trader Joes tends to get the best pumpkins before anywhere else even gets any pumpkins. Each year I stop by and I'm never disappointed!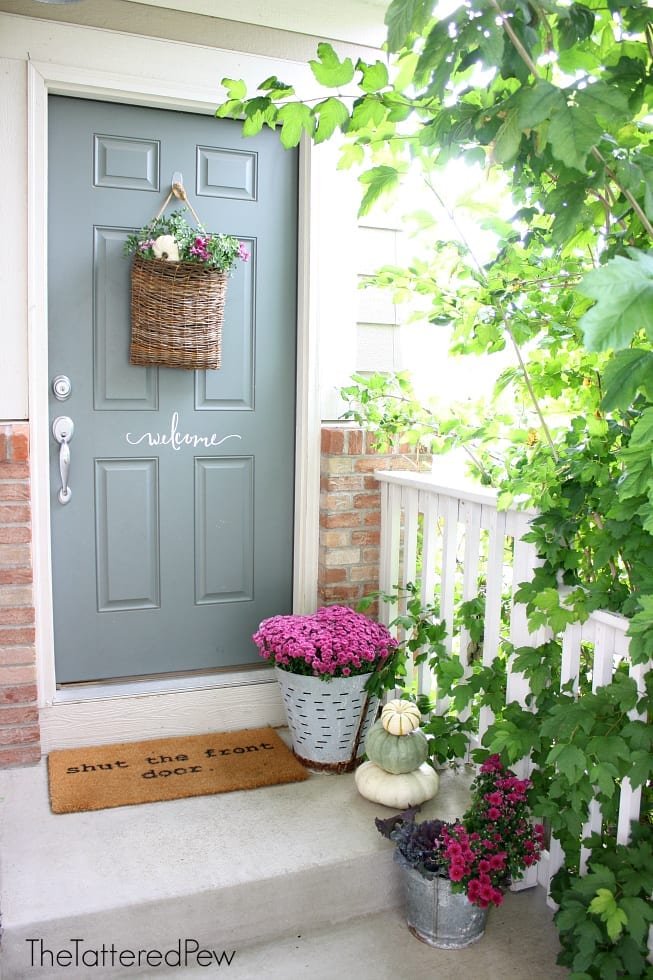 The long green Fall centerpiece you see was one of my first ever Fall DIYs here on the blog. I even made a YouTube video of me creating it. It was a lot of work, and since I blog just part, time I decided that making videos wasn't my thing! ha! You can check that video out here!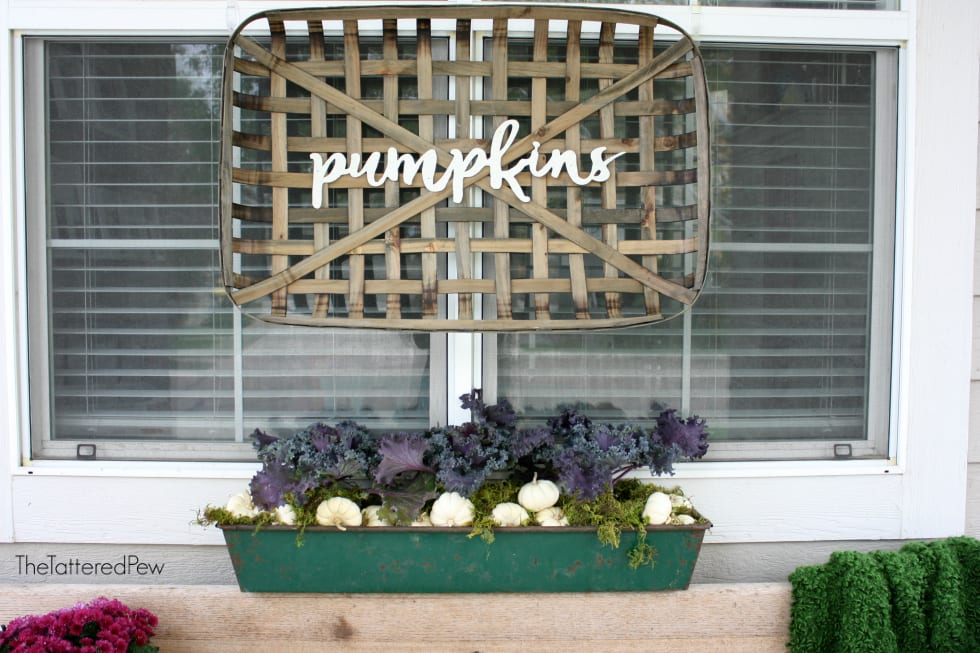 Our Current Fall Porch
Surprise we painted our house Hale Navy this past summer! So this year's porch has a hole new look and feel! What do you think? Come stop by and see more of our pink and purple Fall porch!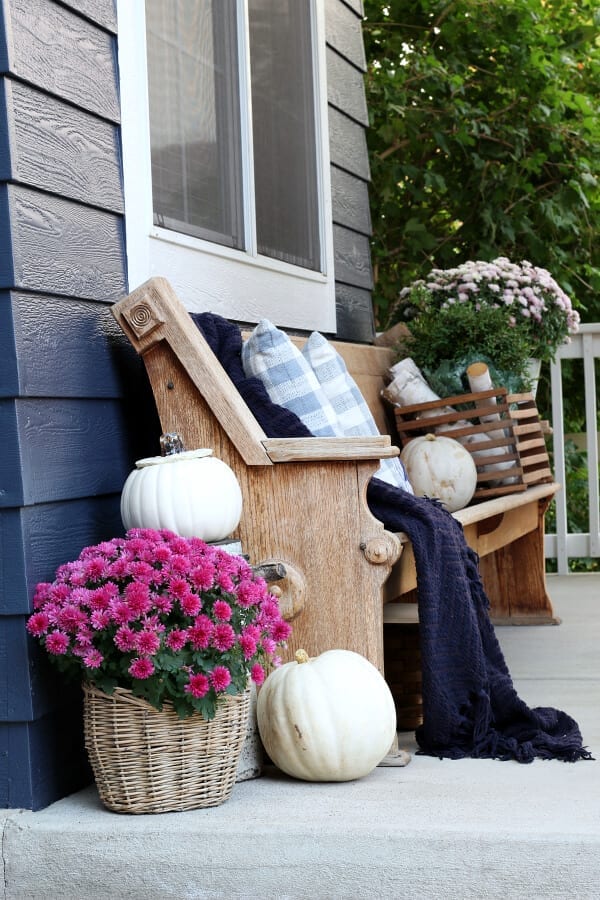 Thanks for stopping by and walking down memory lane with me for some Fall porch inspiration! I'm curious…leave me a comment below with which Fall porch of mine was your favorite! Next up on the World Of Octobers blog hop is At Home With Jemma. Her porch is dreamy!
Then make sure to visit my friends listed below over on their blogs. I promise you will be inspired!
XOXO,
Kelly
Did you like this post? PIN it for later!