Natural and Simple Fall Home Tour (Part 2)
Ok today is finally the day where I get to share part 2 of my natural and simple fall home tour with you! Not only am I sharing my Fall decor with you all, but 29 of my blogging friends are as well. There is so much gorgeous Fall inspiration today. So scroll on down and come on in for some cozy fall decorating ideas that are both simple and natural!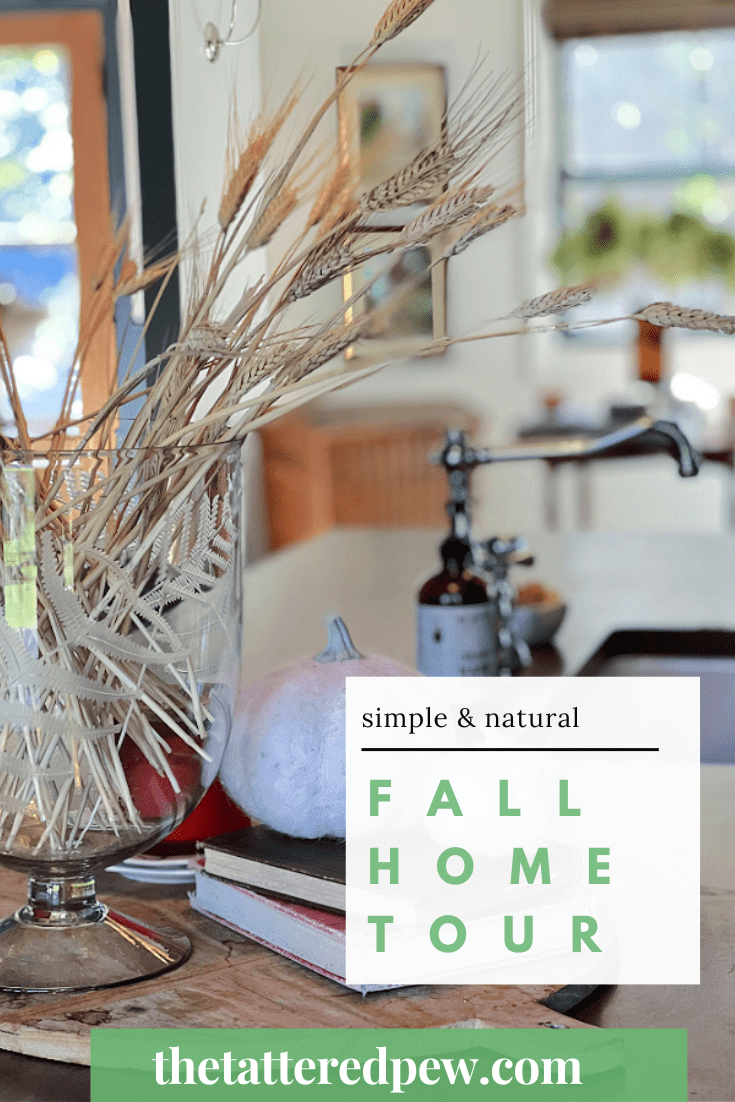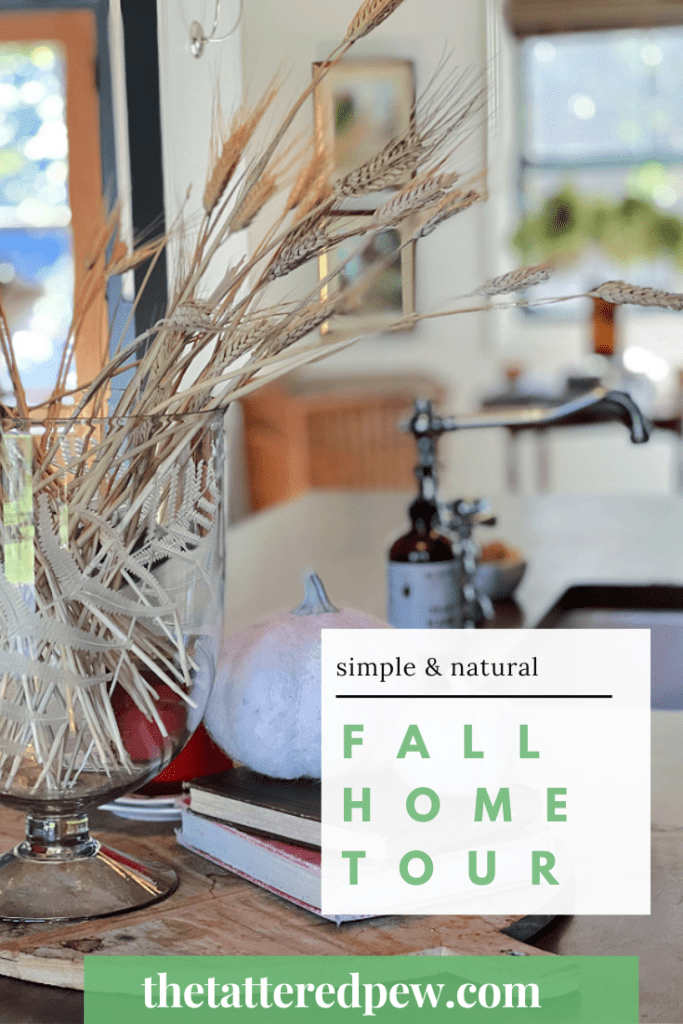 *As an Amazon Associate, I earn from qualifying purchases. This post contains other affiliate links too for your convenience. Click here to read my full disclosure policy.
Bloggers' Best Fall Home Tours
Do you love gathering inspiration for seasonal decorating? Today is your lucky day because I am honored to be hosting 29 of my blogging friends for the 2022 Bloggers' Best Fall Home Tour!
If you are coming over from Anne and AnnMarie of Simply2Moms, welcome! I loved the vintage finds Anne used in her Fall family room. After you take my tour make sure to visit the other tours linked at the end of my post. Six new homes will be added each day this week! I don't know about you, but I love peeking into other peoples' homes!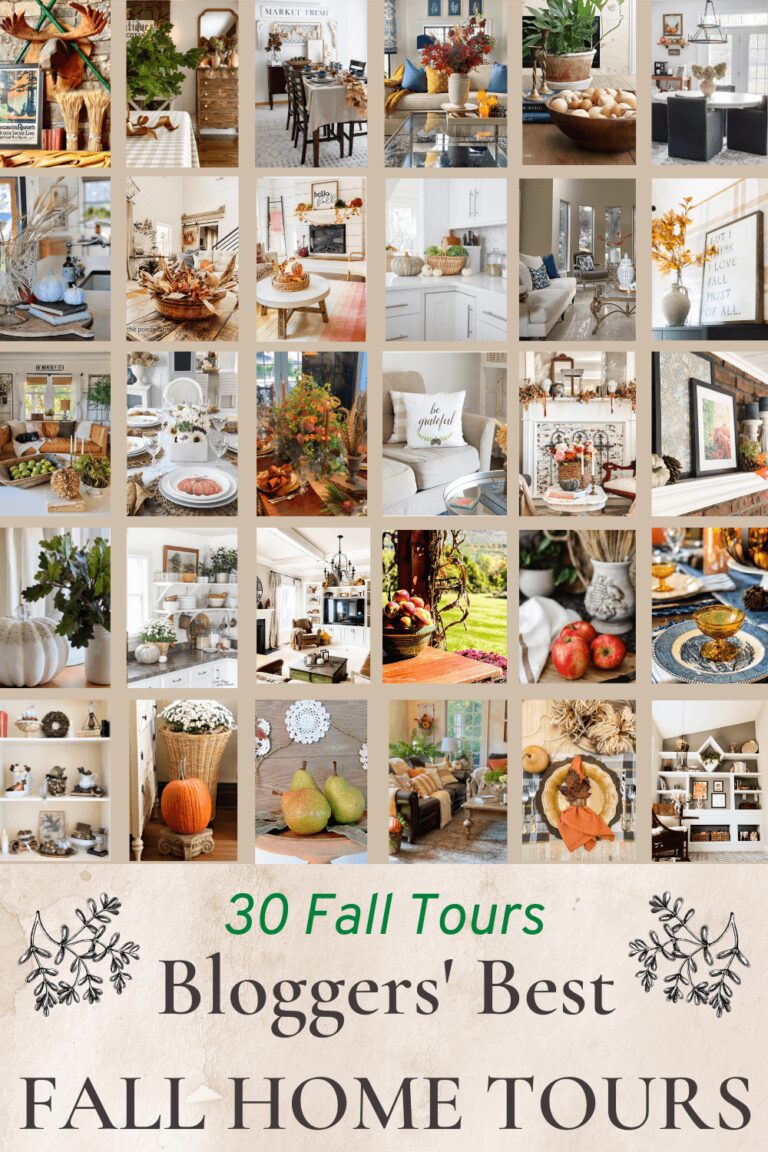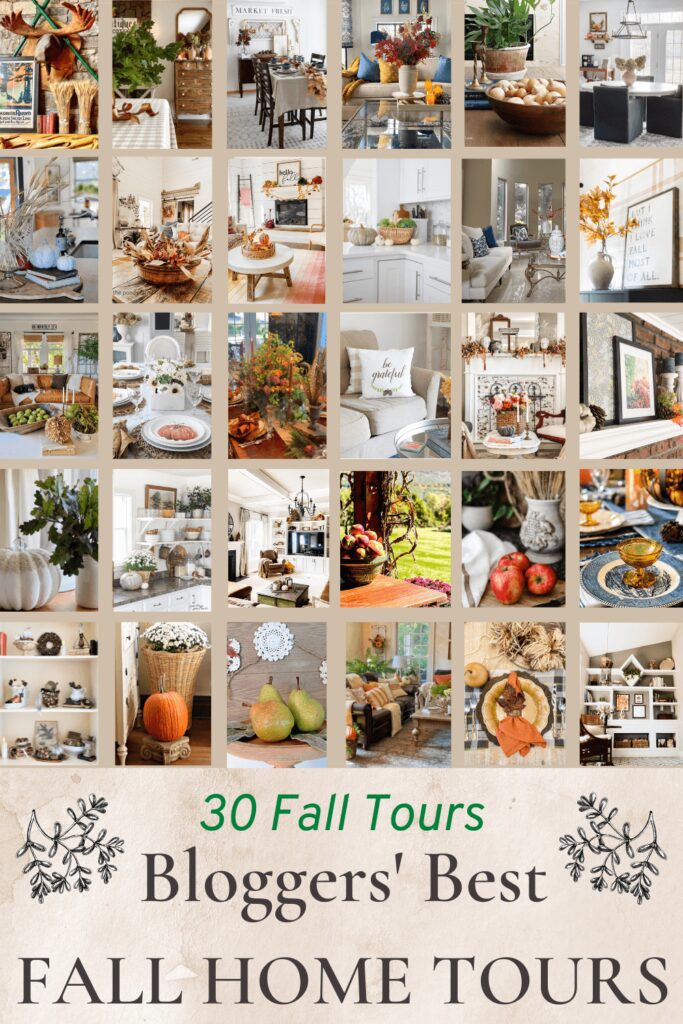 Natural and Simple Fall Home Tour
If you are new here my name is Kelly and I live in beautiful Colorado! This August marked one year in this home for our family. You can read a bit more about the fun story of how we sold our former home and see an empty home tour of this house before we moved in.
I love decorating with a mix of old and new furniture and decor and I am constantly on the hunt for budget friendly options that look high end!
It's been quite the journey so far and each day I thank the Lord for blessing us with the opportunity to live here. This summer I "retired" after 20 years of teaching and I am giving full time blogging a go. I have a lot of fun things planned so I hope you will hang out with me some more as I continue this new adventure!
Oh and if you missed part 1 of my Fall Home Tour you can catch that HERE!
Fall Kitchen
Let's start in our kitchen! I wish I could greet you in person with warm drink and give you the tour in person, but this will have to do!
I don't know about you but I just love all things Fall. Like the leaves changing, cozy blankets and yummy smelling candles. Plus, there is plenty of football to watch and yummy comfort food to eat.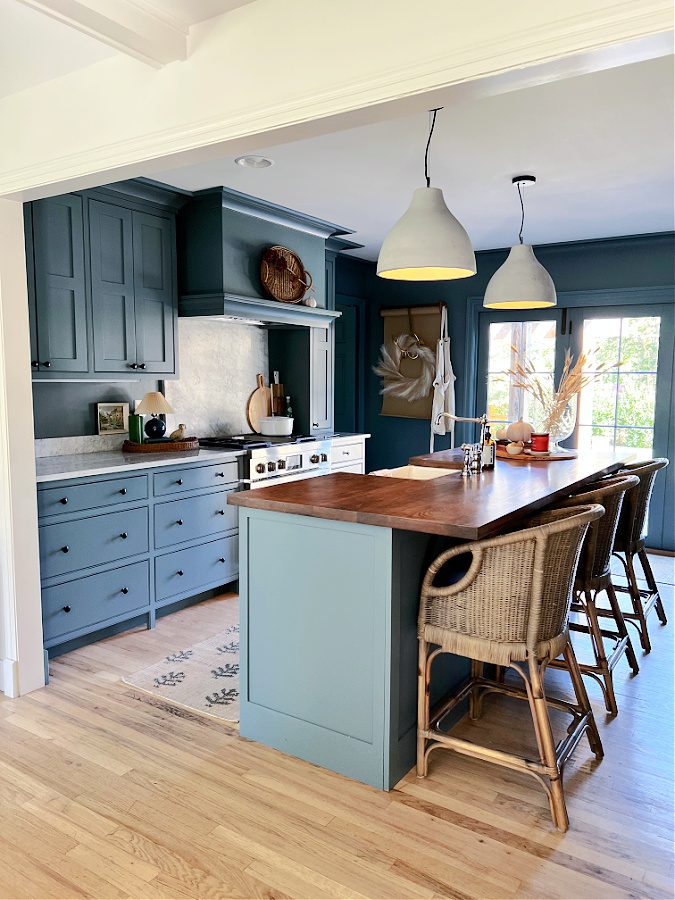 Overall I stuck to a brown and blue color pallet for our Fall kitchen.
Our kitchen doesn't need a lot to give it those warm Fall feels I love and crave. The blue on the cabinets and the walls and the low light adds that on its own. I am actually thinking about changing our pendants out because even though these concrete ones are gorgeous they don't put out much light.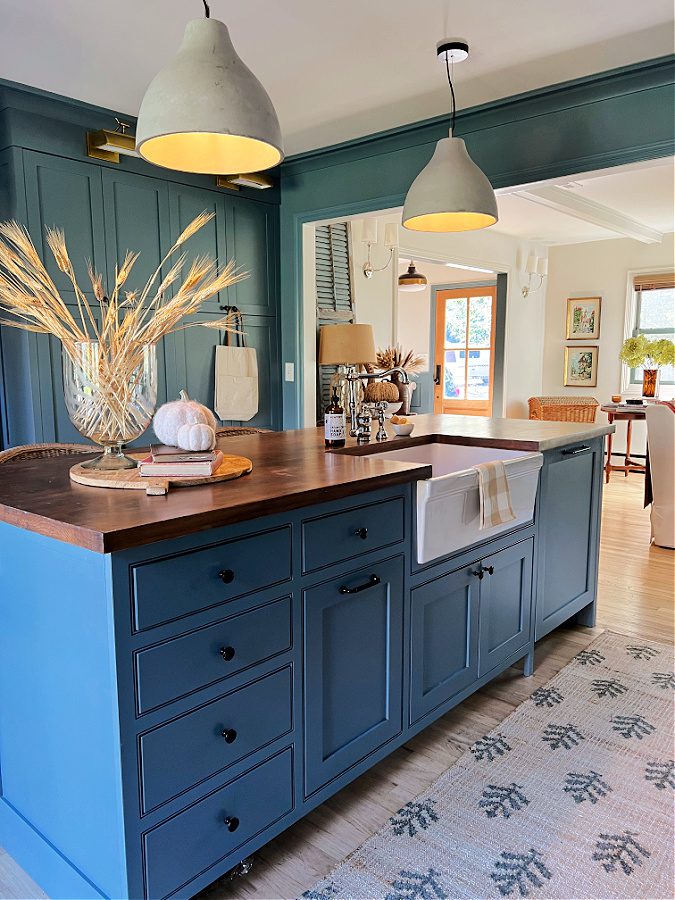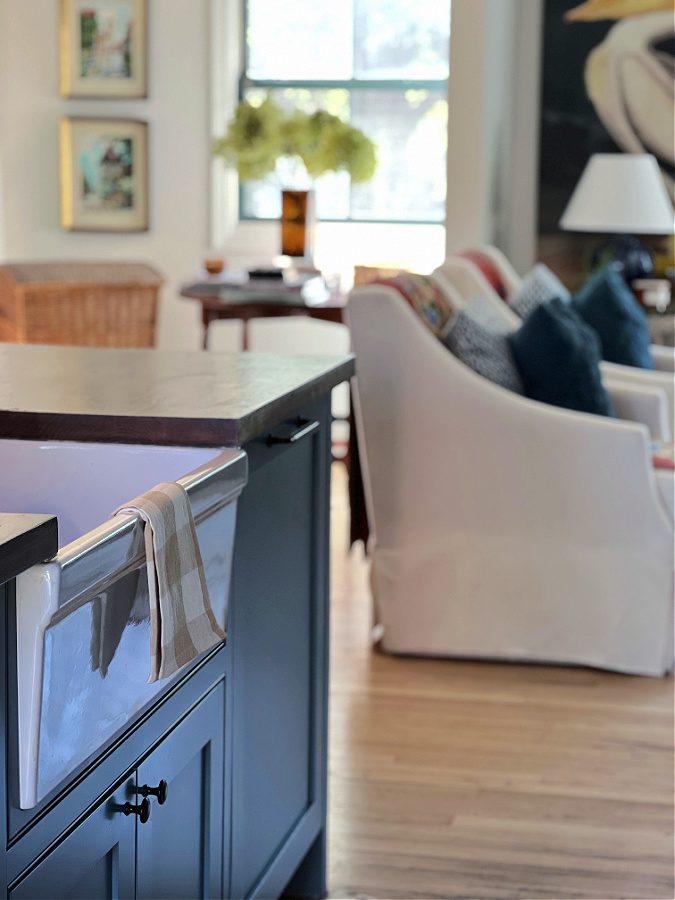 But I did have fun creating a few fun small Fall vignettes around our kitchen. The one below is just some simple and natural wheat stems set in a large glass hurricane we got for our wedding.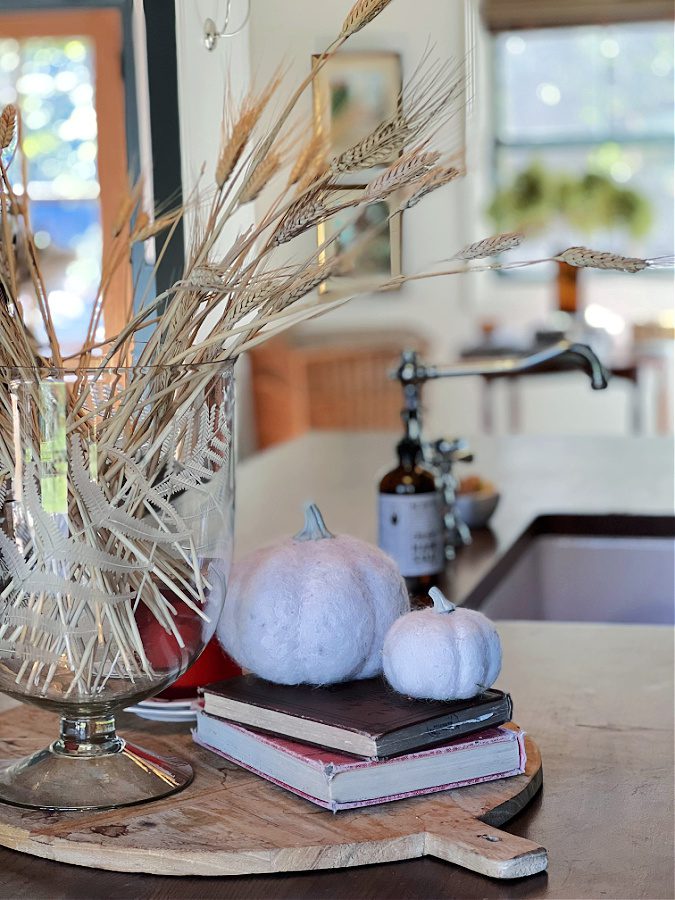 Another vignette is this one on our back kitchen counter in a vintage wicker tray I found at a flea market years ago. Books, pine cones from our yard, a dog figurine and this cute blue lamp all add a simple touch of Fall.
I especially love kitchen lamps because they add a warm cozy feel to any space!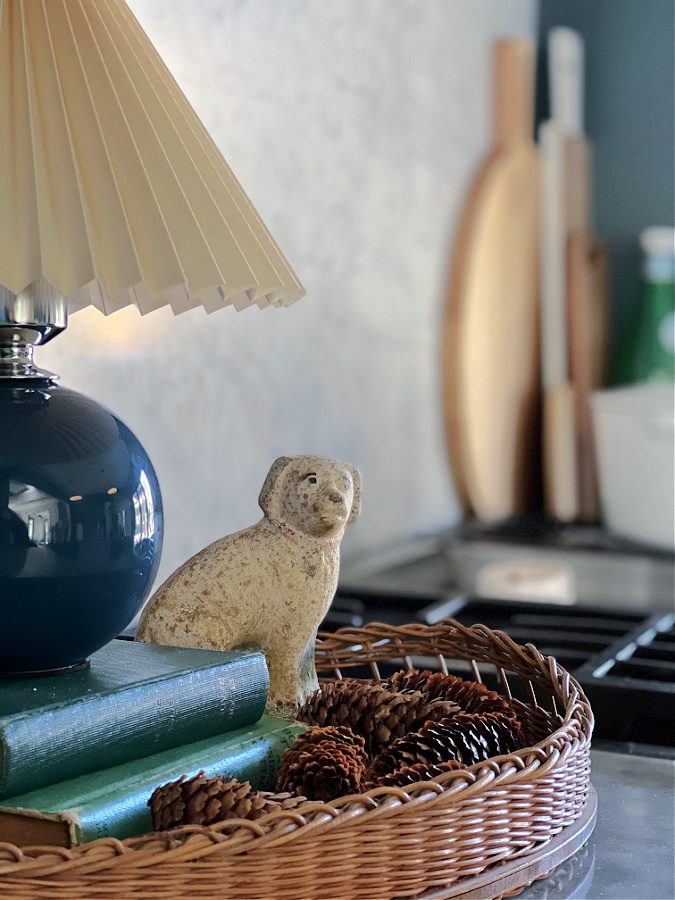 Shop Our Kitchen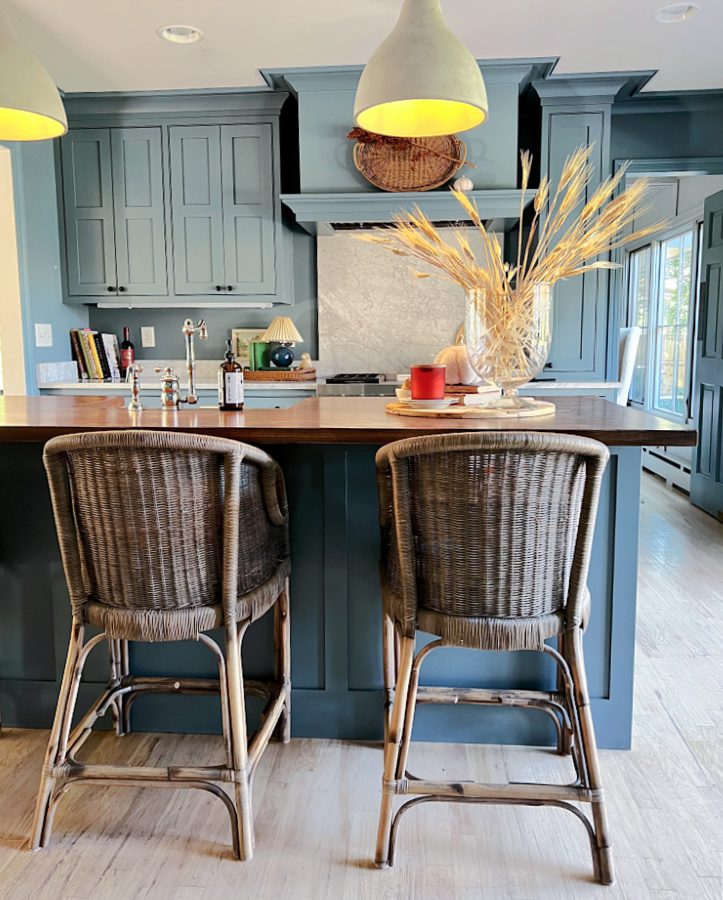 These wicker bar stools are from Wayfair and are actually outdoor stools. I love the texture and contrast they add to our blue island.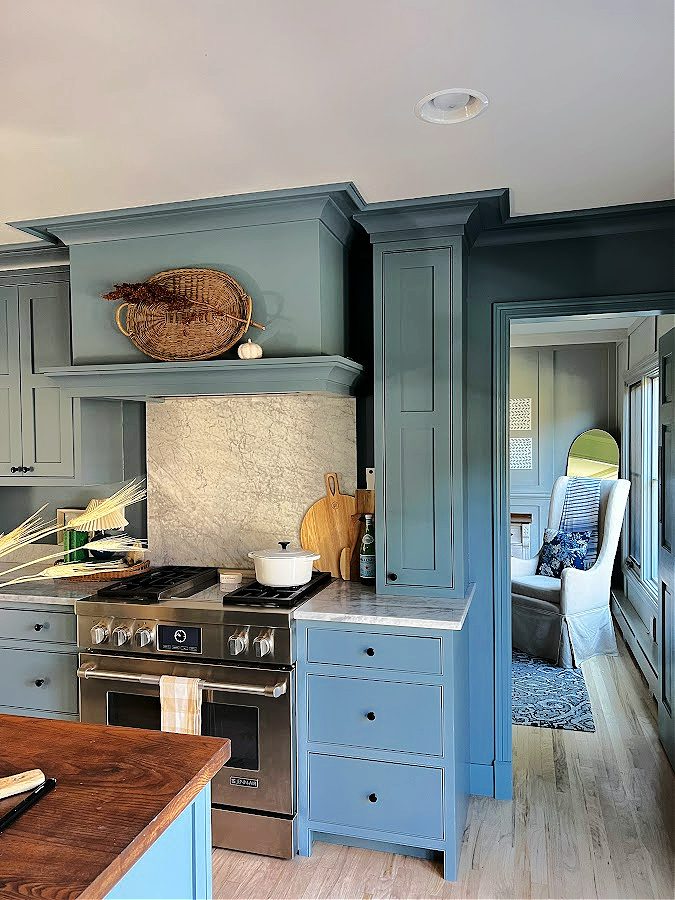 Just to the right of this picture you can see an open door. That is our dining room! And did you notice the basket with a Fall stem on our oven hood? Well guess what? That is actually a weed! I share more in this post HERE how I love to use simple and natural Fall decor throughout our home!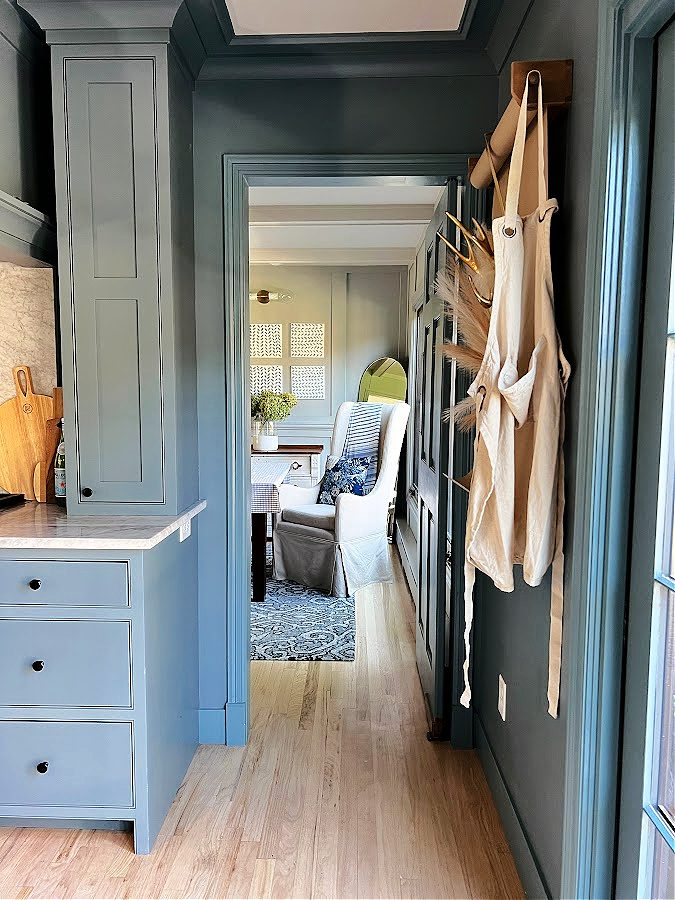 And the last bit of Fall decor that I added to our kitchen is on this back wall. We have a craft paper roll that I pulled down and ended up hanging a wreath over. I used a gold antler wreath hanger and added a faux pampas grass wreath to it. It's a simple Fall touch but I love how much it adds.
The apron is pretty cute too just casually hanging there!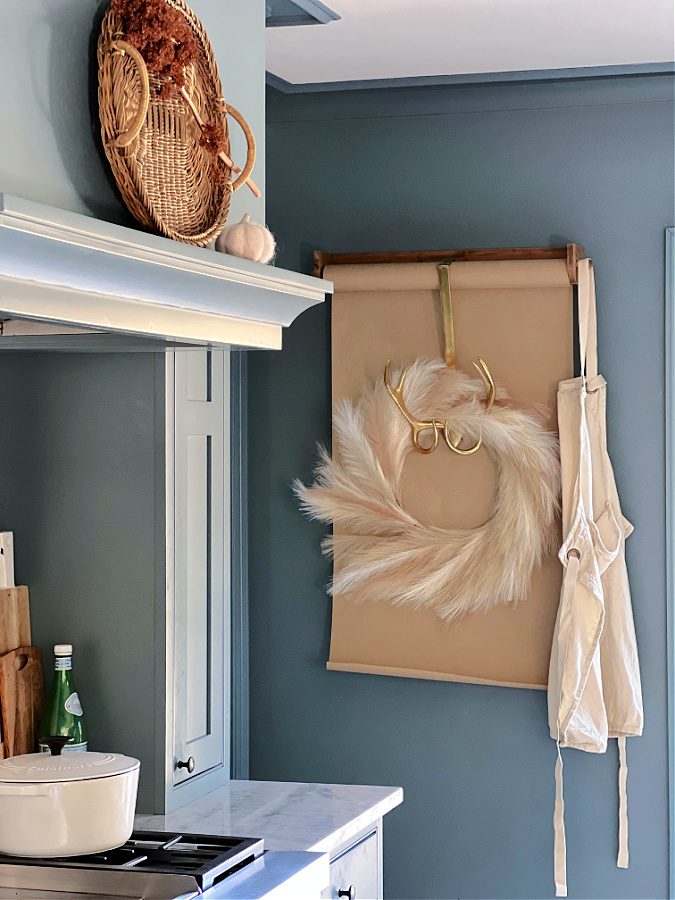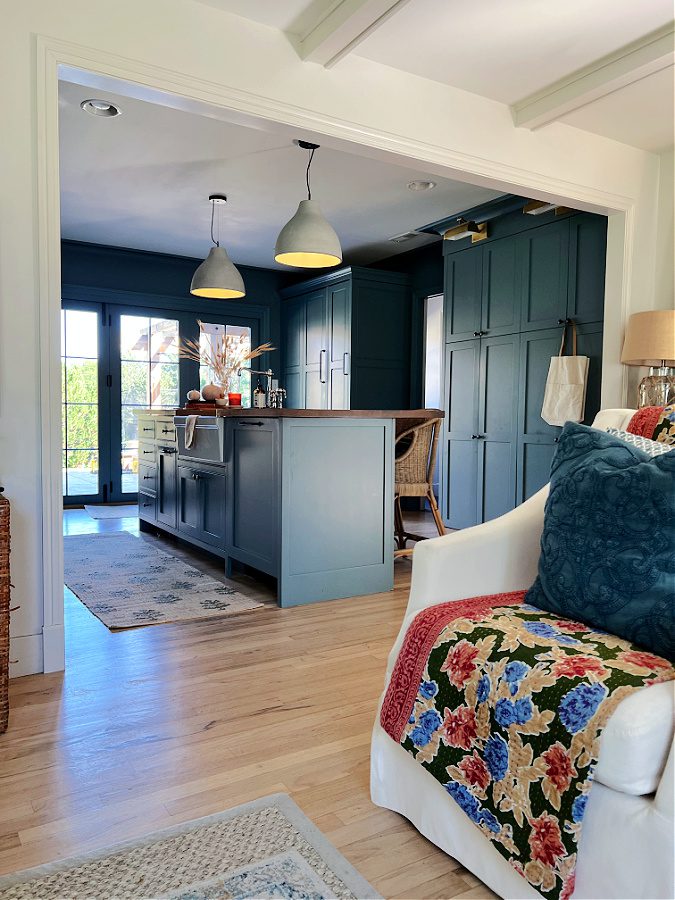 Now let's head upstairs to our master bedroom!
Fall In Our Master Bedroom
Just like our kitchen I like to keep things natural and simple upstairs as well. Our room is small but what it lacks in size it makes up for in cozy! And it has a coastal vibe that I adore.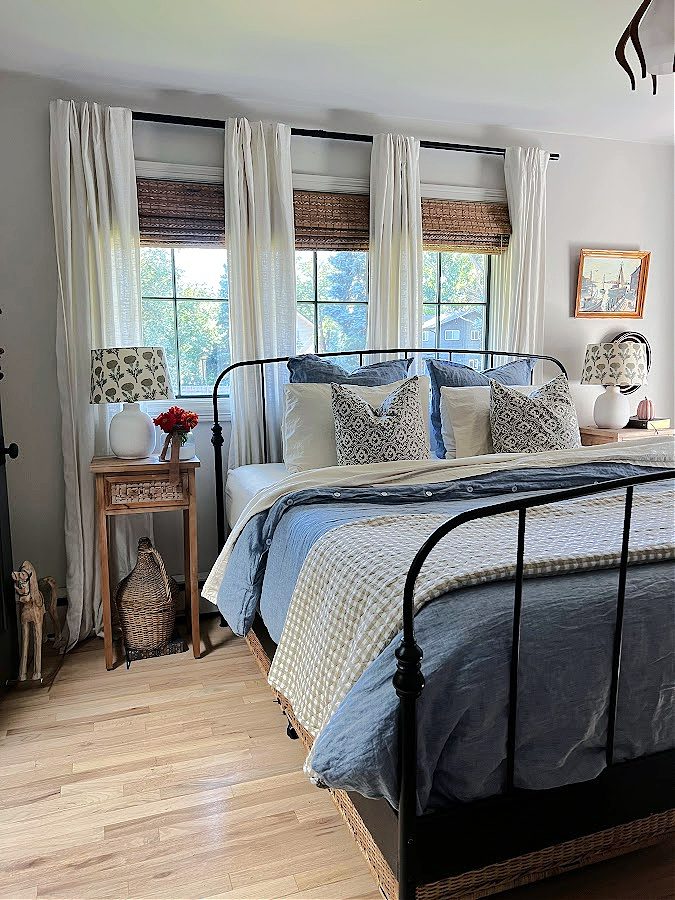 If you stopped by for my summer tour a few months ago you might notice a few small changes I made to welcome in Fall.
I added new lamps to both sides of the bed and changed out the shades to block print ones I found at a thrift store for $2.50 each!
I hung a small pine cone wreath on our bathroom door and draped some chiffon ribbon over it.
I used the same ribbon on the white dipped vase holding zinnias from our garden.
Added 2 new gorgeous pillow covers from my favorite small shop Linen and Oak!
New cozy organic cotton sheets from All Cotton and Linen in the color natural and then simply unfolded and pulled up our chambray duvet!
Added a light brown and cream gingham quilt that I found on clearance at HomeGoods to the end of the bed !
Lit a candle!
That's it. Natural and simple small changes!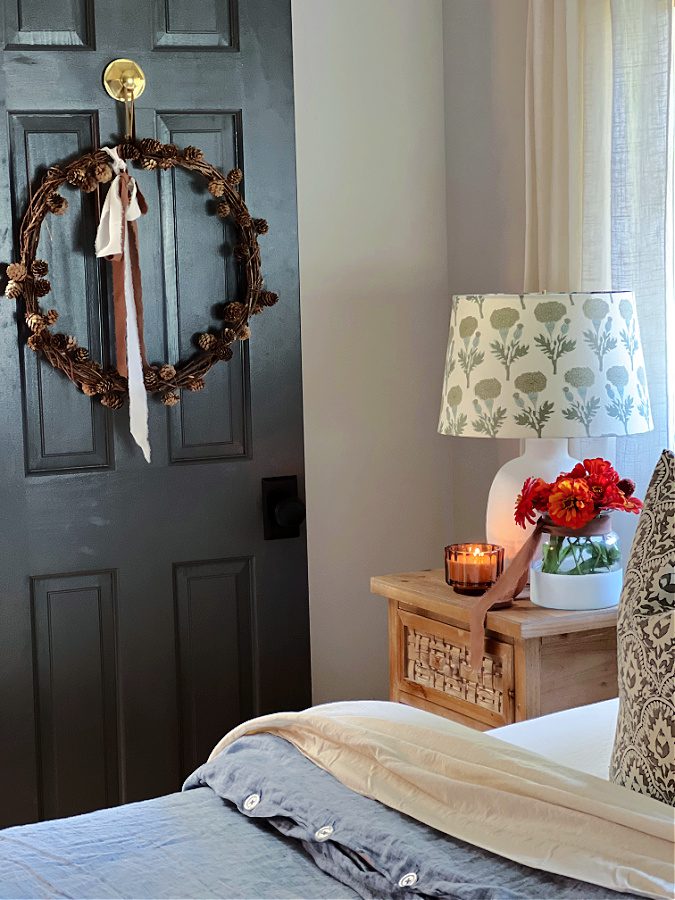 Just like downstairs I love to use a lot of wicker accents. These underbed rolling storage bins were a Facebook Marketplace find but originally from IKEA. And the wicker demijohn bottle under my nightstand was a flea market find!
I love the collected feel our room has and it's fun to add a pop of color with flowers no matter the season!
Shop Our Bedroom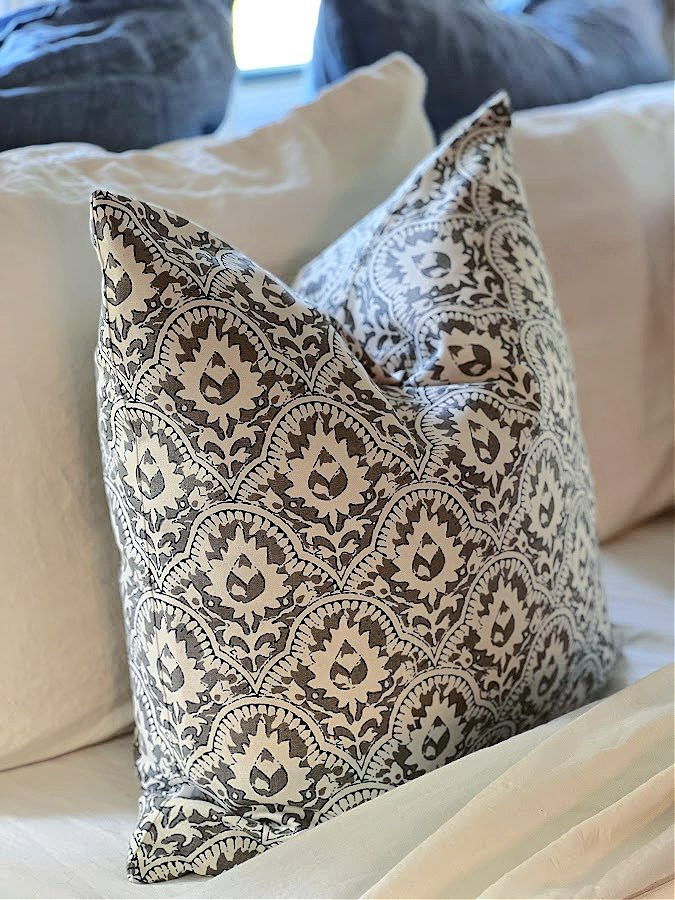 Our bedroom gets the best afternoon light during the Fall months and so having an extra cozy space is something I thoroughly enjoy! Luckily it doesn't take much. But I will say, I never knew how nice a really good pair of sheets could feel!
And did you notice the casual way I made our bed? So simple yet looks good at the same time. I'm very casual myself so of course our bed is too!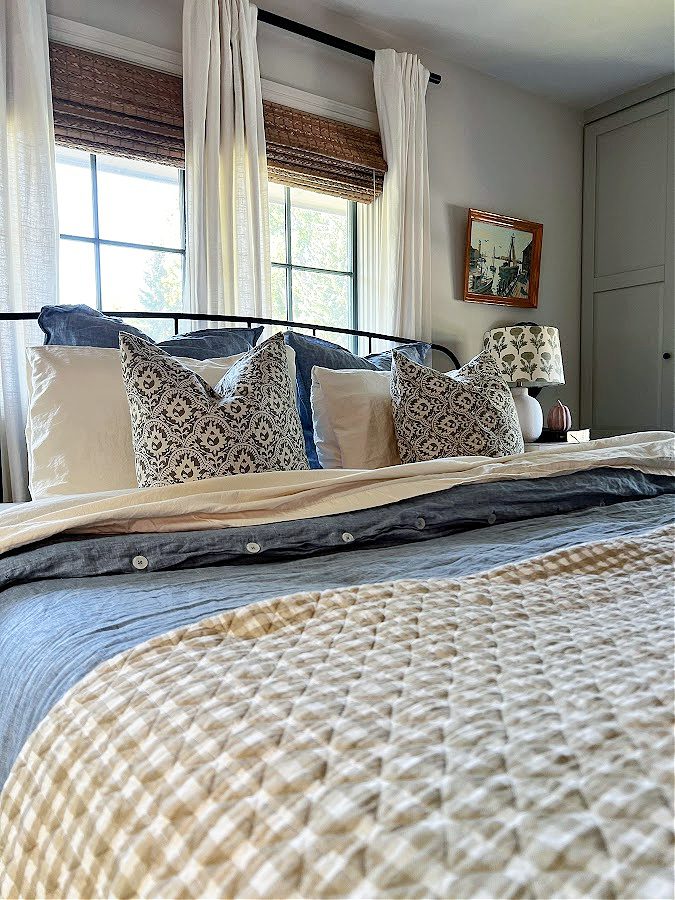 Natural and Simple Fall Home Tour
Thank you so much for stopping by today! I loved giving you a peek into our kitchen and master bedroom. Did you like how I kept things natural and simple? Let me know if you have any questions!
Now make sure to head over to my talented and dear friend Yvonne of StoneGable next and see her beautiful Fall decor. Then scroll down to see the other ladies' sharing today and make sure to stop back by each day this week as 6 more homes will be added daily!
Bloggers' Best Fall Home Tours
This week I am joining some of my blogging friends for the Bloggers' Best Fall Home Tours. Thirty talented and creative women will be opening their homes up for you to tour all week long. You can visit each Fall home tour by clicking the links below.
Monday's Tours


The Tattered Pew // StoneGable // My Wee Abode
She Gave It a Go // Cottage In the Mitten // Simply2Moms
Tuesday's Tours


Midwest Life and Style // Willow Bloom Home Blog // Bricks n' Blooms
Cottage On Bunker Hill // Peacock Ridge Farm // Open Doors Open Hearts
Wednesday's Tours


White Lilac Farmhouse // The Ponds Farmhouse // Eleanor Rose Home
Amy Sadler Designs // Shiplap and Shells // White Arrows Home
Thursday's Tours


My Thrift Store Addiction // County Road 407 // Thistle Key Lane
Cloches and Lavender // My Family Thyme // tatertots & jello
Friday's Tours


Le Cultivateur // Southern Home and Hospitality // DIY Beautify
WM Design House // A Life Unfolding // Dabbling and Decorating
I'd love to have you hang out with me some more! Feel free to follow along with me on any of the platforms linked below.
LTK | Facebook | Instagram | Pinterest | Amazon
xoxo,
Kelly
Did you like this post? PIN it for later!