Four Inspiring DIY Fall Tablescapes
Is it starting to feel like Fall in your neck of the woods yet? It is still blazing hot here in Colorado but I can't help but think about Fall when I see mums at the grocery store, pumpkins in the home decor shops and Fall on repeat over on Pinterest! So even if the weather hasn't gotten the memo, it is almost September and that means Fall is in the air and on my mind. Which also means decorating for this new season has been swirling around in my head. DIY Fall tablescapes are up first!
Four Inspiring DIY Fall Tablescapes
So today I am joining some blogger friends and we are each sharing inspiring DIY Fall tablescapes to help get you in the mood for Fall decor too! You know, so I'm not alone in my Fall decorating craziness. 😉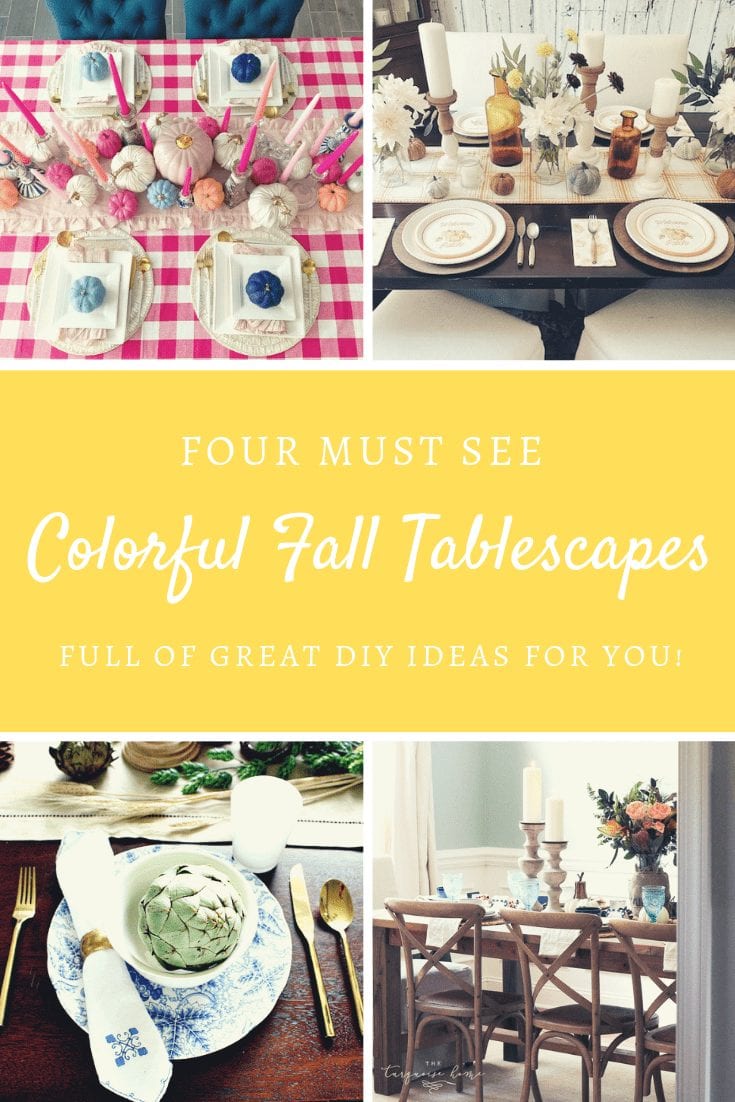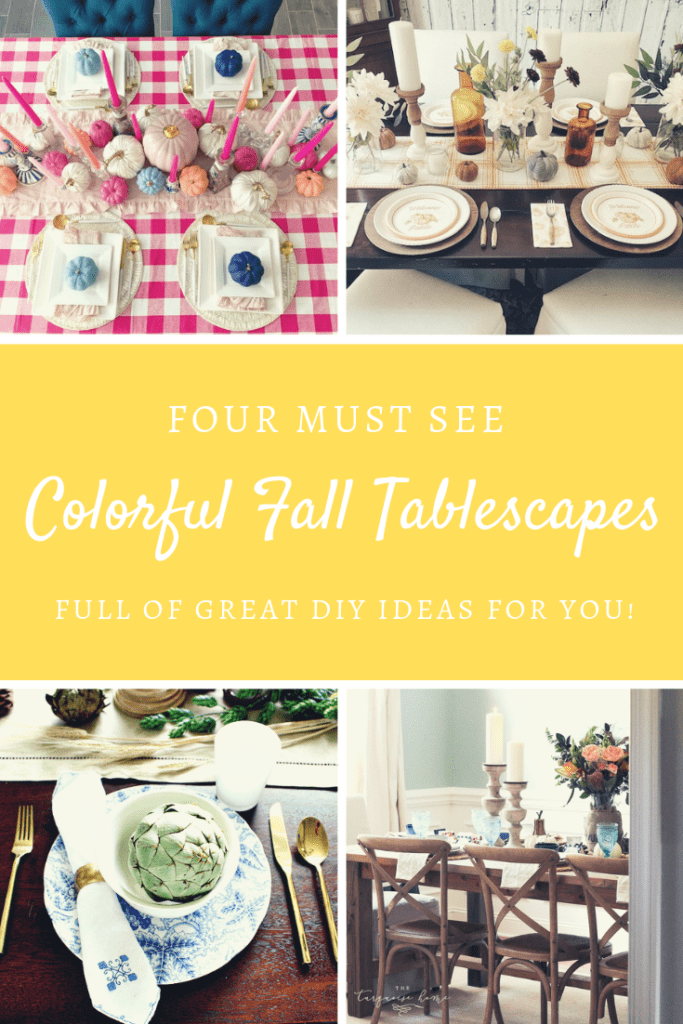 The best part about these tablescapes is that they all incorporate some fun unexpected colors, patterns and great DIY Fall tablescape ideas. Join me below!
Fall Table Inspiration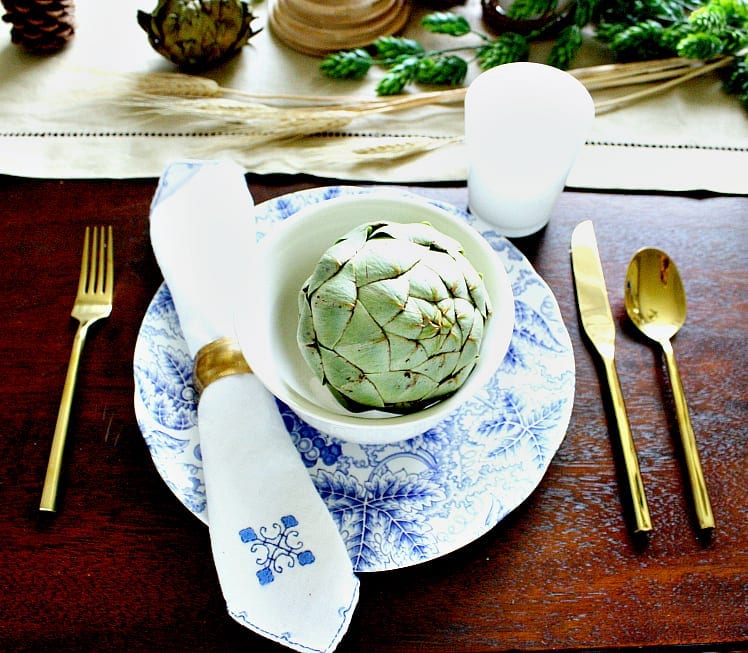 When it comes to Fall and decorating I always tend to gravitate towards natural elements and unexpected pops of color. This natural, neutral and classy Autumn tablescape of mine is no different. I started by looking around our home for items and found pine cones, wheat stems, greenery and these artichokes. Next, when setting a table I always recommend looking for a certain element of surprise. My item was the artichokes which sure did surprise my husband! 🙂 They pop against the blues and golds that I weaved throughout the table. You can see more color and natural elements HERE that I used on the table as well as my print makers cabinet!
Brendt from She Gave It A Go does such a great job of breaking down how to create a lovely Fall tablescape by sharing these 5 easy steps. Her touches of amber have me swooning as well as her faux Fall flowers. She gives a wonderful list of every single thing she used on her table so you can easily reproduce it yourself. Such a time saver! You might be surprised like I was at what type of napkins she chose to use! You can go see them here.

Laura from The Turquoise Home is a girl after my own heart. You can visit her Farmgirl Flower table here for some major eye candy!  She loves flowers and she loves her blues. This Fall table of hers is full of both color and fun DIY ideas like her farm table and navy blue buffalo check name cards.  I have to say I was inspired by what she did to her vase of flowers ; would you have thought to do that? Now I want to run and order some Farmgirl Flowers for myself!
Finally, Merichelle from We're The Joneses knows how to have fun when it comes to creating tablescapes! These 3 simple steps of hers are not only achievable but are fun and full of color mixing and patterns! She is a huge fan of non traditional Fall colors and I feel this makes her DIY Fall tablescape stand out from the rest! I mean, how cute is that pink gingham tablecloth mixed with her blue painted pumpkins?! She even shared a video that is perfect if you are a visual learner like I am! Now I want a gingham tablecloth! How about you?
Colorful DIY Fall Tablescapes
Don't these four very different DIY Fall tablescapes get you excited to start planning your table? I know I am ready! What fun Fall colors and DIY ideas do you plan on adding to your tablescapes this Fall?
xoxo,
Kelly