Welcome to this week's Monday Must Haves, where I share a collection of things that have caught my eye lately. Plus, each week I will be featuring a small shop for you to check out. Nothing is off limits!
*As an Amazon Associate, I earn from qualifying purchases. This post contains other affiliate links too for your convenience. Click here to read my full disclosure policy.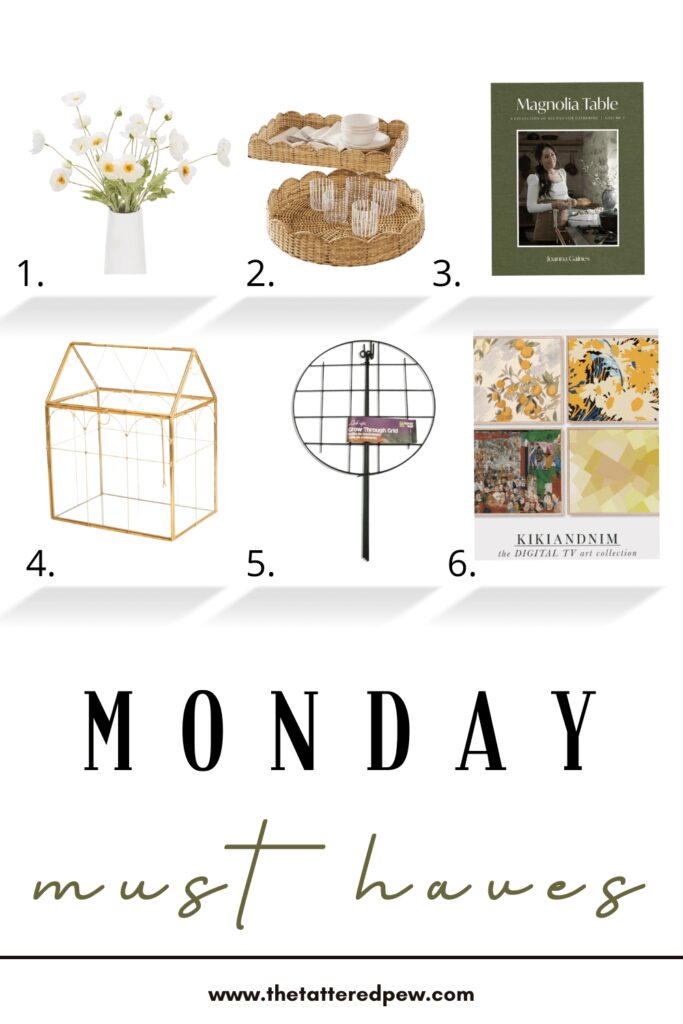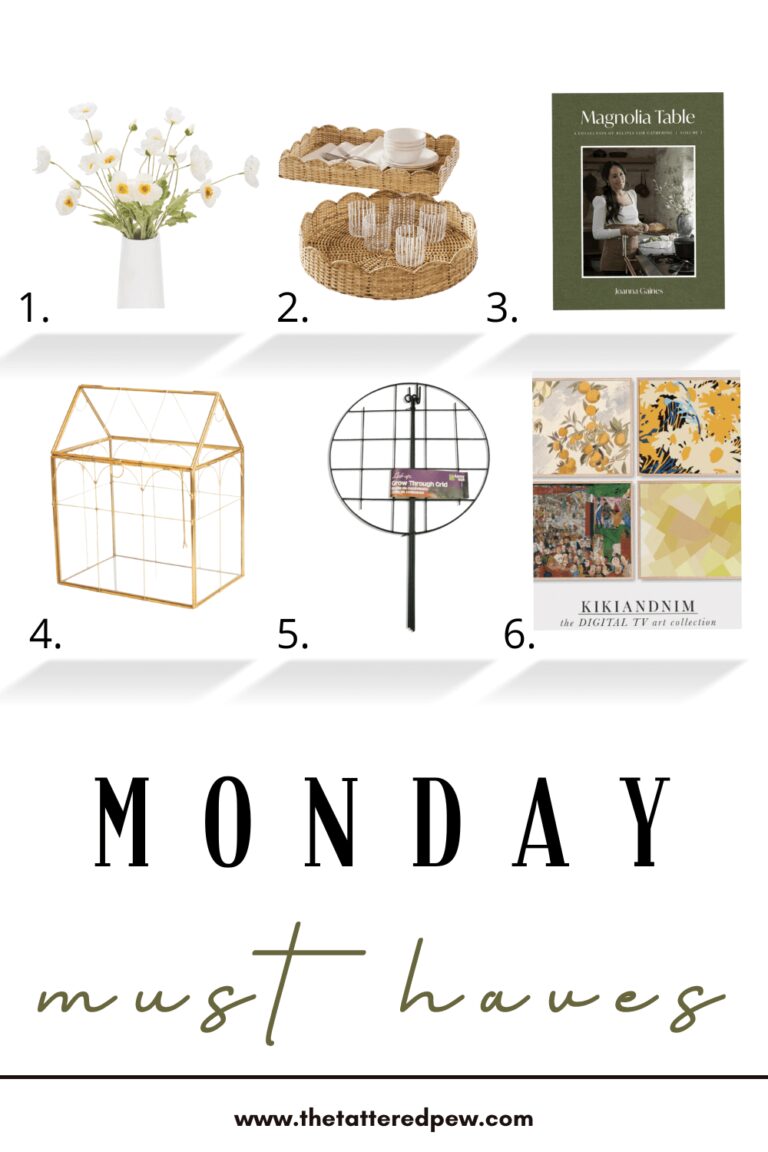 1 // 2 // 3 // 4 // 5 // 6
Monday Must Haves
My first Monday Must Have will not be a huge surprise for those of you who know me well. I love a good faux flower and these white silk poppies are simply amazing! The moment I opened them I knew they were going to be good. Their stems look and feel so realistic as do the petals. I usually gravitate towards real touch/latex flowers but these silk ones are so realistic! They do come in other colors as well and they are affordable. I currently have them on a side table in our family room.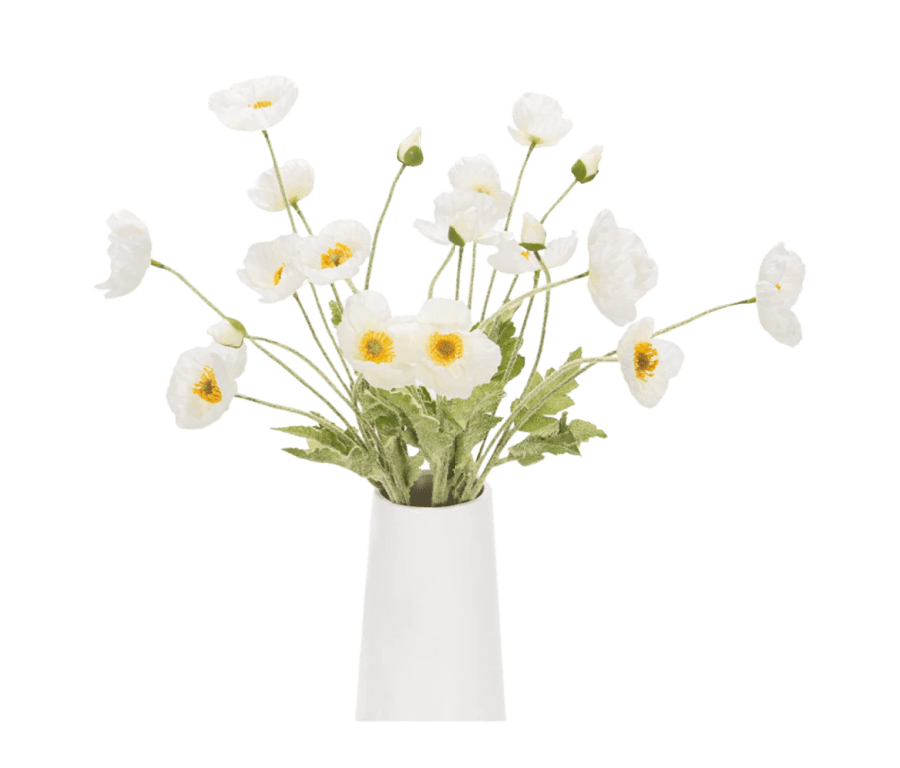 2. Has any one else fallen in love with scallops in home decor? I am loving these fabulous scallop rattan trays from Pottery Barn! There are two shapes and they both would be so lovely. The price of these is cheaper than most of the others I have seen lately. I keep hoping that I will someday walk in to HomeGoods and find a similar one at a fraction of the price. But until then this will be on my Wishlist and Monday Must Haves list.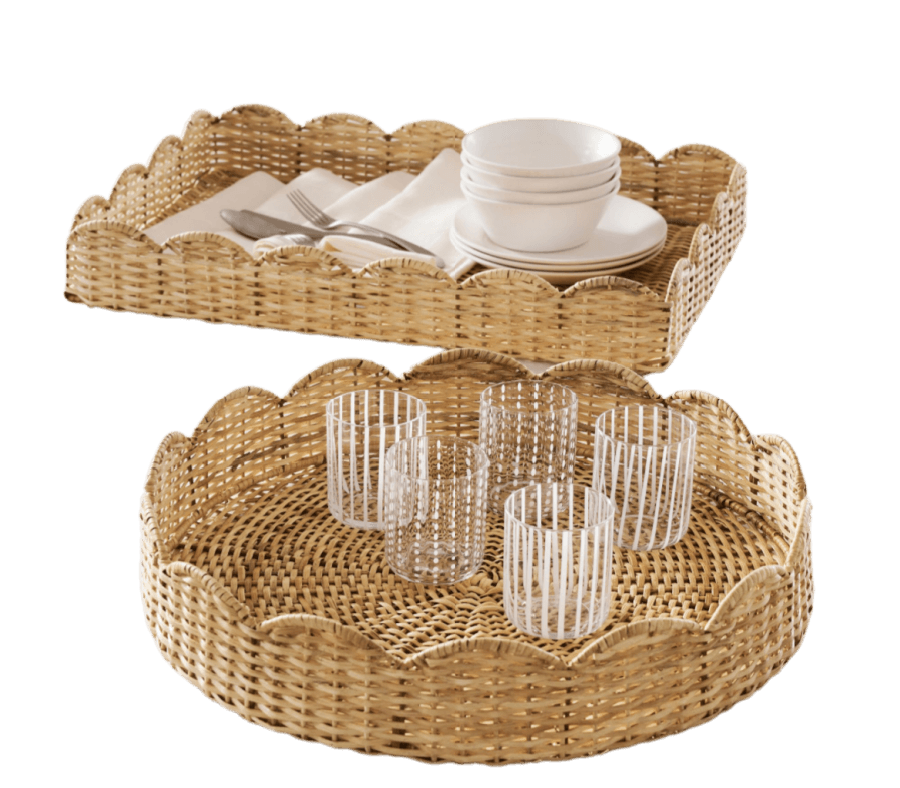 Plus, I wanted to share a collage of Pottery Barn's other new summer arrivals! You can shop them HERE.
3. Joanna Gaines' latest Magnolia Table Cookbook is out and looks amazing! Have you seen it? I have her other cookbooks and love them. I can't say that I use them for much more than decor (but my sister has!) This one looks just as lovely as her others. She is amazing and this would make such a great gift. Maybe for Mother's Day?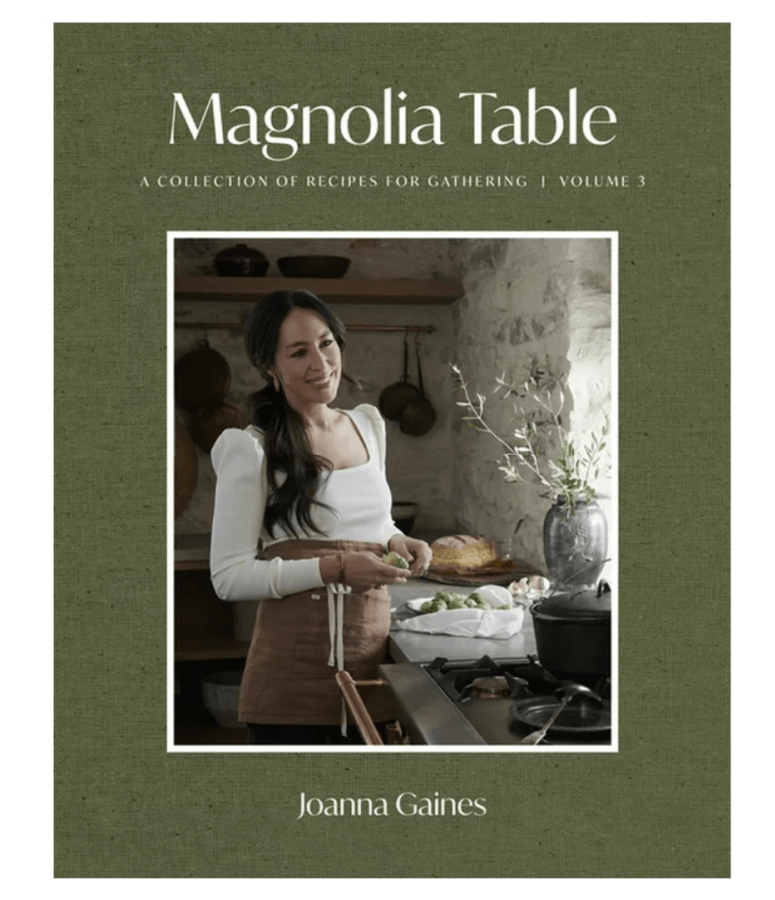 4. How fun is this little glass and gold terrarium? I saw it and instantly knew I needed it. It opens at the top and has a little support to prop open the lid. My goal is to plant something in it or display something in it, maybe sea shells? What would you use it for? It is currently sitting on our mantel but would also look so cute as a centerpiece or out on a potting table.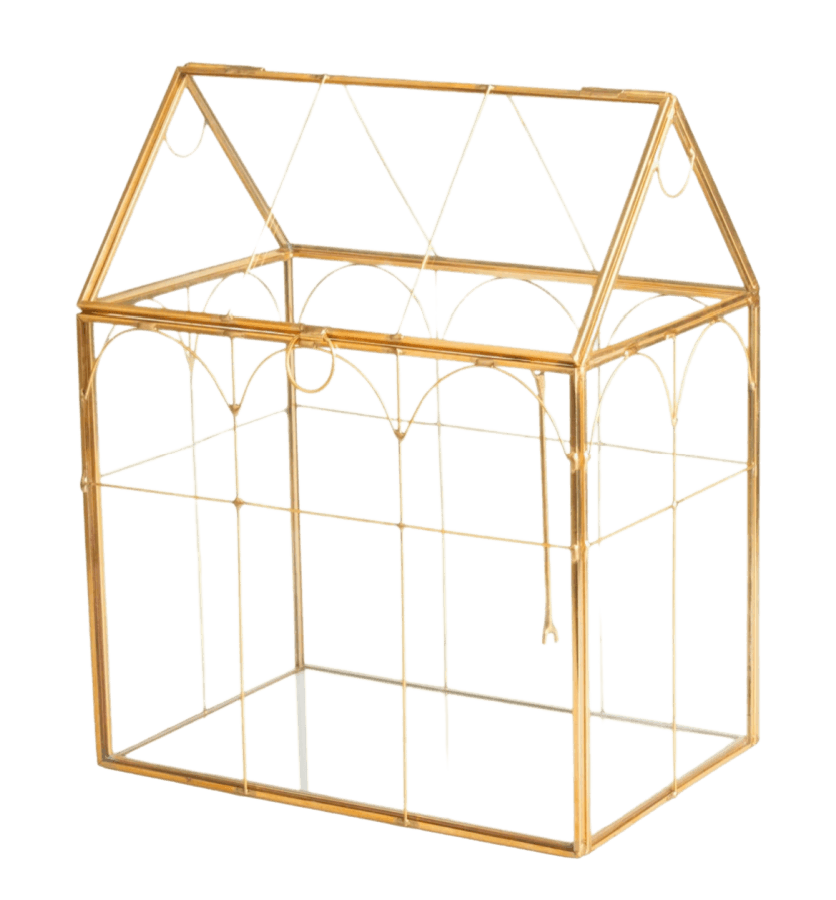 5. Do you have peony flowers in your garden? This is my go to for supporting our peony bushes. These are called grow through rings. Have your peony bushes ever gotten so big that they just flopped over? Then you need these! Your peonies grow right through the grids and you can raise the grid as the flowers grow. I have used these for years and love them. I have also tried stakes for individual blooms and those work too but I prefer the grow through rings. It is best to add these early. ( we have so many bushes out back that I opted for this bulk pack !)You can visit my post all about the best PEONY TIPS AND TRICKS for more information!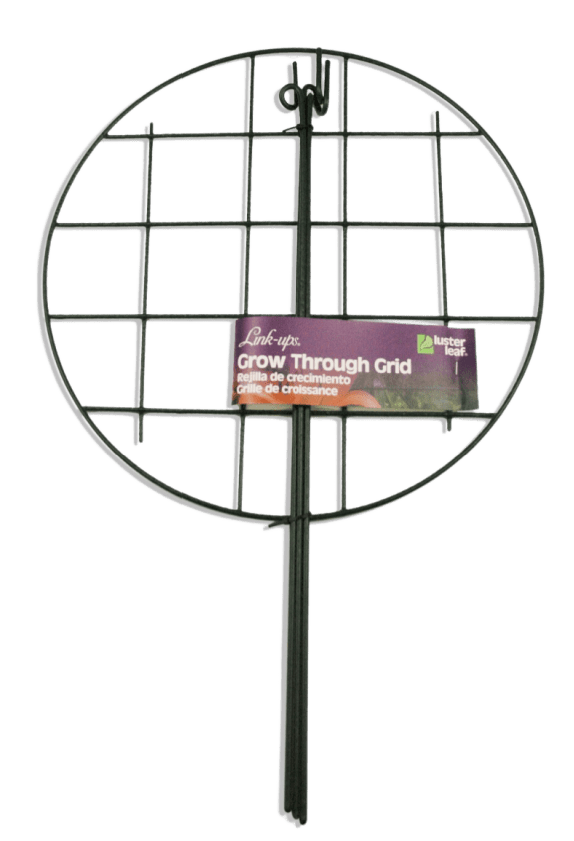 6. SMALL SHOP SPOTLIGHT: This week I want to share a small shop from ETSY that my sister in-law shared with me. The shop is called Kiki and Nim. They have several digital art options but the ones that caught my eye were their Samsung Frame TV art sets! They are seriously beautiful. You can buy their digital downloads to upload to your smart TV and make it look like art! We have a Samsung Frame TV and LOVE how it looks like art on our wall. This small shop has so many great options but I loved their yellow set as I look forward to summer days!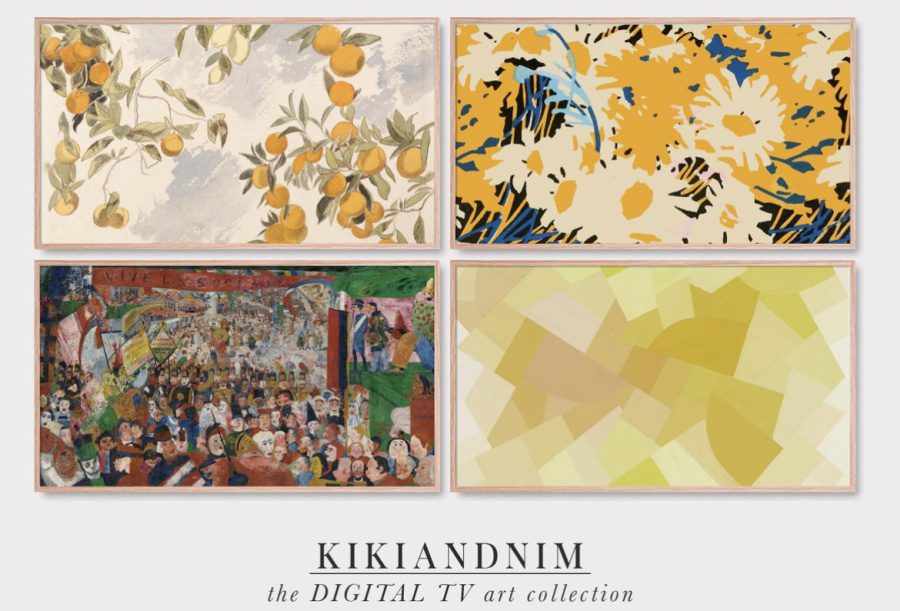 Monday Must Haves
Which Monday Must Have from today caught your eye? You can see all previous Monday Must Haves here!
I'd love to have you hang out with me some more. Feel free to follow along with me on any of the platforms linked below.
LTK | Facebook | Instagram | Pinterest | Amazon
xoxo,
Kelly