11+ Gift Ideas for Whiskey Lovers (That Aren't Whiskey!)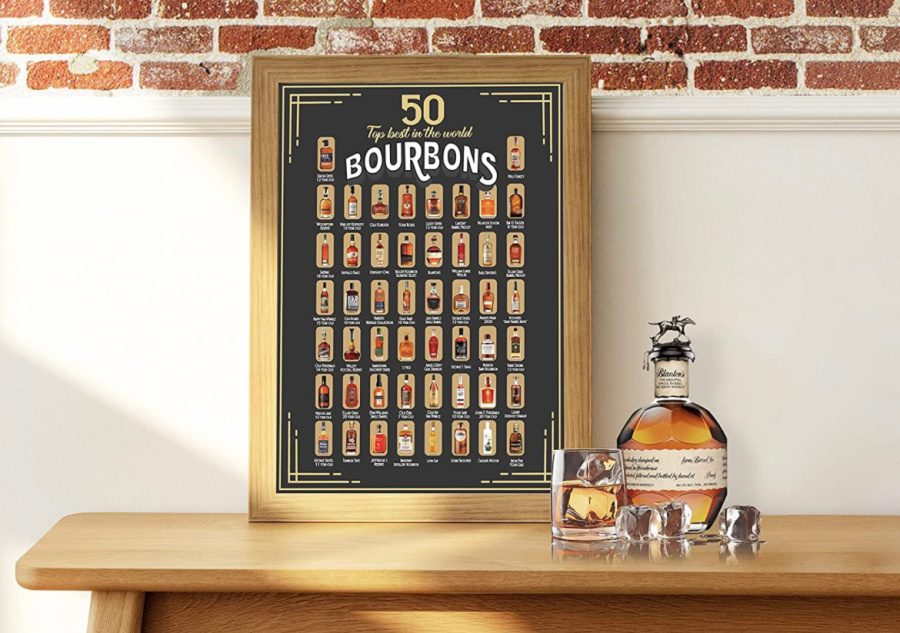 *As an Amazon Associate, I earn from qualifying purchases. This post contains other affiliate links too for your convenience. Click here to read my full disclosure policy.
Have you ever enjoyed something so much it almost became part of your personality? To the point that everyone around you knows that you're the person who loves (whatever) more than anyone else? That's my husband and whiskey. Which is why every Christmas (and birthday…and Father's Day) I'm left scouring Google for the best gift ideas for whiskey lovers.
I love to try and find unique whiskey lover gifts that are fun but also practical – things my husband, Mike, will actually use to support his love of whiskey, scotch and bourbon. And this year, I knew I was going to need to dig even deeper to find unique whiskey accessories for his gifts.
I made it my mission to find the best whiskey gifts (that aren't whiskey!). But don't worry, I'll share some actual whiskey ideas too.
I found so many great gift ideas for him that I'm really excited to share with you, including lots of options for all budgets. Even if your loved one is the ultimate whiskey connoisseur, there's bound to be something on this list that they don't have!
Here's a sneak peek of my favorite finds this season:
11+ Whiskey Gifts for Him
If you want to jump straight to the gift ideas, then use the links below to access the full guide. Otherwise, keep scrolling to read a little bit more about the best whiskey and whiskey accessories to add to your holiday shopping list this year.
Is Whiskey a Good Gift?
When you're shopping for a whiskey lover, you might be tempted to buy them a bottle of whiskey and call it a day. But there's a reason I went out of my way to come up with gift ideas for whiskey lovers that aren't whiskey…whiskey lovers can be picky!
The thing about whiskey drinkers (and bourbon or scotch drinkers), is that they tend to have very specific tastes and opinions about the alcohol they're drinking. So while you absolutely can just buy a bottle of whiskey as their gift, you might have better luck with one of the whiskey accessories I'll be sharing today.
What's the difference between whiskey, bourbon and scotch?
If you've been wondering about the difference between whiskey, bourbon and scotch, then it's definitely a good idea to buy something other than a bottle of alcohol for the whiskey snob (ahem, lover) in your life.
Still, you might as well educate yourself while doing your holiday shopping this year, so you can impress your whiskey loving loved one with your alcohol knowledge.
To put it simply: whiskey is a broad term for distilled grain aged in casks. Scotch is a type of whiskey and so is bourbon. Scotch is a term used to describe whisky made in Scotland (whisky the correct spelling for Scottish-made varieties). Bourbon, on the other hand, must be made in the United States, and must be made from at least 51% corn.
Now that we're all on the same page, let's get to this whiskey gift list!
11+ Things Every Whiskey Drinker Needs
This scratch-off poster is a great gift that doubles as bar or man cave wall decor. Featuring the best 50 bourbons in the world, your whiskey lover can scratch off each bourbon bottle as they've tried them. Think of this like a decorative scavenger hunt for really great bourbon.
I am getting this for Mike this year and know he's going to love displaying it (and tasting his way through it!).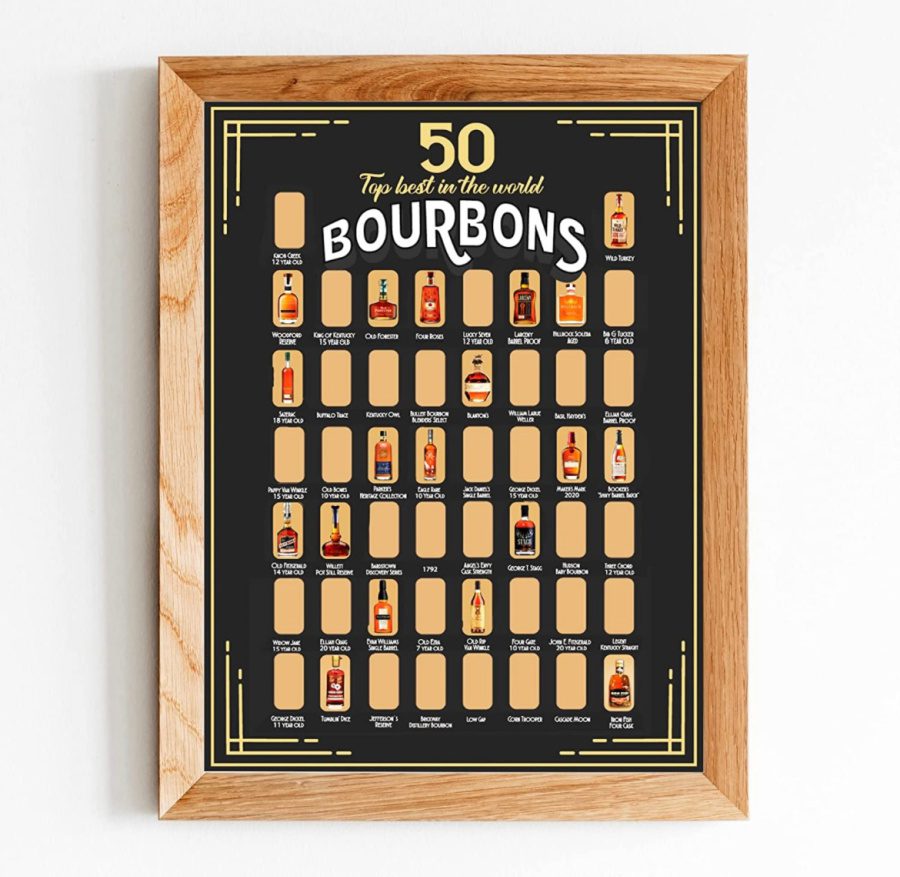 Help them take their cocktail creations to the next level with this professional-grade cocktail smoker for at-home whiskey concoctions. This is one of my favorite unique gift ideas for whiskey lovers that they probably don't already own.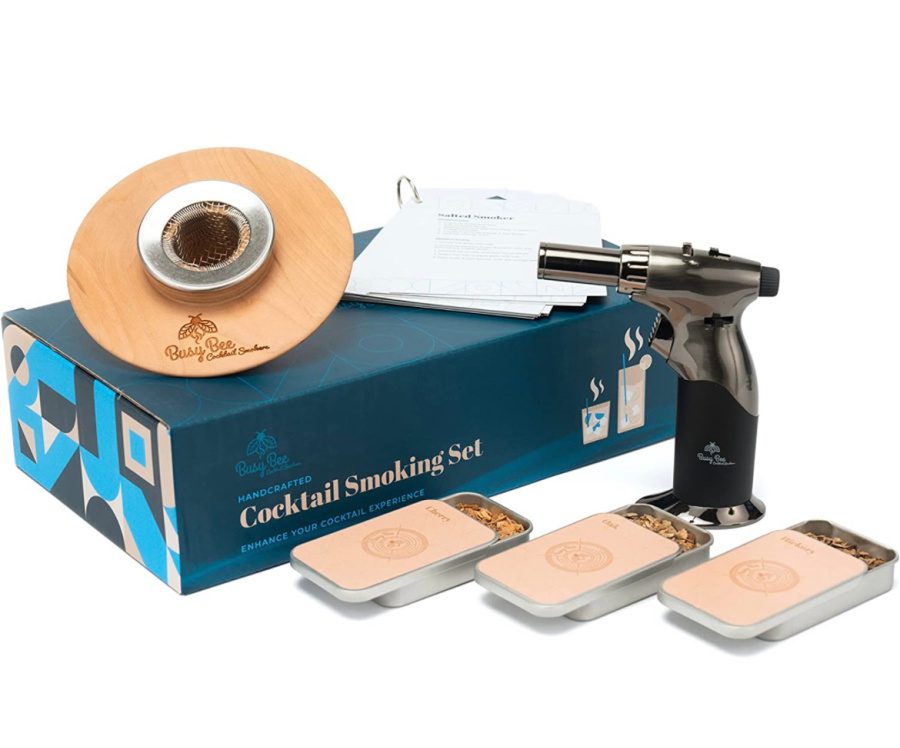 We already have these whisky glasses and we love them! They're so good I'm even tempted to buy a couple more! The unique shape takes even the best whiskey to a whole new level – perfect for a cozy night in or an at-home whiskey tasting.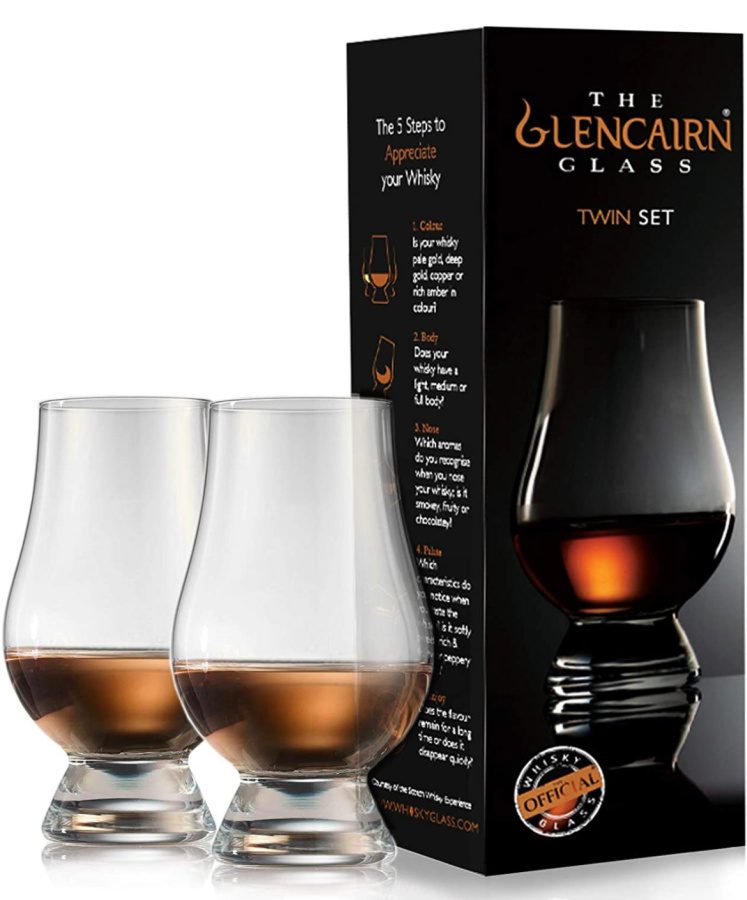 Does the whiskey lover in your life love trying new and unique varieties? Let them create their own with this DIY whiskey kit. The kit comes with 12 different wood chip blends and botanicals, perfect for turning any neutral alcohol into their very own whiskey.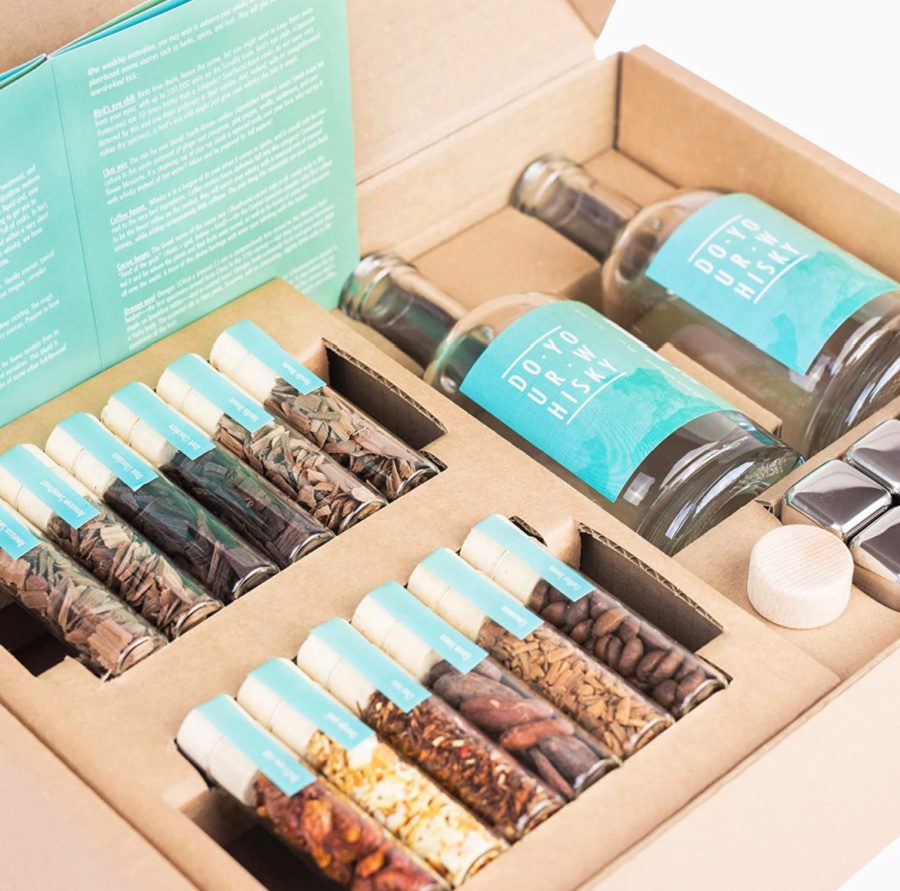 Take a simple glass of whiskey to a new level with this truly unique whiskey glass with silicone ice mold. Simply place the silicon mold in the whiskey glass, pour in water and freeze. Then remove the mold and pour your favorite whiskey on top of the ice.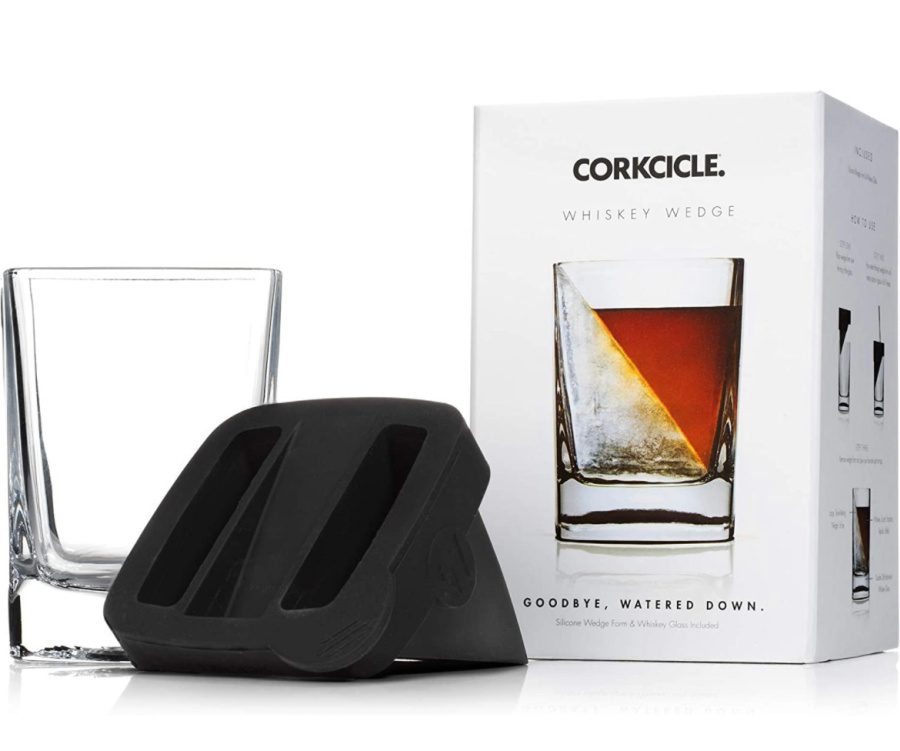 If your connoisseur loves their whiskey served neat, then not even an ice mold will do. Instead, these stainless steel whiskey balls are a great ice alternative for whiskey and other spirits. Keep them in the freezer then simply drop one or two into your glass to quickly chill your whiskey and keep it cold – without it getting watered down.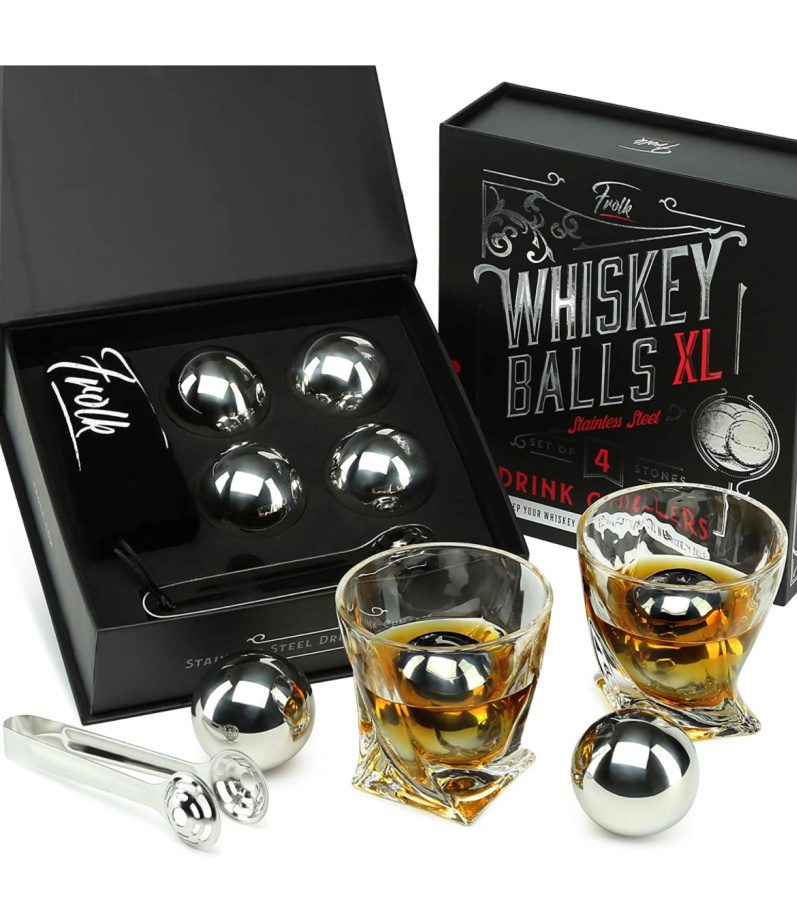 I love a good personalized gift! And a personalized whiskey decanter and glass set is even better. This set is really gorgeous and perfect for displaying on a home bar. Your resident whiskey drinker will love hosting poker nights or tasting nights for friends with this personalized glass set.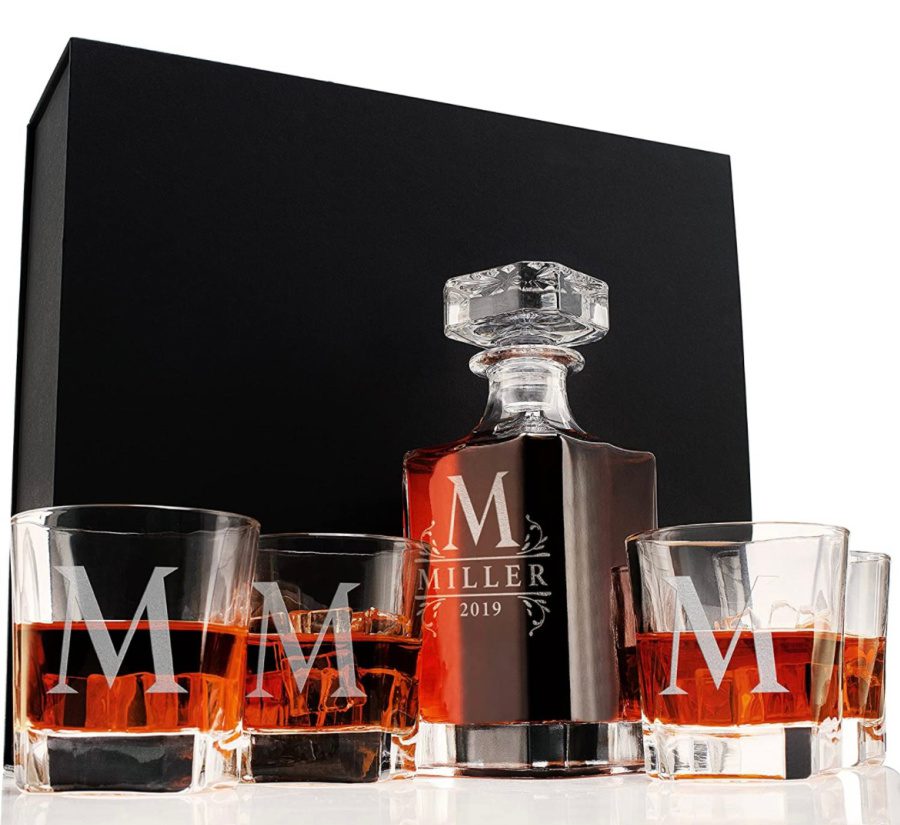 Let your whiskey-loving friend or family members wear their heart on their sleeve (or chest), with this whiskey-themed shirt. This just may become their new favorite T-shirt.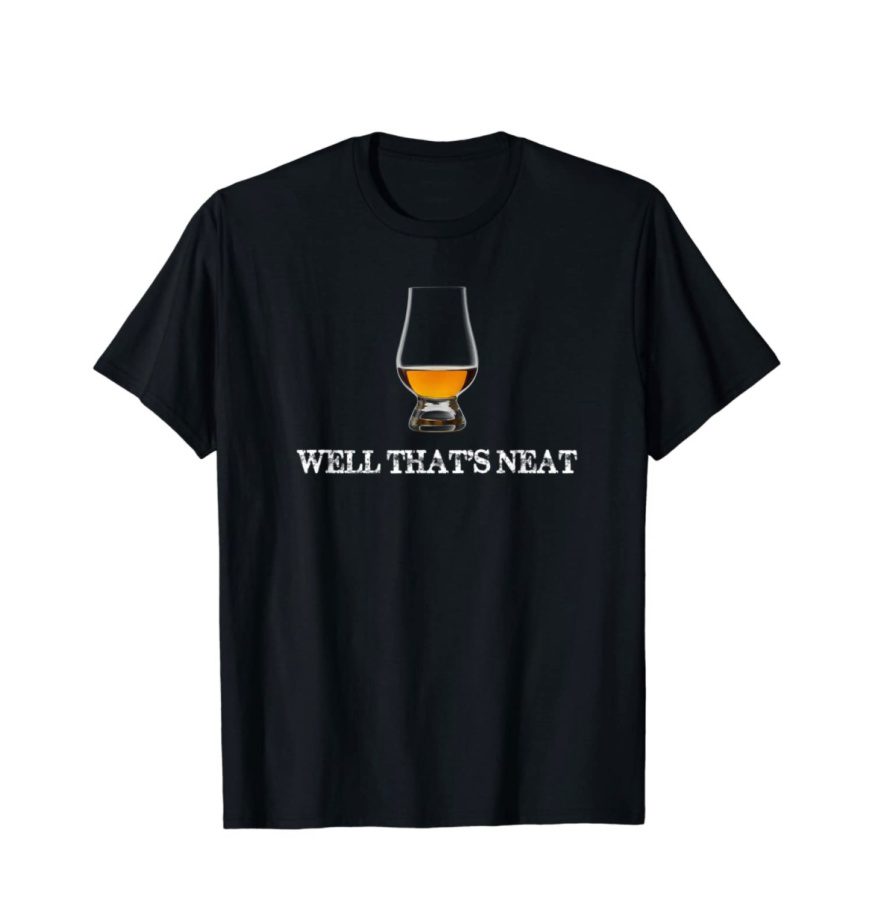 A man cave isn't complete without some alcohol-themed wall decor. This customizable whiskey barrel sign is one of my favorite gift ideas for whiskey lovers this season. Add their name or a favorite saying to personalize this present.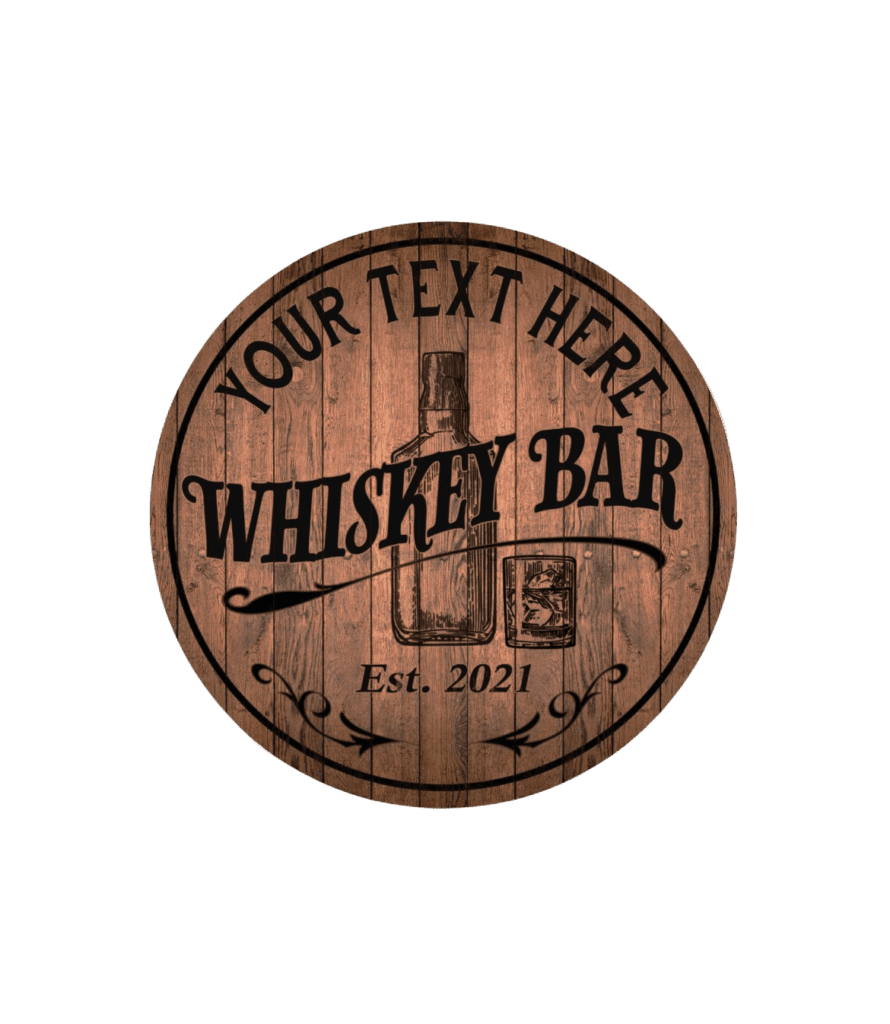 Need a no-fail whiskey lover gift for the man who has everything? This Bourbon Bible explores 140 of the best bourbons in the world – perfect for helping your loved one continue their whiskey education.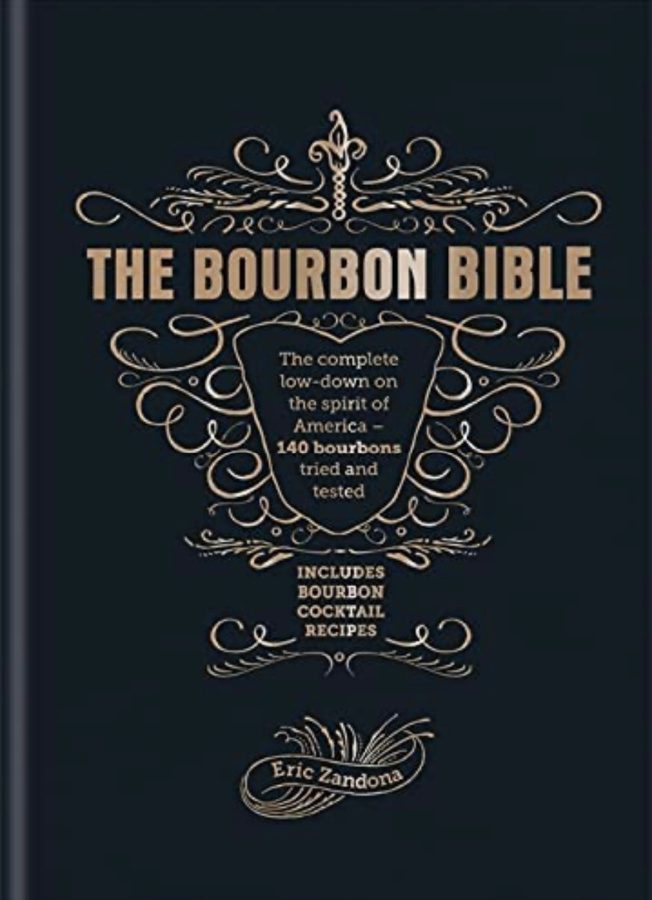 These are on my holiday shopping list for Mike this year! He's always on a quest for the best ways to keep his whiskey drinks cold. This silicone ice mold is specially designed to make crystal-clear ice for better (looking) cocktails that stay colder longer.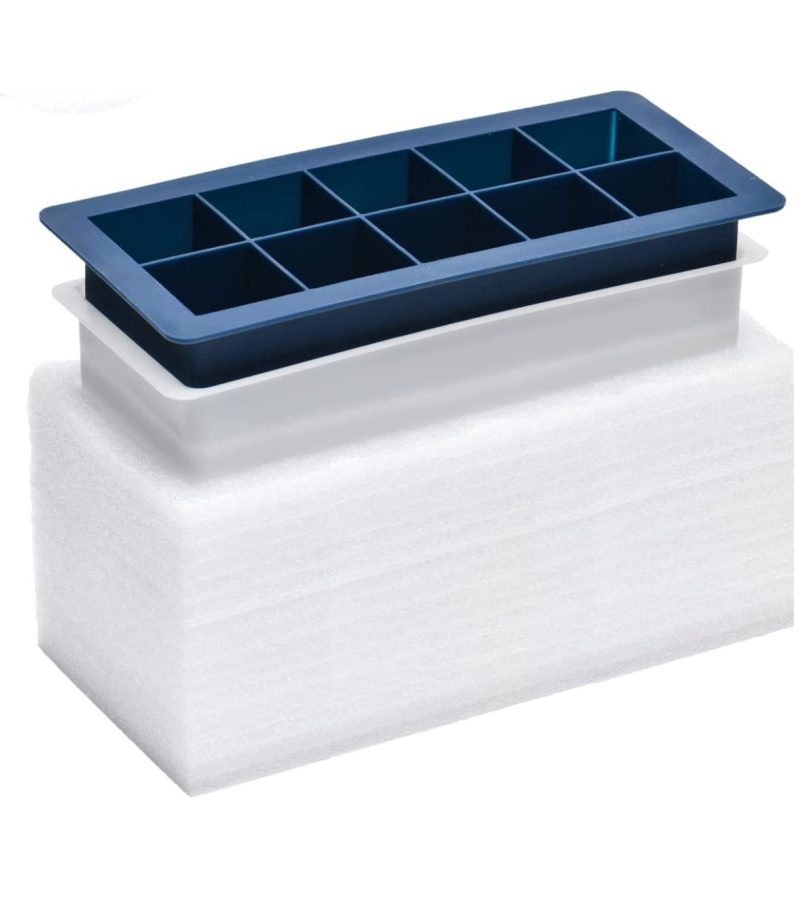 BONUS: Gift Ideas for Whiskey Lovers…That ARE Whiskey
While I love the idea of gifting whiskey accessories to the whiskey lover who has everything, sometimes you just need a bottle of spirits to round out a present. In that case, I love these options for alcohol gifts for men (and women).
This is definitely on Mike's Christmas list this year – and it just might be the best Christmas gift for whiskey lovers. This whiskey Advent calendar lets your favorite whiskey lover enjoy a new whiskey variety every day of Advent, helping them discover their new favorite.
This gift is definitely a bit pricey, but is a really fun way to celebrate a love of whiskey – and a love of Christmas!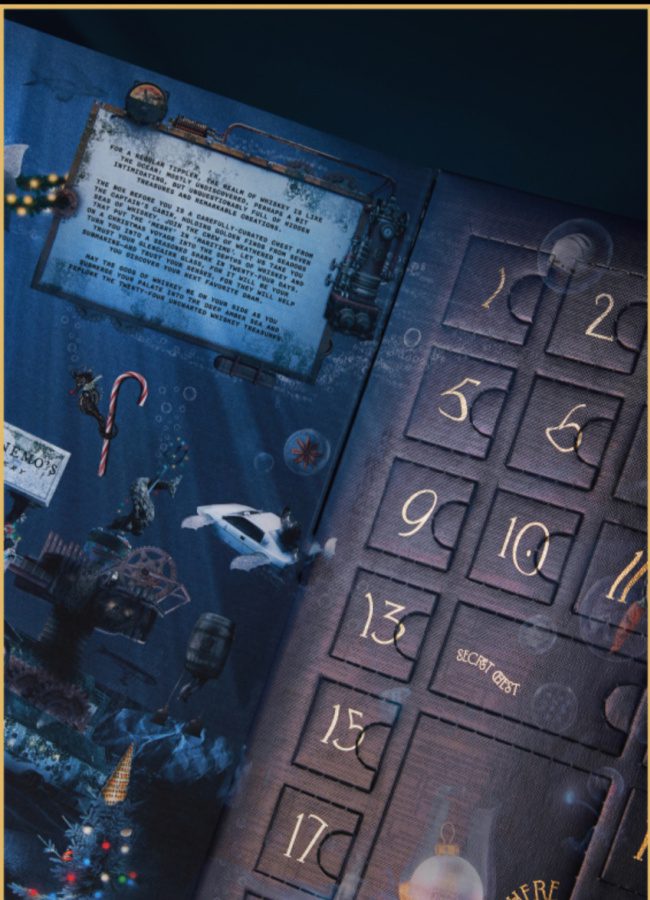 I love Man Crates! They have gifts for guys with just about any interest for just about any occasion. And they have some great options for whiskey lover gift baskets (or in this case, gift crates).
I got a whiskey-themed Man Crate as a gift for Mike's 45th birthday and he LOVED it. This year, they have a few options to choose from, including their Personalized Whiskey Connoisseur Crate (which includes everything he needs for an at-home whiskey tasting) and even a Personalized Whiskey-Making Kit that comes complete with their very own miniature whiskey barrel.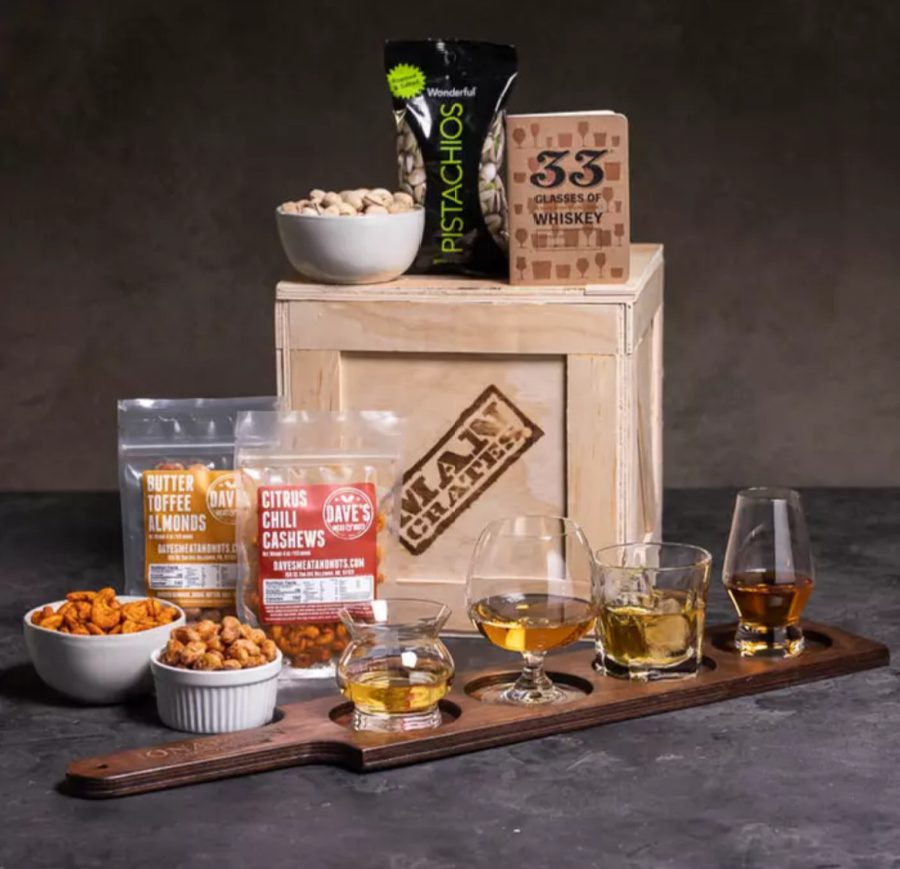 BONUS: Hard-To-Find Whiskey Bottles
We all know every whiskey lover really loves a rare bottle of their favorite spirit. But it can be hard to find anything special in a standard liquor store. Luckily my whiskey-loving husband has taught me his secrets for finding rare and unique bottles of whiskey online.
If you're looking to gift an extra-special bottle this year, explore the options at Bottle Broz or Sip Whiskey. They both have enough offerings to find something special for even the most experienced whiskey drinker and even have gift sets available to make your holiday shopping even easier.
Want to Share Your Own Gift Ideas for Whiskey Lovers?
I'd love to hear from you! What are some of the best whiskey related gifts you've given (or received)? Share your favorites in the comments to help us all get our shopping done early this year!
I'd love to have you hang out with me some more! Feel free to follow along with me on any of the platforms linked below.
LTK | Facebook | Instagram | Pinterest | Amazon
xoxo,
Kelly
Did you like this post? PIN it for later!