Gorgeous Flower Pot Tips and Ideas
Soak up my gorgeous flower pot tips and ideas for your Spring and Summer porch or patio. Try them for instant color and curb appeal.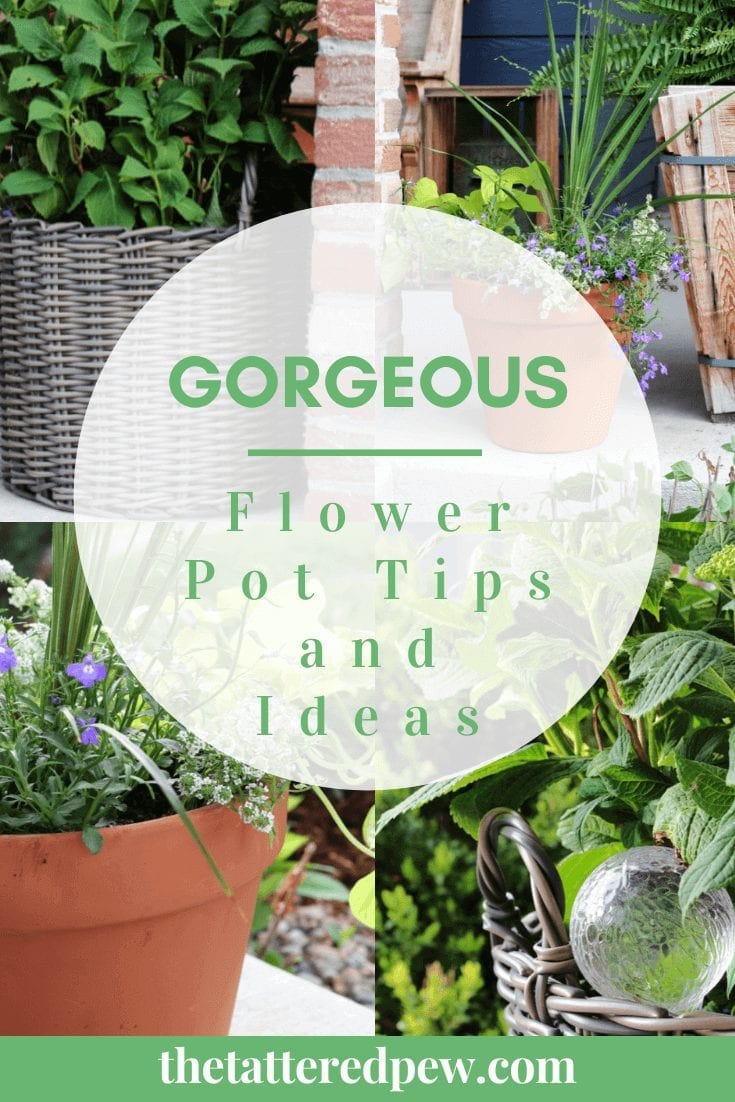 This post contains some affiliate links for your convenience. Click here to read my full disclosure policy.
Gorgeous Flower Pot Tips and Ideas
Here in Colorado I feel like the dreary Winter months last forever! By the time Spring and Summer roll around I am craving color and new life and dreaming up gorgeous flower pot ideas! The moment the weather changes I always get so excited to add flowers to our front porch and back patio. This year I spent a very special Mother's Day at O'Tooles Garden Center picking out some amazing flowers for our porch and garden. Then I had to wait an entire week for it to stop snowing so I could plant them.
It was worth the wait!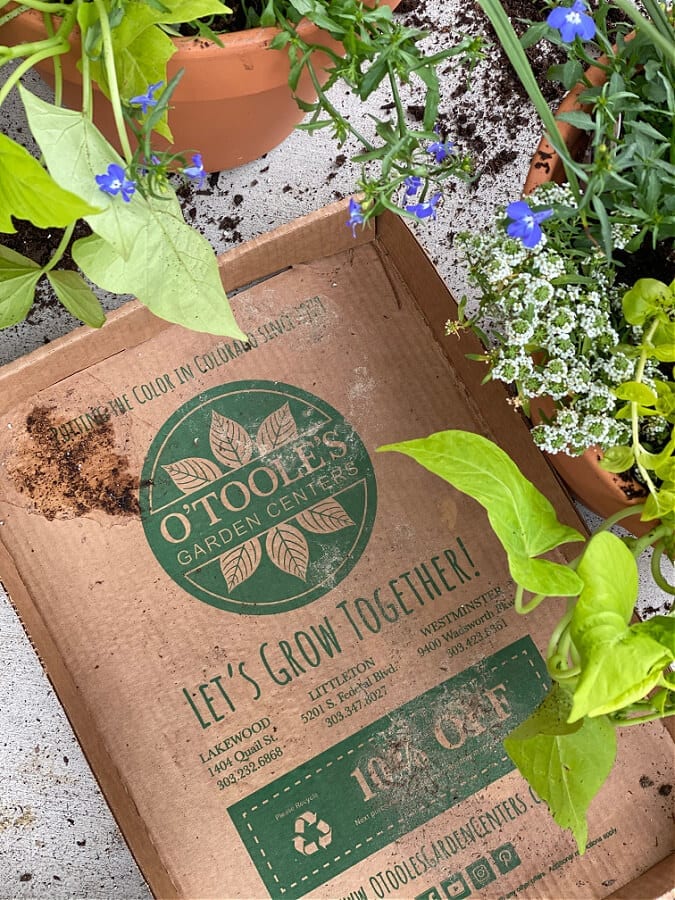 I thought it would be fun to share my method for planting flower pots as well as give you a few fun and helpful tips for planting in containers.
Where Do I Start For Gorgeous Flower Pots?
The good news is friends that getting started creating gorgeous flower pots is actually quite simple. I will walk you through a few options.
Option number one includes you purchasing everything yourself to put your pots together. ( I will share how to do this below)
Option number two includes buying your pots already planted for you. This can sometimes be very costly though and heavy if you buy quality ones.
Option number three is a mixture of both options above. Many garden centers like Home Depot or Lowes carry "drop-n-bloom" container options that take the guesswork out of picking the flowers for the containers you already own. They are done for you and even have the measurements on them so you know if they will fit in your pots. TIP: measure your pots before you head out to buy your flowers. You can drop these directly in to your pots and even add a few flowers around them for a combo look. I use this option a lot!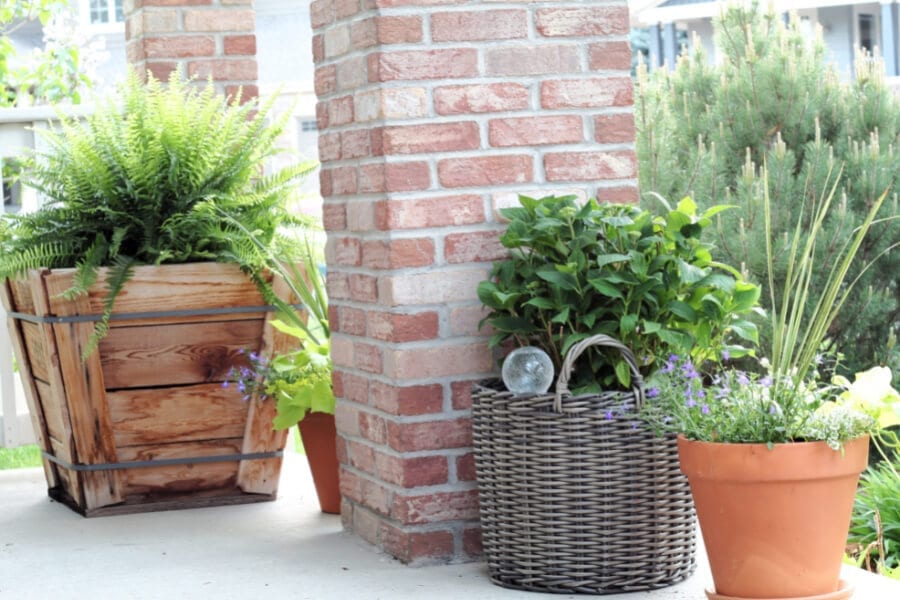 All three options work and help you achieve gorgeous flowers for your outdoor spaces. You just need to decide what is best for you! My advice is start doing some research, making lists and then spend time at your local garden center. Like I mentioned above, I visited O'Tooles Garden Center here in Colorado and all of the sales people were extremely helpful. So don't be afraid to ask for help!
What Flowers Go Together In A Pot
One of the most frequently asked questions I get asked about planting in containers is what flowers go together in a pot? For some this part of the planting process can be so intimidating. I mean just walking into a garden center and seeing all those plants and flowers can be overwhelming for sure!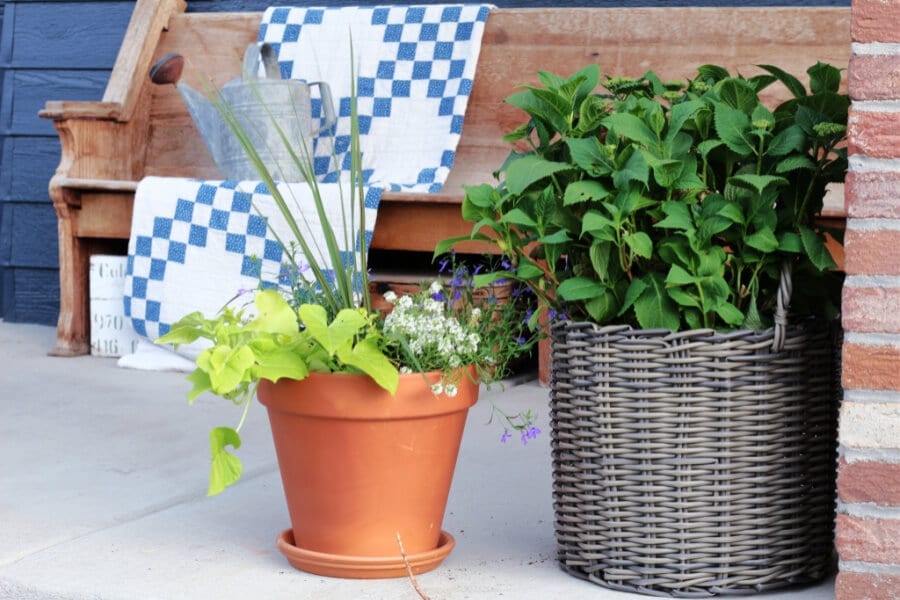 But I am here to tell you that it doesn't have to be! Every time you enter a garden center looking for flowers for your pots this should be your mantra: today I will look for thrillers, fillers and spillers and I will not be afraid to ask for help!
Thrillers– These are the tall, show off, bold, focus plants or flowers. These are usually placed in the center of your pot. (My favorites: Coleus, Geraniums, Spike, grasses)
Fillers– This is exactly what it sounds like, the flower or plants that fills the space. It should not overwhelm the focus plant and these are generally shorter than your thriller. (My favorites: Lobelia, Petunias, Impatiens, Salvia, Vinca, Alyssum)
Spillers-These are your trailing plants. The spillers flow down over the lip of your pot and draw your eye down. I sometimes like to add add 1 or 2 spillers in different colors. (My favorites: Creeping Jenny, Sweet Potato Vine, Calibrachoa, Ivy and Lobelia.)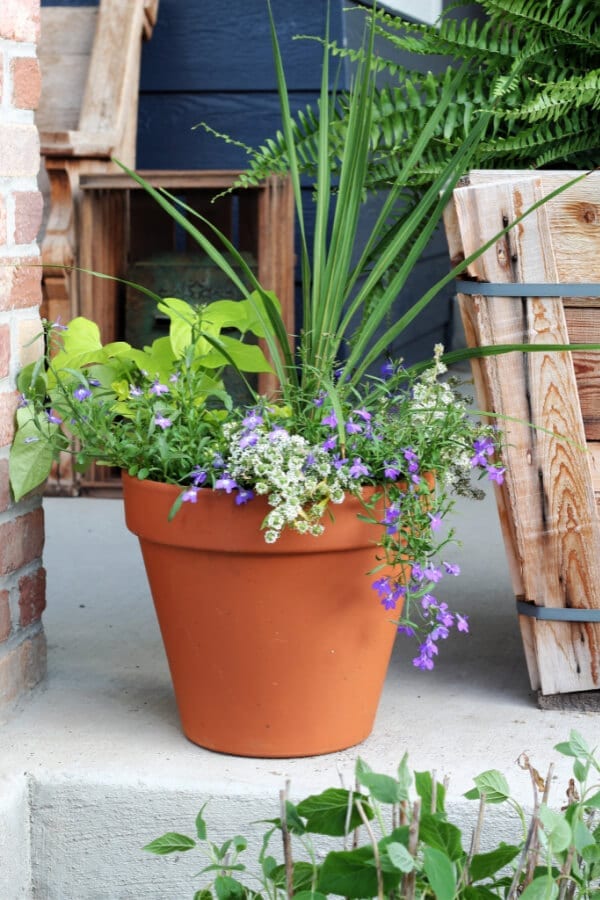 Annuals and Perennials
The other good news is that there really aren't too many rules when it comes to planting flowers in pots. You just need to pay attention to what your flowers need… do they need sun or shade? On our porch some spots get only shade some get full sun and other areas get part sun. I always pay attention to the plant's tags.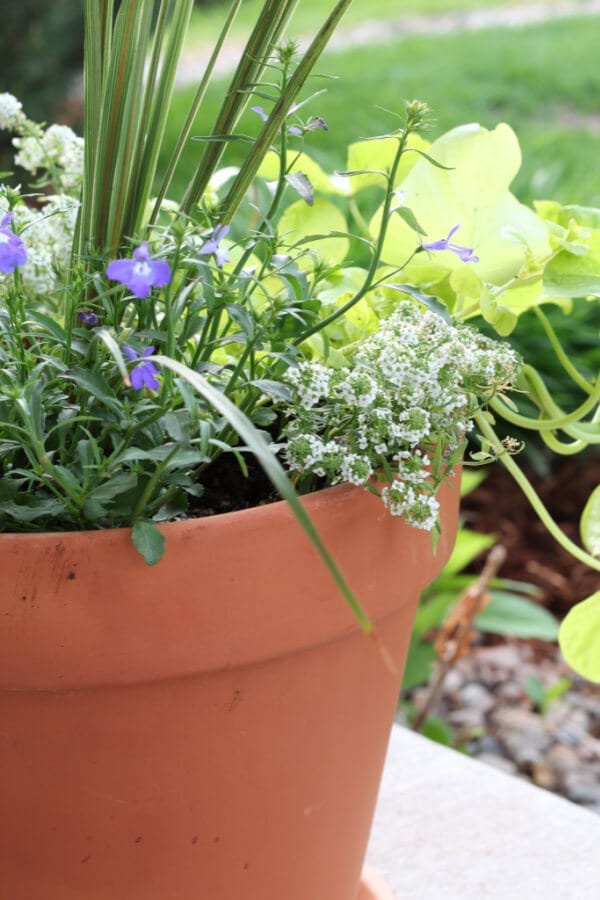 I also like to mix annuals and perennials in my pots. What is an annual? An annual is a plant or flower that needs to be replanted each year. What is a perennial? A perennial is a plant or flower that lives more than two years. Often times annuals are the most popular choice for flowers when planting in pots or containers. But I am a rebel and love to mix it up just like I did last summer when I planted my hostas in pots on my porch!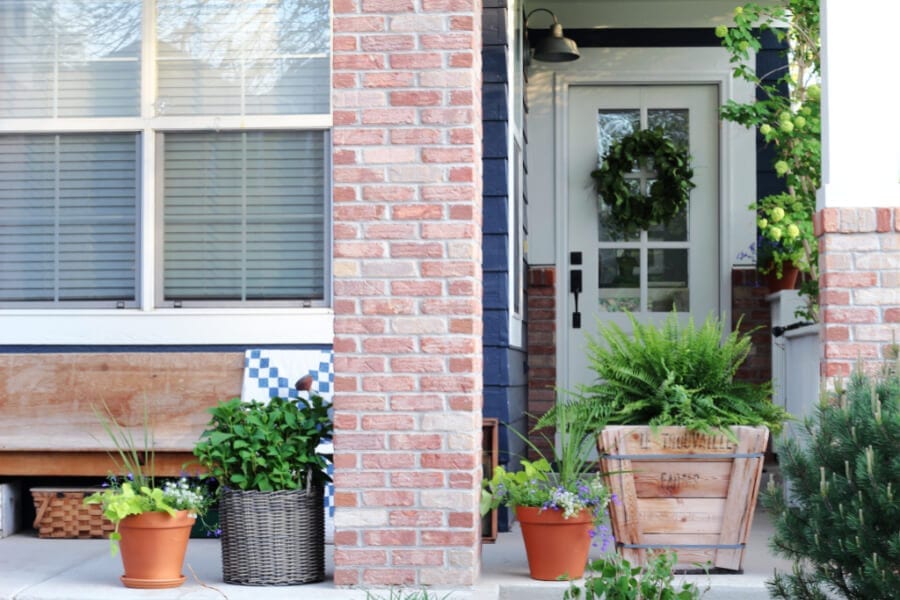 Materials For Planting Gorgeous Flower Pots
Now that you have visited your favorite local garden center, or while you are there, you need to make sure you have all of the necessary materials for planting gorgeous flower pots.
Soil labeled for potting mix
container/pot with drainage holes
trowel/shovel
gloves
flowers
watering can
Pots and Containers
When it comes to deciding what containers I use for flowers on my porch and patio I like to think outside the box. No container is off limits if it is large enough and allows space for my plants to spread and grow their roots.
This old wooden tree crate is one of my all-time favorite planters I have on my porch year round. It is unique, large and makes a statement. I love that not very many people have anything like it. Each Summer you can usually find a huge fern in it on our porch. I find my ferns at Kroger for $12.99 and they last me well into the Fall outdoors.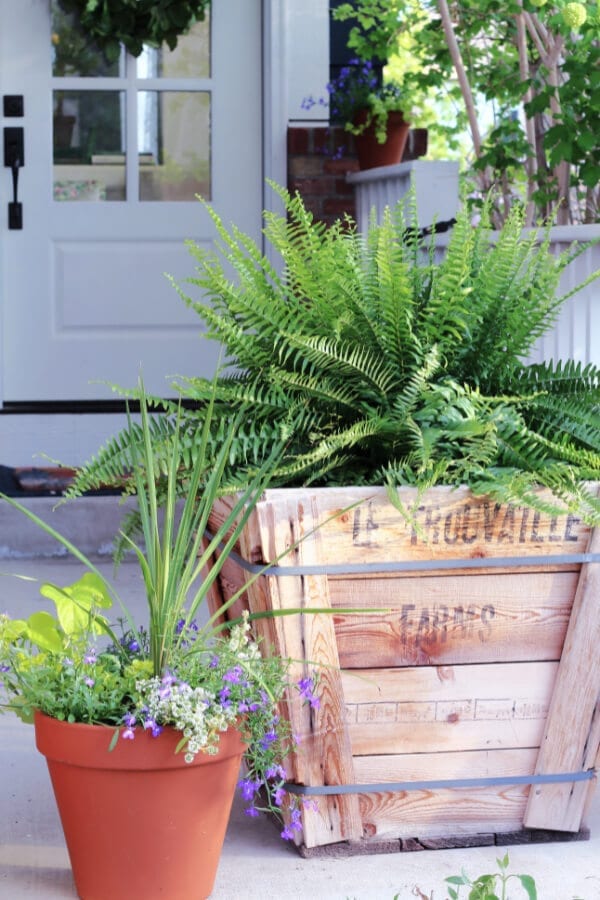 Terra Cotta pots are also high on my list of must haves for my flower pots. I love how readily available and budget friendly they are. I found my two large ones at Walmart but I have found some at garage sales, the Dollar Store and even on Facebook Marketplace!
This year, thanks to my mom, I found these beautiful outdoor baskets at Bed Bath and Beyond. They come in 3 different sizes and the largest basket was perfect to drop my Endless Summer hydrangeas into. They add a lovely texture to our porch which only enhances the beauty of the flowers. I can hardly wait for these to bloom!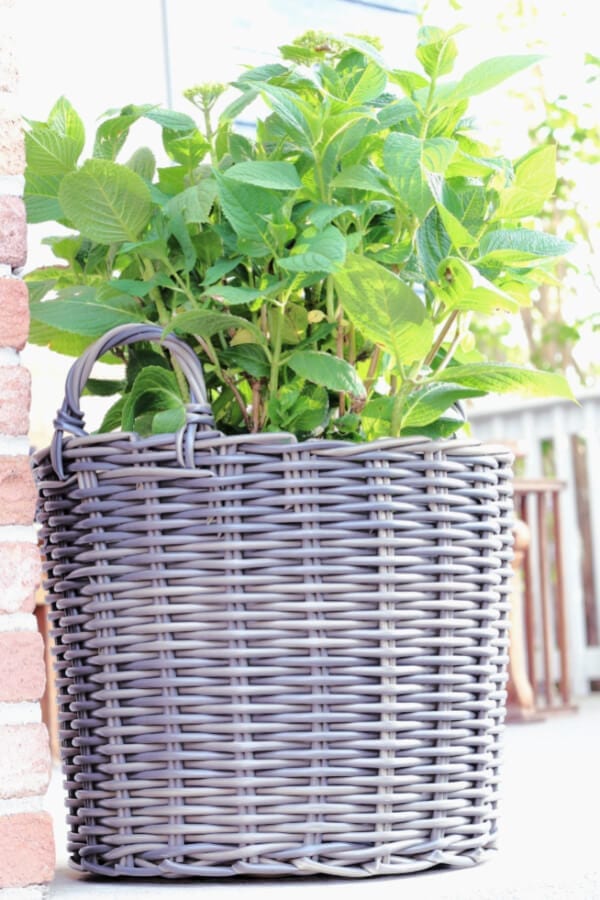 Last year I used an old vintage copper boiler pot for my hostas. To make it work I did have to drill drainage holes in the bottom. In the past I have also used olive baskets and other assorted baskets. Having flowers in unexpected containers adds to the character and charm of your porch!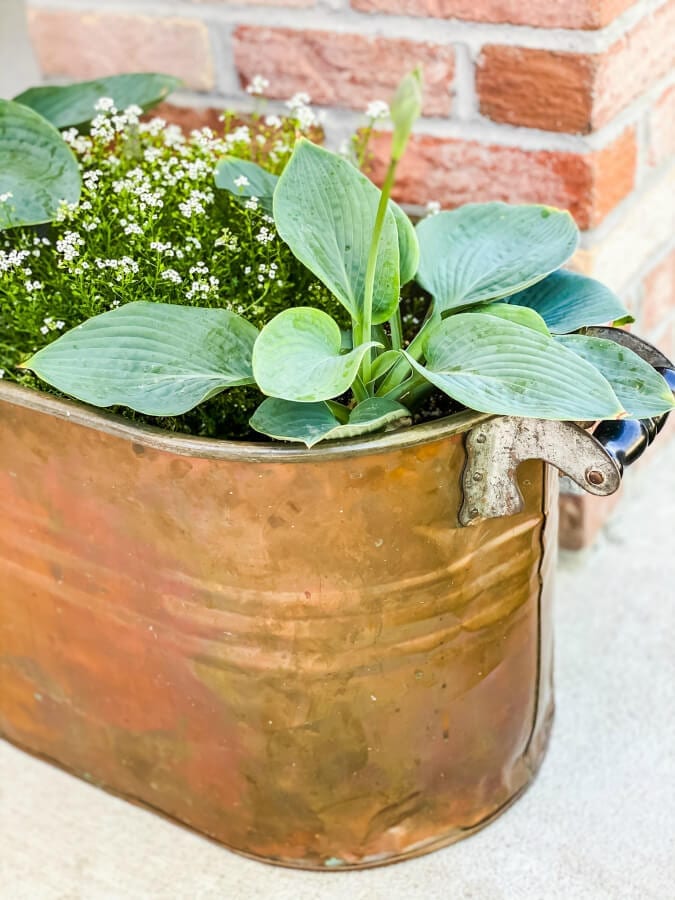 Tips For Planting Your Flower Pots
Now that you have everything it's time to create your perfect flower pots for your outdoor spaces! Gather your plants, soil, gloves and pots all in one area. Make sure you have a nice space to work and make sure to read all of your plant tags. They will help guide you on whether your flowers like sun or shade and even how much water they require. Tags are super helpful and I save all of mine!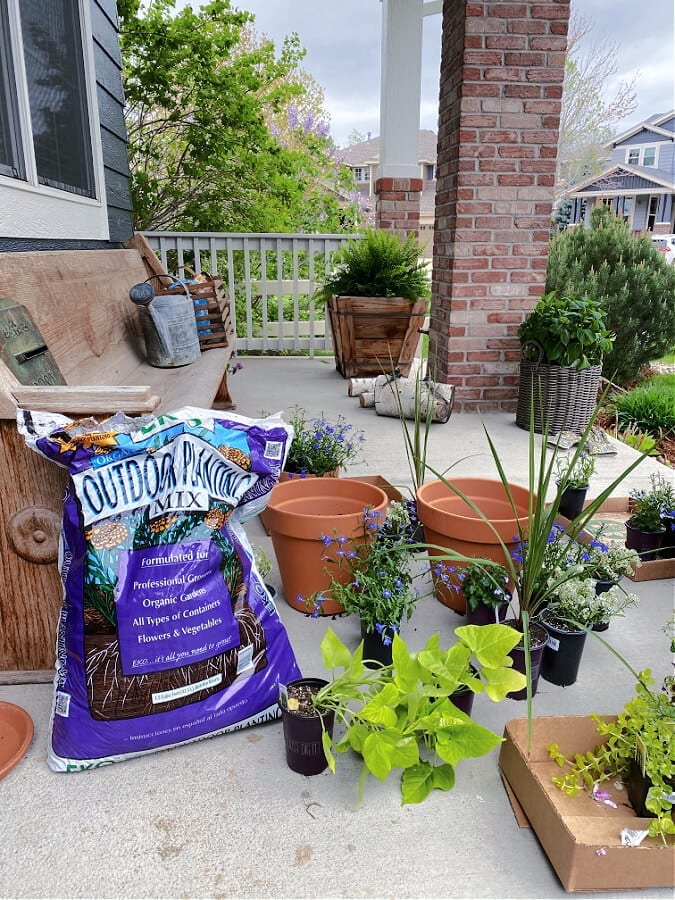 I usually just plant directly on my porch. First, make sure your pots are large enough and have proper drainage. Next, add a bit of your soil to your container…usually about 2/3 full.
Then remove the plant tags and remember to save them for later. Once you have your plant or flower out of it's plastic package use your hands to break up the roots a little bit. Place it in your soil and top it off with more soil as you add the other plants. Firm the soil around your flower but make sure to not pack it down too tightly. You want to save room for air, water and sun to get in. I suggest adding your thriller first, then your fillers and finally your spillers.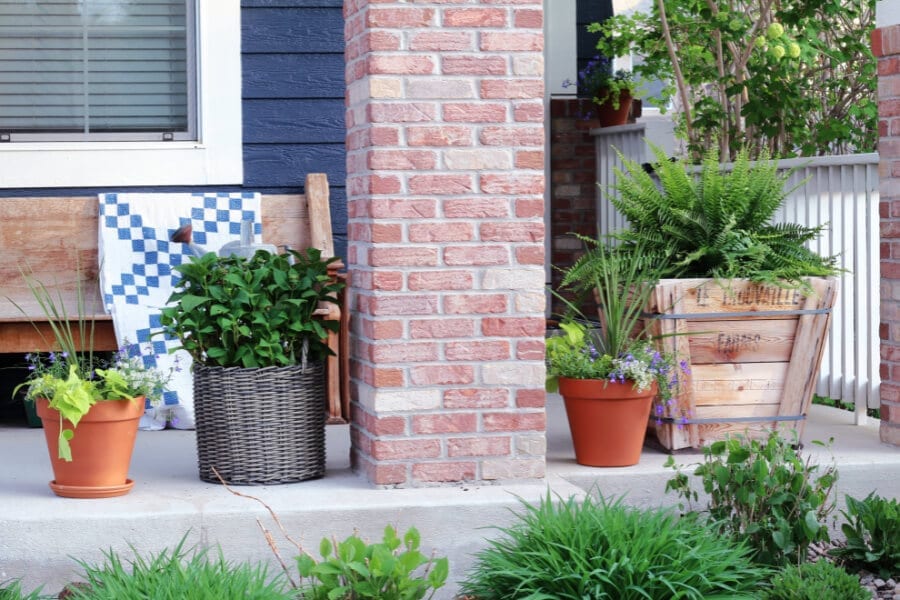 Immediately water your pots after you plant your flowers! Be gentle with your water and try to water under the flower canopy making sure to soak your soil until you see water flowing out of the bottom of your pot.
Caring For Your Potted Plants
Now that you have your beautiful flower pots planted here are a few tips for caring for them. First and for most don't neglect them. Don't be afraid to pinch off dead flower blooms, feed them fertilizer, and replace tired looking flowers when needed.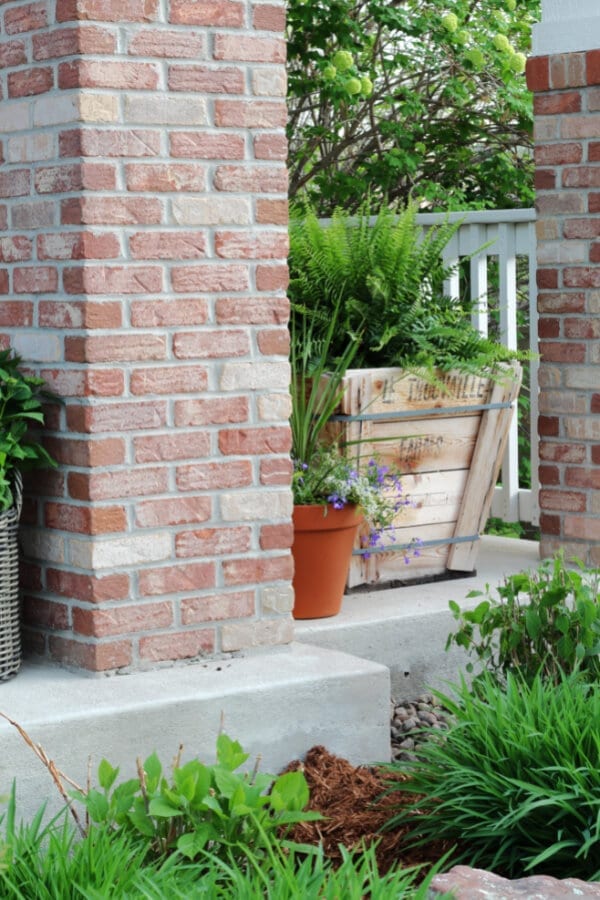 Watering Your Pots
When it comes to watering your flowers it is important you know their watering needs and to always pay attention to the soil. Is your soil dry? Should you hold off on watering since there has been a lot of rain? Being mindful of your flower pots is a large part of caring for them.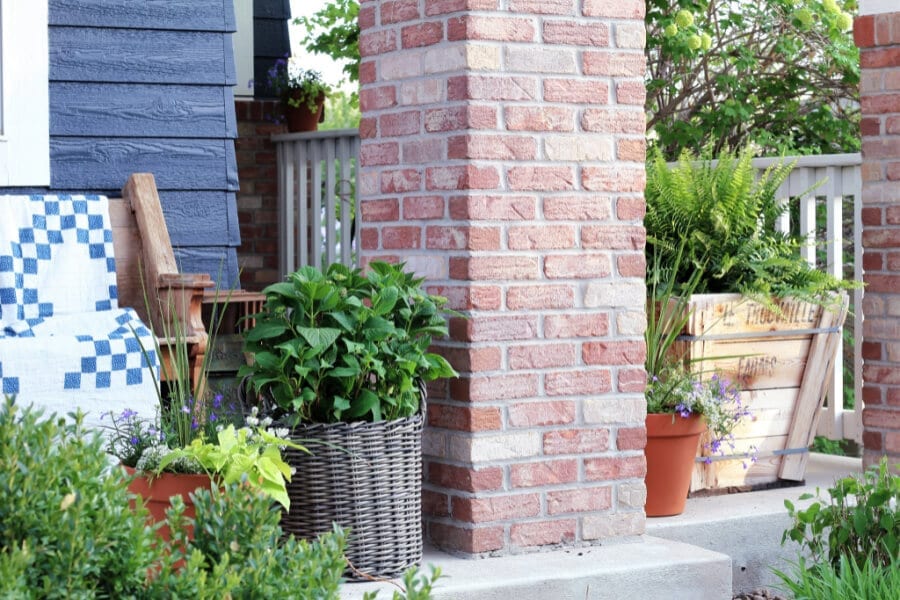 When watering flowers in containers there are a few different options. I sometimes hand water my pots. Honestly, this happens for about the first month I have them and then life gets busy, we go on trips or I forget. Then sadly, my containers suffer. This method works if you can remember to water them! 🙂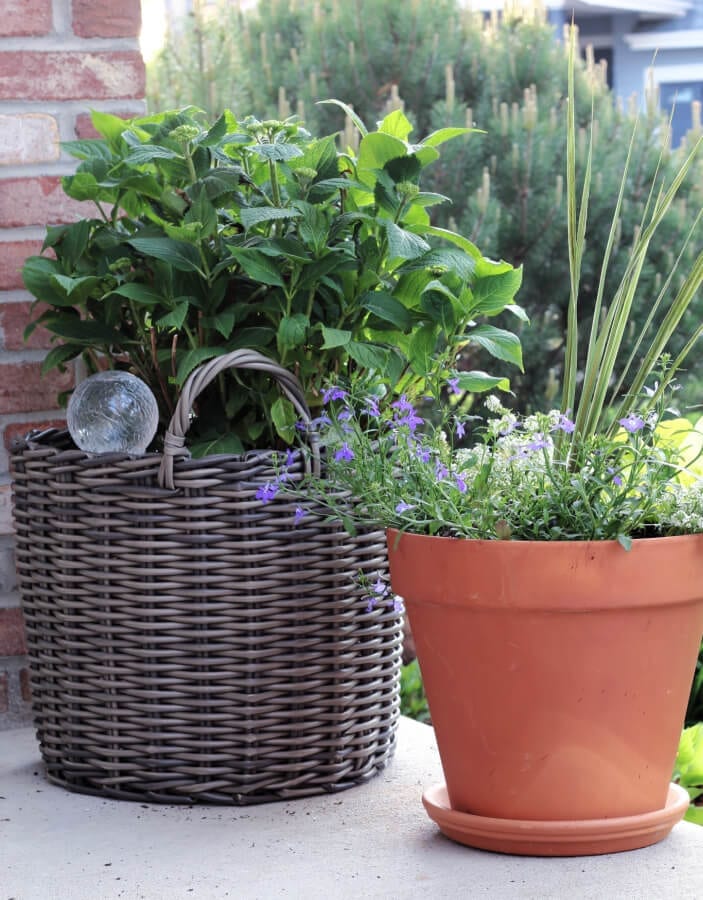 The next method involves a sprinkler and drip system. If possible, I try to move my flower pots close to the edge of our porch and patio so I can hook them up to my drip line. Then they are guaranteed to get watered weekly! This works for about 90% of my pots and is my favorite method.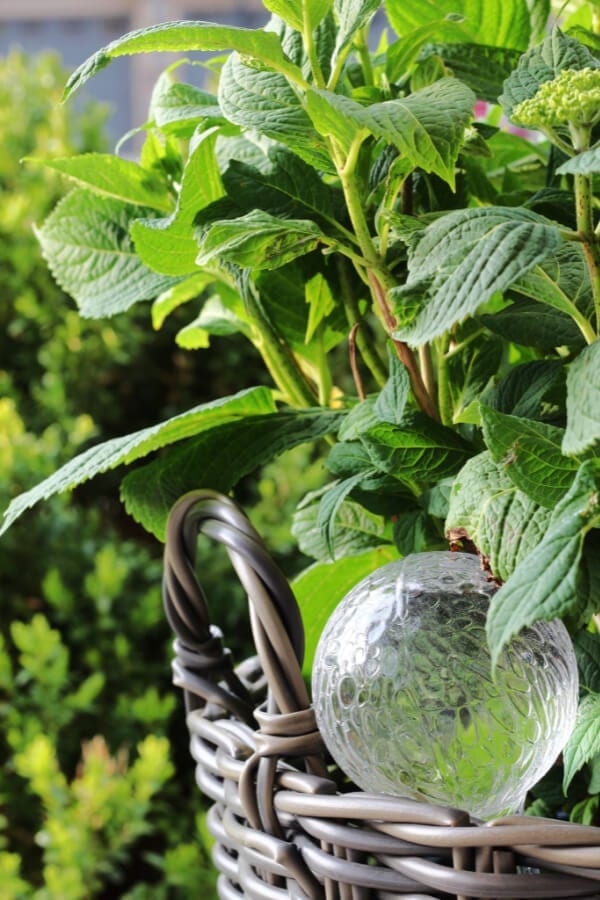 This year I am trying something new for the other 10% of my pots that don't get hooked up to our drip system. I found some clear plastic water globes at Walmart that I am trying. They were less than $2! These are not new, just new to me. I stuck them in my hydrangea baskets because they love their water! So far they are doing the job.
Gorgeous Flower Pot Tips and Ideas
Hopefully you found some gorgeous flower pot tips and ideas while reading through this post. Please let me know if you have any questions. Make sure to pin it for later reference to your favorite Pinterest garden board! Enjoy your planting my friends.
Here are a few other gardening posts you might enjoy!
A Beginners Guide To Planting A Flower Garden
My Favorite Sun Loving Perennials
The Best Late Spring To Fall Blooming Flowers
Tips and Tricks For The Best Peonies
XOXO,
Kelly
Did you like this post? PIN it for later!