Christmas Inspiration and Planning In July
Yep, you read the title correctly this post is all about Christmas inspiration and planning in July! Christmas is my favorite holiday and the one I love to go all out for here on the blog and at home. It might be scorching hot here in Colorado but my mom and I have been planning Christmas for weeks now. There is a lot of behind the scenes planning and today you will get an early peek on the direction I am heading.
But don't worry, this doesn't mean I will be skipping over fall! I love all things fall too, just getting some ideas out to share with you all!
*As an Amazon Associate, I earn from qualifying purchases. This post contains other affiliate links too for your convenience. Click here to read my full disclosure policy.
Christmas In July Blog Hop
So if you love Christmas like me then you are in for a real treat today! A ton of my blogging friends are all sharing their Christmas in July ideas linked at the end of my post. A special thanks to Rachel from At the Ponds Farmhouse for hosting, I appreciate all of her hard work and organization.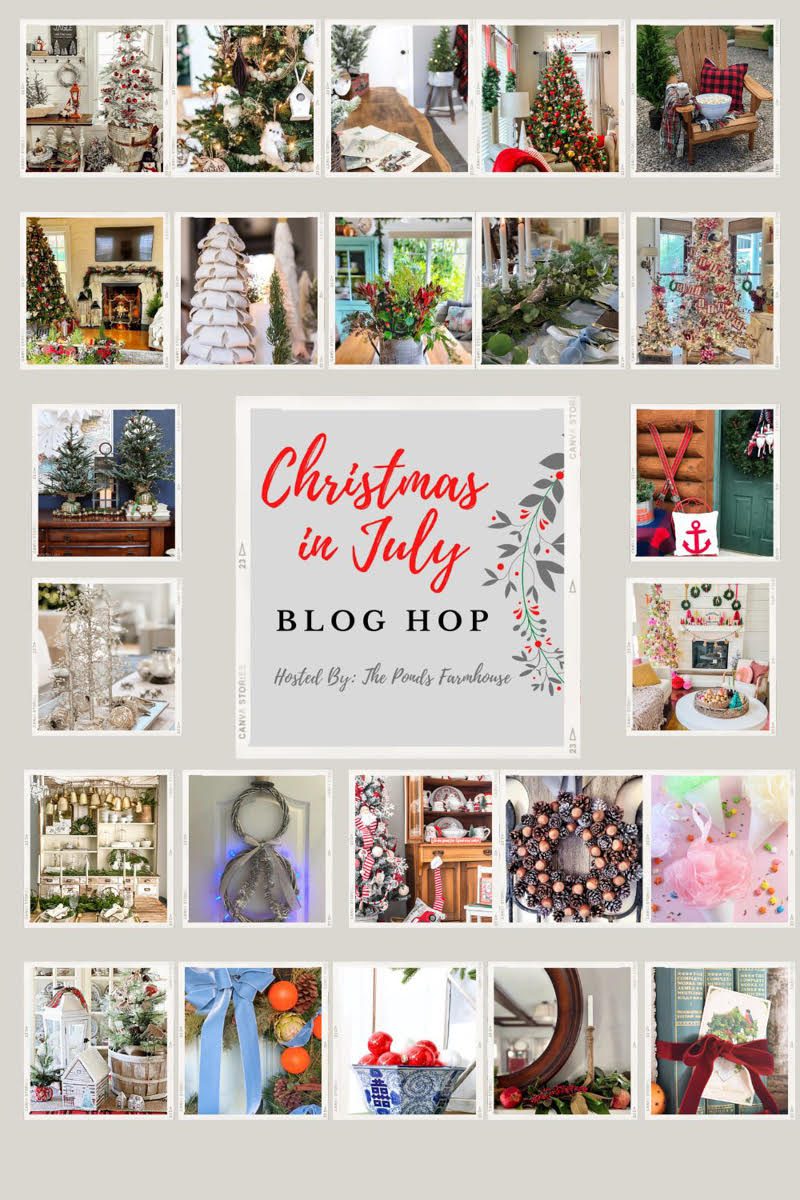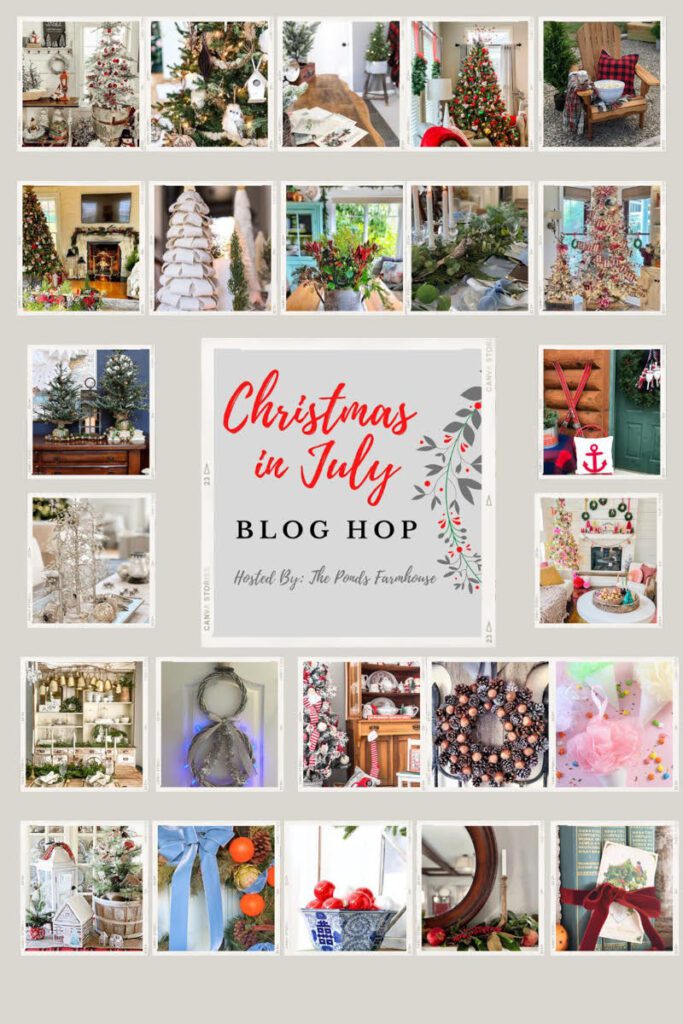 If you are coming over from Mary of Life at Bella Terra, welcome! Wasn't her wreath so creative and fun? Loved the inspiration with pops of blue!
For those of you new around here I'm Kelly! I live in beautiful Colorado with my family and our two dogs. I recently retired from teaching after a 20 year career and will be blogging full time! A few of my favorite things are faith, family and flea markets. I love quick and easy projects that anyone can do. Come see what my thoughts are on Christmas this year.
Christmas Inspiration and Planning In July
Last Christmas was our first Christmas in this home and I was really getting the lay of the land around here. Figuring out where to put my trees and all of my decor. I did share a Christmas in July post last year and little did I know that I wouldn't even be in the same home!
It was so much fun and I was even contacted by a magazine who saw it on the blog and came to photograph our home for their Christmas edition. It should be coming out this Fall so I will keep you posted! Definitely one of those pinch me moments.
See last year's Christmas posts here:
Christmas Plans
After looking back at last year it has me so excited to decorate this year.
Only 153 more days. Ha But who is counting?!
So my thoughts for this year revolve around pinecones, sea shells and greenery. The colors will most likely be reds and blues and of course lots and lots of plaid. I've been finding myself leaning on more of the traditional side of styles lately.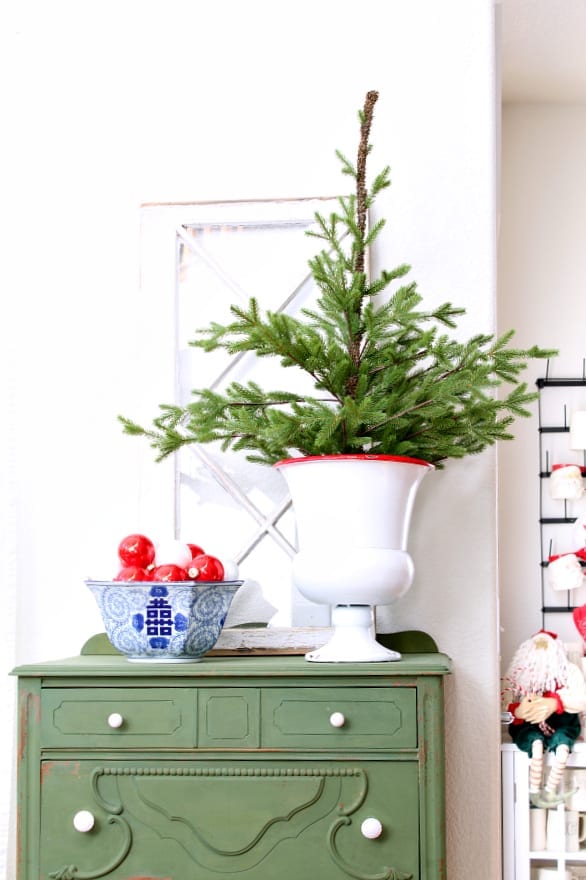 Christmas Theme & Decor Inspiration
I've been doing some digging over on Pinterest and came up with some fun inspiration photos and pictures for DIYs I have in mind.
A coastal theme is on the horizon for sure. Not over the top, just sweet and simple and I plan to use all the shells we found this summer in Florida!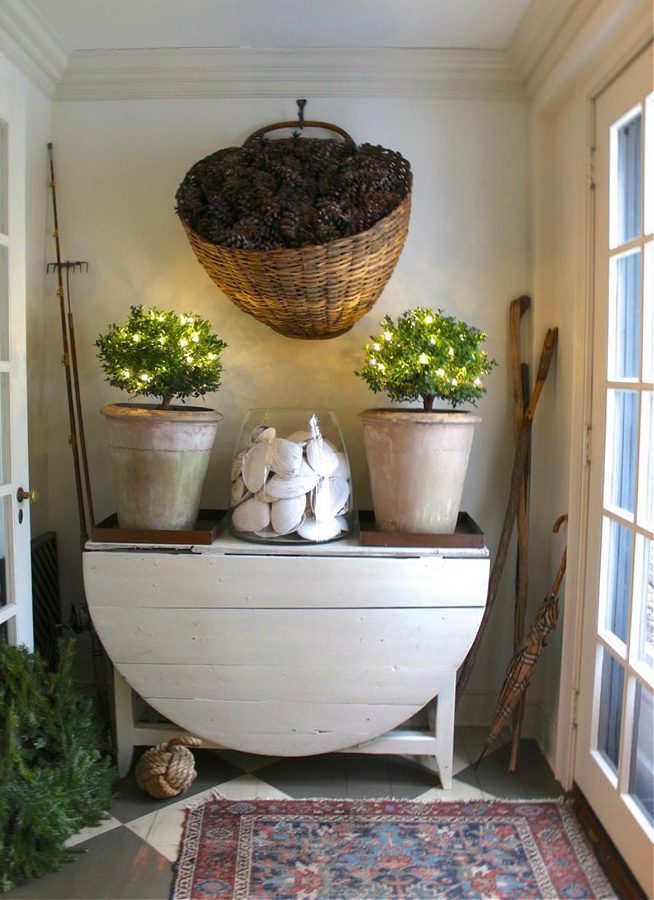 I am in LOVE with this combo of pinecones and seashells. I have been collecting out pinecones from our backyard. Now I just need to find a gorgeous basket like this one!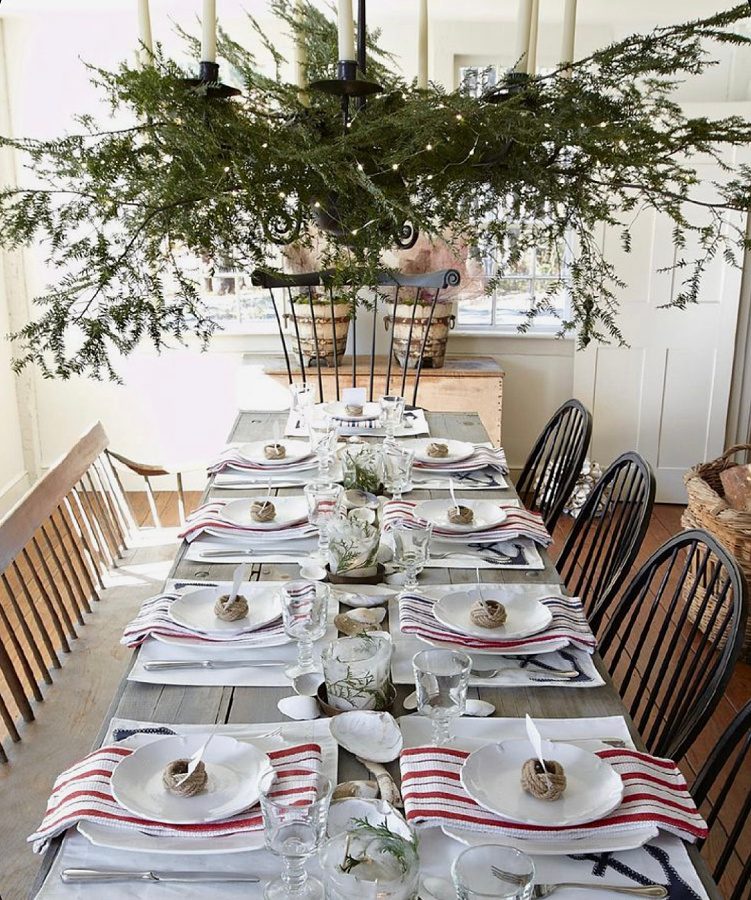 I will be using a lot of my favorite faux greenery and the plaid stockings I used last year! But will go for less of a rustic look and more of a classy traditional feel that I am crushing on.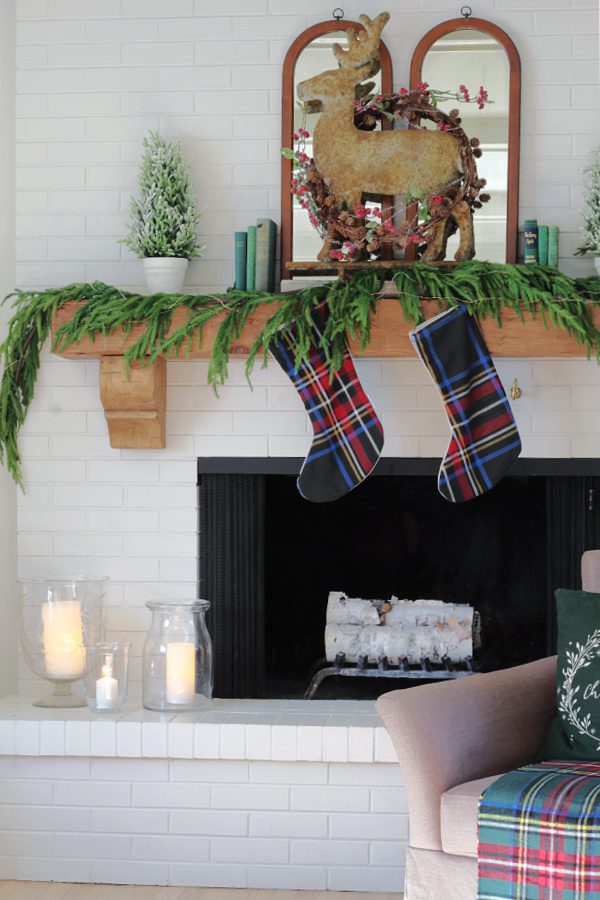 Tree Inspiration
I have this thing for Christmas trees. It's a small obsession I currently only own about 8 if you count the smallish ones too. You should see my garage.
And guess what? I have my eye on another one. I like it because it's unique. It's from Balsam Hill and they are having a Christmas in July sale right now. But still it's a lot of money. So I most likely will keep dreaming.
What do you think? Its unlit which makes it cheaper. We have short ceilings so this is about as tall as we could go.
Last year I scored a flocked tree on sale. I had a new to me color scheme with added pops of yellow. It was out to the norm for me but I always like to mix things up.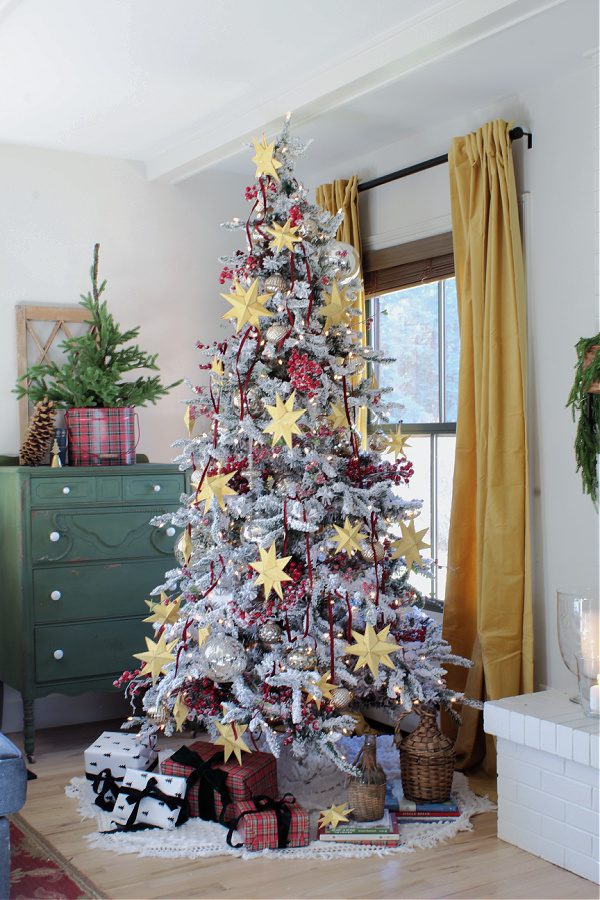 I'm thinking this year I may want a real tree and I might want to put it on a round table. I love the look of this one. So sweet , right?! The pops of red and red gingham are my favorite too.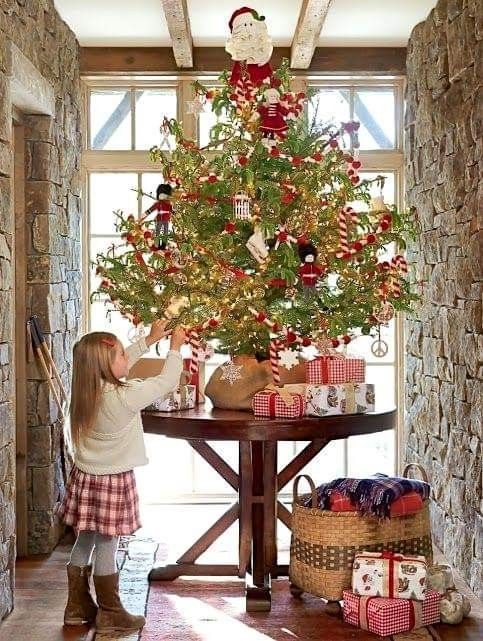 Wreath Inspiration and Planning
Last year out front I hung a large evergreen wreath and hung it just to the left of our front door. It was so pretty!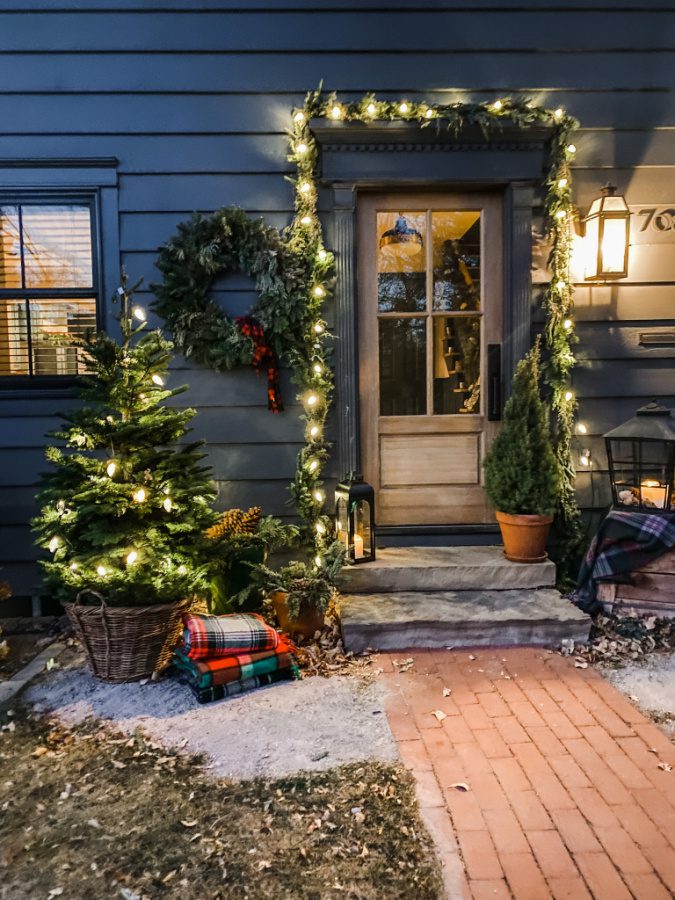 And the year before I made one. This Christmas wreath (shown below) might be my all time favorite wreath I have ever made with my dried peony one coming in a close second. I feel like it's time to do another DIY Christmas wreath this year. What do you think?
Maybe a simple one like this with some coastal accents?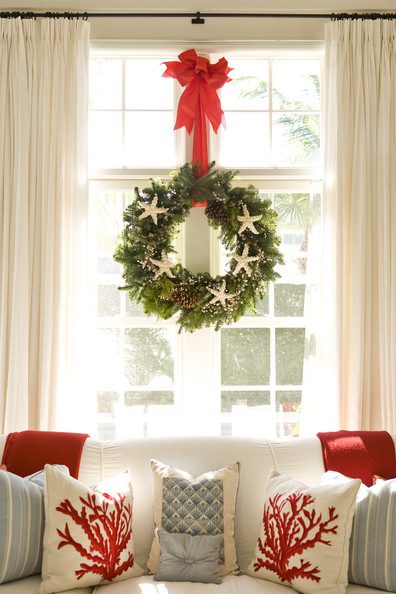 Most Realistic Christmas Greenery
I rounded up some of my favorite realistic greenery pieces!
I have the garland and stems LOVE them! And I also have the wreath as well as the white Christmas tree. I can't recommend this greenery enough. It does sell out so snag some now!
Christmas Inspiration and Planning In July
I know it's early but I truly am so excited to start planning. After sharing this inspiration and planning post with you all I feel like I have a good direction to go. I guess I better get on washing up the shells I found in Florida and drying out the pinecones here from our yard.
Do you have any thoughts or plans for Christmas this year yet?
now make sure to head over to Andrea from Deign Morsels who is sharing a beautiful magnolia garland. Then scroll down to see what my other friends are sharing.
I'd love to have you hang out with me some more! Feel free to follow along with me on any of the platforms linked below.
LTK | Facebook | Instagram | Pinterest | Amazon
xoxo,
Kelly
Christmas In July Blog Hop
Welcome to our Christmas In July Blog Hop. Be sure to click each link below to follow along on the hop.
The Ponds Farmhouse / Cottage on Bunker Hill / Midwest Life & Style / Cottage in the Mitten / Down Shiloh Road / Bricks N Blooms
Simply 2 Moms / Shiplap & Shells / Peacock Ridge Farm / WM Design House / Thistle Key Lane / White Arrows Home
Pasha is Home / Tater Tots and Jello / Robyn's French Nest / Chas Crazy Creations / DIY Beautify / Cloches & Lavender
The Crowned Goat / Common Ground / Life At Bella Terra / The Tattered Pew / Design Morsels / Follow the Yellow Brick Home