How To Set A Pretty Easter Table
I may be a tad bit excited about Spring and Easter this year! This past weekend I had some fun decorating with my mom around our home. Did you see my Spring mantel? And I didn't stop there, up next is our dining room and today I can't wait to share with you all how easy it is to set a pretty Easter table.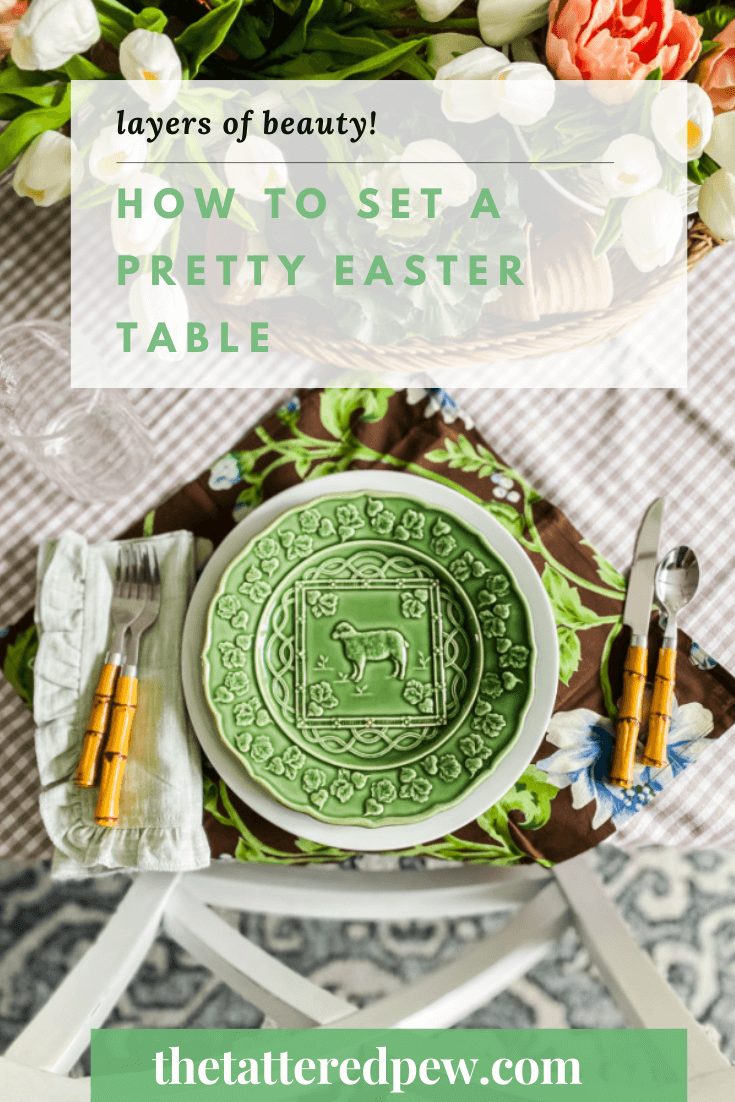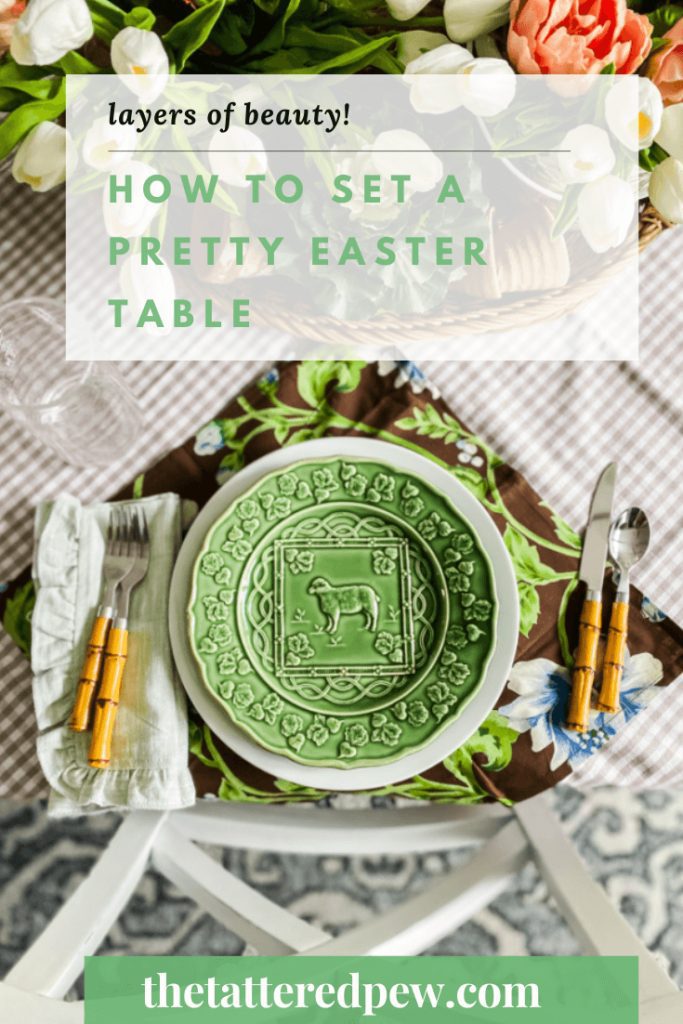 *This post contains some affiliate links for your convenience. Click here to read my full disclosure policy.
Today is a special day here on the blog. A huge thank you to Pasha of Pasha Is Home for asking me to join her and 5 other wonderful bloggers for her Easter Table blog hop. If you are stopping by from my dear friend Kristin of White Arrows Home, welcome I'm so glad you are here! Didn't you love her 7 ways to set a special Easter table?
Now I can't wait to share my Easter table with you all!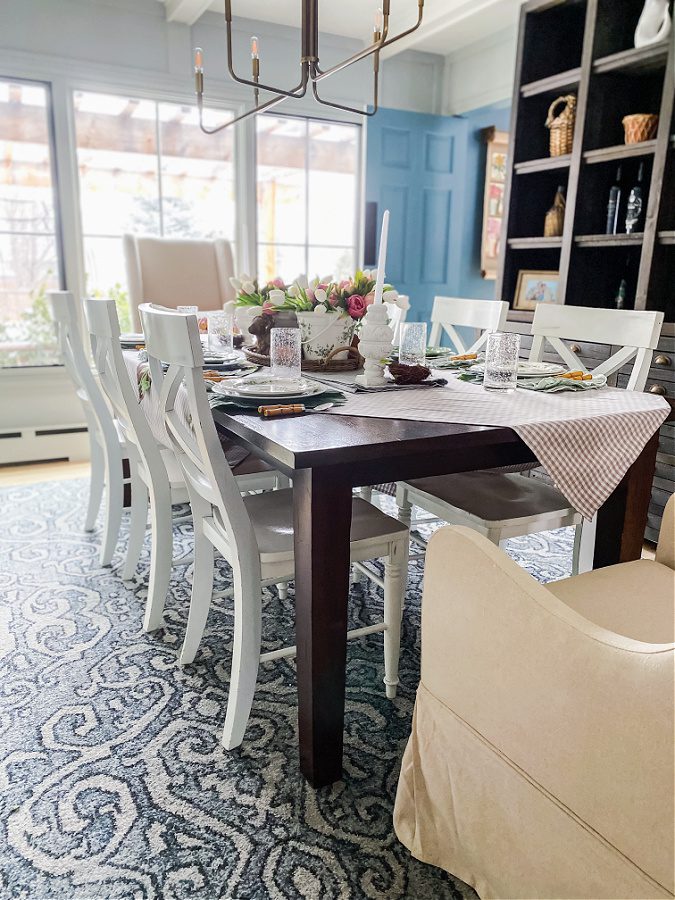 How To Set A Pretty Easter Table
Easter is one of my favorite holidays to celebrate because it has such a deep meaning for our family. It's a special time to remember the death and resurrection of Jesus.
I love sitting down together as a family and celebrating the good news! We always do this by reading a fun DIY I created years ago called Scripture eggs!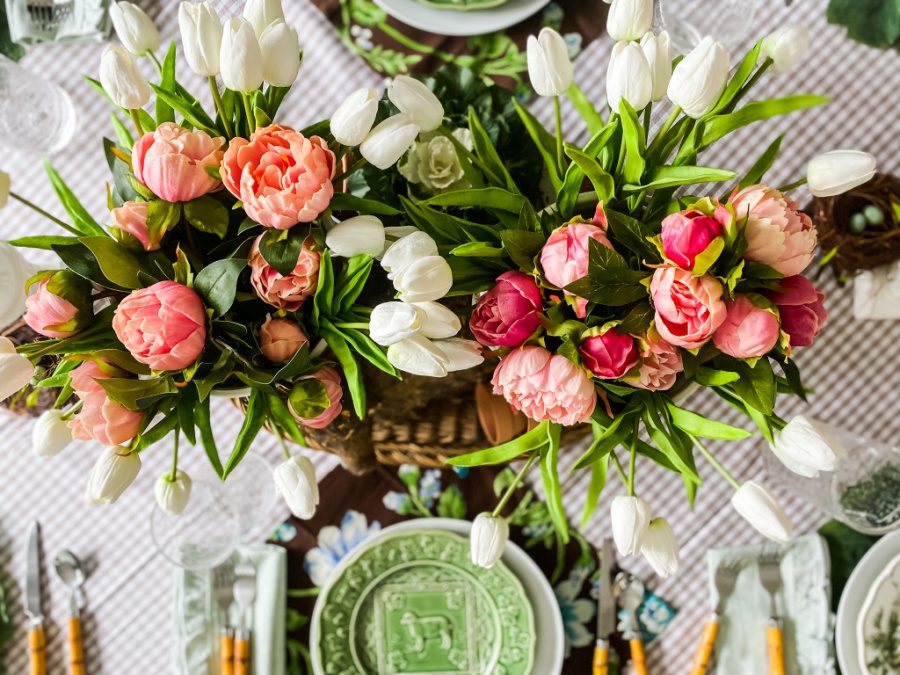 Each year as I prepare to set the table I look for ways to make it meaningful and special. If you too like to make your Easter celebrations intentional then you will love my post where I share 10 ways to make Easter meaningful and fun for your family!
Let's take a peek at how I set our pretty Easter table this year!
Layering the Linens
One of the first things I like to do when setting a pretty Easter table is to find the linens I will be using. For this table I used light green shabby chic ruffled napkins from Home Goods. I also laid down a light brown gingham tablecloth diagonally.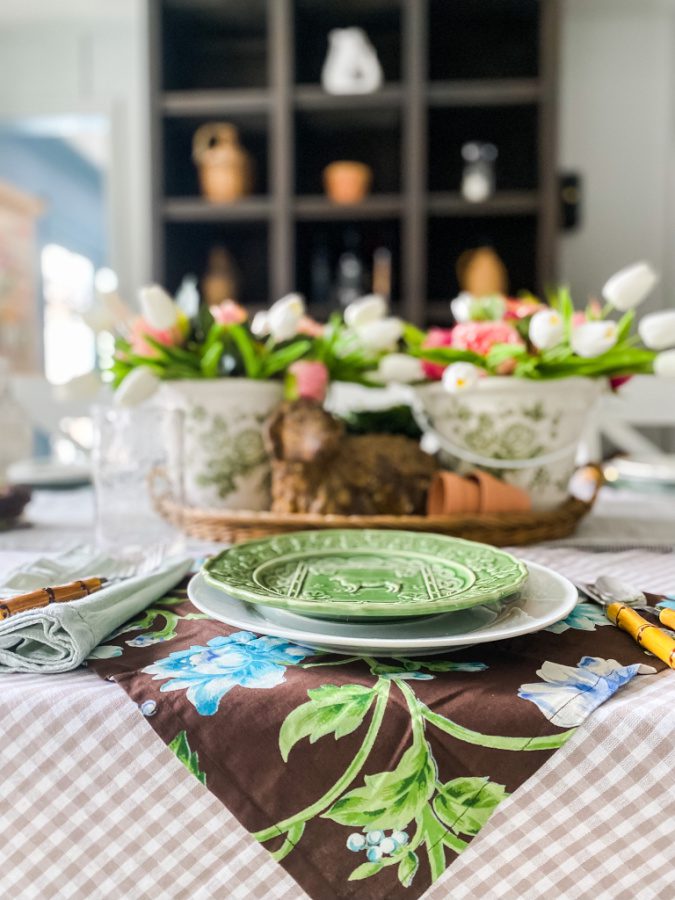 After the able was all set I felt like it was missing something so I added a black and white skinny runner down the center of the table. I wish it was longer but it was all I had and it added that extra layer I was looking for!.
TIP: When setting a pretty Spring or Easter table remember, the more layers the better. This includes the linens and the plates!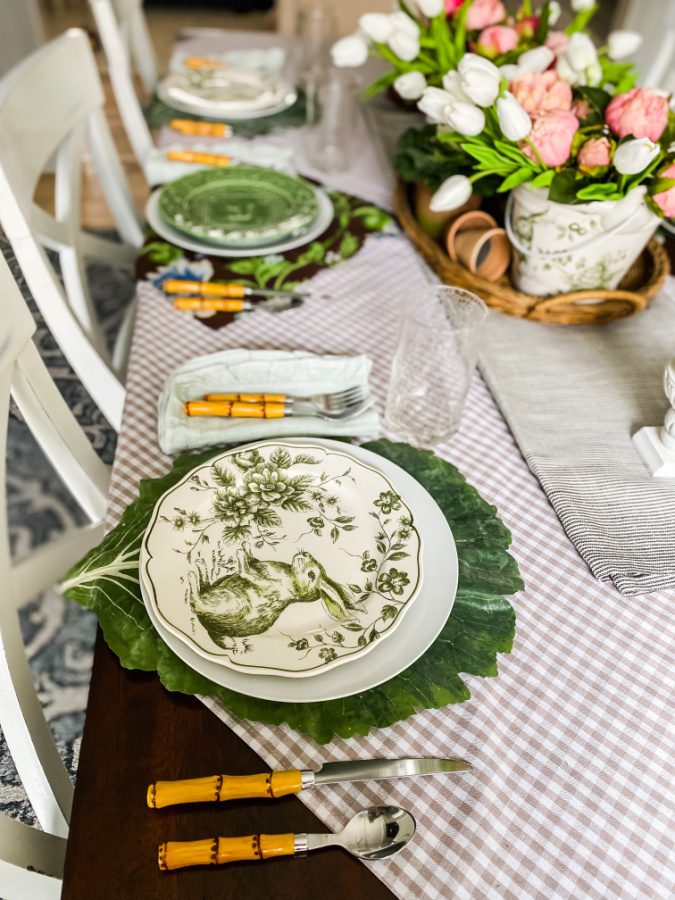 The Mixing of Plates and Colors
A few years ago I found these darling green and white bunny plates at Home Goods and instantly fell in love with them.
But I could only find four.
Ever since then I have looked for more but have never been able to find them again. And then one day my mom was at Home Goods and she found the pails to match them! I was so excited!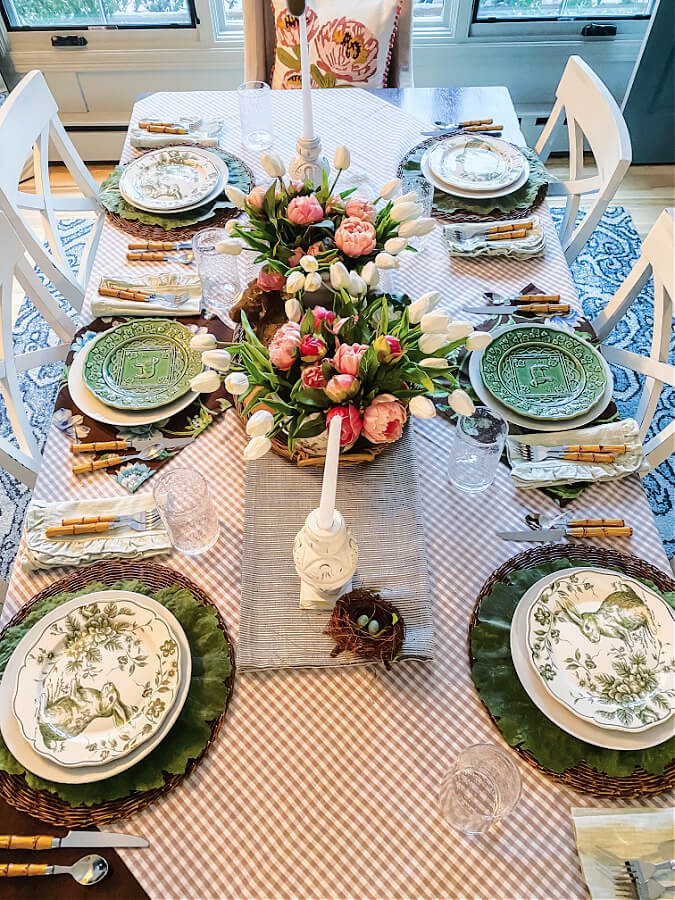 With only having four bunny plates I have learned to get creative. I love that this gives me the opportunity to mix plates on the table. These all green plates from Portugal were a flea market find. I always search for more of these as well! ( I love having items to search for when I am out hunting!) But underneath all 6 plates I have my everyday white plates to anchor them.
TIP: Mix and match your china and plates for a fun and collected look that pops!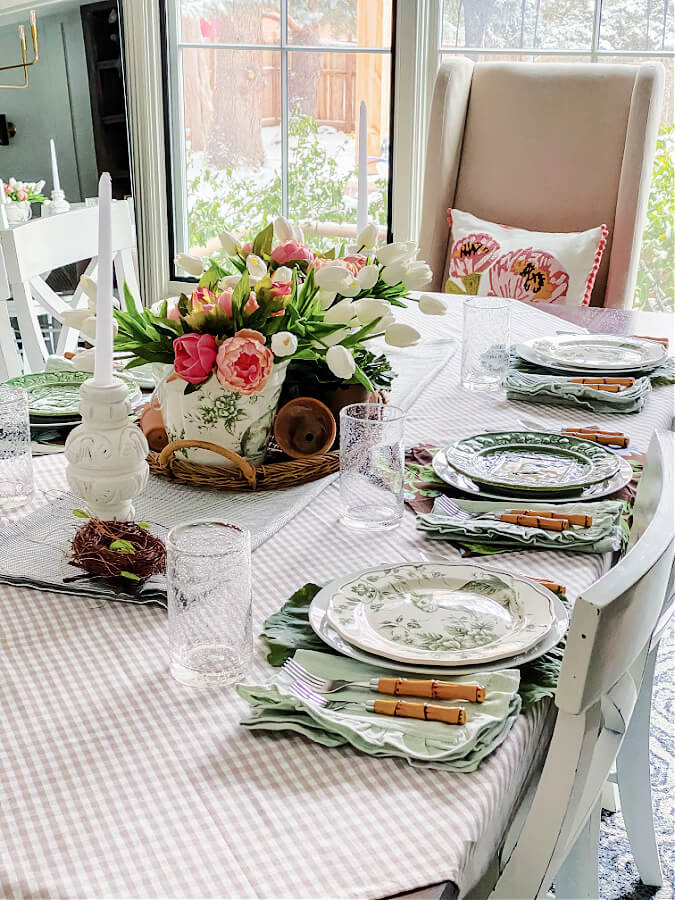 You may have also noticed that I love to mix colors. Dark browns and light browns, soft greens and dark greens, light pinks and dark pinks. A variety of colors in the same family gives your table a cohesive feel and tells people that you were intentional in your choices!
Silverware Can Be Fun Too
Did you notice the silverware? This faux bamboo flatware was a Christmas gift from my parents (they know me well!) And would you believe it is from Amazon?
Yep!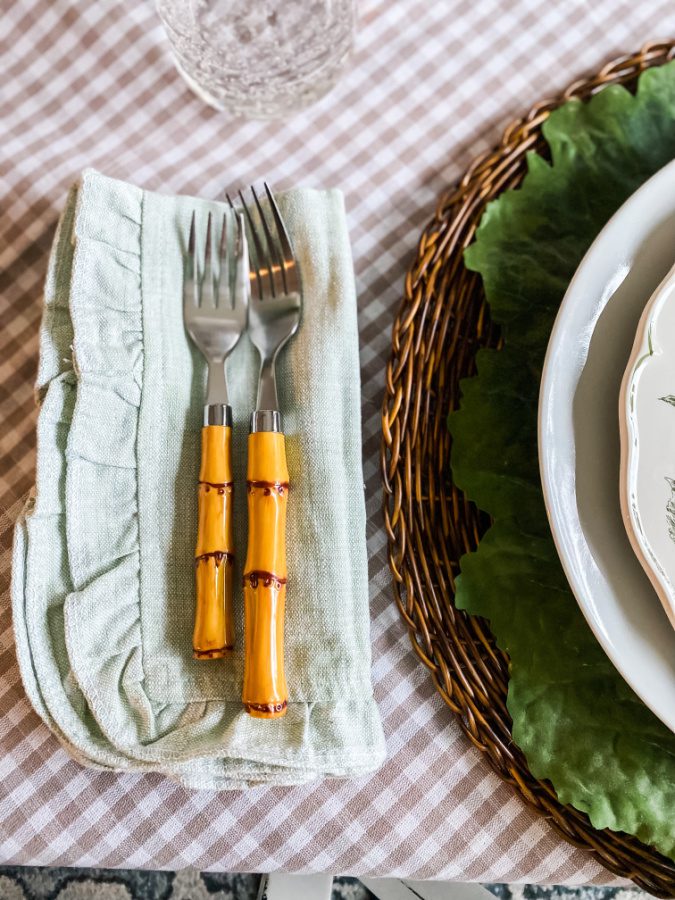 And the best part is that it is affordable and dishwasher safe! This is the first time I have used it on a tablescape and I am already dreaming of using it again on more tables this coming summer and fall!
I love an unexpected, yet subtle element, on pretty tables and this bamboo flatware does just that! It adds personality!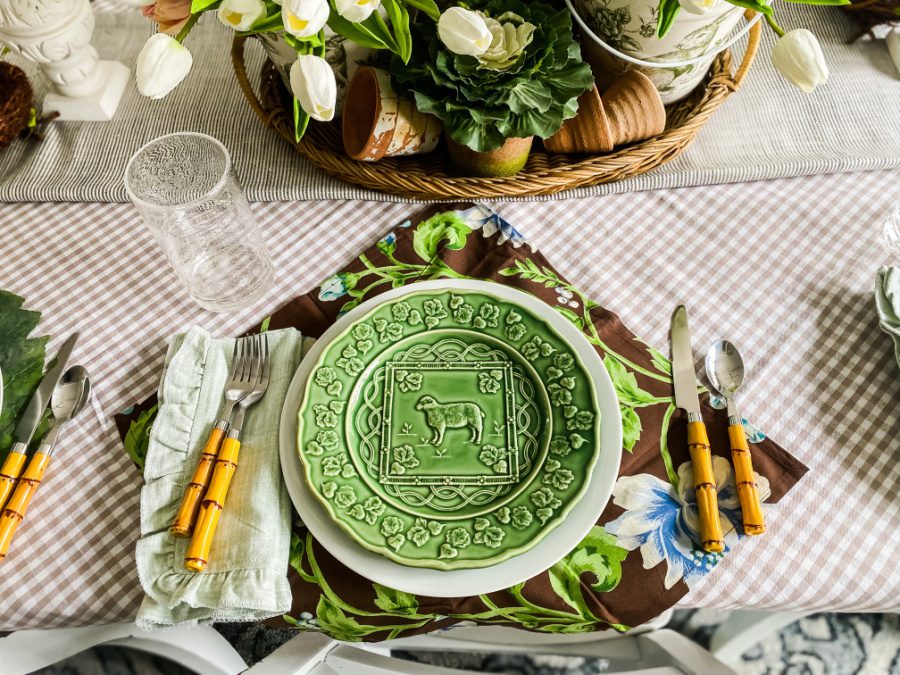 Placemats, Yes or No?
Remember how I mentioned that my mom was helping me? Well while we were setting this lovely Easter table she asked if I had any placemats? My answer was no, and I responded that I'm not really a placemat kinda gal.
She laughed and we moved on. But then I couldn't stop thinking about how I basically was missing a layer. (Mom always knows best!)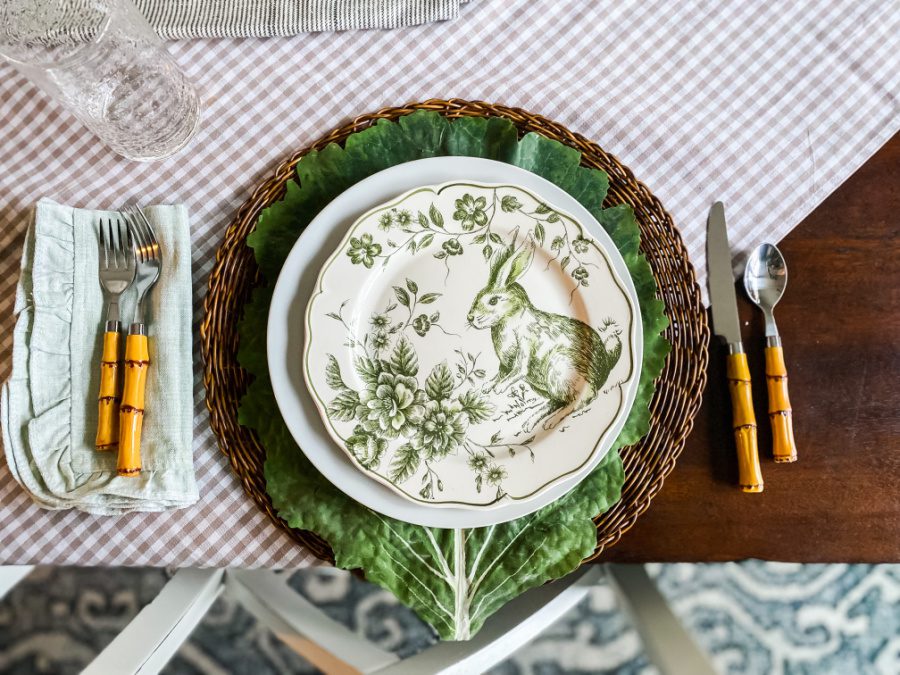 So we looked around and found that I had 4 faux cabbage leaves to use as placemats. (perfectly Easter, right and not technically placemats!)
But I had set 6 places at the table.
We then decided to look on Amazon for some fun rattan or wicker chargers (not placemats) and found some great options.
I loved the idea of adding texture. But until they arrived I added some dark brown April Cornell floral napkins under the green plates in the middle. Remembering my own advice on how to layer linens.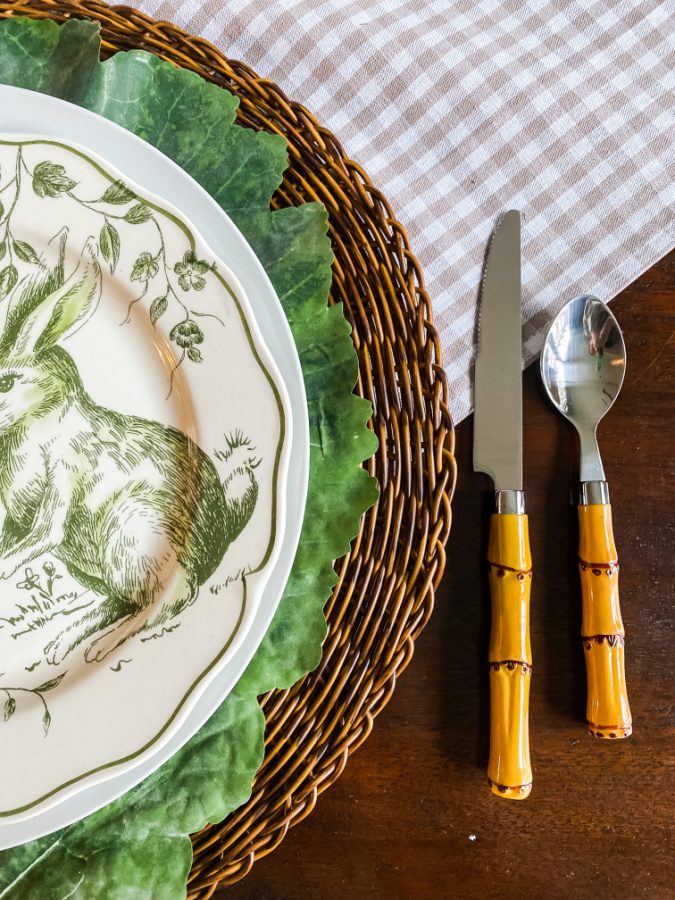 Finally, the chargers arrived and guess what, I LOVE them! In the end I only added them to the four outer plates and kept the napkins under the middle plates. They are not a real rattan/wicker but you would never know unless you touch them. I feel like they will work outdoors as well. I love the extra texture they add to the table! They will be used on many more tables to come for me.
A Faux Centerpiece For The Win
Finally, I added a pretty centerpiece using all faux flowers! Doesn't an Easter table always need a pretty statement piece?
I love real peonies and tulips but here in Colorado it's way too early for them. So the next best thing is faux and these beauties are SO realistic!!!
I have had these real touch pink peonies for years but these real touch white tulips are new. And they are stunning!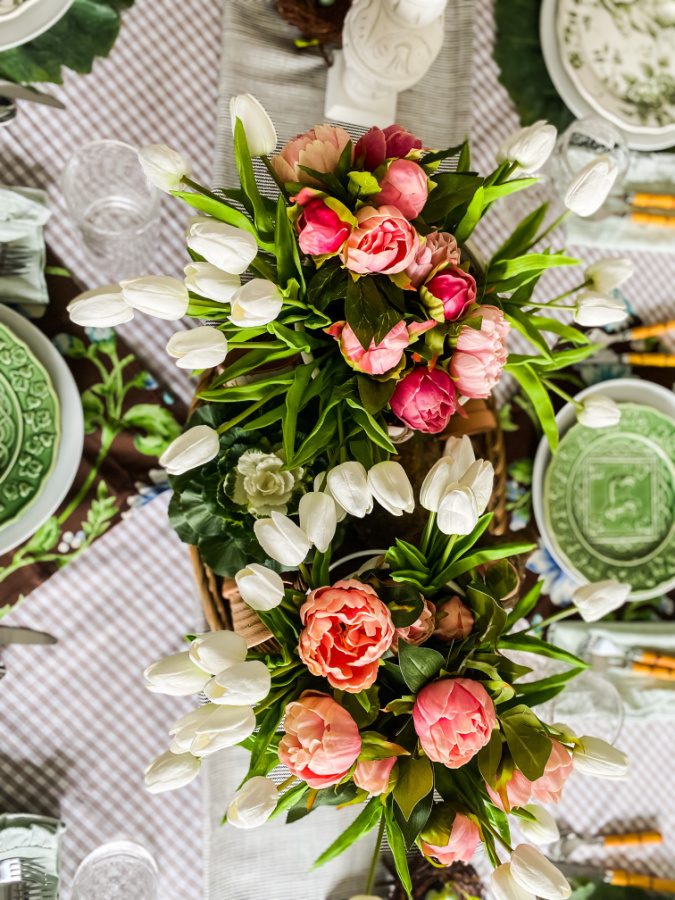 You can see how I also used them in my Spring mantel as well!
To create this centerpiece I used a woven tray as the base, set the two green and white toile pails my mom found at Home Goods on it and added the flowers to them. Then I snuggled in some mini pots, faux cabbage and a sweet lamb. Then on either side I added white candles that I set in vintage wooden pieces from my grandmother's house. And finally nests added for a touch of spring.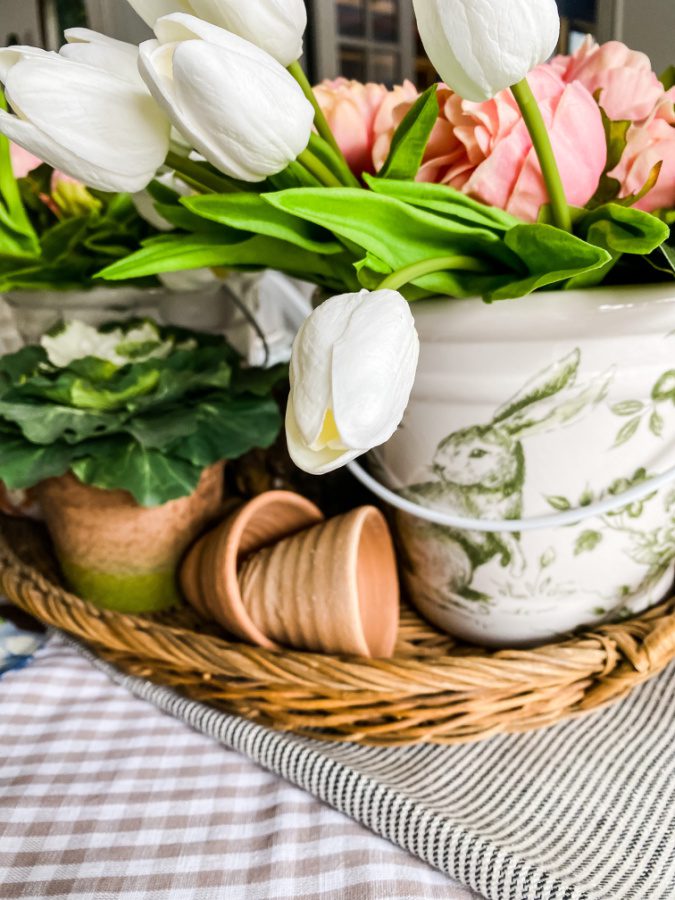 Nothing fancy and nothing too hard. Flowers whether they be real or faux, always make everything better and everything pretty!
Overall this table was easy to put together with mostly items I already had on hand making it not only pretty but budget friendly too! Can I get an amen?!
Table Sources
How to Set A Pretty Easter Table
So, what do you think? Were you surprised that I didn't use any blues in this table? I was a bit surprised myself but I love the pinks, browns and greens and how they all work together! And I feel like you can never go wrong with green because it's basically a neutral.
Hopefully you can leave today knowing how to set a pretty Easter table and that it doesn't have to be hard or costly. It just has to have some personality and layers!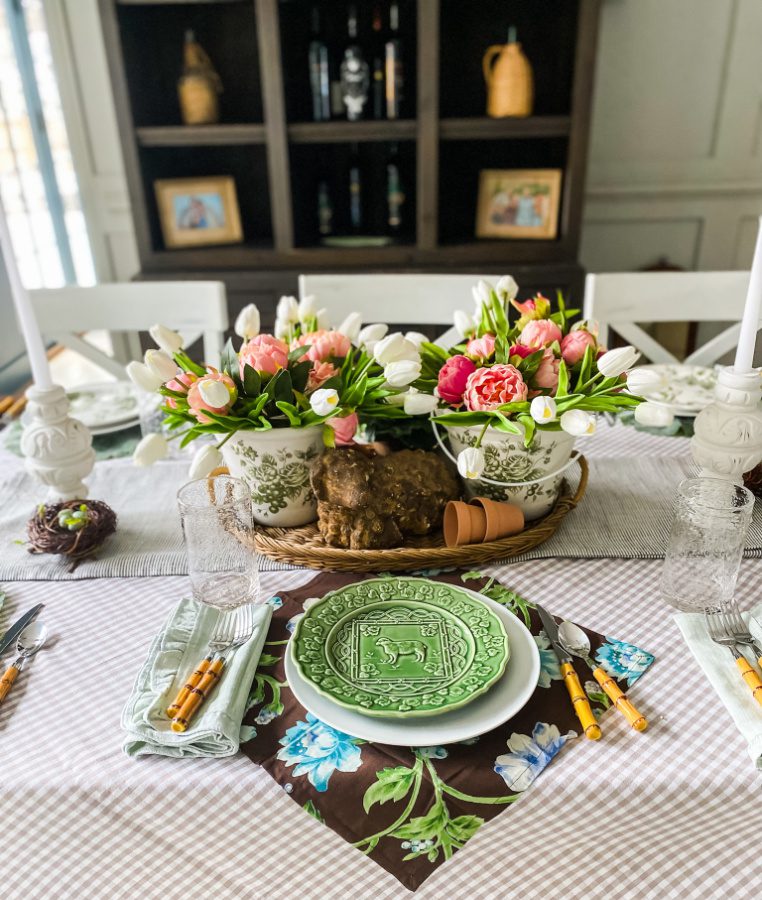 Now make sure to hop on over to my other dear friend, Aliya from Open Doors Open Hearts and see her beautiful blue and white Easter tablescape! Then scroll down to check out my other friends also sharing their Easter tables today. Grateful for you spending some time with me today!
I'd love to have you hang out with me some more! Feel free to follow along with me on any of the platforms linked below.
LTK | Facebook | Instagram | Pinterest | Amazon
xoxo,
Kelly