How to Easily Organize a Kids Shared Closet
This post is sponsored by The Container Store but all thoughts & opinions are my own!
Today is a big day as I'm finally ready to share the girl's closet makeover with you! I learned so much installing a new closet from The Container Store and can't wait to share some incredible tips to help you organize a closet in a shared kids room.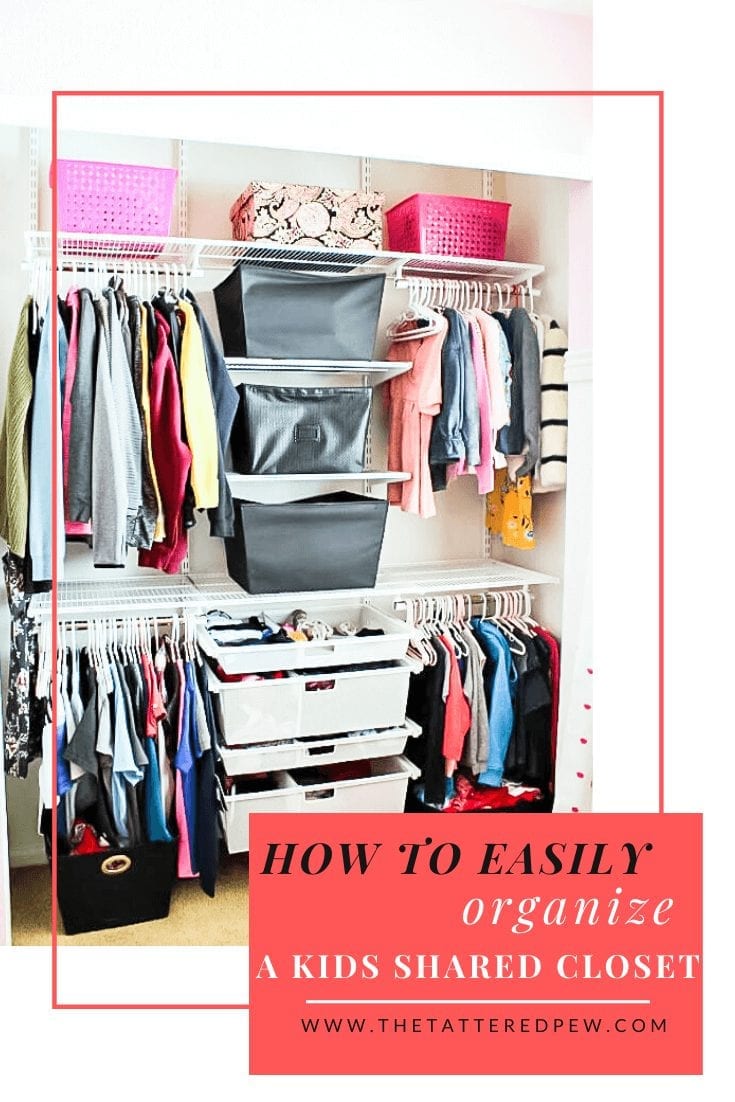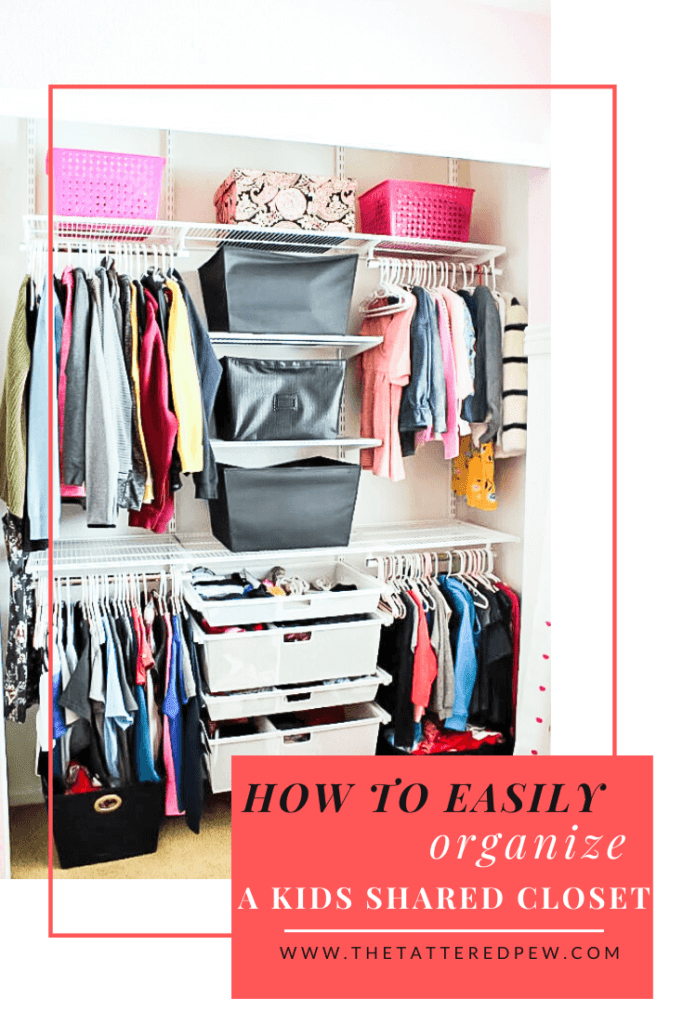 Affiliate links are included for your convenience. View my disclosure policy here.
Plus, I am joining a fabulous group of bloggers who are all sharing their own tips and tricks on organizing different spaces in their homes. You can find their links at the end of my post. If you are coming from Kelly's post over at City Girl Meets Farm Boy, welcome! Isn't her pantry so inspiring?!
Shared Room
Our two girls share a room and will for many more years, and as you can imagine this creates some space and organization issues. Their bedroom makeover is one of my all time favorites, but the constant mess and unorganized chaos seriously had me researching ideas for help! Let me warn you…the before picture below is pretty scary!
The Before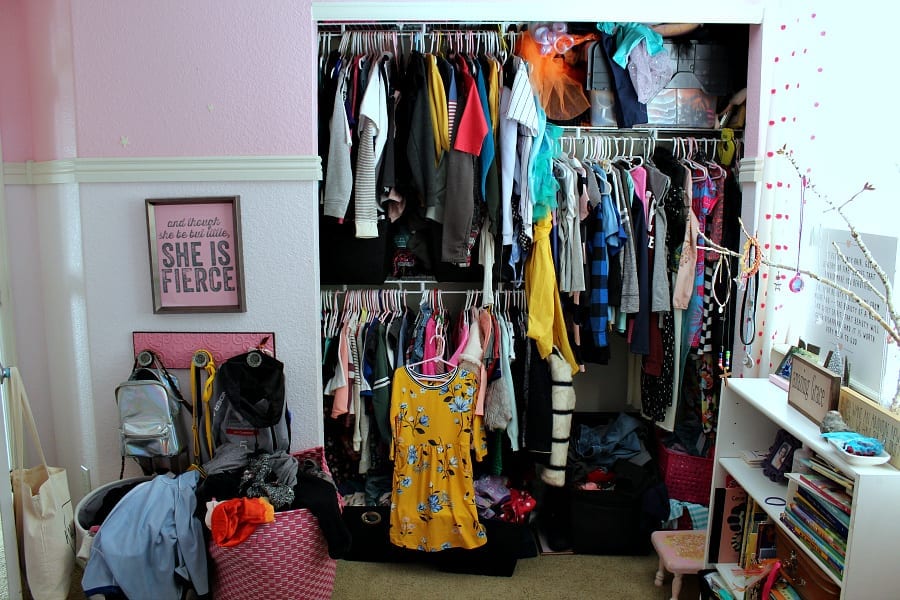 I had been in The Container Store years ago but always felt overwhelmed by all of their choices. Organizing doesn't come natural to me ( my husband can attest to this 😉 ) but after checking out their site online and over on Instagram I saw that they offer complimentary in-store design services. This was music to my ears! I walked right in, put my name on a list and waited no more than 5 minutes to talk to a wonderful lady named Karen who specialized in designing their Elfa closets.
The Custom Closet Design
She asked my budget, asked the dimensions of my closet and really took the time to ask me what I was needing for the shared closet. Based on the shape and dimensions of our closet she was able to design a system that would work best for us and our space. It was honestly so easy! This is the Elfa shared closet design she created for me.
The design had me excited! She emailed me all the details; everything from what to order to the assembly directions. She asked if I would need someone to install it for me or if I planned to DIY it. I told her I would DIY it since I had spent my entire budget on the closet itself. She could sense I was nervous and assured me that the Elfa closet system I was looking at was doable on my own.
Feeling Confident
I left feeling like I was ready to tackle the closet installation on my own! After showing the design to my husband and girls we decided to go with the design Karen came up with. All of the pieces were promptly shipped to my home and Karen even emailed me personally to see how everything was going. The customer service truly impressed me! (You can watch my Instagram highlight stories for a bit of the behind the scenes of this whole process.) Our first step was removing the old wire shelves that were installed when the house was built. My husband did this part and then I patched the holes. Our sweet pup Kona wanted to help too! 🙂
Neighbor to the Rescue
Once the closet system arrived I was a bit overwhelmed. There were SO many boxes. After reading the directions and sorting the boxes I knew I needed a bit of help. Our awesome neighbor Andrew came over and helped my husband install the top railing system. It was so high in the closet and the only part that ended up being hard.
After this step I was able to do the rest all on my own. Karen was right, these closets are easy to install! It all just snapped in and the assembly directions and videos on The Container Store website were extremely helpful and easy to follow! Let's take one more look at the before.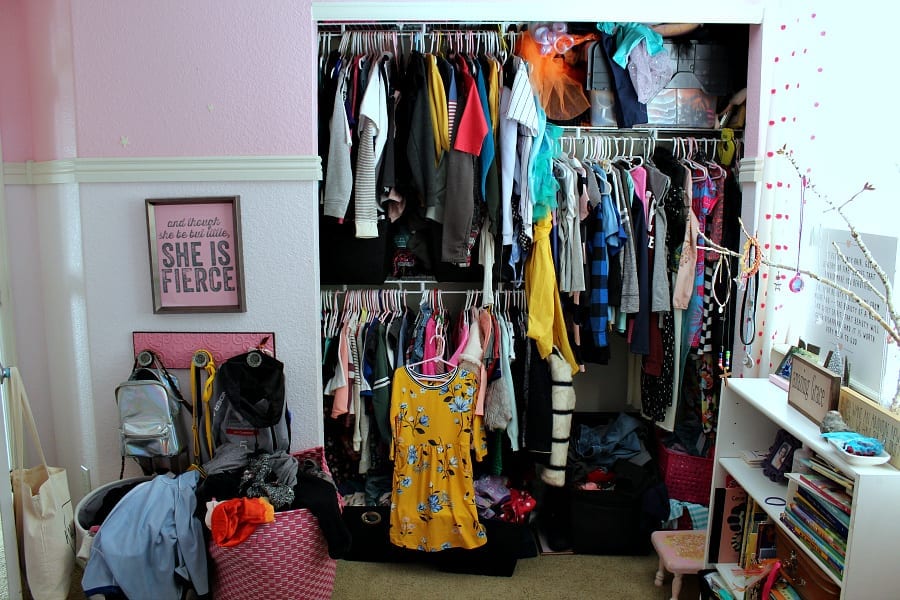 Here is The After
In Love With Their Closet
The girls LOVE how it turned out and so do I! It inspired them to go through their clothes and decide which ones they really loved. We passed on 4 tubs of clothes to my sister's girls and donated about three more bags of clothes to a local charity. The ownership they immediately felt of their newly organized and shared closet made this mama happy! They are loving how they can see their clothes and how even though they share the closet, it can be enough space for each of them. I am loving how it is organized and kid friendly.
Tips on How To Easily Organize a Kids Shared Closet
Use baskets or tubs for extra storage. These come in so handy for toys, swimsuits, clothes they have grown out of and separating by type of clothing.
Make sure each child sharing the closet has equal space. We decided to split it evenly down the middle. Each girl has two drawers, two hanging areas and their own shelves. This made them both SO happy!
Only keep the currents season's clothes out. We only have our winter clothes out and the summer clothes are put away until it starts to warm up.
Take advantage of EVERY area in the closet. Under the lowest hanging rack we currently have a basket holding the girls pajamas but we are thinking of adding shoe racks down there instead. On the highest shelves I have stored items for the next season or clothes the girls have grown out of. Shelves are your best friends when it comes to making organizing easy!
Drawers and drawer dividers are a must! Drawers that roll out make accessing clothes easier and once you place a divider in them you can easily separate different types of garments. I love the instant organization this brings.
Folding and rolling clothes. Not only does this create more space but it allows you to easily see your choices!
One Happy Mama & Two Happy Girls
Our new Elfa closet from The Container Store has me wanting to organize all the closets in our house! I hope you were able to see how easy it really can be to organize a shared kids closet. Do your kids share a room or closet? Please share any organization tips with me that you have found helpful in your home! Next on the organizing blog hop is my friend Lindsay from Aratari At Home. She is sharing some wonderful tips on how to organize a nursery. Don't forget to visit my friends links below for even more fabulous organizing tips. Thanks for stopping by today!
xoxo,
Kelly
9 Spring Cleaning Tips & Organization Ideas
Grace In My Space | Mid County Journal | Crisp Collective She Gave It A Go | Jenna Kate At Home | Designs By Karan City Girl Meets Farm Boy | The Tattered Pew | Aratari At Home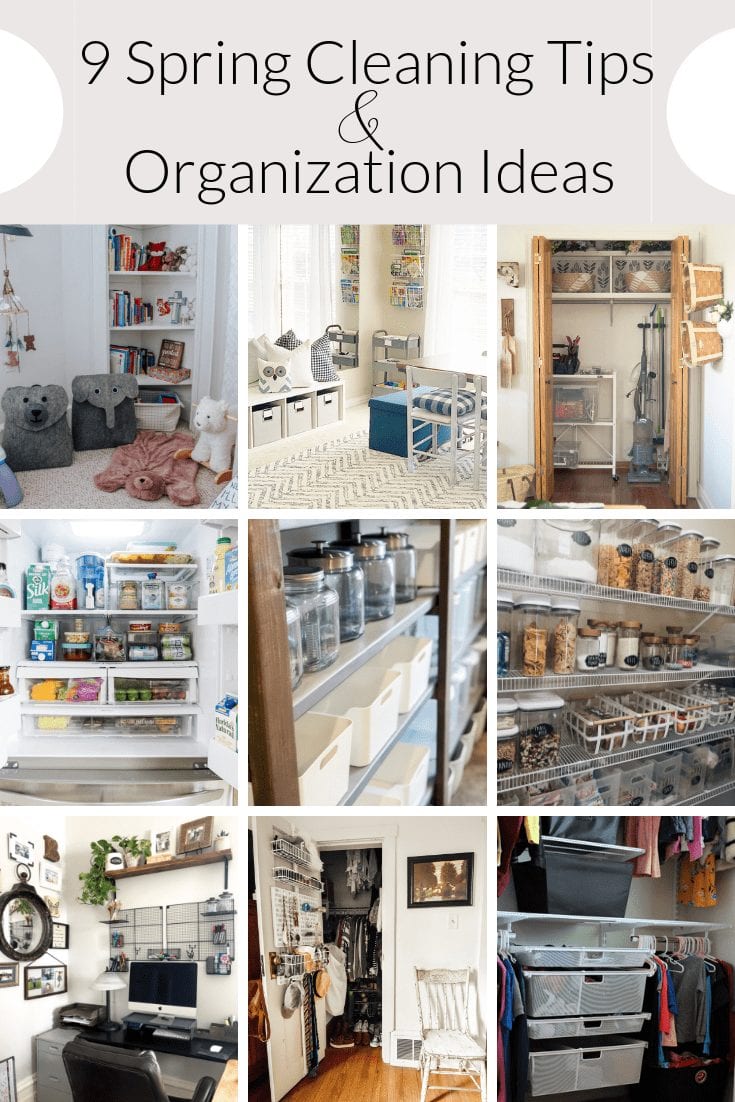 Pin this post for later!
Did you like this post? PIN it for later!