Embrace the Season: The Art of Making a Cozy Fall Simmer Pot
Have you ever tried a fall simmer pot? Oh friend let me tell you, I just tried one for the fist time and I am hooked! As the leaves begin to change colors and the air turns crisp, there's no better way to embrace the autumn season than by filling your home with the comforting scents of fall. Today, I'll show you how making a cozy fall simmer pot using a crockpot or stovetop potpourri pot is VERY easy. Get ready to enjoy the warm and inviting aroma that will infuse your entire space.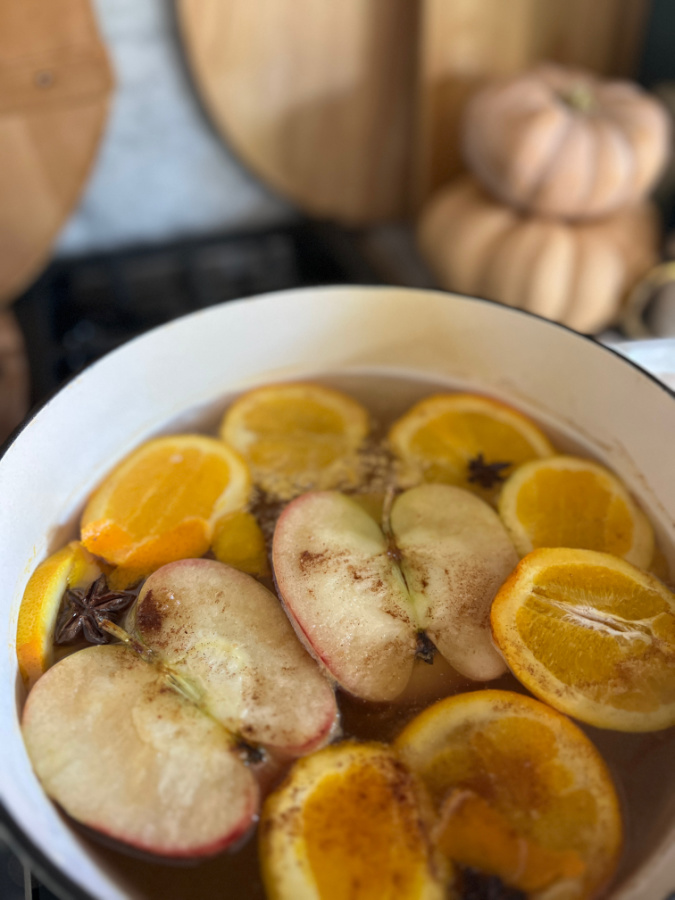 *As an Amazon Associate, I earn from qualifying purchases. This post contains other affiliate links too for your convenience. Click here to read my full disclosure policy.
The Cozy Creative Collaborative
Friends before we get in to my post, I am so excited to be joining some amazing fellow bloggers for our monthly blog series that we are calling it the Cozy Creative Collaborative! This month our theme is anything with apples!
Let me introduce you to the ladies. Make sure to visit all of their posts linked below in the green!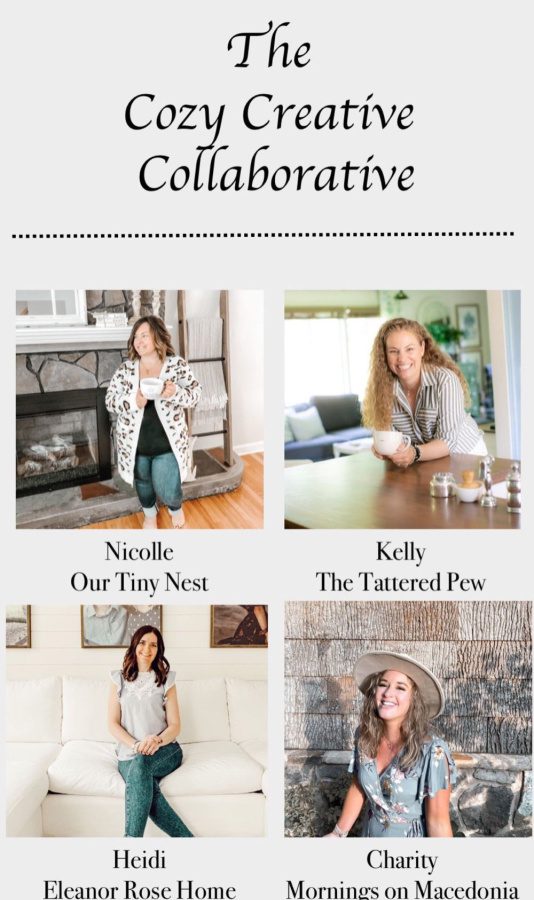 If you are popping over from Charity of Mornings on Macedonia and her post on apple cinnamon swirl bread, welcome! Didn't that look so yummy?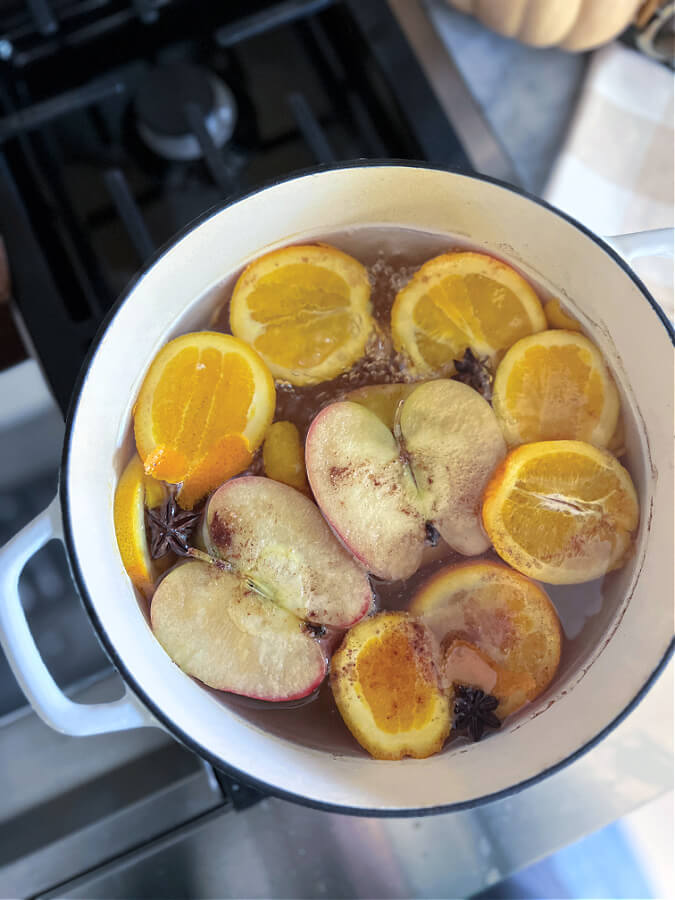 Ok now on to my simple fall simmer pot featuring apples of course! This fall simmer pot is truly a piece of art!
Ingredients for Your Autumn Simmer Pot:
1 apple (sliced)
2 oranges (sliced)
Orange peels (from 2 oranges)
3-4 star anise pods
2 teaspoons of Trader Joe's Pumpkin Pie Spice (or your favorite fall spice blend)
1 knob of ginger (sliced)
Enough water to fill your pot
Instructions for Making a Cozy Fall Simmer Pot:
This is a very simple and easy way to make your home feel and smell like Fall! For me smells are very important and I like how some different smells make me feel connected to certain memories or seasons. Ok friends, here we go!
1. Gather Your Ingredients:
To begin, collect all your ingredients. The combination of apples, oranges, spices, and ginger will create a heavenly scent that's quintessentially autumn. A lot of people like to use cinnamon but I am allergic to it so I didn't include it in this simmer pot. But you can if you love the smell of cinnamon!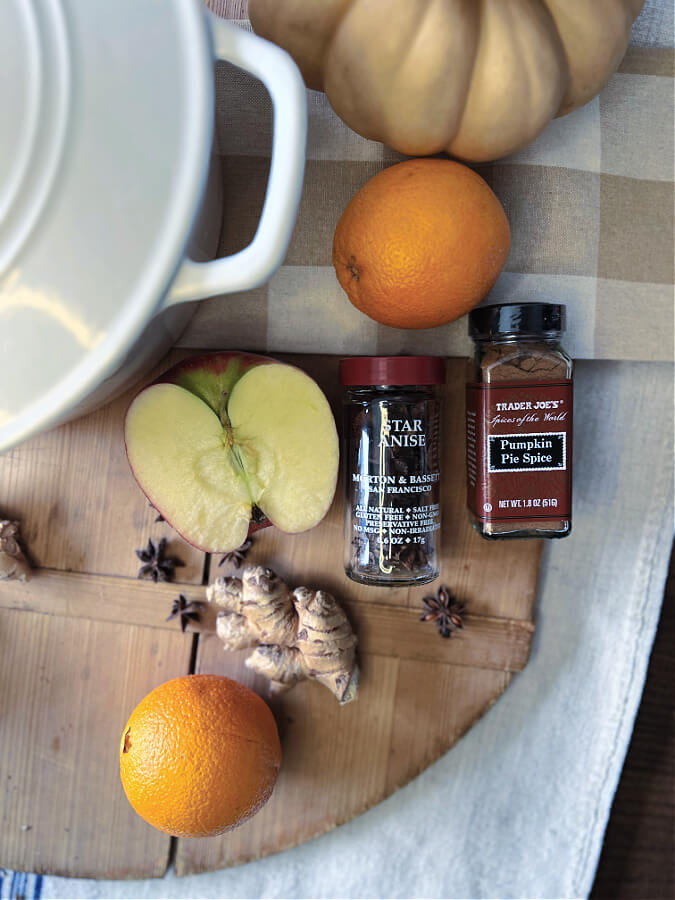 2. Prep the Fruits:
Slice the apples and oranges into thin rounds. Don't worry about peeling them; the peels add a lovely fragrance to your simmer pot. Set aside the orange peels for extra citrusy goodness.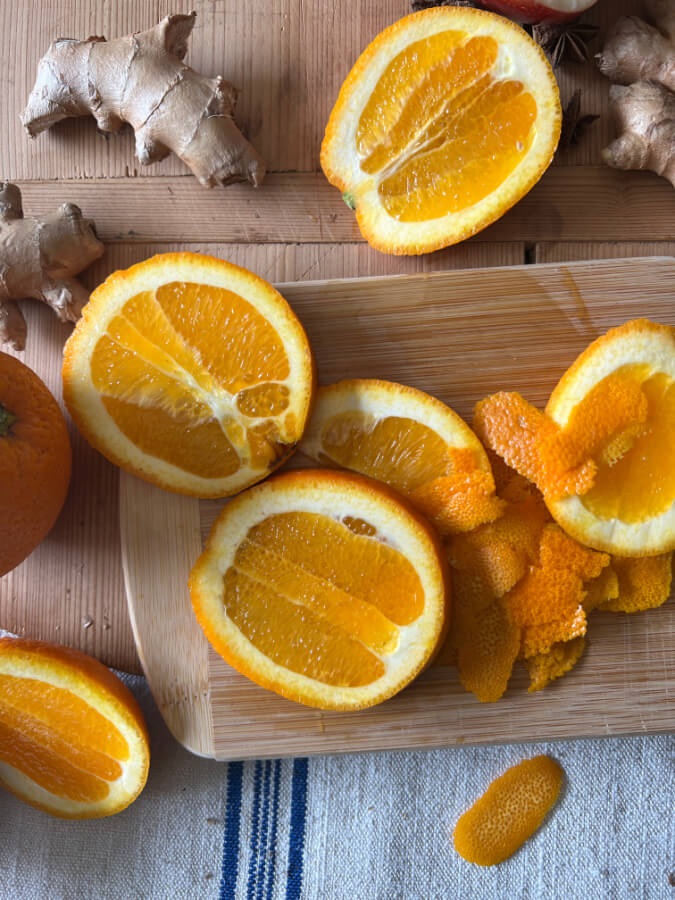 3. Assemble Your Pot:
If you have a crockpot, this will make the process even simpler. However, a stovetop potpourri pot works just as well. I simply used my favorite dutch oven.
For a Crockpot: Fill the pot with water until it's about two-thirds full. Place all your ingredients, including the sliced apples, oranges, orange peels, star anise, and ginger, into your crockpot. Sprinkle the Pumpkin Pie Spice evenly over the ingredients.
For a Stovetop Potpourri Pot: Follow the same steps as above but use a stovetop potpourri pot or dutch oven instead of a crockpot. You'll need to monitor the water level more closely on the stovetop.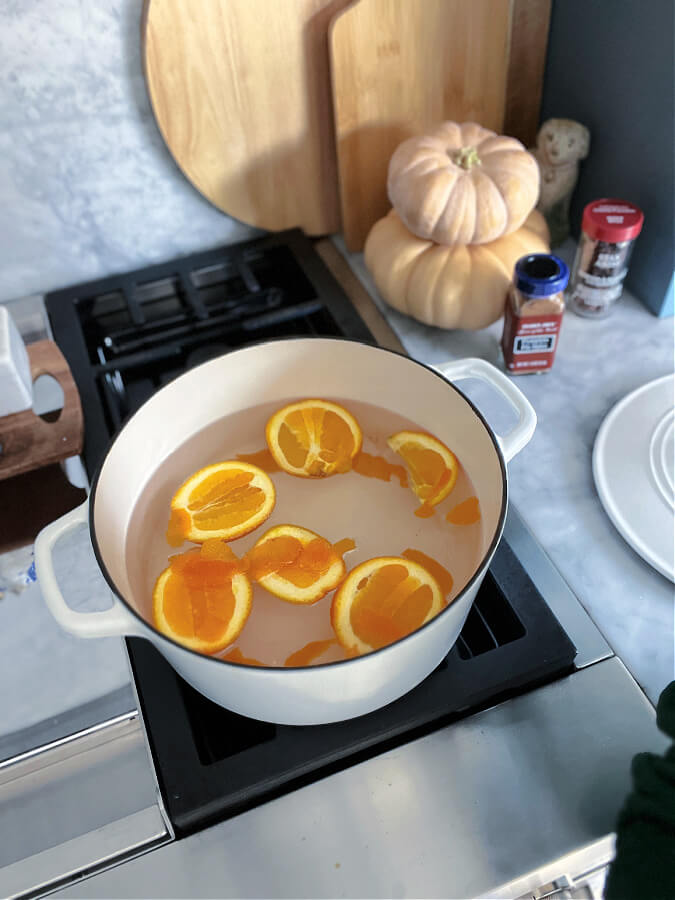 4. Set the Temperature:
Crockpot: Turn your crockpot on low heat. As the ingredients warm up, the delightful aroma will start filling your home.
Stovetop Pot: Place your stovetop potpourri pot on the stove and set the burner to the lowest possible heat setting and let it simmer. You can also use a simmer plate to achieve the desired low heat.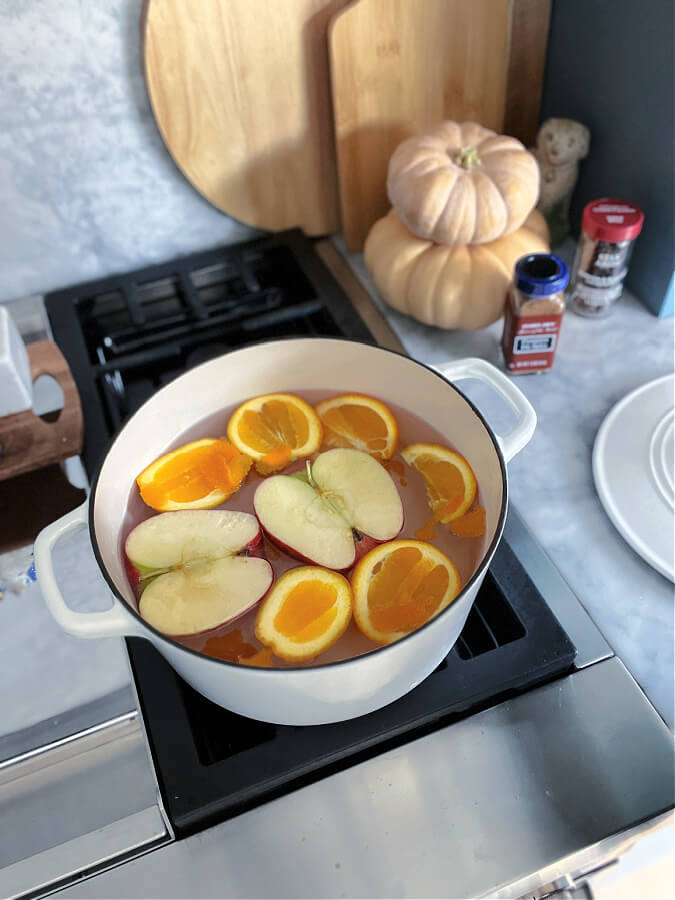 5. Enjoy the Aroma:
As your simmer pot warms up, the fall scents will begin to waft through your home. The combination of apples, oranges, spices, and ginger creates a captivating aroma that's sure to put you in the autumn spirit. You can leave it simmering all day for a fabulous smelling house!
I let it simmer on our stove all day while I worked around the house and I swear just knowing it was there doing its thing put me in a happy mood!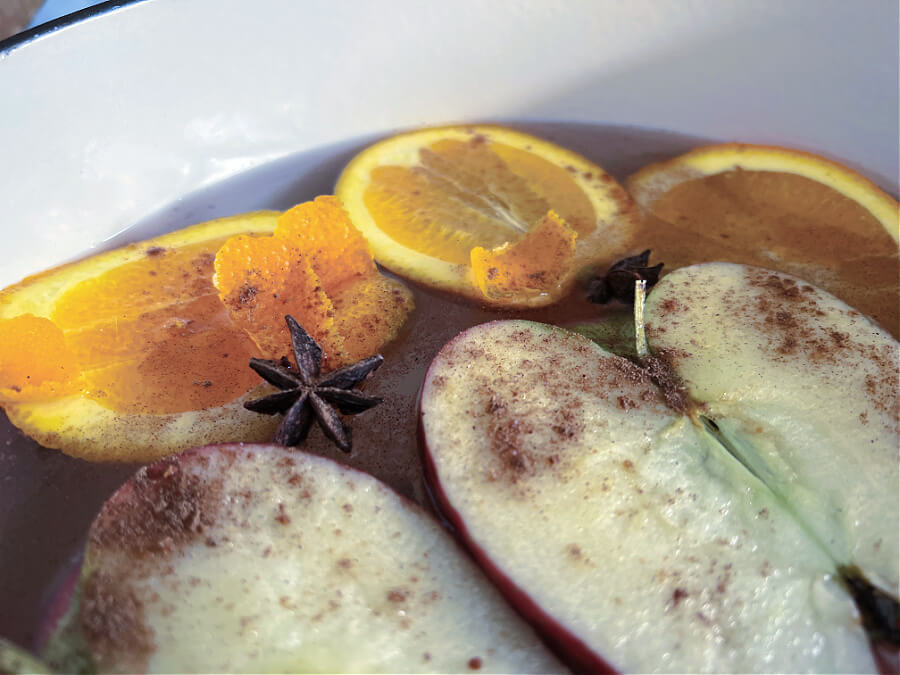 6. Monitor Water Levels:
If you're using a stovetop pot, be sure to periodically check the water level and add more as needed to prevent it from drying out. For a crockpot, you can typically leave it unattended for several hours.
7. Refill and Reuse:
You can keep your fall simmer pot going for several days by simply adding more water as needed and occasionally refreshing the ingredients for a more potent aroma.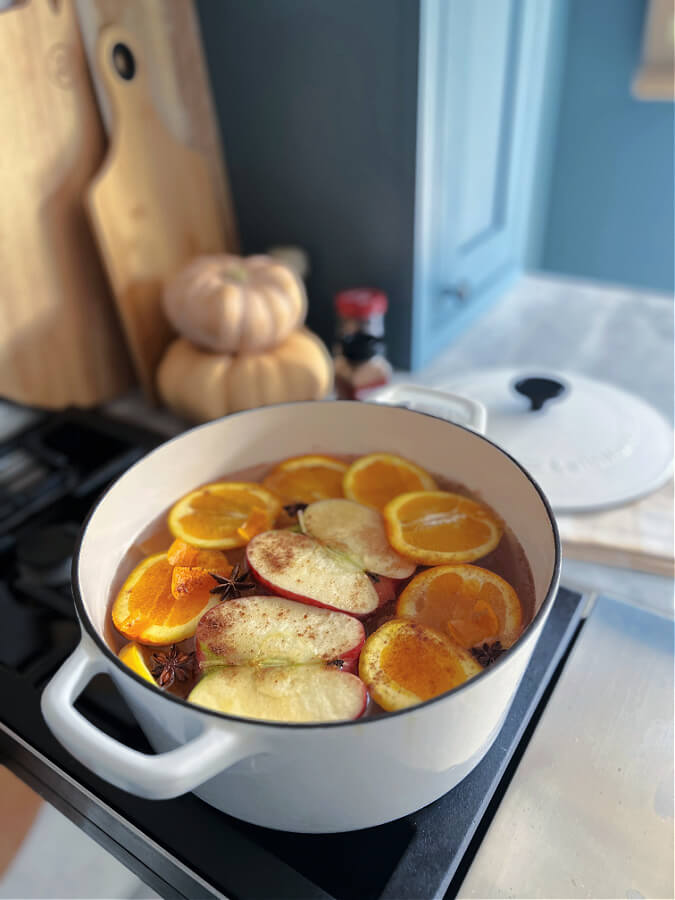 Wouldn't it be fun to fill a large jar with these fresh ingredients and deliver them to your friends so they could easily make their own fall simmer pots? You could even use my FREE fall floral gifts tags to make the presentation even more beautiful and personalized!
FAQ's : Making Fall Simmer Pots
What is a fall simmer pot?

A fall simmer pot is a delightful way to infuse your home with the warm and inviting scents of autumn. It typically consists of a combination of fruits, spices, and herbs simmered in water to create a fragrant aroma that fills your living space.

What are the benefits of using a fall simmer pot?

Fall simmer pots provide a natural, non-toxic and pleasing way to freshen the air in your home without the use of artificial air fresheners. They also create a cozy and comforting atmosphere that's perfect for the fall season.

What ingredients can I use in a fall simmer pot?

Common ingredients for fall simmer pots include apples, oranges, cinnamon sticks, cloves, nutmeg, star anise, ginger, and various spice blends like pumpkin pie spice. You can get creative and personalize your simmer pot with your favorite fall scents. (No cinnamon for me since I am allergic) Next time I want to try lemons, rosemary and limes…but perhaps those are more summery ingredients!

How do I make a fall simmer pot?

To make a fall simmer pot, gather your chosen ingredients, place them in a pot or slow cooker, add water, and simmer on low heat. The heat will release the natural aromas, filling your home with a pleasant scent.

Can I use a stovetop potpourri pot instead of a crockpot?

Yes, you can certainly use a stovetop potpourri pot to make a fall simmer pot. The process is similar, but you'll need to monitor the water level more closely to prevent it from drying out.

How long can I leave a fall simmer pot on?

You can leave a fall simmer pot on for several hours to enjoy a continuous infusion of fragrance. Be sure to check the water level regularly and add more water as needed.

Are there any safety precautions to keep in mind when using a simmer pot?

Always use caution when working with heat sources. Keep the pot on a stable surface, and if using a stovetop, use a low heat setting. Never leave a simmer pot unattended, and be sure to turn it off when you're done.

Can I reuse the ingredients in my simmer pot?

Yes, you can reuse the ingredients in your simmer pot. Simply add more water and refresh the ingredients when the scent starts to fade. You can typically get multiple uses out of the same set of ingredients.

Can I make a fall simmer pot in advance for a special occasion or guests?

Yes, you can prepare your fall simmer pot ingredients in advance and store them in the refrigerator until you're ready to use them. This can be a convenient way to have a fragrant home for gatherings or events.

Are there variations of fall simmer pots for different scent preferences?

Absolutely! You can customize your fall simmer pot by experimenting with different combinations of fruits, spices, and herbs to achieve the specific scent profile you desire. Whether you prefer spicy, fruity, or woodsy scents, there's a variation for everyone. Oddly enough I am allergic to cinnamon so you may have noticed that I didn't include cinnamon sticks. I'm sure there is sone in the Pumpkin Pie Spices I used but not as overwhelming as using multiple sticks.

How Long can a Fall Simmer Pot Last?

Your cozy Fall simmering pot can stay on the stovetop for a full 24 hours. If you opt to use only peels and spices without adding fresh ingredients, it can even extend to a remarkable four days! All you need to do is refresh the water every 30-45 minutes. This simple practice ensures that your home is consistently filled with wonderful smells.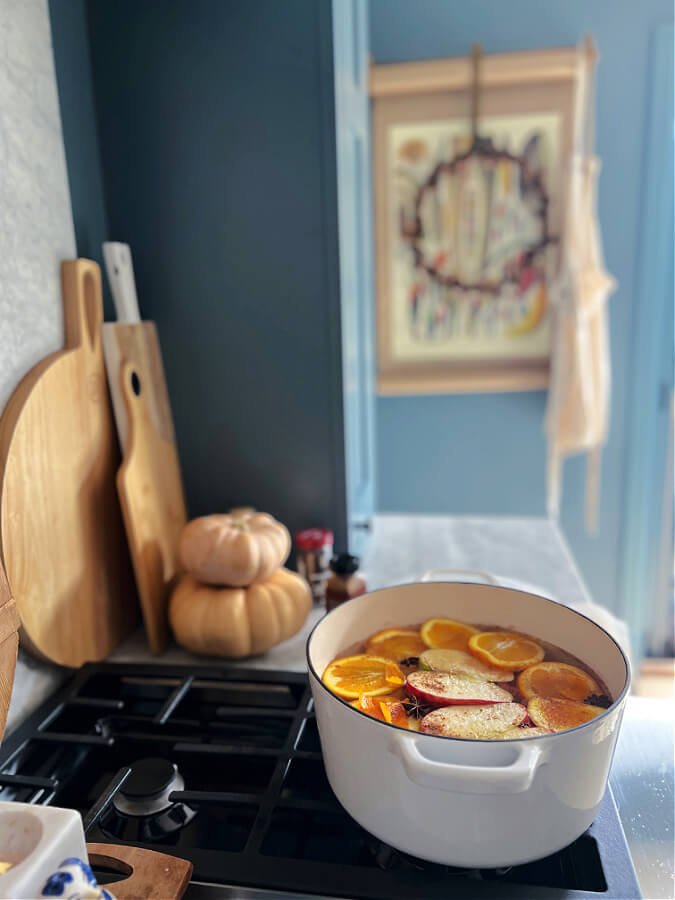 Making a Cozy Fall Simmer Pot
With this simple and cozy fall simmer pot recipe, you can enjoy the cozy scents of autumn in your home without any fuss. Whether you're using a crockpot, regular pot or a stovetop potpourri pot, your whole home will be filled with the inviting fragrance of apples, oranges, spices, and ginger. So, get ready to embrace the fall season and create lasting memories with this wonderful DIY simmer pot. Happy simmering and please let me know if you try this!
Now make sure to jump over to Nicolle's post where she is sharing a delicious apple and brie flatbread with hot honey!
I'd love to have you hang out with me some more! Feel free to follow along with me on any of the platforms linked below.
LTK | Facebook | Instagram | Pinterest | Amazon
xoxo,
Kelly