A Peek At My Christmas Decorating Plans
I know it might be a bit early to be thinking about decorating for Christmas but with the craziness of this year I needed a little joy in my life and Christmas always seems to do the trick! I have already been shopping (mostly on-line) and planning and thought you might like to take a peek at my Christmas decorating plans!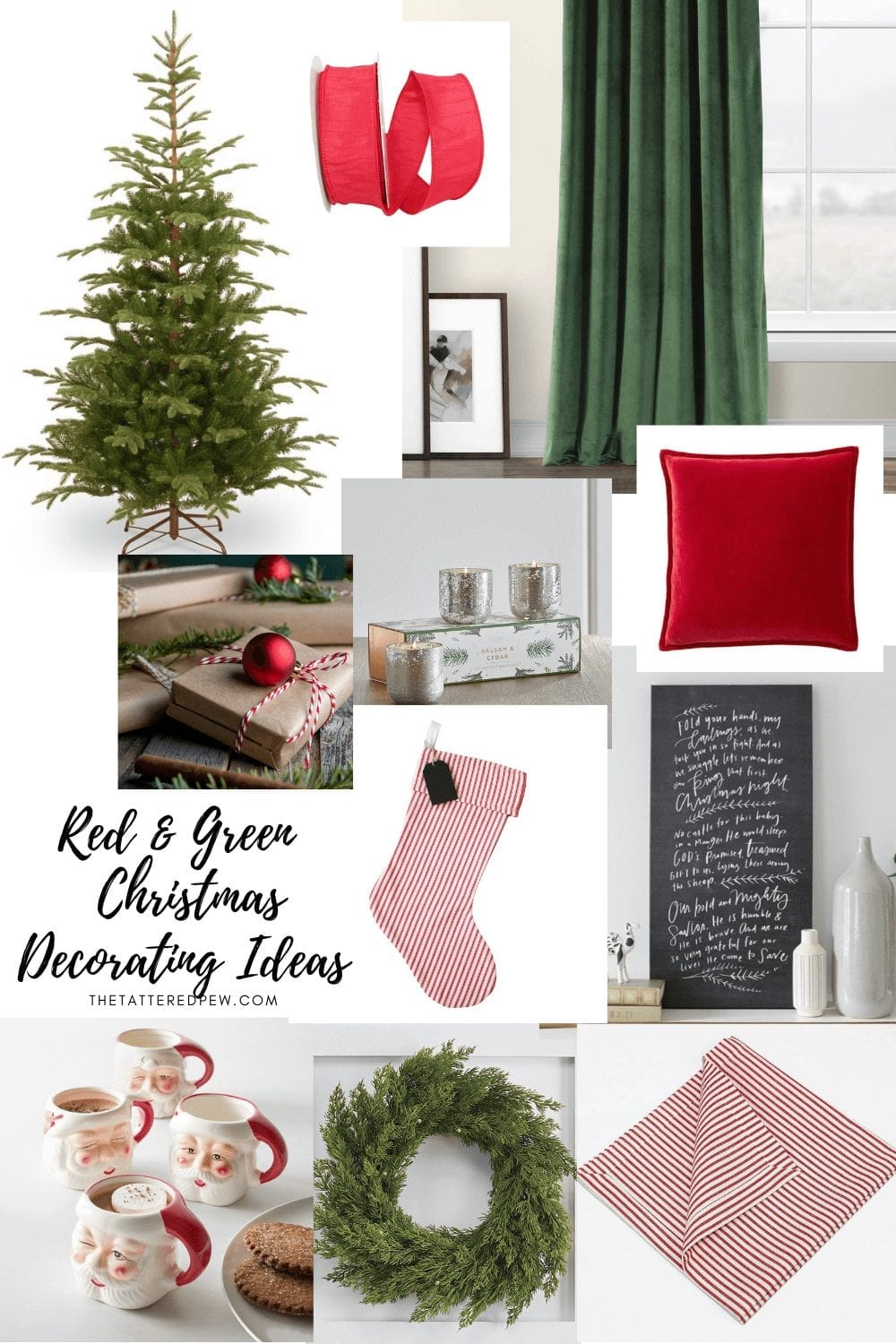 This post contains some affiliate links for your convenience. Click here to read my full disclosure policy.
Each year my Christmas decor is a mix of cottage, traditional, vintage and items from past years. I have been know to mix up the color scheme which I'm pretty sure drives my husband crazy! 🙂 So when he asked what my Christmas decorating plans were this year and I replied that I was leaning towards a traditional red and green Christmas color scheme, you should have seen him light up.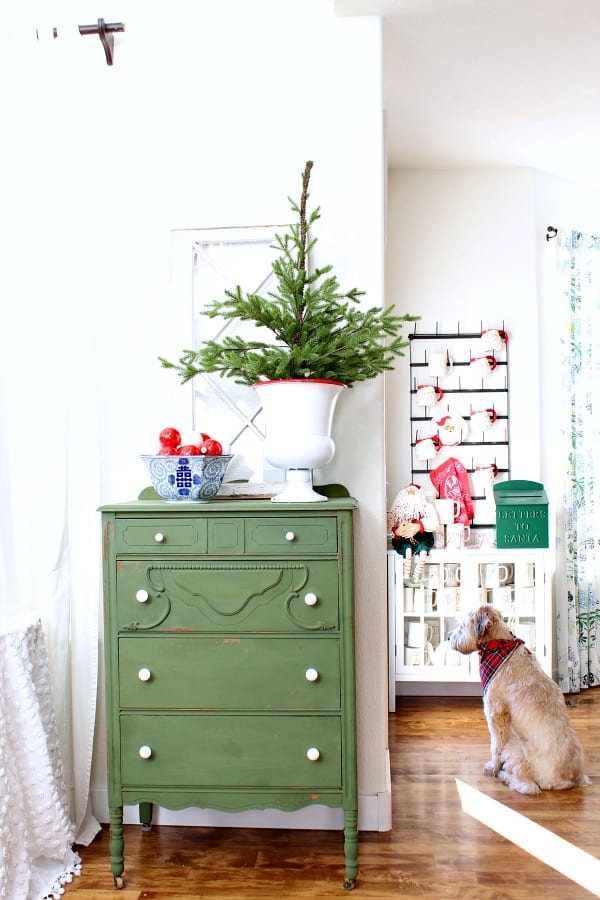 He was so excited because he loves it when I use red and green.
Let's take a peek at a few areas of our home and the plans I have for decorating those spaces this coming Christmas. Maybe this will help get your wheels spinning for your own Christmas decor!
Our Christmas Family Room
The past two years I have had our Christmas tree at the end of our family room and in front of our large green vintage shutters. And guess what, I plan to place it there again! I just plan to change up the ribbon this year.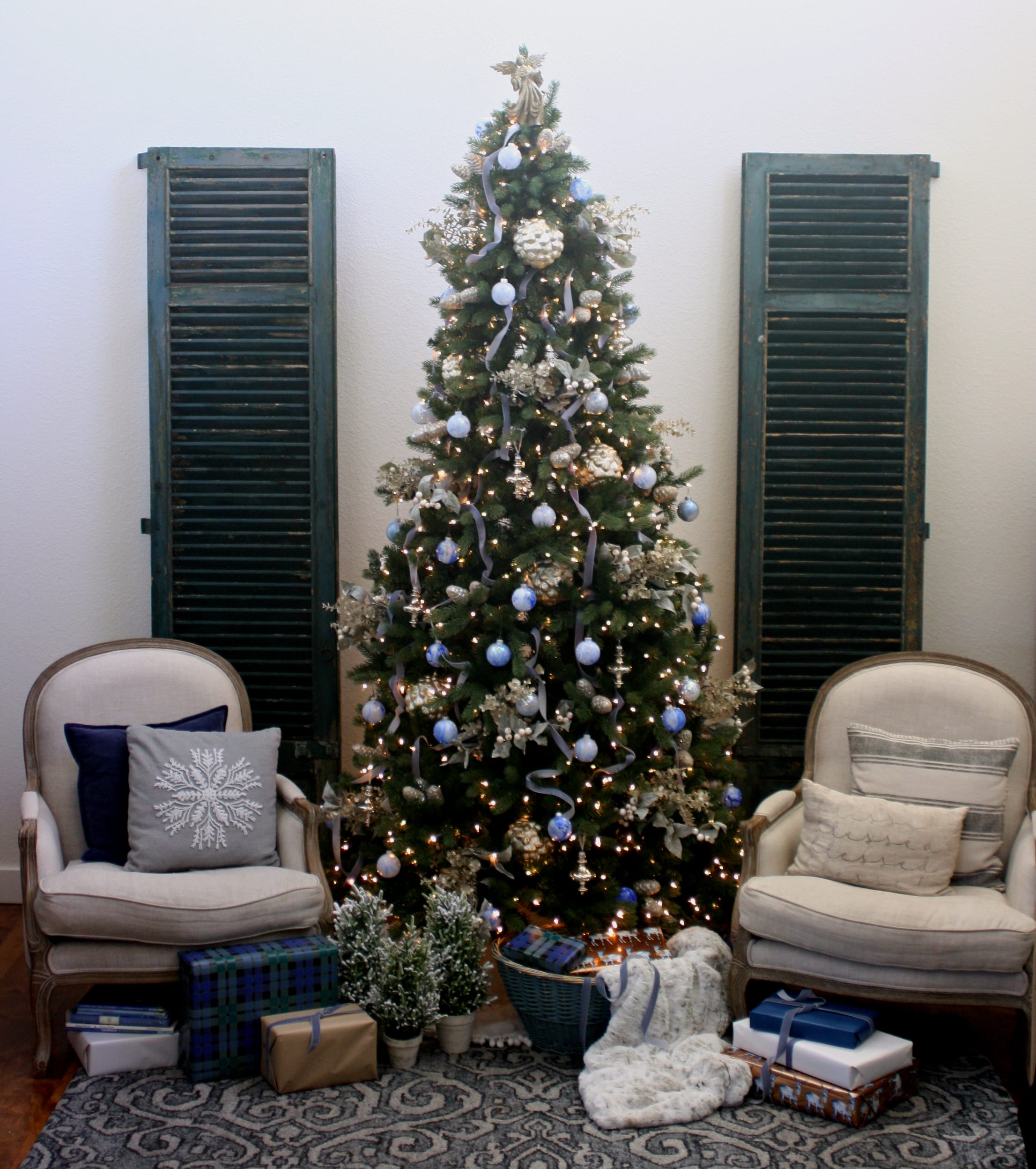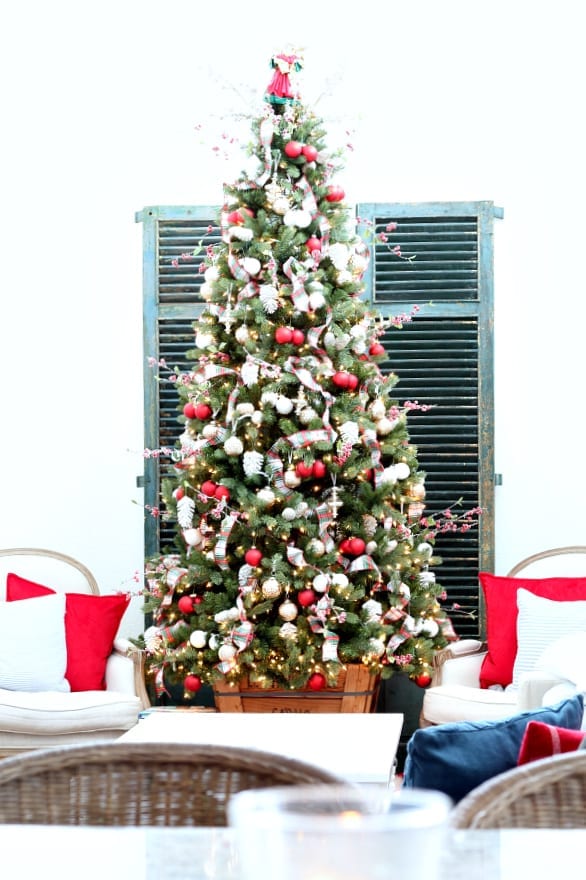 I have never really focused on our mantel mostly because it bugs me. It's not symmetrical and has a large niche with an arch. This year I plan to embrace the arch by adding greenery to it and hanging these gorgeous ticking stripe stockings on the mantel from Porter Lane Home!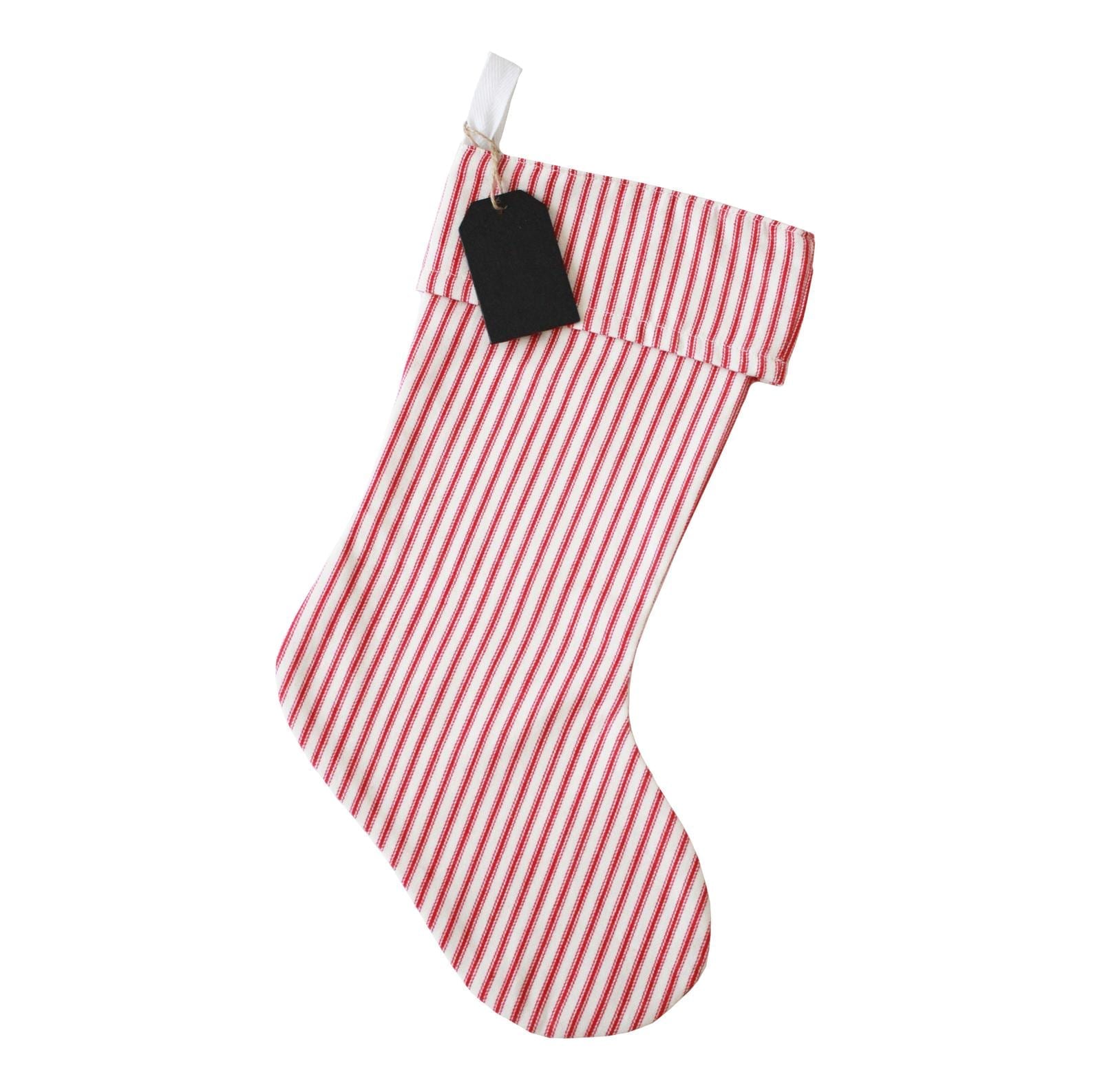 Scroll and Click Images for Family Room Sources

This year I am loving velvet everything and tons of greenery! I plan to add huge amounts of greenery inside our home as well as touches of velvet here and there.
Over on my favorite visual search engine Pinterest, I have found several beautiful photos of garland hung over archways, windows, mantels, kitchen cabinets, etc. We have several archways and I can't wait to drape them with greenery!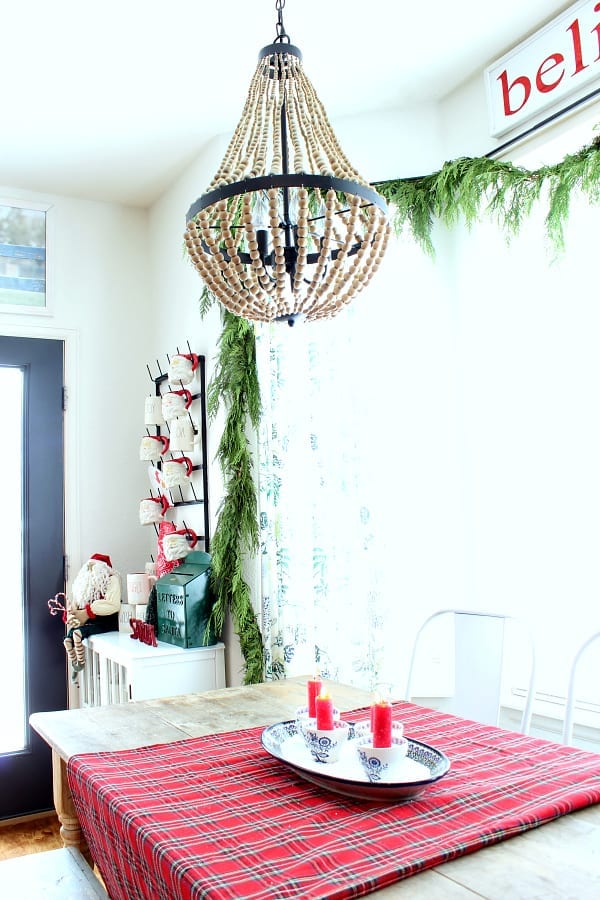 The fresh greenery in our kitchen nook from last year was from Trader Joes. It smelled amazing! I have also found amazing deals on fresh greenery at Home Depot and Lowes and our very own yard. The only problem is that it tends to dry out if you don't spray it with water often.
I have some faux garlands that I love but they tend to be so costly. My trick for purchasing them is that I always look for great faux greenery during the after Christmas sales!
Our Christmas Kitchen
This year I am so excited to decorate our kitchen for Christmas because it will be the first time with our newly refinished kitchen cabinets! Like I mentioned above my plan is to focus on red and green. The green will mostly be found in the greenery and the new and affordable green velvet curtains I found over on Amazon! I can't decide though if they should go in our dining room or kitchen. Maybe both rooms?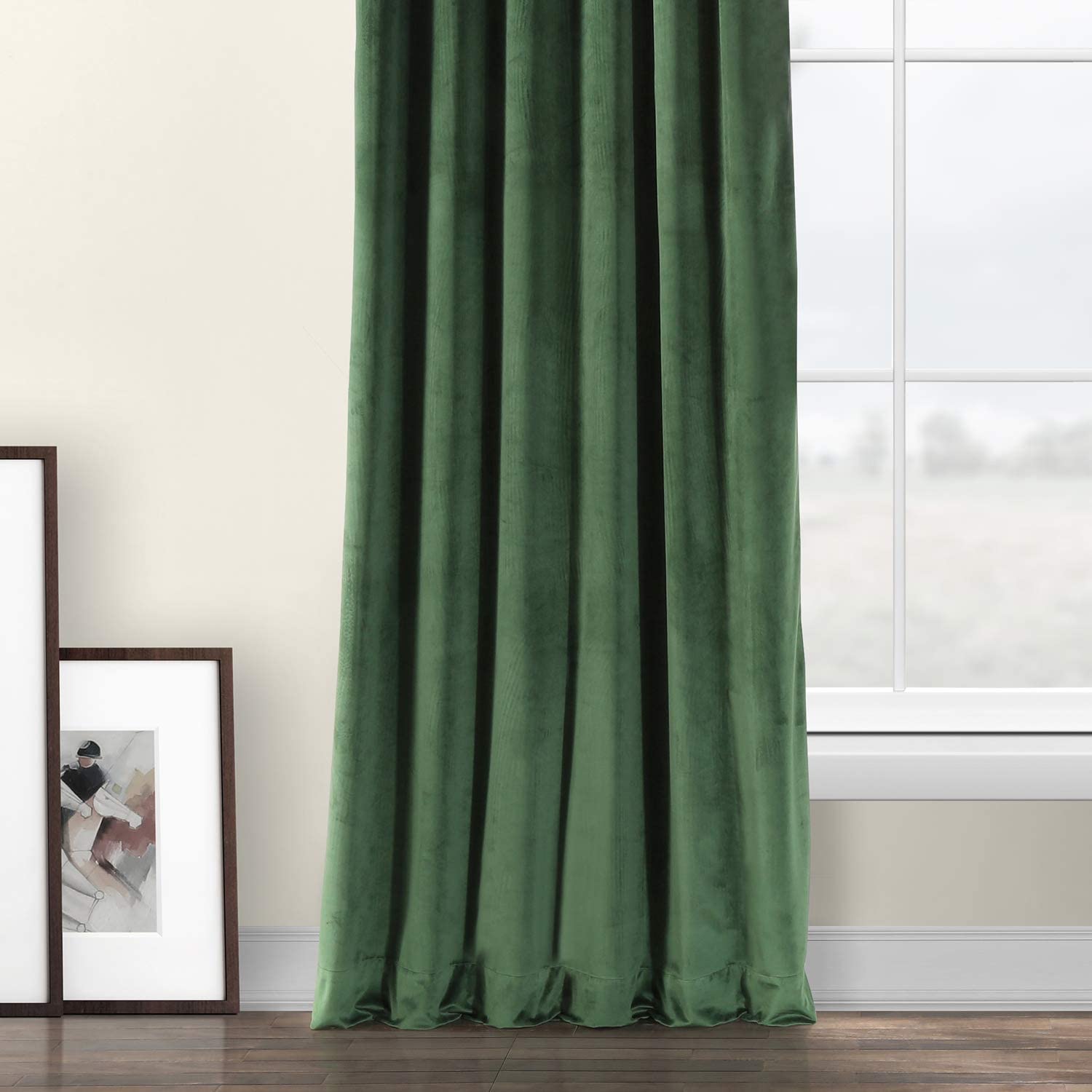 For the red accents I will use the red ticking stripe napkins I just found on Amazon as well as red ribbon and other red accents. I will also plan to remove the blue this year that I had last year. Oh, and I can't forget to mention that I will be changing up my hot cocoa bar this year. However, I will still be featuring my mom's amazing hot chocolate recipe!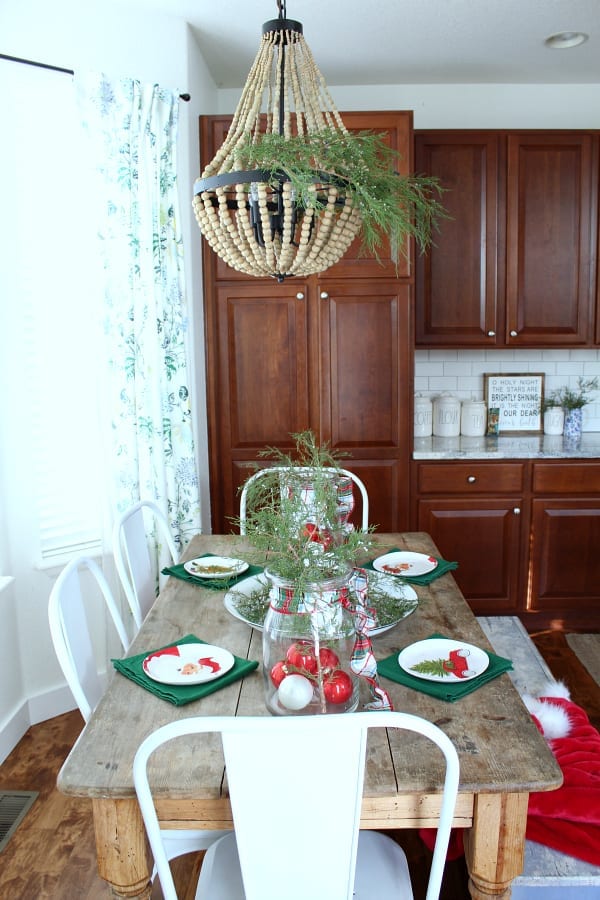 A Colorful Christmas Kids Table 2018
Shop My Christmas Decorating Plans
I gathered up all of the items I have purchased, or I am dreaming about purchasing, and put them in a pretty little graphic for you! I linked each item below. (affiliate links) I would suggest shopping sooner than later for any new Christmas decor you plan to get this year because as I'm sure you know, shipping has been taking much longer these days.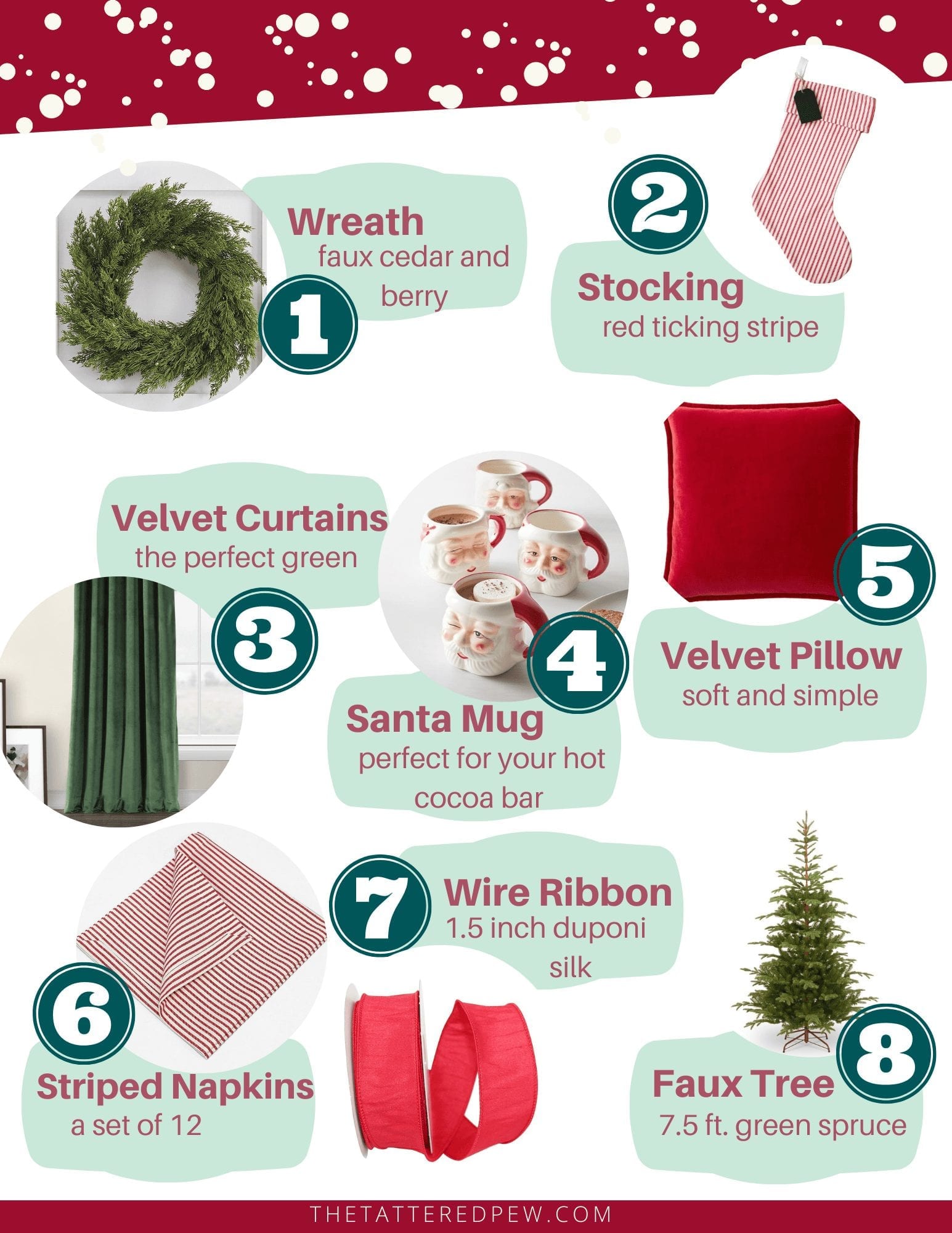 Christmas In Our Bedrooms
When it comes to our rooms I always love to have a Christmas tree in our bedrooms! I have been known to leave ours up in our master bedroom through February. It's our only flocked tree and it looks so magical with just the lights in the evening. Yep I'm that girl!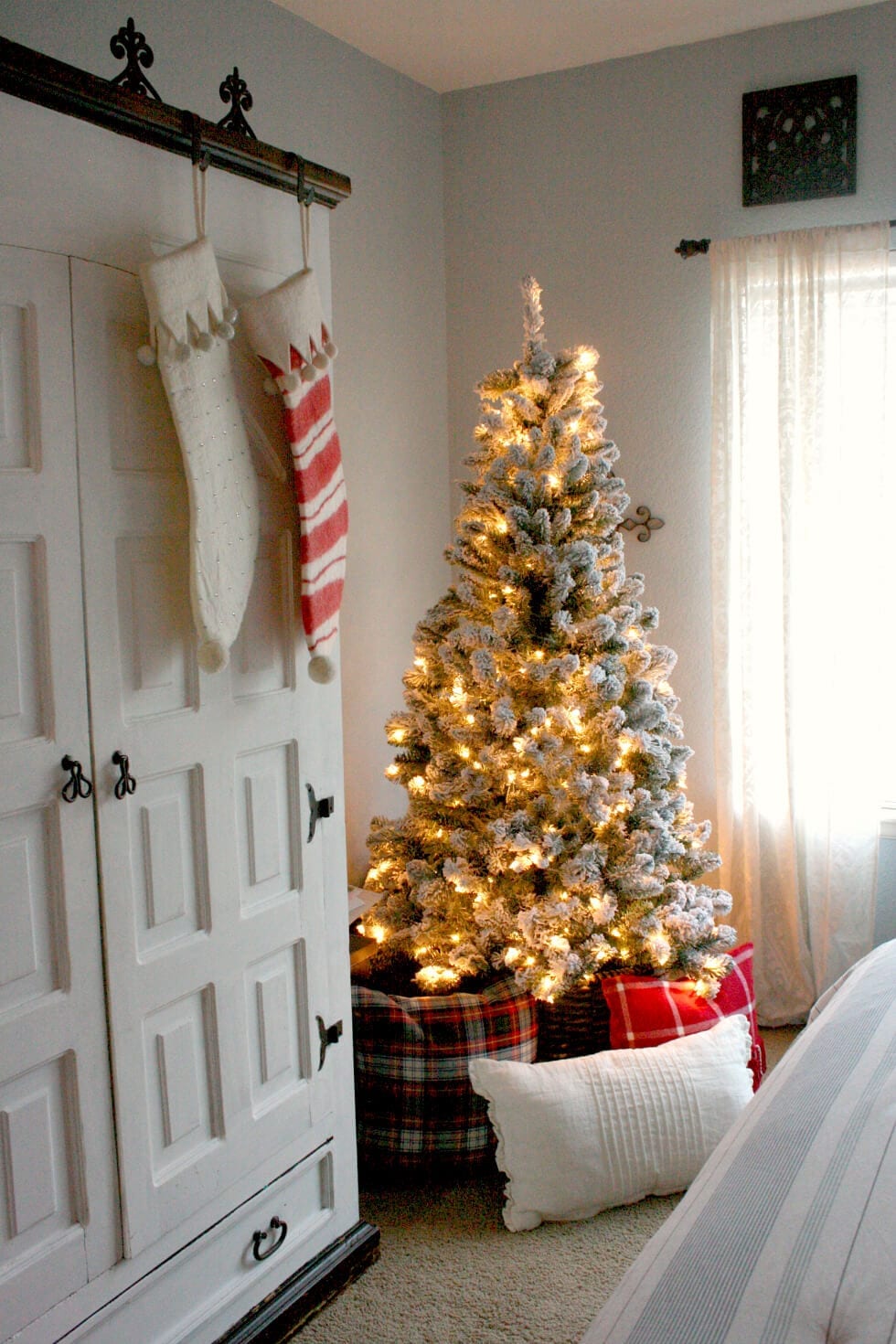 I am so excited to share my decorating plans for our youngest's room! My sister and mom made some adorable DIY Christmas pillow cases that I will share about next week and I also plan to add this amazing Lindsay Letters Christmas Lullaby canvas! It's pictured in black below, but I chose it in red. The moment I saw it I knew it was perfect for her room! Even though I plan for it to be in her room I will be praying/singing these words over all of our children!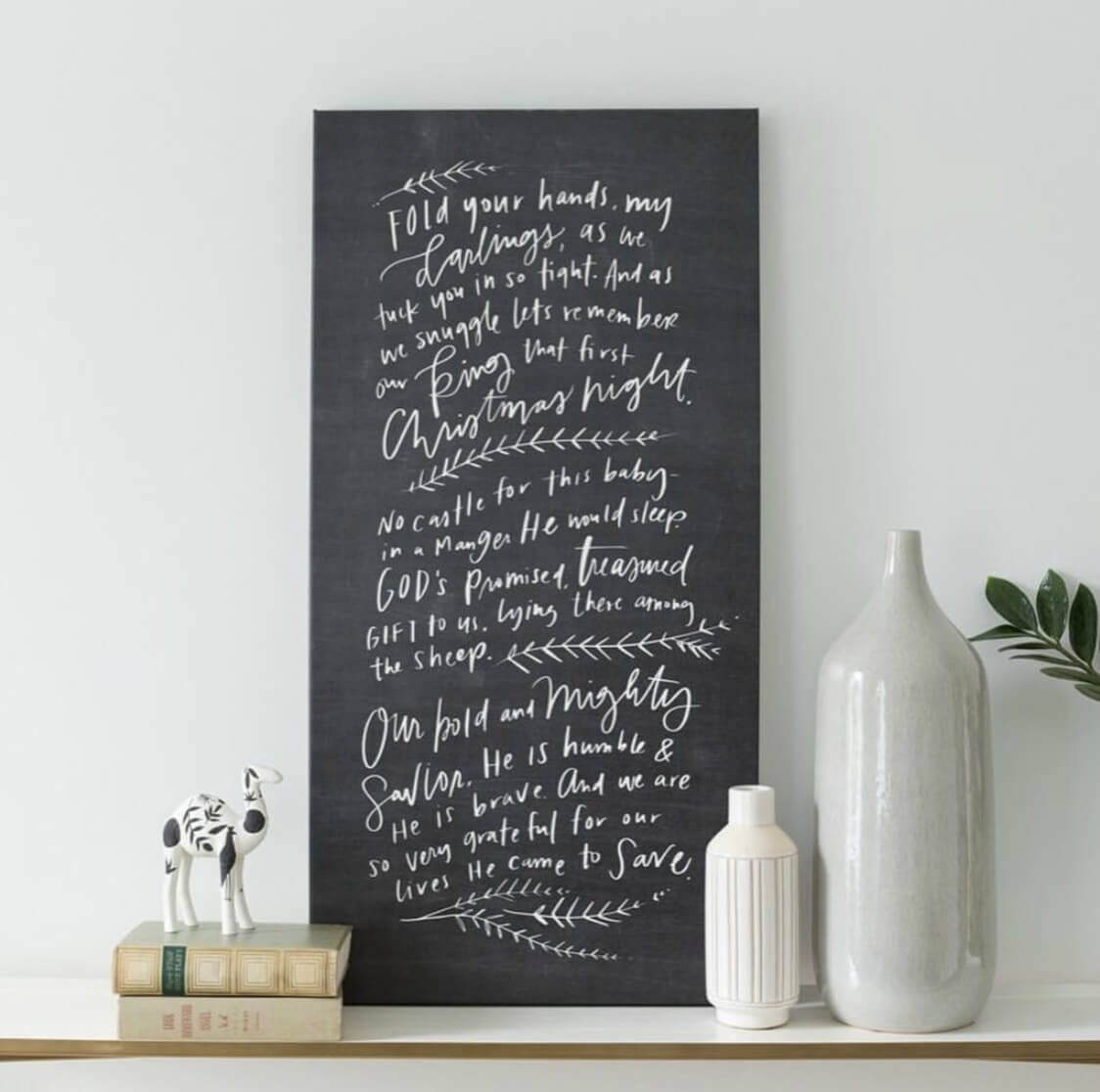 I also snagged these beautiful Because He Loved Christmas Cottages from Crew & Co to hang in the girl's rooms.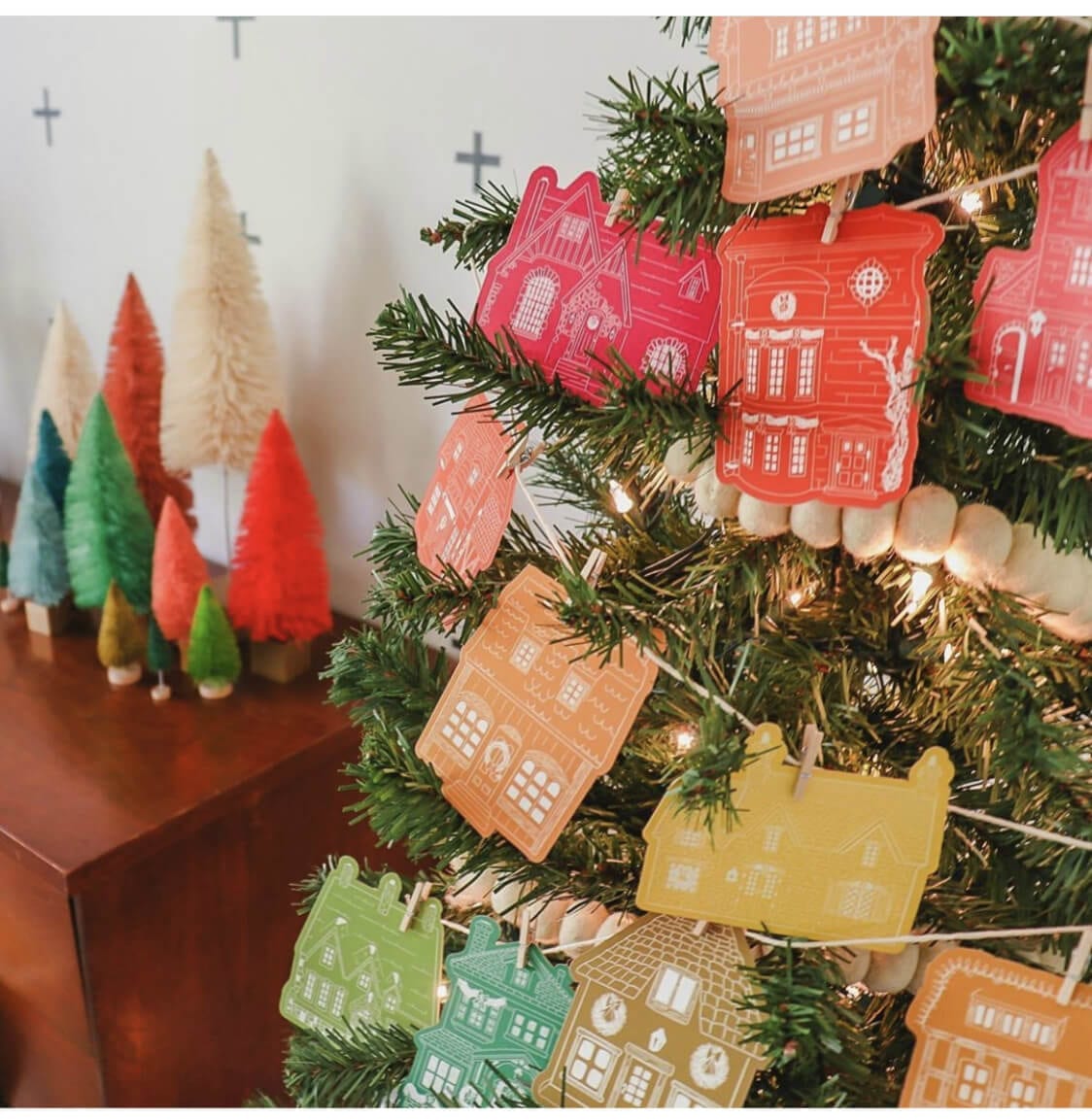 There are 26 total cards and on the back of each of them is a Bible verse and an act of kindness. Their entire mission for these cards is to encourage us to love and serve others during the Christmas season. So cool, right?!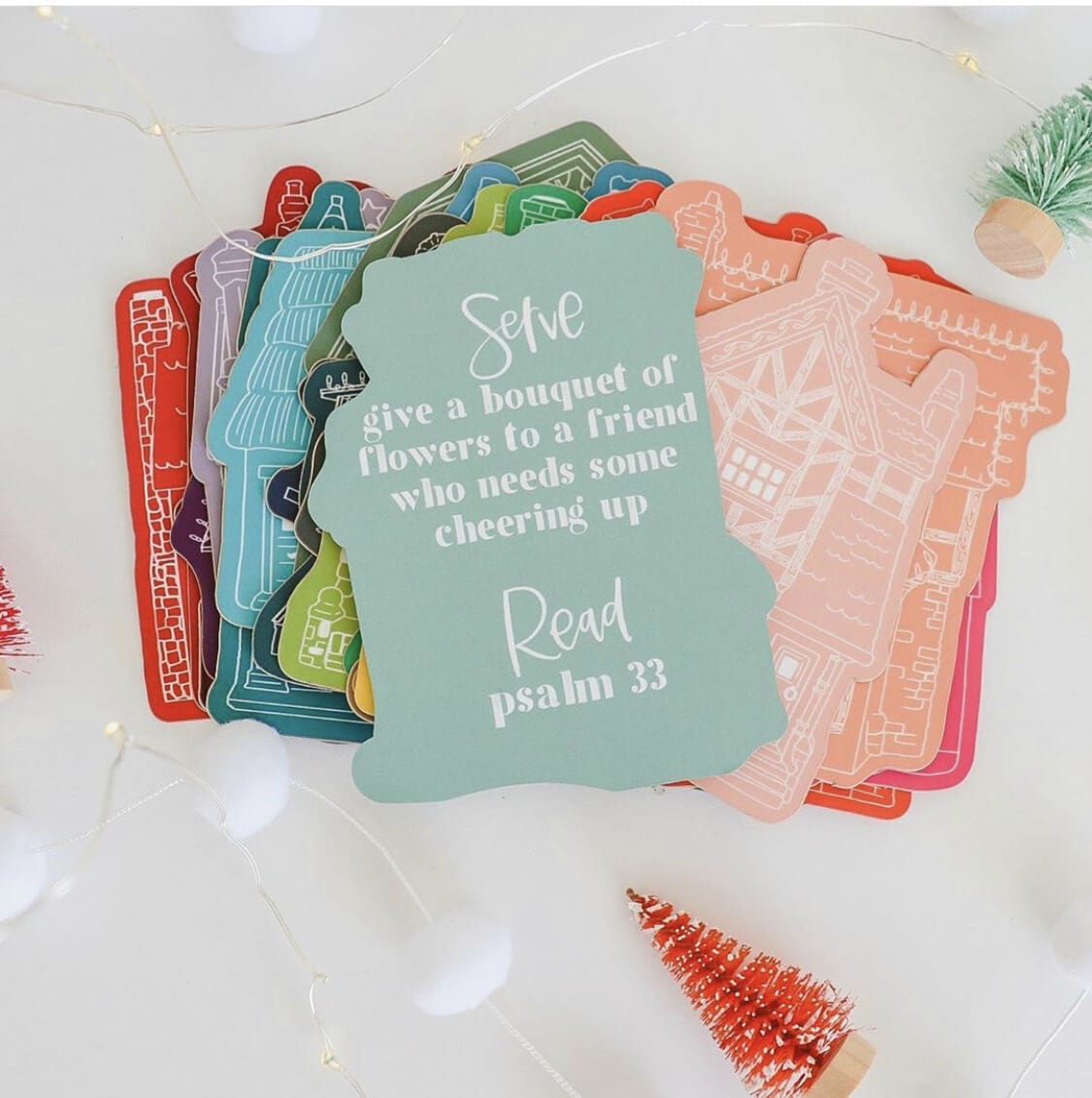 Shop This Post

Christmas On The Porch
Our porch is one of my favorite places to decorate each holiday! I honestly haven't formed a solid plan yet for our porch as all my energy has been focused on the inside. However, I do know I want to make a DIY Christmas wreath using the same grapevine wreath I used in the fall. My plan is to add a ton more greenery and some red berries and to hang it over our porch pew.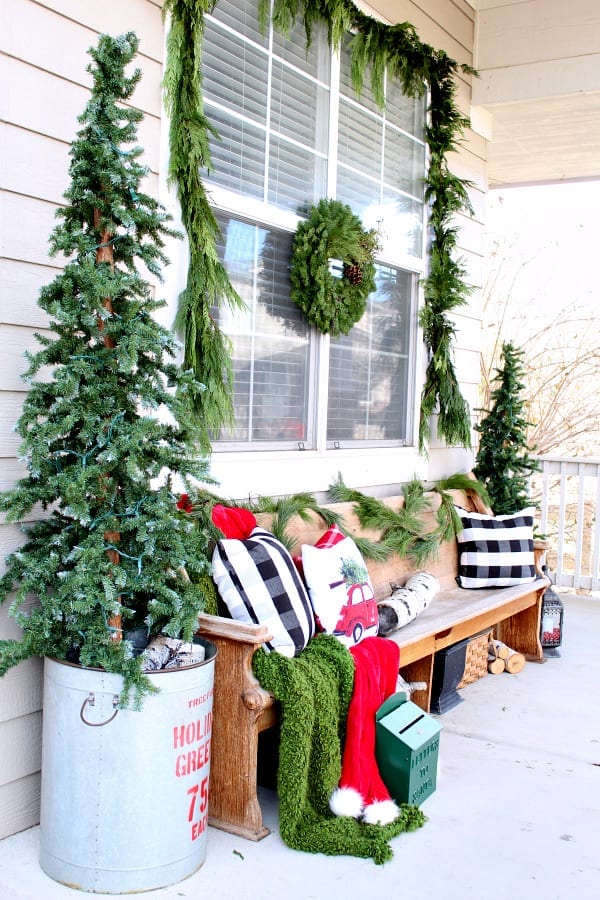 Christmas 2020
I hope you enjoyed this peek at my Christmas decorating plans for this year. There are so many other spaces in our home that I have plans for as well but you will have to subscribe (in the box below) so you are around when I post those in the next few weeks. Also, next week I will be sharing a really fabulous "Holiday Printable Bundle" that you won't want to miss! You can snag them HERE early if you want. 🙂 Happy Christmas planning friends!
XOXO,
Kelly