Welcome to this week's Monday Must Haves, where I share a collection of things that have caught my eye lately. Plus, each week I will be featuring a small shop for you to check out. Nothing is off limits!
*As an Amazon Associate, I earn from qualifying purchases. This post contains other affiliate links too for your convenience. Click here to read my full disclosure policy.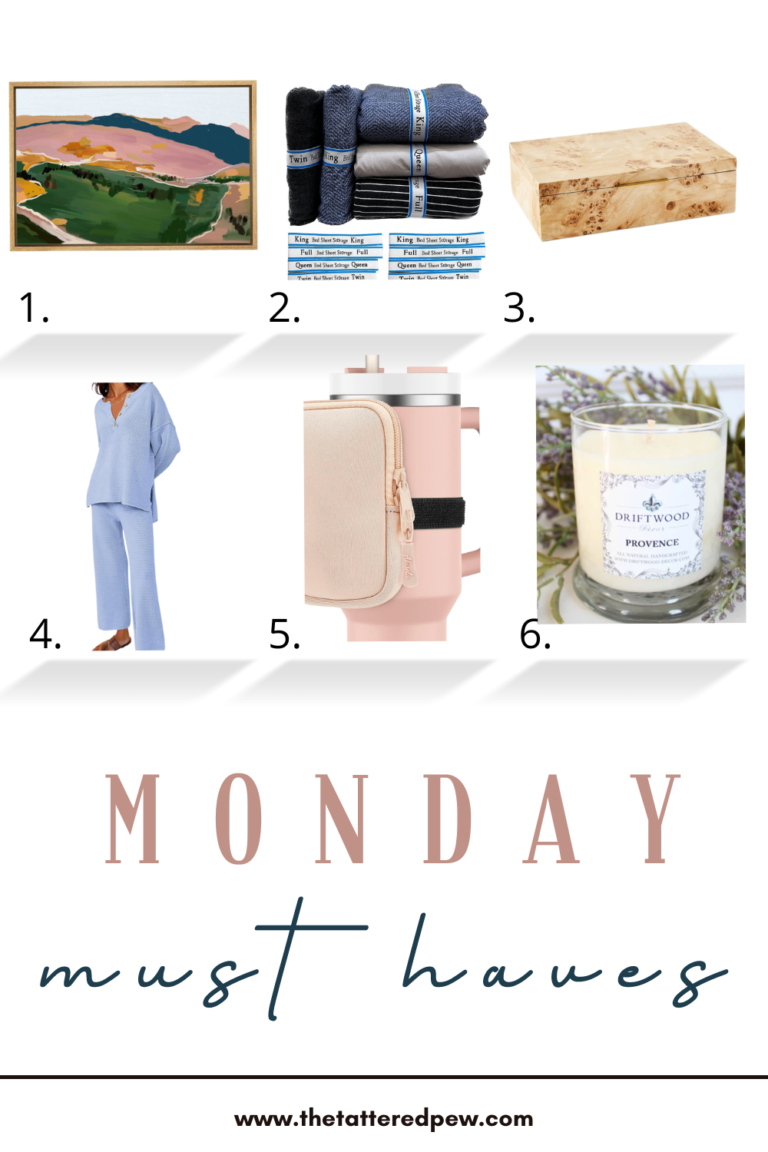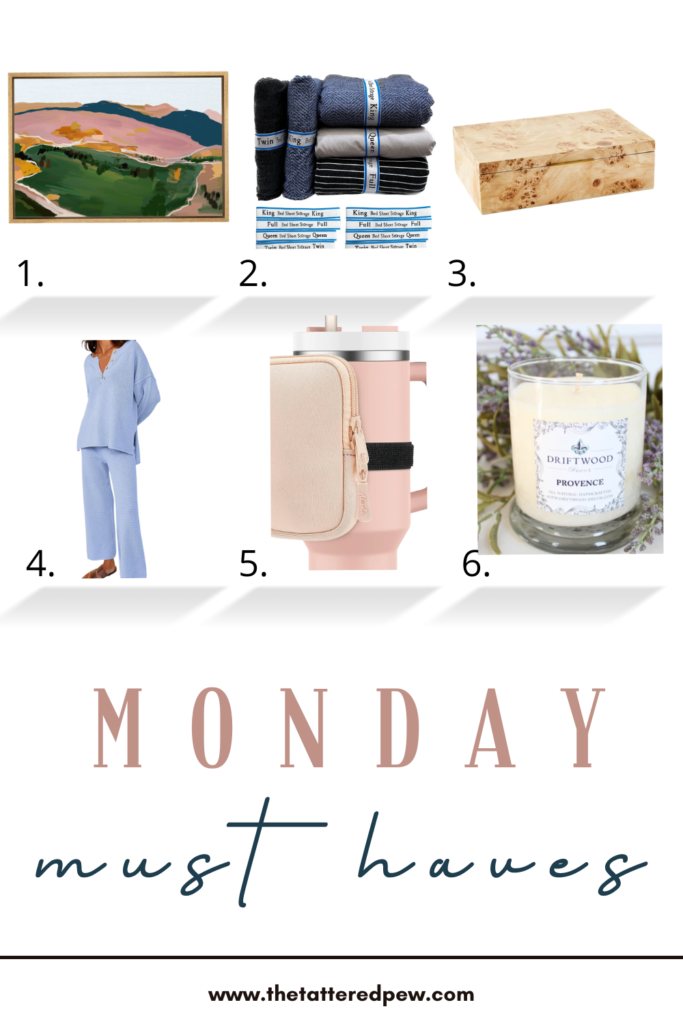 1 // 2 // 3 // 4 // 5 // 6
Monday Must Haves
Affordable art is always on my radar. So when I discovered this colorful & beautiful framed canvas print at a very good price point I ordered as quick as I could. They actually have so many other landscape's available and frame choices as well. So if this particular piece doesn't speak to you like it does me, click on the link to see what else they have available. There are a variety of sizes too. So much value can be found in art and it changes up a space in an instant. This one is going above our pine dresser in our entry in place of the hats.
2. Raise your hand if you struggle with bed sheet organization. I know it can't just be me! These bed sheet organizer bands are genius. They are labeled according to the size of the sheets and make your sheets easy to store and recognize. They have 2 bands per bed size and are elastic and stretch nicely. Check these out and you can thank me later! I have these and love them.
3. Burl wood is beautiful and making a huge come back in the home decor world. You can find all price points for this style but they are most often quite pricey. This beautiful burl wood jewelry box is stunning and would make the perfect gift. It would look great in a bedroom, as shelf decor or even on a coffee table for your remotes. I have my eye on this box and it's classic style!
More burl wood home finds! Shop collage HERE.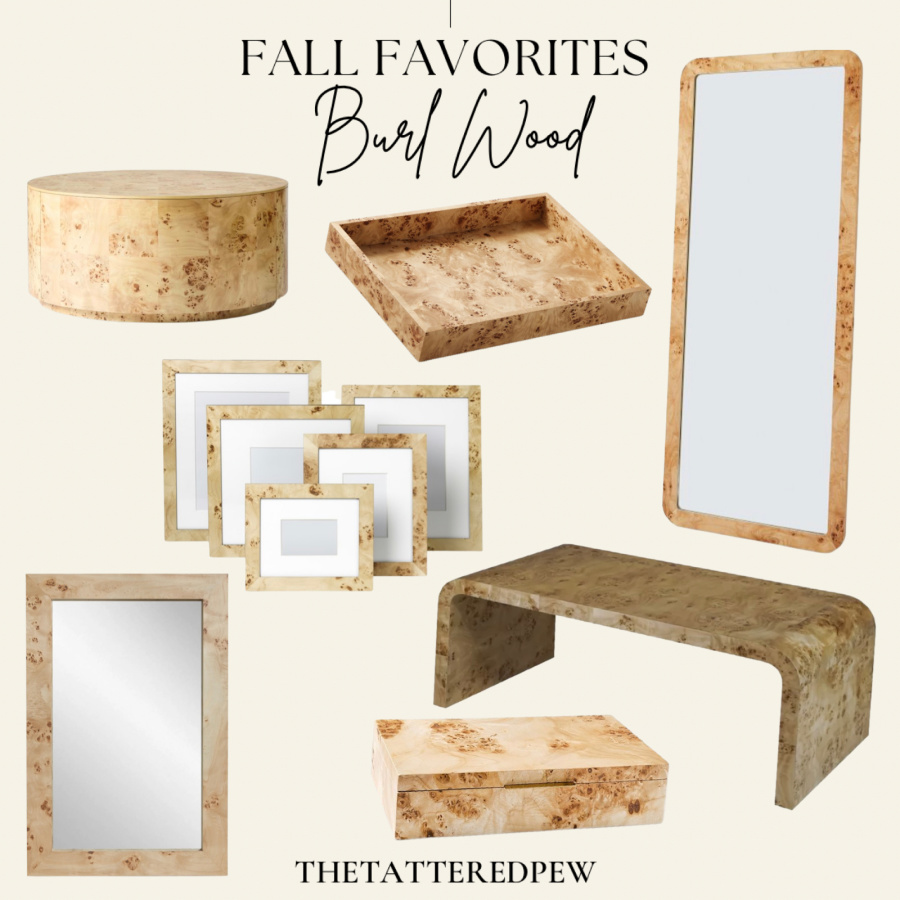 4. My mom shared this cozy knit lounge wear outfit with me and I instantly fell in love! This two piece set comes in multiple colors and has a cropped pant which works for short girls like me. SO yes of course I bought it in this gorgeous light blue. It will pair well with slippers or flip flops. It is very soft, fits true to size and will be an outfit I wear often.
5. This is my latest purchase, a pouch that goes on your Stanley mug. I know such a brilliant idea, right? My aunt first sent this to me awhile ago and I instantly ordered one. These are great for holding hair bands, keys, lipstick , money and more! This one I linked is super cute but I have seen a ton of these in different colors. Do you have a Stanley and would you try this? You can't beat a wallet for your mug! HA!
6. SMALL SHOP SPOTLIGHT: This week I want to share the small candle shop of my friend Lora called Driftwood Decor! I first became friends with Lora via Instagram over 6 years ago. She has a bright and bubbly personality and a beautiful sense of style. Her candles are incredible and hand-poured, all-natural, small-batch candles that have even been featured in Pottery Barn stores. She is as kind and talented as they come and her candles are just as amazing too. She is based out of Canada but will ship to the US as well. If you love candles you will love hers for sure!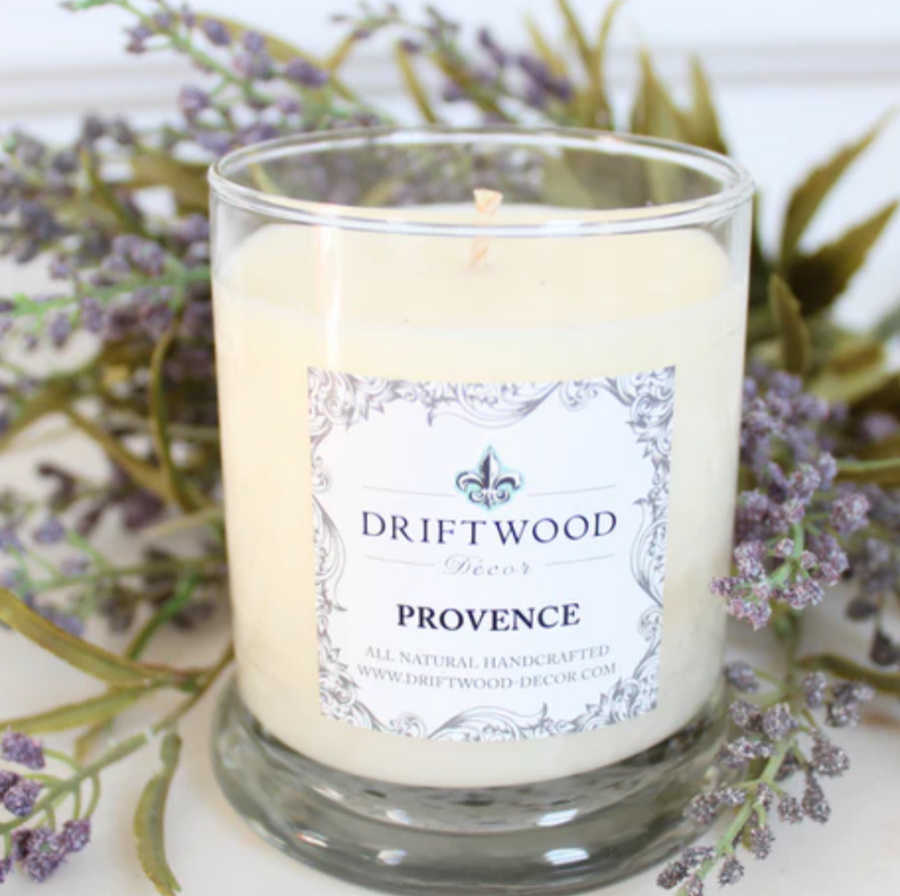 You can see all previous Monday Must Haves here!
I'd love to have you hang out with me some more. Feel free to follow along with me on any of the platforms linked below.
LTK | Facebook | Instagram | Pinterest | Amazon
xoxo,
Kelly