Quick and Easy No Sew Curtain
Have you ever had a space that you just wanted to cover up? You know, make it just a bit more pretty or even hide it? That current space for me is our small pantry just inside of our mud room. I was looking for a simple solution and came up with a quick and easy no sew curtain!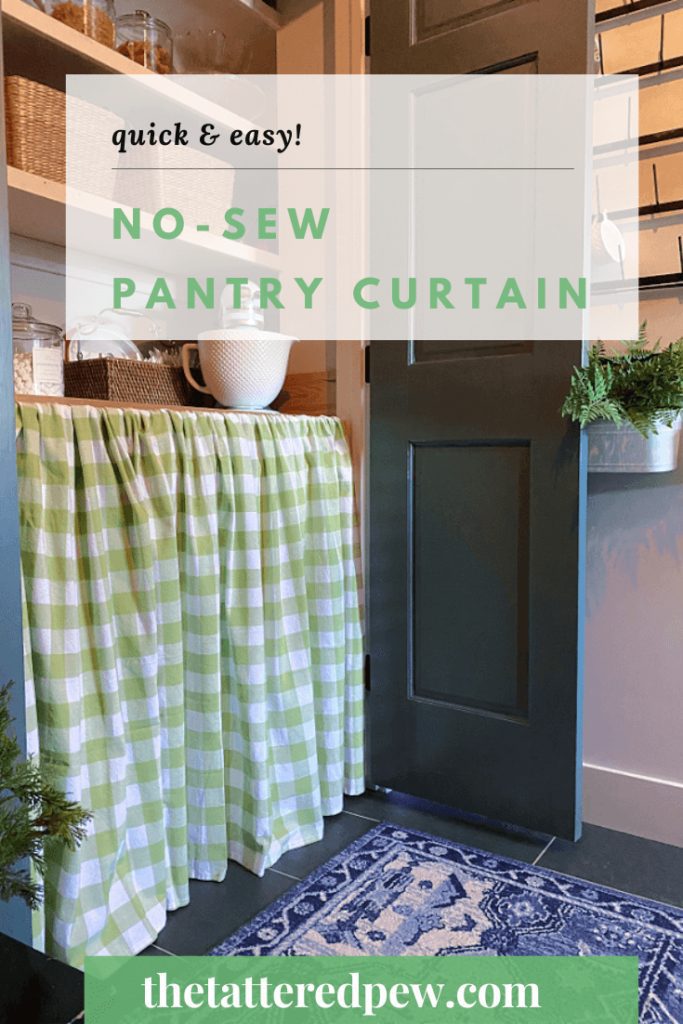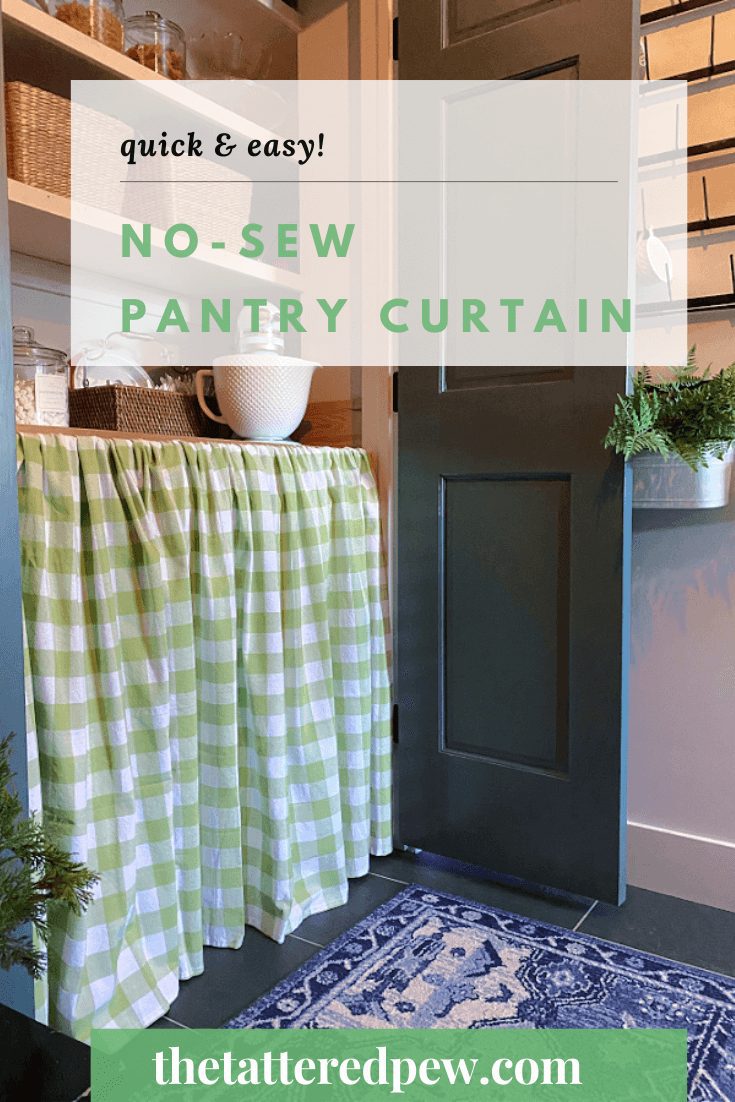 This post contains affiliate links and as an Amazon affiliate, I receive commission from your purchases. You can read more about my disclosures here.
No Sew Curtain-Thrifty Style Team
I am so excited to share this new no sew project with you and it's just in time for my monthly Thrifty Style Team post.
We took last month off and now there are so many great posts linked below that my friends are sharing. Make sure to visit them at the end of my post. A huge thank you to Julie of Red Head Can Decorate for hosting!
*Disclaimer-this space gets no light so these pictures are not the best.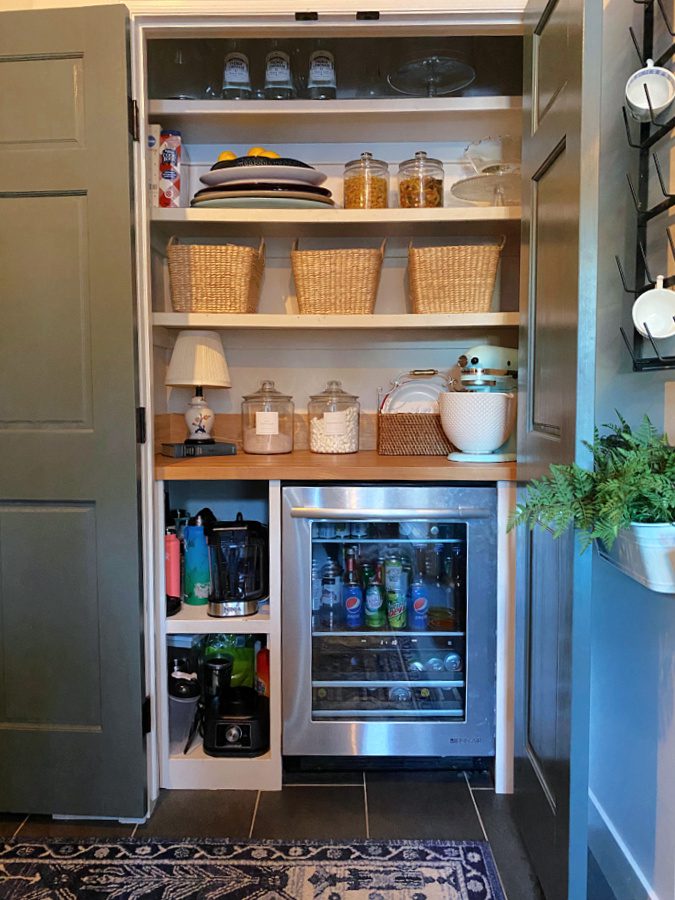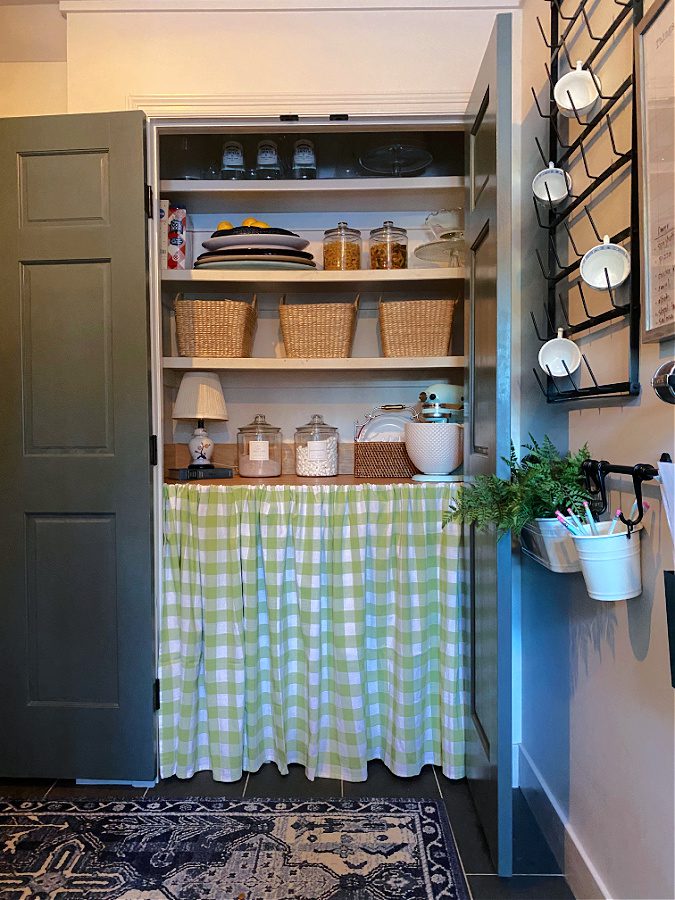 So darling, right?
Quick and Easy No Sew Curtain
I think you might be surprised at what I used for this fun little project that literally cost me under $6!
Yes, you read that right, $6.
That is because this darling little "curtain" is actually made from a tablecloth that I have had for a few years now. The green and white buffalo check tablecloth I used was 60 x 84inches and here is a similar one to mine that I found over on Amazon.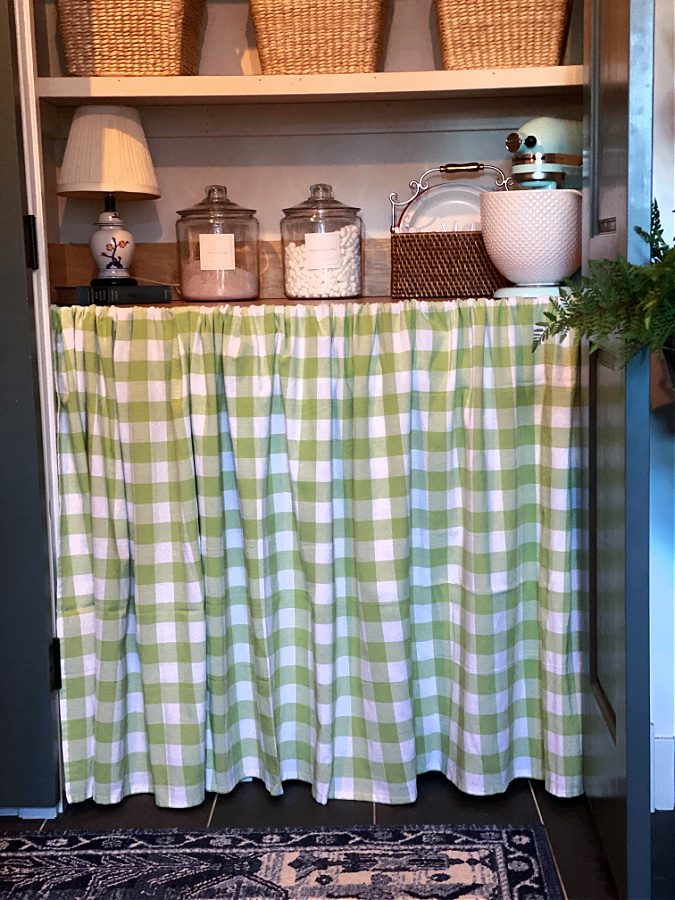 You can see how I used it in this post here. Crazy right?! Or maybe creative!
You could also use fabric of course or even cut up a curtain panel to fit your space. Nothing is off limits. I actually tried a chenille bedspread but it proved too heavy for the tension rod I used. I love thinking outside of the box for home decor projects.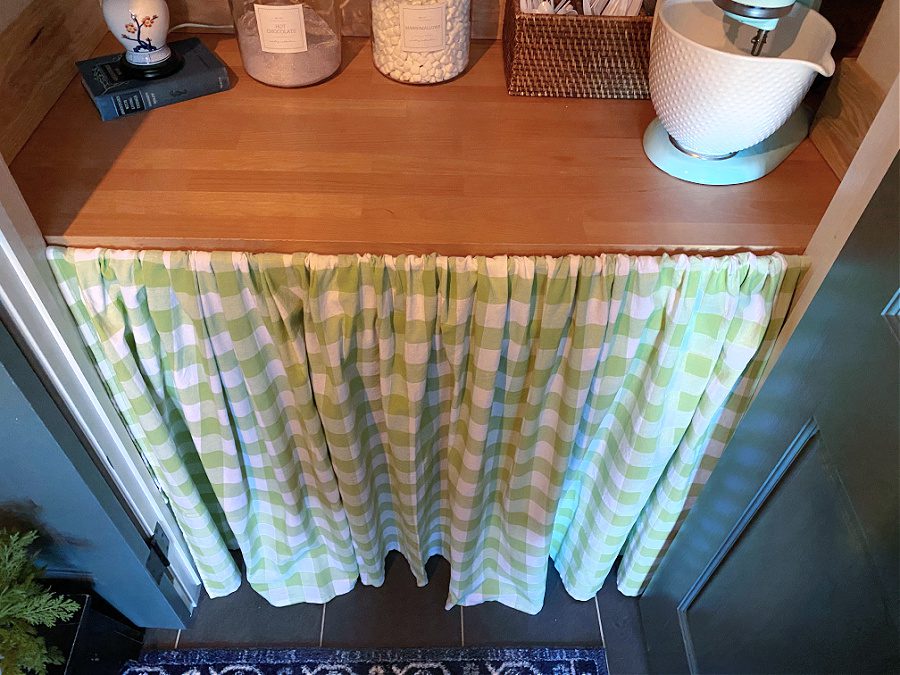 Hanging The No Sew Curtain
And then all I did was measure this opening in our pantry to find the length I needed for a tension rod.
I found mine at Walmart. They are pretty easy to find. I have seen them at Target, Bed Bath and Beyond, on Amazon and several other places as well. They can range anywhere from $3 all the way up to $20 depending on the size you need for your space.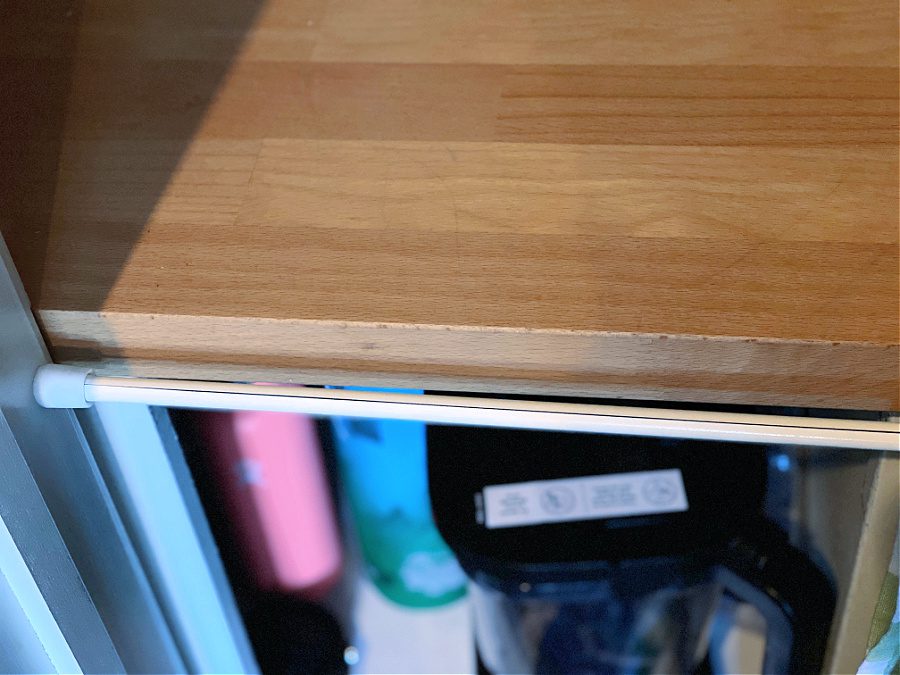 Once the tension rod was in place I simply hung the tablecloth over the tension rod and that was it.
Ok, I also had to make sure it was even and all scrunched and gathered to my liking. But could this be any easier?
I think not!
Mine has a few wrinkles and could use a good steam. But I'm pretty sure they will eventually fall out.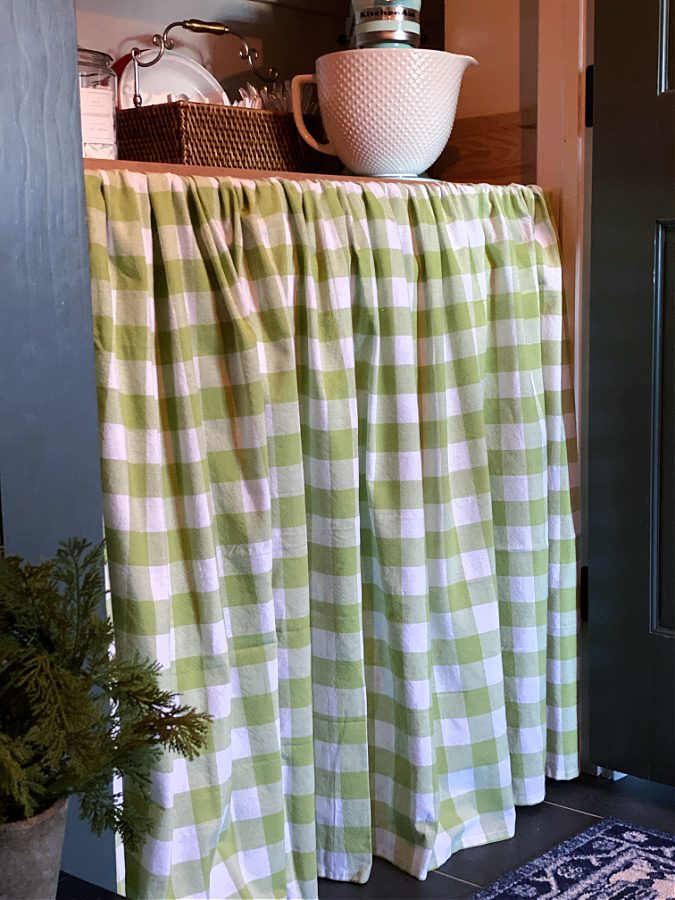 Supplies Needed For A No Sew Curtain
TIP: The benefits of using a tablecloth are that they are already hemmed around the edges and you can change them out seasonally!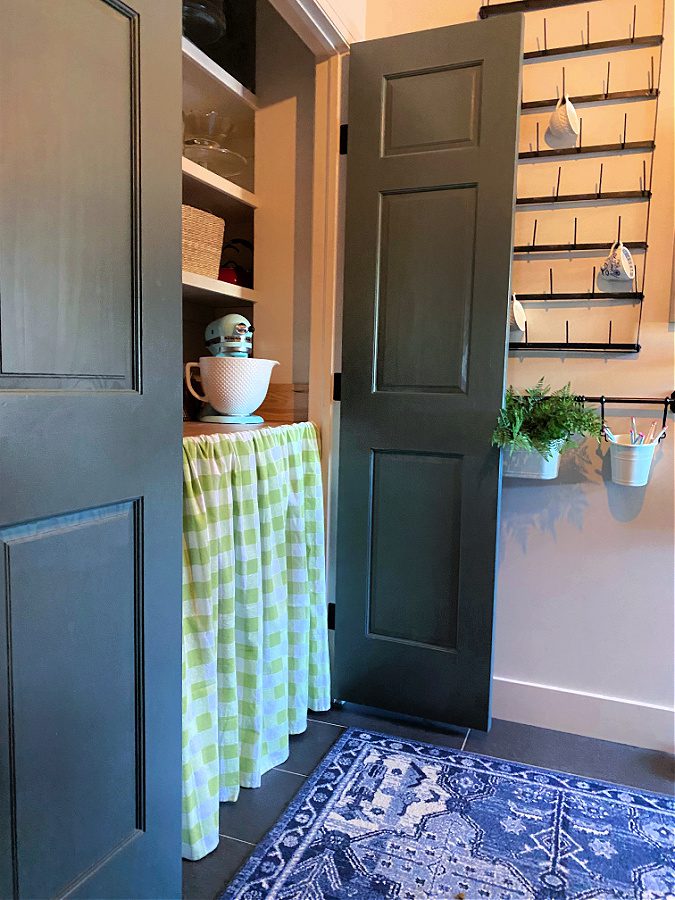 Solving A Problem
Not only does this no sew curtain look pretty in our pantry but it is also solving a problem. It is hiding a very ugly water bottle collection, our blender and drink fridge.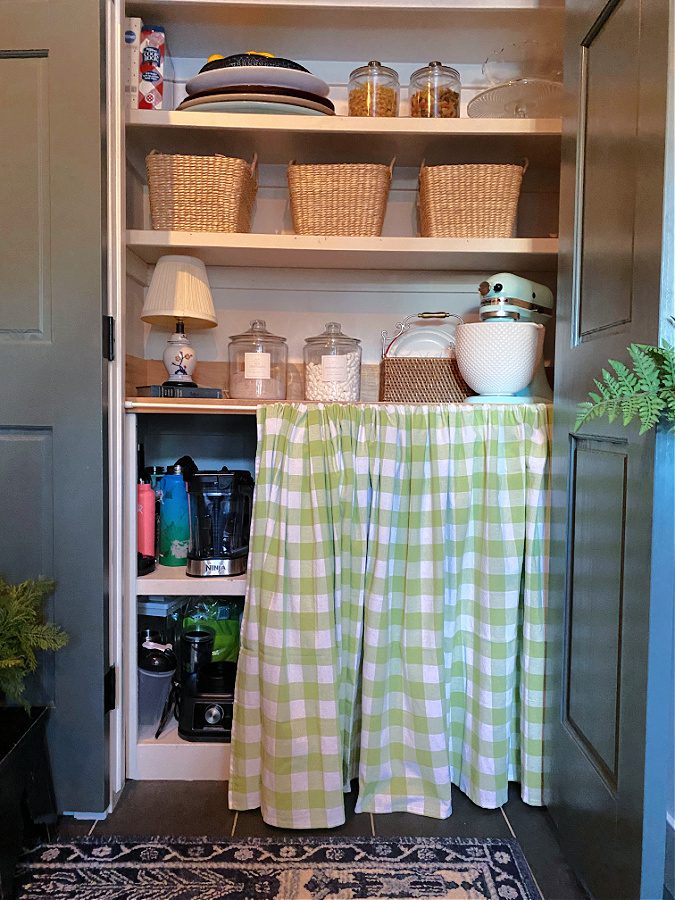 This pantry skirt is functional and fun. This might just be my new favorite combo .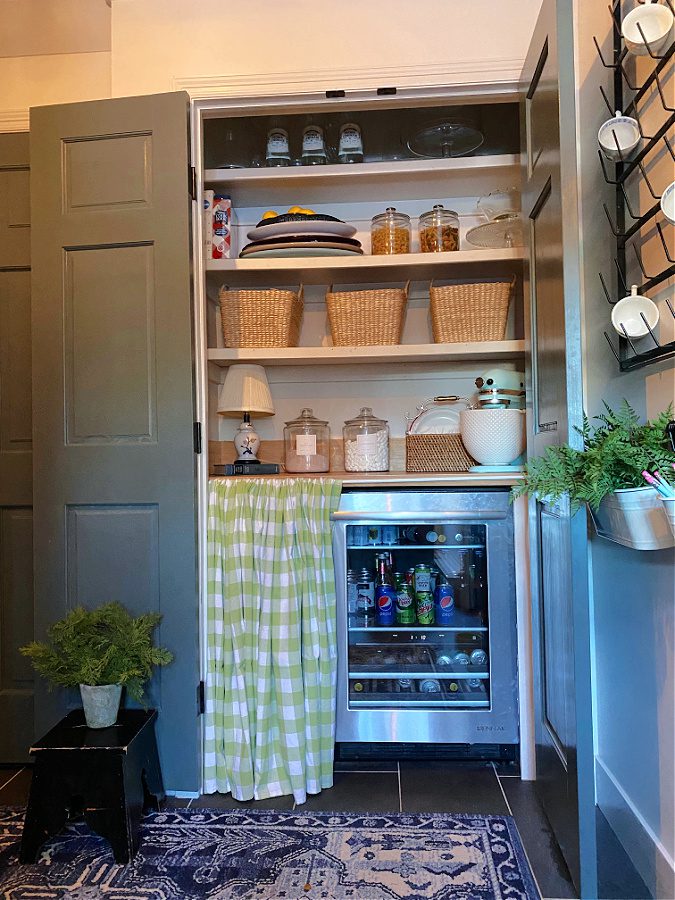 I can envision this curtain in a pretty plaid for Christmas, a fun floral for spring or even a fun light brown plaid for fall. The possibilities are endless!
Other Spaces For No Sew Curtains
This quick and easy no sew-curtain could be used in so many areas of your home.
I could see these in your bathroom for a café curtain look. Or how about to cover an open book case? We have built in bookcases in our upstairs bedrooms and some gathered curtains would look amazing on them!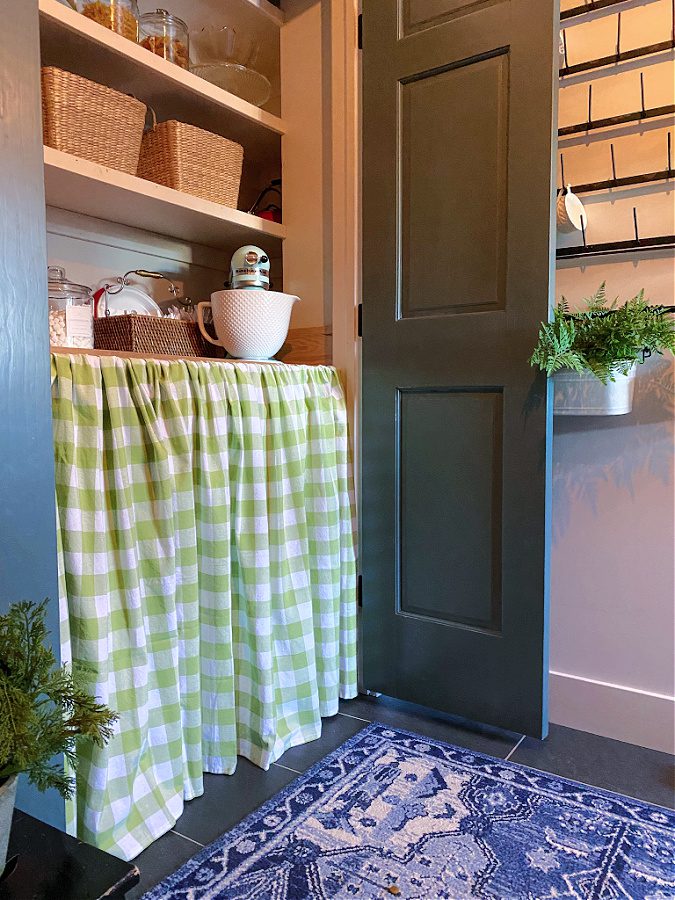 No sew curtains are perfect for multiple spaces. What about inside a cabinet with windows.
Our Quick and Easy No Sew Pantry Curtain
I am totally crushing on our new green and white pantry skirt. In fact I love how it turned out. It makes me smile whenever I see it.
What do you think? Do you have a space for a quick and easy no sew curtain?
Now make sure to check out all of the other thrifty projects shared by my friends this month!
Thrifty Style Team
Redhead Can Decorate –
Rose Petal Heart + 3 More Simple Romantic Ideas
Our Crafty Mom –
Pinecone Fire Starters & Printable Gift Tag
I Should Be Mopping The Floor –
5 Last Minute Free Valentine's Printables
DIY Beautify –
Neutral Winter/Valentines Mantel Decorating Ideas
2 Bees In A Pod –
Decorating with Milk Glass Vases
The How To Home –
Dresser Makeover with Peel and Stick Wallpaper
Postcards From The Ridge –
DIY Glass Cloche Plus Styling Tips
Vinyet Etc. –
DIY Baby's Breath Wreath
Sweet Pea –
DIY Pompom Valentine's Day Pillow
Lora B. Create & Ponder –
Elegant Valentine's Dessert Charcuterie
The Tattered Pew –
Quick and Easy No Sew Curtain
Cottage On Bunker Hill –
Textured Heart Wall Art
Amy Sadler Designs –
How to make Leather Napkin Rings
xoxo,
Kelly
Did you like this post? PIN it for later!