5 Thrifty and Simple Patriotic Decorating Ideas for Summer
It's summer! That means it's time for outdoor dining and picnics, patriotic decor, pretty flowers and the beautiful sunshine! Each summer I like to decorate our home with fun little budget friendly patriotic touches. Today I have rounded up 5 of my favorite thrifty and simple patriotic decorating ideas for summer that I bet you will want to try!
*As an Amazon Associate, I earn from qualifying purchases. This post contains other affiliate links too for your convenience. Click here to read my full disclosure policy.
Thrifty Style Team
Each month I join Julie from Redhead Can Decorate and the Thrifty Style Team for a monthly themed post! This month is all about summer and patriotic décor. You can see my past posts here, and I have linked what my friends are sharing this month at the end of my post.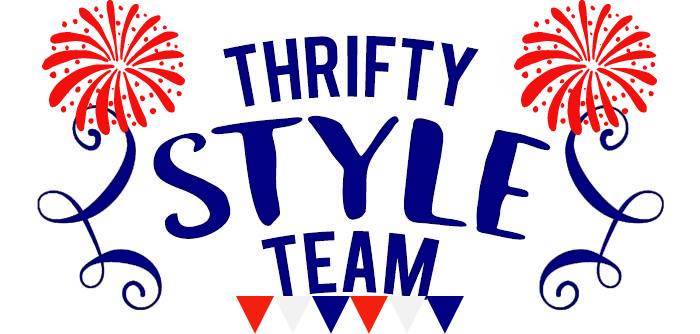 5 Thrifty and Simple Patriotic Decorating Ideas for Summer
Are you ready for some pretty pops of coolor?
There is something so fun when it comes to decorating with red, white and blue during the summer! So today I have round up 5 of my personal projects and ideas to share with you all… plus a bonus!
The bonus post is from a blogger friend Elizabeth, from the Country Peony, who I was able to meet in person while I was in Texas for the Creatives retreat. You can see our cute picture on this post here! Make sure to scroll down and visit her painted pennants post!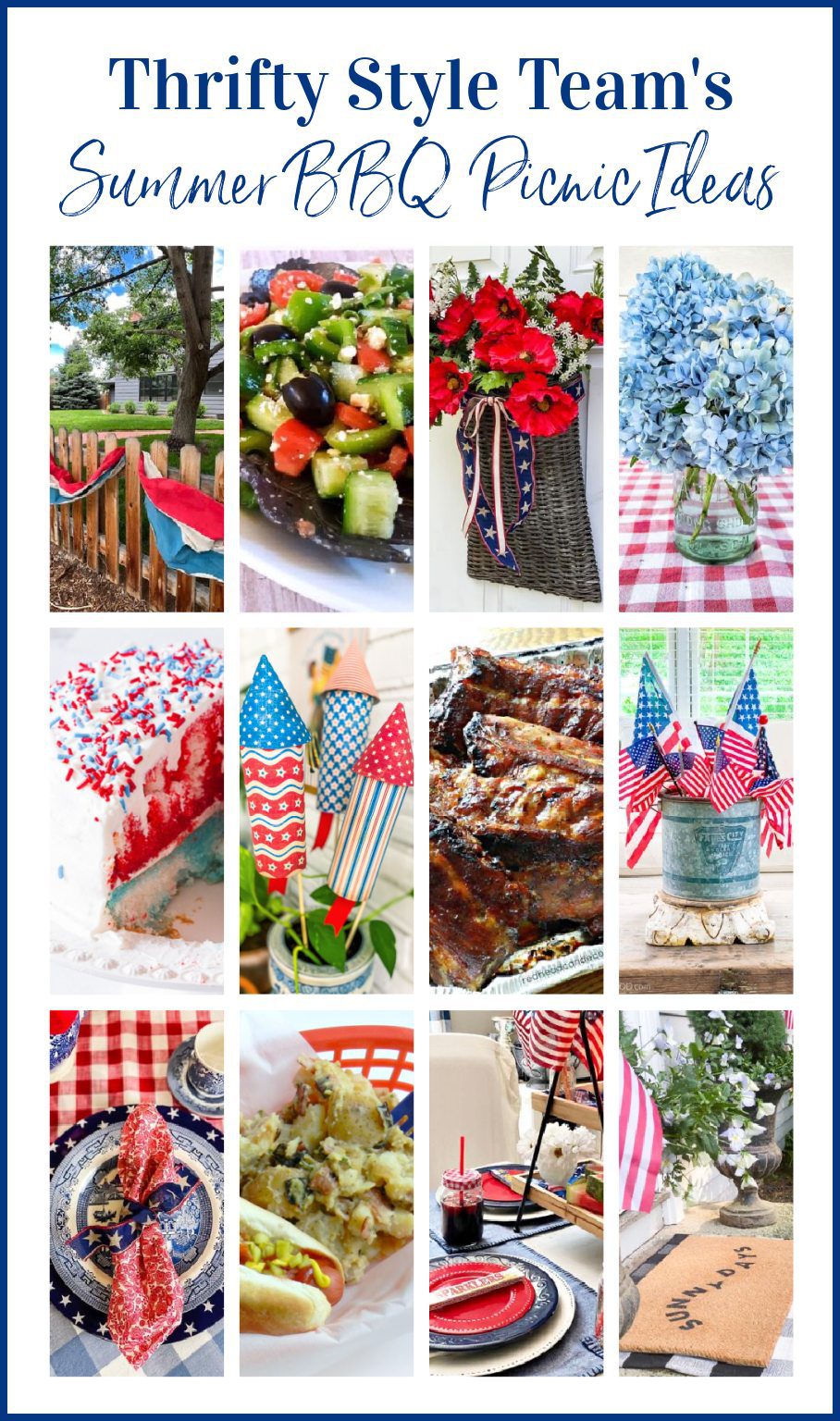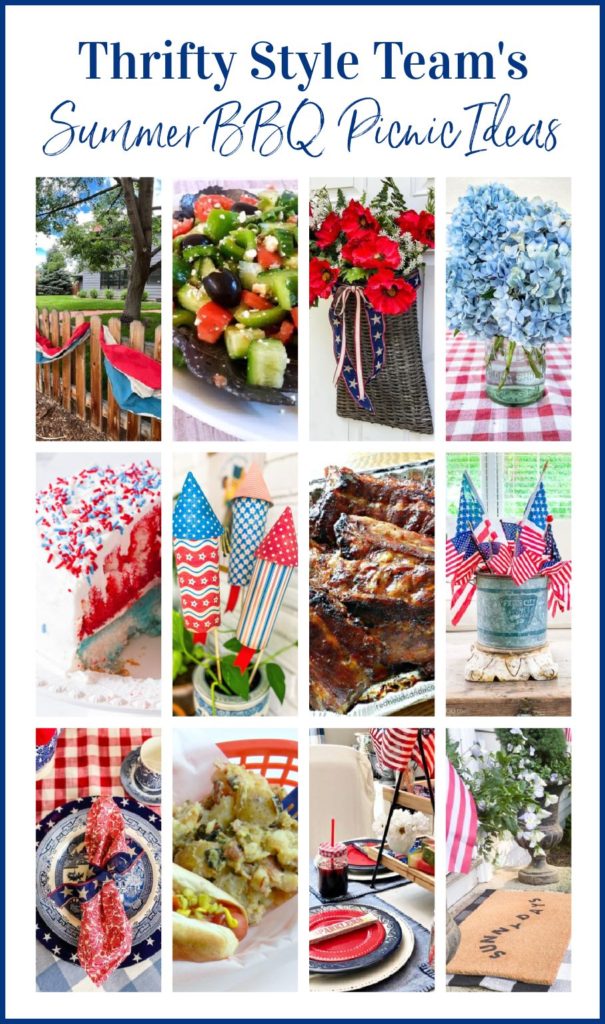 Ok, first up is one of the easiest ways to decorate your home with patriotic touches is to start with your porch! This is the first things people see when they enter your home and I like to consider this space another room in my house.
So of course, you want to make it pretty, festive and welcoming.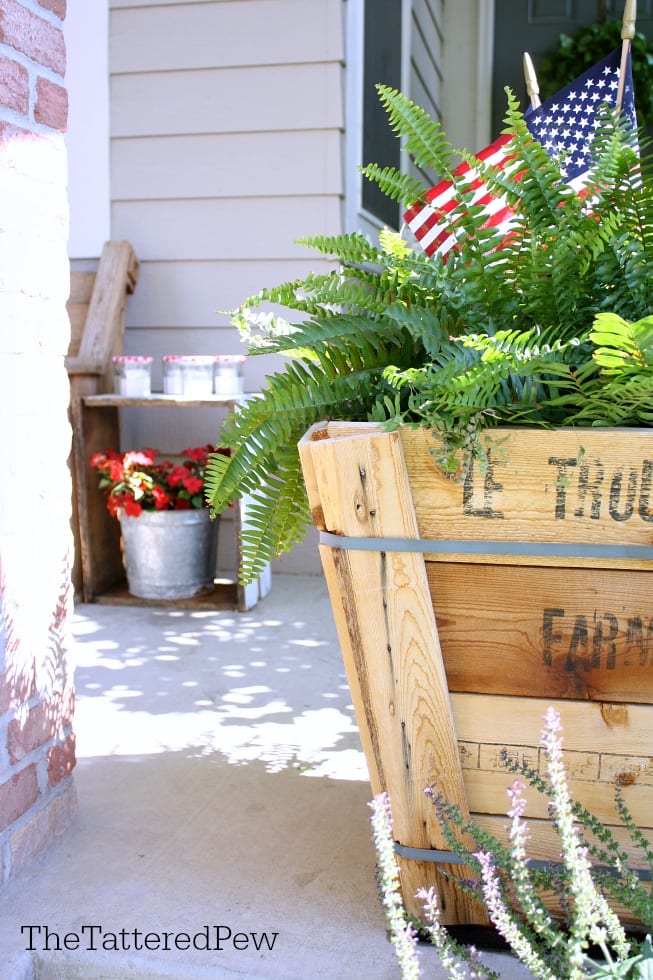 This is the porch from our previous home, and I miss it!
I loved incorporating red, white and blue flowers in an assortment of containers across the porch. I would gather buckets, baskets, wood containers, crates, you name it and fill them with flowers. You can see more of our Patriotic porch here!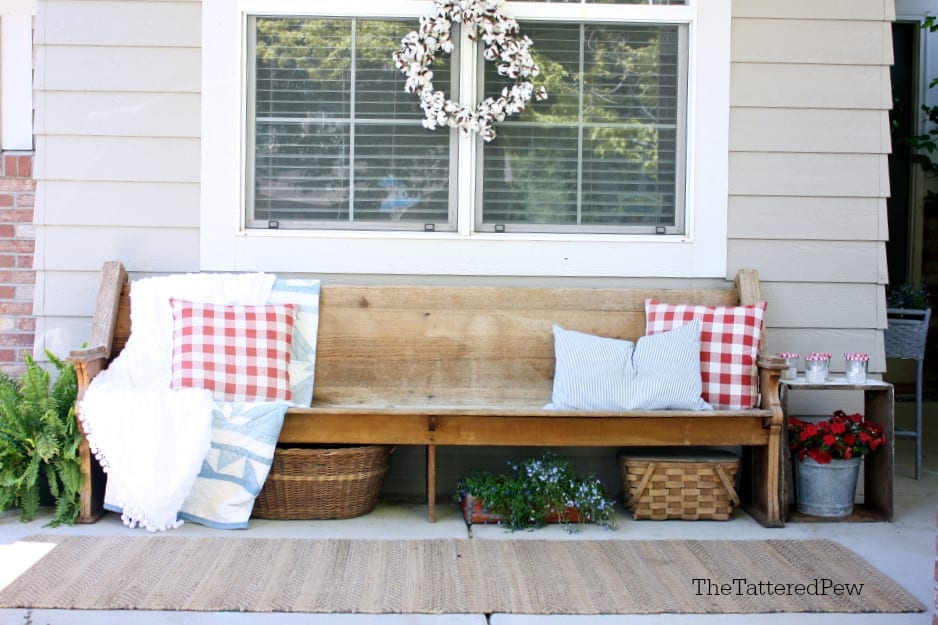 Don't be afraid to bring out the pillows, quilts, rugs and indoor items to decorate your porch. This will save you money if you shop you house for items with patriotic colors. And I promise you will have more than you think you do!
I know, you must be thinking but what about the weather? Each evening I would bring in my pillows and quilts and each morning I would bring them back out. This is necessary in Colorado only because the weather here changes like every 5 seconds. But may be different where you live?
I'm proud to say… nothing has been ruined yet. (Crossing my fingers)
You guys, these jelly jars votives are such a darling little upcycle project and perfect for summer! You will be thanking me later.
They literally take minutes to put together if you don't count the time spent eating the jelly! Ha!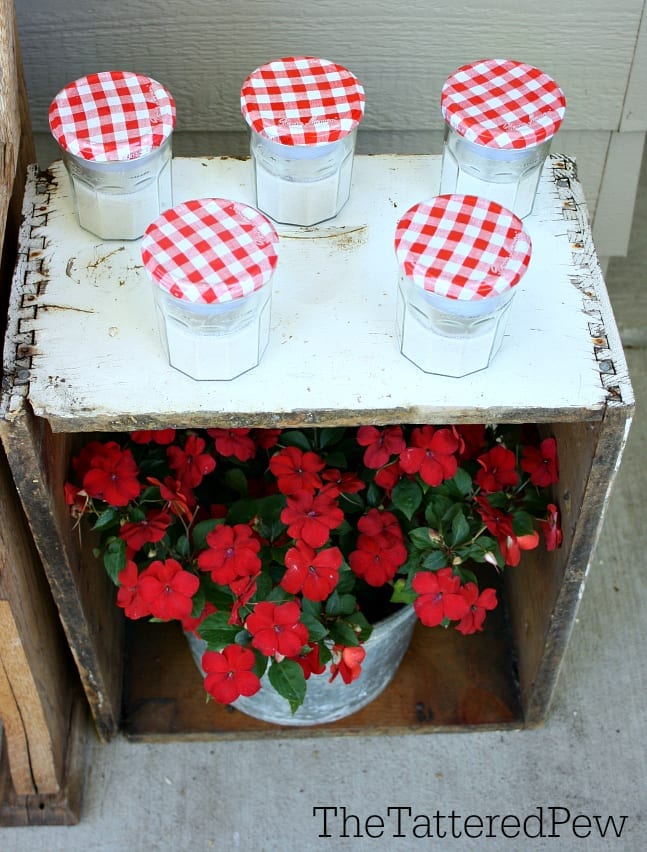 Have you had the Bonne Maman strawberry jelly that comes in these jars with the red and white gingham lids? Oh my word it is amazing!
We use it for toast, at tea parties and pretty much every day. My mom got us hooked and now I love buying it and using the jars for fun little projects like these votives!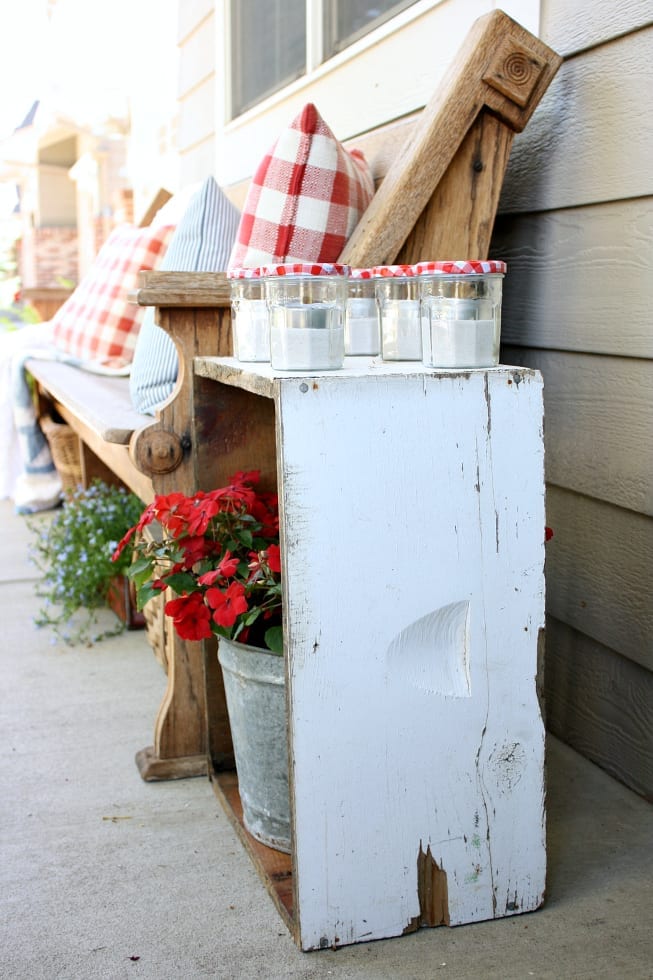 Find the full tutorial here! Can't you just see them lining a table or driveway on the 4th of July?!
I recently created these gorgeous and budget friendly painted patriotic drop cloth buntings for a featured blog post on the MMS Milk Paint website.
It got a lot of attention and I thought you might enjoy it as well.
Our wood picket fence is one of the first things you see when you walk up to our home. So, when we first moved in, I was dreaming about how I could decorate it through the seasons!
It's huge and encloses our whole yard so after draping it with live garland at Christmastime, I learned the hard way that decorating it would not be cheap!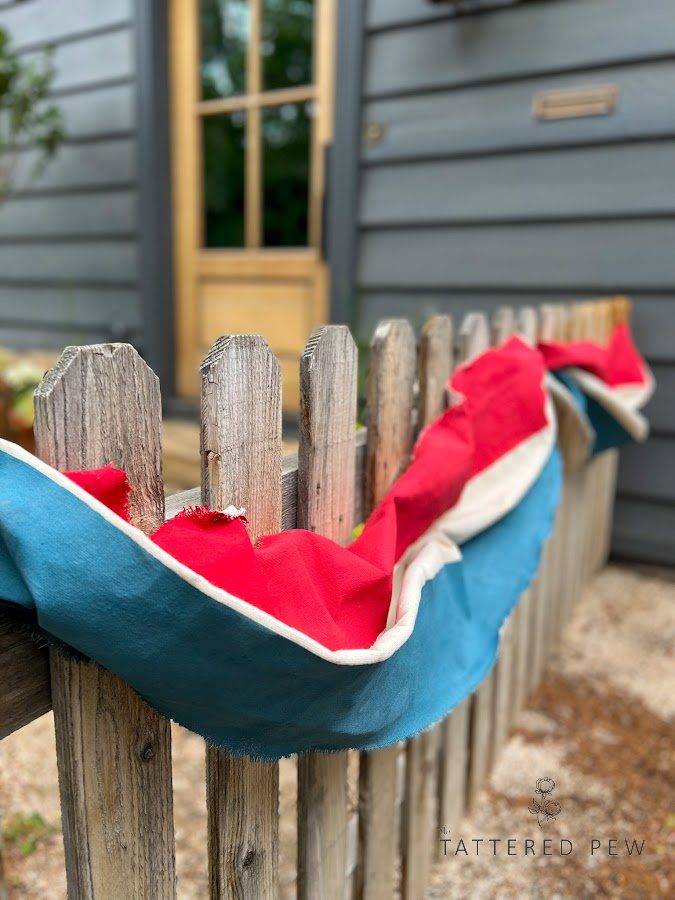 So, for the summer I challenged myself to create these patriotic buntings on a budget! And I did and I LOVE them! Aren't they so charming along the fence? The colors pop perfectly!
What do you think? I still have a few more to make. You can read the full tutorial here! (use my code : 10OFFTP for 10% off all Miss Mustard Seed Milk Paint products)
Summer for me is all about the flowers! So, when I was given this old seven up crate that was red and white, I instantly knew I wanted to plant blue lobelia in it for a patriotic look.
I share all of the details in my post here, but let's just say this was a simple project that had a lot of pop! I seriously moved it all around our yard all summer long!
It was thrifty as thrifty can be because the flowers I bought to fill it were around $2-$3 dollars each! Yes!
5. Dollar Store Flags and Baseballs
I love picking up Dollar Store flags during the summer months. The fact that they are cheap also makes me happy.
And I love sprinkling them throughout our home and porch. You can see more of this patriotic entry and other patriotic touches both HERE and HERE! These are just a few of the examples…if you have followed me for a while now you know I use baseballs year round.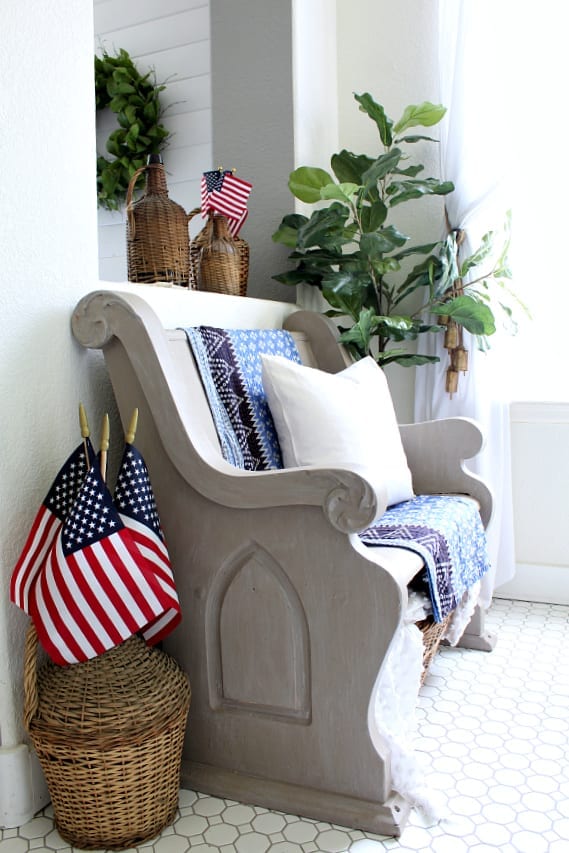 Guess what, I also love baseballs. They are perfect for decorating with! Did you know my husband played in college, then both boys played through high school, and we have been to countless Spring training and baseball games?
Sure have!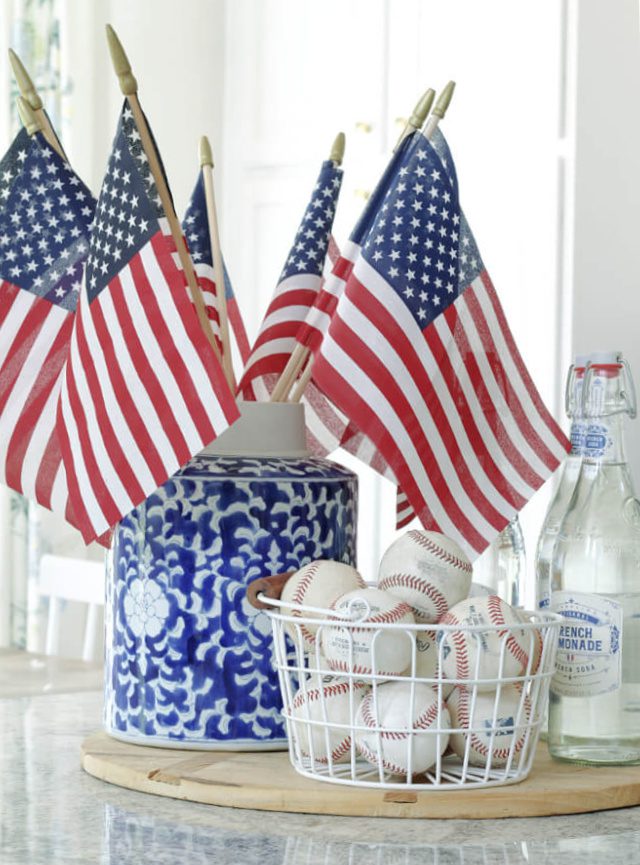 So, it was a no brainer to use them in my decor. The boys and Mike love it and think it's pretty cool. And I love that it adds a sentimental and personal touch to our home. You can check out some of my baseball decor here!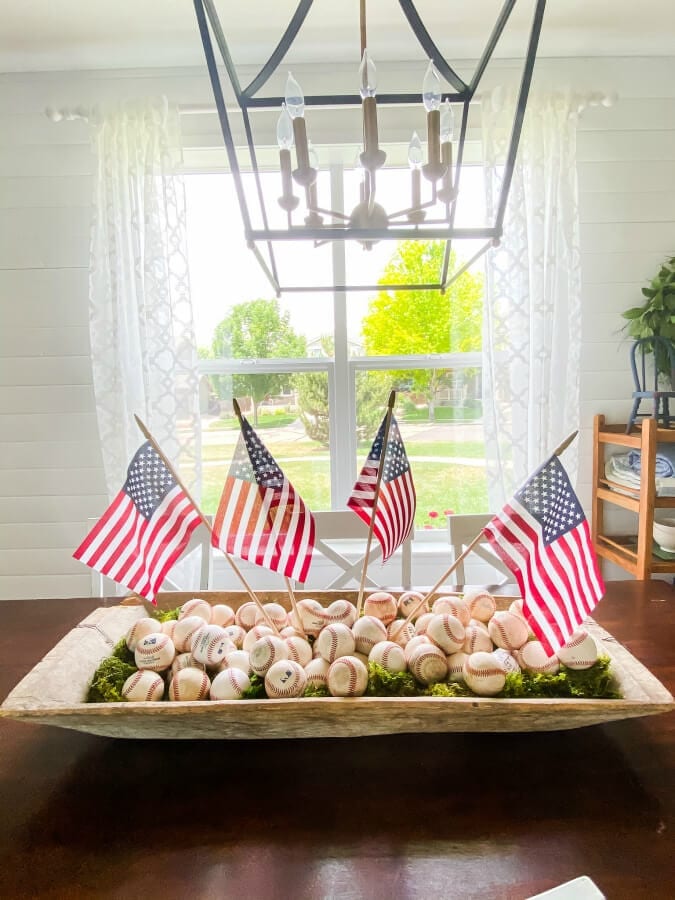 Like I mentioned above my lovely friend Elizabeth just shared this adorable patriotic pennant banner the other day and I was smitten!
I couldn't help but share one more fun summer budget friendly decorating idea with you. Plus, she used my favorite Miss Mustard Seed milk paint. (use my code : 10OFFTP for 10% off all Miss Mustard Seed Milk Paint products)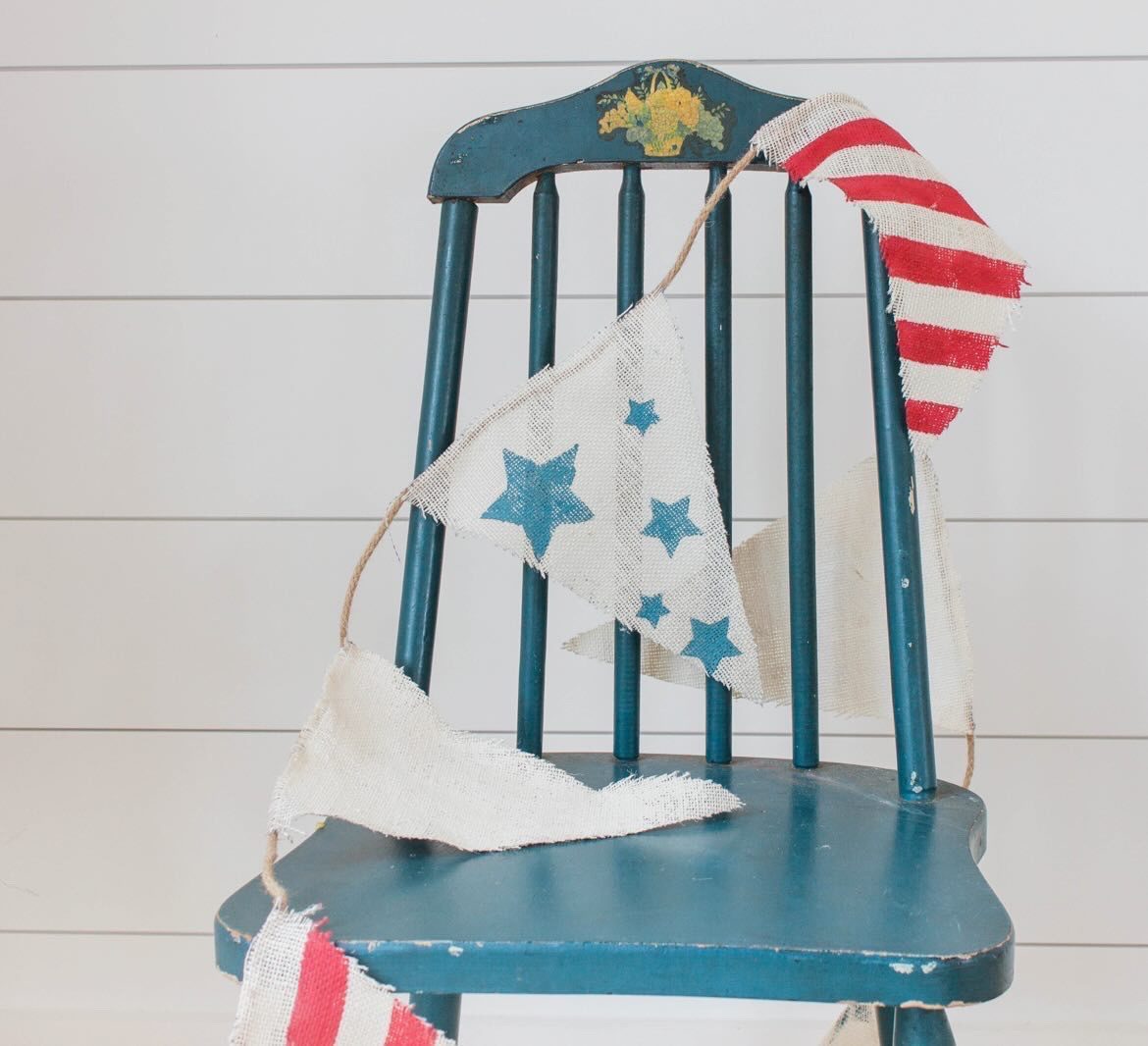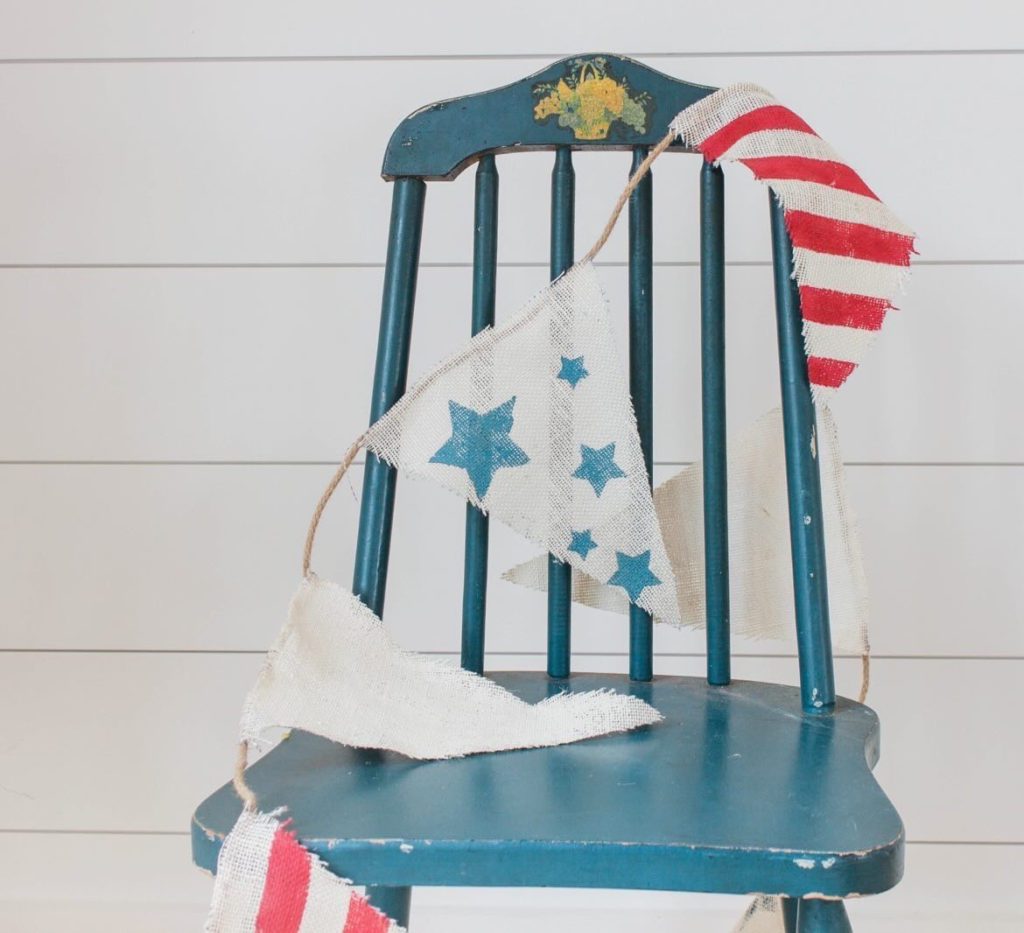 The simplicity of this project got my attention and then had me thinking that this would look just as cute on our picket fence too! So many options!
Where would you hang these pennants?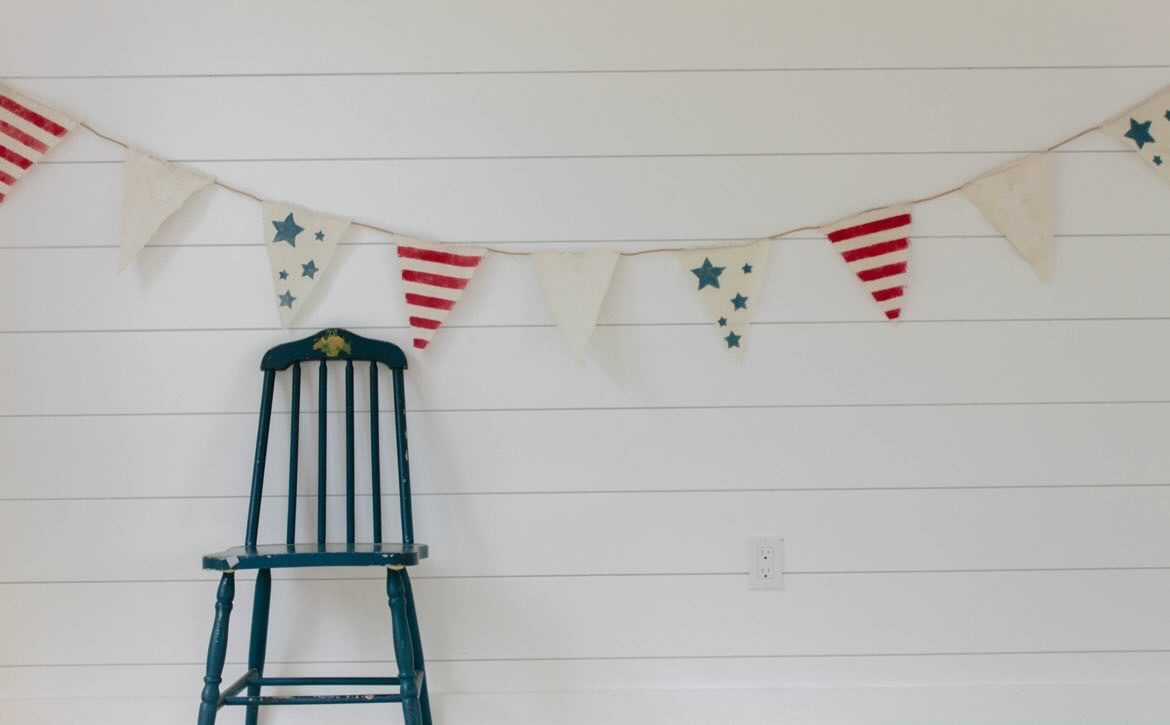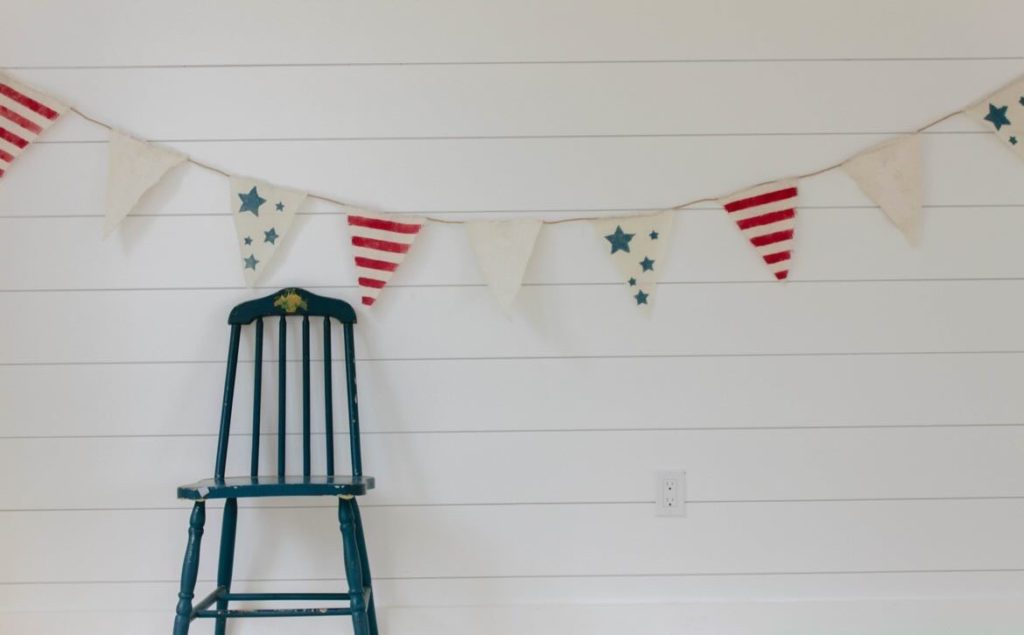 Thrifty and Simple Patriotic Decorating Ideas for Summer
Do you use patriotic decor in your summer decorating? Which project was your favorite! Happy summer friends, thanks for hanging out with me here on the blog! As always if you have any questions please reach out as I would love to chat!
xoxo,
Kelly
Thrifty Style Team
Visit more Patriotic and summer inspiration my friends are sharing today!
Redhead Can Decorate – 10 Simple Summer Picnic Party Ideas
Our Crafty Mom – 25 4th of July Decorations
I Should Be Mopping the Floor – Easy Firecracker Craft
The How to Home – 10 Easy Crafts and Recipes for the 4th of July
DIY Beautify – 5 Summer Picnic Recipes the Whole Family Will Love
2 Bees in a Pod – 9 Patriotic Decor Ideas
Postcards From the Ridge – How to Make Everyday Items Look Patriotic
The Tattered Pew – 5 Thrifty and Simple Patriotic Decorating Ideas for Summer
Cottage on Bunker Hill – My Favorite Summer Project Ideas
Vinyet Etc. – Vintage Inspired Wreath for Canada Day
Amy Sadler Designs – Fourth of July Home Decor Ideas Using Fabric Scraps
My Family Thyme – How to Stencil an Outdoor Mat
Did you like this post? PIN it for later!