A Rae Dunn Inspired Hot Cocoa Bar For the Holidays
Well hello there again my friends! Can you believe there are only 7 more days until Christmas? Are you ready? I am mostly ready. 😉  Today I wanted to share one more Christmas post with you all before I take a short break to celebrate my birthday and Christmas with my family.
I am sharing our quaint little hot cocoa bar that was inspired by my love of Rae Dunn! If you have followed my blog or Instagram for awhile it should come as no surprise that I am highlighting my Rae Dunn collection.  (I'm slightly obsessed)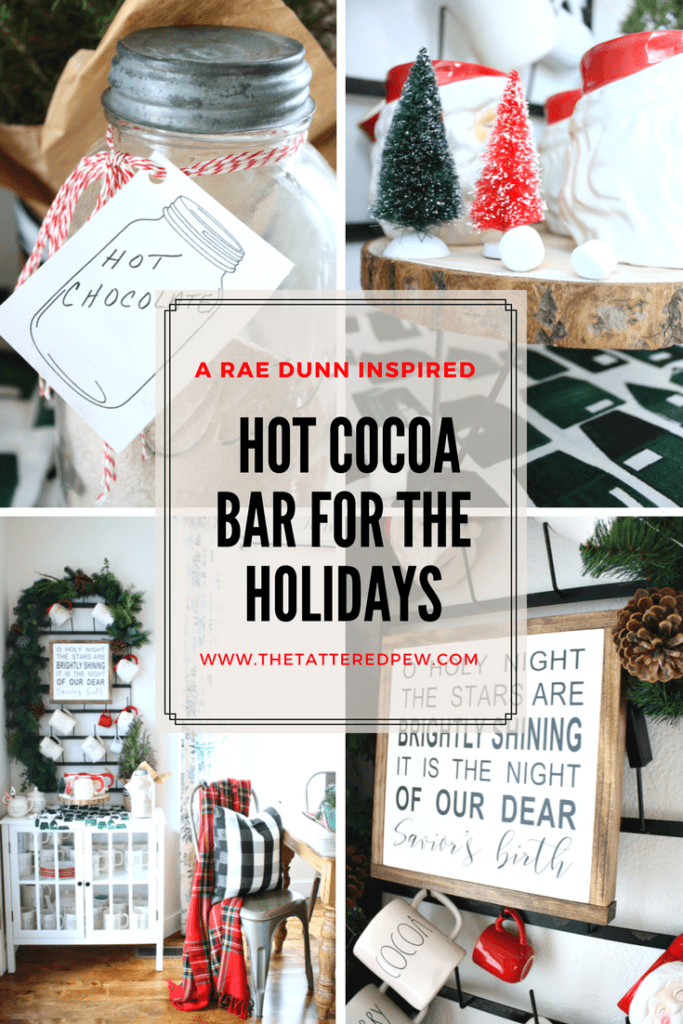 (This post may contain affiliate links. If you purchase a product through an affiliate link, your costs will be the same but The Tattered Pew will receive a small commission. This helps cover some of the costs for this site. I appreciate your support!)
The Hot Cocoa Bar
Our hot coca bar sits in the perfect little corner of our kitchen. I have it all set up on my favorite white cabinet from Target. Above the cabinet is my mug rack  and I have dressed it up with some faux garland. I love how accessible it is to our children and all who come over to visit.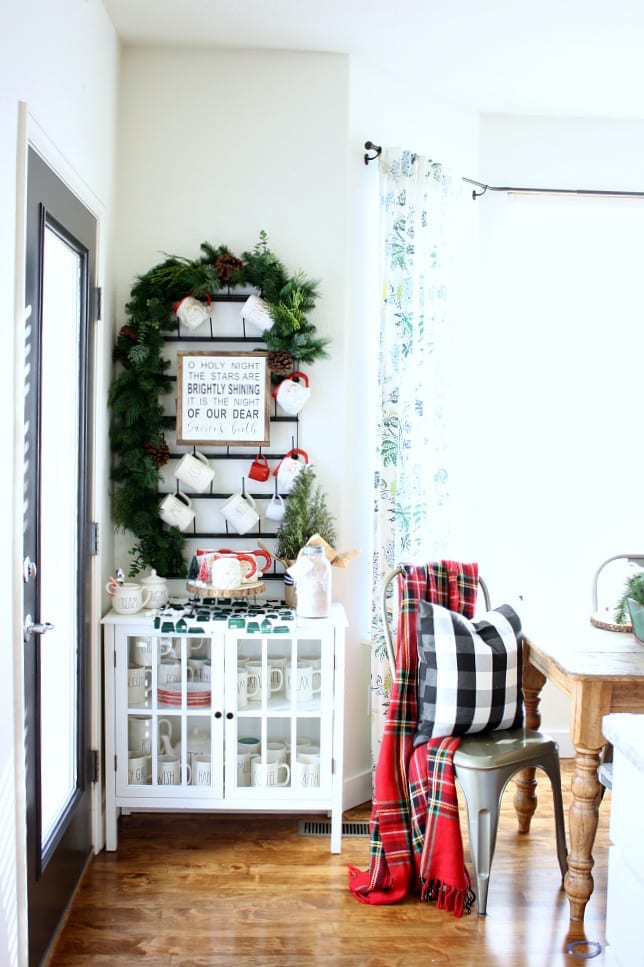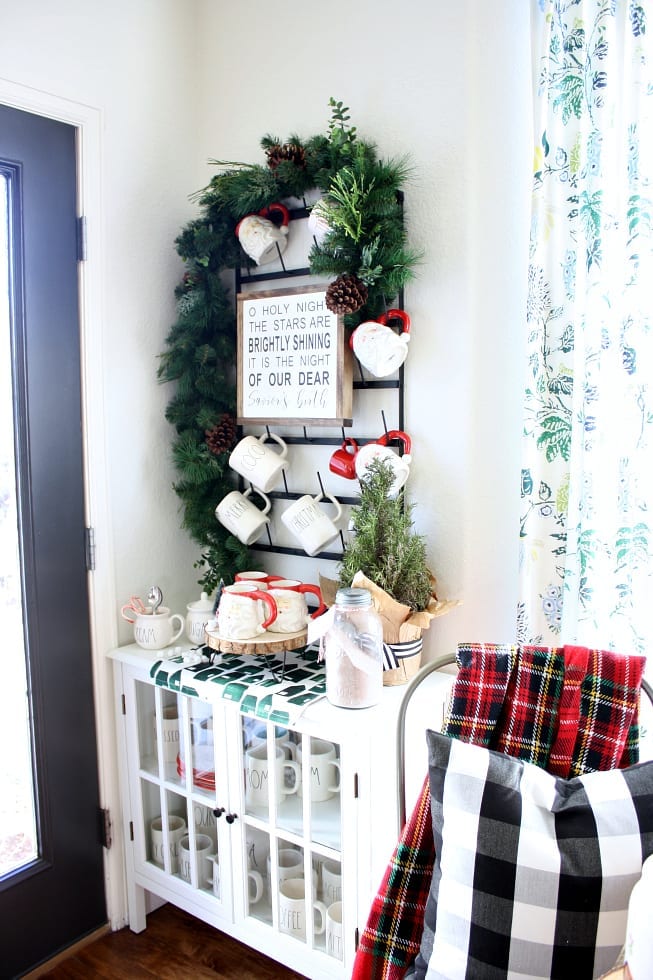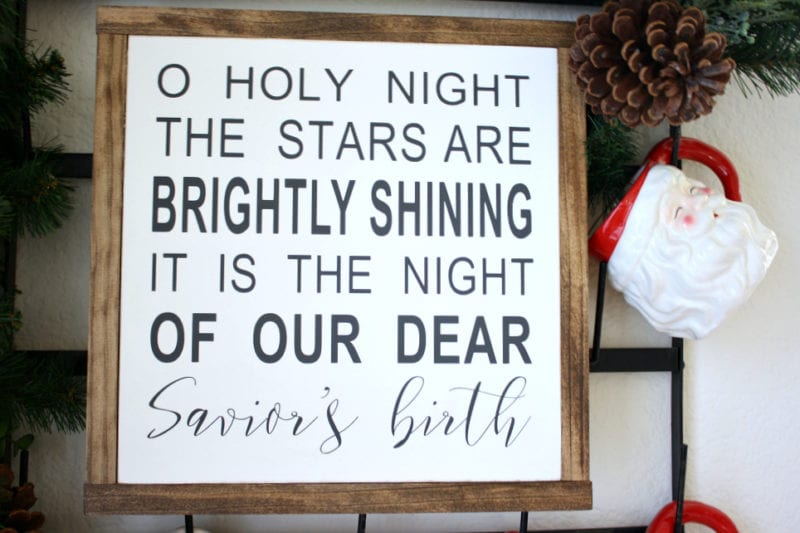 This beautiful sign in the middle of the mug rack is by my friend Deann and can be found on her Instagram page: Treasured Pearl Handmade where she showcases and takes orders for her lovely signs!
Rae Dunn
If you are wondering what Rae Dunn is you might not be alone so don't worry! My favorite item is the white mugs with fun sayings in a large black font (the ones you see above). Rae is the artist who creates them and she also makes other items like canisters, bowls, plates, etc. These are mostly found at TJ Maxx , Home Goods or Marshall's. What makes them so fun is the challenge of trying to find them because you never know when they will be out at these stores. I was lucky to have found a few Christmas pieces this year (can you spot them?) with the help of my husband, family and friends who always keep an eye out for me!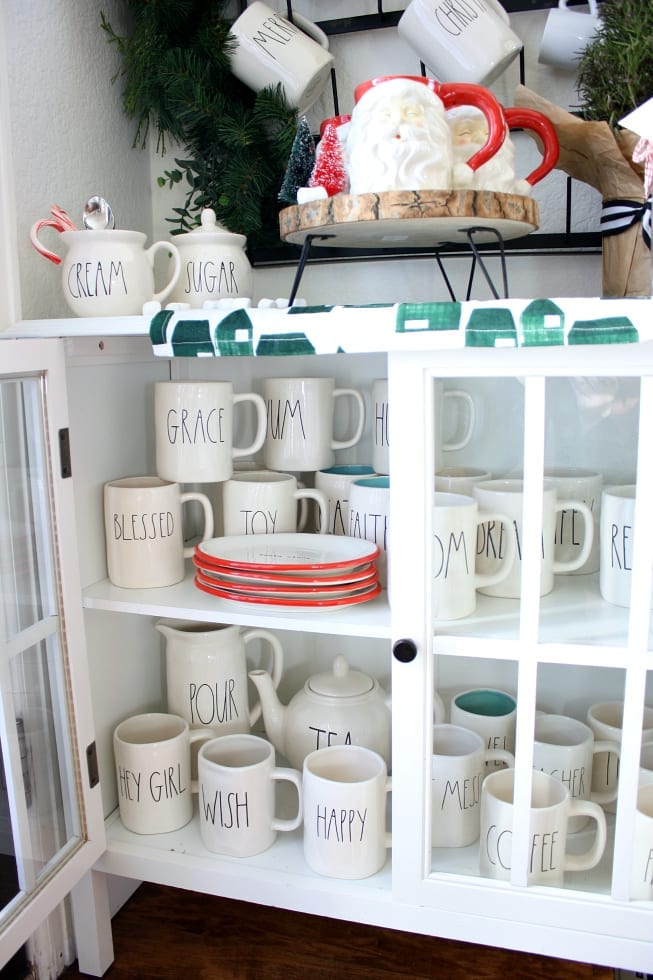 Hot Cocoa Traditions
While growing up I can't remember a Christmas at our home that didn't involve hot cocoa. My mother has her own recipe that I shared HERE on the blog last year. We would all make it together growing up and now she has continued that tradition with her grandchildren.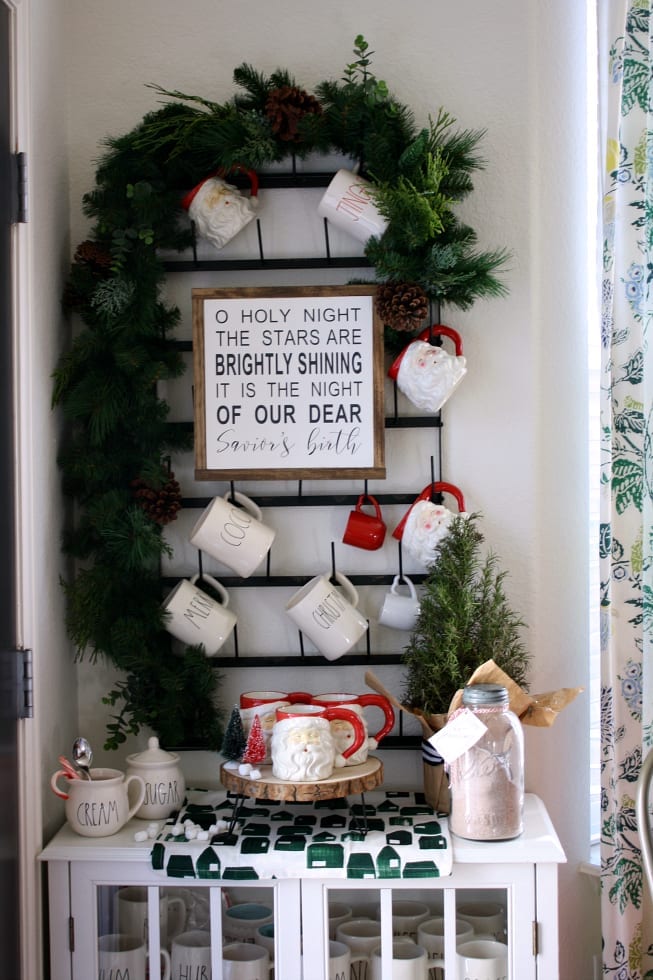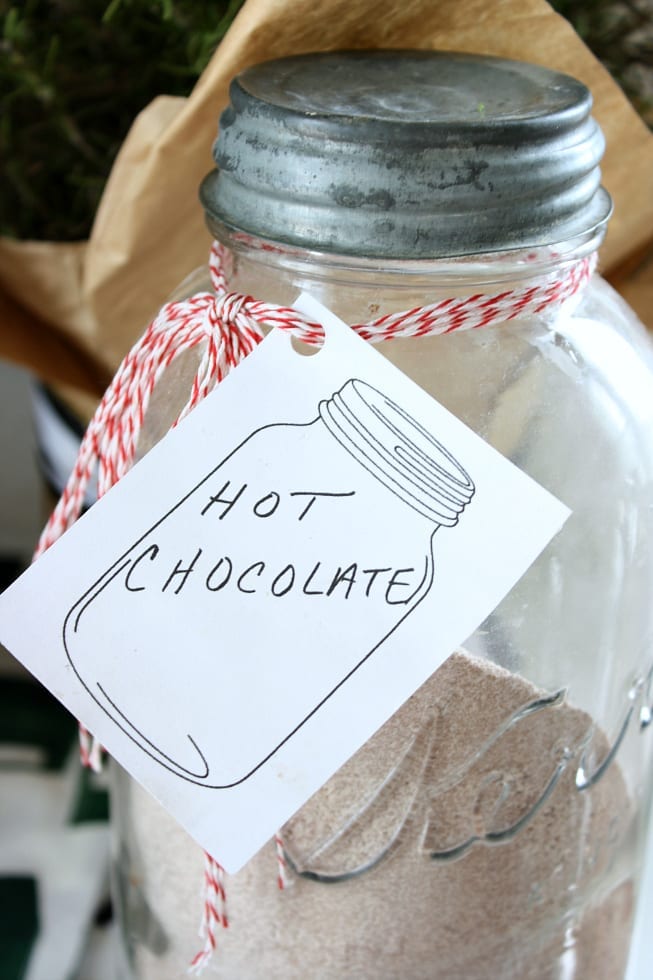 I love that our hot cocoa bar can showcase this family tradition and all of the fun mugs are the icing on the cake for me! And if you are wondering if we really do drink out of these mugs…we sure do! I love picking a new one each morning!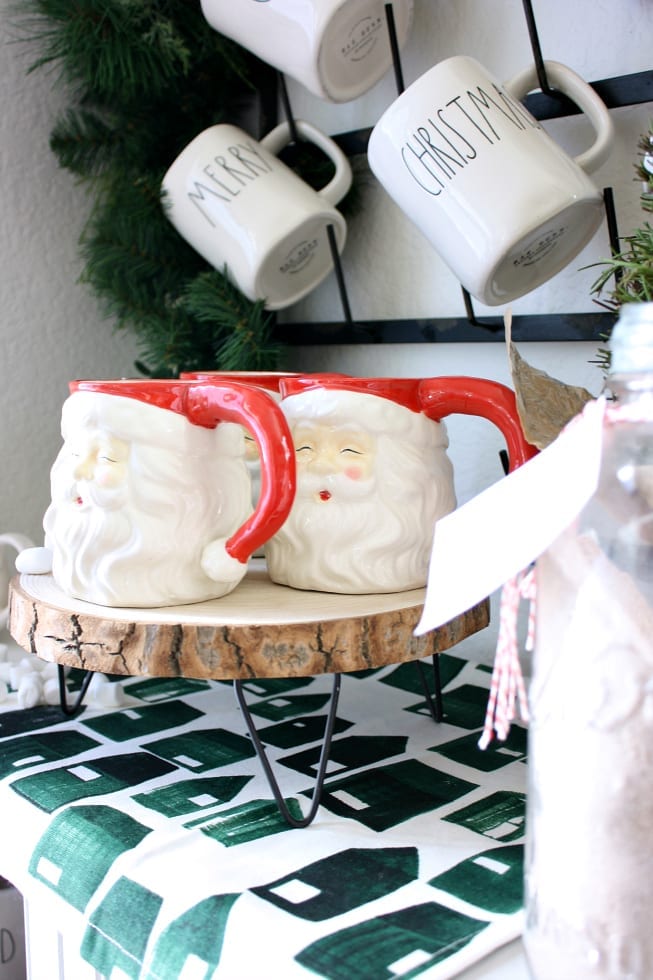 We have 6 Santa mugs, one for each person in our family. I have them displayed on my new wood slice stand from Rod Works Colorado.  It is sitting on this darling towel from the Hearth and Hand collection by Magnolia at Target. My hope is to send these mugs along with each child when they leave and have their own homes. Then hopefully they will carry on the tradition of having homemade hot chocolate with their own families.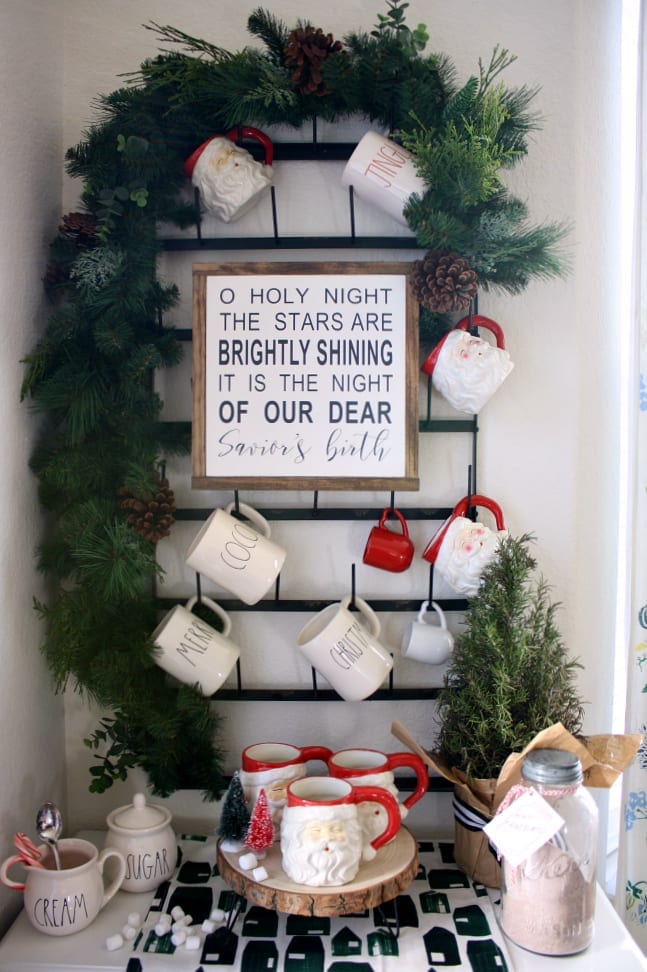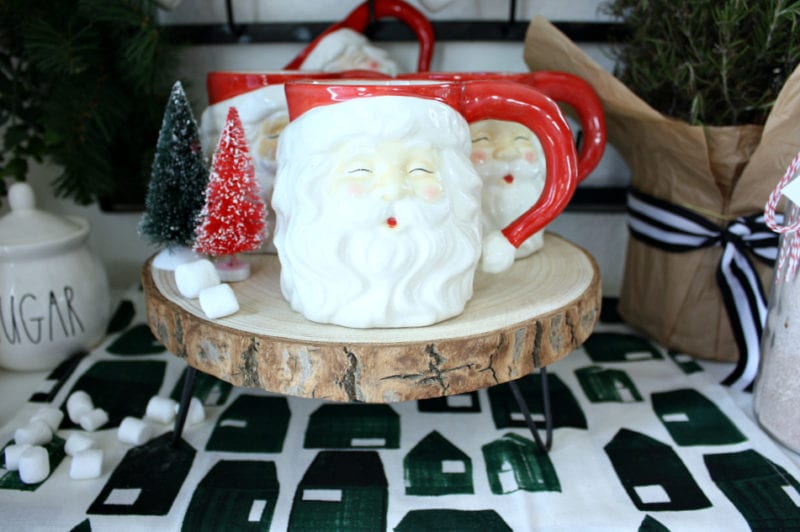 I think when Christmas is over I am going to have a hard time putting these darling Santa mugs away. The hot chocolate will definitely stay though!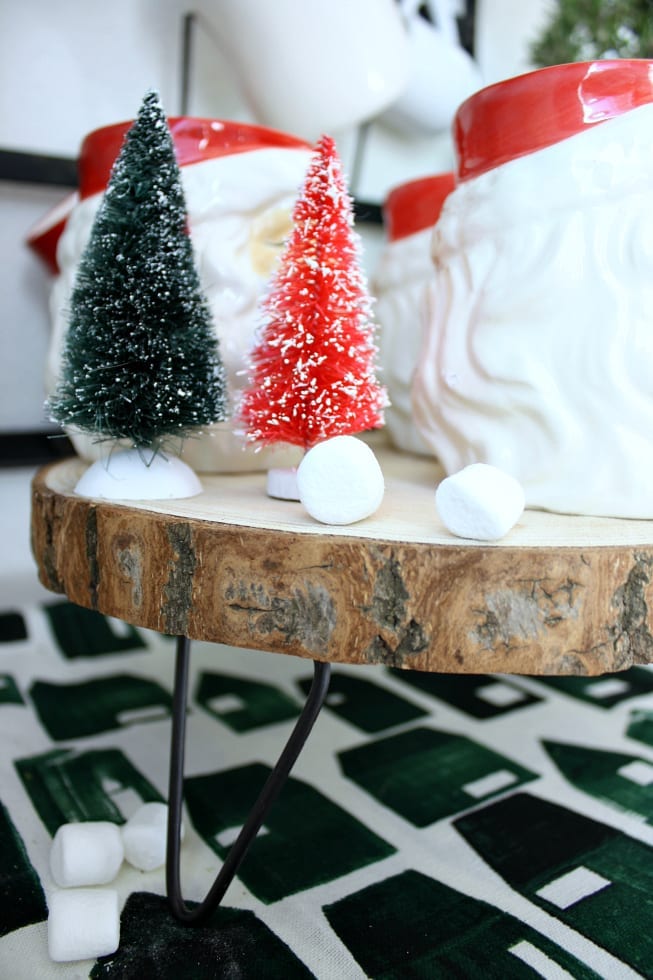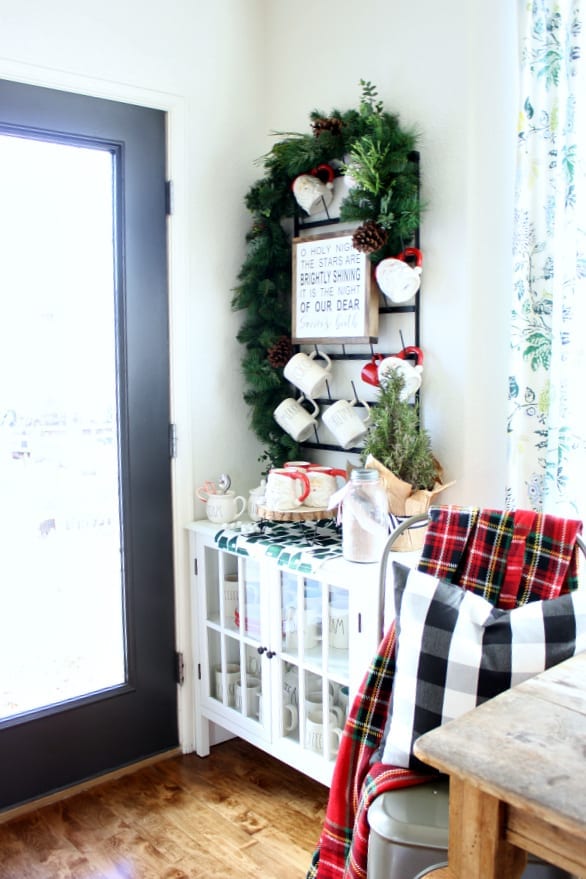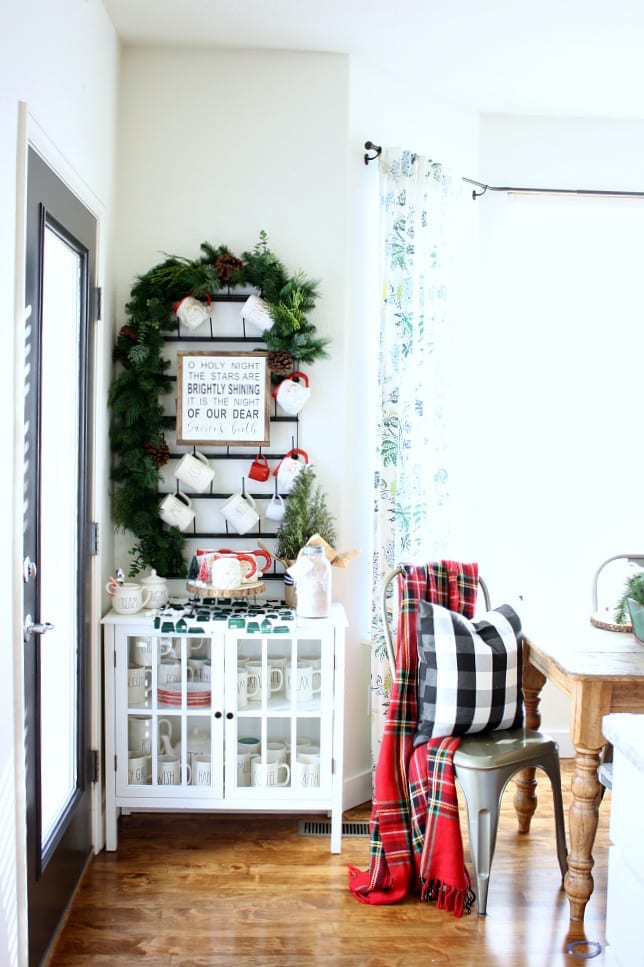 Thanks for stopping by the blog today and for letting me share my Rae Dunn inspired hot cocoa bar with you! Please let me know if you have any questions or I would love for you to leave a comment below with your favorite part. I also wanted to let you in on a fun online decorating resource called Havenly. This company provides online interior decorators and services that help you create your dream home. So if you ever find yourself in need of some help with decorating or you are not sure where to start you can visit Havenly.com or click HERE !
I want to wish you all a very Merry Christmas and I look forward to sharing many fun and exciting new blog posts in the new year!
xoxo,
Kelly
PS-I have joined up with some lovely friends listed below for the 'Tis the Season Holiday Tour… beautiful homes full of some gorgeous Christmas inspiration that you won't want to miss! Just click the blue links below to visit each of their homes. A big thank you to Beth at 1111 Light Lane for organizing the tour!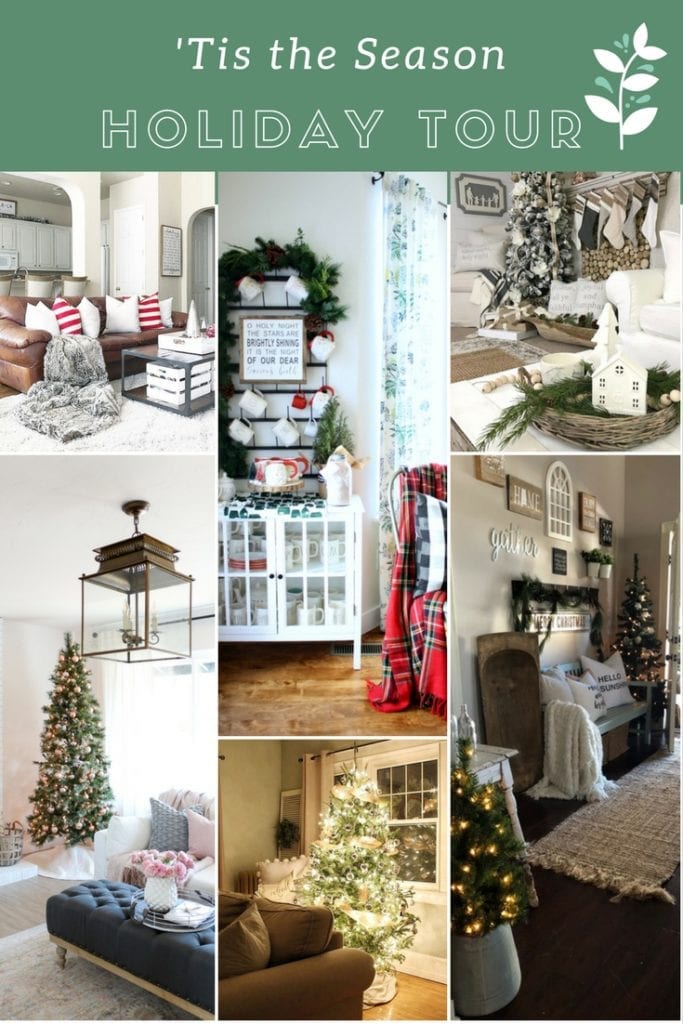 Dreaming of Homemaking
Like this post? Pin it for later!