The Secret to Lining Drawers the Cheap Way
Hi friends today I've teamed up with a great group of bloggers for a "Spring I DIYed That" Blog Hop and I'm spilling the beans about lining your drawers the cheap way! If you're coming from Jennifer over at Noting Grace, our lovely host, wasn't her glass insert just amazing?! Make sure to visit the other bloggers' links at the bottom of my post! There are some incredible DIYs you won't want to miss!
The Secret to Lining Your Drawers the Cheap Way
It's spring break for me this week and I have had all kinds of fun doing little projects around the house. Today I wanted to share one of those projects with you… the secret to lining dresser drawers the cheap way!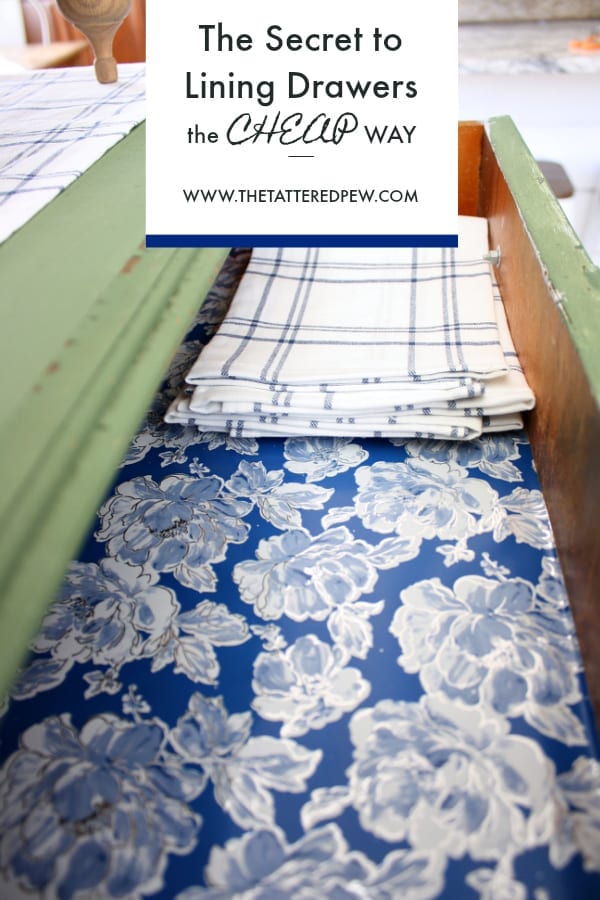 (This post may contain affiliate links. If you purchase a product through an affiliate link, your costs will be the same but The Tattered Pew will receive a small commission. This helps cover some of the costs for this site. I appreciate your support!)
This idea was inspired by a friend of mine over on Instagram (Abbey @paintedhomegoods ). She posted her freshly painted dresser lined with none other than wrapping paper! I instantly thought this was genius! I've always loved the look of lined drawers but knew that the paper can get expensive. (Especially the kind I usually like! 😉 ) When I asked her about it she said she usually finds the best wrapping paper at Home Goods, TJ Maxx or Marshalls! Luckily I shop at those stores all the time! Then she said the secret to keeping the paper down was by using spray adhesive! Genius!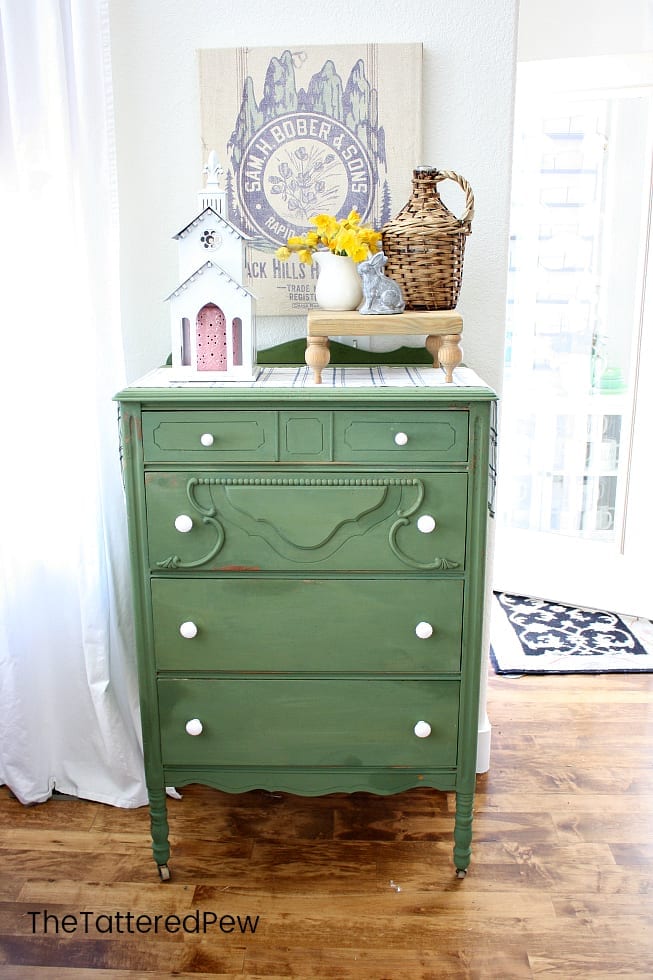 So I attempted it on my recently painted MMS boxwood green dresser (see all the details here)and BAM! Instant magic! So easy, right?!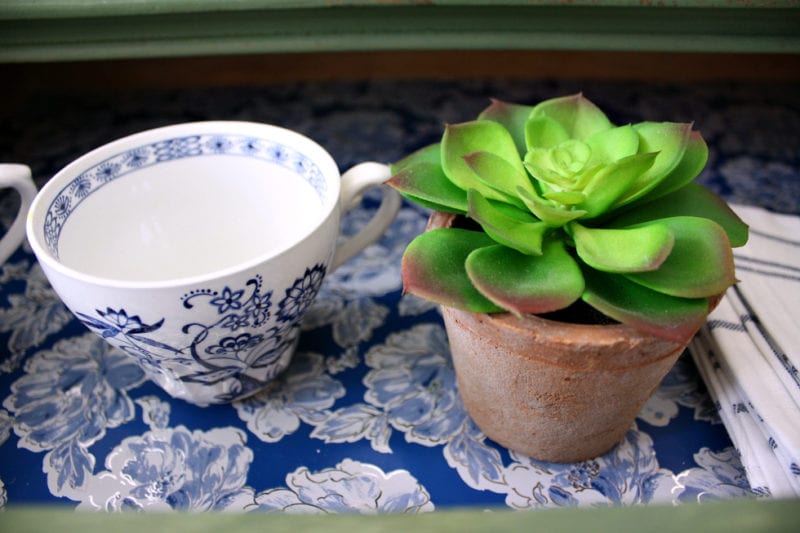 This is a quick, easy and inexpensive DIY that anyone can do! Here is what you will need!
Supplies

*Spray Adhesive                     *Wrapping Paper            *Drawers to Line
The Steps
Remove your drawers and clean them!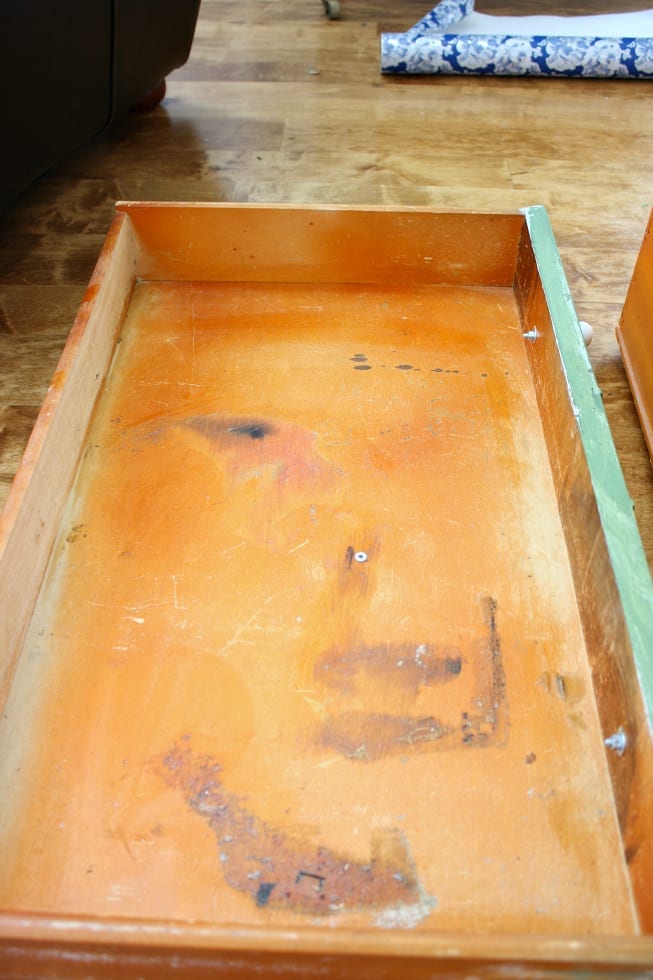 Measure and cut the wrapping paper to fit your drawer.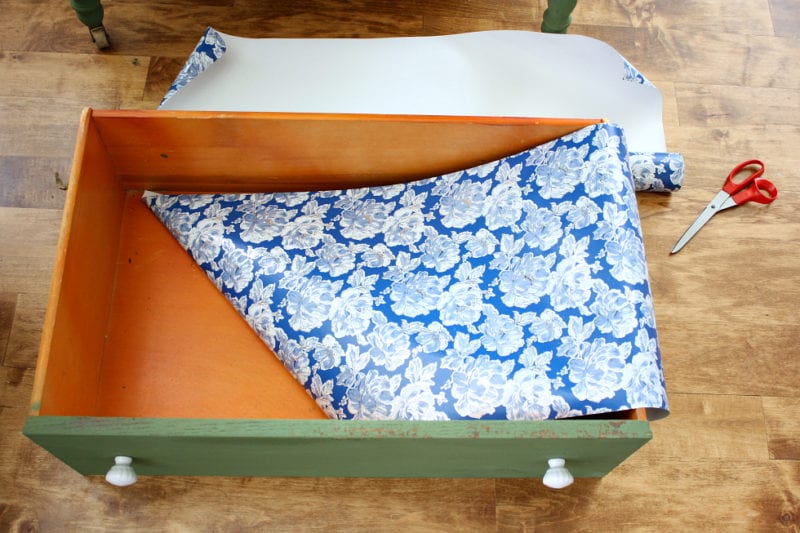 Spay the adhesive on the bottom of the drawer and press paper firmly down.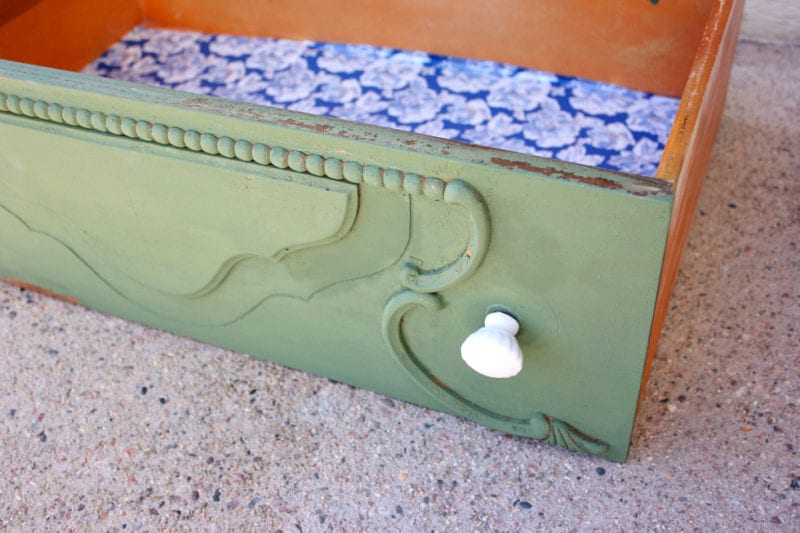 Continue until each drawer is completed.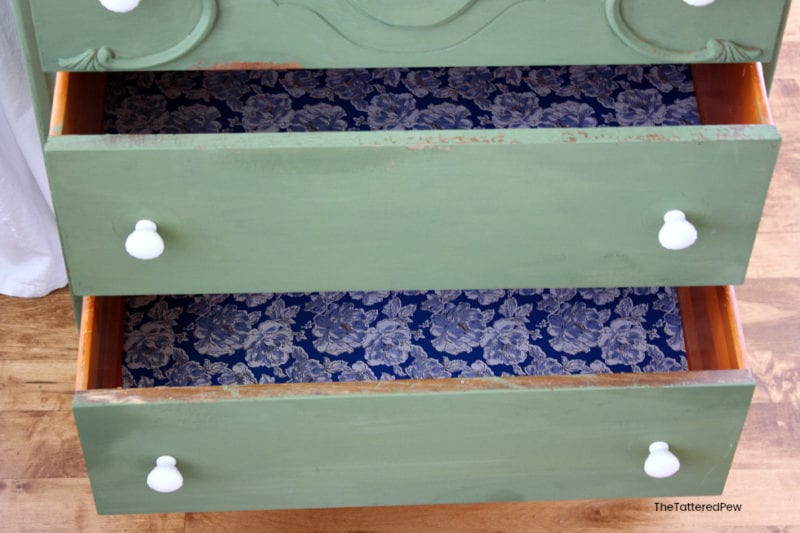 Enjoy your inexpensive and quick DIY!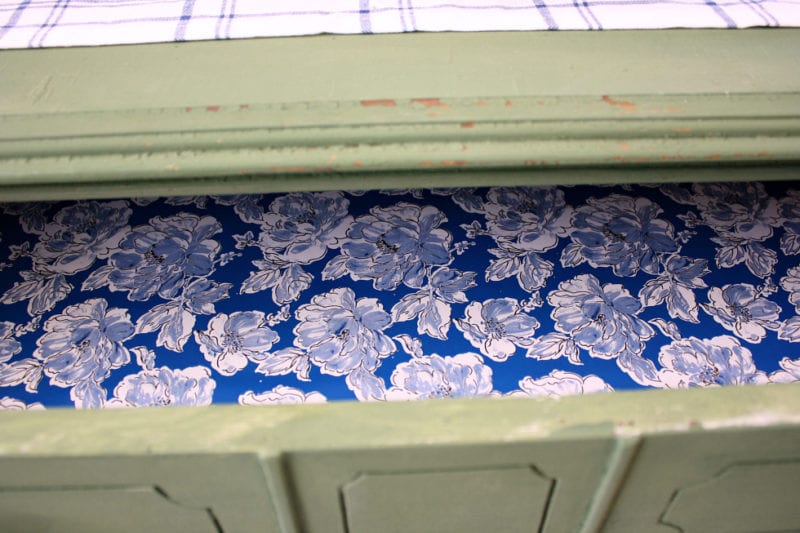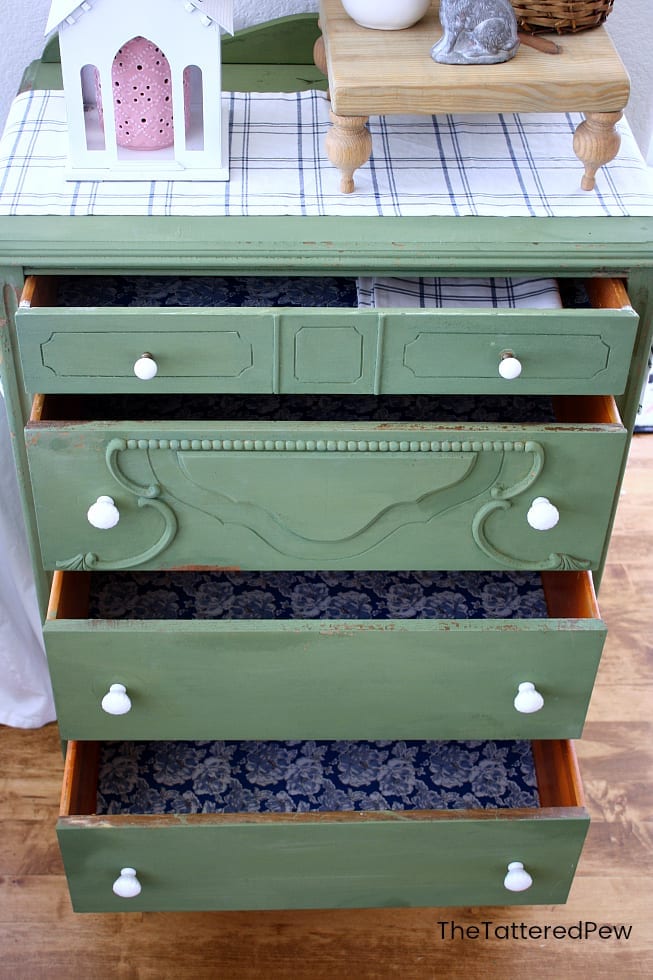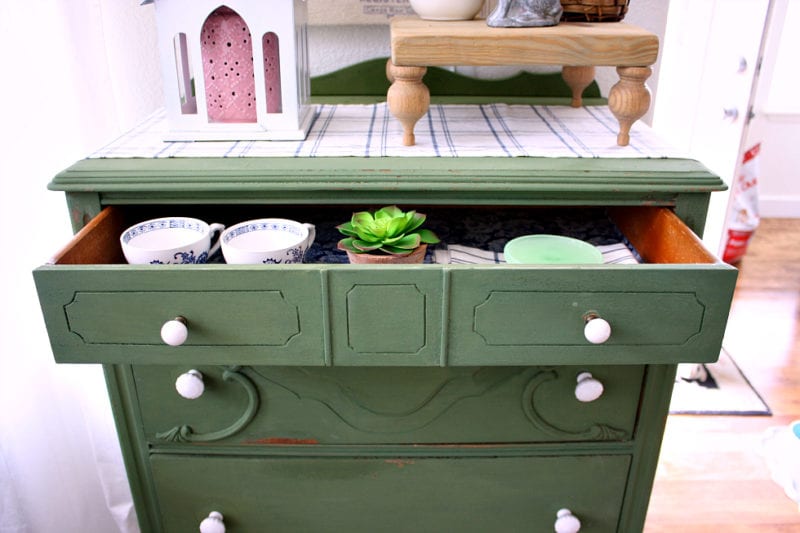 Quickest and Prettiest DIY Ever
So there you have it, the quickest and cheapest DIY ever! What did you think?Leave me a comment below with any questions you may have or a project you are working on. I love chatting with you all! Make sure to subscribe to the blog to never miss a post! I have some good ones coming up;)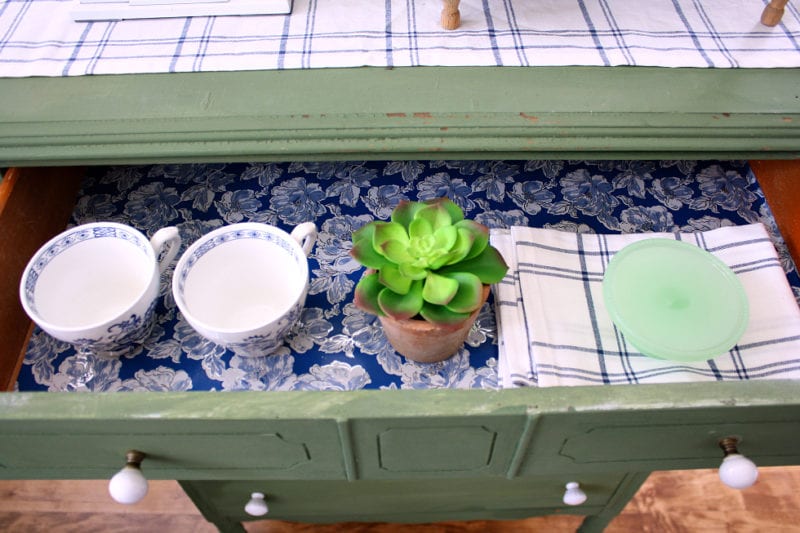 Next up on the blog hop is Kendra over at Joy In Our Home. She is sharing some beautiful DIY embroidery wreaths for Spring.
xoxo,
Kelly
Spring I DIYed That
A Cuter Tutor | The Homemaking Momma | Noting Grace
The Tattered Pew | Joy in Our Home
Little by Little Farmhouse | My 100 Year Old Home | Repurpose and Upcycle
Pennies From Heaven Home | Uniquely Taylor Made