Coastal Cottage Master Bedroom Mood Board
This coastal cottage master bedroom mood board features a cozy feel with accents of blue, white and driftwood grey. It's a beautiful palette full of calm colors and patterns perfect for that relaxing master retreat.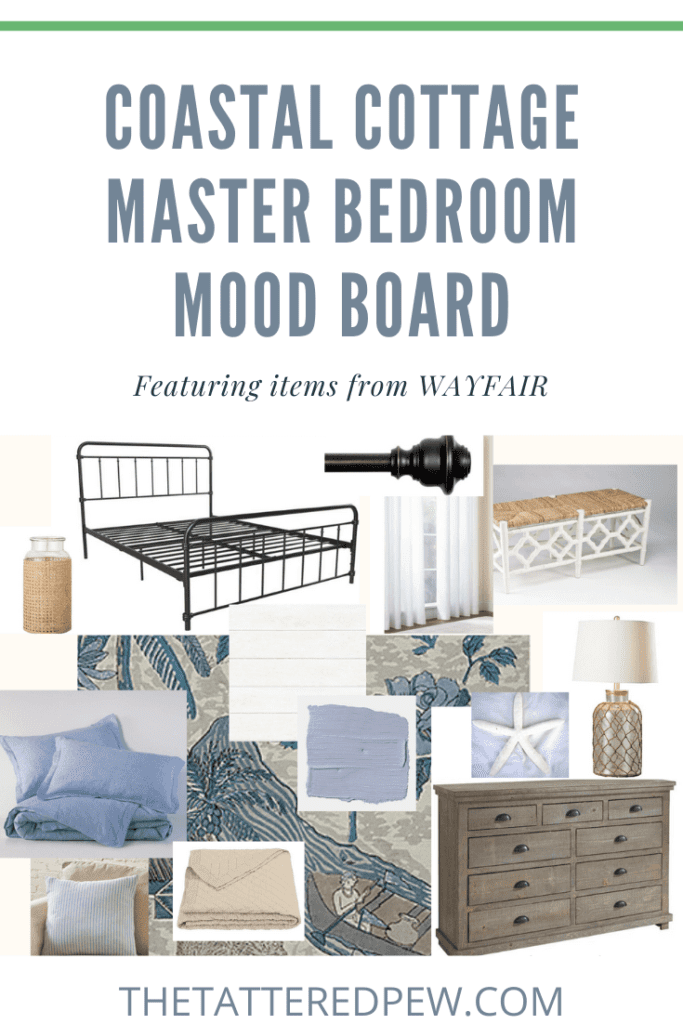 *This post contains some affiliate links for your convenience. Click here to read my full disclosure policy.
You better believe that during quarantine I have been dreaming and scheming of decorating and making over spaces in our home. So when I recently found out that I had been invited to be a Wayfair Homemaker's featured blogger, I got busy shopping and designing for our first collaboration together! (Of course after I screamed with glee…I am so honored to be joining their team!)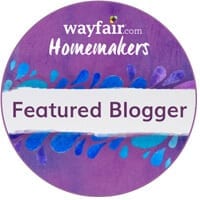 So, first up on my makeover list is our master bedroom!
It is in desperate need of a cohesive and calming feel. I feel like it doesn't have that grown up feel that I have been craving ever since I hit 40 this past December! Ha! 🙂 I have tried to add that "beachy" feel as you can see in the picture below, but it just always feels half finished.
My long term goal is that this room and design will bring a feeling of joy (just like the beach) each time I enter and feel like a haven.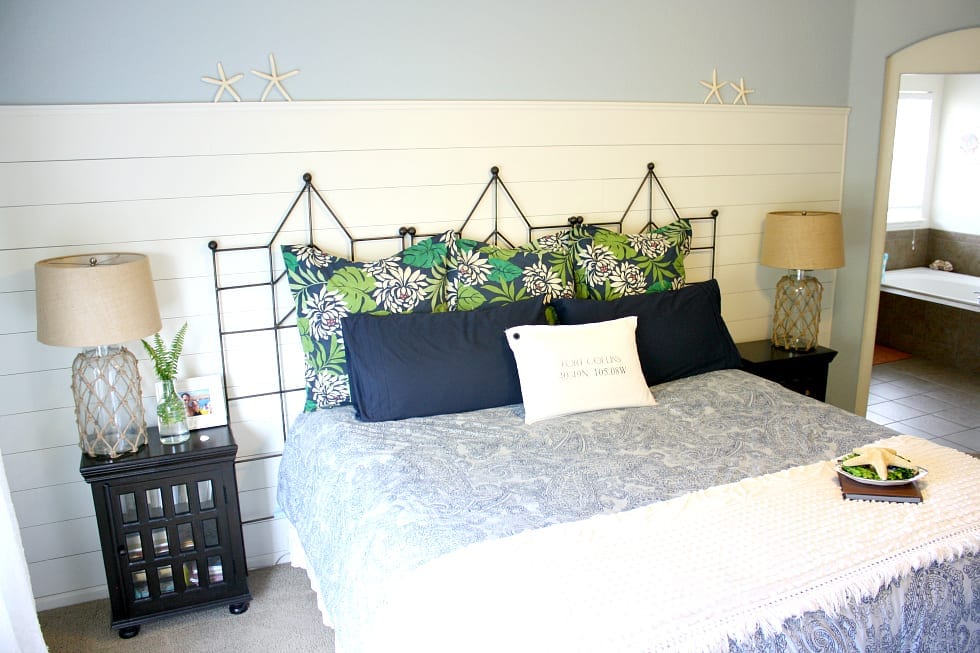 I still love our Twilight blue walls and 3/4 shiplap wall behind our bed, but it just needs a finishing touch. I think I found that finishing touch at my favorite local shop, Curate Consignments! Any guesses what that special touch is? I'll tell you in a bit.
What Even Is A Mood Board?
Mood boards are a great way to think through and see a space before you begin decorating it. It shows how the colors and pieces of furniture work together. Don't get me wrong, I LOVE Pinterest and use it all the time! I have a Pinterest board labeled Coastal Cottage Farmhouse and one called Bedroom Inspiration where I collect all of my inspiration! But I needed to condense all that inspiration…and so I created a mood board!
A mood board is basically the adult version of the vision boards we use to make out of magazine clippings when we were teenagers. Did anybody else do that or just me?
And honestly, I just love being able to see my vision come together in one neat and pretty little picture. Here is what I came up with.
Coastal Cottage Master Bedroom Mood Board
I really had fun rounding up these items for my Coastal Cottage Master Bedroom and added them all into one cohesive mood board! All of the items are from Wayfair except the wallpaper which is Thibaut, and the cane vase that I made as a DIY. You can find the links below.
Doesn't it look so grown up? 🙂
A few of the elements we already have in our room… like the black metal bed I found on Facebook Marketplace which was originally from IKEA. But don't worry, I linked one almost identical from Wayfair.
We also switched out the white curtains in our family room and so I plan to bring those white ones up to our bedroom. You can see the new curtains I chose for downstairs if you stop by my Summer Home Tour!
Plans For Our Master Bedroom Makeover
I have so many plans for this space of ours but the main one revolves around this gorgeous wallpaper from Thibaut! It's that special touch I talked about earlier and I plan to add it to the space above our shiplap. A special thanks to Clay at Curate Consignments for hooking me up with this gorgeous designer wallpaper!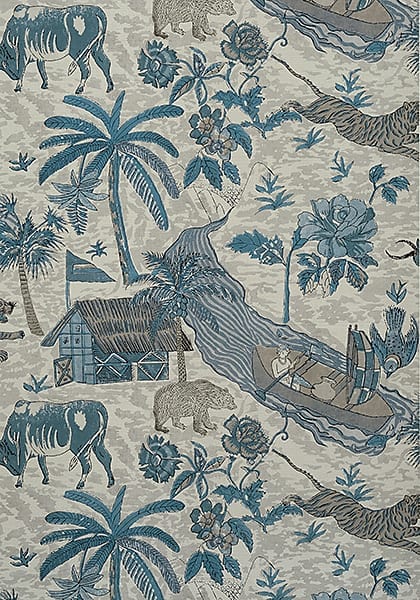 To Do List:
Wallpaper above the 3/4 shiplap wall behind the bed
New bedding ( linen duvet, quilt, pillows)
Add a bench below a new gallery wall featuring my paint by numbers collection
Raise our curtain rod and add new white curtains and eventually bamboo shades
Remove the huge armoire and replace it with this fabulous new dresser
Touch up the Nightfall Blue by Freshaire wall paint in flat bought at Home Depot
Shop The Mood Board
If you want to take a peek at the items featured in my mood board simply click the pictures or links below to shop each Wayfair item! Let me know if you have any questions.
Coastal Cottage Makeover Time
Now it is time for me to get to work! I plan to share all about the wallpaper next week so wish me luck. To say I am excited about this project is an understatement! Do you have any makeover plans or have you made over any spaces during quarantine? I would love to know, share the details with me in the comments below!
***UPDATE*** The room is done! Come see our coastal cottage master bedroom makeover!
I'd love to have you hang out with me some more! Feel free to follow along with me on any of the platforms linked below.
LTK | Facebook | Instagram | Pinterest | Amazon
xoxo,
Kelly