Simple Ways to Decorate Your Outdoor Spaces for Summer
Hey there, friends! Today I am absolutely thrilled to invite you on a delightful tour of my outdoor spaces. With summer right around the corner, I've been busy sprucing up my backyard and front steps, and I can't wait to share some simple yet stunning ways to decorate your own outdoor spaces for summer. So grab your favorite beverage, put on your sun hat, and let's take a peek!
Summer Home Tours 2023
But before we start the tour of my spaces, today is day one of the 2023 Summer Home Tours blog hop hosted by Marty from the blog A Stroll Thru Life. She has rounded up 30 talented bloggers all sharing their homes with you this entire week!
If you are hopping over from Christy's of Our Southern Home's outdoor tour, welcome! I love everything she does!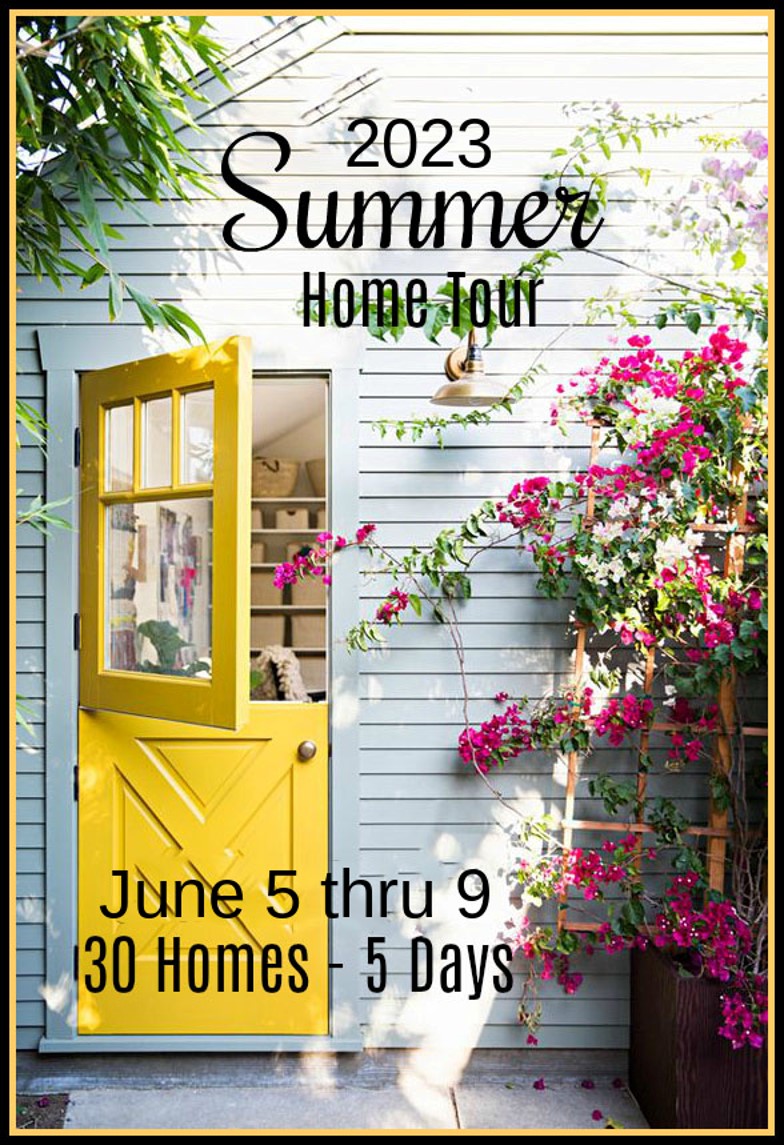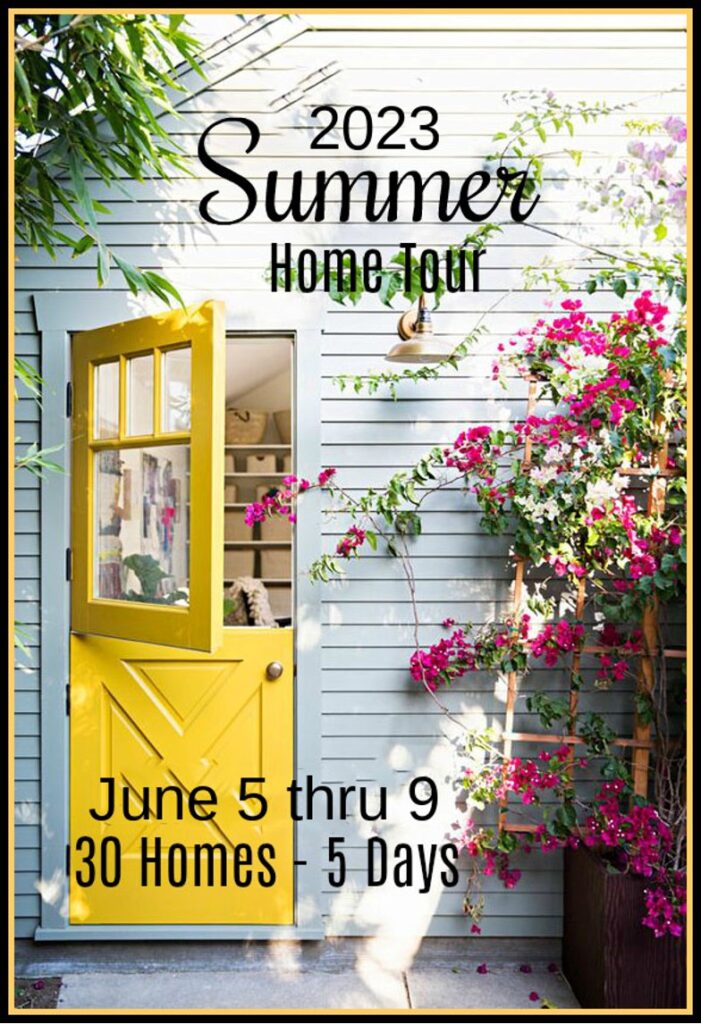 Simple Ways to Decorate Your Outdoor Spaces for Summer
When it comes to my outdoor spaces I like to keep things simple. When my spaces get too crowded or cluttered it does not feel calming or enjoyable to be in them. You might notice that most of the flowers in our yard are all white (minus my zinnias of course).
Let's start in out front! Welcome friends, I'm Kelly and I live in beautiful Northern Colorado with my awesome family and our two pups. I wish I could have you over for some tea or my favorite iced coffee, and then we could chat about all things garden.
I'm a bit obsessed with gardening lately. If you are too then you might like to visit a few of my favorite gardening posts here!
We moved in to this home a bit over two years ago. I was drawn to the front door first and the dark exterior second. The house is painted Peppercorn by Sherwin Williams and it's not quite black and not quite gray.
Our former house was painted Hale Navy and there is just something about dark exteriors that I love!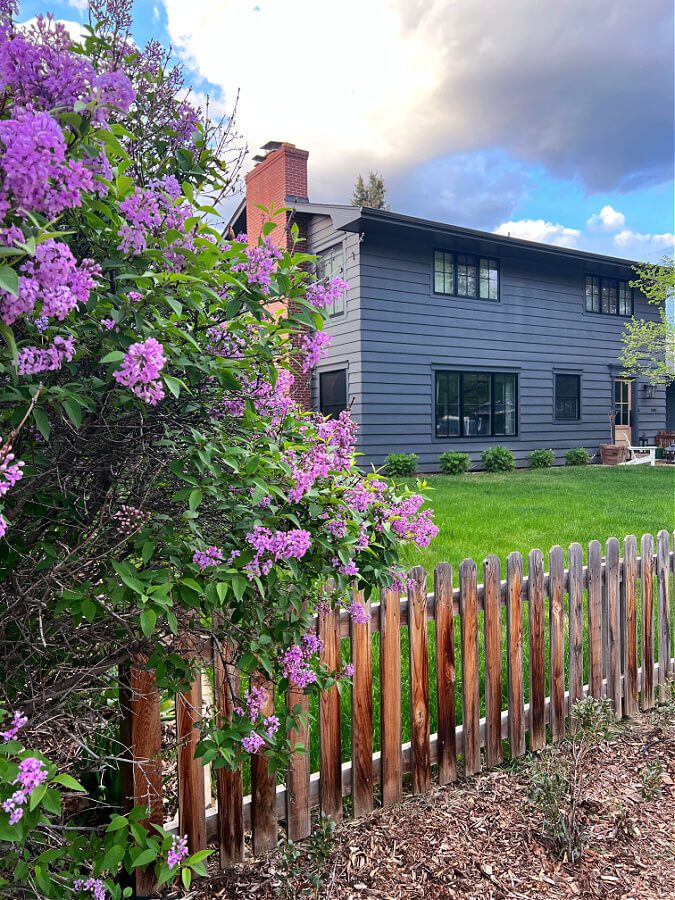 If you were to ever stop by our home our two pups Kona and Zoey would be sure to greet you at the door. If you want a peek inside you can visit our most recent indoor tour that I jsut shared a few weeks ago!
There is normally a wreath on our front door or I keep it empty. But I found this gorgeous long willow door basket at a local shop called The Pineapple Marketplace, and decided to create a patriotic door basket!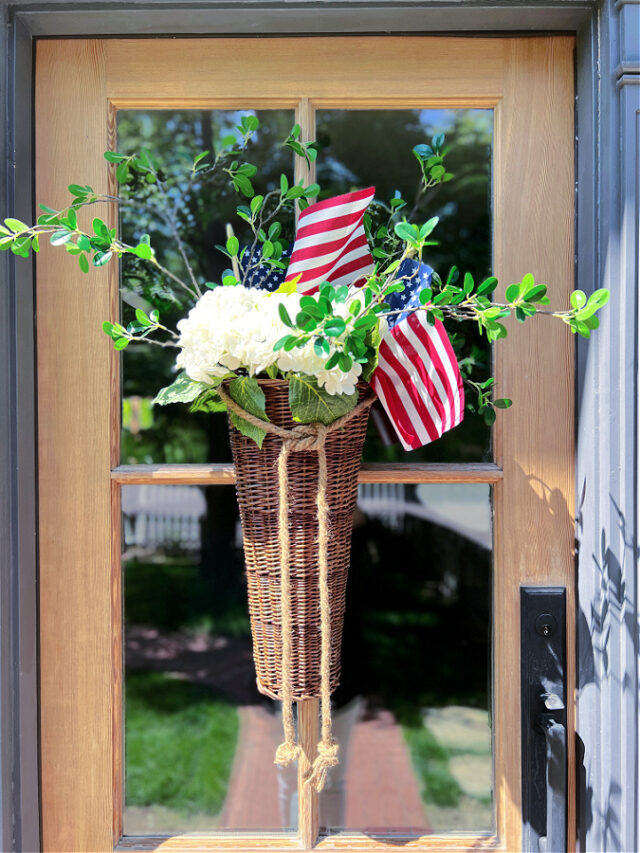 Our lilacs are starting to fade now but they were so beautiful and full this year due to all of the recent rain we have had!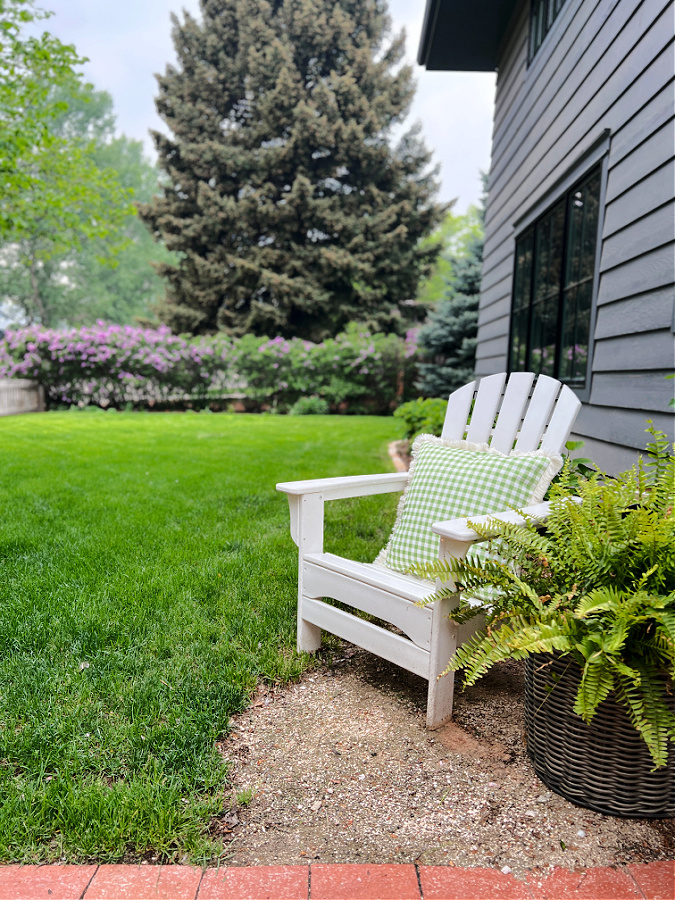 Below is a picture of our hydrangeas from last year. Ours are so close and should be in full bloom at the end of June. We have 5 Annabels right below our front window. I just added some more out back and just around the corner from this window we have limelight hydrangeas and a limelight hydrangea tree too!
If you love hydrangeas as much as I do you might enjoy my 12 things you should know about hydrangeas post!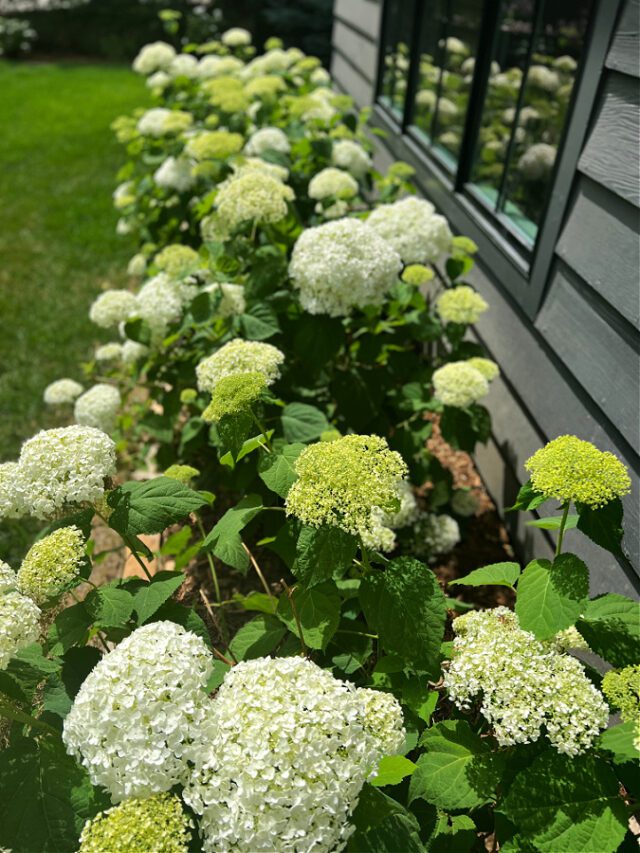 Finally the view from the street is this huge tree with a sweet swing. You can see how wet our fence still is from all of the rain we have had lately! Plus, notice the hydrangea bushes under the front window? Pretty soon they will be grown together and full of white blooms!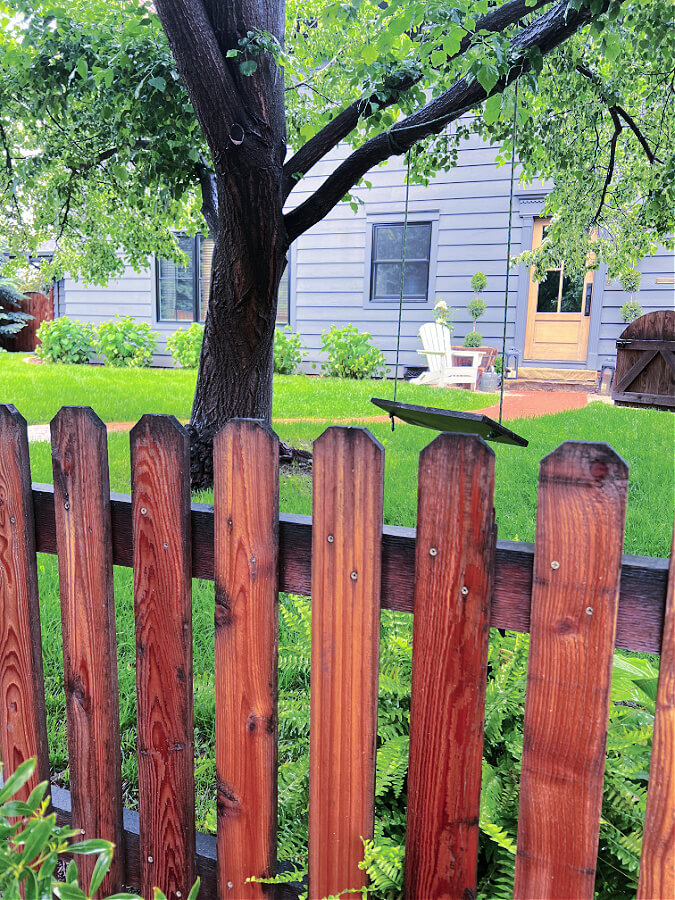 Simple Backyard Ideas for Summer
Ok lets head into the backyard. We have these really neat trifold doors that open the inside up to the outside. They make parties at our house in the summer so much fun!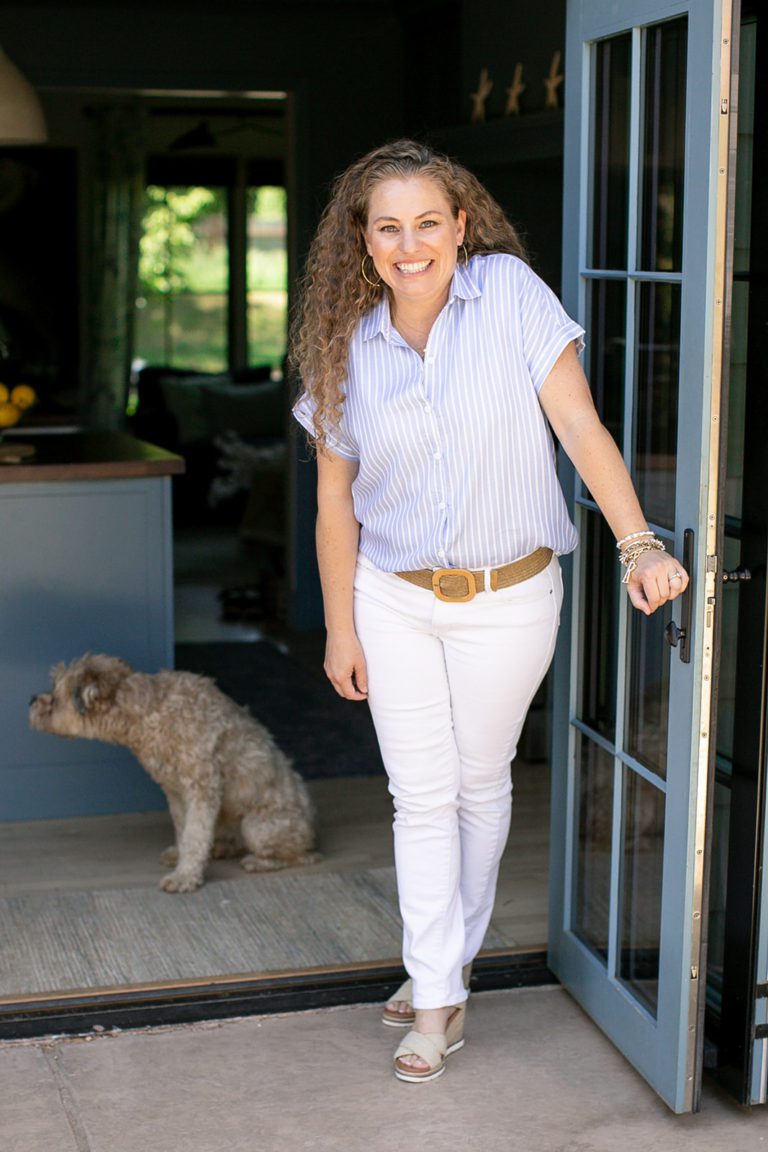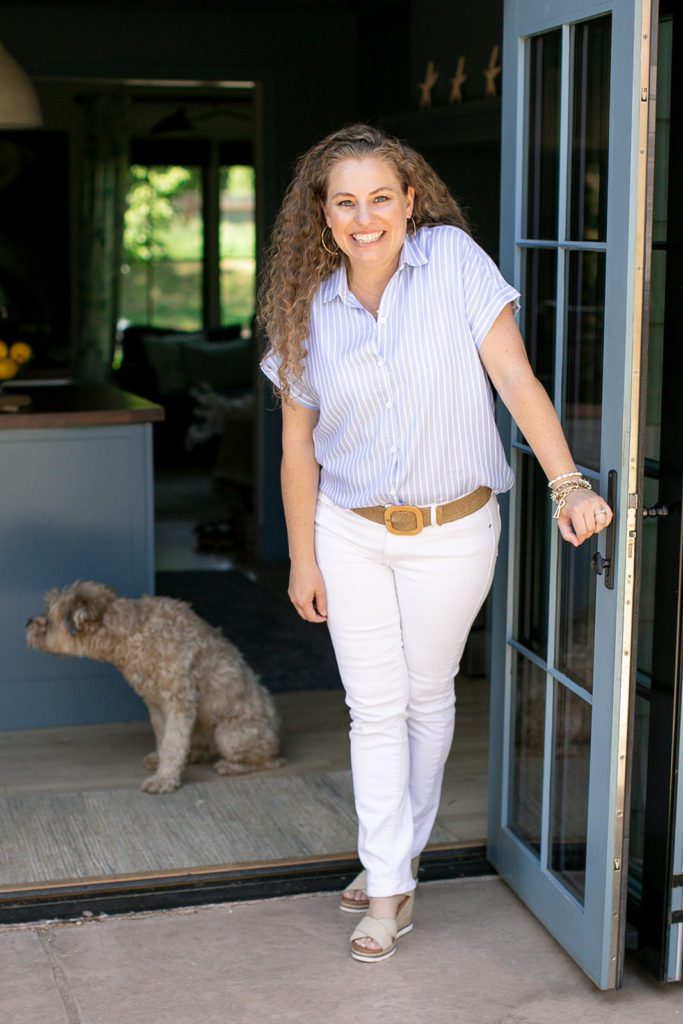 And now here is the view of the back of our home. We love these double pergolas and the hedge of all white peonies in front of them.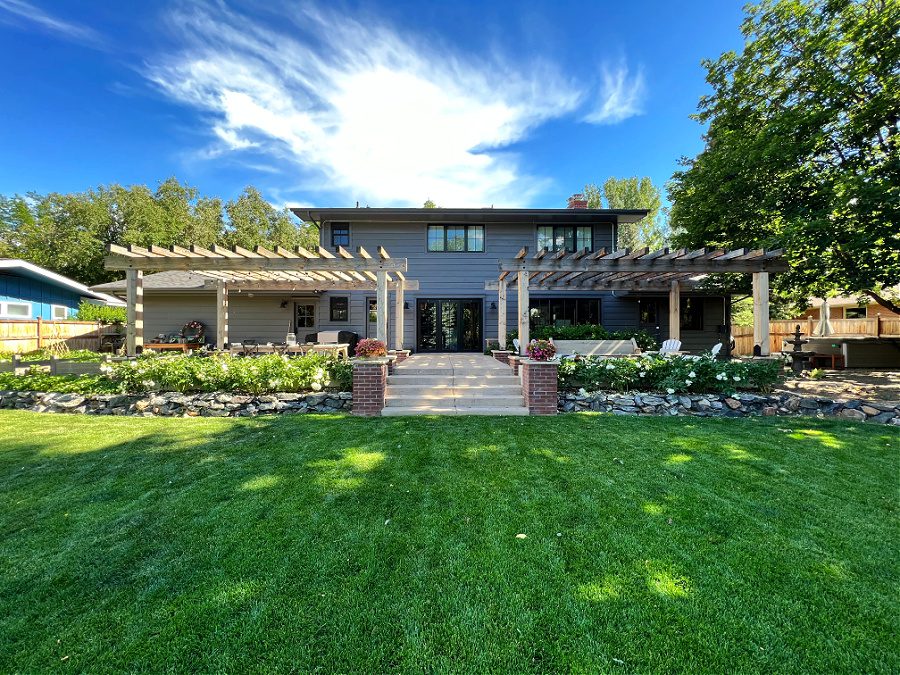 Our peonies have not yet bloomed this summer… and I am hoping they wait to bloom until we are back from our summer vacation. Below is a glimpse of them from last year! My post all about tips and tricks for peonies shows a few more pictures of them as well.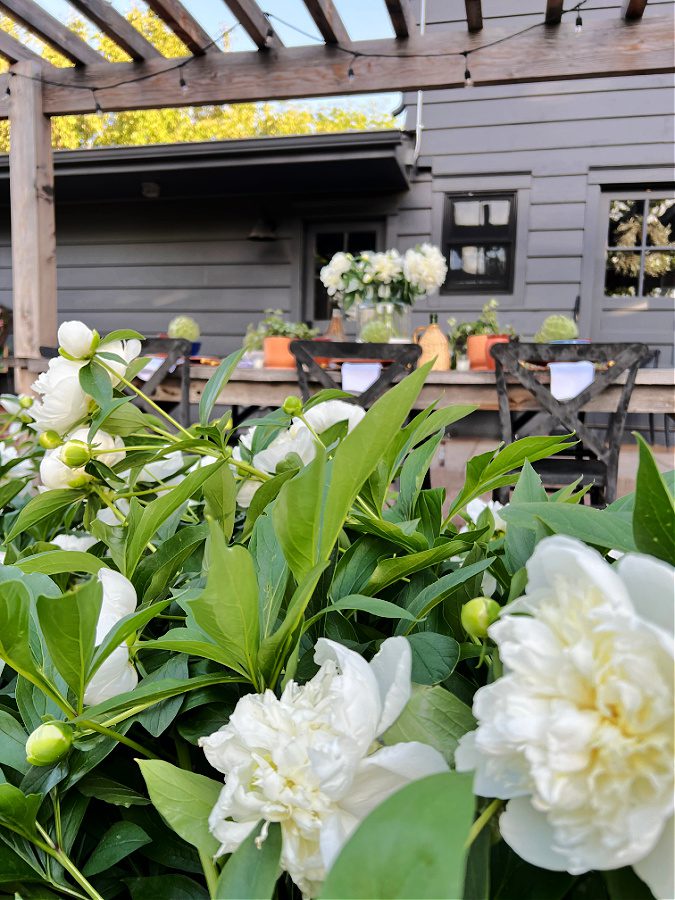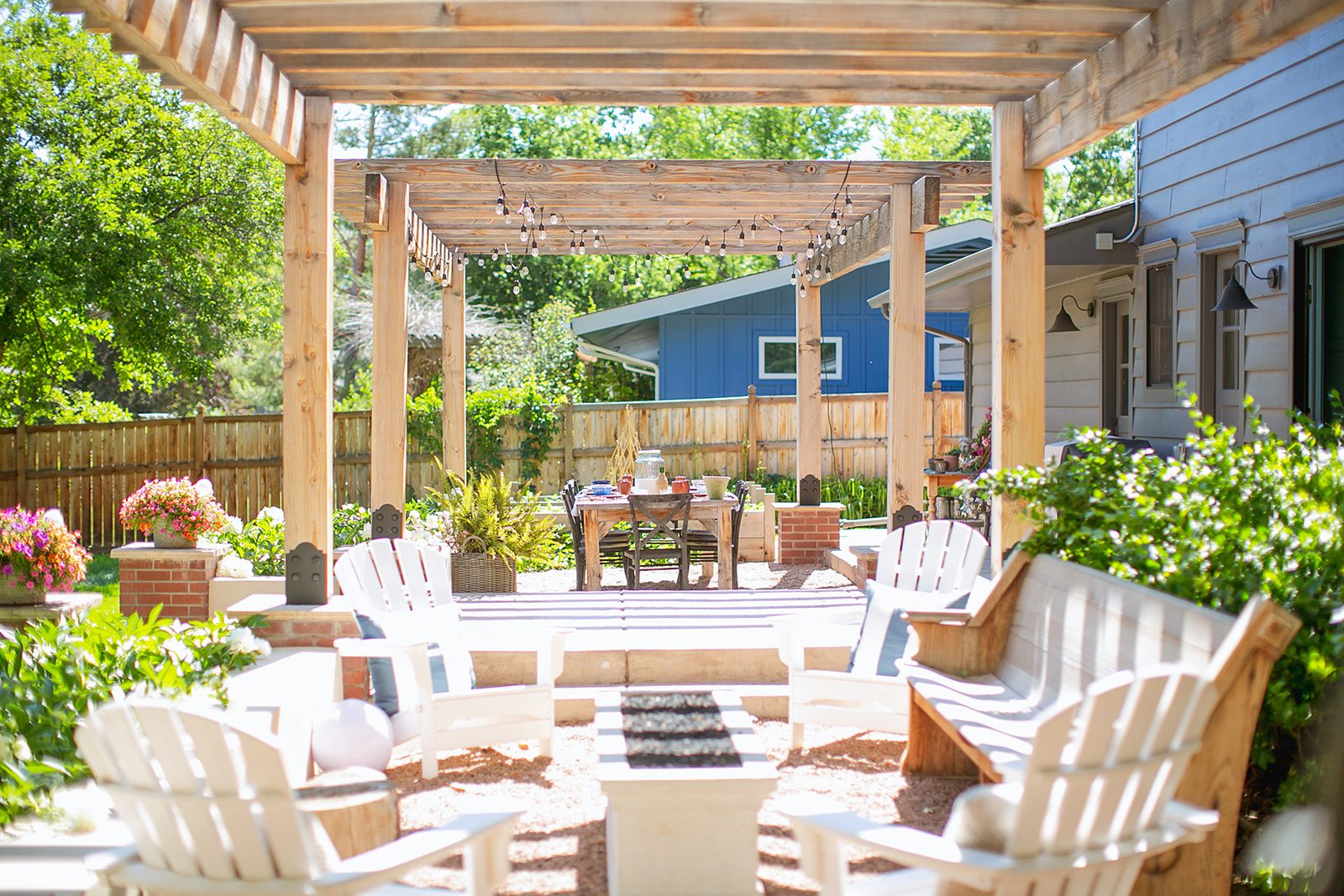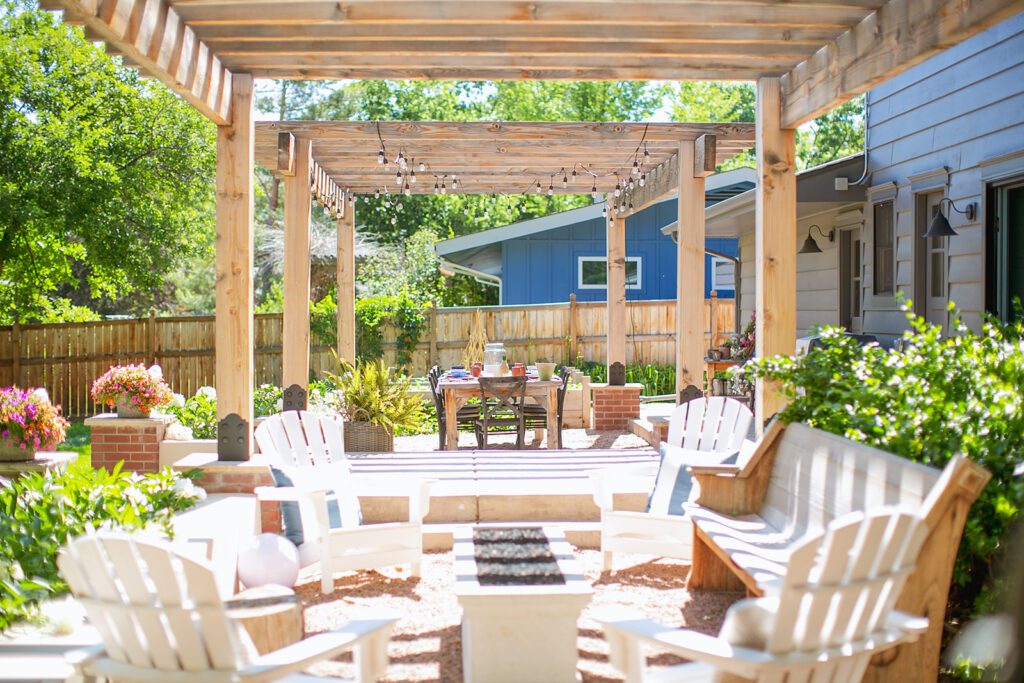 Under the left pergola there is a large wooden outdoor dining table that we love eating at. One of my favorite things to do is create beautiful tablescapes out back here. Simple yet beautiful. My favorite one was this blue and terracotta table!
And on the right side under the other pergola sits one of my Tattered Pews along with a set of Adirondack chairs and our firepit. This space is where we love to relax together as a family.
The chairs are Polywood and can be outdoors year round! My pew has an outdoor protective seal on it and I should probaly reapply it here again soon!
A very simple seating arrangement under the pergola leaves space for smores and chatting.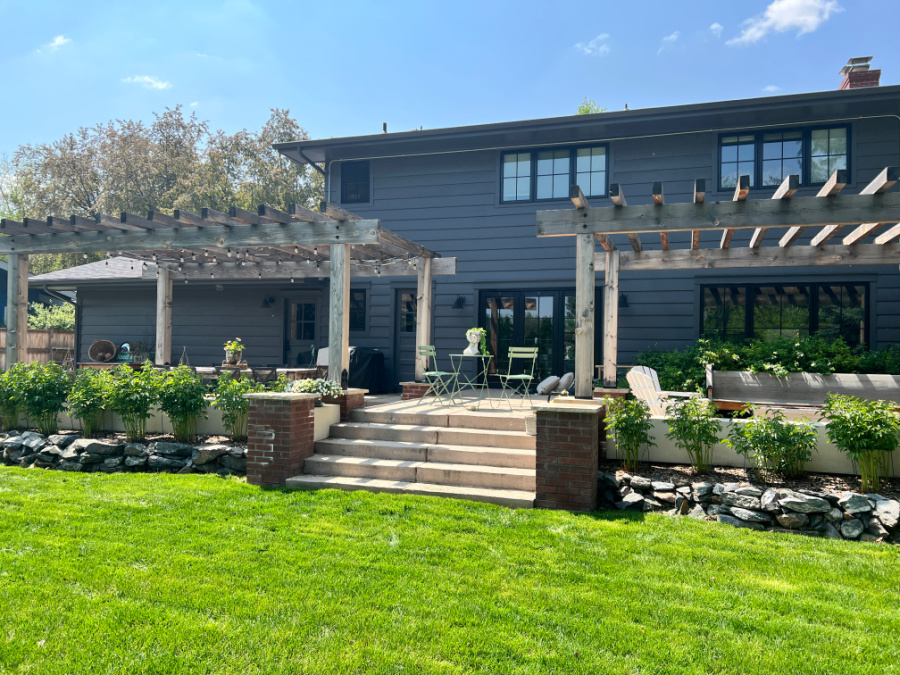 A fun new addition this summer to our back patio space is this green bistro set! A bistro set is something you can easily add to anywhere in your yard. I have seen them under trees , on side yards or even between raised garden beds.
They are perfect for sipping coffee and spending quiet time with Jesus. My husband and I love to sit here and watch our kid jump on the trampoline!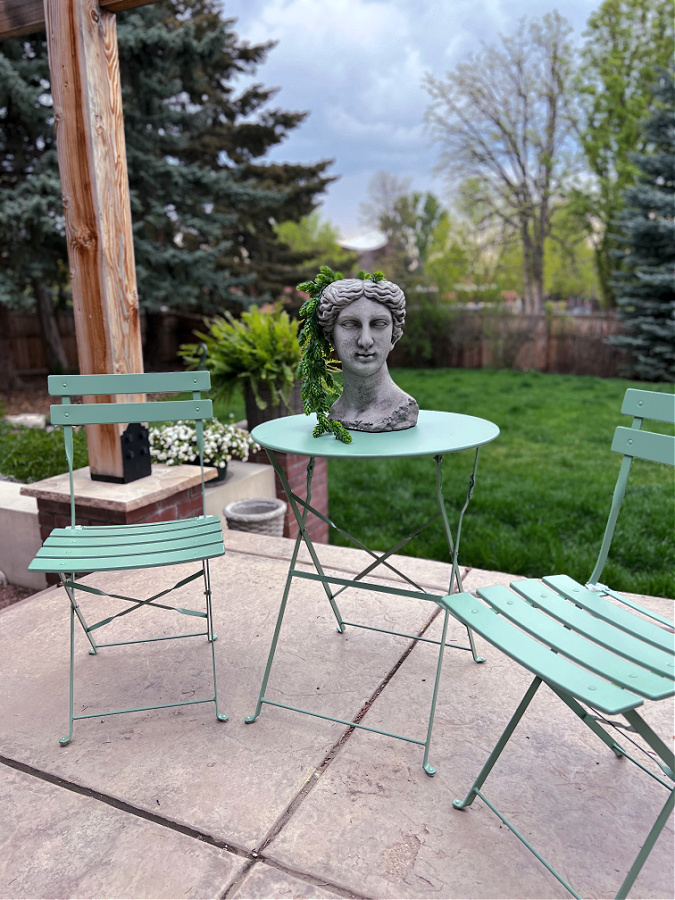 A Summer Potting Table
One of my favorite simple ways to decorate your outdoor spaces for summer is to create special areas. One of my special spots out back is my potting table area. From the moment we moved in I knew that this area just beyond the raised garden beds was perfect for a potting table.
In our previous home I had a green potting bench and loved it.
But this space called for something bigger and so our former kitchen table did just the trick. It is sealed for outdoor use just like my pew. Even thought it was a free find from a friend I still love to take care of it!
My mom and I had fun piling up a bunch of fun vintage finds and gardening tools around and on her. In a dream world it would be full of terracotta pots!
Just like me Zoey loves to meander over here whenever I am working at the potting table.
Raised Garden Beds
The final stop on our outdoor garden tour is our two raised garden beds that live just across from my potting table.
Last year I planted zinnias in both beds and fell in love with how easy they were to grow. You can check out my Lazy Girl's Guide to Growing Zinnias if you too want to try them!
This year I did one bed with zinnias and one bed with cosmos. I can't wait for them to bloom! Below and around the raised beds you can see strawberries growing. The squirrels usually get to the m before us sadly.
Another fun and simple addition for summer has been this solar fountain that I found on Amazon. This fountain makes the bed sounds and is easy to use. If you love water features like I do you can read my full Solar Fountain tutorial here!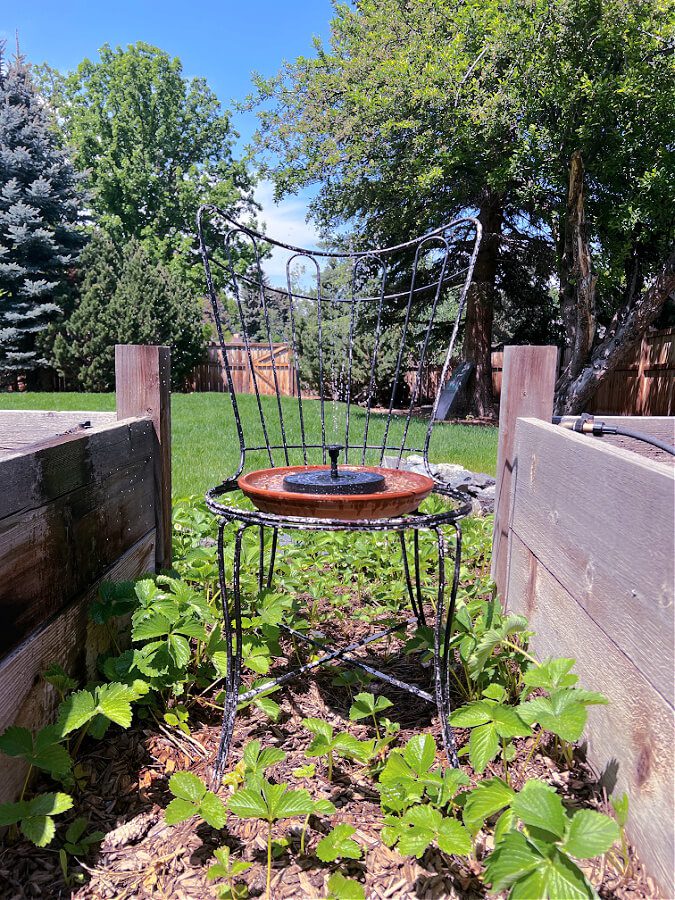 Of course I couldn't leave you without a pictures of my zinnias from last year. Look how full the raised beds were! ANd do you peek my potting table through them as well?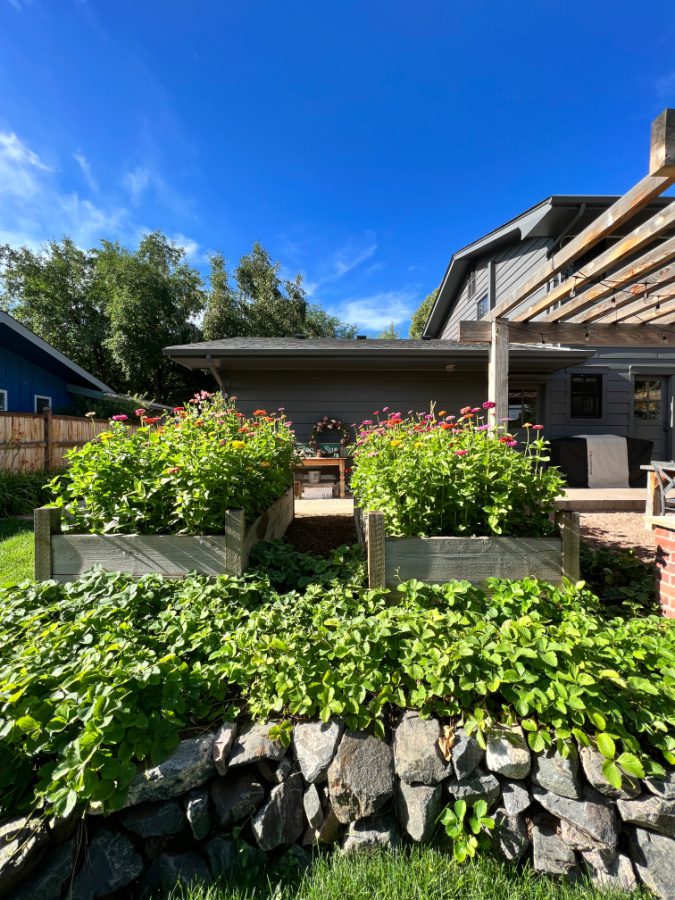 More Ways To Decorate Your Outdoor Spaces for Summer
Now scroll down and check out all of the wonderful outdoor summer inspiration I have rounded up for you today. I can hardly wait to see which of these 15 ideas you love and are drawn to!
Colorful Cushions and Pillows: Add vibrant cushions and pillows to your outdoor seating areas to instantly inject a splash of summer color and create a cozy atmosphere.
Outdoor Rugs: Lay down an outdoor rug to define your seating or dining areas. Choose a design that complements your style and adds a touch of warmth and comfort underfoot.
Hanging Plants and Potted Flowers: Hang baskets of cascading plants or place potted flowers strategically around your outdoor spaces to bring life and beauty to your surroundings.
Festive Lighting: String up fairy lights or lanterns to create a magical ambiance during warm summer evenings. They'll add a touch of enchantment and make your outdoor area feel more inviting.
Outdoor Curtains: Hang lightweight, sheer curtains to create a dreamy and romantic vibe while also providing a touch of privacy and shade.
Outdoor Art: Display weather-resistant art pieces on your patio walls or fence to add a personal and artistic touch to your outdoor space.
Citronella Candles: Keep pesky bugs at bay by incorporating citronella candles into your outdoor decor. They'll add a pleasant scent while also providing a practical function.
Hammocks and Swings: Create a relaxing oasis by hanging a hammock or installing a swing where you can unwind and soak in the summer breeze.
Outdoor Dining Accessories: Set a charming outdoor table with colorful tablecloths, placemats, and fun melamine dinnerware. Don't forget to add a centerpiece of fresh flowers or a bowl of seasonal fruits.
Cozy Seating Nooks: Create cozy nooks in your outdoor spaces with plush pillows and throw blankets. These little havens will entice you to curl up with a good book or enjoy conversations with loved ones.
Vertical Gardens: Maximize your space by adding vertical gardens with hanging planters or trellises. They'll not only beautify your walls but also provide fresh herbs or small vegetables for your summer recipes.
Outdoor Music: Set up outdoor speakers or a portable Bluetooth speaker to enjoy your favorite tunes while lounging in your outdoor spaces. Music can enhance the atmosphere and create a lively ambiance.
Simple Ways to Decorate Your Outdoor Spaces for Summer
As our tour of our outdoor spaces comes to a close, I hope you've found inspiration and practical ideas to infuse your own yard with summer magic. Remember, it's the little things that make a big difference. From a whimsical string of lights adorning your pergola to a cozy fire pit for those starlit nights, there are countless ways to make your outdoor haven truly yours. Whether you have a sprawling garden or a tiny balcony, don't underestimate the power of simple touches and personal flair.
So go ahead, let your imagination run wild, and embrace the beauty of the season as you create an outdoor oasis that will bring you joy for many summers to come. Until next time, my dear friends, happy decorating and may your outdoor spaces be filled with laughter, love, and endless memories!
Now make sure to visit my talented Whispering Pines Homestead as her post is up next on the hop! Then stop by each day this week as there are new homes being featured all week long! They are all linked below.
Click on any line below to catch up or see any tour.
Monday June 5th

A Stroll Thru Life – Simply2Moms – Our Southern Home – The Tattered Pew – Whispering Pines Homestead
Tuesday June 6th

Eleanor Rose Home – The House of Silverado – Calypso In The Country – StoneGable – My Wee Abode – Southern Home and Hospitality
Wednesday June 7th

Worthing Court – Thrifty and Chic – The Stonybrook House – Decor To Adore – Chalking Up Success – She Gave It A Go
Thursday June 8th

Shiplap and Shells – Pasha is Home – DIY Beautify – CitrineLiving – Thistle Key Lane – Country Road 407
Friday June 9th

White Arrows Home – It All Started With Paint – Southern Crush at Home – Amy Sadler Designs
I'd love to have you hang out with me some more! Feel free to follow along with me on any of the platforms linked below.
LTK | Facebook | Instagram | Pinterest | Amazon
xoxo,
Kelly