An Outdoor Summer Tablescape Using Blues and Terracotta
More and more as the weather has warmed up, I have found myself setting our table out back. My latest table setting is a lovely summer tablescape using blues and terracotta and of course our gorgeous white peonies!
*As an Amazon Associate, I earn from qualifying purchases. This post contains other affiliate links too for your convenience. Click here to read my full disclosure policy.
Today I am so excited to be joining a summer blog hop hosted by my friend Pasha from Pasha Is Home. If you are coming over from Rachel at The Ponds Farmhouse and her beautiful neutral star wreath, welcome! I'm so happy you stopped by. And if you are a regular around here welcome back!
An Outdoor Summer Tablescape using Blues and Terracotta
Today I am not only sharing my blue and terracotta themed outdoor table setting but our lovely white peonies! This color scheme came to me as I was walking the aisles at Home Goods the other day and came across some beautiful blue and white melamine dishes perfect for outdoor dining.
I knew they would look lovely with our blooming peonies so of course I had to buy them!
These beauties are blooming directly behind our table in a long flower bed. We inherited them from the previous owners so sadly I don't know their name.
But I can tell you that they smell amazing and have the most beautiful full and fluffy blooms.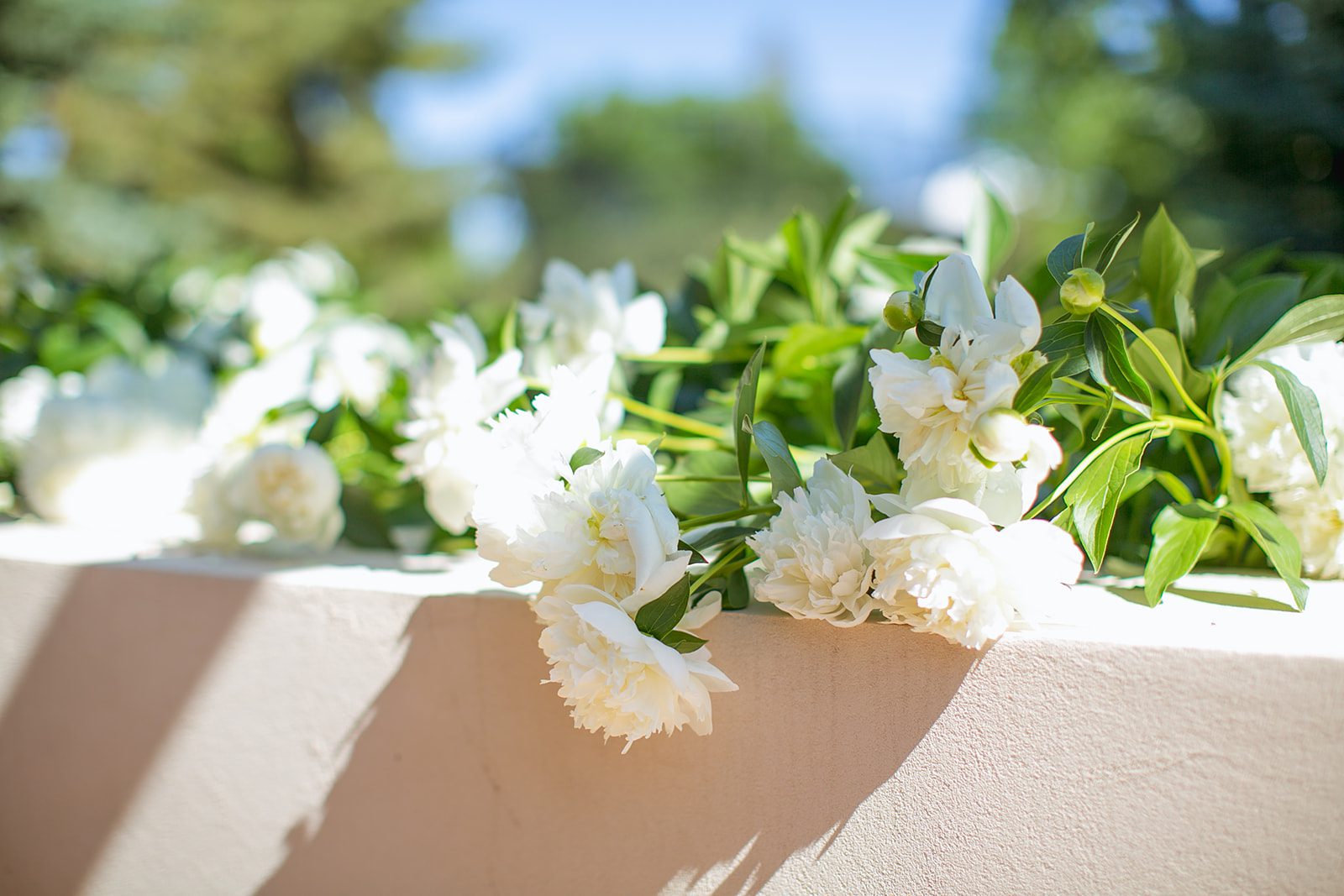 Because we have so many blooms, I have been using them all over throughout our home as well as outdoors. You can see how I displayed them in our summer home tour and in this lovely tortoise shell vase!
Creating a Focal Point
When it came to creating a focal point or centerpiece for this table it was a no brainer for me to use our peonies. I simply cut them and added them to my favorite Etu Home colorblock flower vase that I won in a giveaway over on Instagram.
Simple yet elegant. And did I mention they smell amazing?!
Beauty in the Details
Once the flowers were added I had fun adding in the blues, whites and terracotta details. I gathered everything from inside and brought it out and had fun layering and playing around.
ivy in terracotta pots from Target
rattan wrapped demijohn bottles (flea market finds)
artichokes
blue and white Tommy Bahama melamine plates from HomeGoods (I found them here)
Greenery Too
Why not add some artichokes for texture and extra greenery? We love eating artichokes in the summer! We simply boil them, peel them and dip the tips in mayonnaise or butter. I grew up eating them and introduced them to my husband and kids and now they have become a summer favorite!
Don't they look pretty in the bowls?
I pulled green in with the ivy, flowers stems and artichokes. Plus, the green in the yard plays nicely with this outdoor table setting too.
So blessed by this gorgeous space we get to call ours.
Enjoying Dining Outdoors
As the sun began to set, I came back outside lit the votives, turned on the string lights and soaked up the ambiance and the pretty table.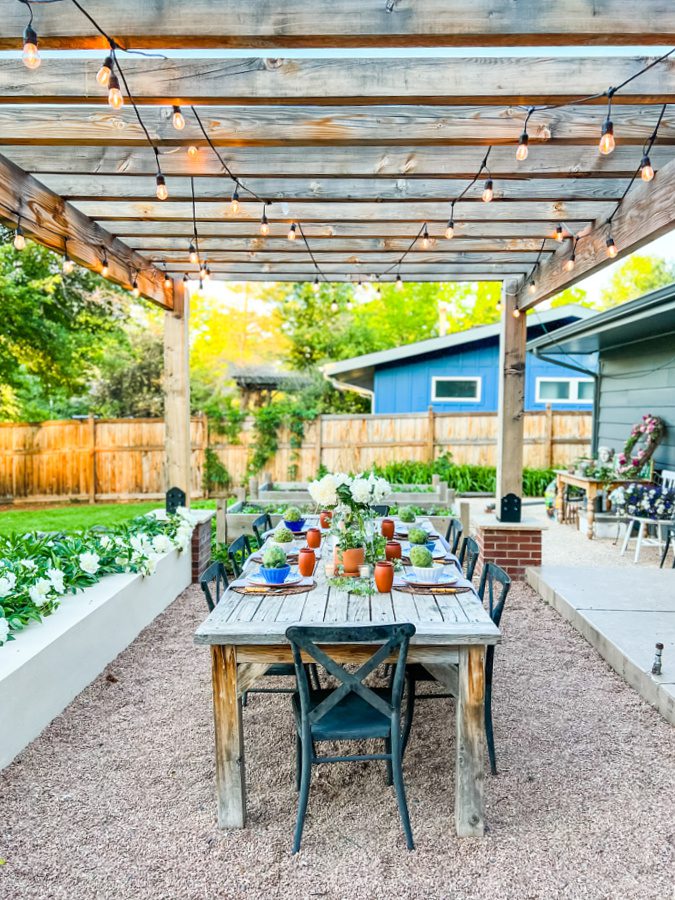 This, this is one of the many reasons why I just adore summer! You can see more of our backyard in my recent summer tour of it HERE!
I couldn't resist capturing more shots of the peonies , I love the elegance they add to this rustic outdoor table. I sure am going to miss them. Luckily there is always next year.
I did create a dried peony wreath to preserve my mom's peonies…just because we weren't ready to let them go yet. I used the flowers from this table I set the previous week.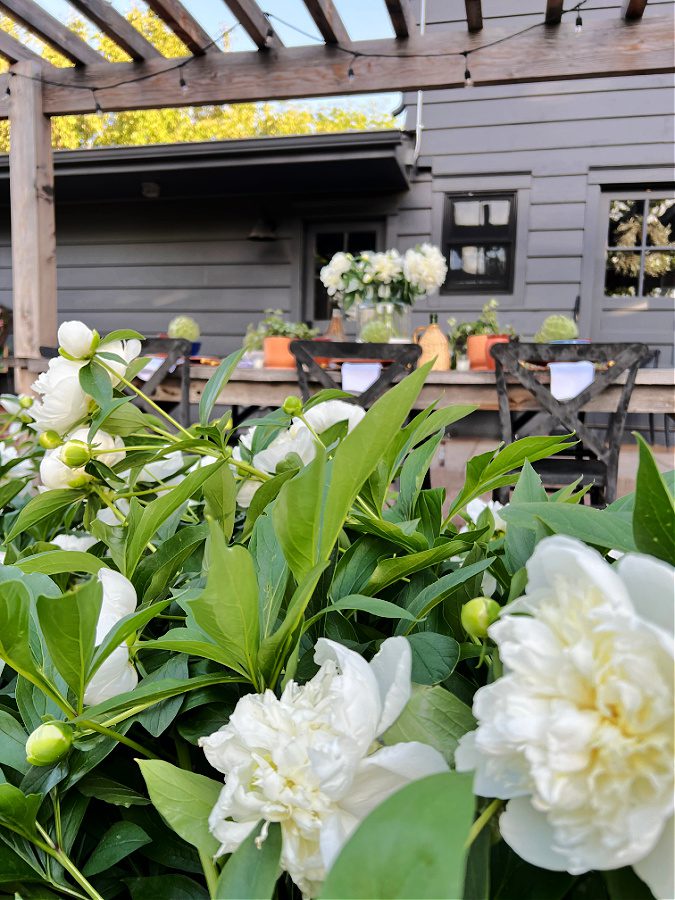 A pretty peek at the table from the other side of the peony hedge! I love how the green and white contrast against our Peppercorn painted house. So lovely!
Enjoying Blues and Terracotta for Summer
When we looked at this home last summer this outdoor space, as well as the huge backyard was a major selling point for my husband. We were able to purchase this table and chairs from the previous owners and I am so happy we did because it has made our outdoor entertaining that much better!
We were able to enjoy my dad's birthday out here and it was wonderful. Having this outdoor dining space is what I have always dreamed of. And this is just one of many outdoor tablescapes I plan to bring to life as live here and enjoy our time outside.
Our hydrangeas and zinnias are blooming next…so be on the lookout for a table featuring them!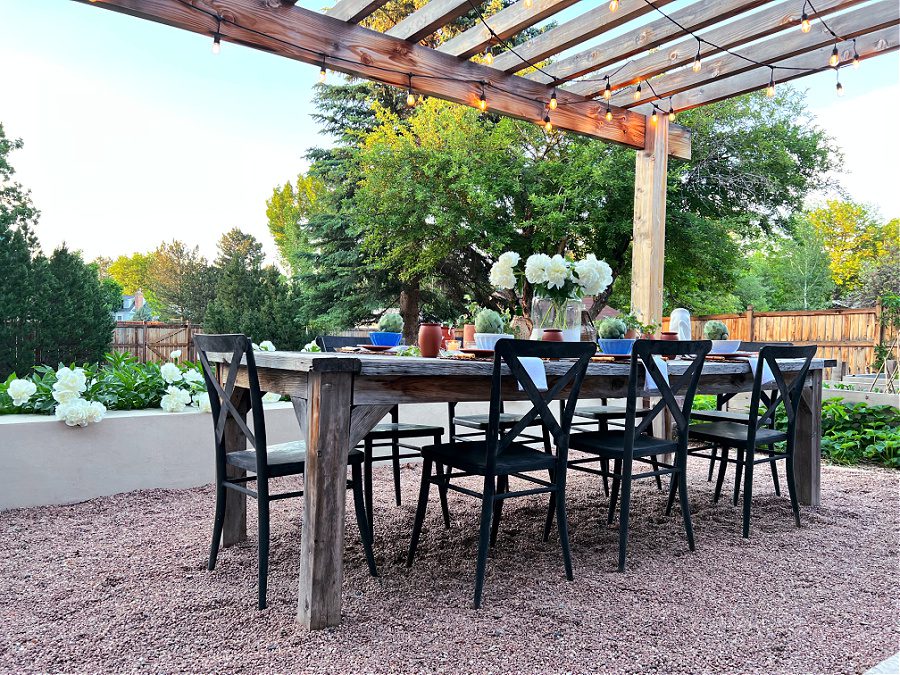 Shop This Post

Summer Tablescape Using Blues and Terracotta
I really appreciate you stopping by today. This summer tablescape using blues and terracotta was so fun to put together! I hope you enjoyed it and I would love for you to hang out with me some more. You can follow me over on Instagram, Pinterest, Facebook and here on the blog.
Do you have an outdoor space you enjoy?
Next up on the hop is my talented friend Kristin from White Arrows Home. She is sharing 5 ways to stet an everyday summer table. Her tips are so good! Then head below to see what everyone else in the hop is sharing for summer!
xoxo,
Kelly
Summer Inspiration from Eleven Talented Bloggers
Small Cottage Guest Bedroom, Vintage and Delightful // Dabbling & Decorating
Five Simple Things That Look Good on Your Summer Mantel // Robyn's French Nest
Five 4th of July Party Ideas That Will Sparkle // Pasha is Home
DIY Summer Disco Ball Planter // Tater Tots & Jello
Lemon and Floral Summer Kitchen Decor // Willow Bloom Home
Five Minute Simple Summer Centerpiece // Midwest Life & Style
5 Affordable Summer Decor Ideas for a Small Front Porch // Simply 2 Moms
Seven Amazing Ways To Have A Memorable Summer // Cottage in the Mitten
DIY Star Neutral Wreath for Summer // The Pond's Farmhouse
An Outdoor Summer Tablescape Using Blues and Terracotta // The Tattered Pew
5 Ways to Set An Everyday Summer Table // White Arrows Home
Did you like this post? PIN it for later!