$100 Room Makeover: Coastal Master Bedroom Reveal
The time has come for me to reveal our master bedroom makeover! In case you are just joining in, I have been participating in the $100 room challenge hosted by Erin over at Lemons Lavender and Laundry.  This challenge is all about transforming one room in your home for only $100. I decided to take on our master bedroom!


Needless to say after four weeks I am exhausted! But a good exhausted, like I just accomplished something that I am so proud of, kind of exhausted! Let me show you…
Before.
I'll start with what the room looked like four weeks ago.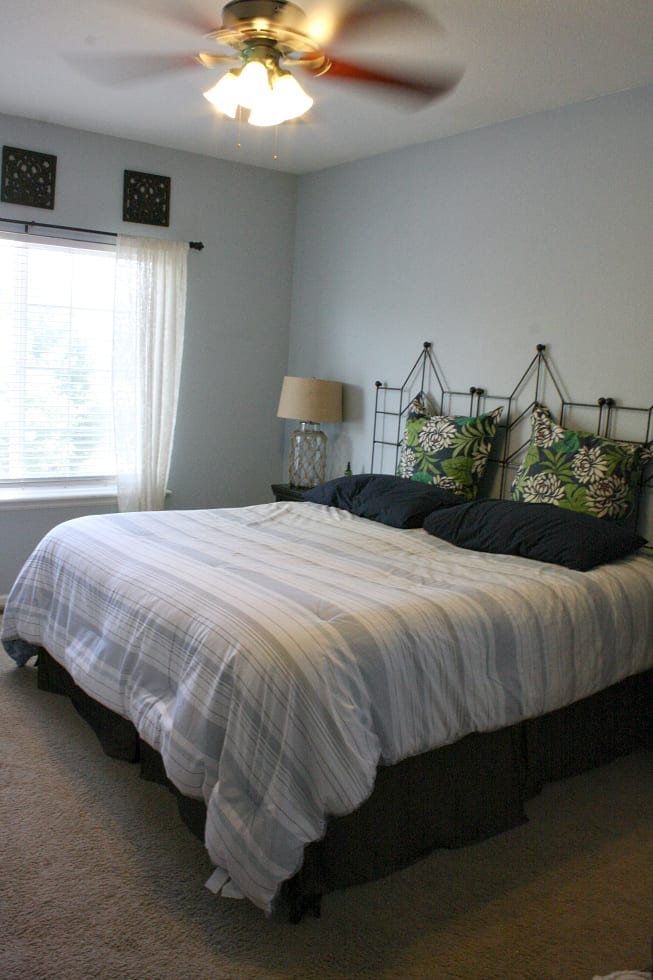 After.
And here it is now…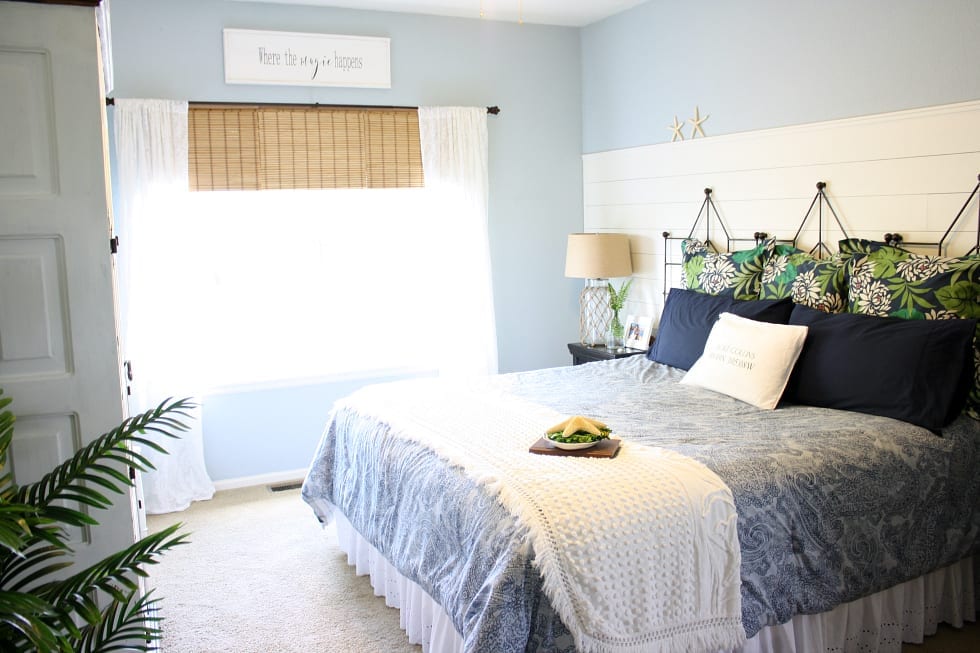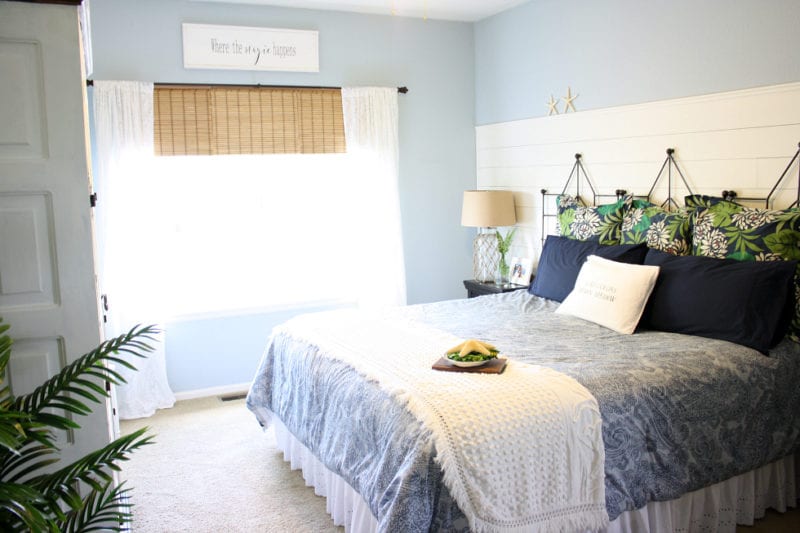 Coastal in Colorado.
I am absolutely in love with the way it turned out. Plus, I did stay under the $100 budget! You can see the price break down at the end of this post. Let me show you around my coastal in Colorado master bedroom!
Faux Shiplap.
The biggest transformation for our room happened during week 2 when we added a 3/4  shiplap wall behind our bed. This ate up most of my budget but I feel it was worth every penny. It is the statement piece of the room and I LOVE it!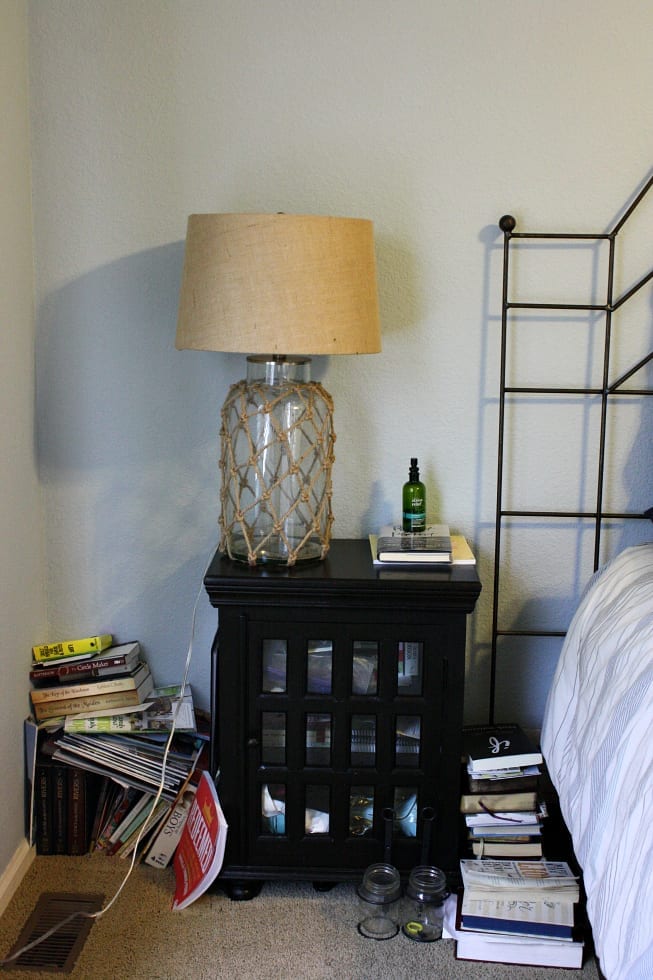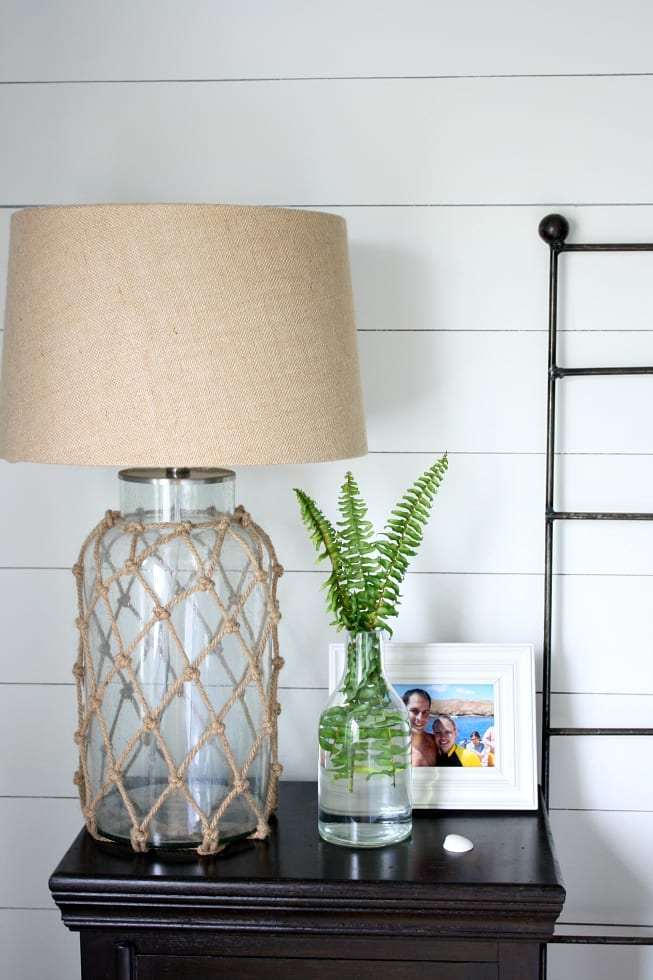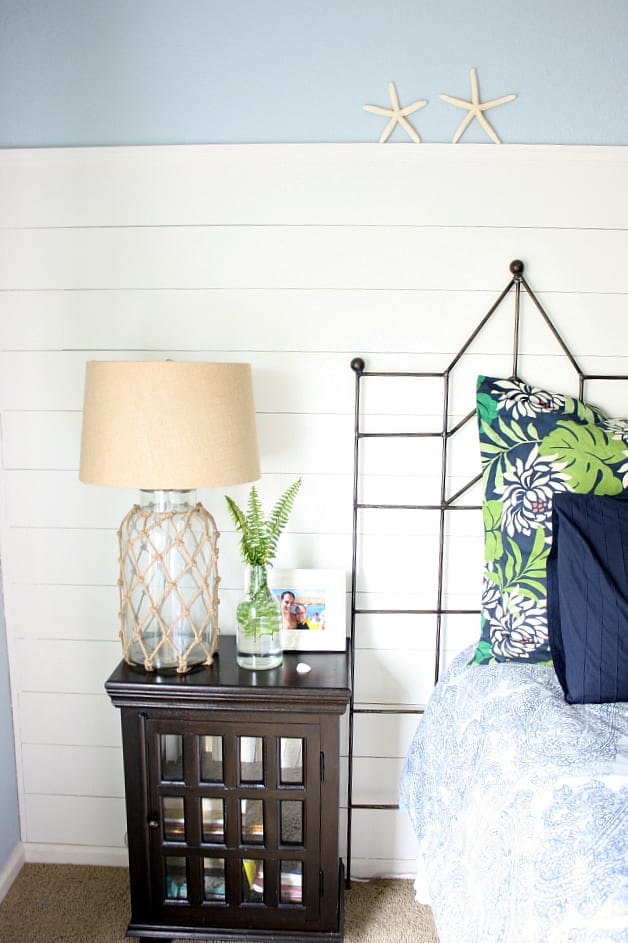 I owe my awesome brother in-law for all of his help with this wall.  He is the king of faux shiplap!
Window Coverings.
Next on my list was to add bamboo shades to our window and to make drop cloth no-sew curtains. Well, we were able to score some majorly cheap shades for $8 at Big Lots during week 3.  However, that brought us to the end of our budget (only about $3 left) and that meant I would just have to reuse the white shear ones (seen below) that were originally in our room.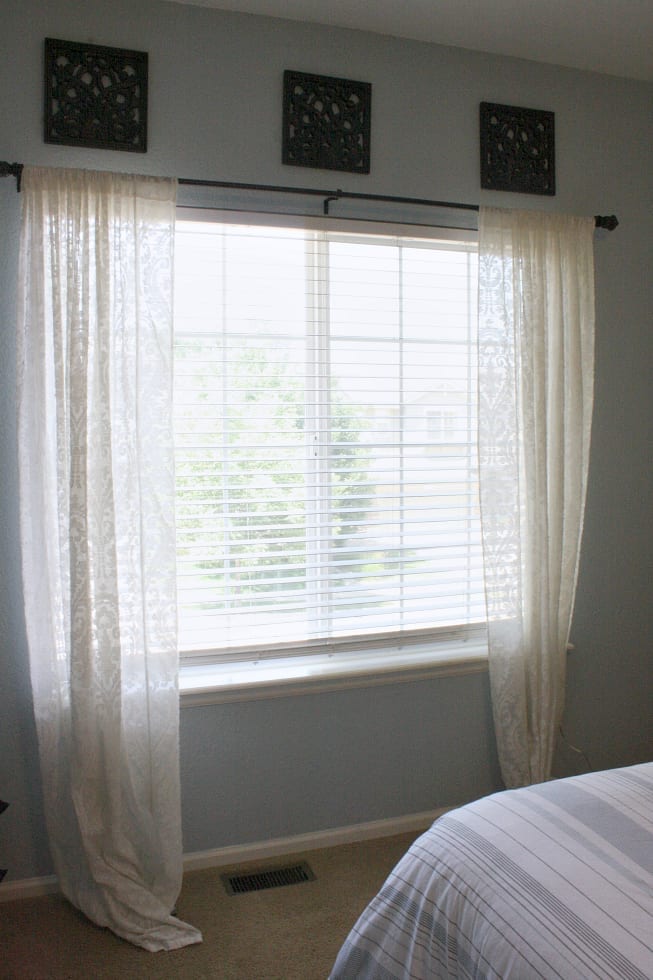 This was OK since they were nice curtains. I did give them a nice wash since they were a bit dingy and they came out even whiter than before.  Maybe that's because I also added in some bleach! 😉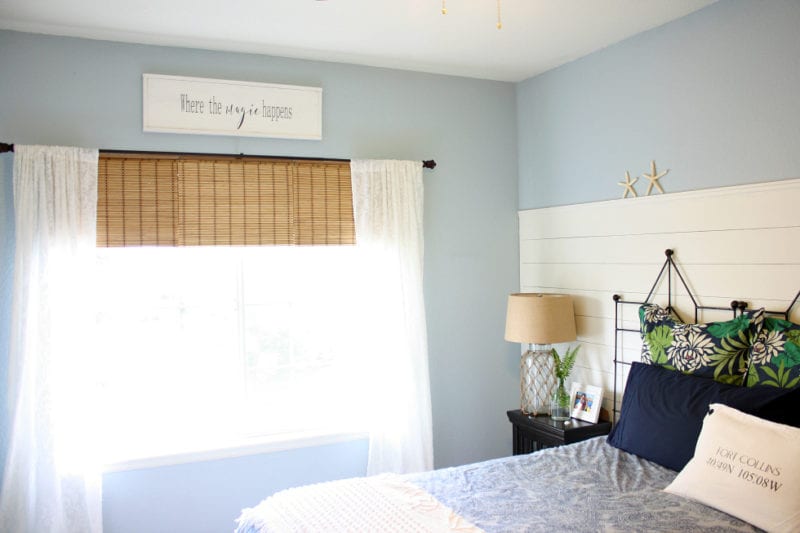 I love the instant coastal vibe that the bamboo shades provide and how well they contrast against the white shear curtains!
A Sign.
You might also notice the incredibly beautiful sign that now hangs over our window.  This sign was a gift from me to my husband on our 10th wedding anniversary this month!  It was made by my talented friend Melissa from My Trusted Treasures. (I have a thing for signs and she makes the best ones so check her out!) It showed up just in time and I couldn't resist putting it in our room.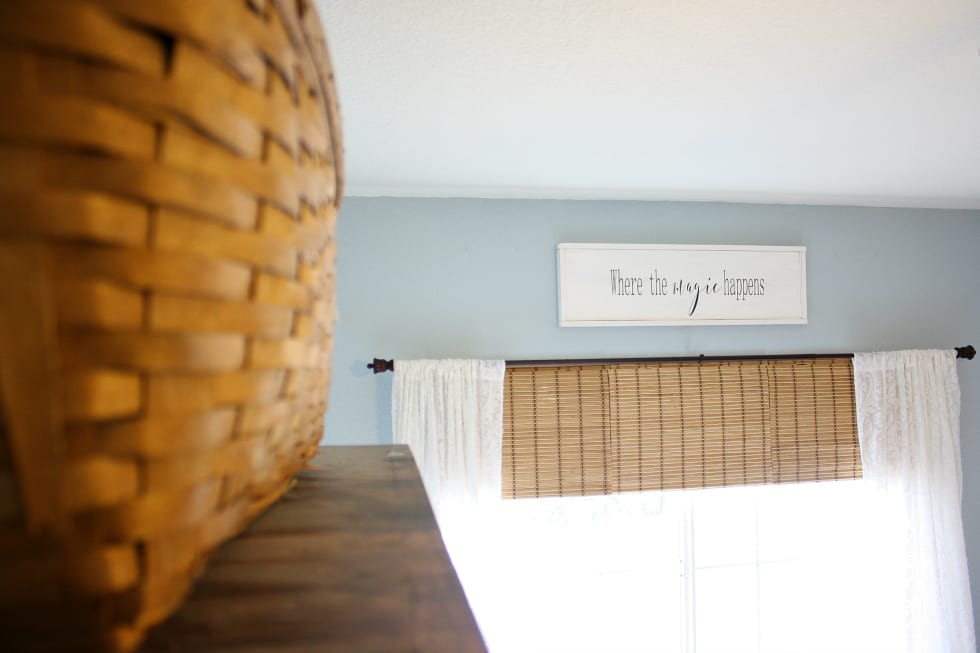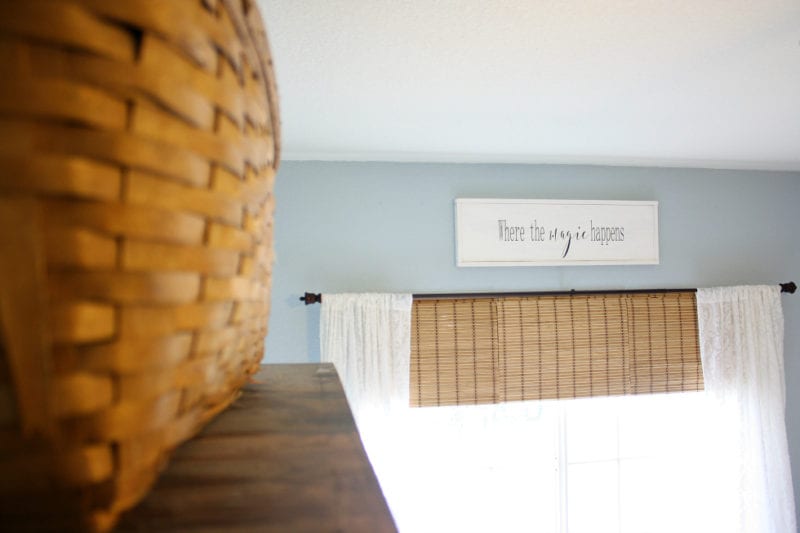 It is a double sided all white sign that is just like me…sweet and sassy! One side says "rise and shine and give God the glory",  while the second side says "this is where the magic happens"! Can you guess why I wanted it in our bedroom? 😉  I think I am so funny!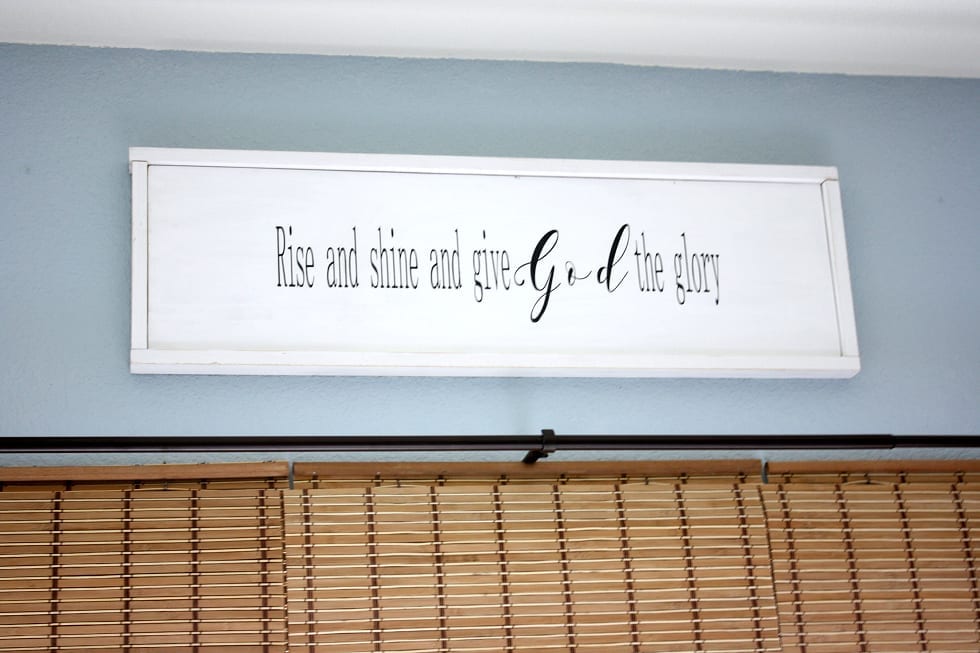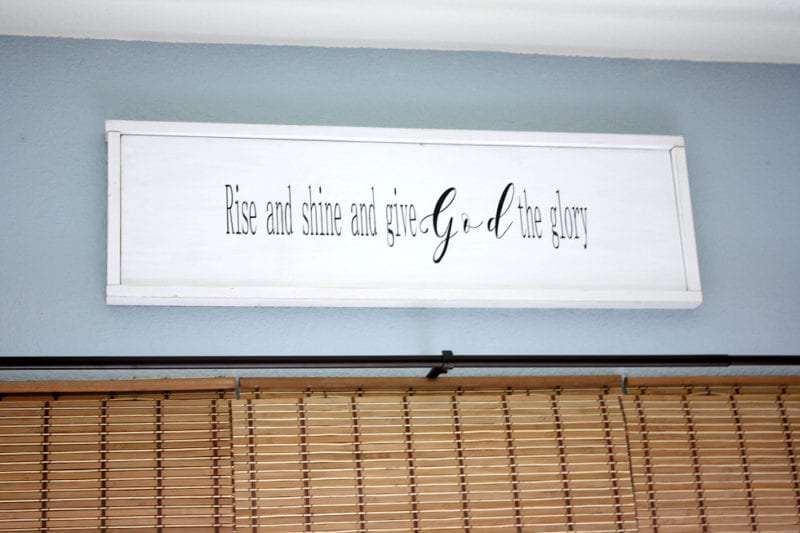 Needless to say he LOVED the surprise and if you follow me over on Instagram , you might have seen that I shared the video in my stories of him seeing it for the first time. It was awesome!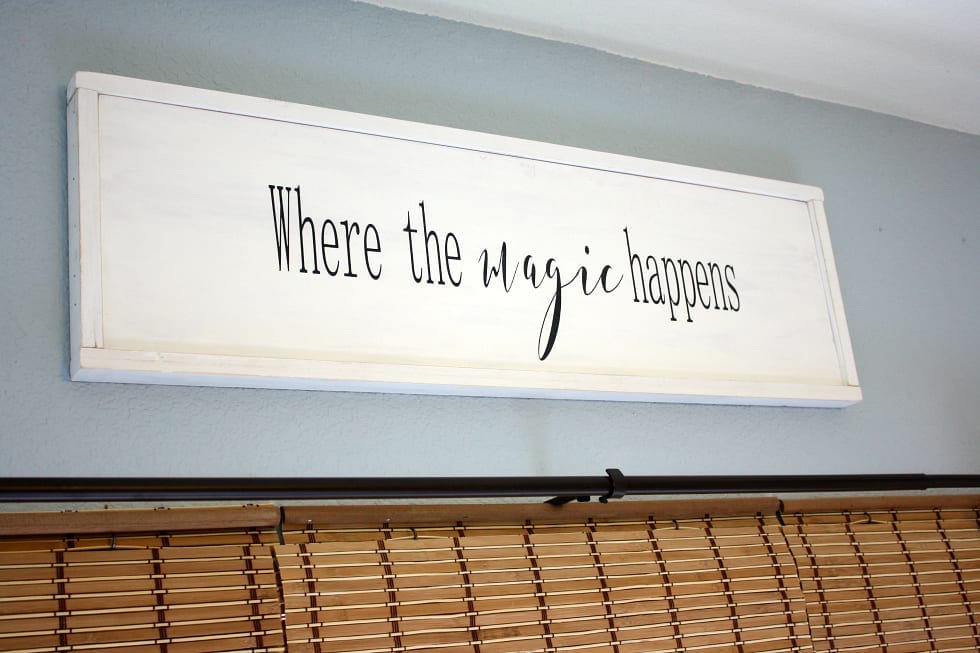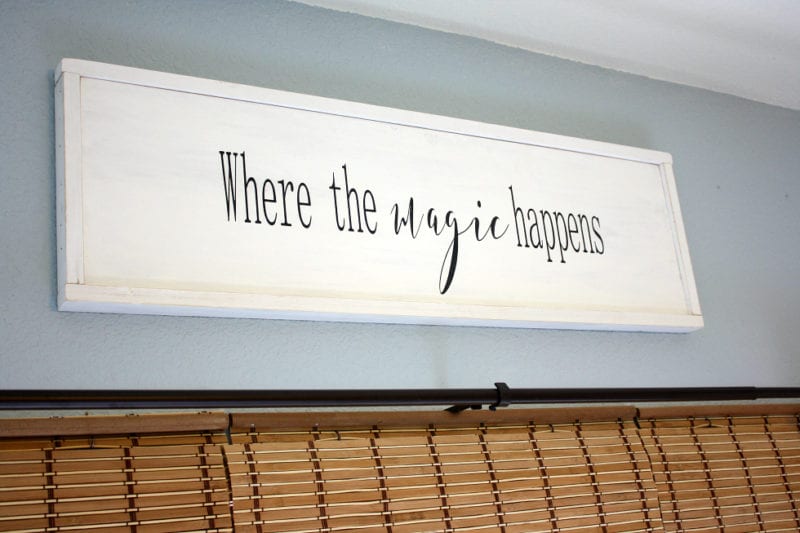 Hide the TV.
Then I moved on to hiding our TV inside our large armoire.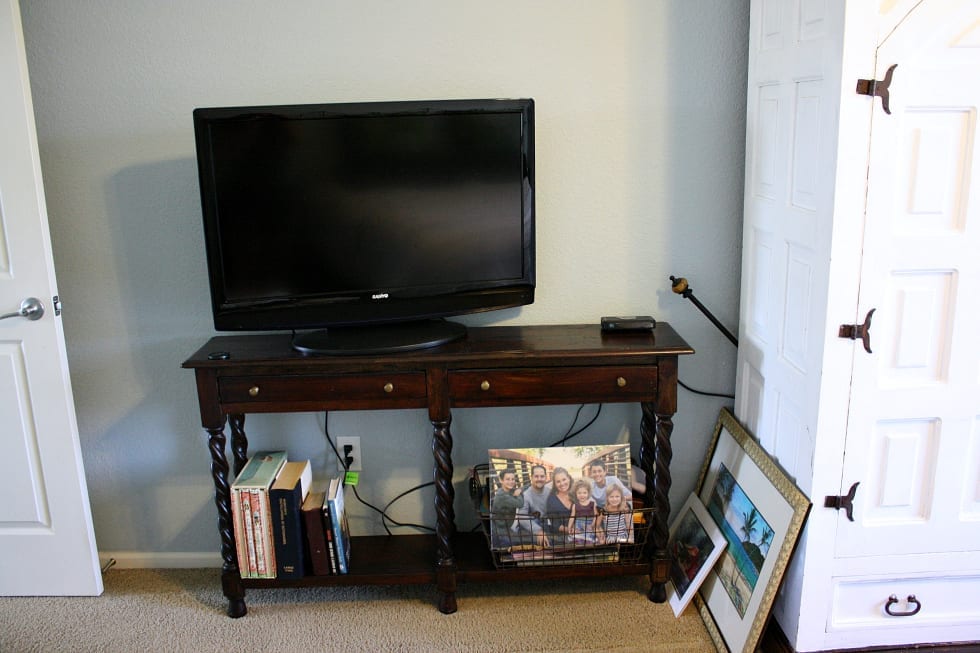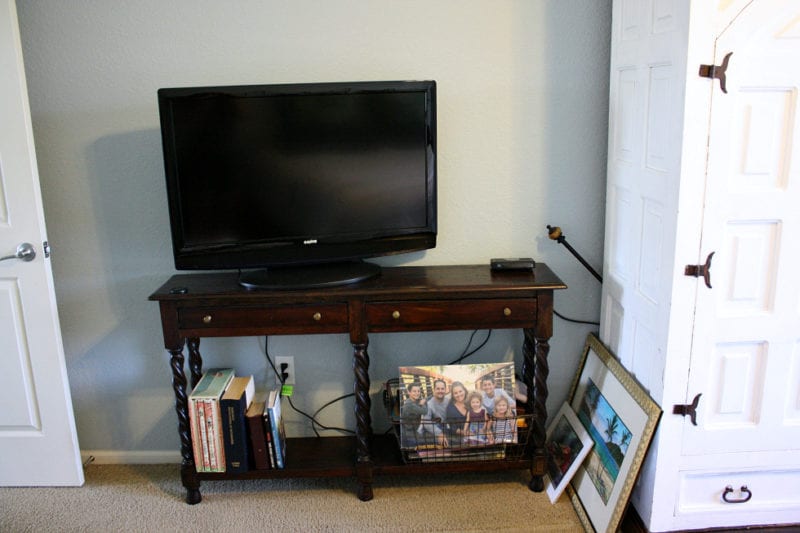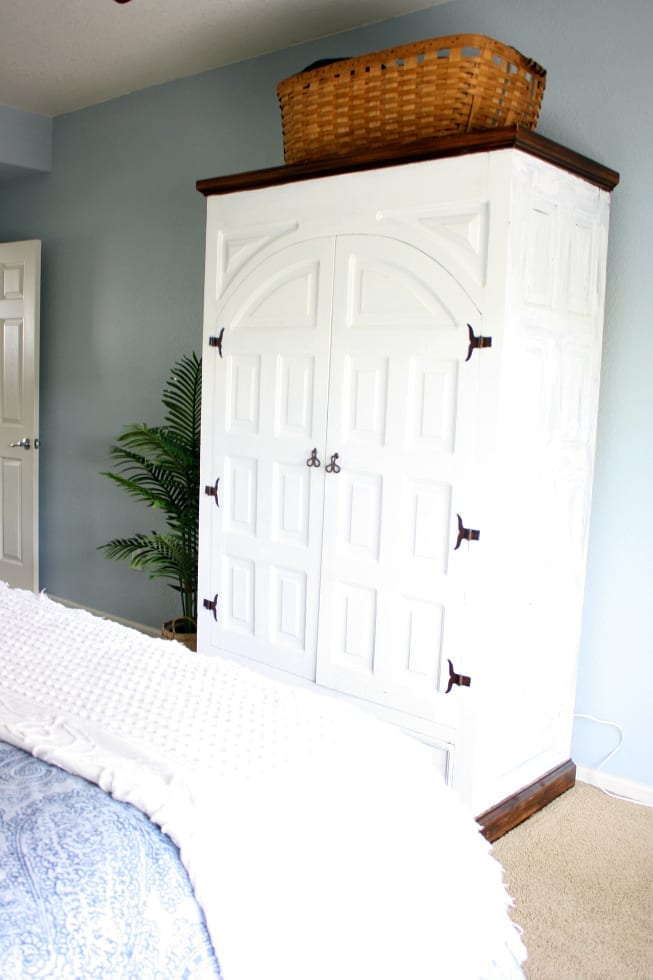 By placing the TV inside this armoire we were able to clean up and de-clutter a huge part of our room. My neighbor helped me drill a hole in the back of this cupboard for the TV cords. The TV fit perfectly!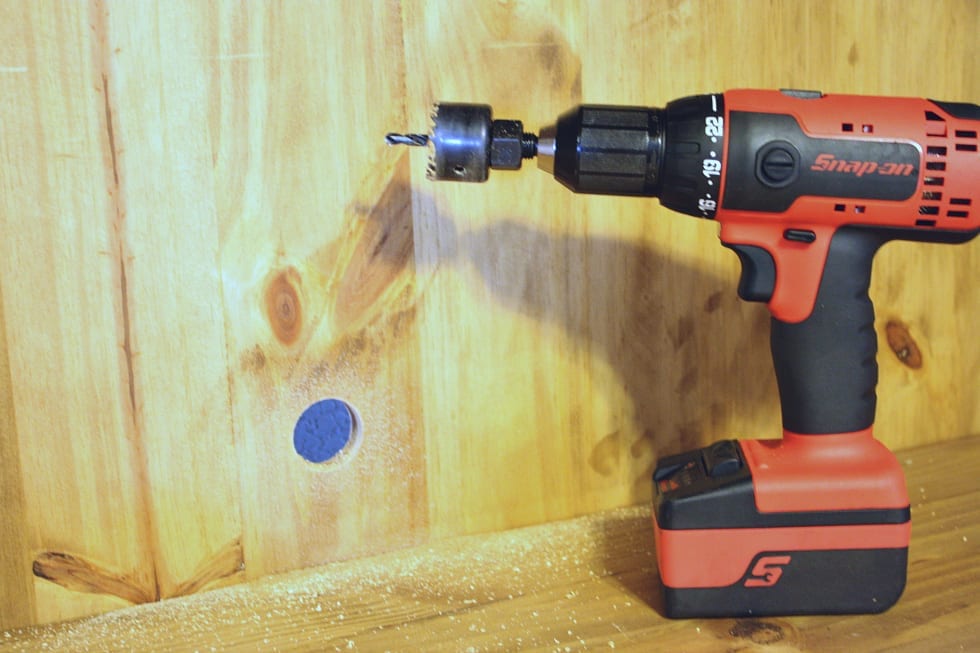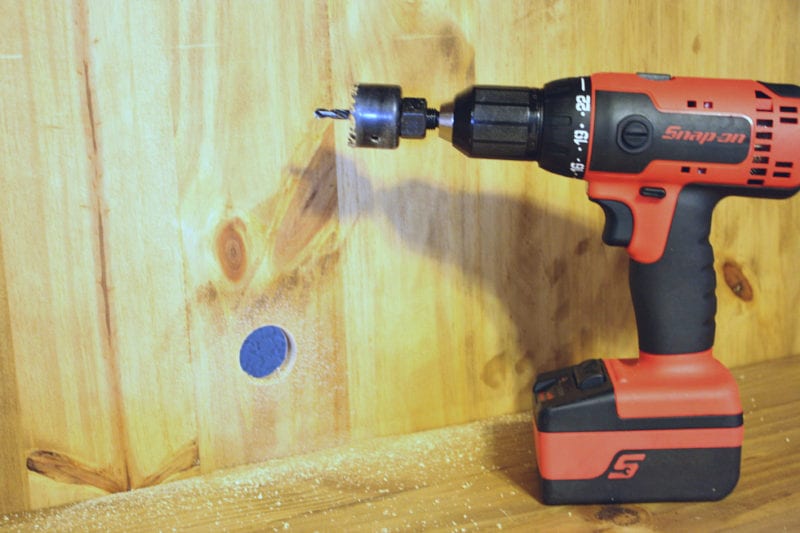 However, the two bottom shelves were a mess and this drives me crazy.  So my mom, sister and I came up with this darling curtain idea! My sister had the extra ticking stripe fabric and quickly sewed a pocket for a tension rod to slide through! Isn't it darling?  Thanks sister!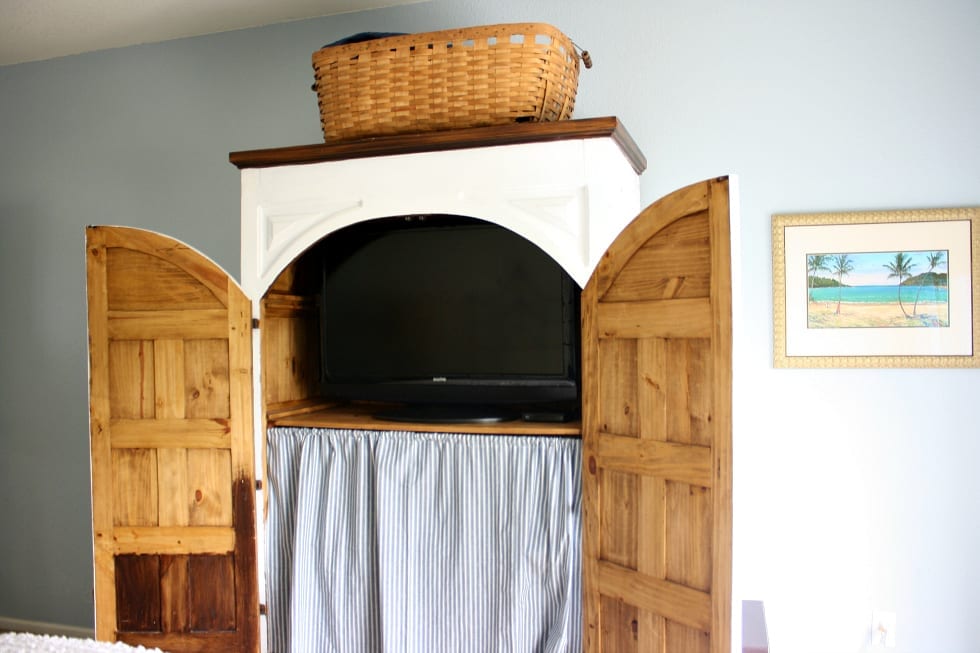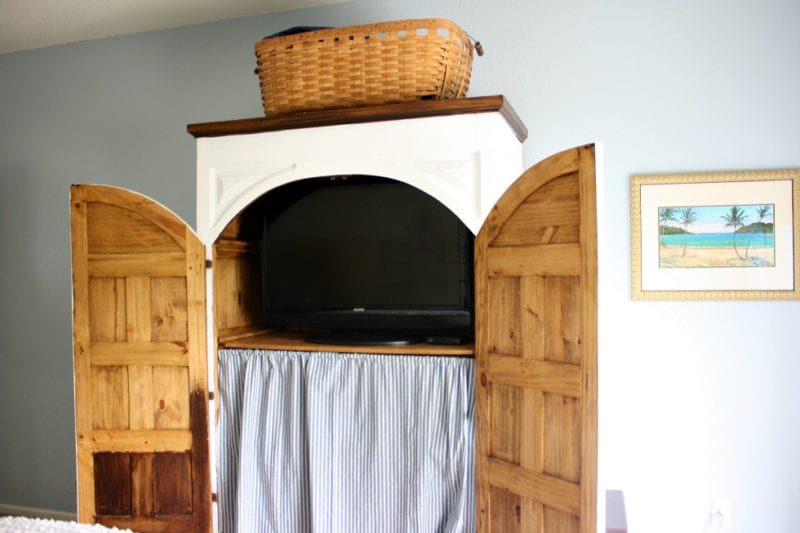 The tension rod ended up being my very last purchase! It was under $3. It was meant to be.  I love this look!
The Finishing Touches.
After the big projects were completed I was able to add the finishing touches.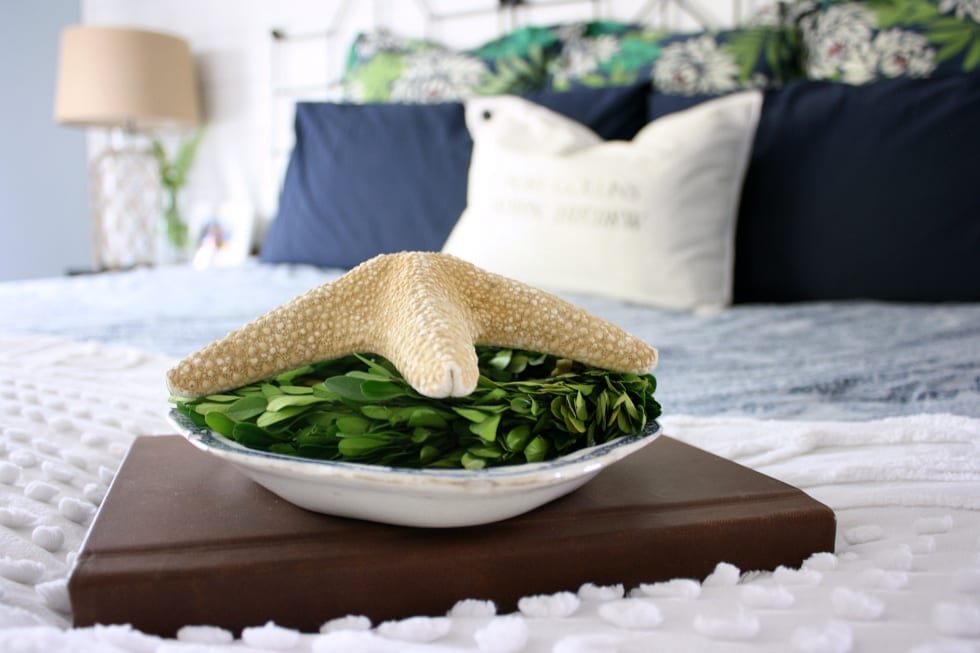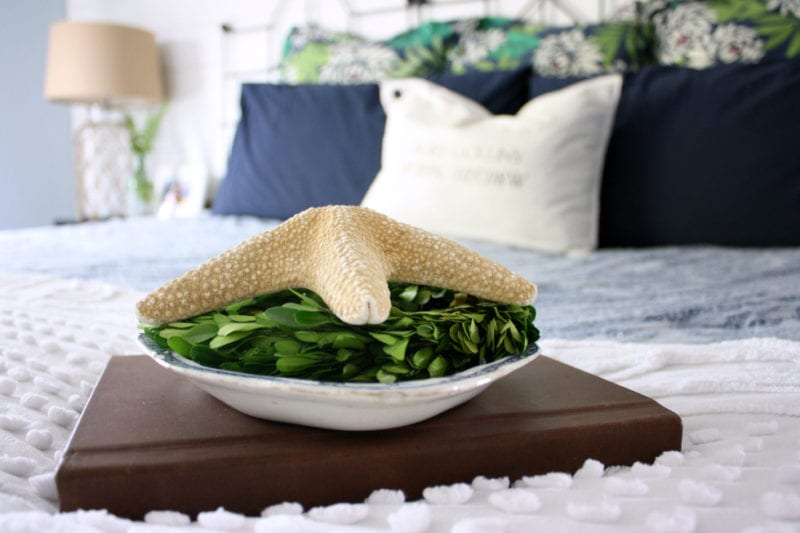 This white chenille quilt pops perfectly against the blue of our comforter.  Our comforter is double sided and I just flipped it over from the white striped side.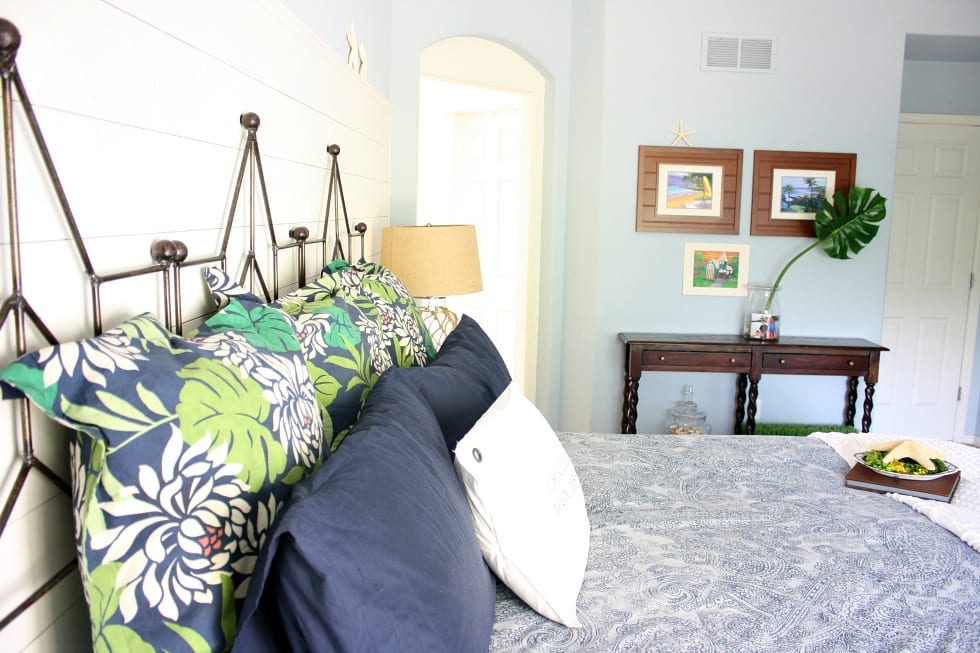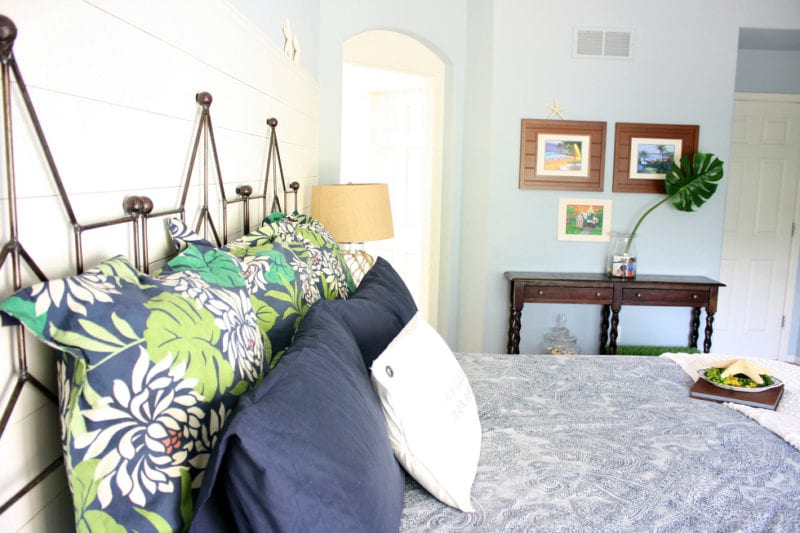 Remember this table?  Our TV use to be on it and now I have moved it to the far wall. It fits perfectly under our collection of prints that we have from our trips to Hawaii.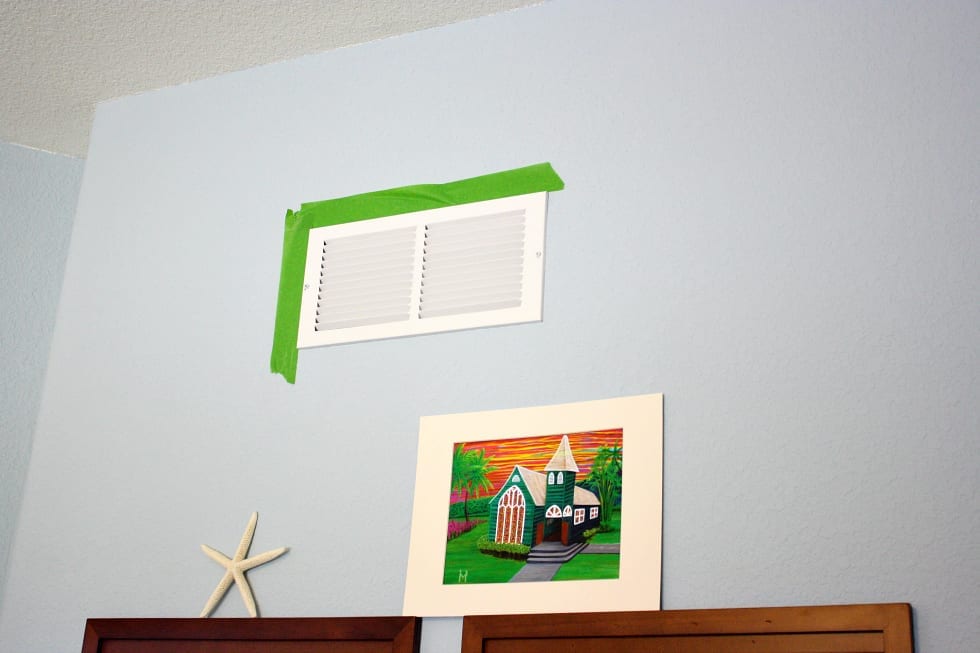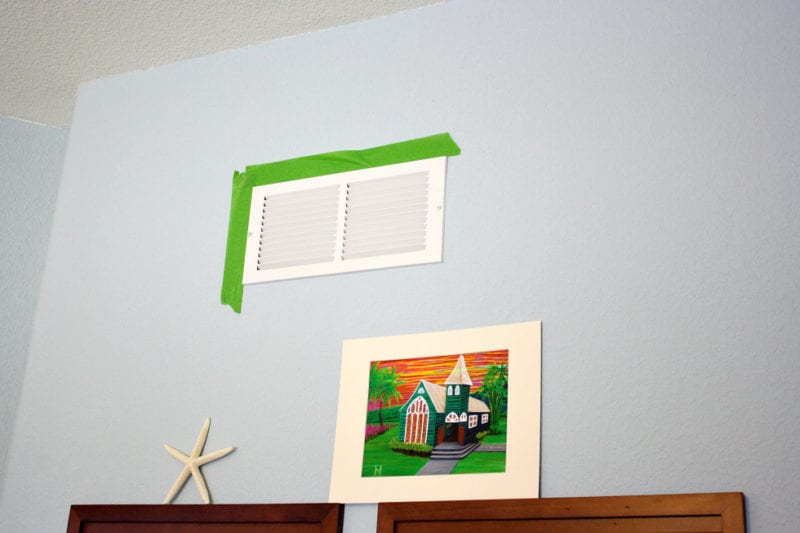 My mom had the brilliant idea of painting the ugly white vent on our wall to match the wall color.  It was the perfect touch!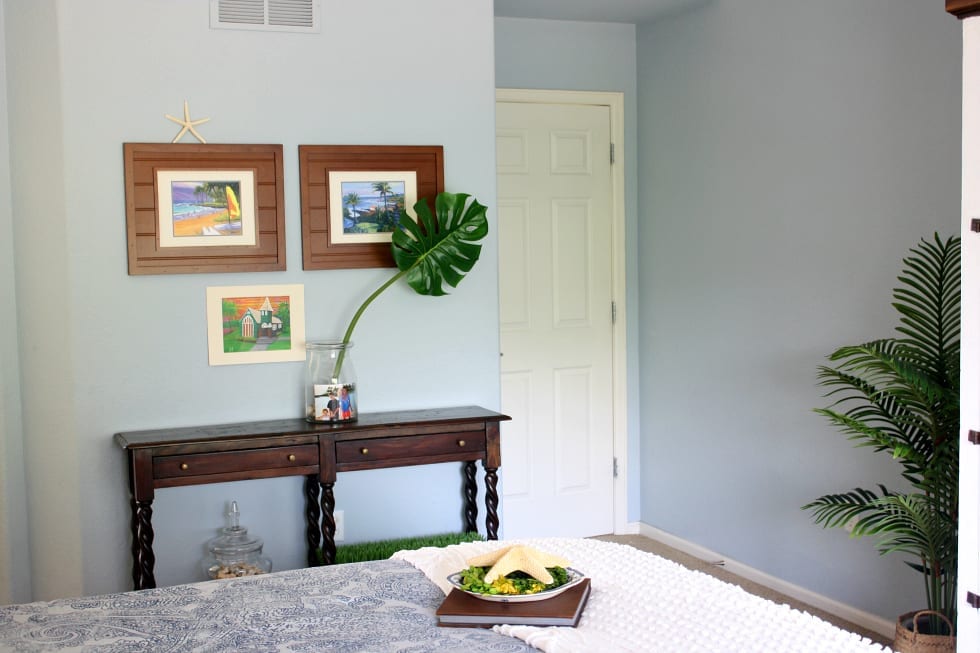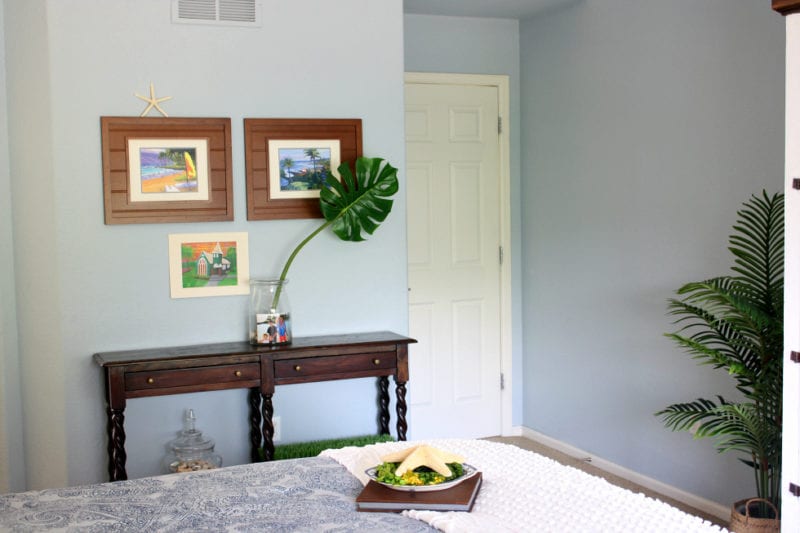 As you know I love shopping my own home for accessories.  Did you notice the faux palm here in the corner and the large palm frond?  If you saw my summer home tour last week I had them both downstairs but decided to move them to our bedroom.  I love them both in our room!  I also have displayed all of our special sea shells that we have collected on our many beach trips.  The starfish throughout the room was decoration inspiration from one of my favorite bloggers, Danielle over at Finding Silver Pennies.
I Did It!
I did it! I completed our master bedroom makeover for a mere $100! Actually, just under $100.  I love our room now and the coastal in Colorado vibe! It is the perfect spot to relax.  I stuck to my favorite colors; blue, green, white and wood tones!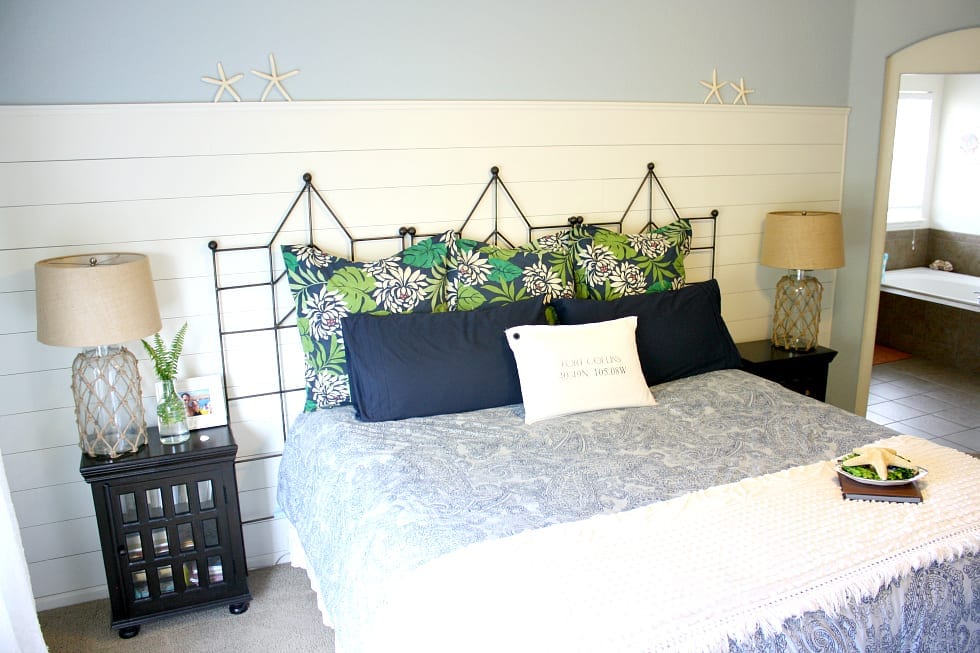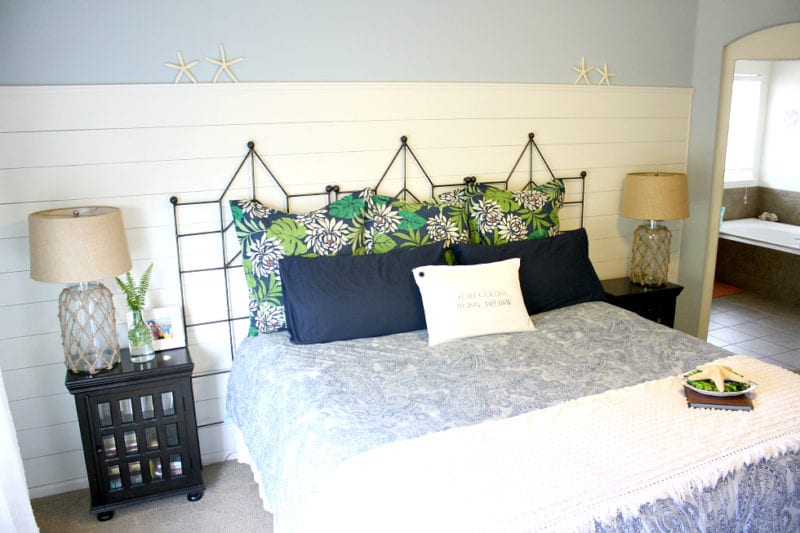 During week one I wasn't so sure this dream was even possible!  I proved myself wrong and now I am brainstorming what room to makeover next!
The Budget.
This is what I spent…
Plywood board 2 x $15 = $30
1/2 Plywood Board 1 at  $7.50
Trim for the top 2 x $7 = $14
Trim for the sides 2 x $3 = $6
Bed Skirt $15
Paint/Tools- I already had! (Thank goodness)
Bamboo Shades from Big Lots 3 x $8 = $24
Tension Rod from Walmart $2.43
Fabric free from my sister
Accessories ,like plants and shells, from my home! Free
Total = $98.93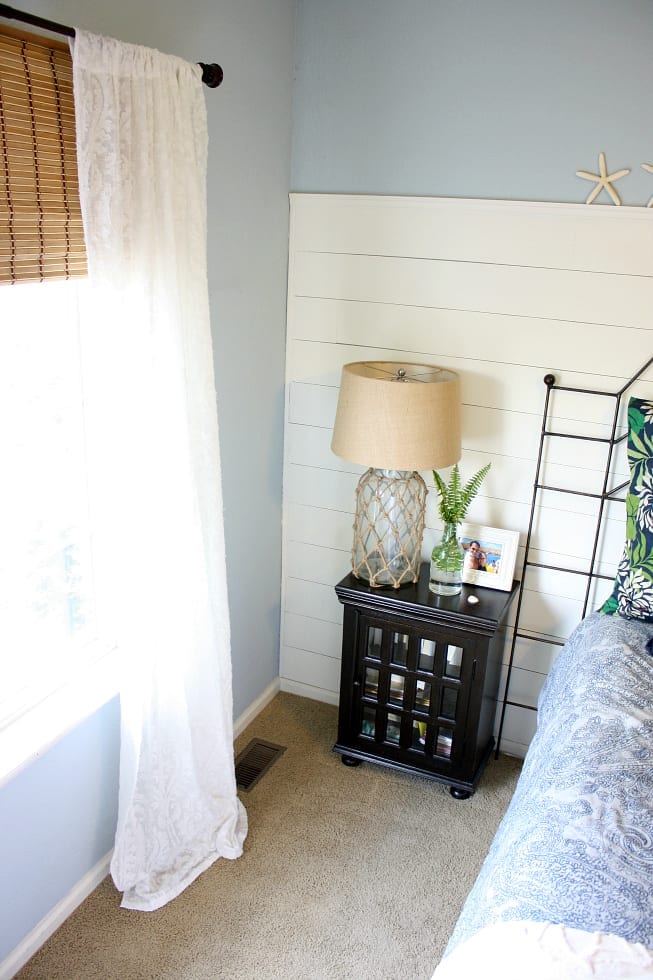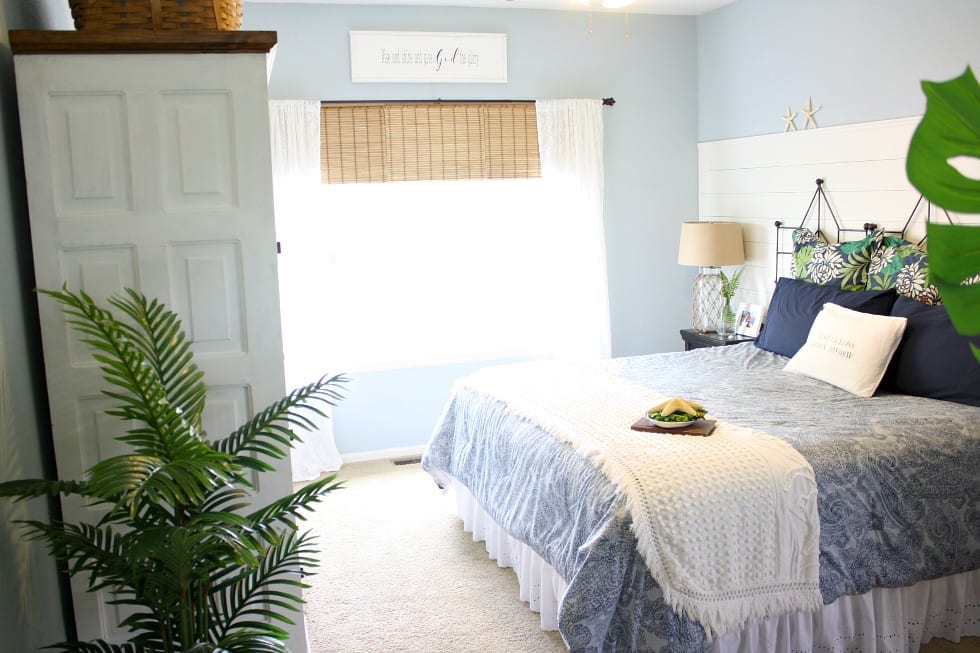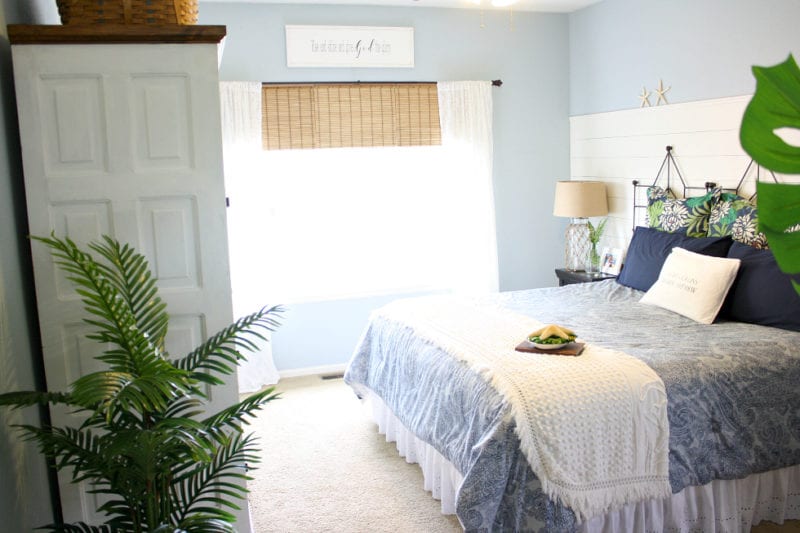 Under Budget.
So what do you think? Did I inspire you and give you hope that a makeover is possible for under $100?  I sure hope so. I would love for you to let me know your favorite part in the comments below.
Also, don't forget to check out the other bloggers linked below as they share their reveals too! A huge thank you to Erin over at Lemons Lavender and Laundry  for hosting this awesome challenge!
xoxo,
Kelly
/Week 1 / Week 2 / Week 3 / Week 4 /