15 of the Best Kitchen Ideas for 2023
Are you looking for ways to spruce up your kitchen in the new year? Whether you're a budget-conscious home decorator, a woman who loves to stay on trend, or just someone wanting to give their beloved kitchen an update, I have 15 of the best kitchen ideas for 2023 that are sure to make your space both stylish and functional. From cozy and rustic setups with vintage touches, to modern designs featuring sleek materials – and everything in between – let me help inspire you to create a beautiful kitchen perfect for your lifestyle.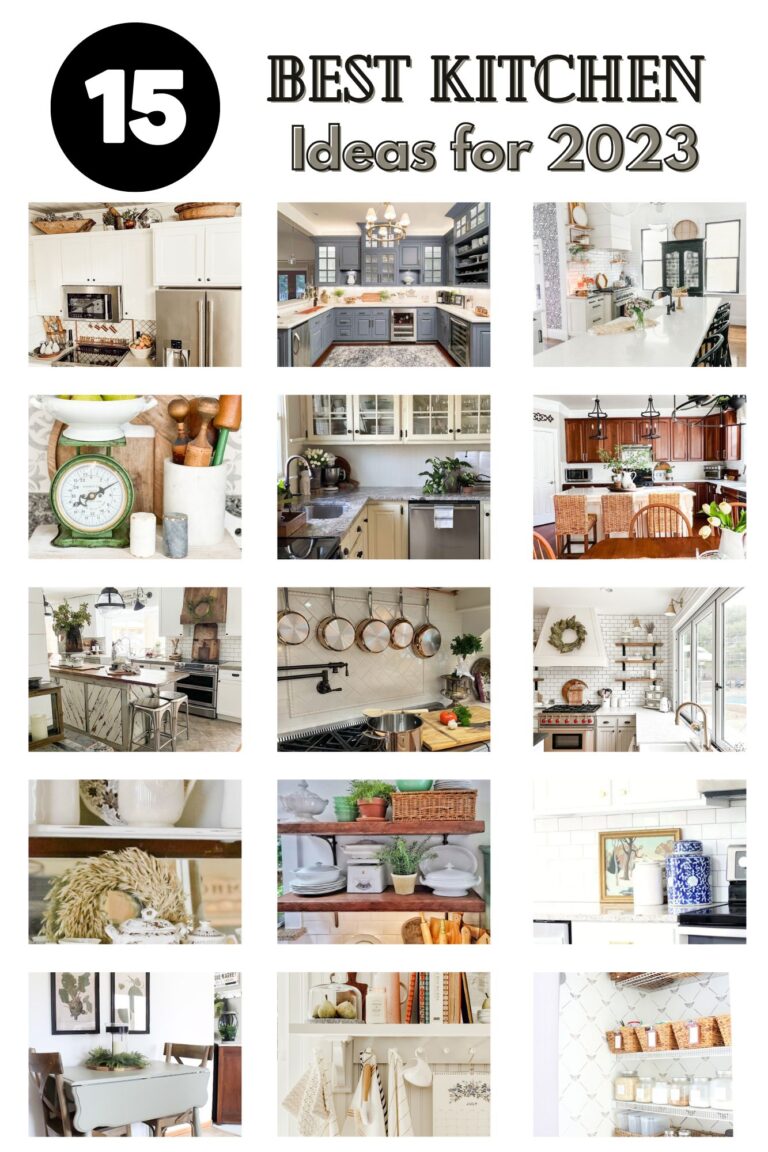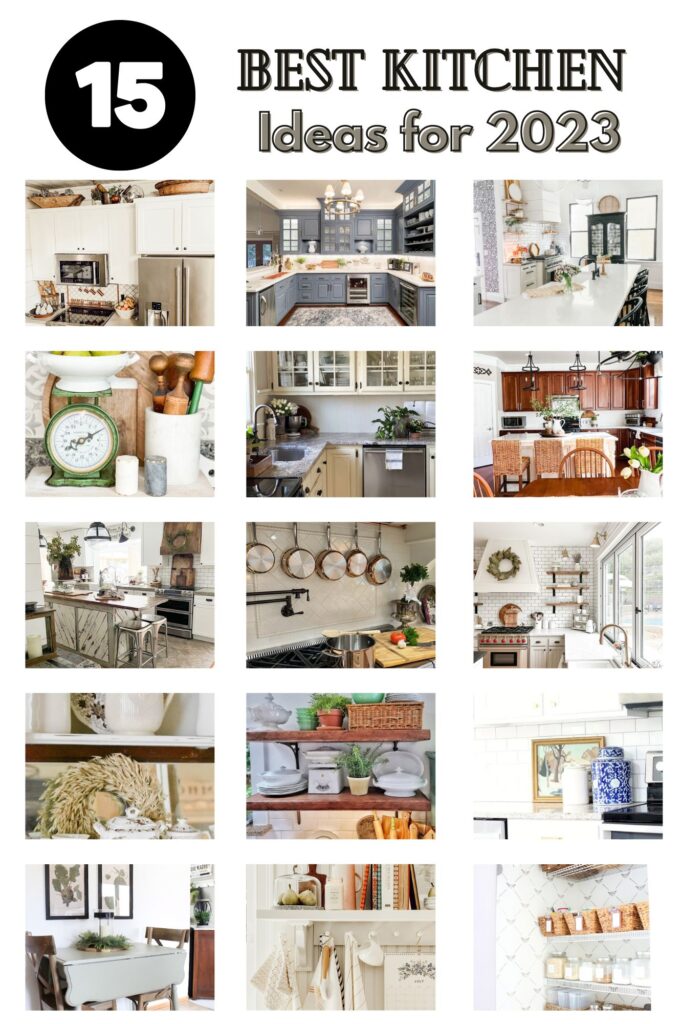 *As an Amazon Associate, I earn from qualifying purchases. This post contains other affiliate links too for your convenience. Click here to read my full disclosure policy.
15 of the Best Kitchen Ideas for 2023
One of my most favorite parts of our former home and current home is the kitchen! So when my friend Rachel from The Ponds Farmhouse asked me to join in on her Kitchen round up I was so excited! Get ready friends because in today's post I will be sharing 15 of the best kitchen ideas for 2023. Plus, one bonus idea as well!
Now scroll down and check out all of the wonderful kitchen inspiration we have rounded up for you today. I can hardly wait to see what posts and kitchen ideas you love!
Looking for ideas on how to decorate above kitchen cabinets with a modern farmhouse style? Rachel from The Ponds Farmhouse shares tips for creative decorating using collectibles and more.
Her modern farmhouse style will leave you inspired along with her flair for finding fun items and giving them new life!
Who says a kitchen with cherry cabinets can't look modern? Anne and AnnMarie from Simply2Moms have clever ideas on how to update your kitchen with wood cabinets without painting them!
I wish I would have seen this post years ago because our previous cabinets were the exact same. So many fabulous tips in their post.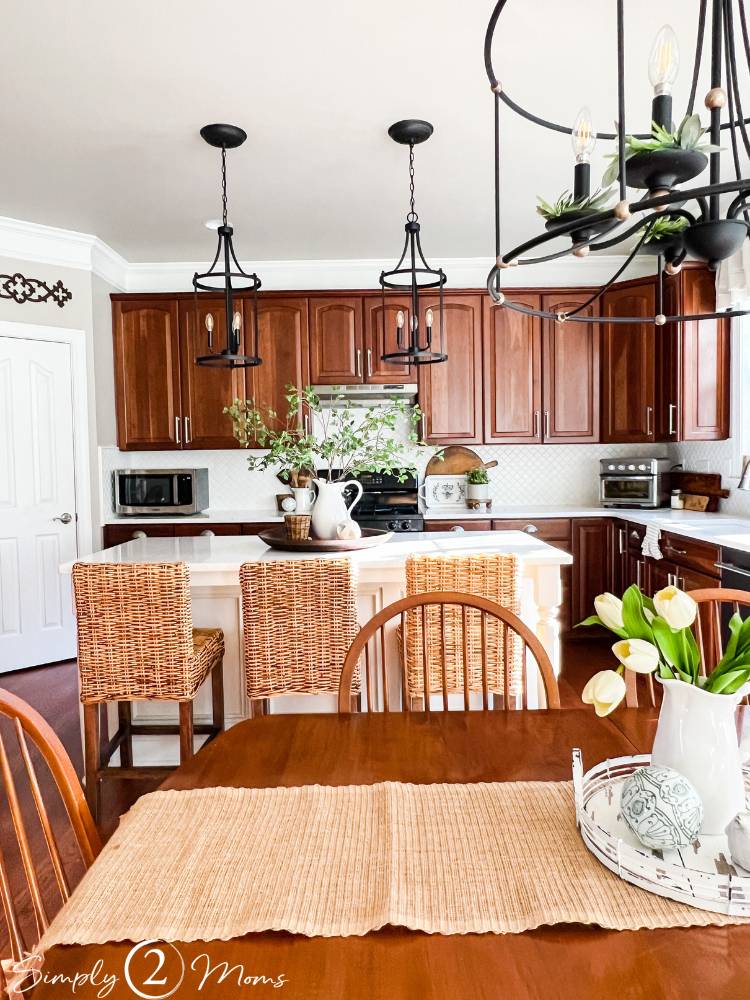 Do you have a butlers pantry you are looking to update? Wendy from WM Design House shows you just how to do it with a few DIY projects on a budget!
Learn how to lay a beadboard backsplash over your existing tile, paint your cabinets and pour epoxy countertops. Walk away ready to tackle your next kitchen project on your own.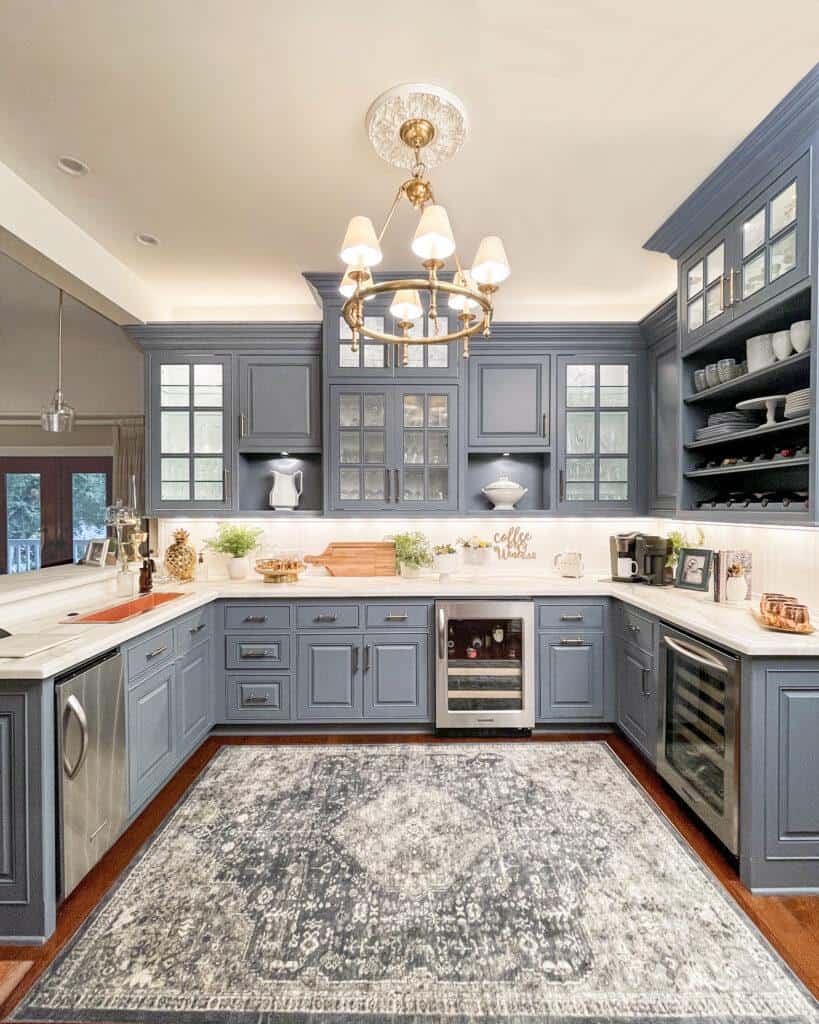 Looking to update your kitchen on a budget? Learn how to paint wood cabinets with chalk paint with my good friend Stacy from Bricks 'n Blooms.
It's a budget-friendly remodel that is easy to do and totally worth the effort! She walks you through all the steps. A tutorial that you will want to save!
Do you sometimes struggle with what to leave out on your kitchen countertops decor wise? It is tricky to decorate kitchen countertops in inviting ways without having them feel cluttered.
Follow these simple tips from Robyn of Robyn's French Nest on how to make kitchen counter and kitchen island decorating a breeze!
Looking to upgrade your kitchen in a fun and functional way? Open shelves are a controversial kitchen addition but one feature you often see in many homes these days.
This post gives you all the reasons you should install them in your kitchen. And Pasha from Pasha is Home shows you just how stunning they truly can be!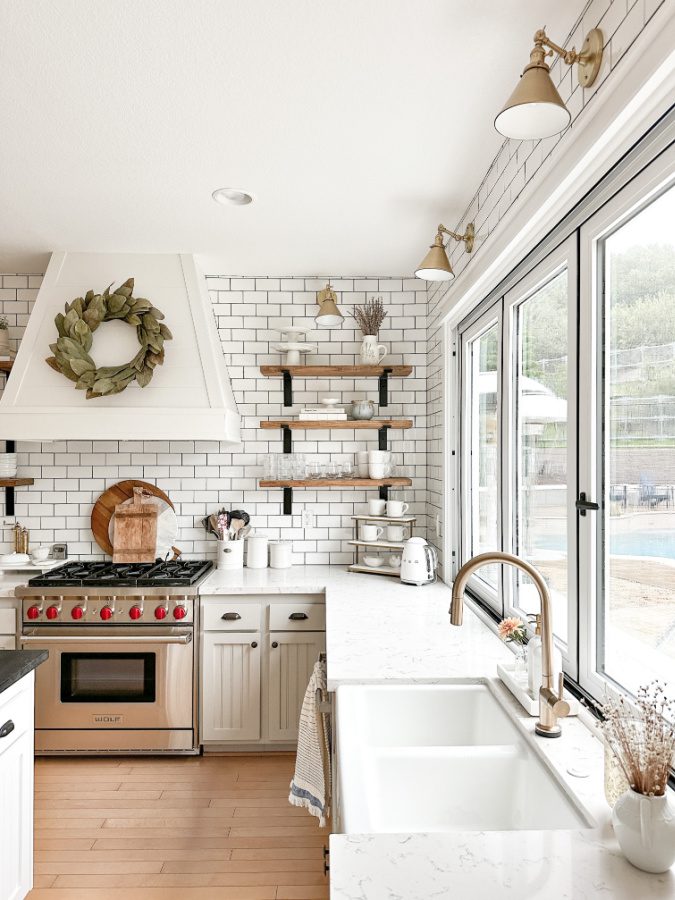 Do you have an outdated table that could use some TLC? Jen from the beautiful blog Midwest Life and Style shows you how easy it is to give your kitchen table an affordable makeover with just a bit of mistake paint.
This easy tutorial gives you the confidence you need to try paining furniture in your kitchen for a simple way to update a space.
Do you have trouble styling your china cabinet or kitchen hutch? I found this incredible post from Michele of Vintage Home Design and she shares some easy step by step ideas on how to decorate you hutch with layers that add uniqueness and interest.
Her styling is top notch and her home is beyond gorgeous. A must see!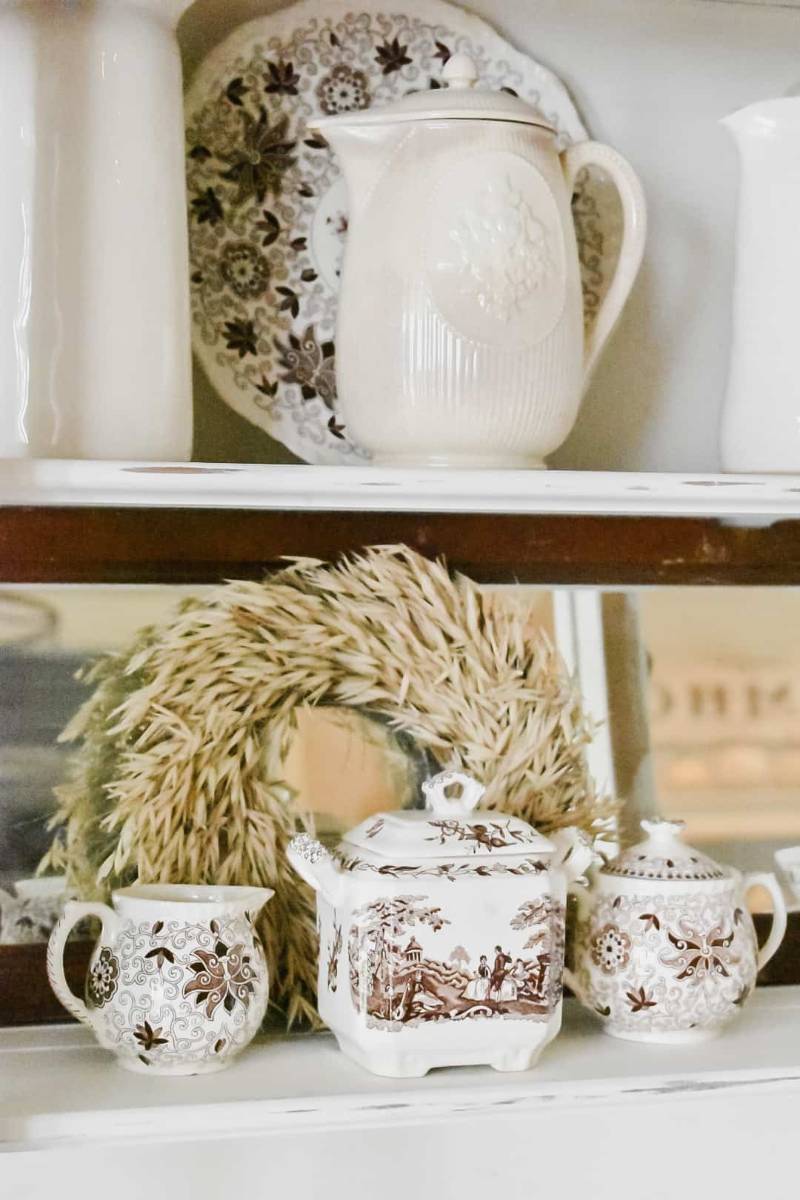 Jen from the blog tatertots & jello shares everything you need to know about updating your 90's kitchen. Her before and after pictures are unreal and will give you hope that you too can create the kitchen of your dreams.
She walks you through all of the details, budget saving tips she used and trust me, you will love her colorful touches!
Have you considered transforming your kitchen into more of a relaxed and cozy space? Kim from the blog Shiplap and Shells will show you 10 simple ways to create a charming cottage-style kitchen. You will find your self stopping at each picture and soaking up all of her treasures and the ways she displays them.
A lovely kitchen and an overall lovely home and garden. One of my favorites! The view from her kitchen are what dreams are made of!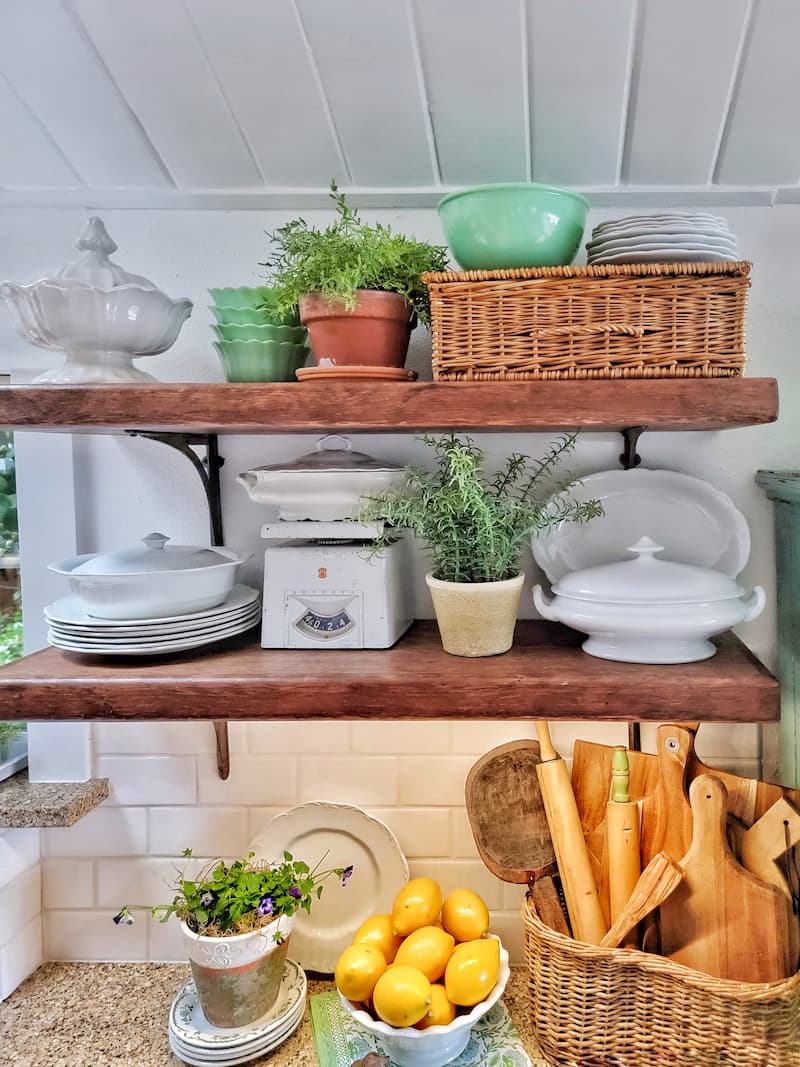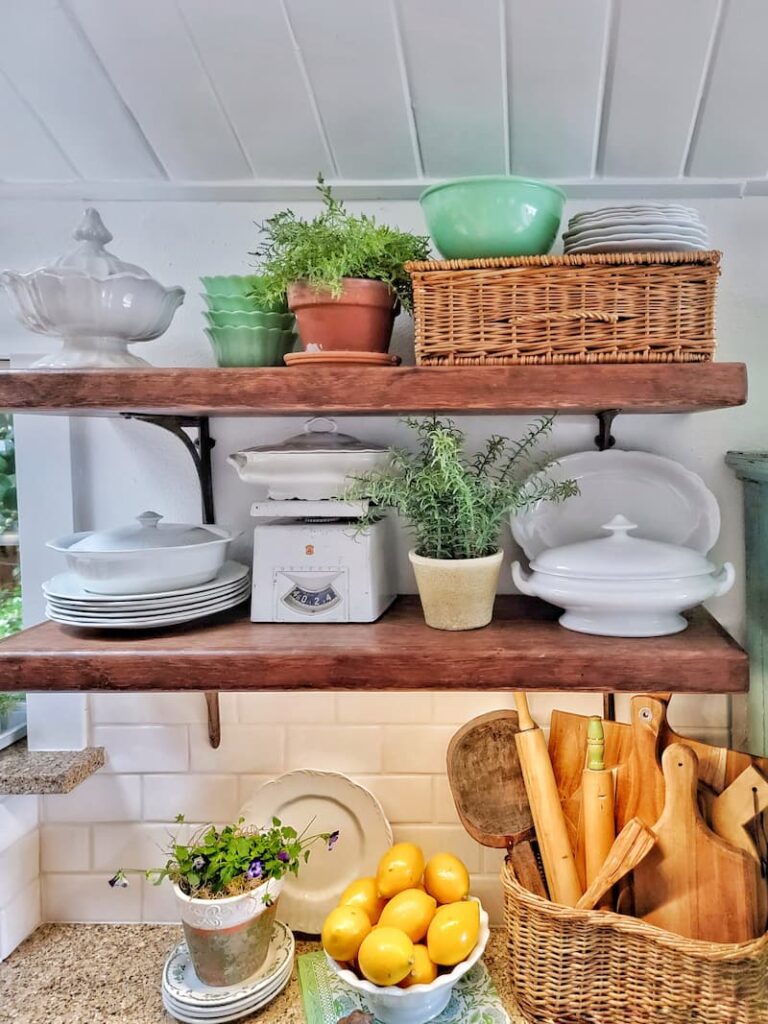 Are open shelves on your kitchen wish list but you are nervous about how to style them? Check out these 8 simple, universal tips & tricks for styling open kitchen shelving that can be applied to any shelf, in any room, regardless of personal style.
Heidi of Eleanor Rose Home breaks down her strategy and keeps it simple so you too can feel like a shelve styling pro! A post that I have saved and referenced often myself.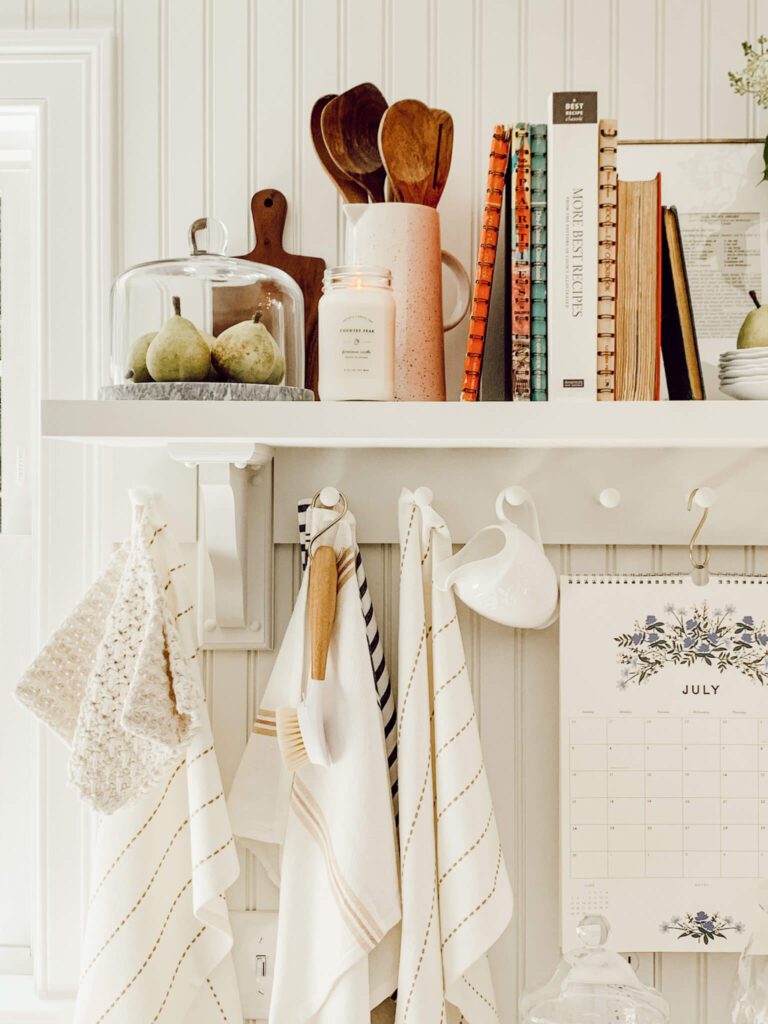 As we transition into spring, do you struggle with how to style your kitchen counters? These counter styling tips are too good to miss.
You can have beautifully styled kitchen counters without a lot of fuss or clutter. Let Tammy from the blog White Lilac Farmhouse show you her ways to bring in spring accents to easily beautify your kitchen.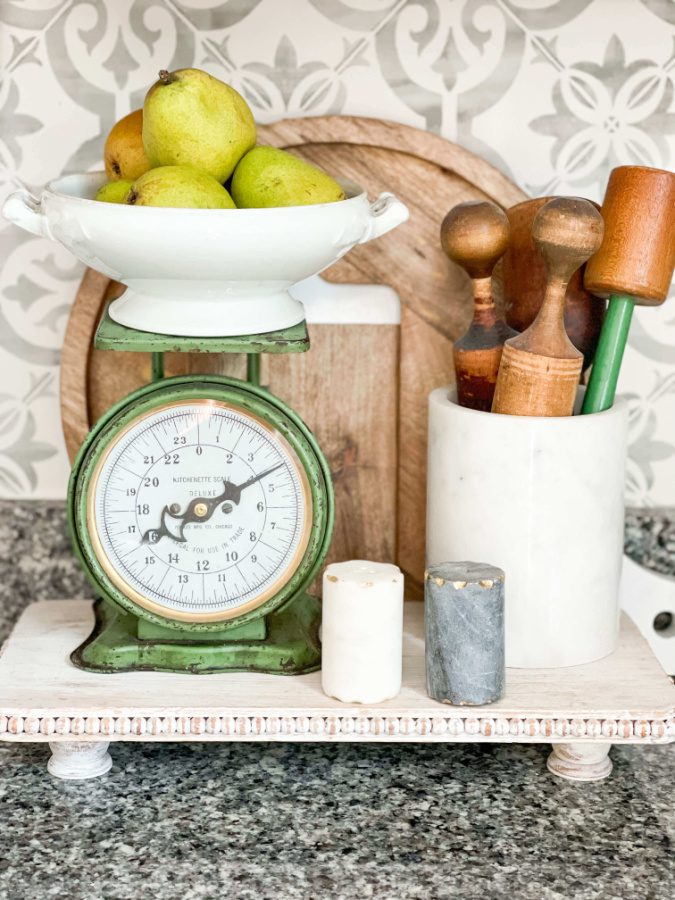 If you love that beautiful European style look then you will adore this DIY copper pot rack. Follow along as Renae from Peacock Ridge Farm show you how to make an elegant pot rack from copper pipe. See her full step by step instructions!
Her lovely tutorial will give you the confidence you need to make this kitchen addition a reality.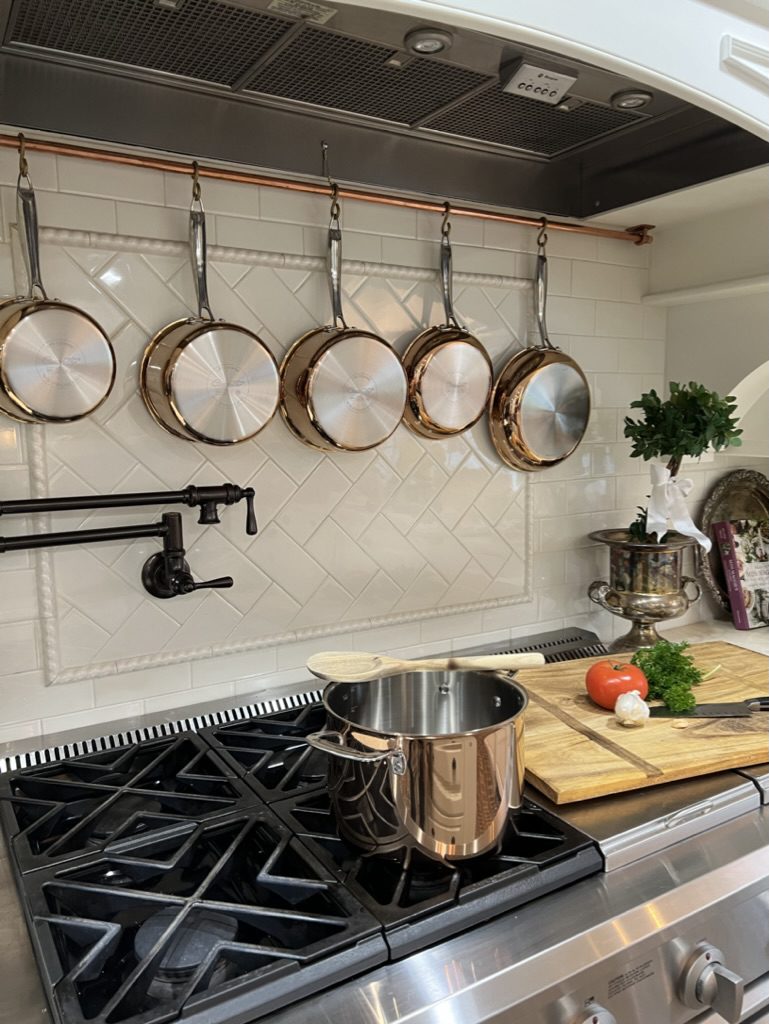 Do you have a kitchen pantry that needs some help or organizing? CoCo from The Crowned Goat shares some simple tips and tricks on how to keep your pantry and refrigerator neat and tidy all year long.
She share before and after pictures that help you feel like your own pantry is not too far gone. She even provides sources and tips that are easy to apply right away. A great post if you are in the mood to organize a space in your kitchen and make it more functional.
This final post I have for you today is our former kitchen! In our previous home we opted to refinish our cherry wood cabinets and it was the BEST decision we ever made. So if you are thinking about redoing your kitchen cabinets then my post is a must read on why refinishing kitchen cabinets is a good idea! I talk about why I opted to hire this out rather than do it myself.
Stop by and let me know what you think!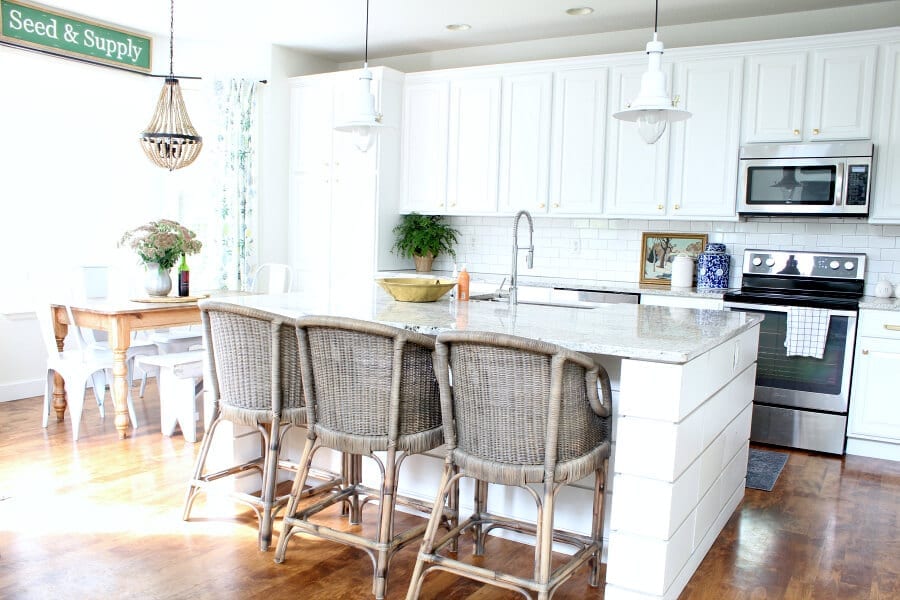 If you are looking for an easy and budget friendly way to update your kitchen I highly recommend you looking at changing out the lighting. With the help of my mom we were able to change out our kitchen island pendants. Updating your lighting is quick, simple and easily done quickly. It also offers immediate gratification for very little effort. Let me know if you have any questions after you read my post.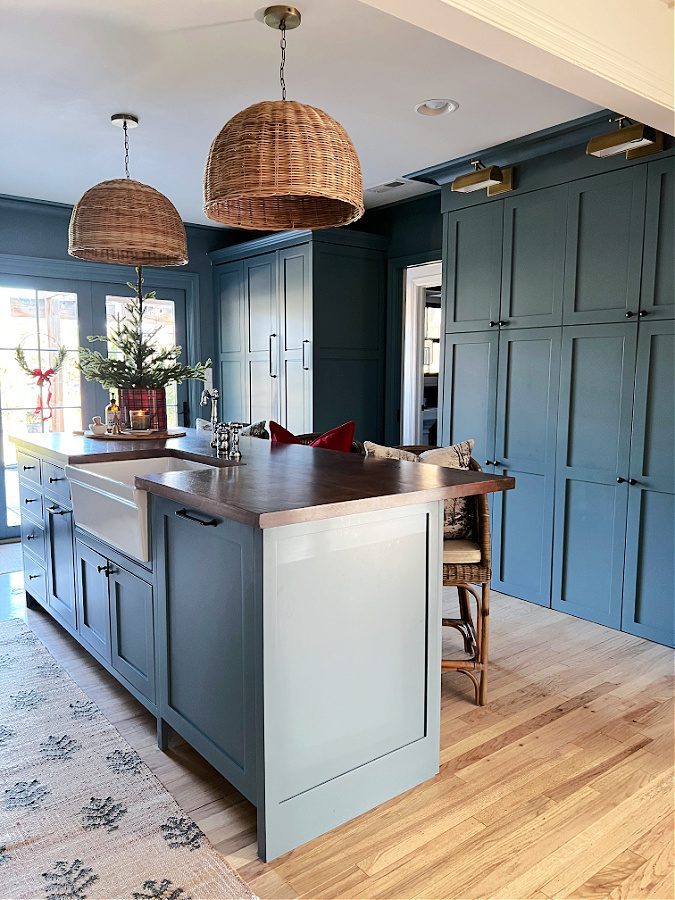 15 of the Best Kitchen Ideas for 2023
You have just seen 15 of the best kitchen ideas for 2023 (plus one bonus option) – from refinishing your cabinets to updating and decorating your kitchen. We hope that this article has helped you explore new ways to make your kitchen truly yours, full of life and personality. Whether you are inspired by chalk painted cabinets or pantry ideas, now is the time to make a change. With these kitchen ideas in hand, we are sure that you'll be able to find exactly what you were looking for!
And when all is said and done, don't forget to celebrate the beautiful work that you've already finished with family and friends. So, which of these top 15 kitchen ideas inspired you the most? I can't wait to see how stunning your kitchen looks this upcoming season!
I'd love to have you hang out with me some more! Feel free to follow along with me on any of the platforms linked below.
LTK | Facebook | Instagram | Pinterest | Amazon
xoxo,
Kelly
Did you like this post? PIN it for later!