Plaids, Presents and Our Christmas Tree
Looking for some classic Christmas inspiration? Come check out how I used plaids, presents and our Christmas tree to bring that homey Christmas feel to our family room!
Plaids, Presents and Our Christmas Tree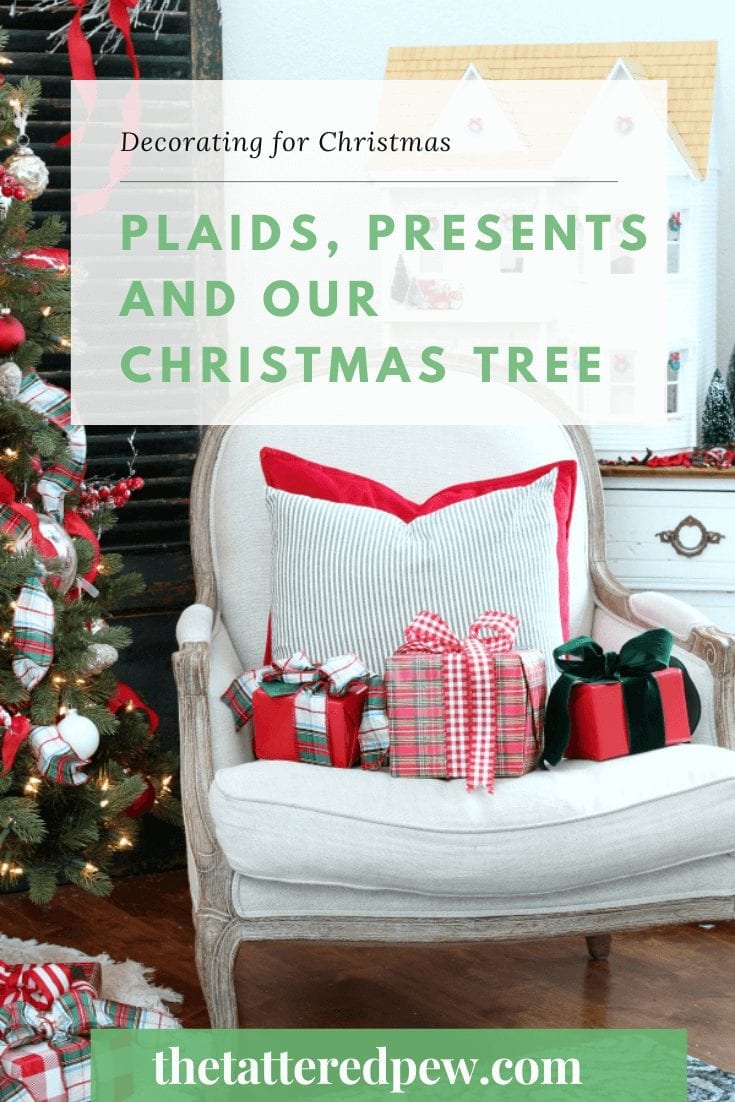 Today I have a huge treat for you! If you love Christmas and Christmas trees as much as me then today's post will be just what you are looking for. I have teamed up with 17 other bloggers for A Christmas Tree Blog Hop hosted by Stacy Ling of Bricks N Blooms. You can find all of the links for the other posts at the end of mine. So many gorgeous Christmas tree ideas to inspire you!
Our Christmas Tree
Earlier this week I shared our Christmas home tour and I gave a little sneak peek of our Christmas tree this year. I have been so excited to share the whole thing with you and today is finally the day. Hopefully you all will enjoy it as much as we are.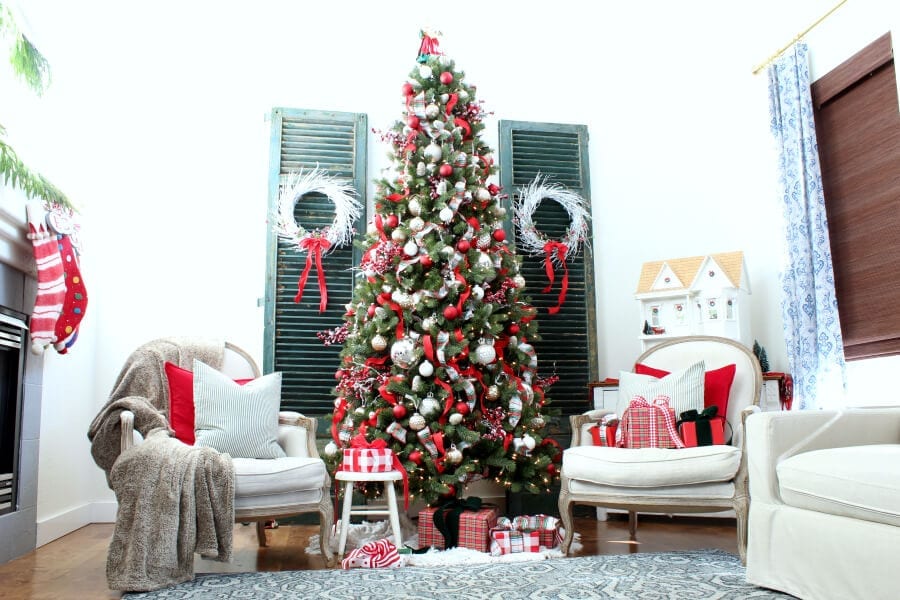 Our Christmas tree is from Balsalm Hill and I think it's 9ft tall. Don't tell my blogging friends but I can't remember the name of our tree because we have had it for so long. But I do know it has been an amazing tree and that we scored it on one of their amazing 50% off sales. I love that it's pre-lit and the branches look so real. And doesn't it look perfect in between my vintage green shutters?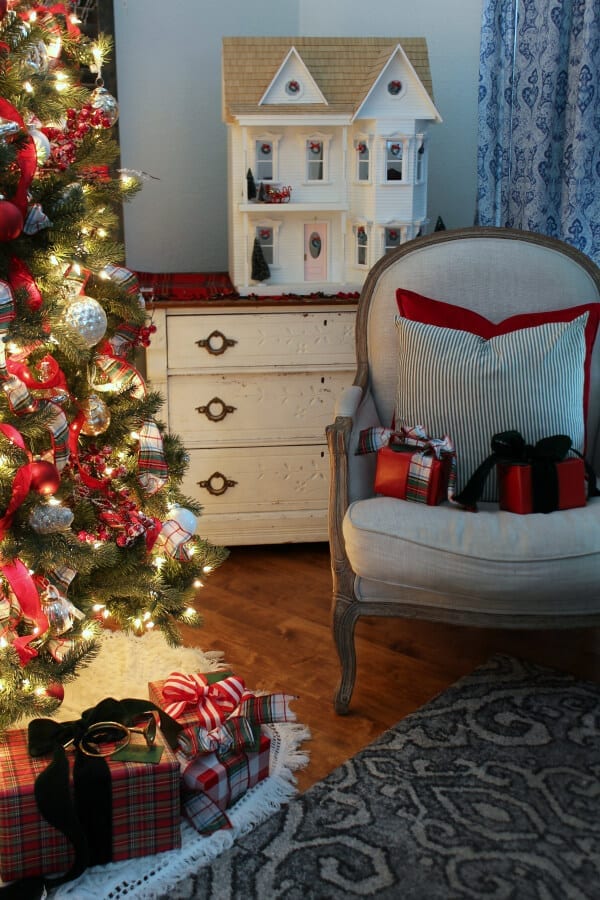 I love our tree so much that sometimes I just walk in our family room and stare at the tree. Does anybody else do this? Please tell me I'm not alone. Especially in the early mornings or the evenings when the light in the room is dim the twinkle lights give off a magical glow.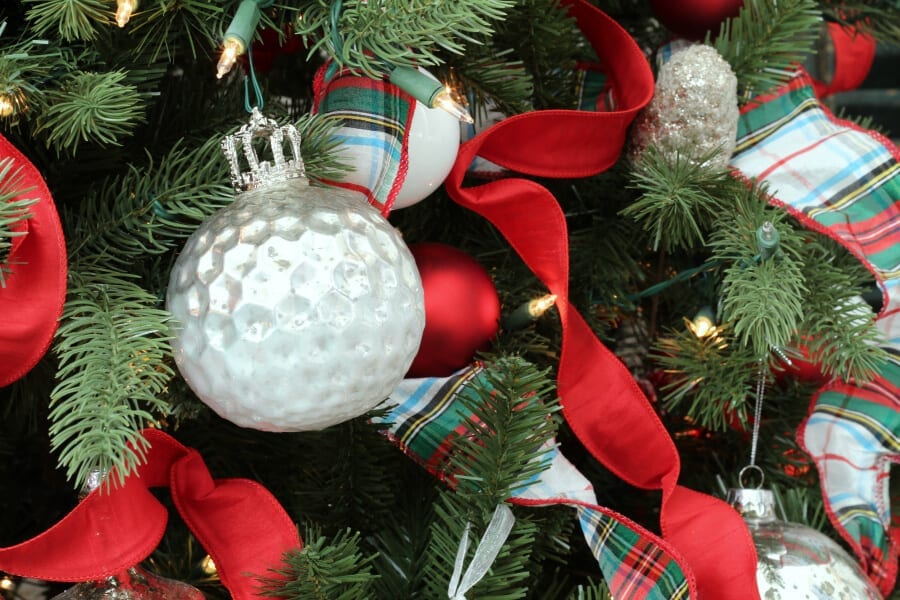 Decorating Our Tree
Can I tell you a secret? I had no idea how I was going to decorate our tree this year until I got out all of our tree decorations. I just went with how I was feeling and how the rest of the house was decorated. I know some people do their tree first but I usually do mine last. And sometimes it takes me a few days to complete. I like to step away and then come back.

Each year I like to do a similar feel, except for the year I went blue, and I haven't done that again because my husband likes the more classic colors. Honestly, I do too but I think it's fun to mix it up every once in awhile. This year I re-used the same plaid ribbon that I used on our tree last year. I loved it so much and when I saw it in my Christmas tubs I knew I wanted to use it again and I knew I wanted to pull out the red in it. So I bought some gorgeous red ribbon off of Amazon and went ribbon crazy!
Tip: When selecting ribbon for your tree make sure it is wire edged ribbon and wide. This wire allows the ribbon to hold it shape and allows you to weave it in and out of the branches.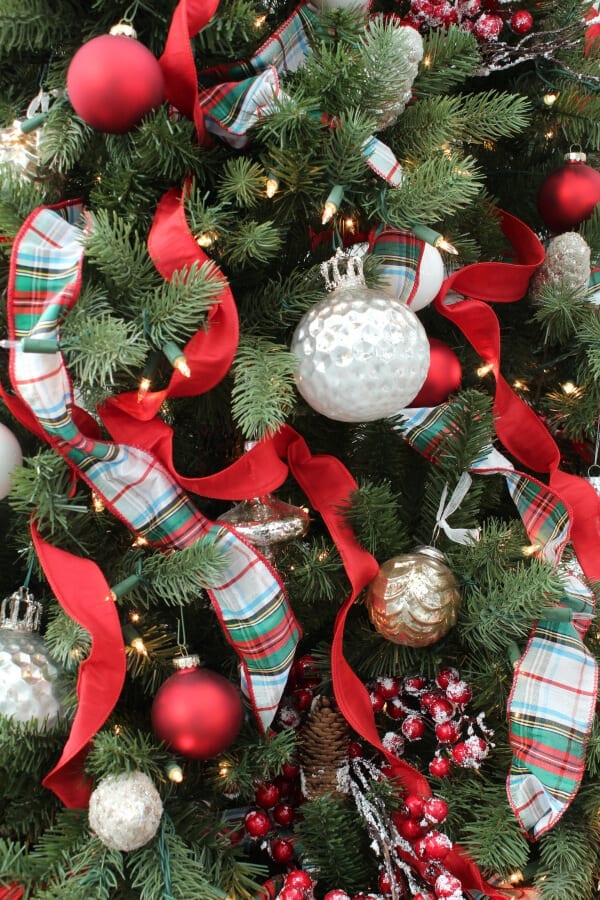 The Ornaments
The red and white ornaments are from last year too but instead of using the white pinecones I normally use, I decided to leave those off and only add mercury glass ornaments. I scored the large and small ones at after Christmas sales at Home Goods and local shops. It's my favorite way to add new Christmas decor at an affordable price. The angel tree topper my parents found for us a few years ago. I had been searching for one like my grandmother use to use on her tree! This one is perfect.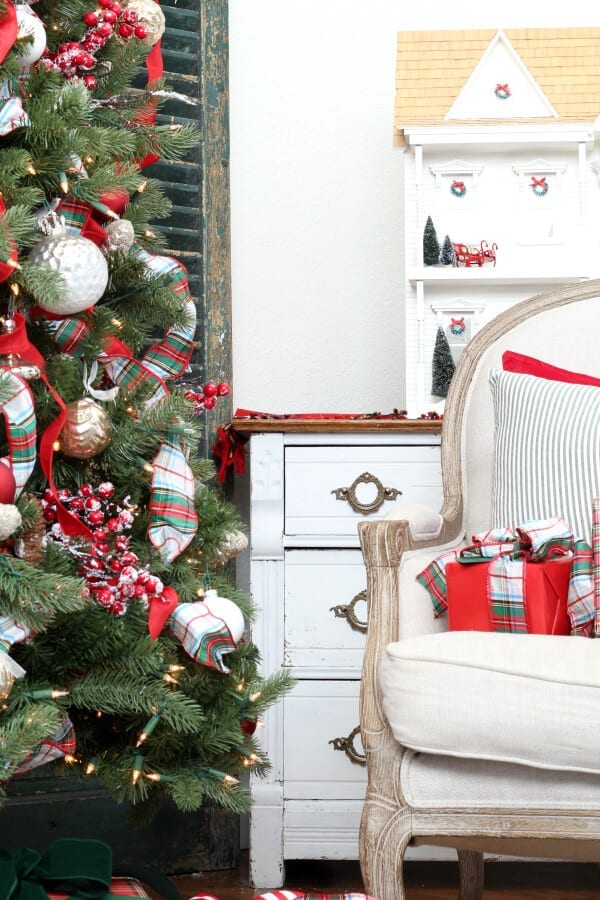 Also new this year are the large red berry picks covered in snow and little brown pinecones . I bought them at Hobby Lobby when they were 50% off! Our Christmas decor has a lot of red berries this year so I thought it would be fun to add them to the tree too!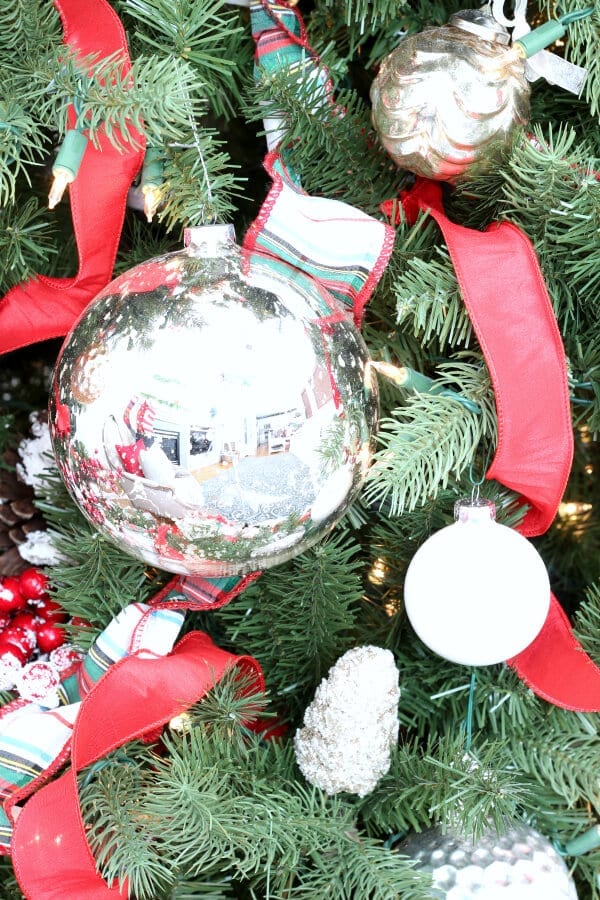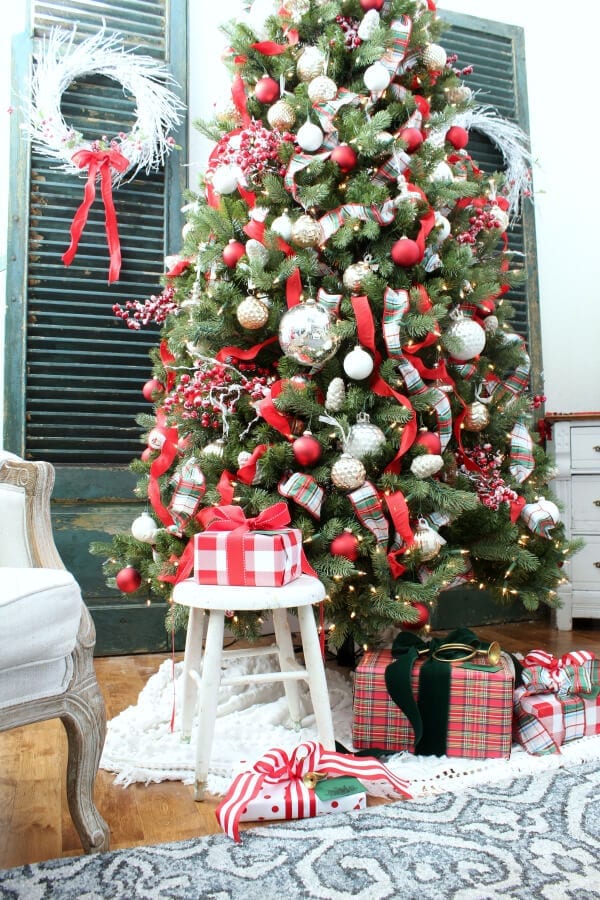 Presents and Plaids
Not only did I use plaid in the ribbon on our tree but I used it for our wrapping paper too.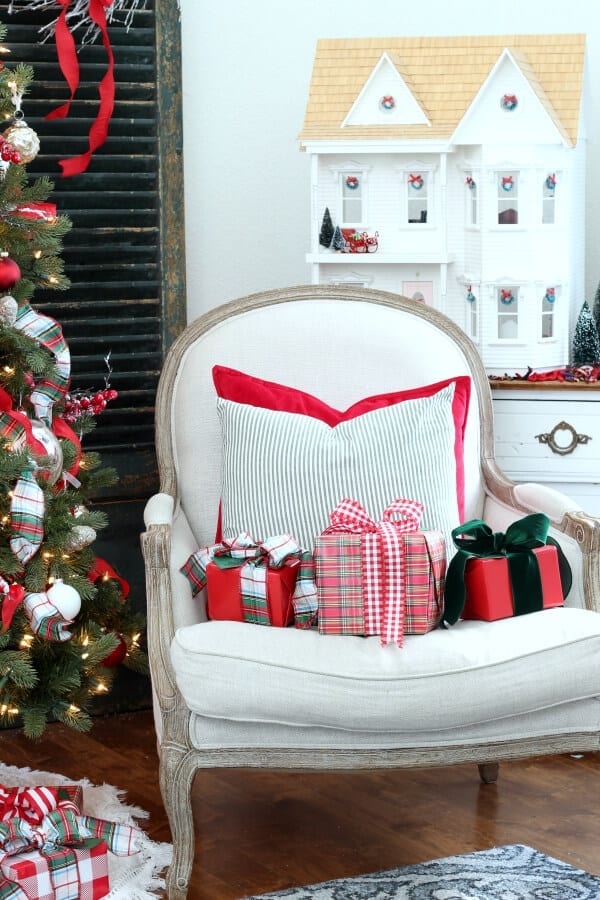 I have to give credit to my mom for bringing over her ribbon and wrapping paper stash to share with me. And guess what, I'll let you in on another secret. These are the same pictures you saw in my printers cabinet over on our home tour this past week. I just brought them under the tree for pictures because they were so darn cute! My kids keep asking if they are real presents or fake ones. Ha! They know me so well!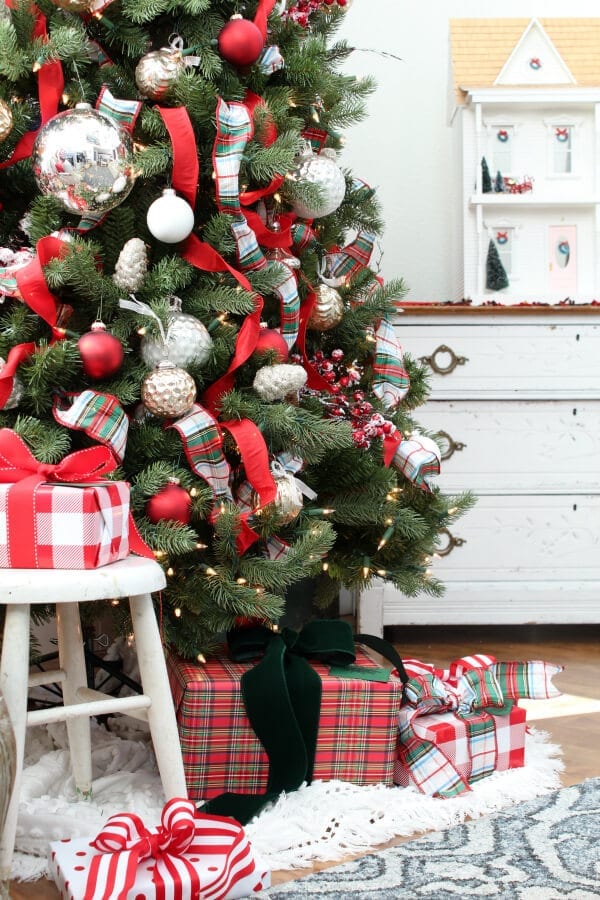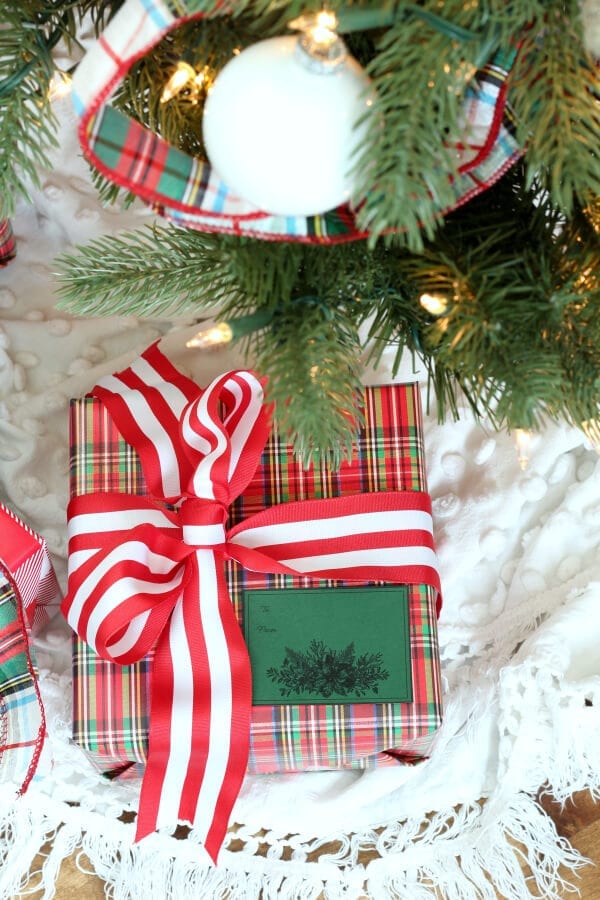 The green gift tag is a free printable that I offer to my subscribers. If you are interested in subscribing (I promise I only share wonderful things) to get these gift tags then you can visit my free holiday printables bundle post for all the details! If you are already a subscriber, thank you! The password to my printables library is in the newsletter I send every Sunday!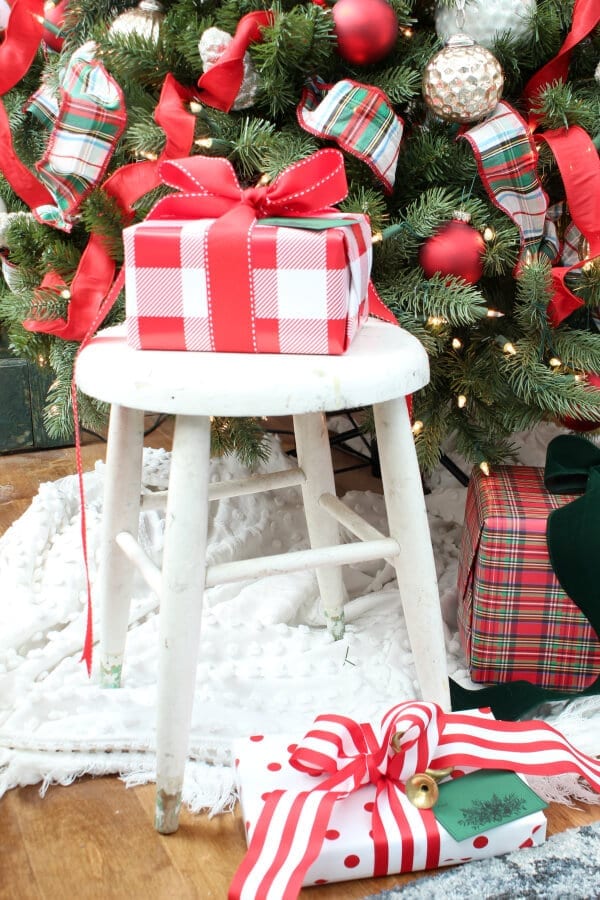 It's all about the details when it comes to accessorizing on and around the tree. The tree skirt is actually a vintage bed skirt that I tucked around the base of our tree. Simple yet unexpected! The darling little brass horns I picked up from my friend Brooke's shop, Brooklyn Finds Design. I thought they were so cute on top of the presents. The green shutters are also from her…she has the best unique and vintage finds!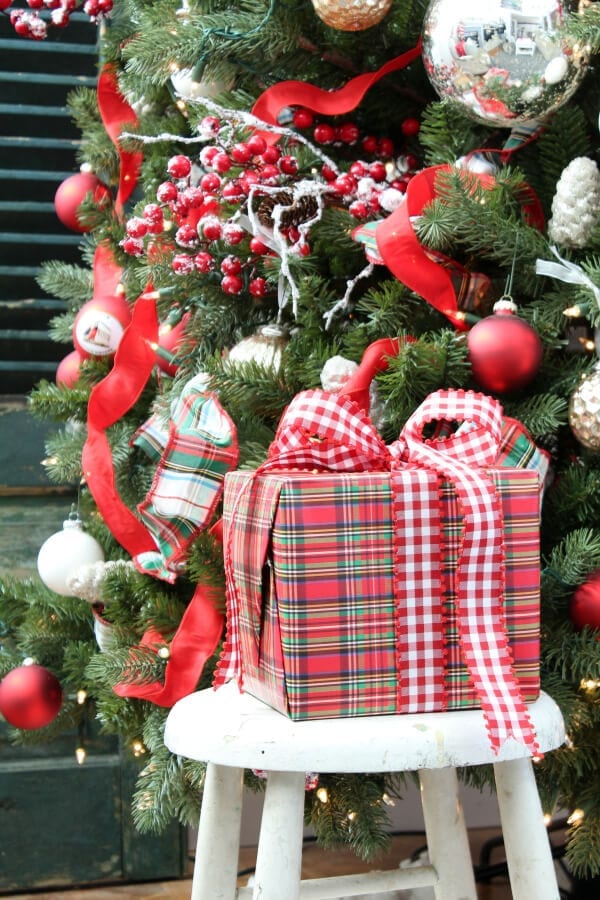 When it comes to presents I love mixing and matching patterns. I was inspired from a Pinterest image I saw from Nora Murphy Country House. Her presents were all wrapped in different plaid patterns and ribbons. Pinterest is one of my favorite places for inspiration!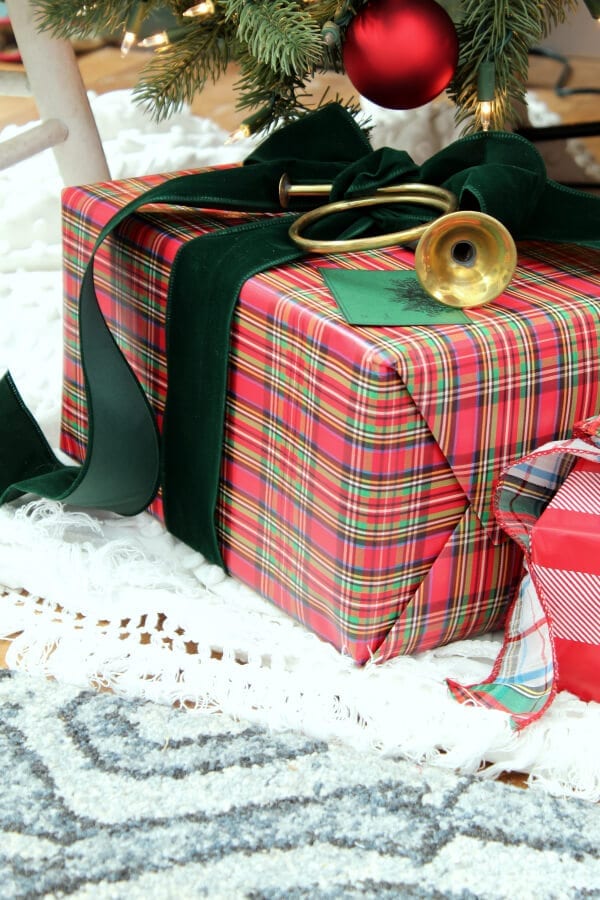 The Dollhouse
Did you notice the sweet little white dollhouse in the corner? Isn't it precious? Dollhouses hold a special place in our family. The tradition started with our grandmother who passed the tradition on to our mom who passed it on to my sister and I and our kids. I can remember shopping with my grandma for doll house furniture when I was a little girl. We all loved to decorate them together!

Last year my mom gifted this gorgeous dollhouse to my youngest daughter. My older daughter has one too that you can see in our Christmas playroom from last year.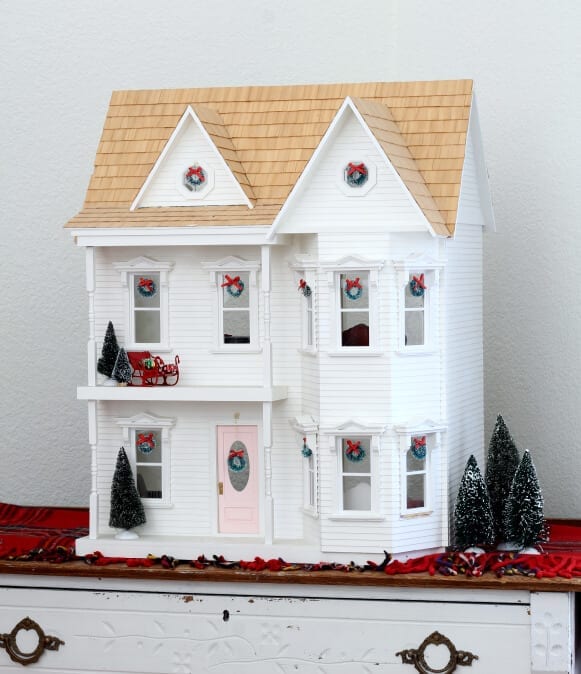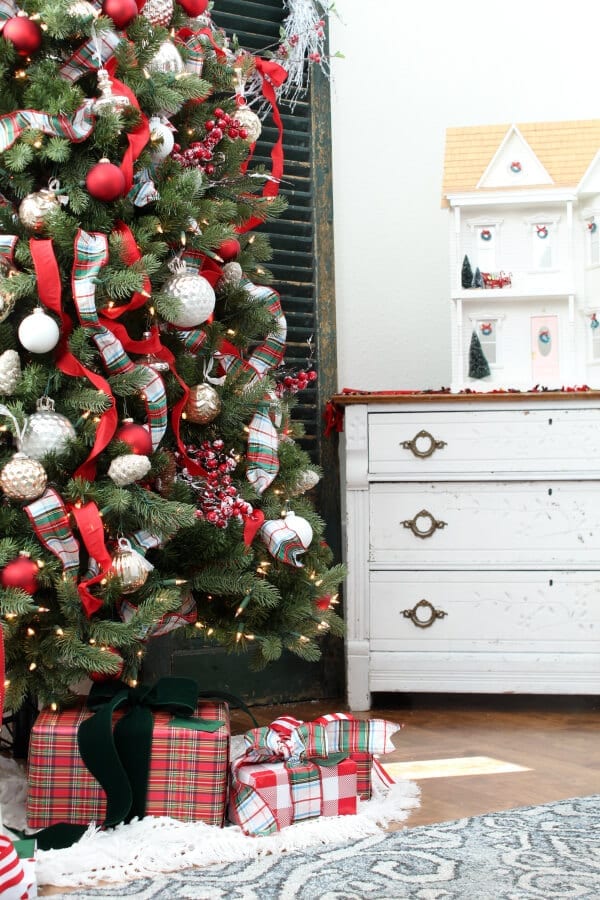 This year my mom was so sweet and she came over and added the wreaths, trees and touches of Christmas to this dollhouse. I love that it is highlighted as such a special piece in our family room and Christmas decor.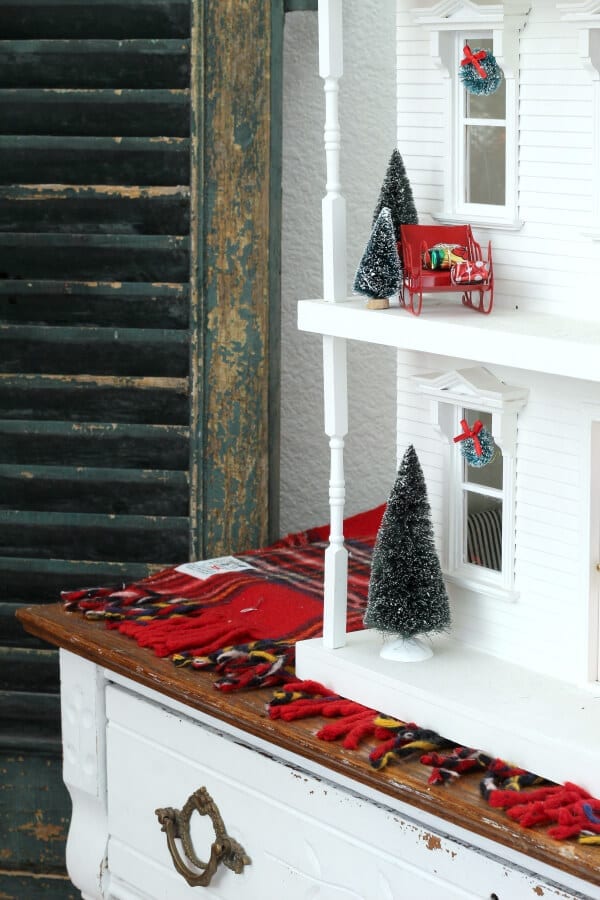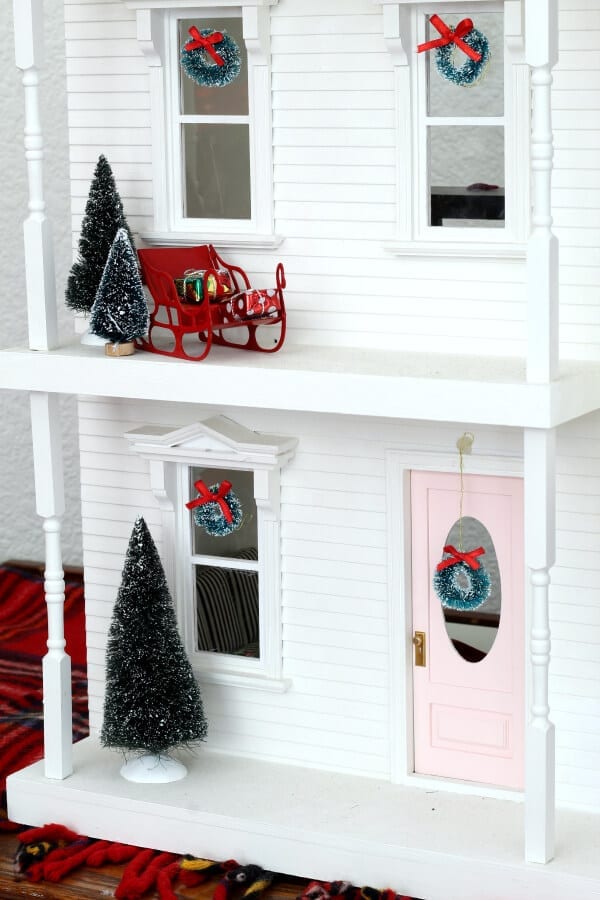 We thought about painting the door red but then we remembered that my youngest loves the pink door and would be sad if we changed it. Now that I see the pictures I think the pink is perfect and pretty! I'm so thankful that my mom has shared these gorgeous doll houses with us. It's such a special family tradition and I hope my daughters will carry on this tradition with their own children someday.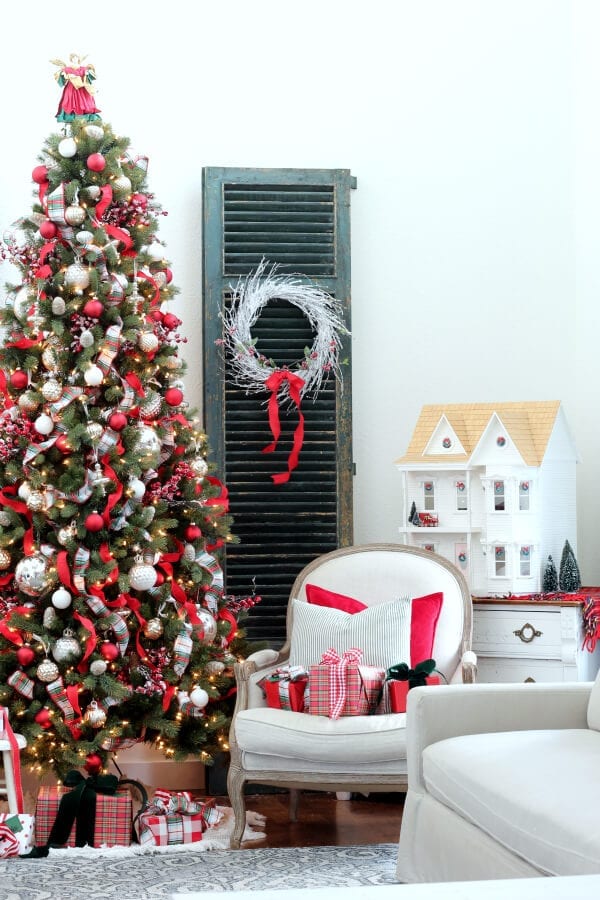 Thank You For Visiting Our Christmas Tree
Well friends I sure do appreciate you stopping by to check out our tree. Hopefully is gave you a bit of inspiration and that you had fun learning more about me and how I decorate. I sure enjoyed sharing all the details with you.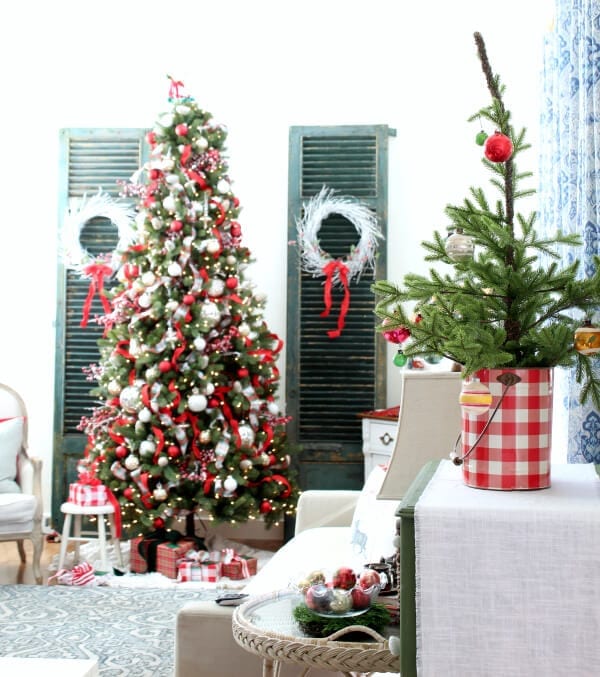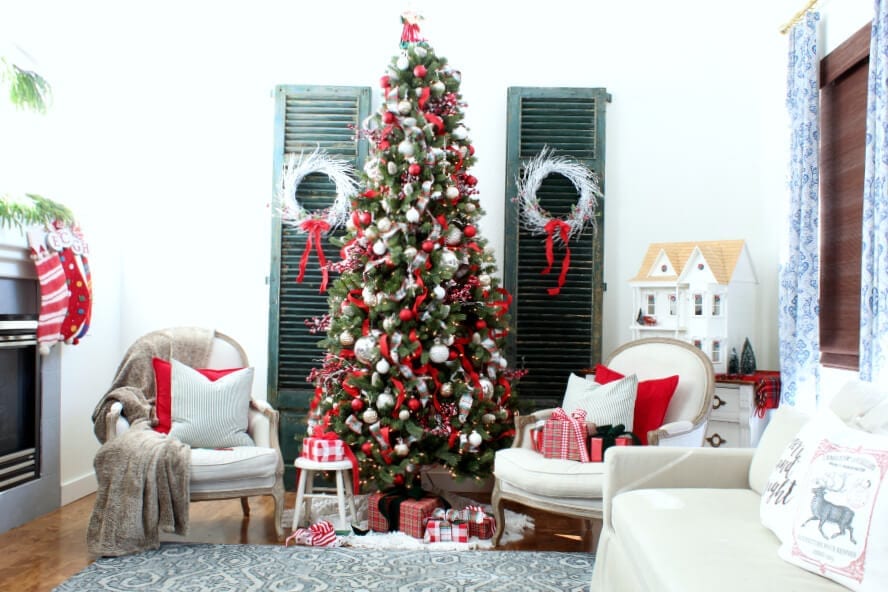 Now make sure to visit all of my friends and their tree posts below!
XOXO,
Kelly
Wait Until You See These Amazing Christmas Tree Decorating
Ideas!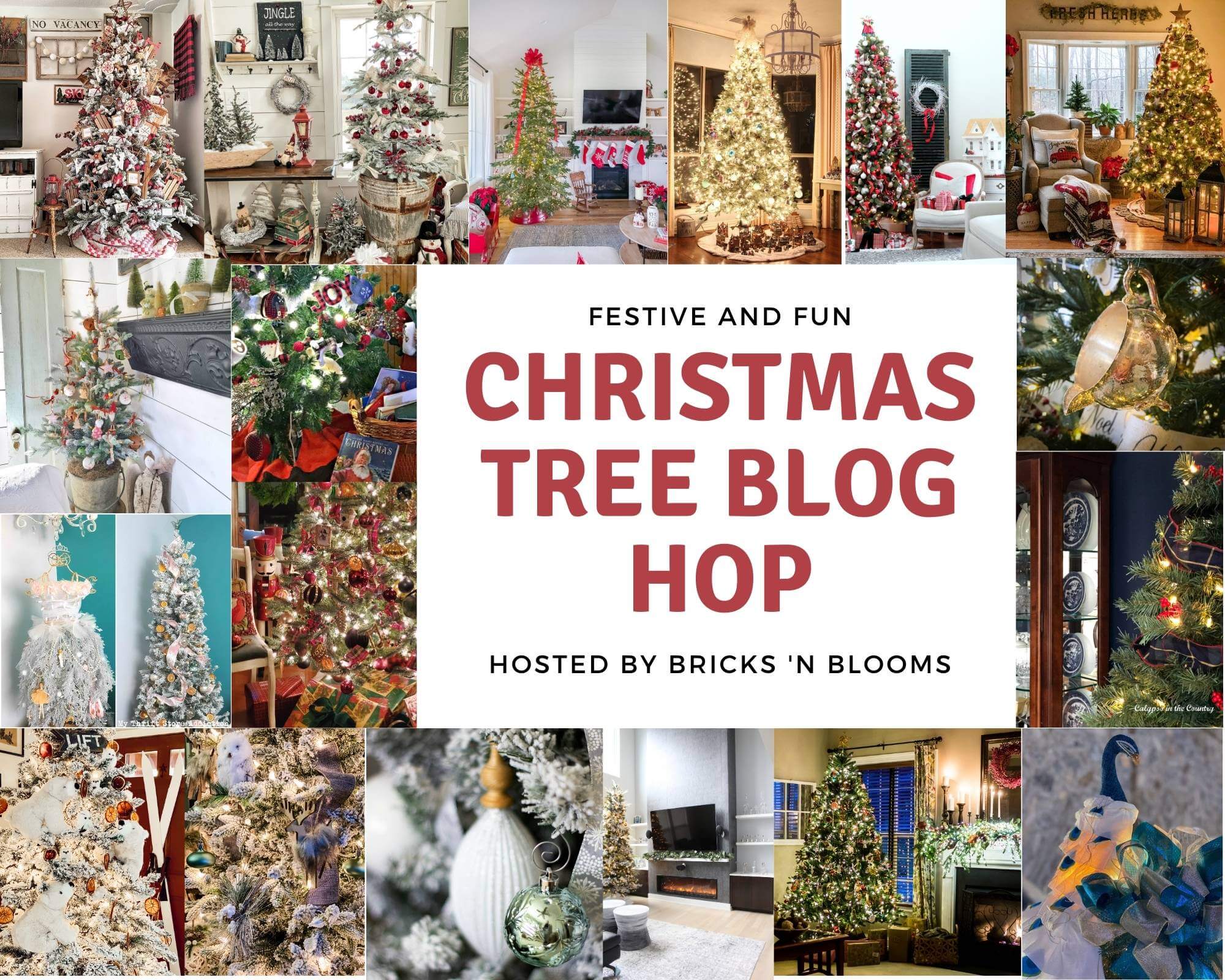 Bricks 'n Blooms // White Arrows Home // The Ponds Farmhouse
My Thrift Store Addiction // Down Shiloh Road
Dabbling and Decorating // The Tattered Pew // J Dub By Design
Simply2Moms // Blue Sky at Home
County Road 407 // Shiplap and Shells // Follow The Yellow Brick Home
The Flowering Farmhouse // My Wee Abode // Calypso in the Country
Cottage on Bunker Hill // This is Simplicite