How to Transform Your Yard into a Whimsical Halloween Wonderland on a Budget
Today I'm excited to help you transform your yard into a whimsical Halloween wonderland, all without breaking the bank. Who says you need a hefty budget to create a spooktacular ambiance for the season? With a little creativity and a lot of Halloween spirit, you can achieve a magical and budget-friendly Halloween yard decor.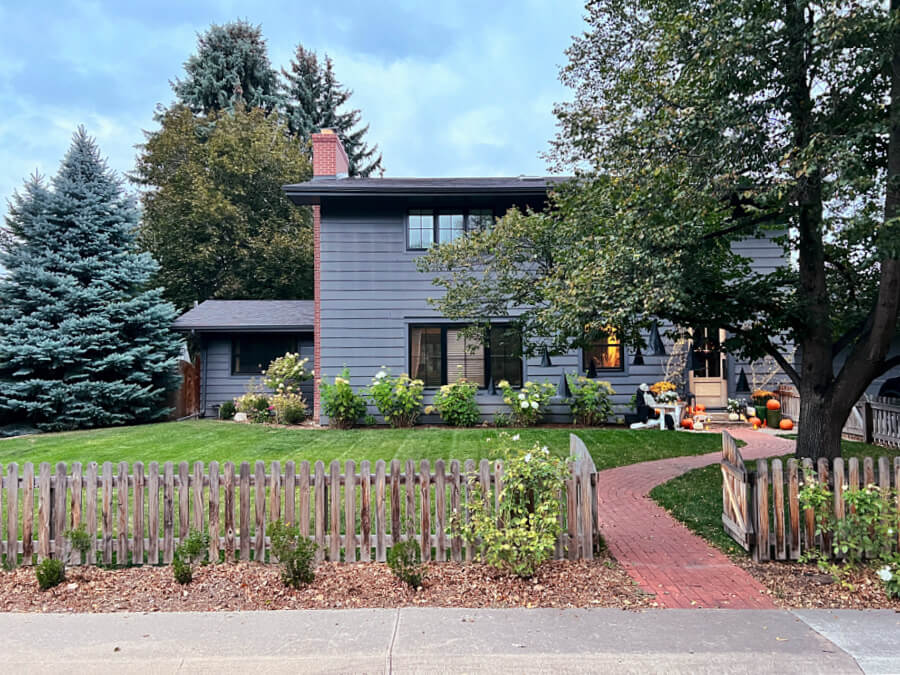 How to Transform Your Yard into a Whimsical Halloween Wonderland on a Budget
If you are in the mood for some outdoor Halloween inspiration then today is your lucky day! With Halloween just around the corner, I'm excited to join a group of 9 bloggers all sharing their Halloween porches. Make sure to visit each of their porches linked at the end of my post. They are all unique and beautiful and just a bit scary!
And a very special thank you to Jennifer from tattertots & jello for being our lovely host!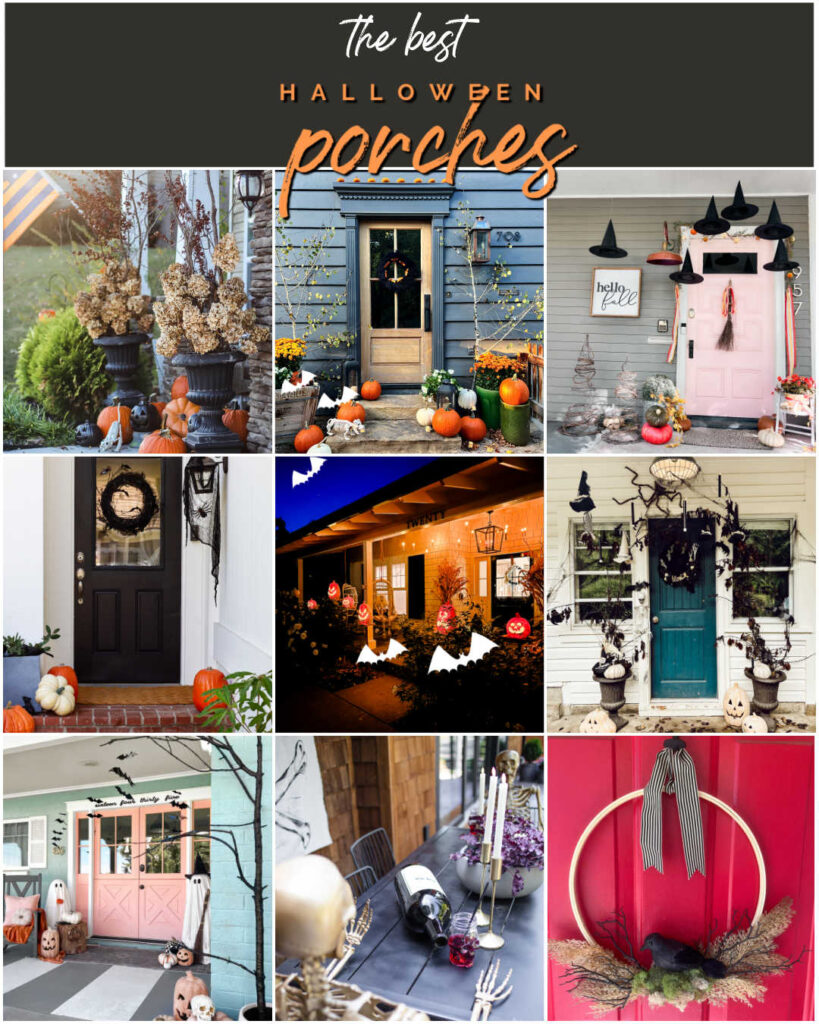 Our Halloween Yard
Now I want to welcome you to our outdoor Halloween wonderland on a budget!
Last week my mom and I had so much fun getting the outside of my house ready for Halloween! She is always so sweet and loves to help me when I decorate seasonally and I love that we can bounce ideas off of each other.
And If you know me you know that I like to decorate for Halloween every other year as it is not typically my favorite holiday. But my kids love it so I do it for them. True love, right?!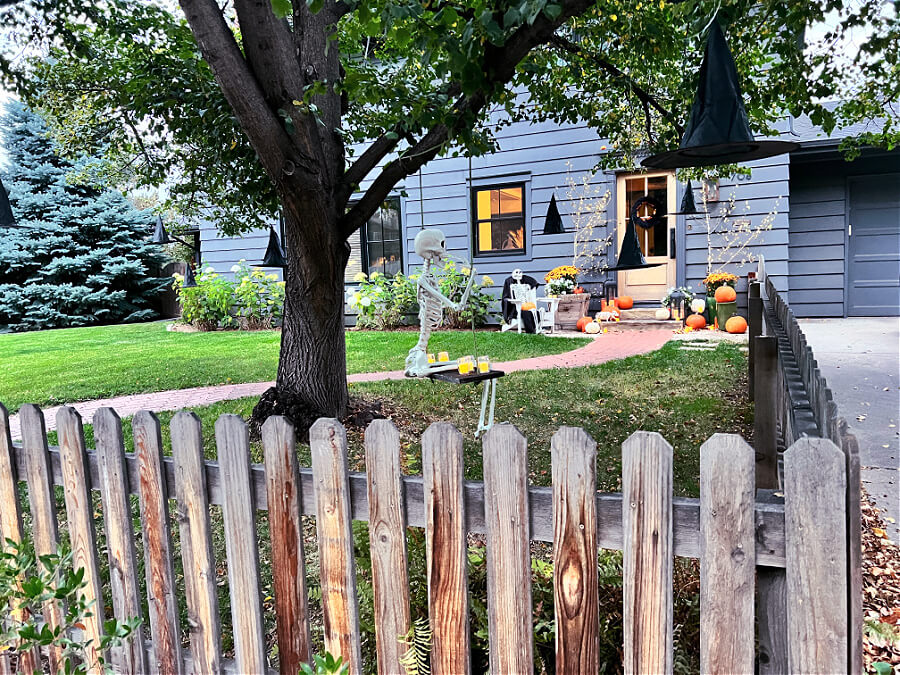 This year I am loving how it turned out and can't wait to share it with you! I kept with the traditional Halloween colors of orange, black and white. Our house is painted Peppercorn by Sherwin Williams so honestly I feel like this house is the perfect house for Halloween decor and fun!
And now for some budget friendly tips on how to turn your yard into a whimsical Halloween wonderland!
Tip 1: Sourcing the Cheapest Real Pumpkins
The foundation of any enchanting Halloween display is the classic pumpkin. My go to usually involves heading over to my local Walmart or grocery store, where you can find an assortment of shapes and sizes to fit your budget.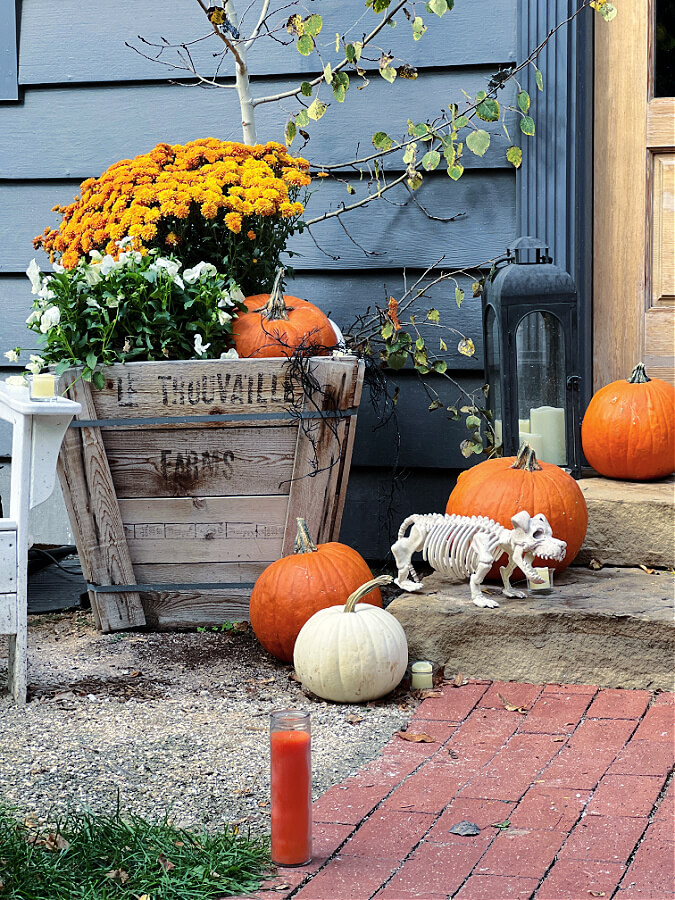 Our large orange pumpkins and white ones were under $5 each as were the bags of the mini orange pumpkins too.
Real pumpkins have an authentic charm that plastic just can't replicate. Plus we can carve these as it gets closer to Halloween. But don't worry I am not afraid to mix real and faux pumpkins!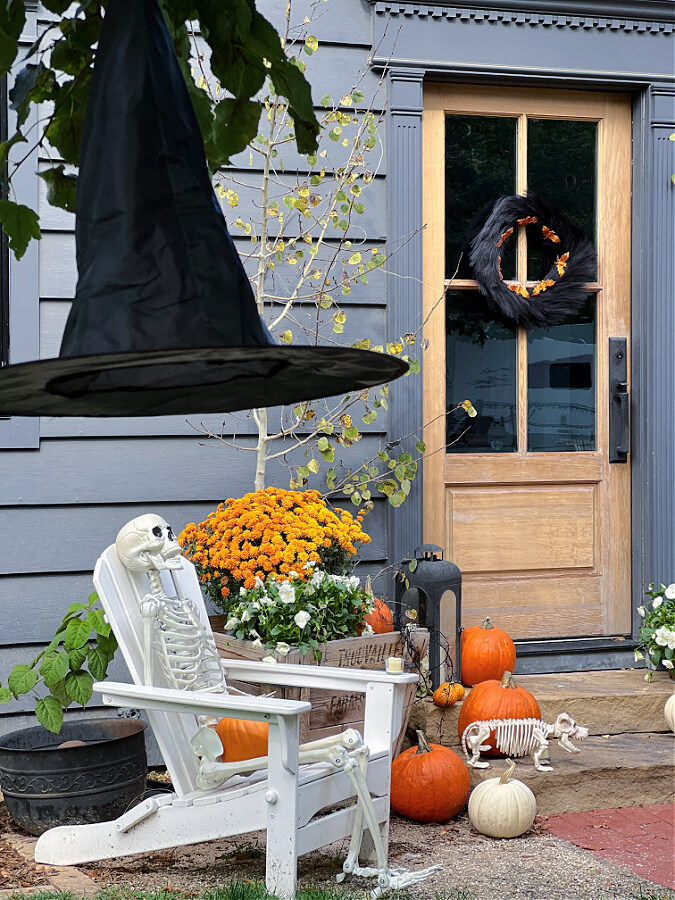 Tip 2: Reuse Decor from Past Years
Before you start shopping for new Halloween decorations, dive into your storage and see what you can repurpose from previous years. Those cobwebs, lanterns, and faux skeletons might just be waiting for their moment to shine again.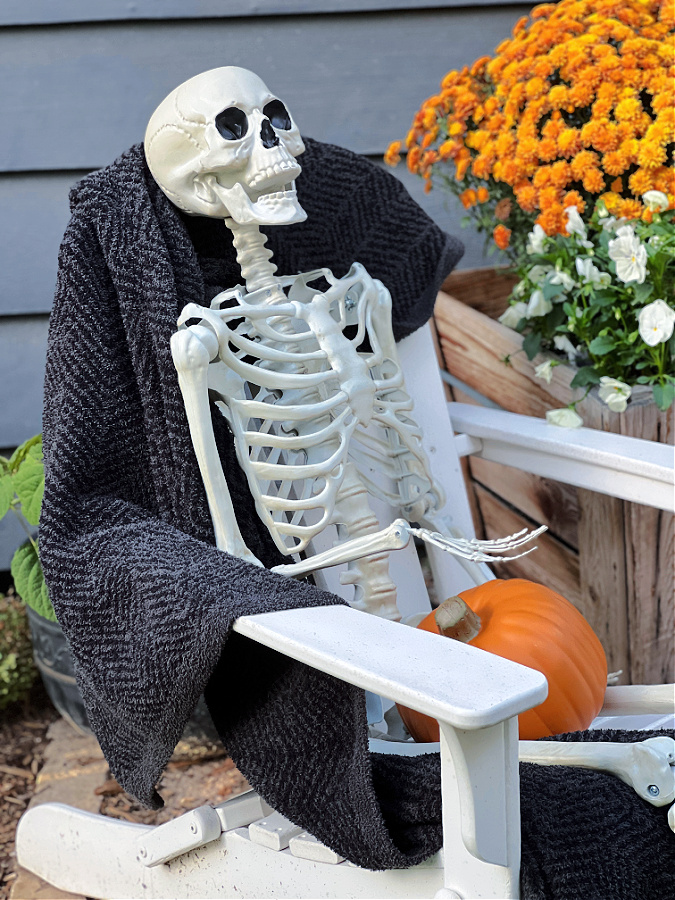 Don't forget to mix and match to create a unique and charming look. I dug out our trusty Walmart skeleton from a few years ago along with a cobweb cake stand, lanterns, skeleton dog and some sparkly spiders! The black blanket behind the skeleton is from my daughter's bedroom. Ha Let's just say she wasn't too thrilled to have it outside. I'll bring it in when we have bad weather if I remember.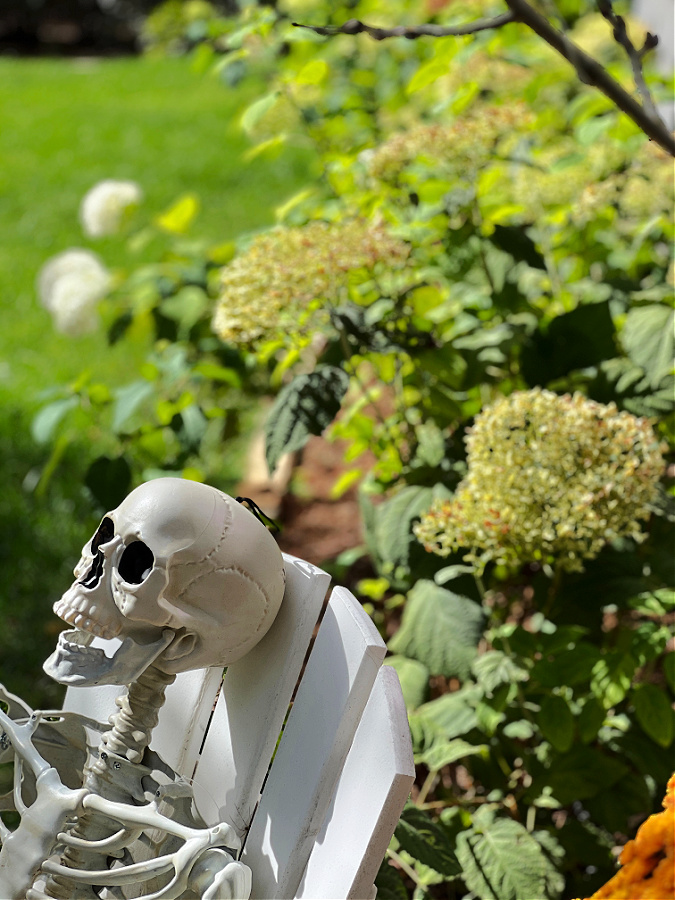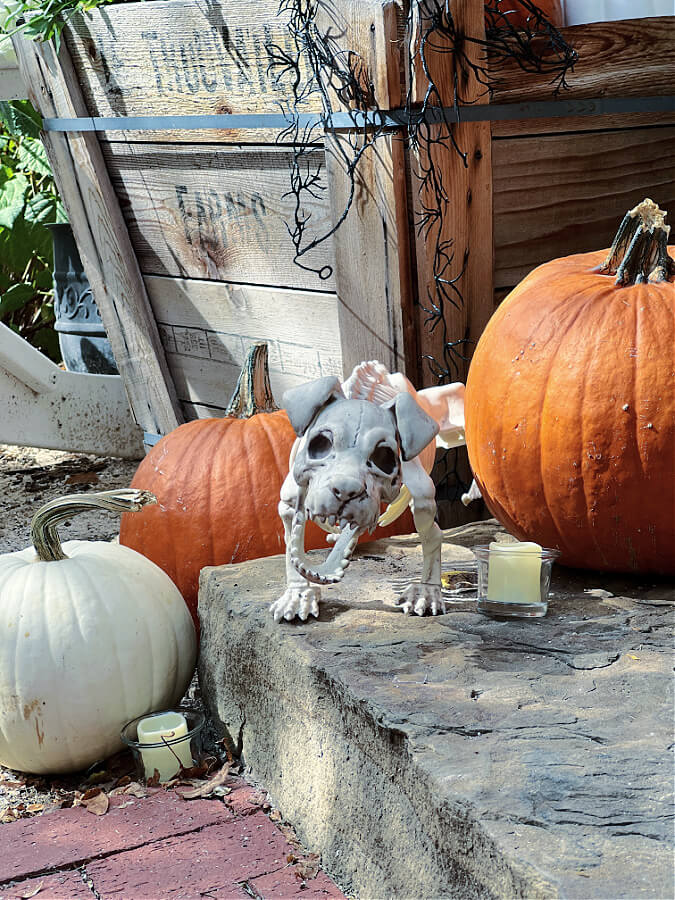 Tip 3: Budget Halloween Decor from Amazon and Walmart
For those special additions that you can't find in your garage, Amazon and Walmart are my go-to's source for budget-friendly Halloween decor.
Look for items like LED string lights, spooky signs, and whimsical yard stakes. Make sure to read reviews and choose items with good value for your money.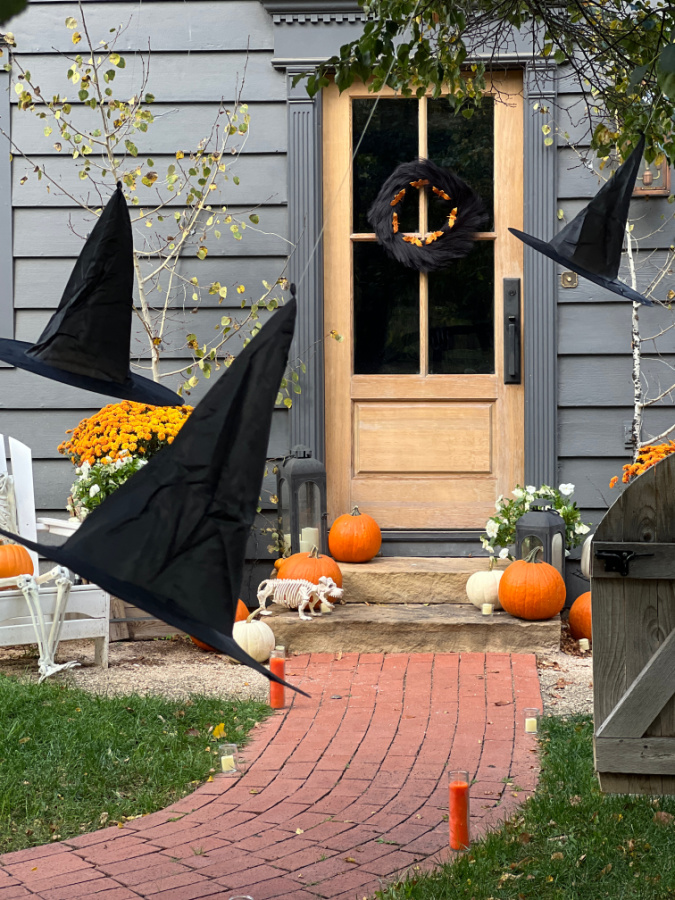 This year I picked up this set of 12 hanging witches hats, battery operated votives, the black faux pampas wreath and candles too. From Walmart I grabbed another skeleton to match the one we already had because two is always better than one! ( I already had these lanterns from Walmart!)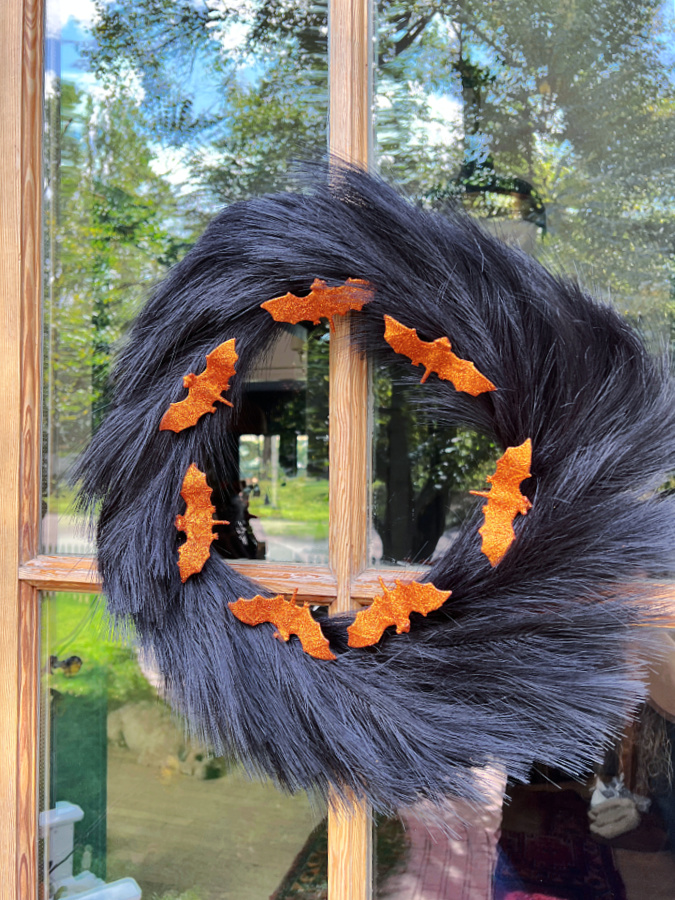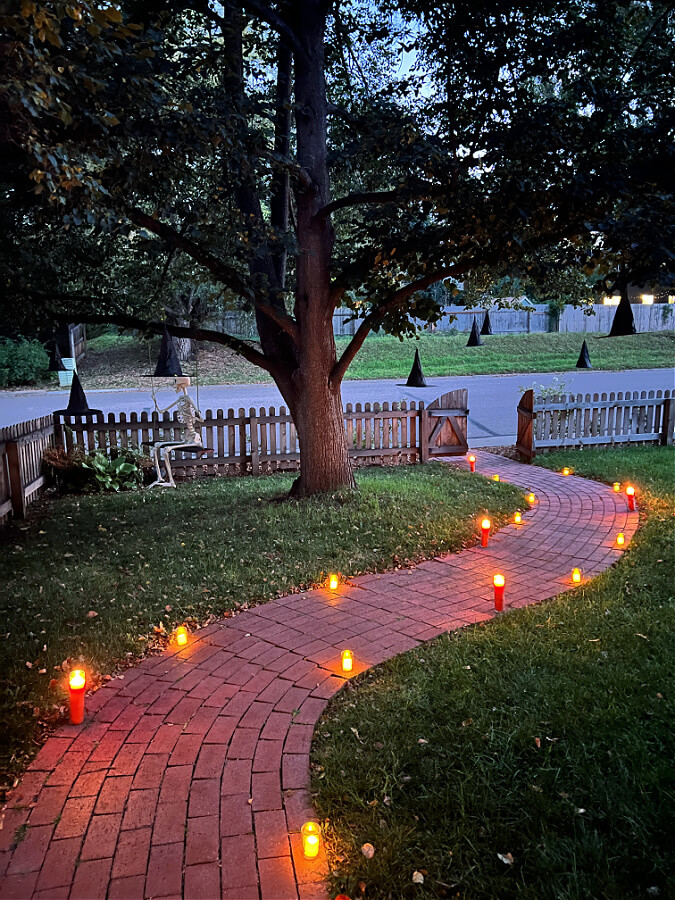 For even more aesthetic Halloween decor visit my post here!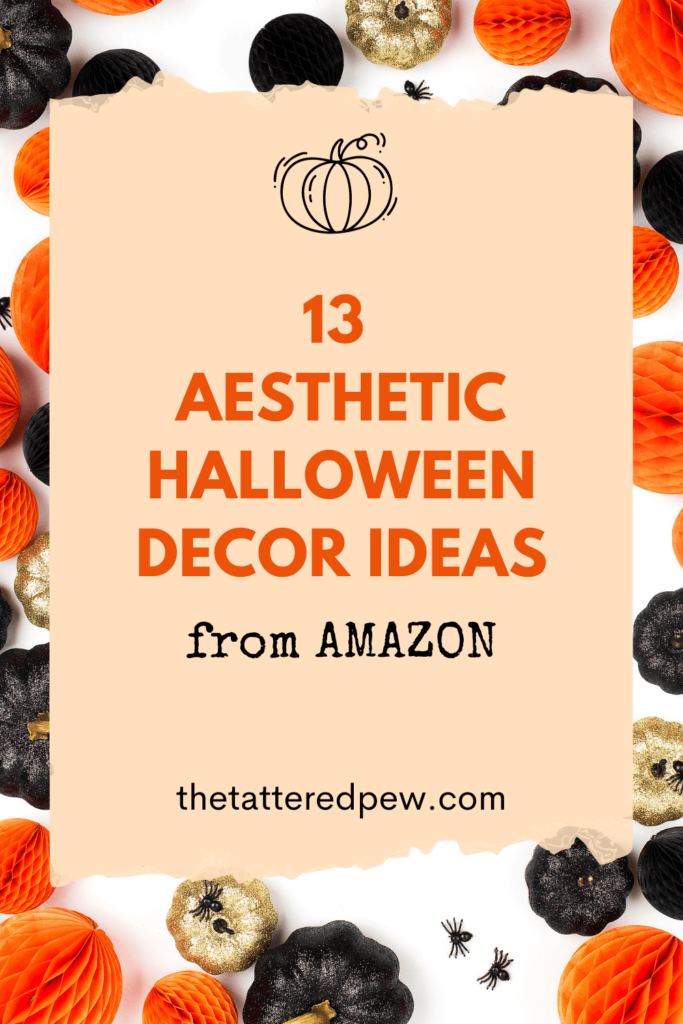 Tip 4: Dollar Store Finds
The Dollar Store is a goldmine for budget-friendly Halloween decorations. You can stock up on orange candles, clip-on bats (I got them in orange and black) , spider webs, glass votive holders and other spooky items that will add a playful touch to your yard. These small accents can make a big impact when used creatively.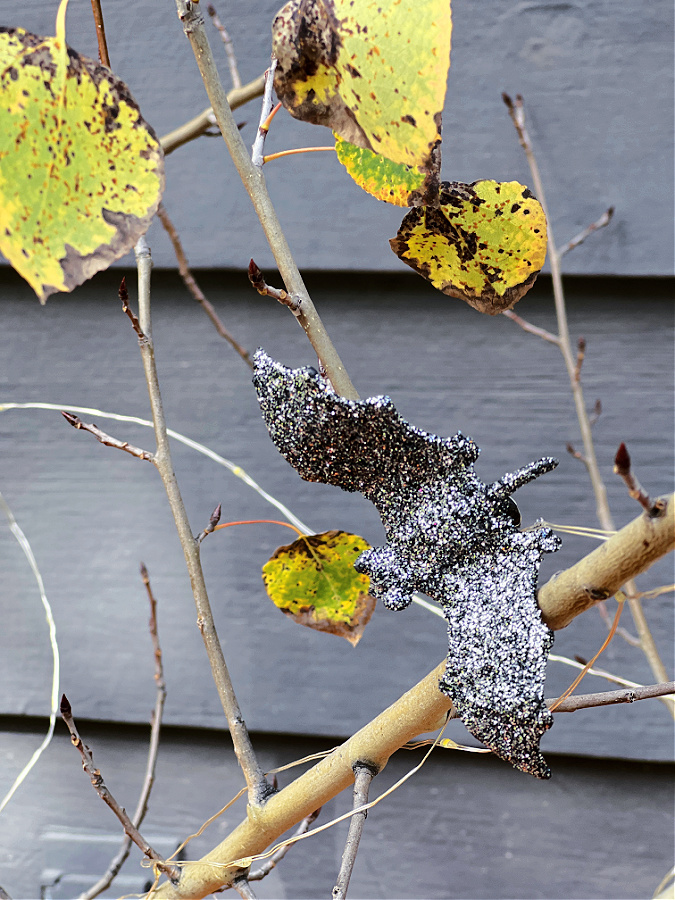 I lined our brick walk with tall orange candles from the Dollar Store and the glass votives also from the Dollar Store.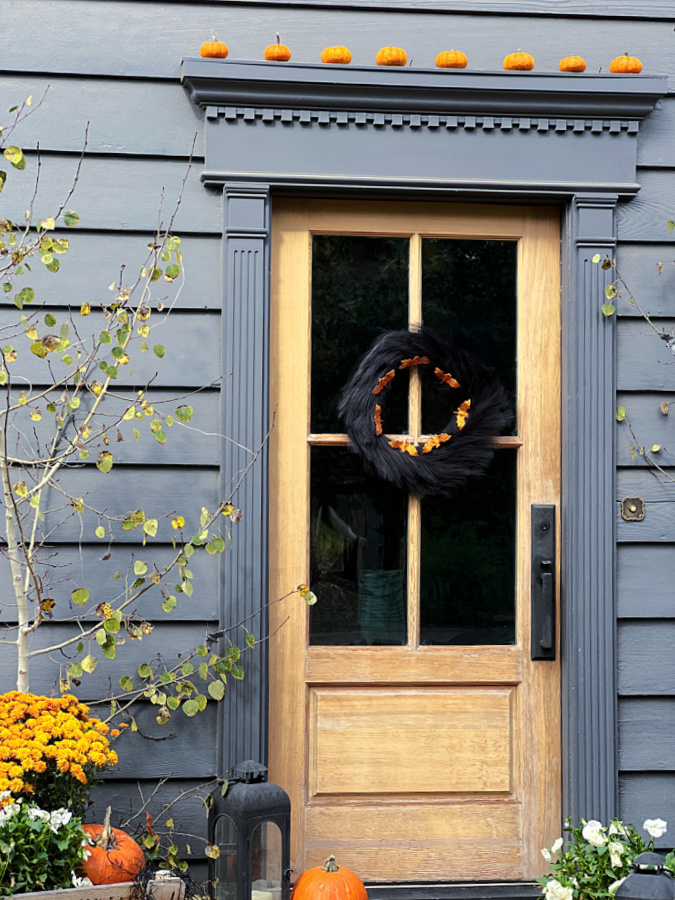 Tip 5: Real Branches from Your Yard
Don't forget to bring a bit of nature into your Halloween wonderland. Collect some real branches from your yard, and use them to create eerie, whimsical structures.
You can hang cobwebs or bat decorations from them or even paint them in spooky colors. These elements add a rustic and whimsical feel to your Halloween porch decor.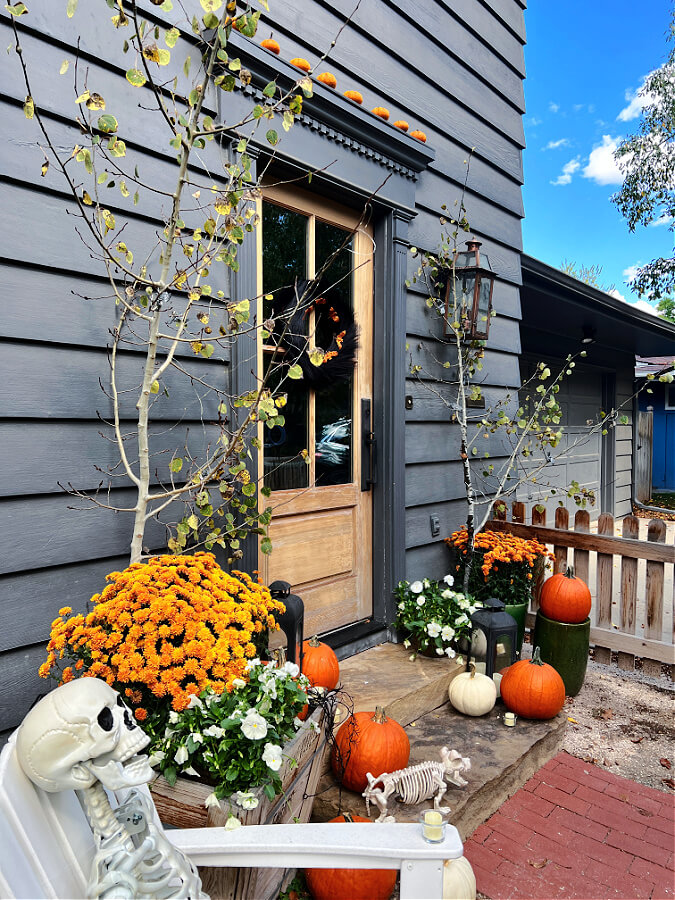 My mom and I just framed the door with two large aspen branches that my husband cut from a tree in our backyard.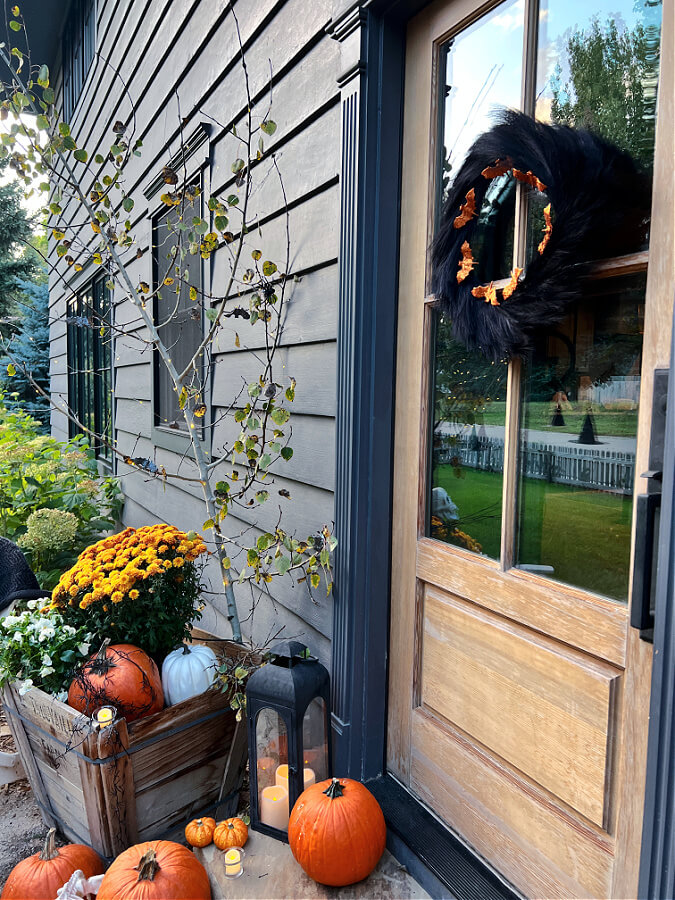 Not from our yard but definitely from nature are the bright orange mums and all white pansies. I found these at our local garden nursery and instantly loved how well they went together!
Tip 6: Lighting and Atmosphere
The right lighting can make a big difference in creating a whimsical Halloween wonderland. Consider using colored LED bulbs or string lights or fairy lights to give your yard a magical glow. You can even add flickering candles for an extra eerie touch.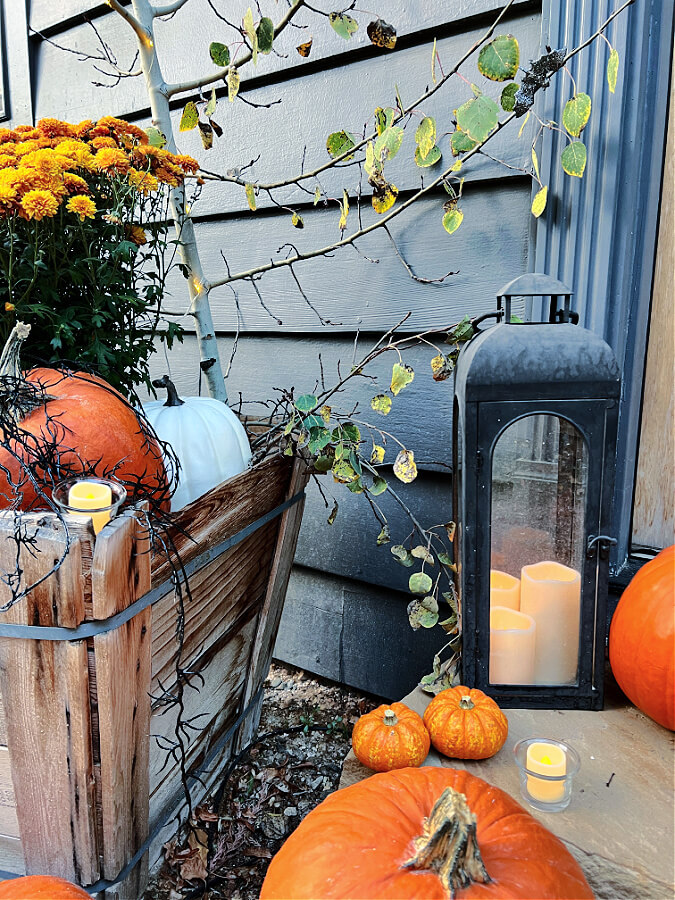 That's jsut what I did. I wrapped the aspen branches with battery operated fairy lights on timers. I also used battery operated pillar candles also on a timer along with votives spread along the steps and path. Nothing overboard but enough to make it feel special when the sun goes down!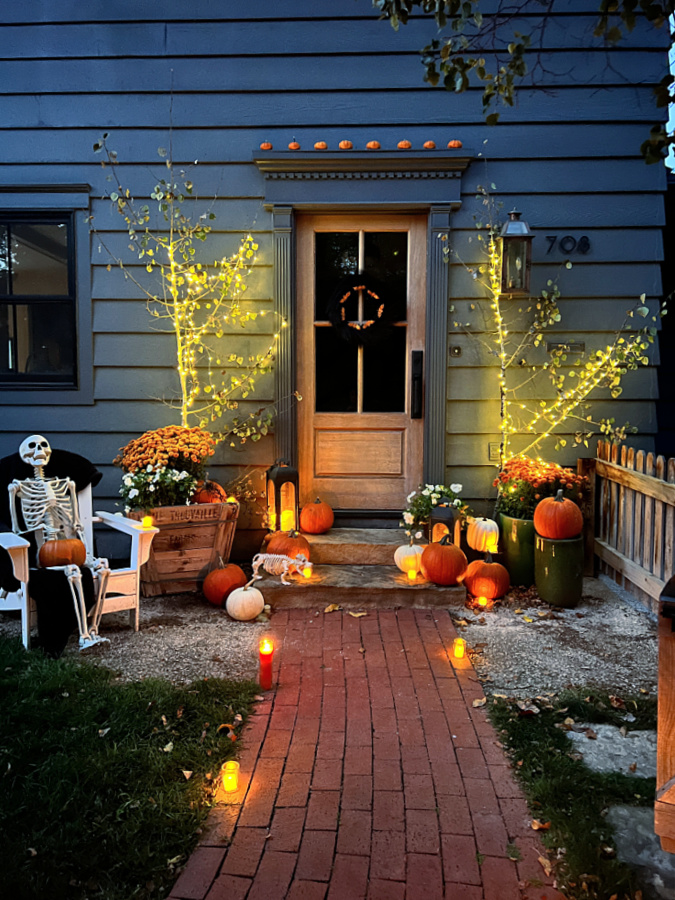 Shop Halloween Porch Decor

How to Transform Your Yard into a Whimsical Halloween Wonderland on a Budget
Incorporate these budget-friendly Halloween steps, and watch your yard and outdoor spaces transform into a whimsical Halloween wonderland. The magic is in the details, so get creative, have fun, and don't be afraid to let your imagination run wild. Happy decorating, and have a spooktacular Halloween!
Now make sure to visit the other fabulous porches all linked below!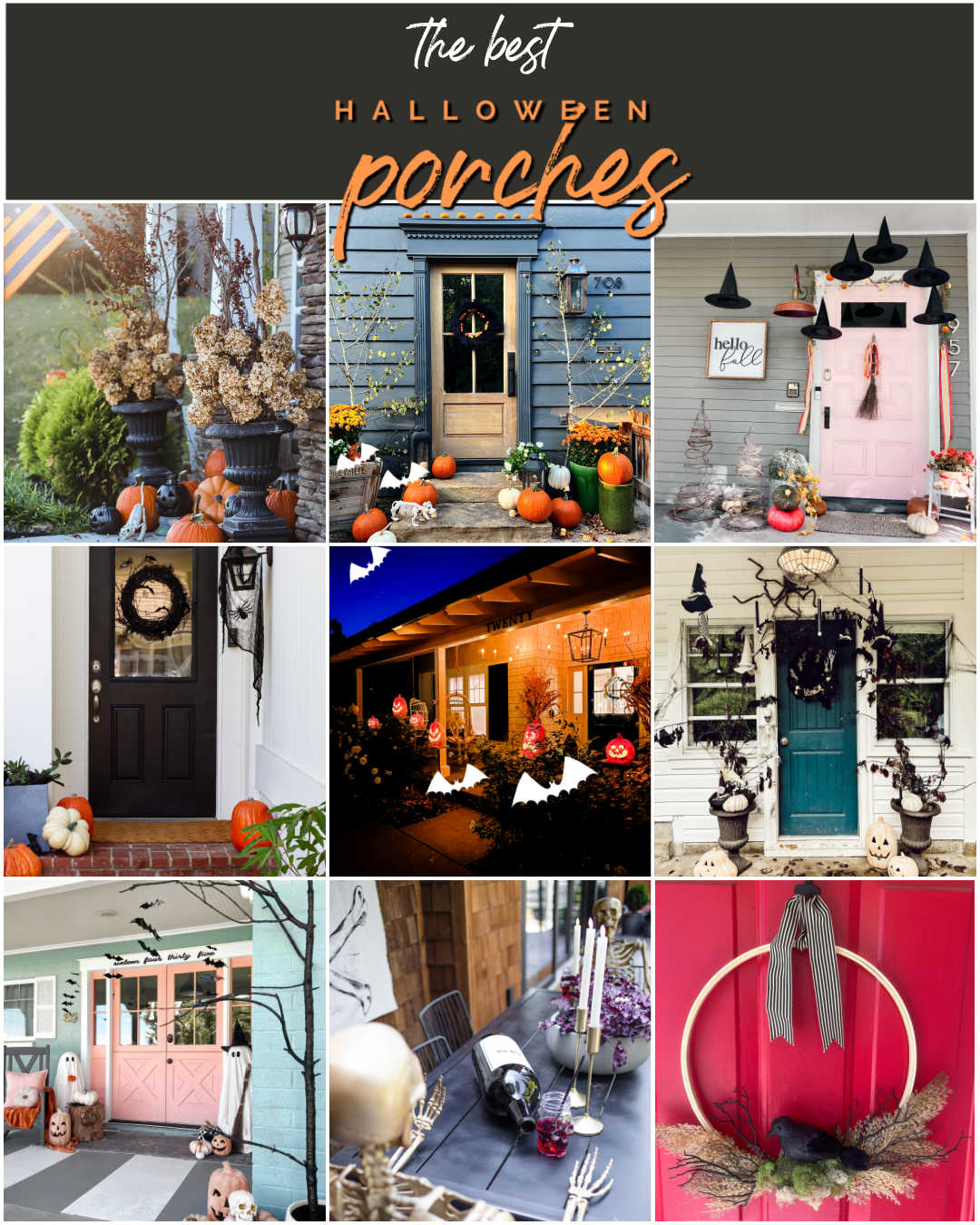 A Blue Nest | Creating a Natural and Spooky Halloween Porch
The Tattered Pew | How to Transform Your Yard into a Whimsical Halloween Wonderland on a Budget
Tatertots and Jello | DIY Pottery Barn-Inspired Witch Hats for a Spooktacular Halloween Porch
Zevy Joy | Nature Inspired Halloween Front Door Decor
Modern Glam Home | Scary Chic Halloween Front Porch
Hallstrom Home | Spooky Halloween Porch
Lolly Jane | Halloween Porch Decor Ideas
My Sweet Savannah | Halloween decor on our deck + DIY art
Today's Creative Life | Halloween Door Decor