Valentine's Day Dessert Charcuterie Board
Need a sweet treat for your sweetheart? Try this Valentine's Day dessert charcuterie board that can be put together in less than 10 minutes. It's the sweetest way to show your sweetheart, kiddos or even your galentine just how special they are!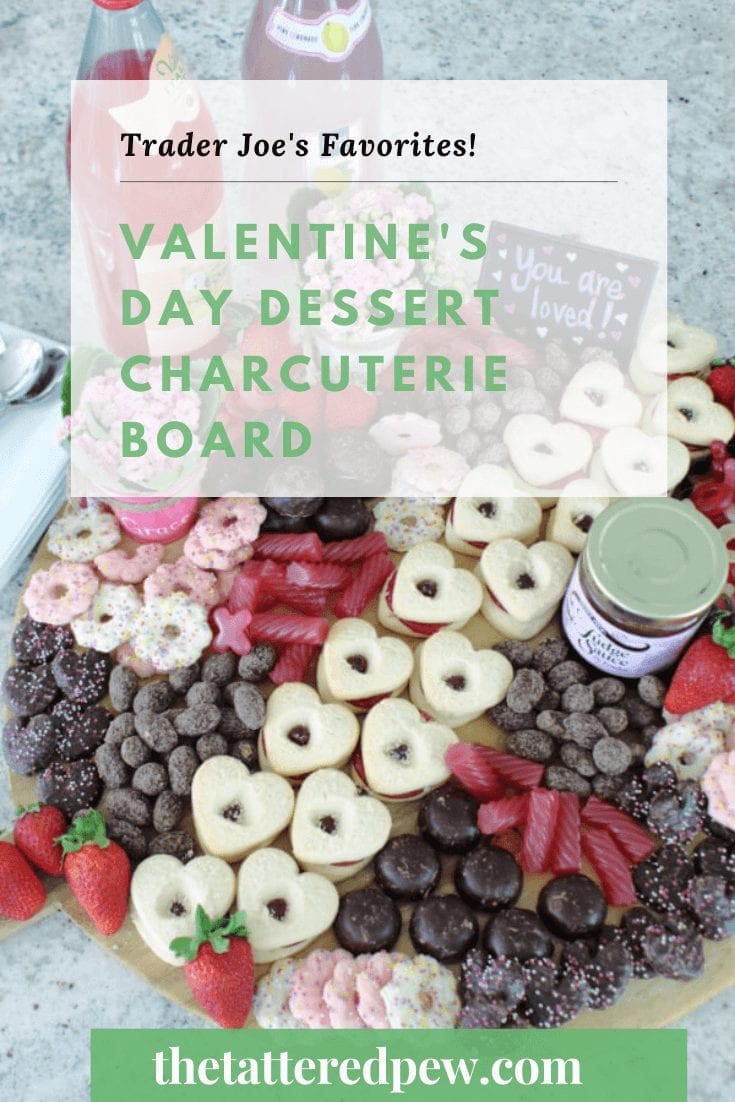 This post contains some affiliate links for your convenience. Click here to read my full disclosure policy.
Valentine's Day Dessert Charcuterie Board
Oh friends do I have a treat for you today! Not only am I sharing my Valentine's Day dessert charcuterie board, but 11 of my Thrifty Style Teammates have also decided to share their desserts today just in time for Valentine's Day! I have linked them at the bottom of this post…and goodness do they look amazing! A special thanks to Julie of Redhead Can Decorate for hosting!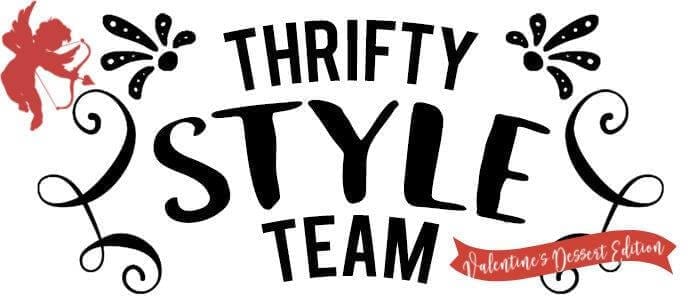 Shopping For The Dessert Board
My husband and I love a traditional meat and cheese charcuterie board and so do our kids. So this year for Valentine's Day I thought it would be fun to whip up a sweet charcuterie board for the whole family to enjoy. I have seen several of them over on Pinterest and wondered if I could create one.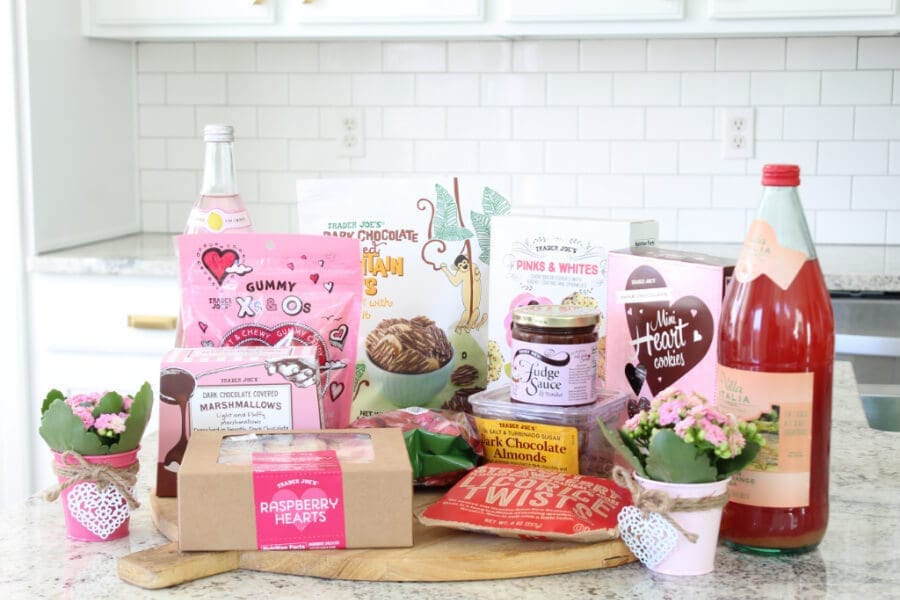 My first thought was to go shopping at Trader Joe's because they always have the best seasonal goodies. And let me just say, Trader Joe's did not disappoint! I did have to wait in a short line but it was worth it. As you you can see in the pictures here, my haul was quite successful!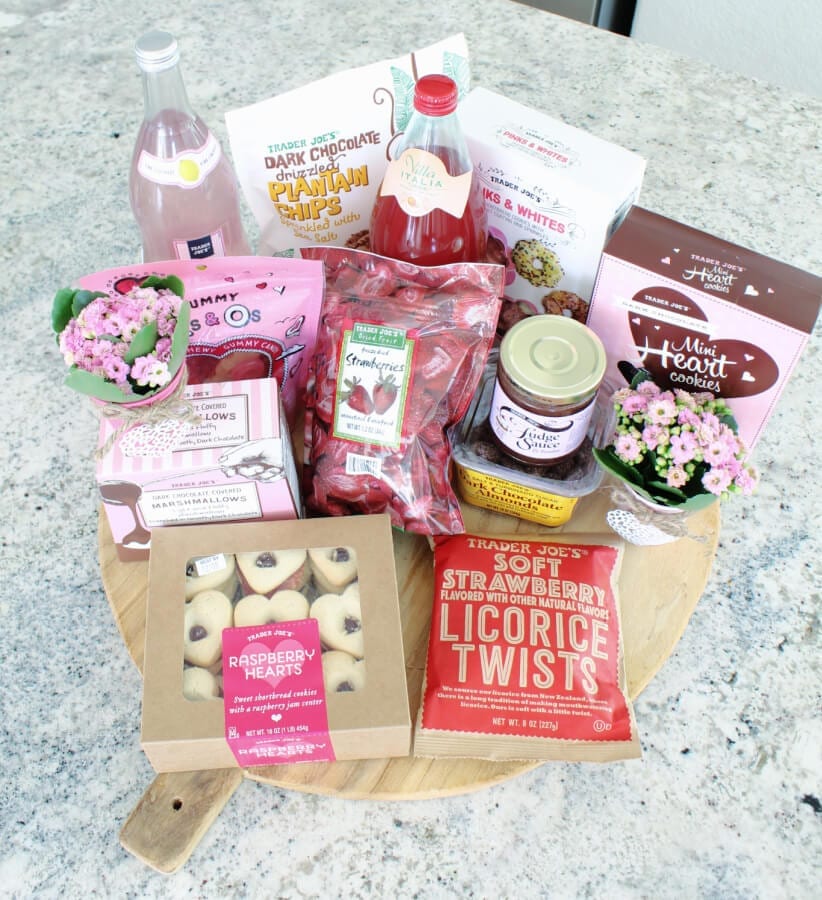 I grabbed as many heart shaped candies, cookies and beverages that they had to offer. Luckily they had an end cap full of Valentine's Day desserts that I was able to choose most of my items from. I also had fun strolling through the rest of the store and grabbing other yummy treats like fresh strawberries, fudge sauce and my favorite dark chocolate almonds. No treats are off limits…grab what you love! I actually grabbed a few too many items that I didn't end up needing for our dessert board.
*Tip: If you don't have a Trader Joe's near you any grocery store will do. Just head to the seasonal candy isle and bakery section. Or simply look for colors that match your holiday!
As you can see a few darling pink flowers made their way into my cart as well! Those flowers always suck me in!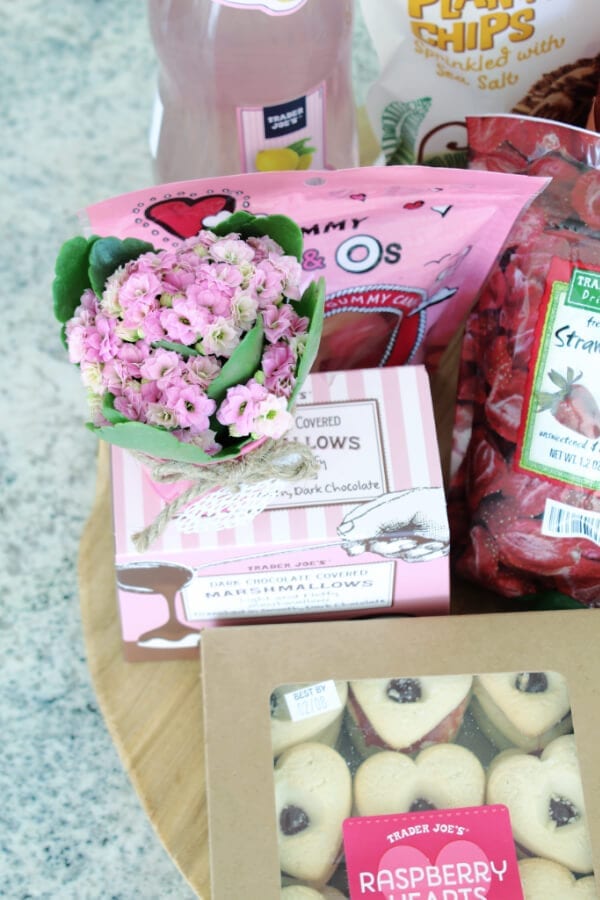 Supplies Needed For A Dessert Board
Once you have done your shopping for the food items the next step is preparing for plating your desserts and the presentation.
Time to get creative!
I used an old round wood cutting board, but any cutting board or large serving tray will work as long as it is large enough to contain all of your goodies.
*TIP: Shopping for store bought treats keeps the prep minimal as well as allows for quick and easy assembly!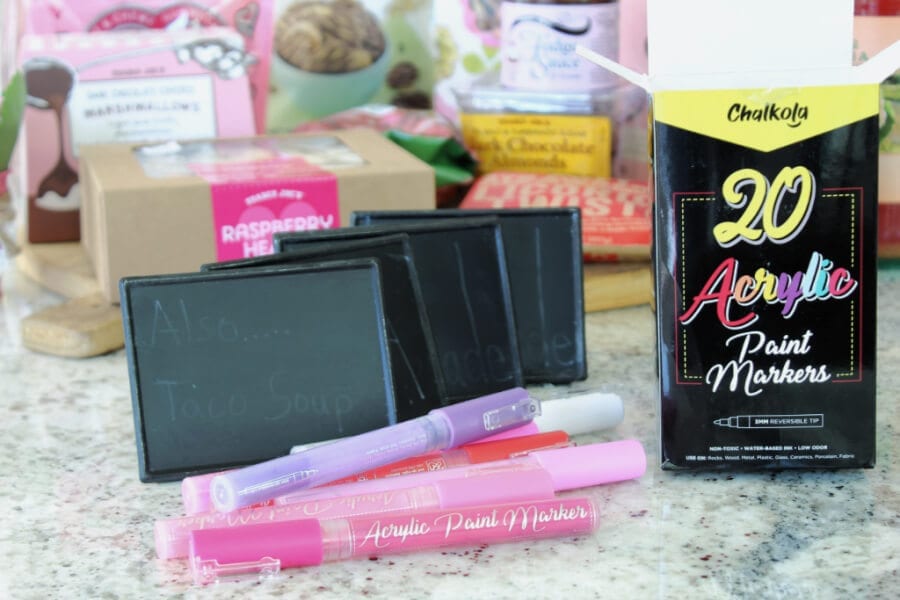 I also added some tea spoons for the fudge sauce, mini whites plates and some mini chalkboards and my Chalkola paint pens. I used the paint pens to write on the mini chalkboards as well as to personalize the metal flower containers with my daughter's names. This gave it that extra special, " I Love You" touch!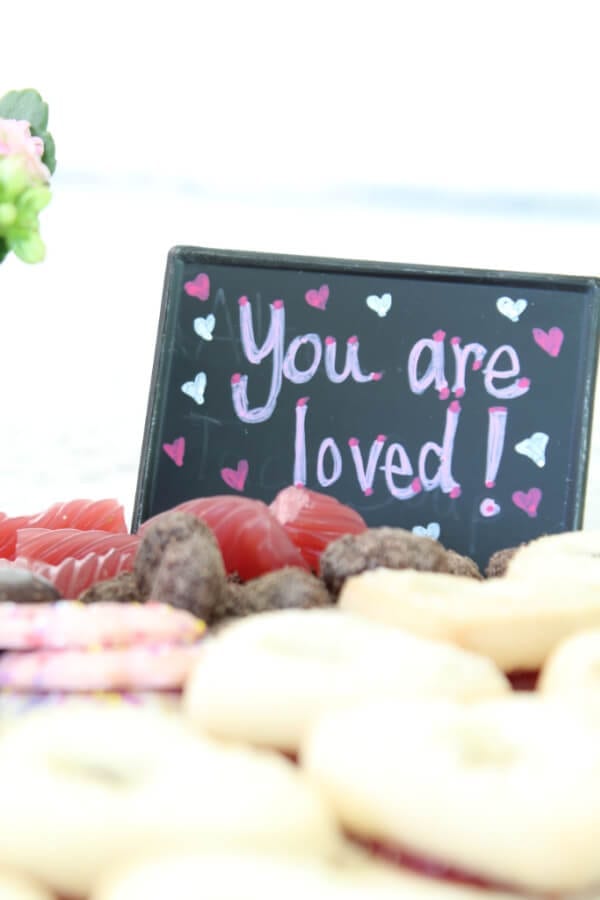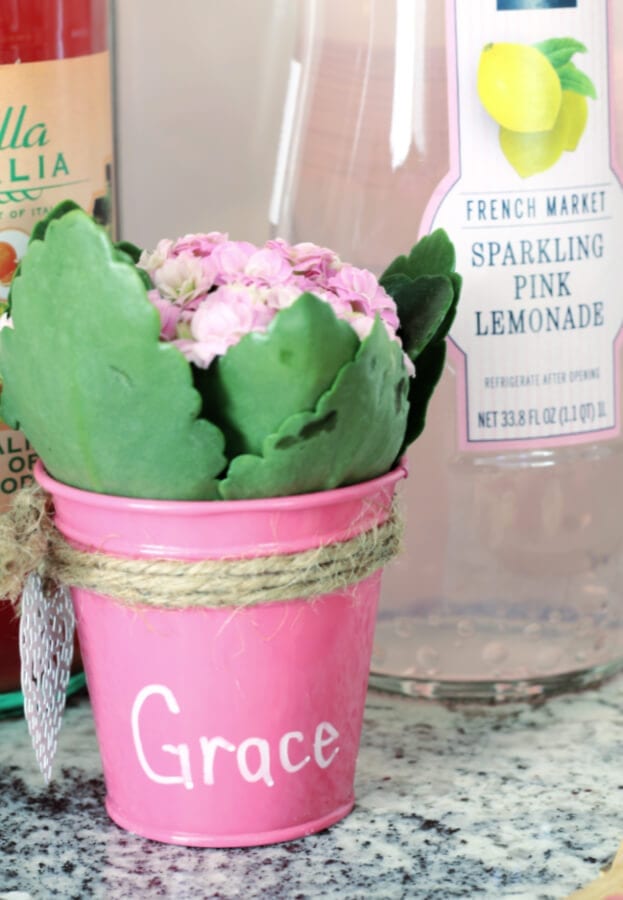 Shop The Post

Putting Together The Valentine's Day Dessert Board
Next came the fun part! I opened a bunch of the desserts to get a feel for their size and even did a bit of taste tasting. (I couldn't resist!)
Everything passed the test of course! 🙂
The very first thing I did was grab my largest dessert, the raspberry heart shaped cookies. I knew they would be the perfect focal point for the entire board so I made two rows of them down the center of the board.
Next, I found that it was easiest to group the like items together. This made a statement on the charcuterie board and gave it a cohesive look. I may have even sneaked a few peeks over at Pinterest for some inspiration. Having visual help is always a good idea!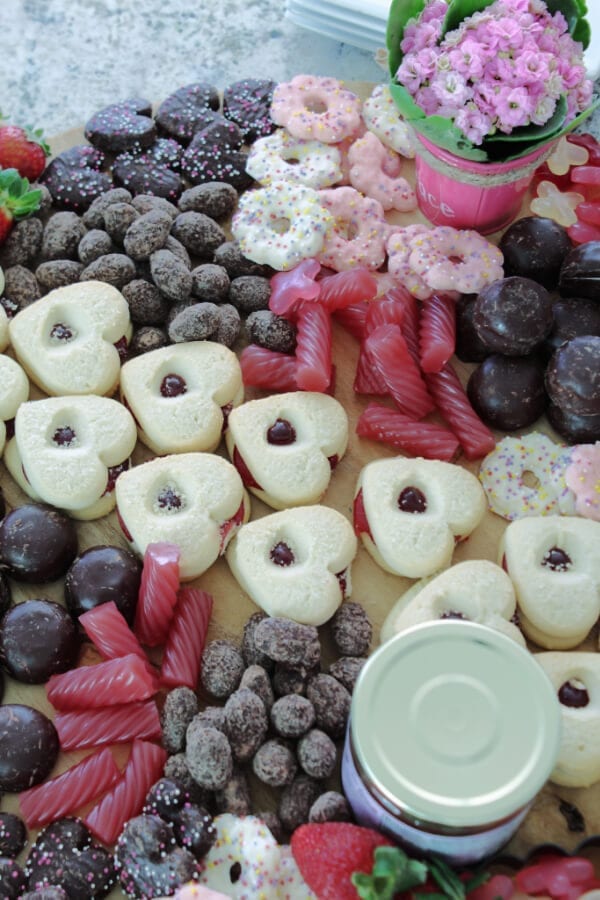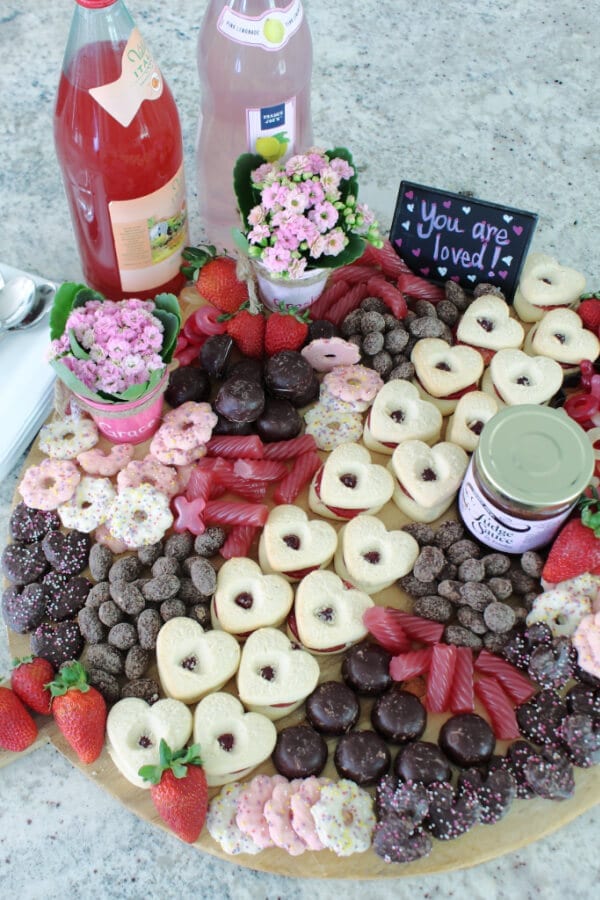 But I didn't just have all of the gummies in one area or all of the strawberries in another. I actually tried to add a cluster of the same treat to two or three other spots on the board.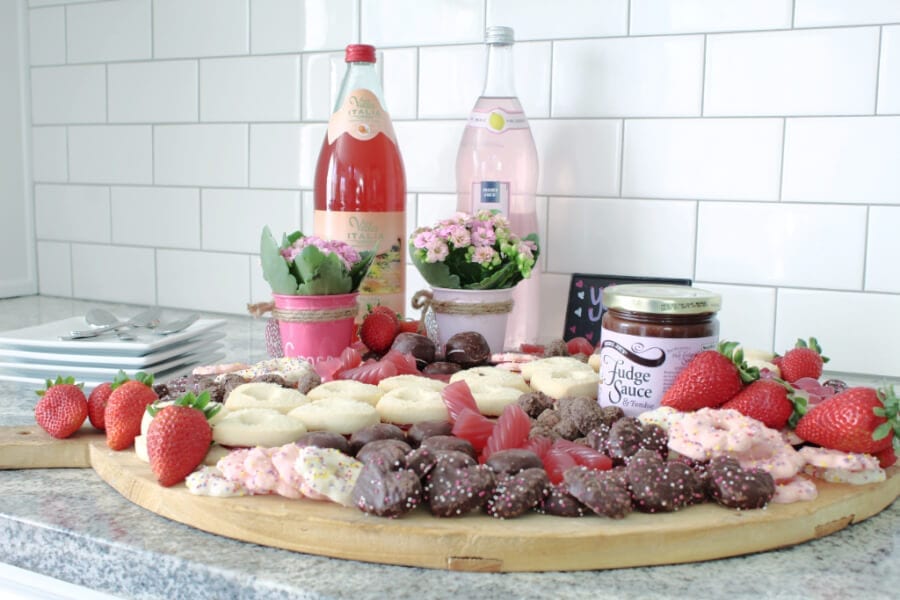 Sticking to Valentine's Day colors also helped keep my dessert charcuterie board looking fresh and pretty and well put together! Doesn't it all look so pretty?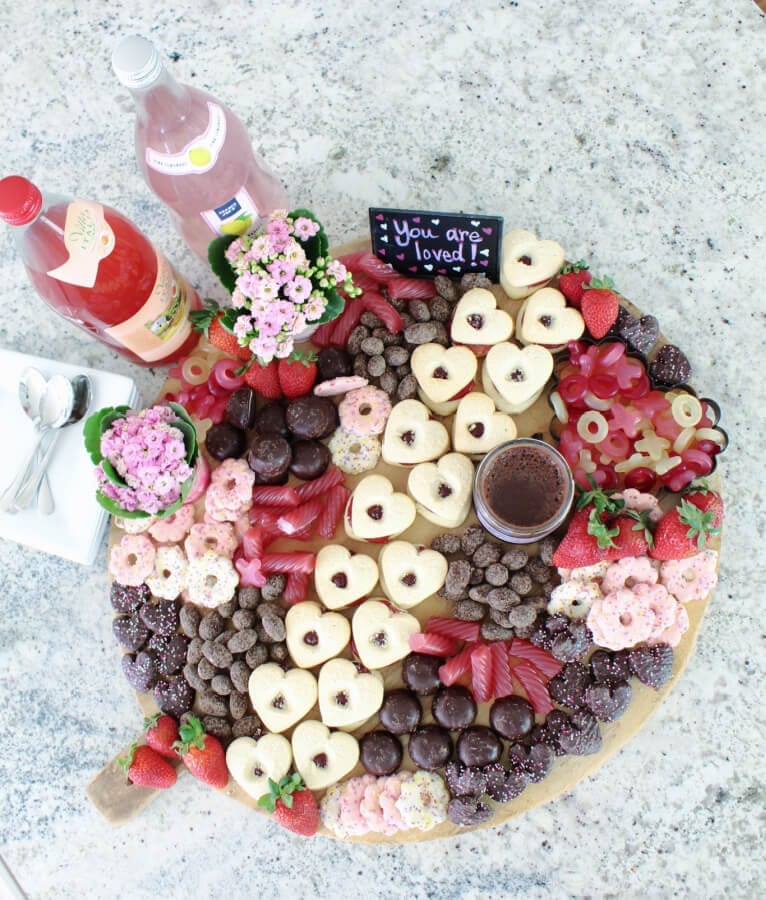 Valentine's Day Dessert Charcuterie Board
This Valentine's Day Dessert Charcuterie Board took me less than 10 minutes to assemble. Not only was it simple, but it was fun and yummy too! I loved spoiling my family with these Valentine's Day treats. Let me know if you decide to do the same or if you have eve made one of these before! I'm thinking that this might have to become a Valentine's day tradition for us. And maybe I can try it for other holidays too? Wouldn't an Easter or Halloween or even Christmas dessert charcuterie board be just so much fun? I definitely think so!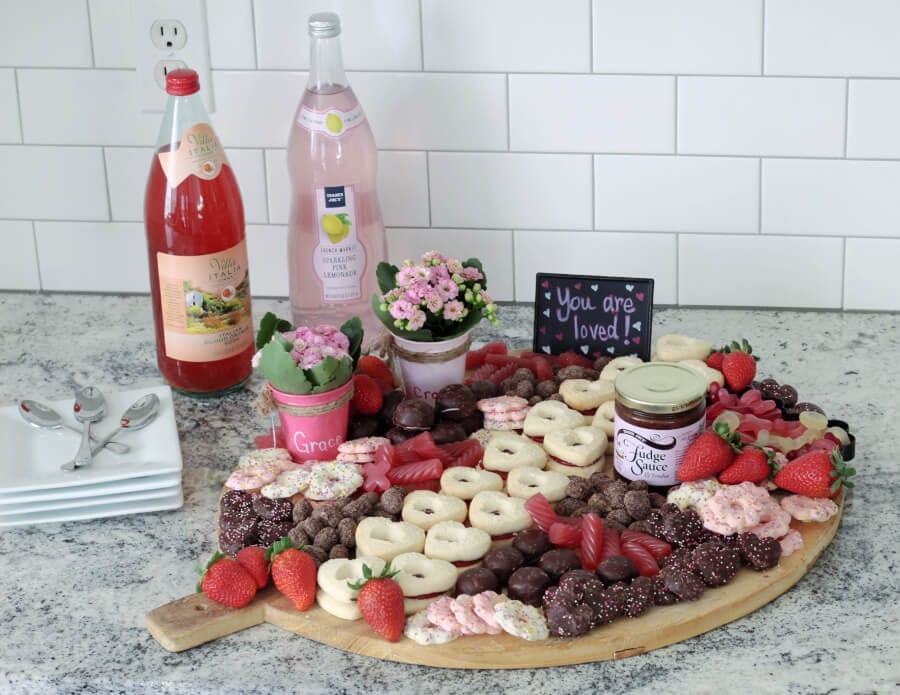 What desserts do you have planned for Valentine's Day this year? If you are still deciding make sure you visit the other 11 ladies sharing their desserts below. Happy Valentine's Day friends!
xoxo,
Kelly
Thrifty Style Team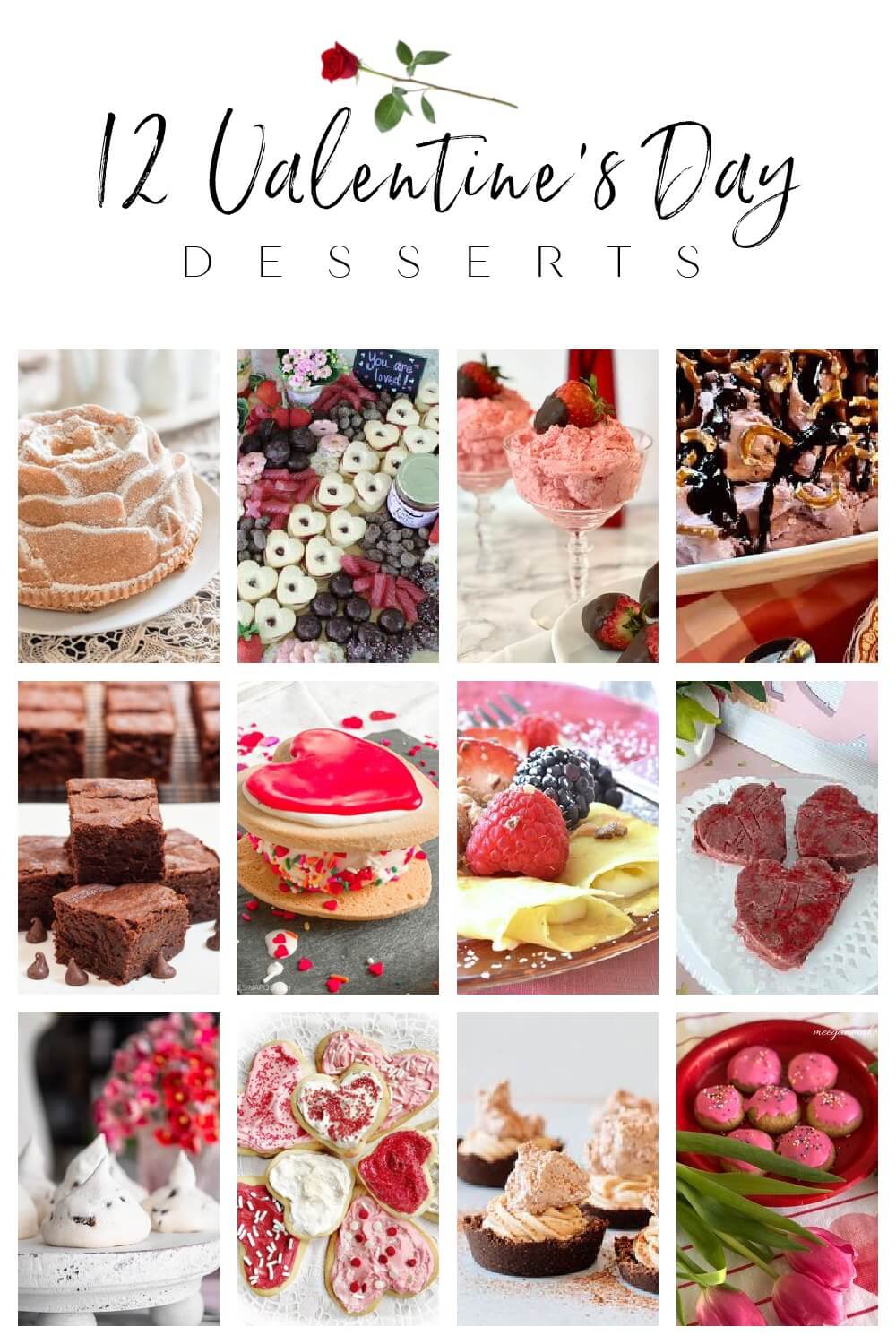 Did you like this post? PIN it for later!