25 Creative and Budget Friendly Ways To Decorate With Pinecones
When it comes to decorating for the fall and winter months I love using pinecones. They are timeless, classic and beautiful. These 25 creative ways to decorate with pinecones will give you tons of winter decorating inspiration for years to come!
Creative Ways To Decorate With Pinecones
Decorating with pinecones brings a touch of the great outdoors into your home, creating a cozy and rustic ambiance. These natural treasures offer endless creative possibilities, whether adorning your holiday tree, crafting charming wreaths, or elevating your table settings.
The earthy beauty of pinecones pairs seamlessly with any decor style, making them the perfect addition to both formal gatherings and casual, everyday moments. Their warm and inviting presence reminds us of the simple pleasures found in nature, helping us celebrate the changing seasons and the magic of the holidays with a timeless touch.
Before you check out these 25 pine cone ideas out make sure to visit my post on how to prepare pine cones for crafts and decor. It will be helpful if you decide to try any of the ideas in today's post!
This easy pinecone door swag is a DIY that you could very well create in a short amount of time. Jennifer from Cottage on Bunker Hill provides the list of materials and well laid out directions. I love the look of it on her door!
This festive season, infuse your loved ones' homes with the delightful scent of Christmas using Heidi from Eleanor Rose Home's DIY Christmas potpourri in a jar. It's more than just a gift; it's a way to share the enchanting essence and coziness of the holiday season. And to make it even more special, she is including a complimentary printable gift tag for that personal touch!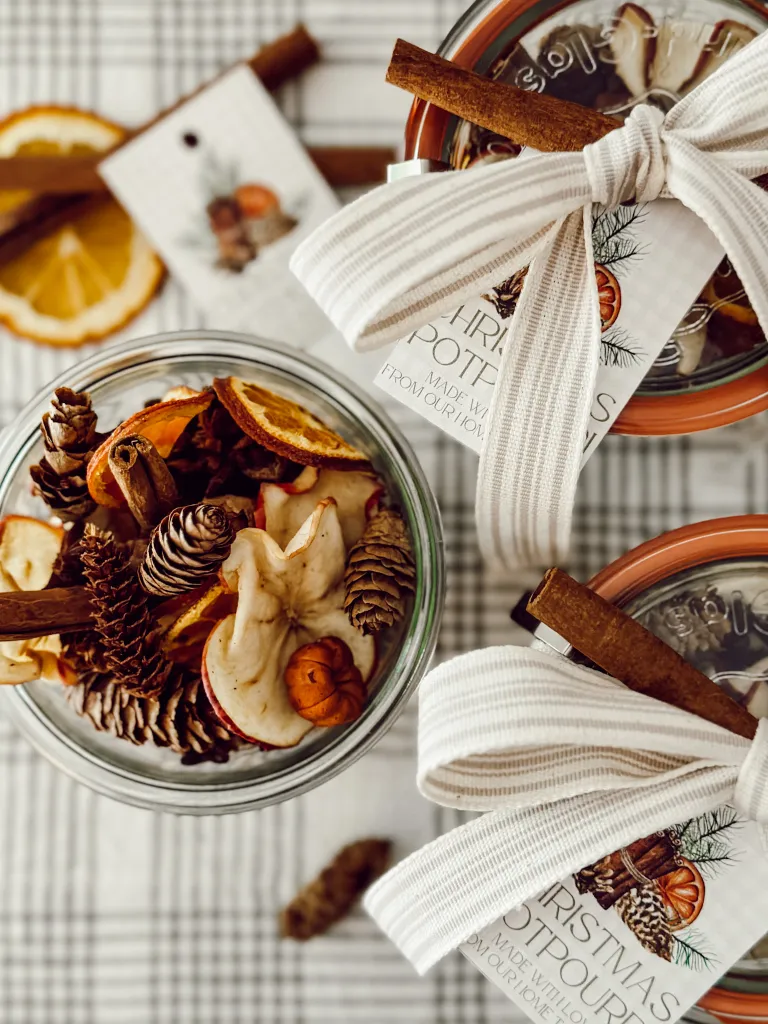 Prepare to be enchanted by Jen from Midwest Life and Style's mesmerizing DIY centerpiece, a masterpiece of elegance and simplicity. Featuring lush greenery and enchanting pinecones, it's a creation that's bound to captivate your senses
If you are anything like me then you love the smell of fall and winter and what better way to do that than making your own DIY scented pinecones. Jenn and Vicki from 2 Bees in a Pod share a wonderful post on just how easy it is to make DIY scented pinecones . I can hardly wait to try them for our home.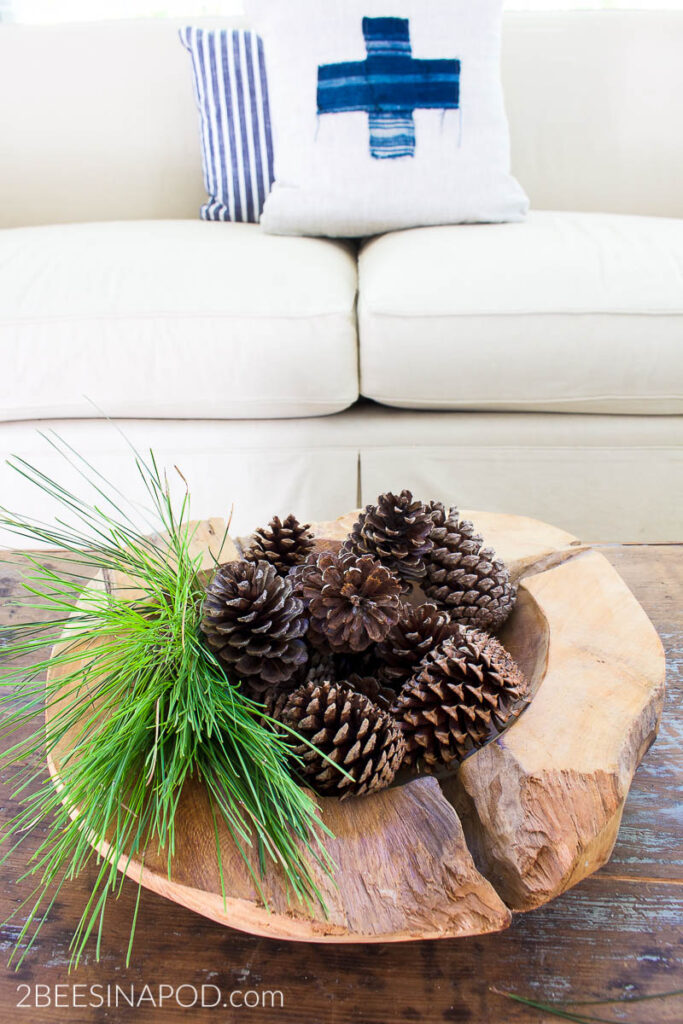 Isn't this pinecone and acorn wreath from Cindy of Cloches and Lavender just so unique and lovely? The mix of these natural elements is so striking and would look lovely hanging on a door, wall or maybe a vintage shutter.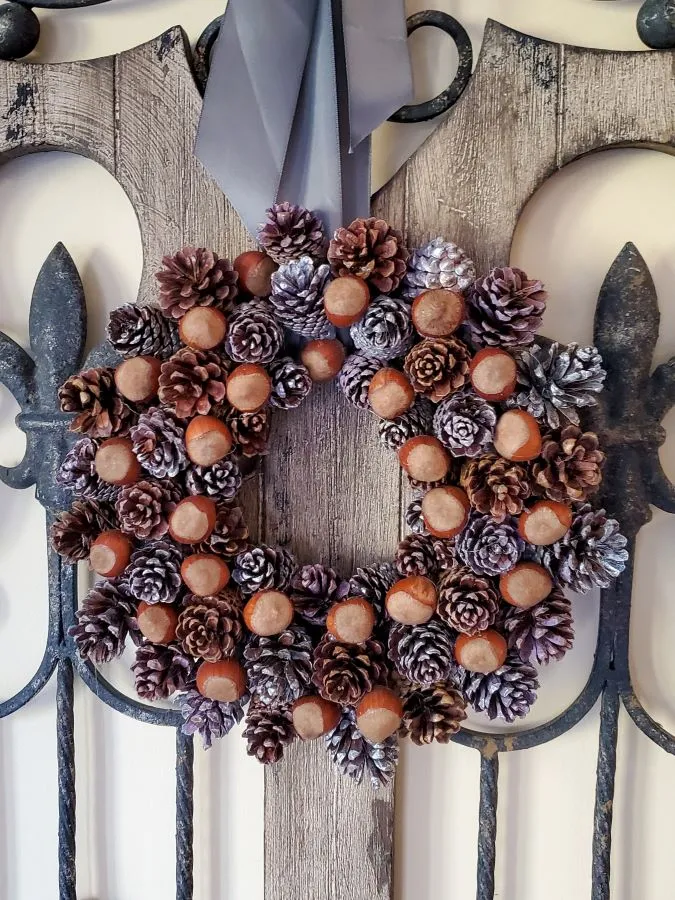 If you know me I love a good natural and simple project and these frosted pinecone Christmas tree ornaments from DIY Beautify fit this to a tee! I love the colorful ribbon attached and frosted white tips. These are lovely!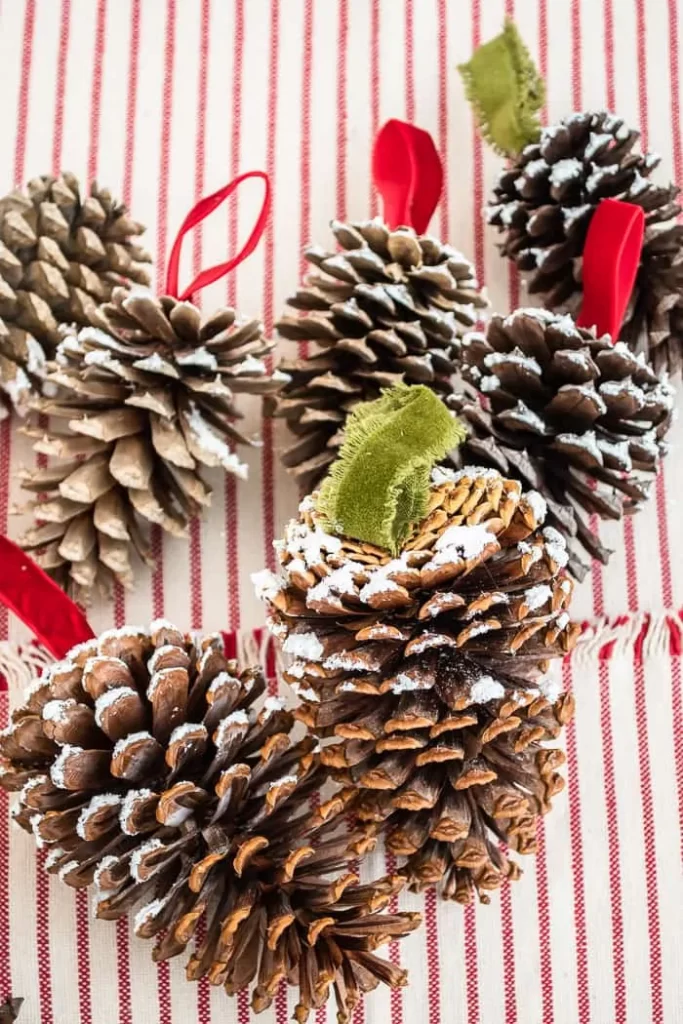 Don't miss this precious Pinecone Elf Village from Amy Sadler Designs. The moment I saw this creative ideas it was instant love. Everything from the whimsical and miniature elements to the way it is displayed made my heart happy. What a wonderful activity to do with your kids or grandkids.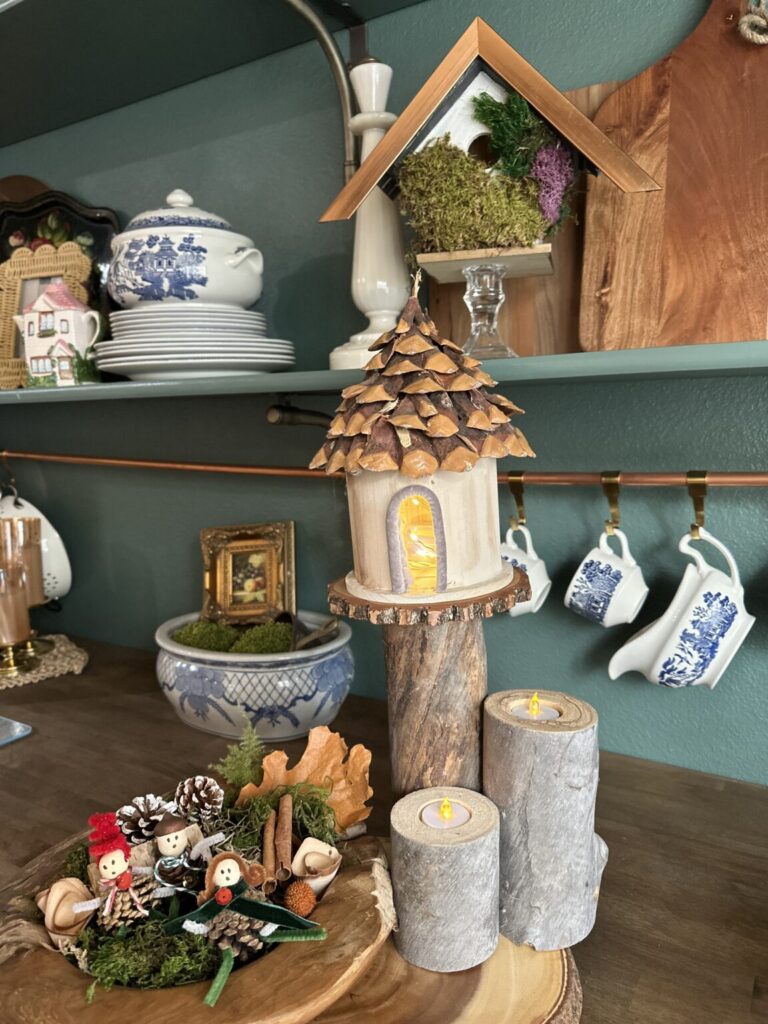 Crafts using pine cones are endless! I thought I had seen most and then I came across these painted pine cone angel wings and was so intrigued. Claire from Pillar Box Blue shares a complete tutorial and even shares some wonderful tips on how to paint pine cones the proper way. One to try for sure!
Wreaths are some of my favorite ways to decorate throughout the seasons. I love this stunning and beautiful pinecone wreath from Renae of Peacock Ridge Farm. What makes this one unique is her use of moss as a base layer. I love how the green peeks through the pinecones and ties in with her striking velvet green ribbon. Classically beautiful!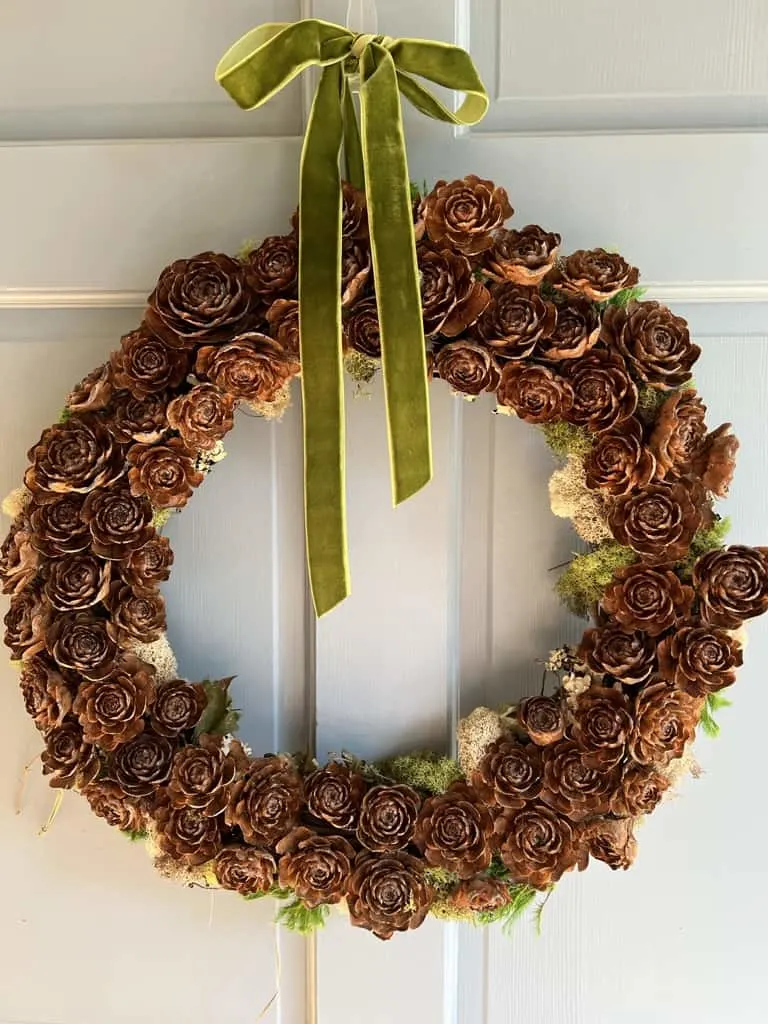 Embrace the art of DIY gift wrapping to infuse a heartfelt, personal essence into your Christmas presents. Discover how Chelsea of Making Joy and Pretty Things, employed pinecones to craft two distinct, rustic gift wrapping concepts.
This is such a fun wreath featuring pinecones from Colleen of the blog Lemonthistle. She shares a step by step tutorial on just how easy it is to make her DIY rustic pinecone and bauble holiday wreath. I love her use of burlap and how it works so well with the ornaments and pinecones. Such a fun craft!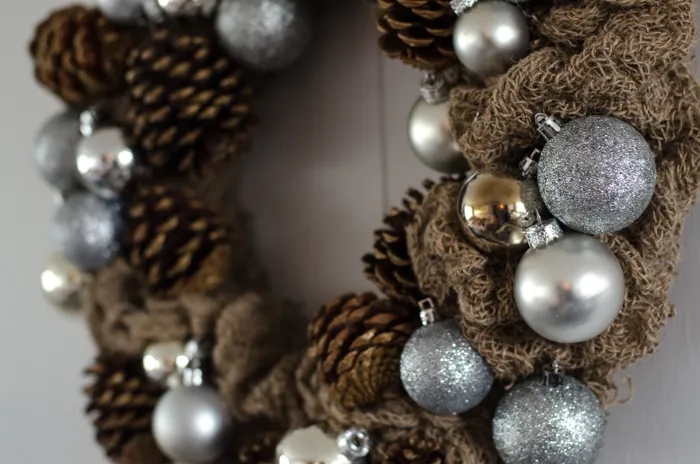 Liberty from the blog B4andAfters shares how to craft charming miniature pinecone trees that capture the spirit of the season. Simply glue pinecones onto a cone-shaped base, starting from the bottom and working your way up. Add a touch of holiday magic with decorations, and you'll have festive decor that's both easy and delightful!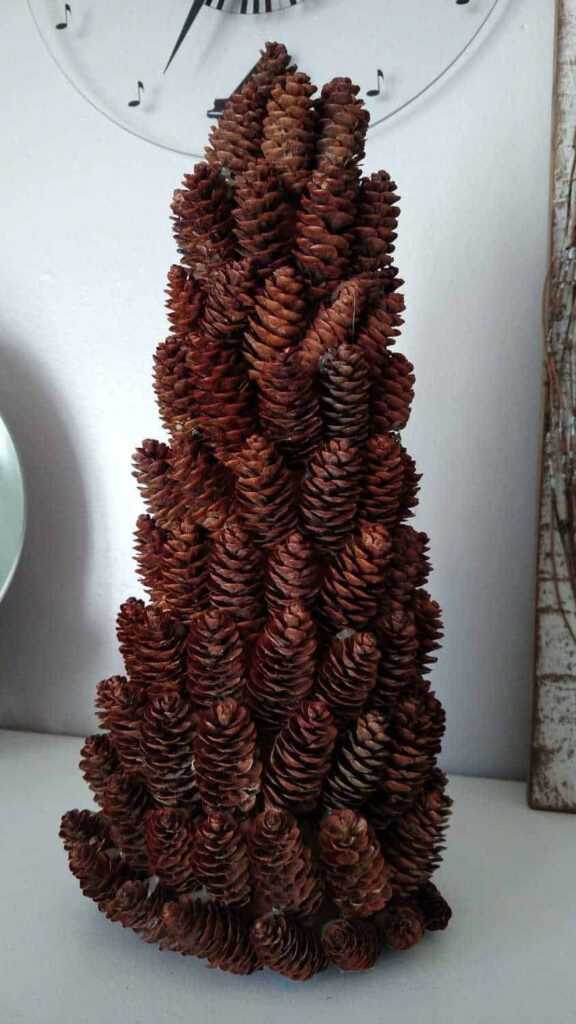 Transform your space with a rustic pine cone garland from Elle Marie Home that exudes natural charm. String pine cones onto jute twine, alternating with fabric strips for a cozy, textured look. This simple DIY project will bring the warmth of the outdoors inside, perfect for adding a touch of rustic elegance to your decor.
14. How To Make A Christmas Kissing Ball With Pine Cones
Discover the enchanting world of crafting as Michelle of Our Crafty Mom guides you through the creation of a stunning Christmas Kissing Ball, elegantly crafted with pine cones and faux pine stems. Unveil the secrets to infusing your holiday decor with a touch of natural beauty, making this DIY project a must-try for a magical and memorable Christmas season.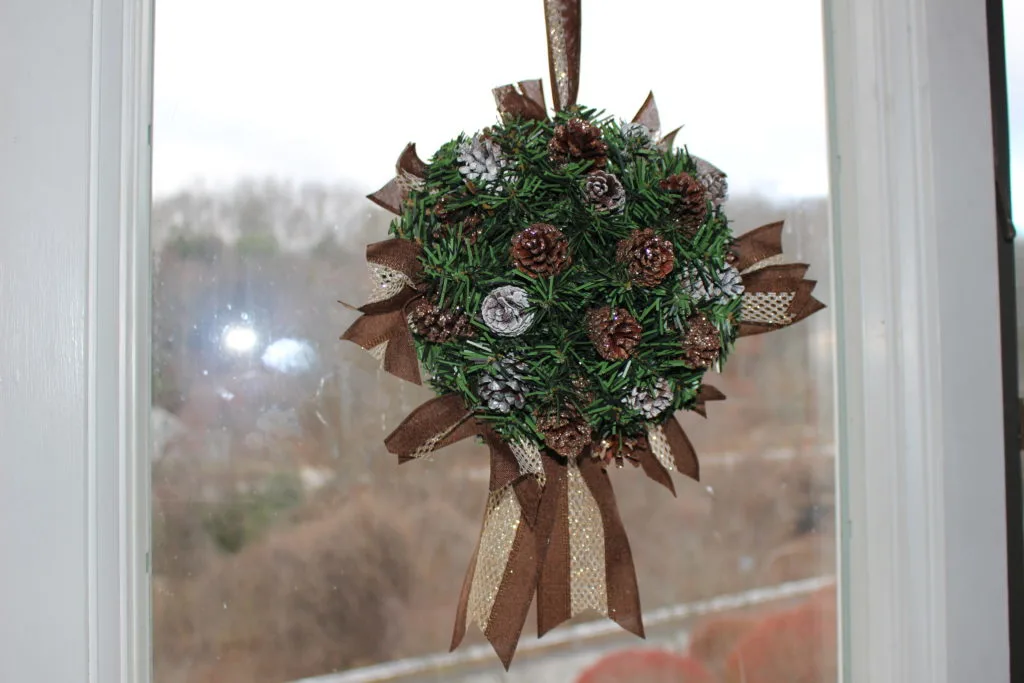 Step into the world of thrifty elegance with Aliya of Open Doors Open Hearts blog as she shares 9 enchanting Christmas decor ideas, inspired by the timeless charm of European cottage style and featuring the rustic beauty of pine cones. Explore these budget-friendly tips and transform your home into a winter wonderland, where affordability meets sophistication, all within your reach this holiday season.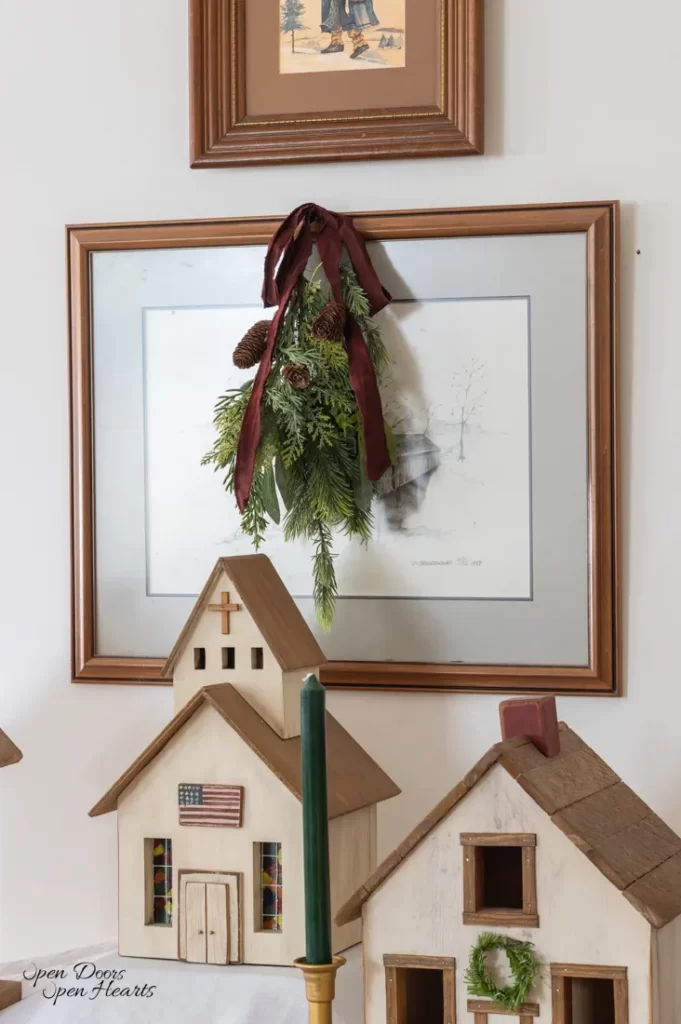 Elevate your door decor with a touch of nature's beauty by crafting this clever pinecone door arrangement from Marty's Musings. Discover an easy and unique way to welcome guests with a hint of rustic charm, making your entrance truly stand out.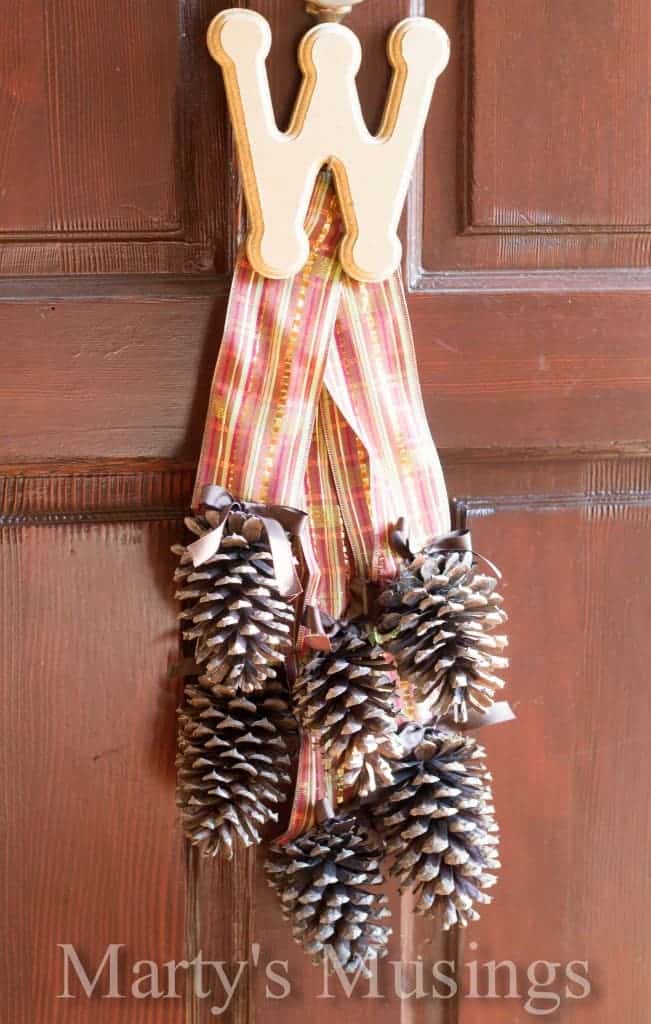 This is one of my posts and probably the one that got me the most excited about using pine cones in my decor. Unveil the magic of the holidays with my easy DIY star-shaped pine cone ornaments. Transform simple pine cones into festive stars with a touch of glitter and creativity, adding a rustic, natural charm to your Christmas tree or home decor.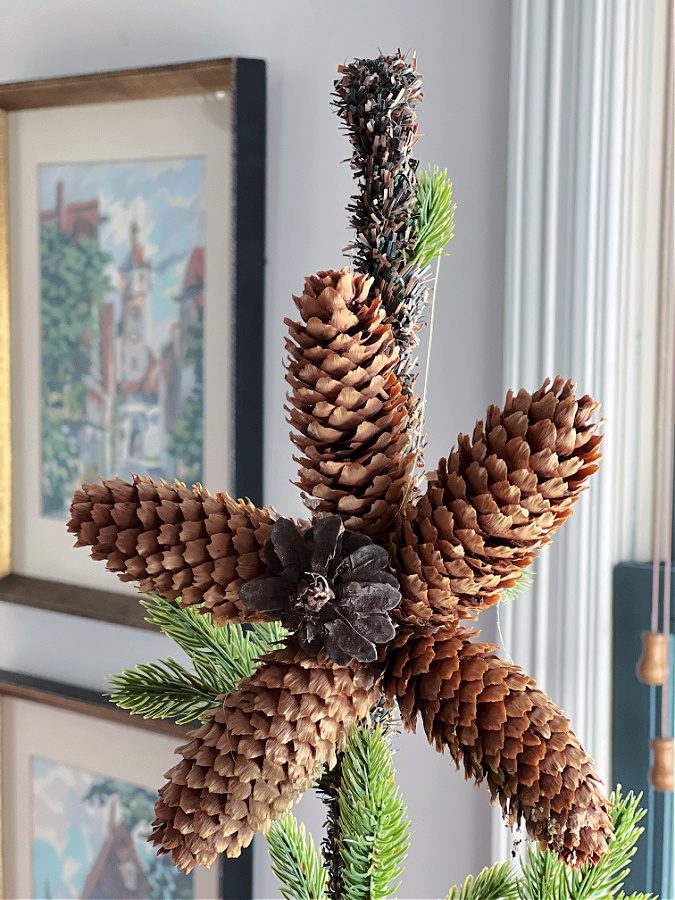 Elevate your holiday home with these charming pine cone Christmas trees from Patti of Hearth and Vine. She crafted them from a Styrofoam base, an abundance of hot glue, and a bag of mini pine cones. These easy-to-make trees will bring a touch of nature and festive spirit to your decor, making your home feel cozy and inviting this holiday season.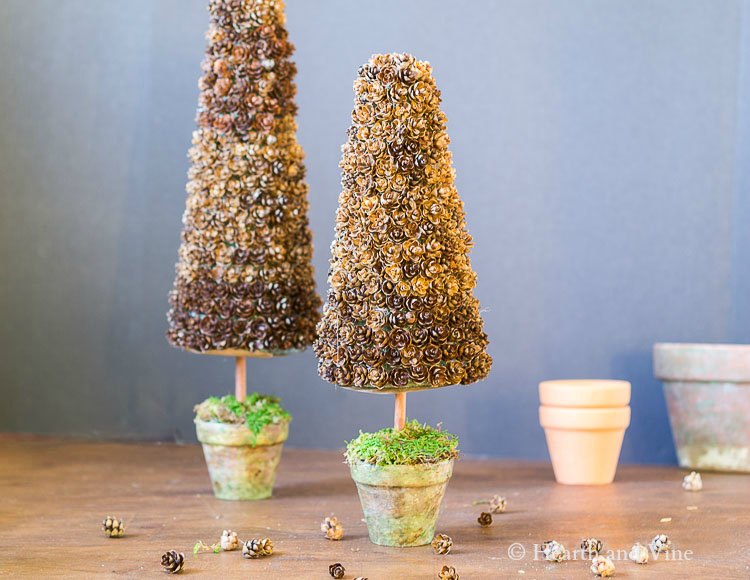 Christine from DIY Dreamer show you how to elevate your holiday decor with her simple DIY pine cone ornaments. These easy-to-create ornaments add a natural, rustic touch to your Christmas tree, making your home feel warm and inviting during the festive season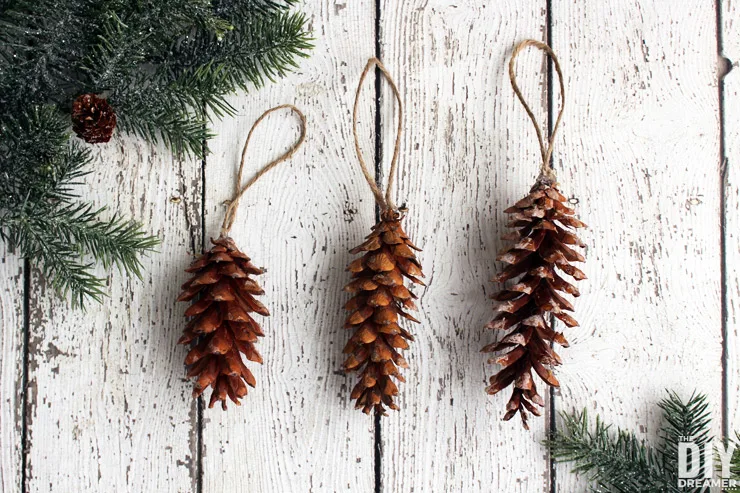 Learn the art of crafting stunning ice votives adorned with natural elements like pinecones. Create a magical ambiance for your winter gatherings as you embrace the beauty of nature, freezing it in time with these enchanting and easy-to-make decorations. Follow my simple tutorial and learn from my mistakes.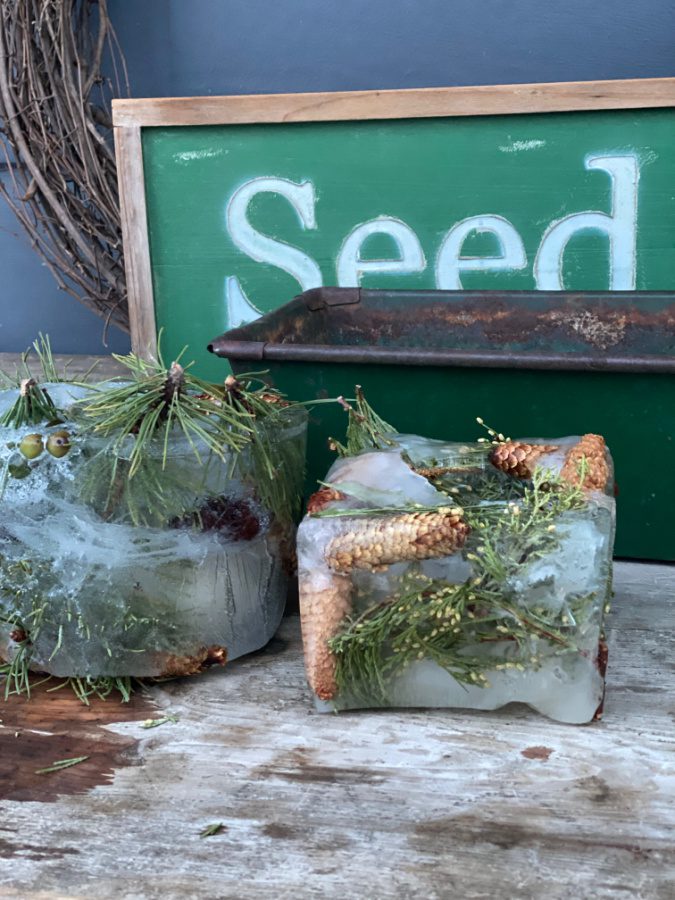 On the hunt for a wallet-friendly and festive solution to spruce up your dining chairs this holiday season? Search no more—introducing Kim from Cottage In the Mitten's delightful DIY mini pinecone wreaths! Crafted with ease, these wreaths offer a custom touch to complement any decor style. What's more, they're the perfect way to put those extra pinecones from your Christmas tree to good use!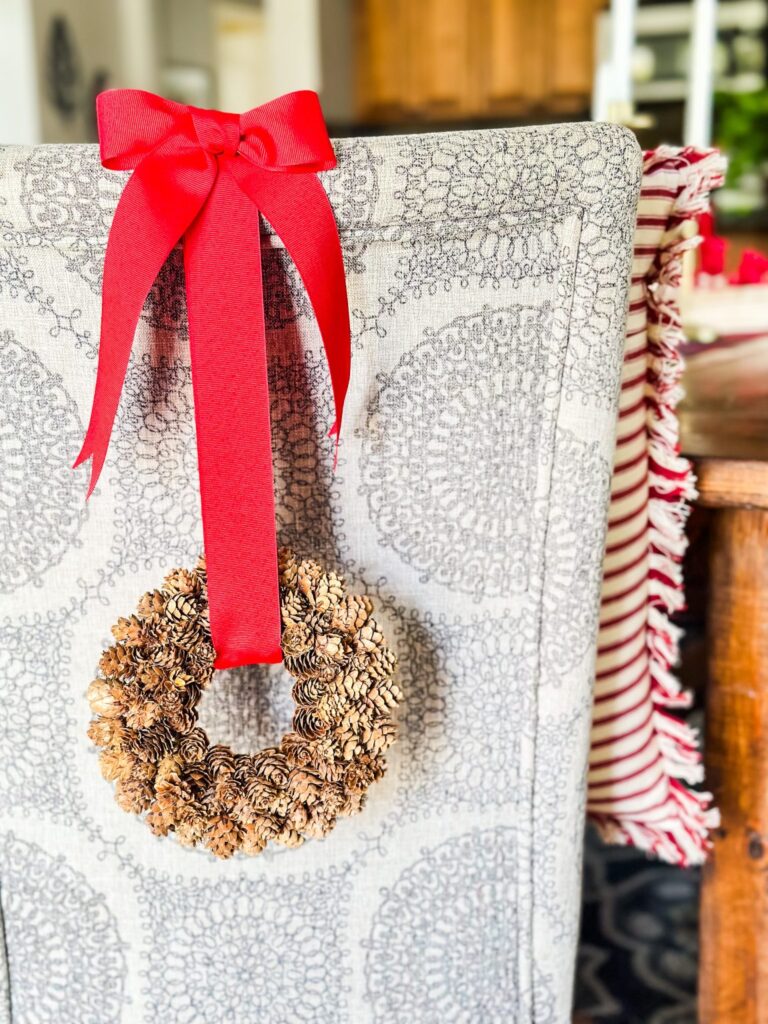 Cathi from Scratch and Stitch show you how transforming a pinecone wreath it into a Santa-themed holiday wreath was inspired by a Pinterest project. The result exceeded her expectations, with the red-painted pine cones shining brilliantly and bringing a joyful touch to her decor. One to try!
If you're searching for an original and budget-friendly method to infuse rustic allure into your Christmas decorations, think about crafting your own ornaments using wooden slices and pine cones. Jennifer from Cottage on Bunker Hill shares this uncomplicated project that is beginner-friendly, delivering truly breathtaking results.
Aren't these DIY Pinecone acorns so fun? This idea from Maggie Overby Studios caught my eye so I had to share them. She shares a simple tutorial on how to collect, cut, assemble and paint pinecones to look like acorns. Beautiful for displaying throughout the Fall and winter and budget friendly too.
Finally, get ready for some DIY springtime inspiration! I'm thrilled to share Leslie of My 100 Year Old's stunning pinecone wreath crafted entirely from items found in her very own yard. She dives into the world of pinecone flowers, and guides you through every step to create this exquisite spring wreath.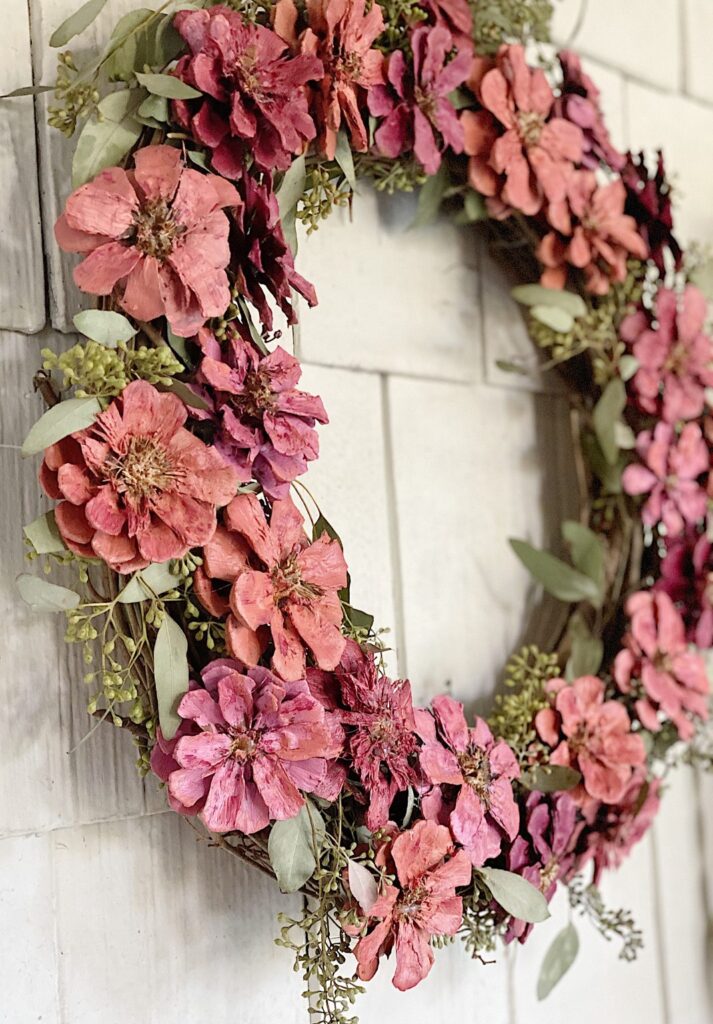 25 Creative and Budget Friendly Ways To Decorate With Pinecones
As we conclude this pinecone-filled journey, I hope you've found a wealth of inspiration among these 25 creative and budget-friendly ways to decorate with pinecones. The simple beauty of nature can truly transform your space, infusing it with rustic charm, warmth, and a touch of the outdoors.
Whether adorning your holiday decor, creating unique gifts, or bringing that special touch to everyday life, pinecones prove to be versatile, natural treasures that continue to inspire us all. Thank you for joining me on this creative adventure, and here's to a season brimming with pine-scented enchantment.
I'd love to have you hang out with me some more! Feel free to follow along with me on any of the platforms linked below.
LTK | Facebook | Instagram | Pinterest | Amazon
xoxo,
Kelly
Did you like this post? PIN it for later!