My Christmas decorating has started and I'm not ashamed! In fact, quite the opposite. I am in heaven and enjoying taking my time decorating… and this year it started with Christmas on the porch!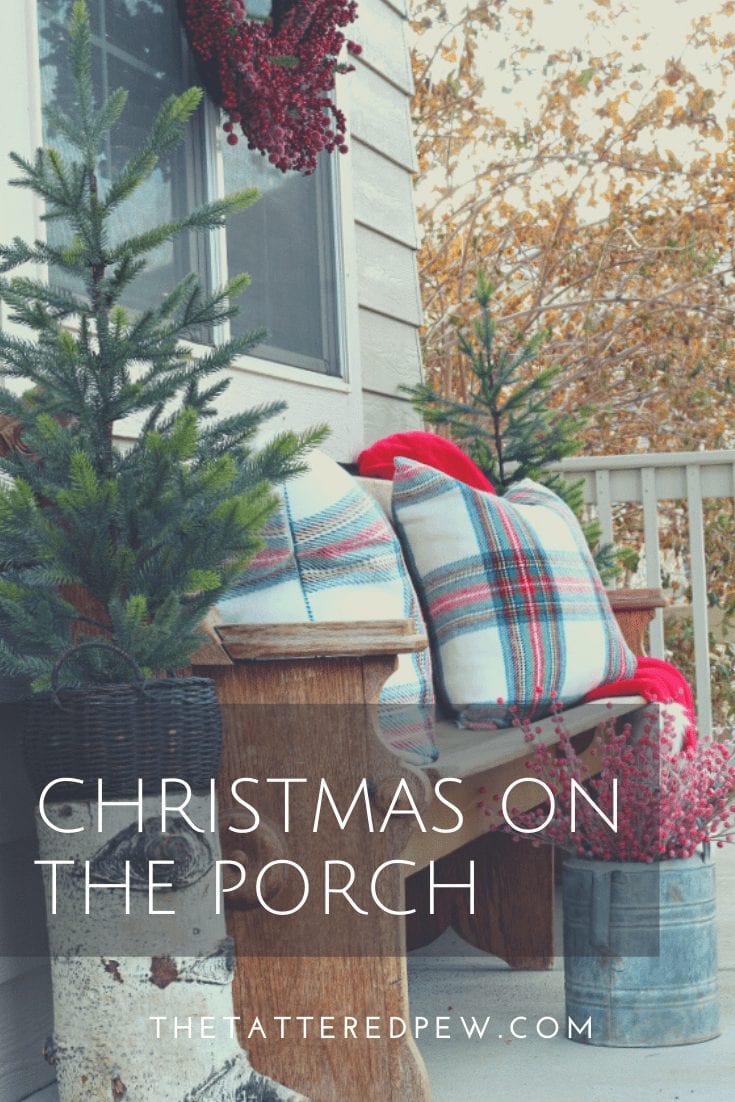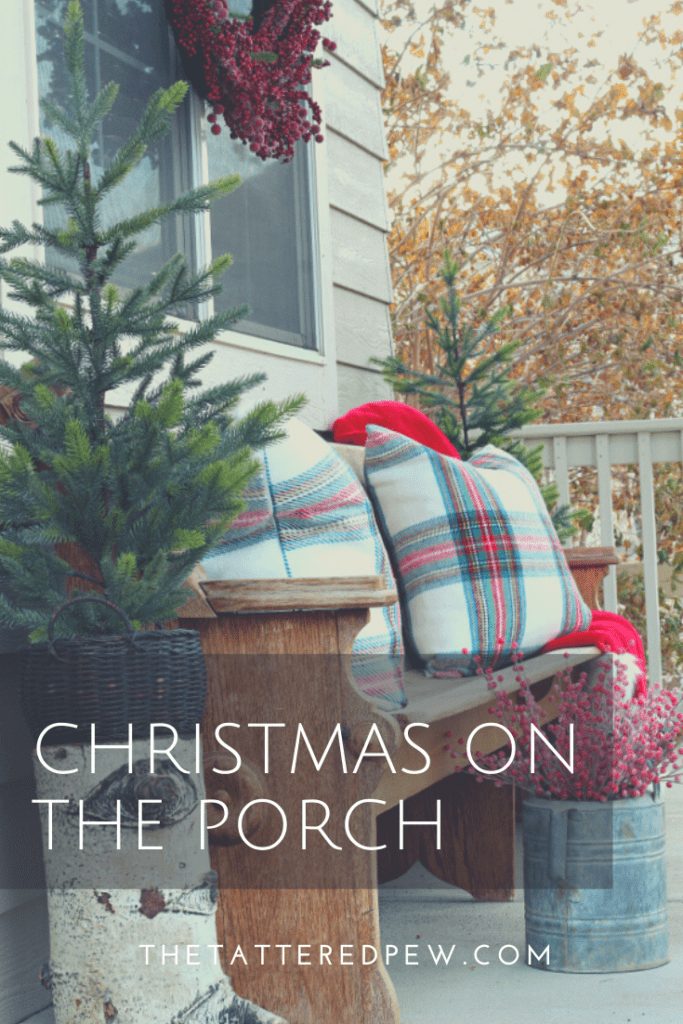 Today I am sharing my simple and doable Christmas porch along with 4 other amazing bloggers also sharing their porches. Please make sure to visit their links at the bottom of my post. I have no doubt you will leave inspired!
Christmas on the Porch
Welcome to the Tattered Pew! If you are visiting for the first time I'm so glad you are here! My name is Kelly and I live Colorado. I'm a kindergarten teacher by day and blogger by night. My mom is my decorating partner and I love my family like crazy! I like to consider this space a DIY and lifestyle blog for REAL people. I'm all about finding ways to combine happiness and home!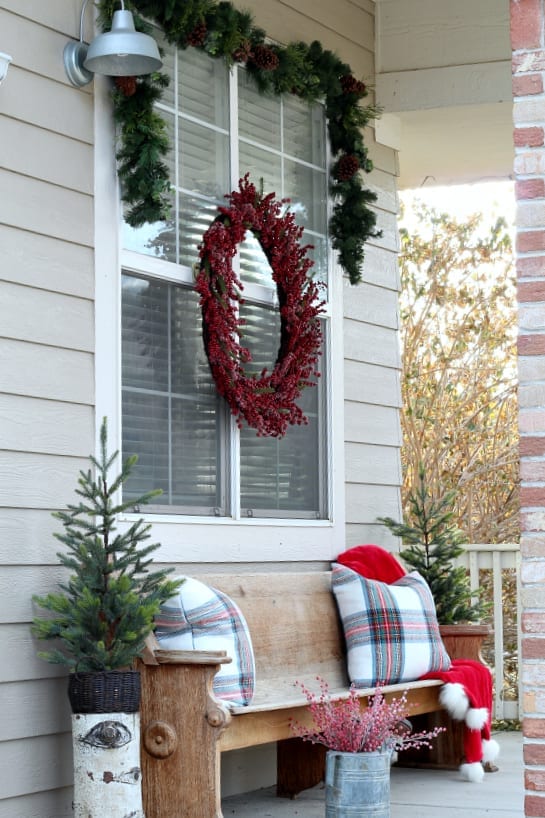 It's no secret that I LOVE Christmas! I was born in December and I love that I get to share the same birthday month with Jesus. So when it comes to decorating for this special month I like to start early and I love to start with our porch. I absolutely love decorating my porch because it holds my favorite pew, Ms. Fanny! This year I decided to keep things more on the minimal side, unlike last year's porch.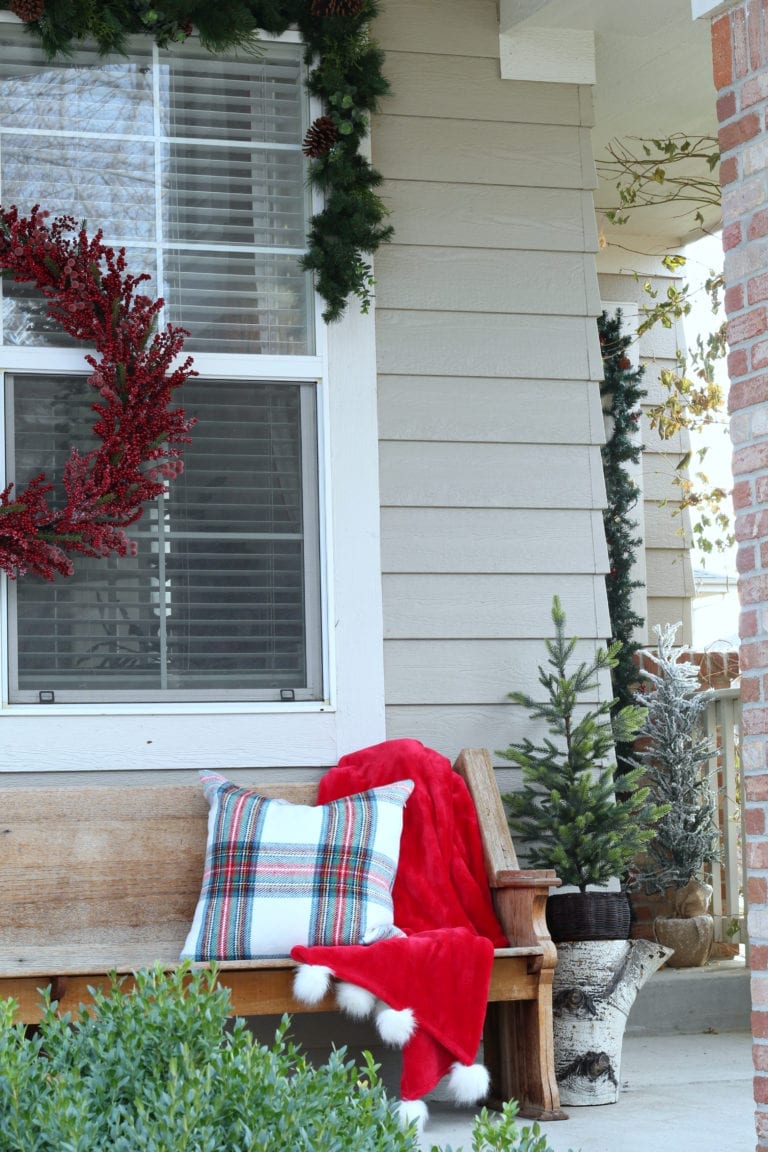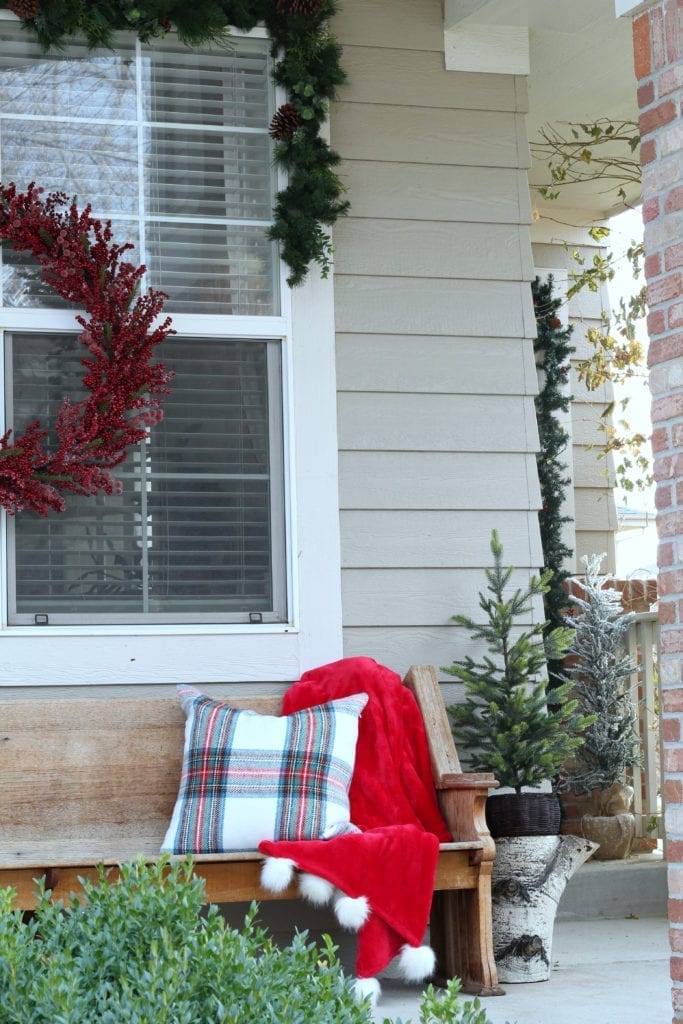 This year I mostly shopped my house (and my mom's) but did have some fun at Home Goods where I found the pretty plaid pillows and two red berry wreaths. I am a firm believer that what I share should be something my readers and friends feel that they can accomplish as well. Here is what I used…pillows , trees, wreaths, a blanket and a few small accessories is all this porch needed to make it feel Christmas ready!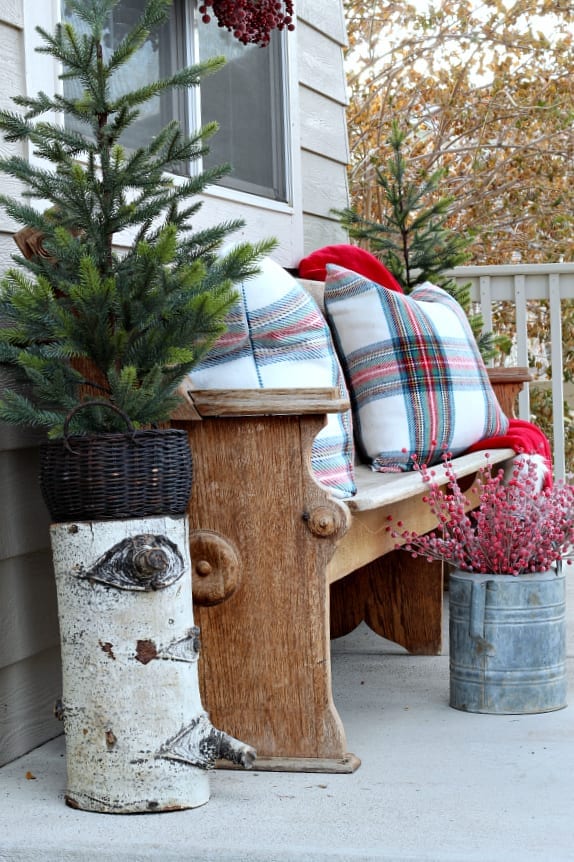 They white tree stumps were free and I always say you can't beat free! 😉 Just like last year I decided that these Aspen stumps needed a place on our Christmas porch. My mom came up with the brilliant idea to use them like end tables. We joked about how I love symmetry as we placed one on each side of the pew. But aren't they just the cutest?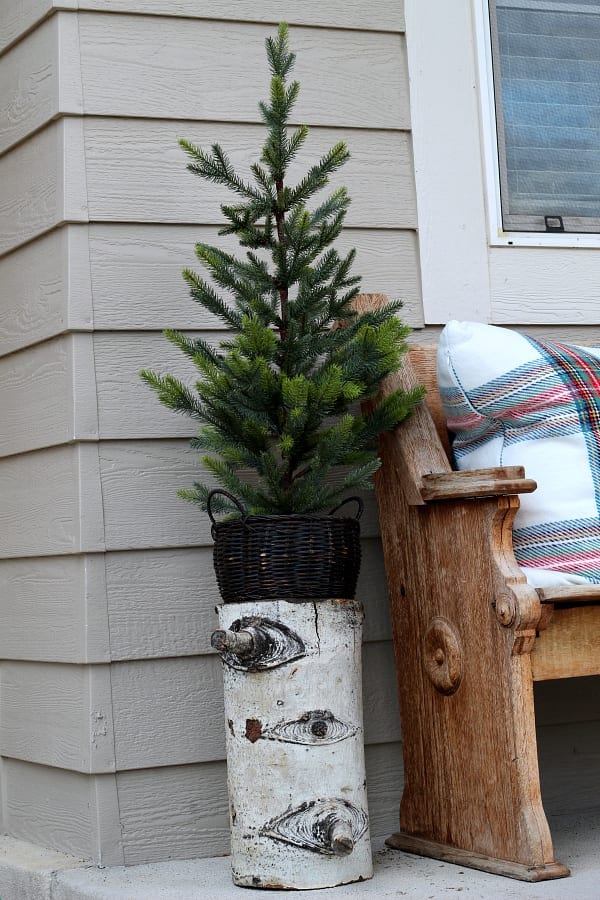 The trees in the baskets on the stumps are my mom's and are from Target last year. However, I'm pretty sure I just saw them again this year. Maybe I should buy my own since I love them so much!
Focal Piece
My pew is definitely the focal piece of our porch. I wanted her to be the star this year so I didn't decorate under her or on her besides the plaid pillows and the red Santa blanket.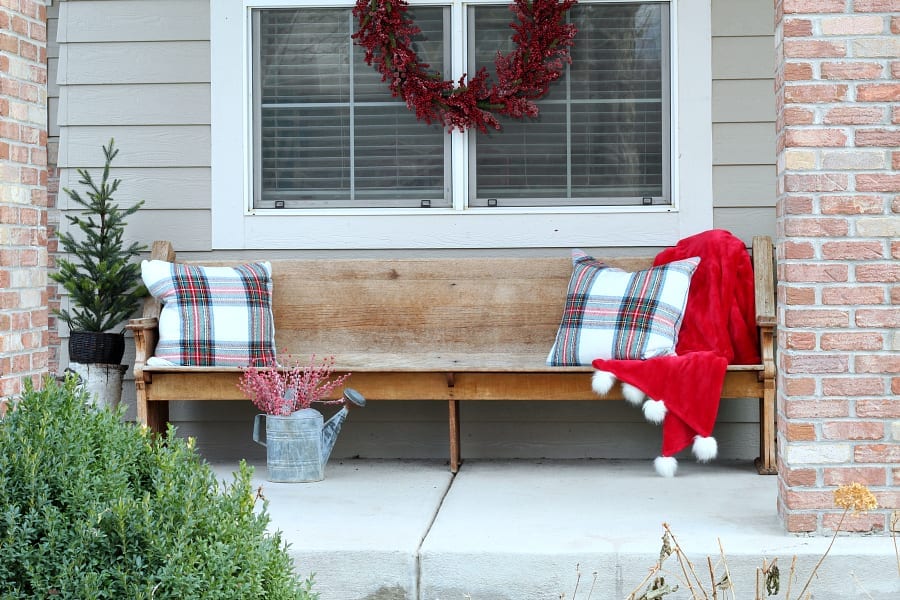 I always have to add vintage touches to my decor. The watering can you see is an old flea market find and I simply added some berry picks to give it a Christmas feel. The white on the berries is fake snow from a can…a simple trick to add some winter charm!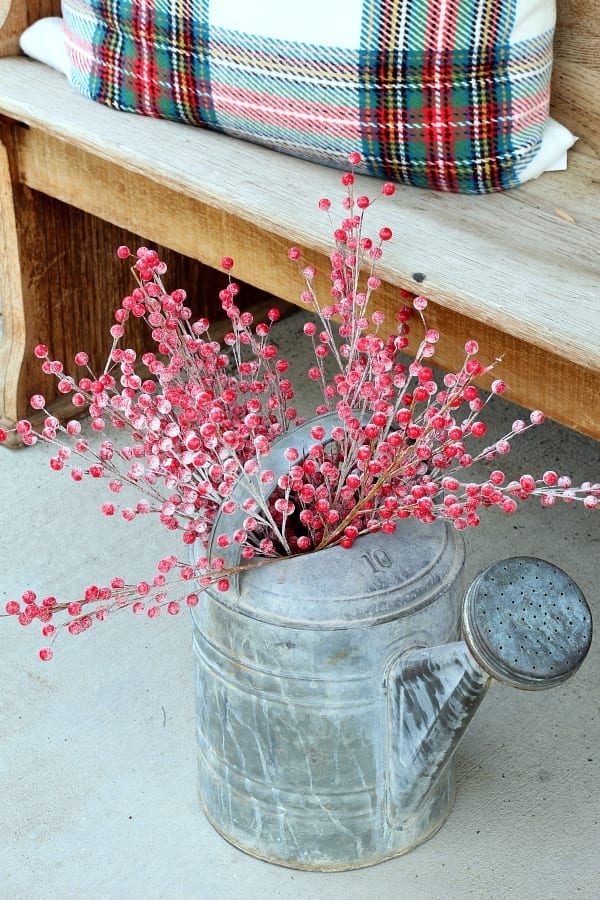 Just around the corner from my pew is our front door! You can find some more symmetry and more greenery! Those flocked trees I scored Walmart several years ago. Guess what, they still have them!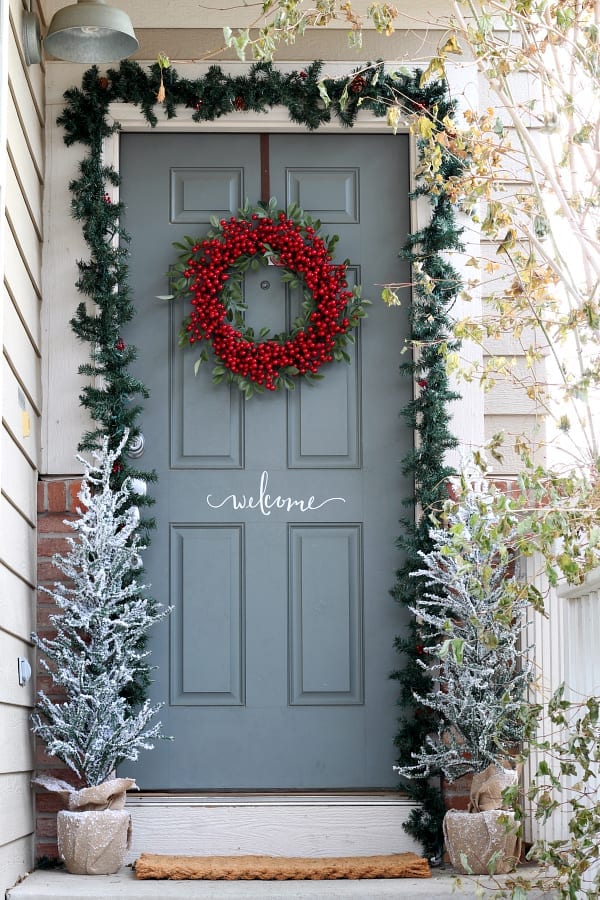 A fun and simple Christmas porch. Now all we need is a little bit of snow!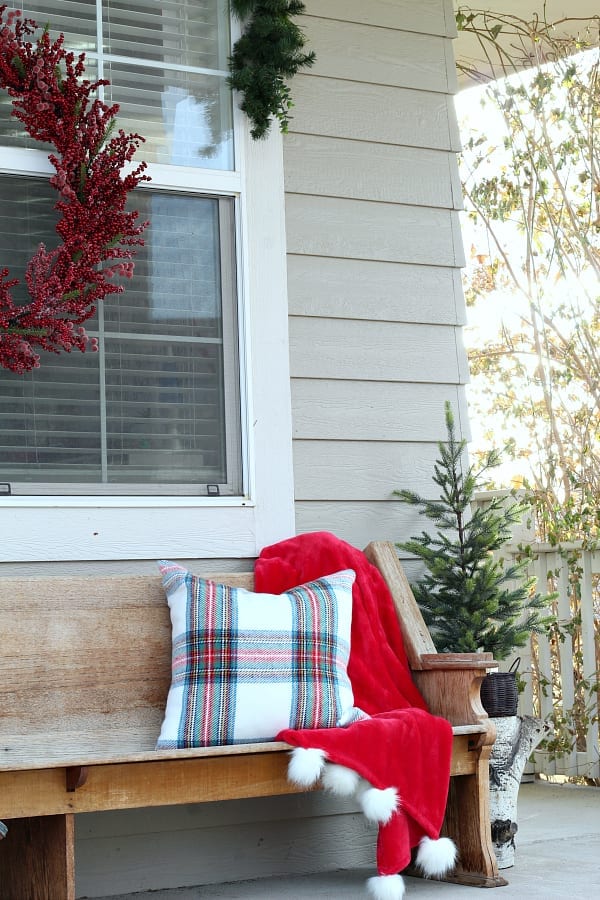 Shop The Post (affiliate links included)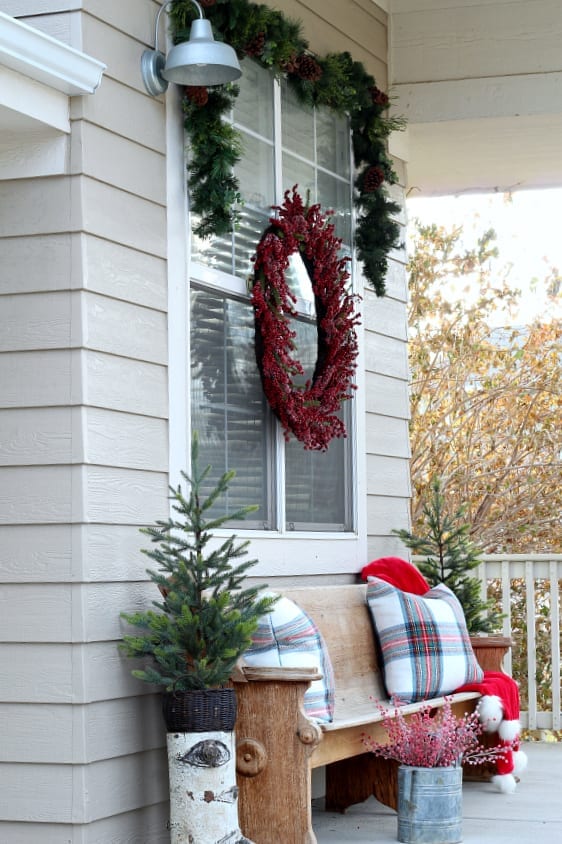 Thank you for spending some time with me on my porch! Hopefully you were inspired and left feeling like decorating a Christmas porch doesn't have to be hard or expensive. Please let me know what you thought in the comments below. 🙂 I would love for you to follow along with me here on the blog as well as Pinterest, Facebook and Instagram! Make sure to check out the blog links below as well before you go! Merry "almost" Christmas!
Visit These Beautiful Christmas Porches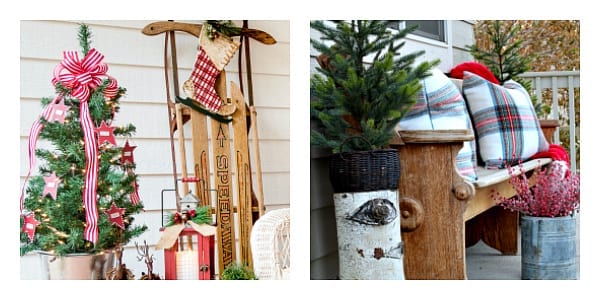 xoxo,
Kelly
Did you like this post? Pin it for later!