A Simple DIY Halloween Centerpiece
This year for Halloween I wanted to keep my decor a bit more simplified and on the affordable side. I feel like I was able to achieve both and came up with this simple DIY Halloween centerpiece. If you plan to a host a party this year and need some Halloween decorating inspiration you are in the right place!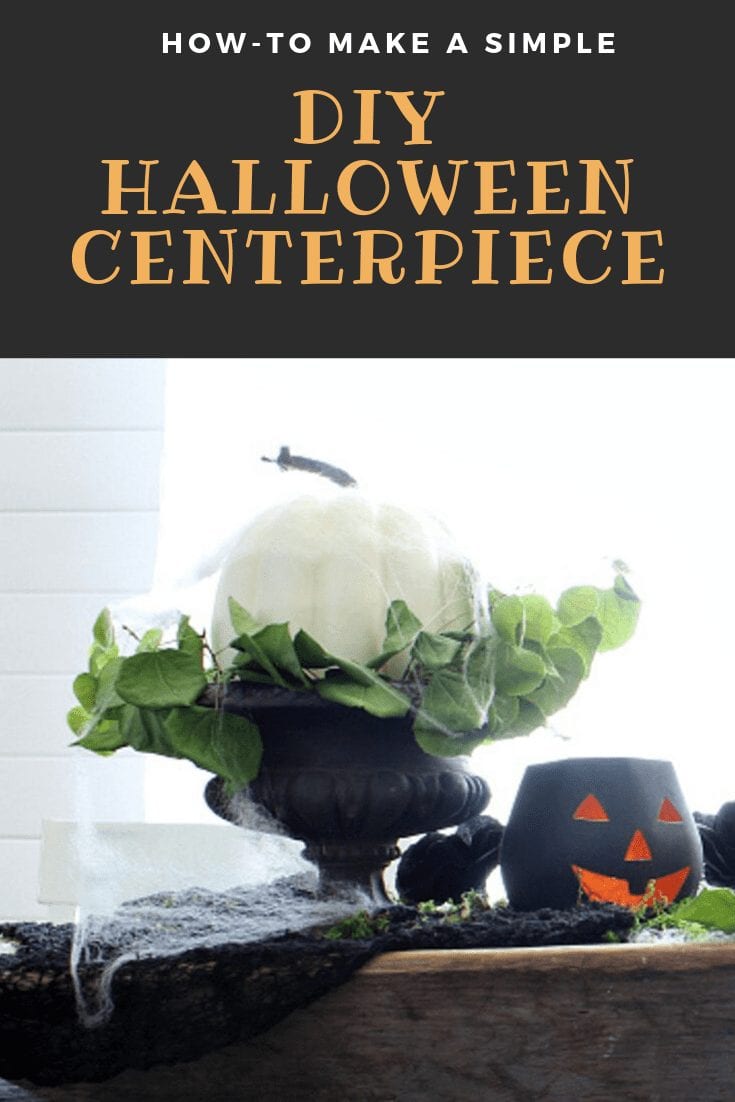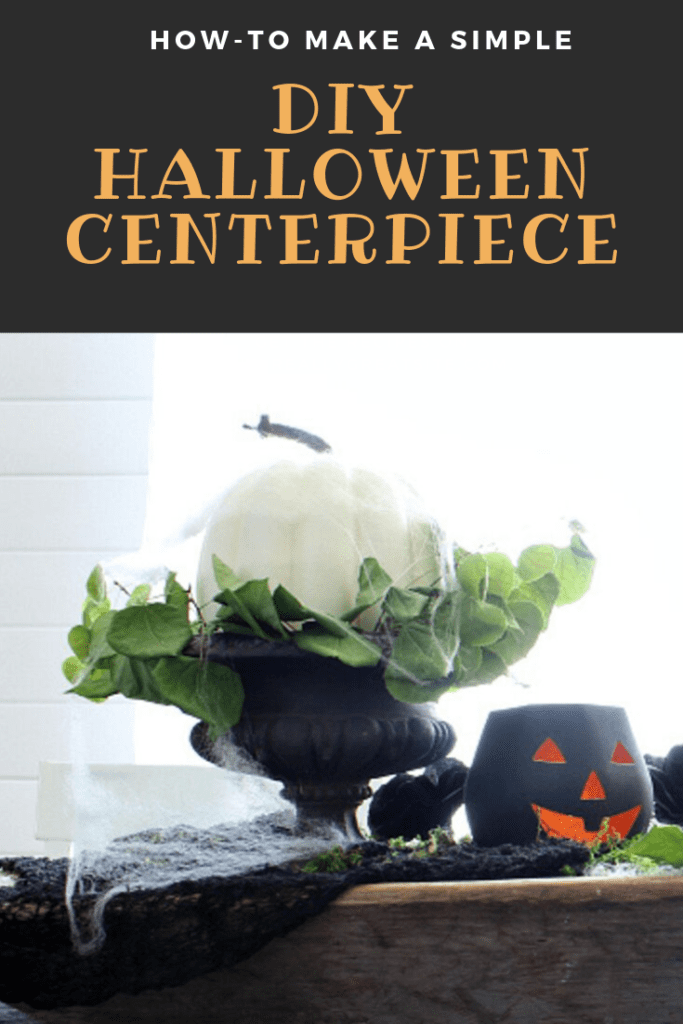 A Simple DIY Halloween Centerpiece
Our dining room is the first room you see as you enter our house so it's a great spot to decorate for my kids, guests, trick or treaters and Halloween get togethers.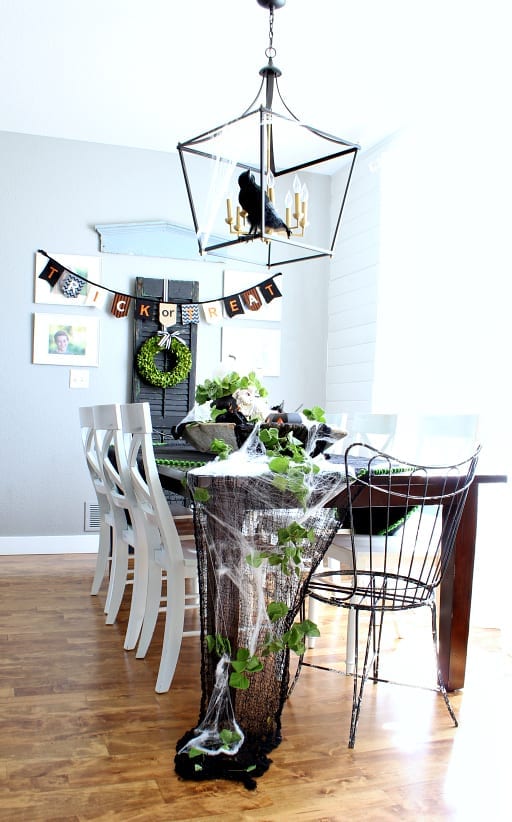 This year I dug out my dollar store, Target dollar Spot items and JOANN finds from last year and went to work getting creative. I didn't spend a penny and I had so much fun! This might be the easiest centerpiece and seasonal holiday decorating I have ever done.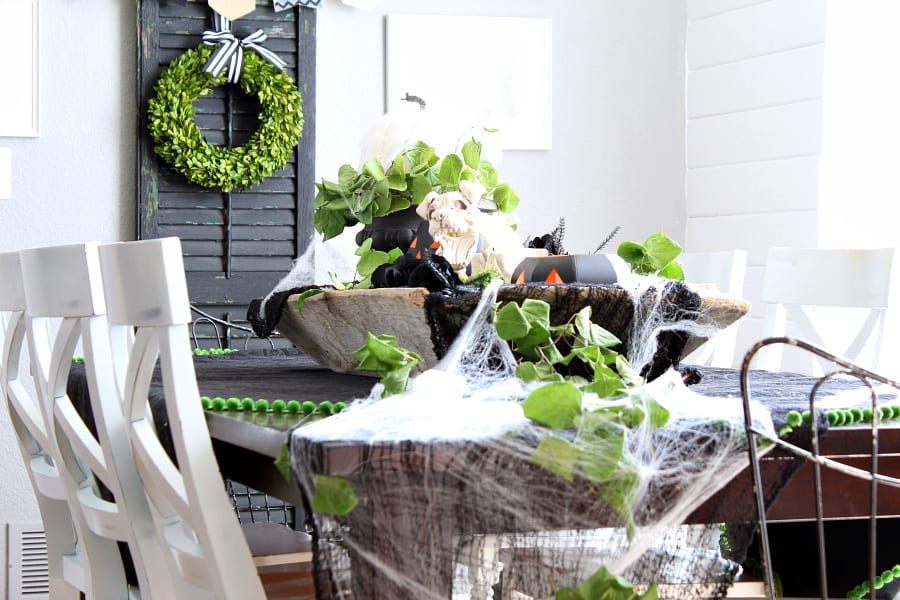 Getting Started
For the table I started with this fun black table cloth with green pom poms that my mom actually made for my sister's wedding several years ago! I love how it adds a classy feel to my table.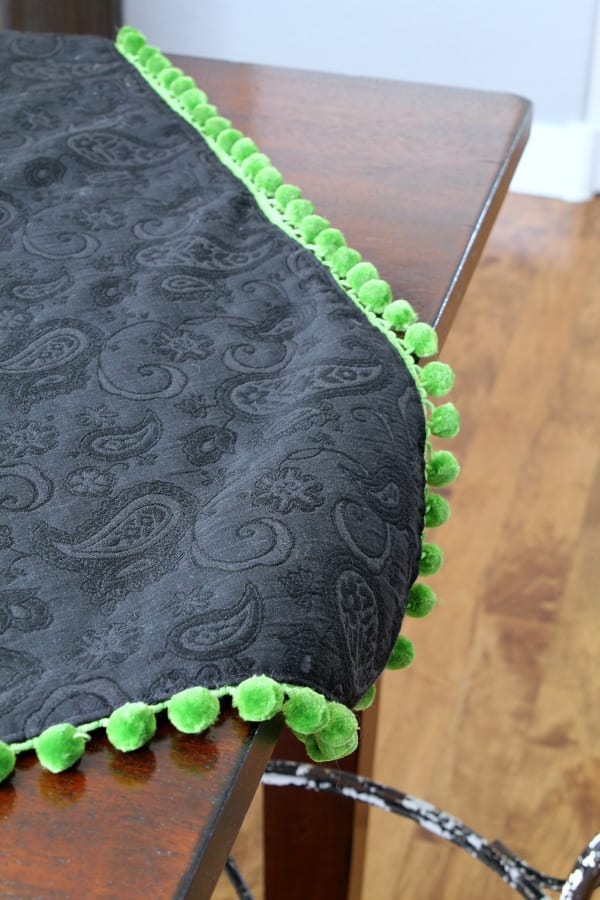 Then I brought in my chippy old metal outdoor chairs and added them to both ends of the table for a fun and eclectic feel. One of my favorite things about decorating is thinking outside of the box when it comes to adding items or furniture to unexpected spaces. One of these chairs I had to grab from outside because I used it on my Fall porch.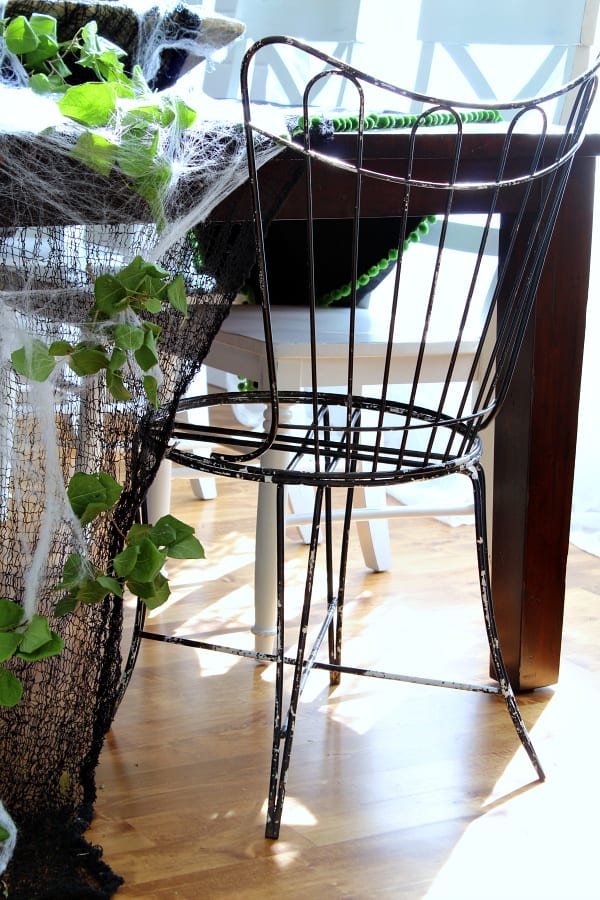 Doughbowl Centerpiece
My awesome husband brought my dough bowl down from the top of my hutch and it was still full of moss from last Christmas. It became the perfect base for my DIY Halloween centerpiece. I decided that I loved how it looked with my other green accents so I kept the moss in. Then I added the pumpkin topiary from this year's Fall Home tour.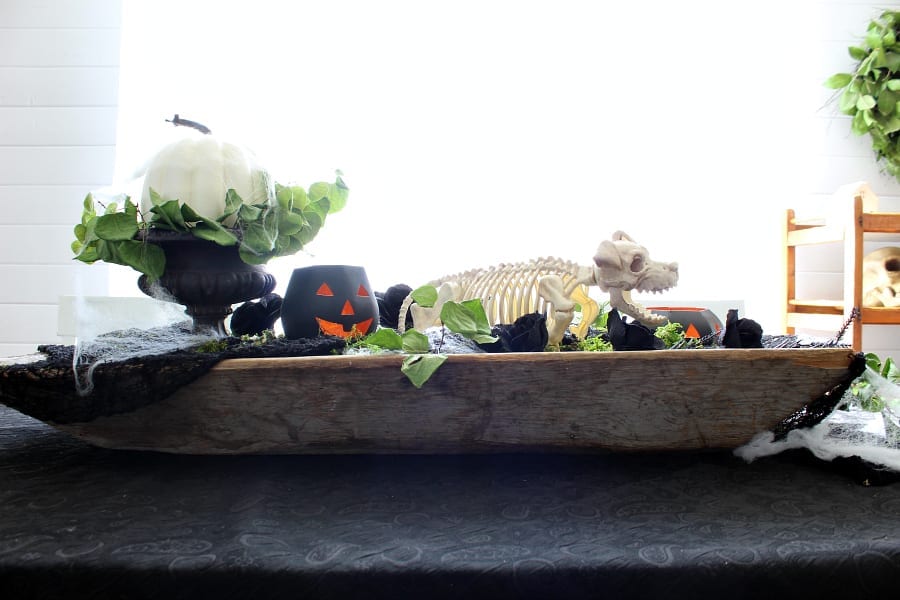 I continued to stuff it with the black pumpkin lanterns from the Target dollar bins, leaves from my trees out back, this skeleton dog, black faux roses and basically anything I could find. It was actually really fun! Then I layered on some Dollar Store fake cobwebs and weaved in some long black gauze. Last year most of this decor was out on my Halloween front porch. It definitely looks good in both spots!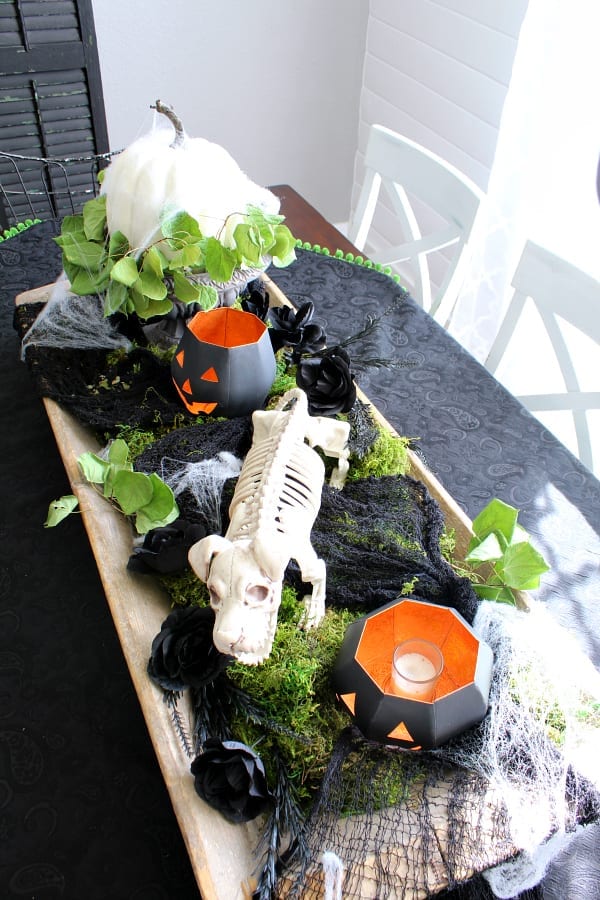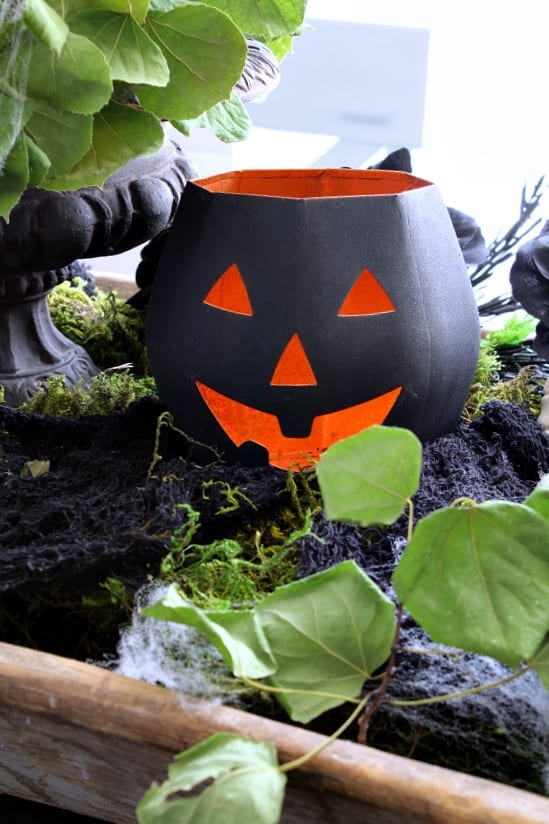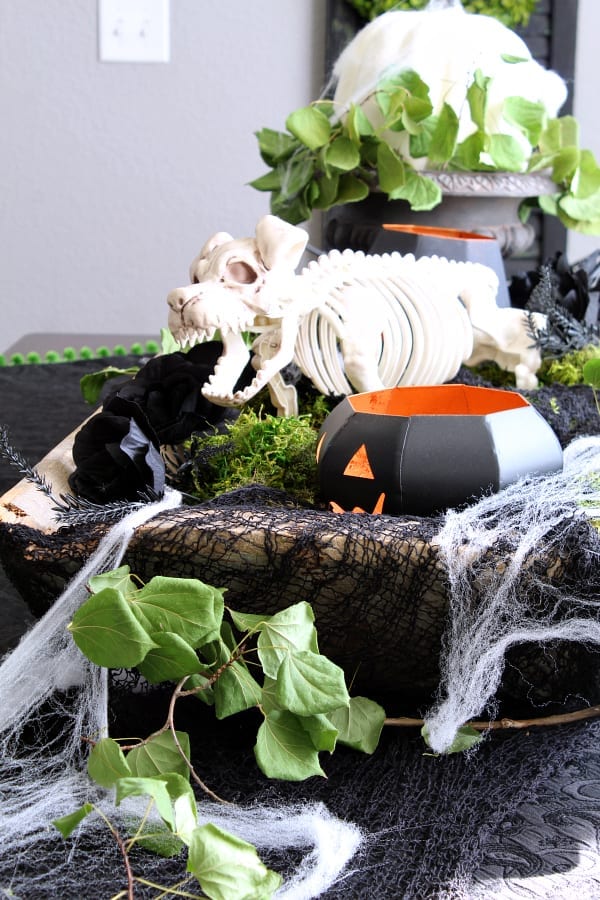 Getting Creative
Ok I have to giggle a bit here…the black gauze that I talked about above was so long that it hung off the table. Rather than add it to the dough bowl or wrap it around the dough bowl I took a risk and thought, hey why don't I just let it hang off the table? I thought I was really creative and threw some leaves and cobwebs on it and got my Halloween decorating on! Ha! It might be a bit different but I like how this turned out. A "happy accident!"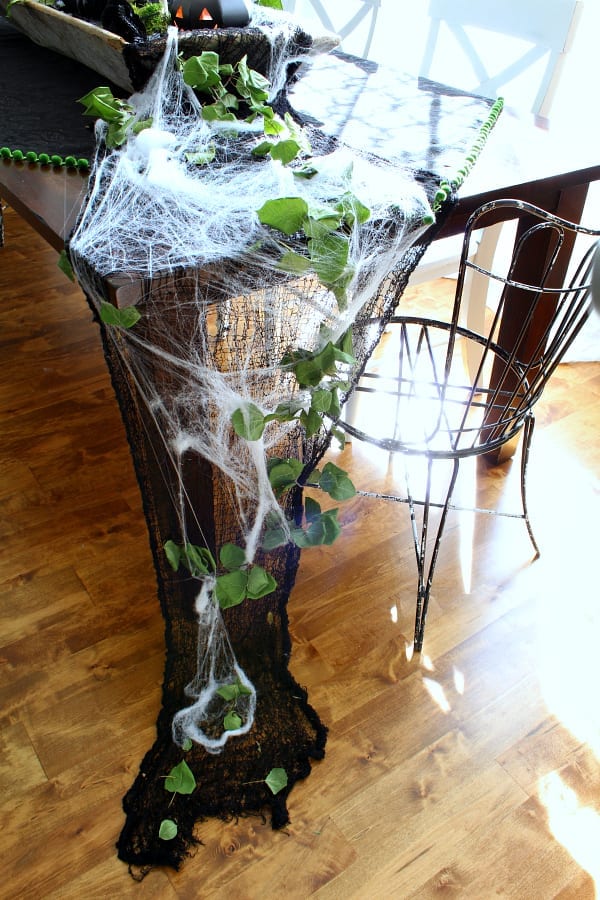 What do you think? Am I creative or trying too hard? It's OK to be honest!
Other Areas in Our Dining Room
Once our dining table was done and I had created the centerpiece I knew there were a couple other spots that needed touches of Halloween as well. Our consignment shop printers cabinet was one of those spots.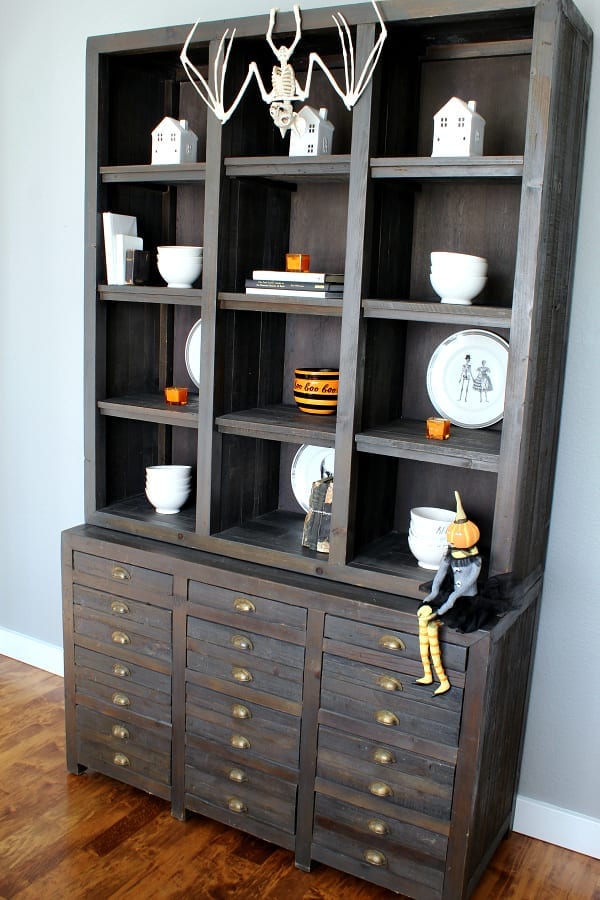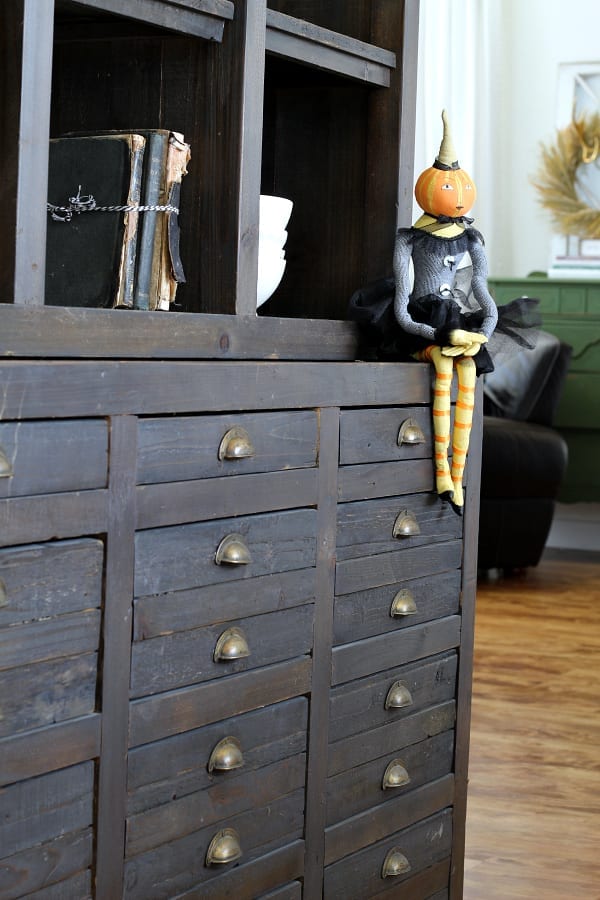 And my old vintage shoe rack and alcove too!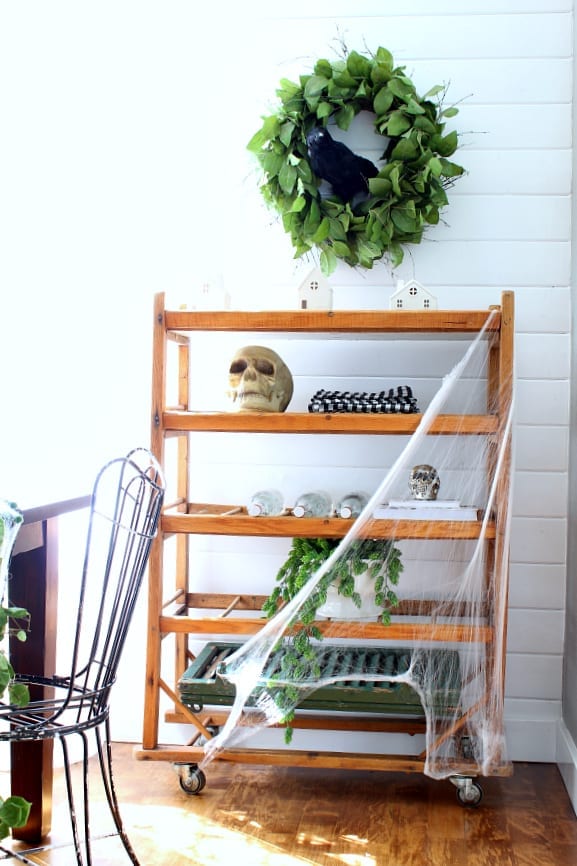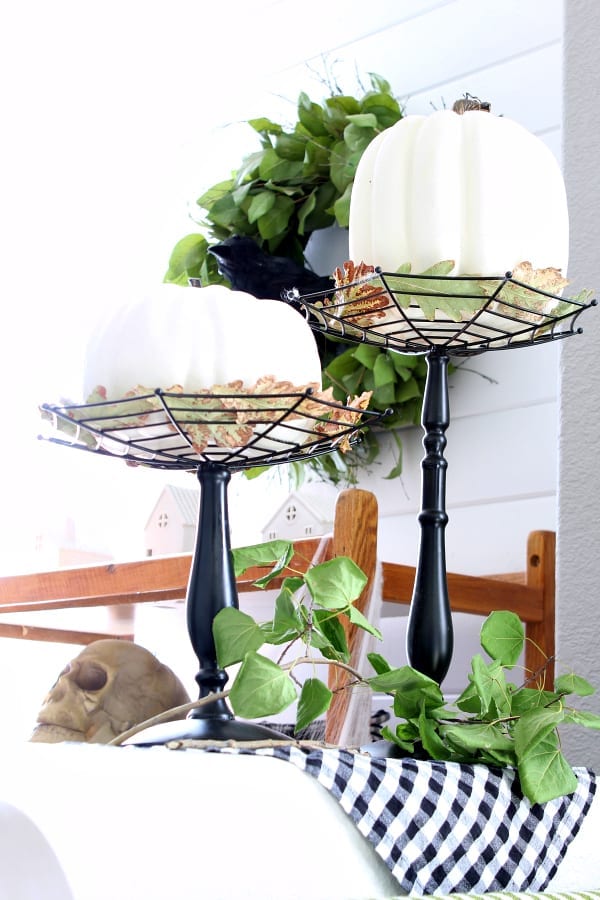 Ready for a Party
Now that our dining room is all decorated and my fun centerpiece is on display I think we are ready for a Halloween party! I enjoyed keeping the decor pretty simple and not too scary. The best part is that this whole space cost me zero dollars! That makes me happy and that always makes my husband happy too! 🙂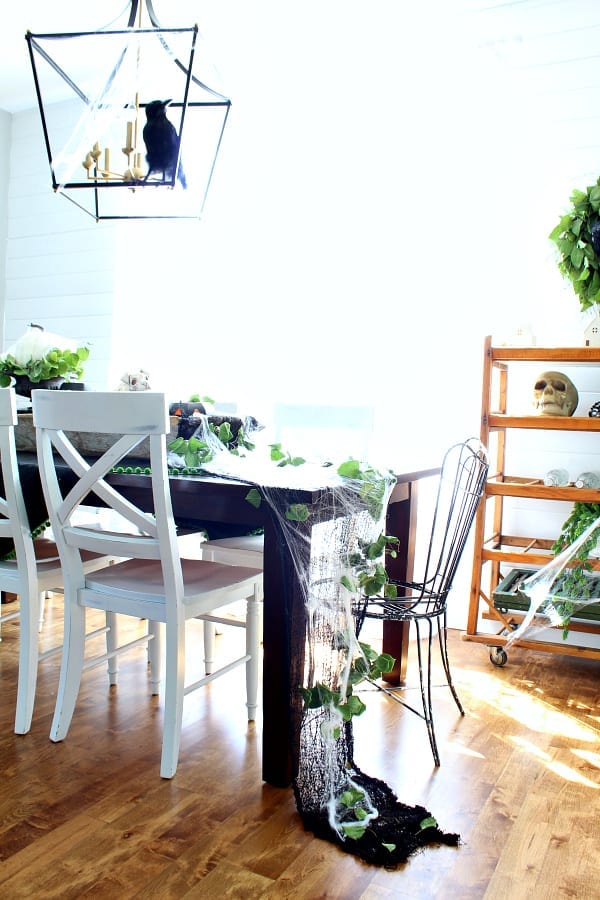 Thank you so much for stopping by today. Make sure to visit my friends' blogs below for even more Halloween inspiration and a big thank you to Kristen at Ella Claire Blog for hosting!!!
xoxo,
Kelly
Halloween Inspiration From My Friends
Ella Claire & Co. | So Much Better With Age | Taryn Whiteaker | Live Laugh Rowe | Kindred Vintage
Nest of Posies | Twelve On Main | Nick + Alicia | Paint Me Pink | Town and Country Living
Zevy Joy | My Sweet Savannah | Kelly Elko | The Wicker House | Sagehill Cottage
A Blue Nest | Happy Happy Nester | The Tattered Pew