Our Cozy and Eclectic Christmas Home Tour
Well hello and happy Wednesday! I'm so glad you could stop by our home today! I have to be honest…this year for Christmas I didn't really have a plan when I decorated our home. Instead I just went with how I was feeling as I decorated each room in our home and what made me happy. Thus evolved the name of this post… our cozy and eclectic Christmas home tour. Come on in and take a peek. I hope you like what you see!
Affiliate links for product sources are included for your shopping convenience. You can read my disclosure here.
Today I am linking up with Jennifer Rizzo's Holiday Housewalk 2018 Linky Party. This is my second year linking up our home all dolled up for Christmas. Head over to the party for even more Christmas Inspiration!
I am also sharing with several other talented bloggers for a Farmhouse Christmas Blog Hop hosted by Kelly at North Country Nest. You can find all the links at the end of my post.
On to the tour…
Our Cozy and Eclectic Christmas Home Tour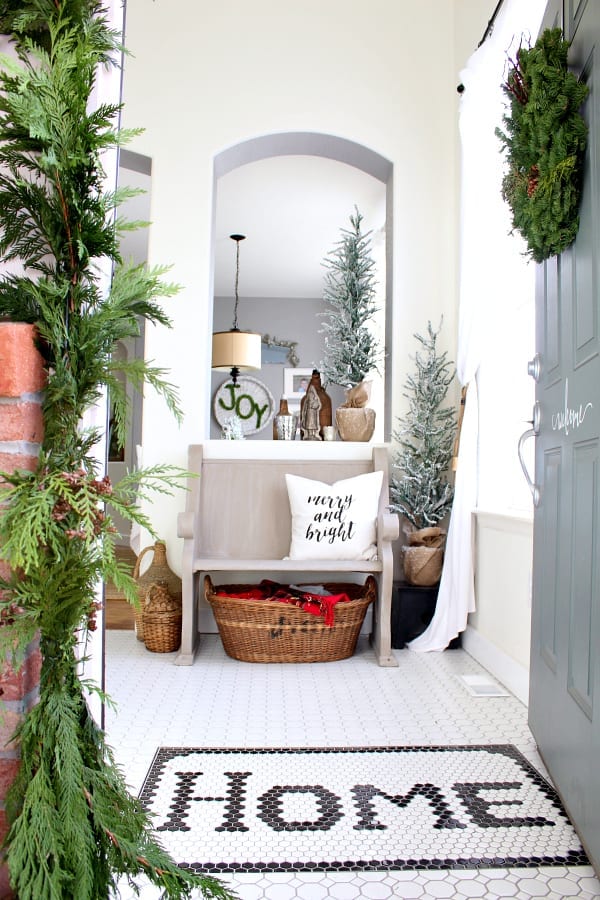 Our Entryway
Welcome and come on in! Did you notice that our entryway has had a bit of a makeover? We recently tiled our entryway and added this gorgeous tiled doormat. It was a bit of a risk…but I'm all about taking risks and being creative when it comes to our home. We LOVE how it turned out and we LOVE how it looks all dressed up for Christmas!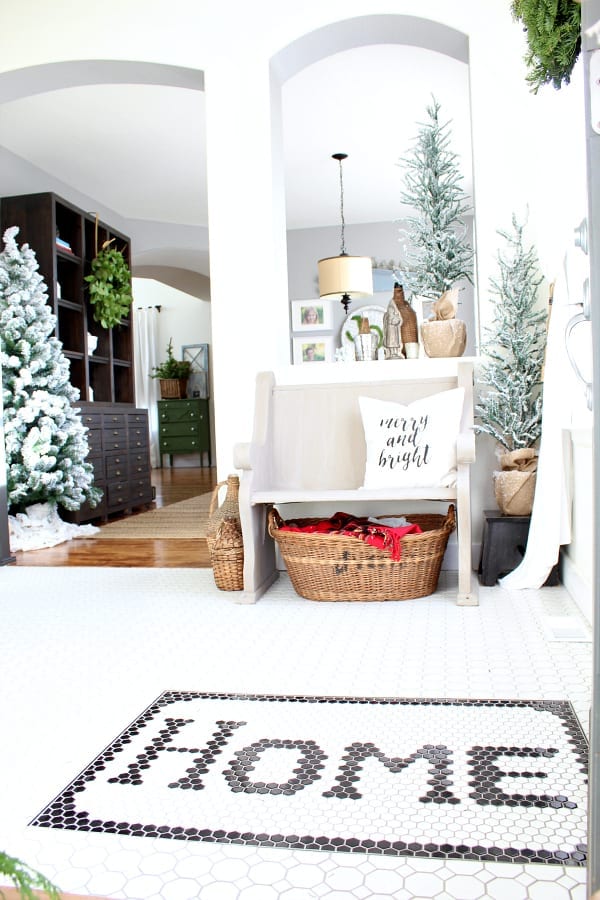 The Merry & Bright pillow was a gift from my friend Brendt over at She Gave It a Go and the mini flocked trees are from Walmart, as is the large flocked tree just beyond the stair railing. The basket under our sweet pew was a vintage market find and the red throw I snagged at Barnes and Noble's after Christmas sale several years ago.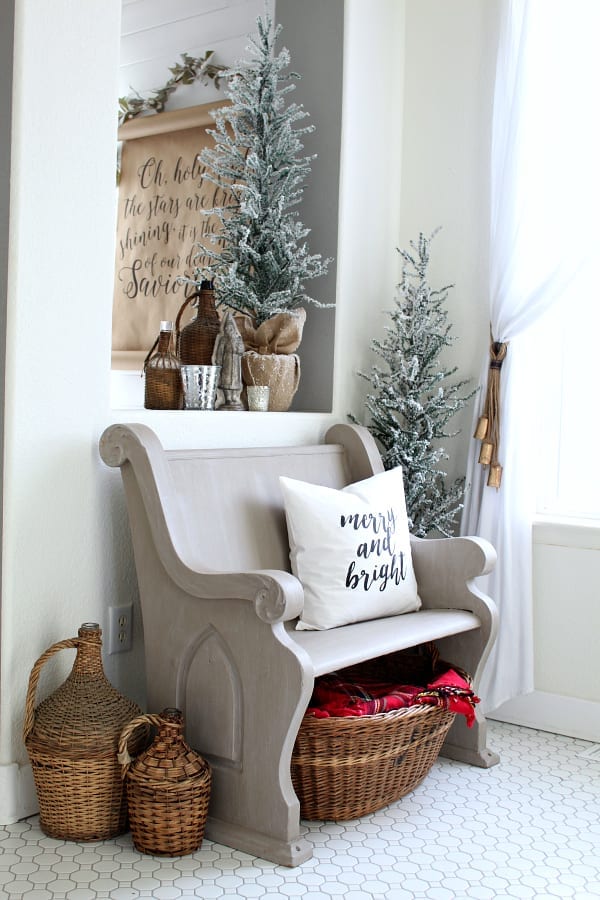 Many thanks to my friend Brooke from Brooklyn Finds who always has the best finds like these beautiful old wicker demi johns she found in a 100 year old barn (the ones above the pew)! I picked them up from her at her booth this past October. My collection seems to be growing and I couldn't be happier!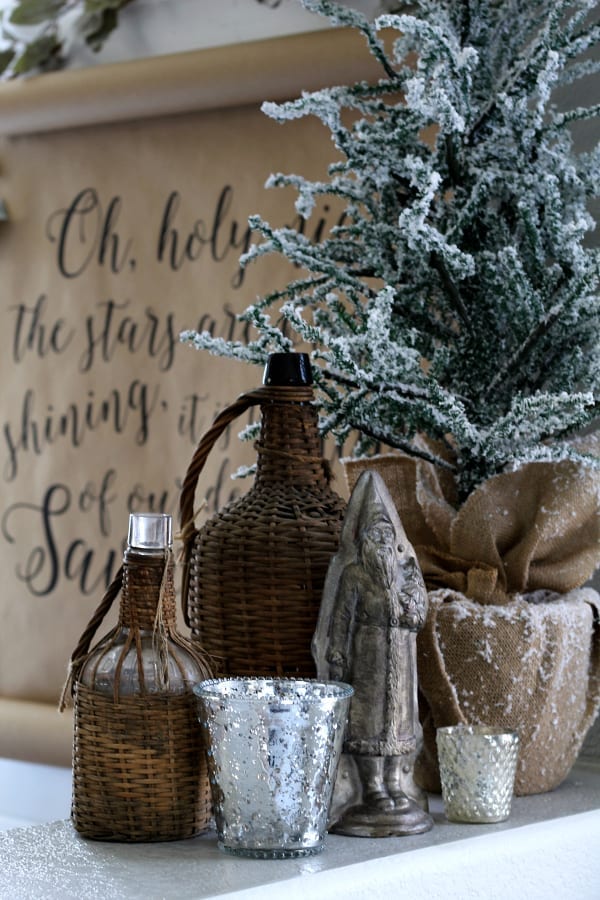 Our Dining Room
The view below is looking back to our entryway that I just shared. Our entryway leads directly into our dining room and as you will notice this is where the blues I so love, started to make an appearance in my Christmas decor.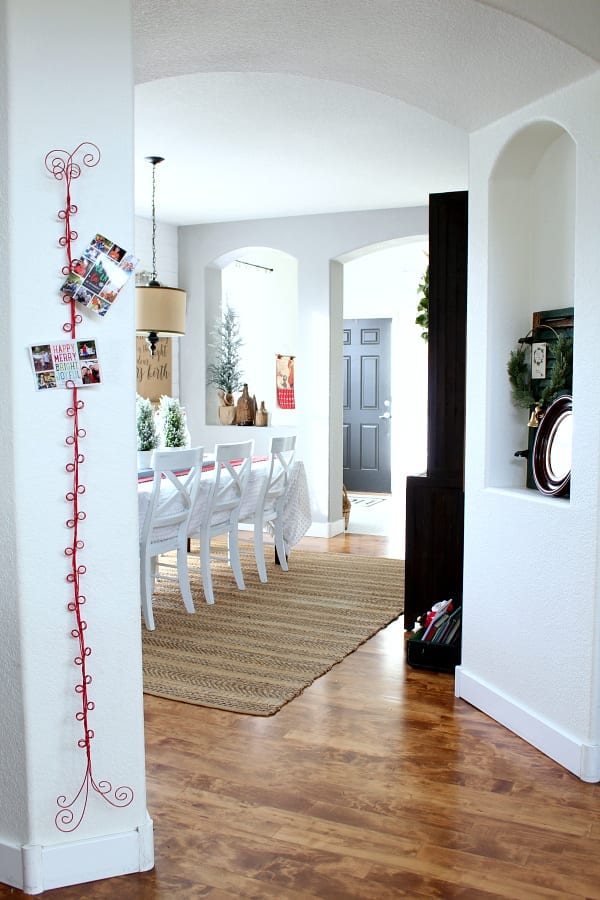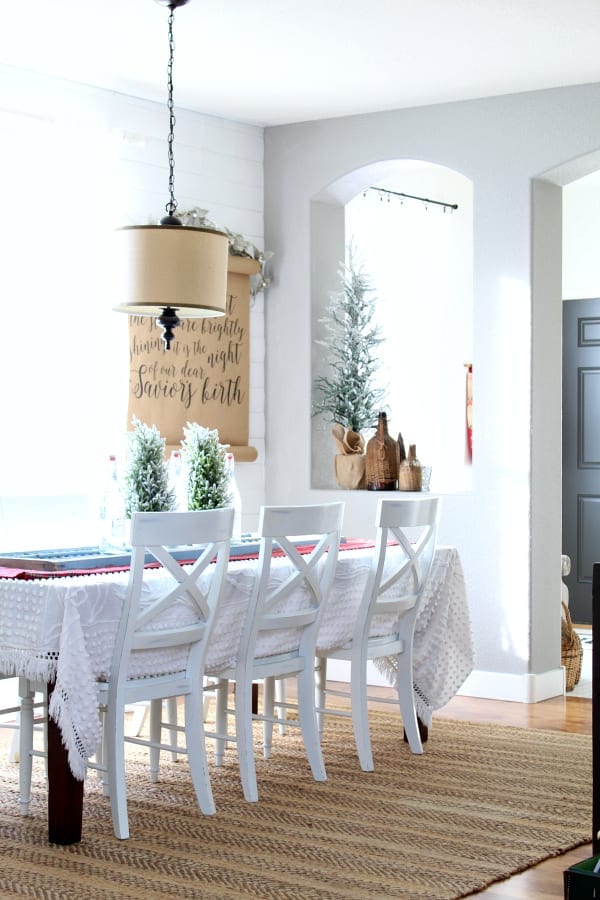 I had fun creating an easy centerpiece for our dining room table using an old chippy blue shutter found at a local flea market, french lemonade and these darling trees from Rod Works. The plaid tablecloth is from HomeGoods and I layered it with a vintage chenille bedspread.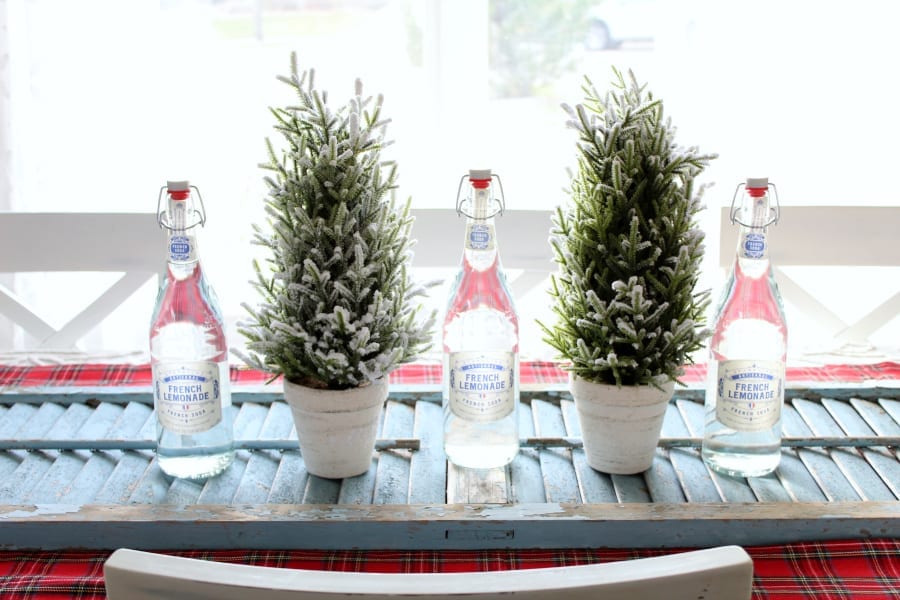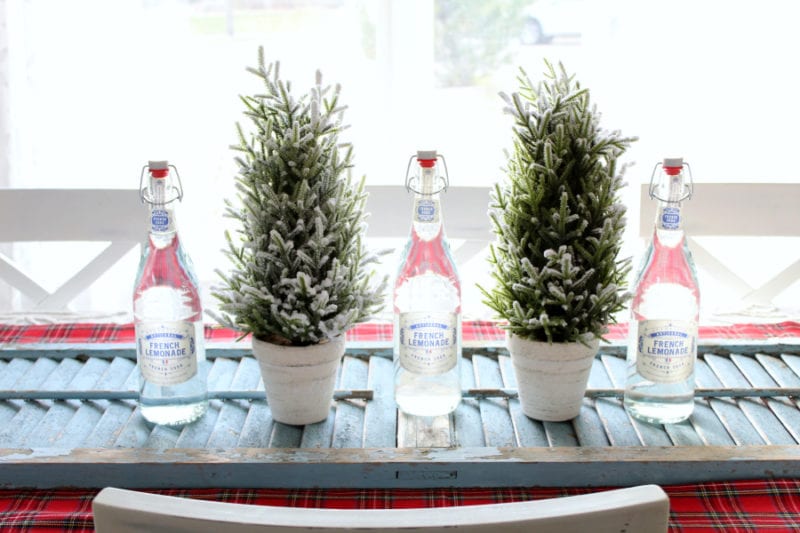 Across from our dining table is the print makers cabinet from Restoration Hardware that I found at a local consignment shop, Curate Consignments. I kept it simple and added a lemon leaf wreath hung on a gold wreath hanger from Cozy Cottage, and the famous white houses from the Target dollar bins! It was fun being able to add our flocked Christmas tree in the dining room this year. Last year it was in our bedroom for Christmas. I miss it. Maybe I need another one! 😉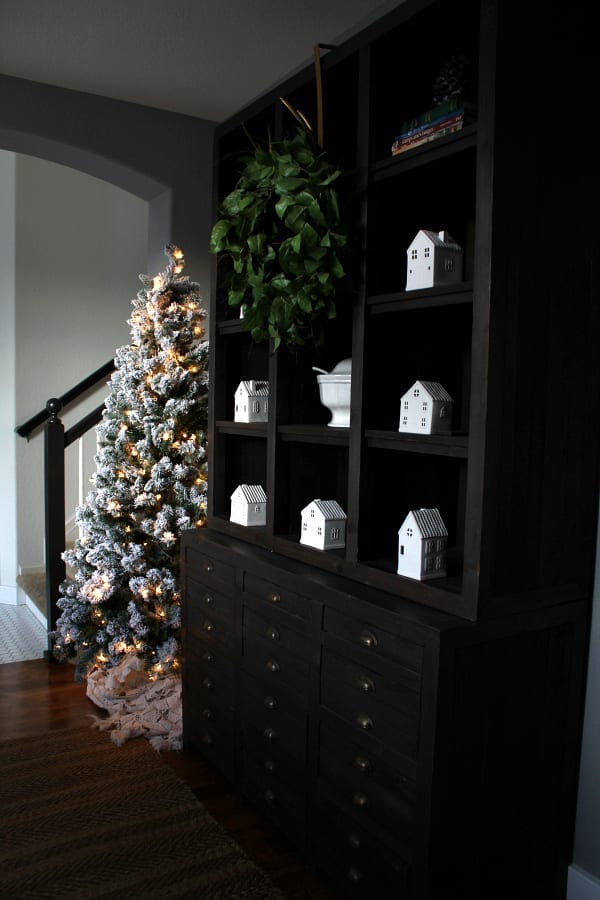 Our Kitchen
As you walk through our dining room you can see our kitchen to the right. The light in here is always amazing! Do you spy more blues and my favorite green dresser?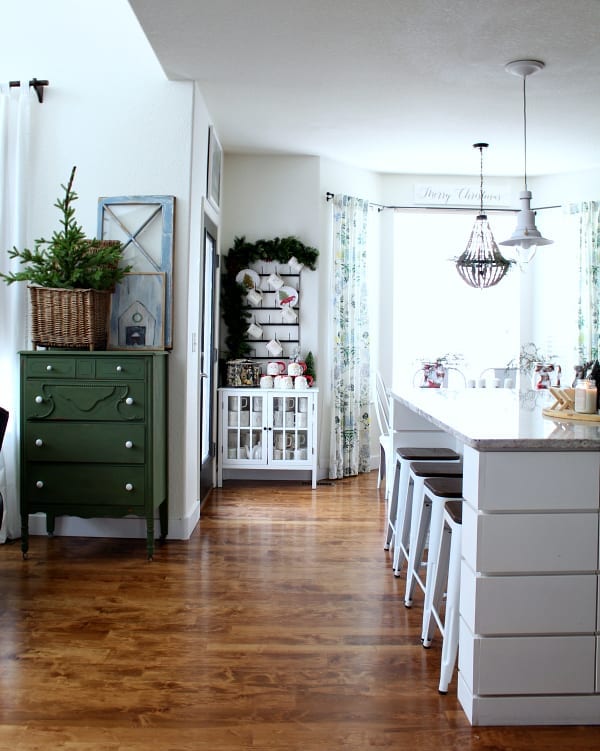 In the vignette below you can see another demi john bottle from my collection as well as an Antique Candle Works White Pine candle next to The Giving Manger which I shared about here.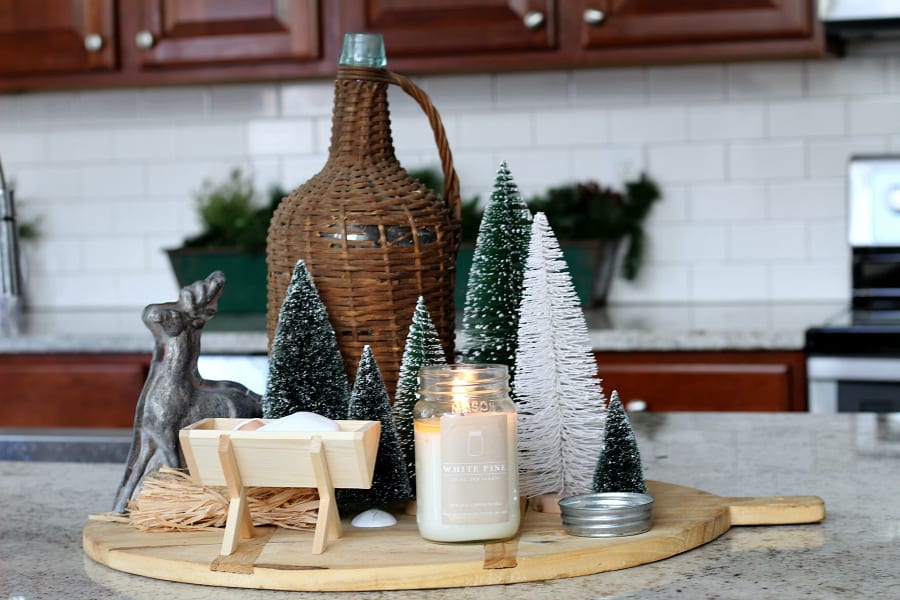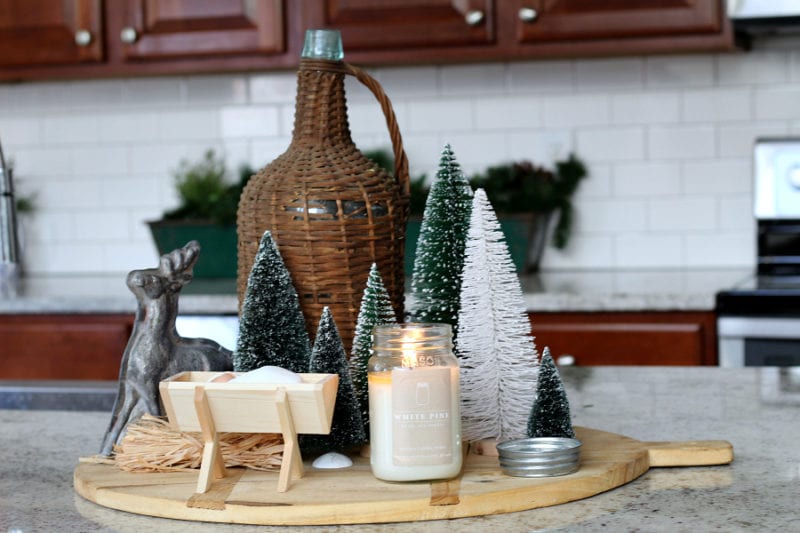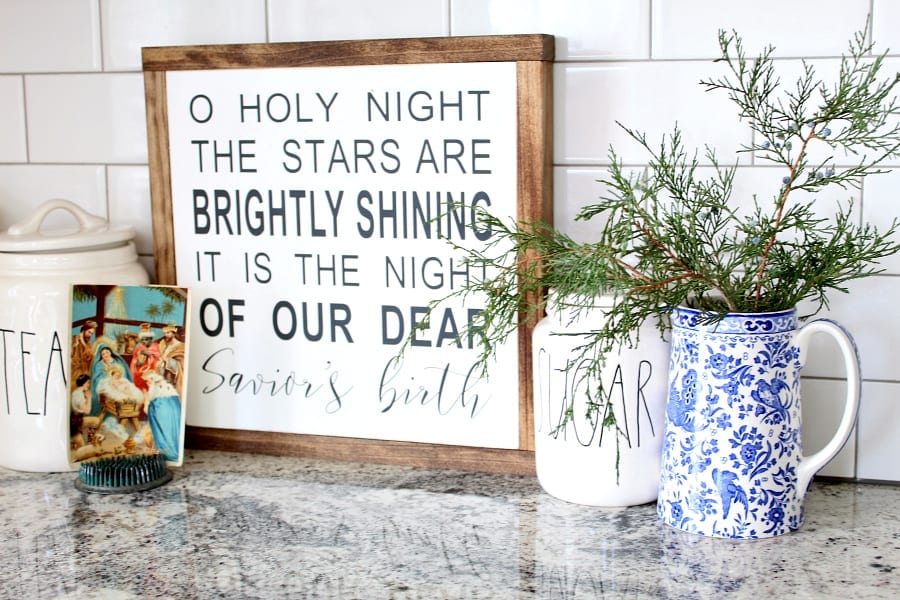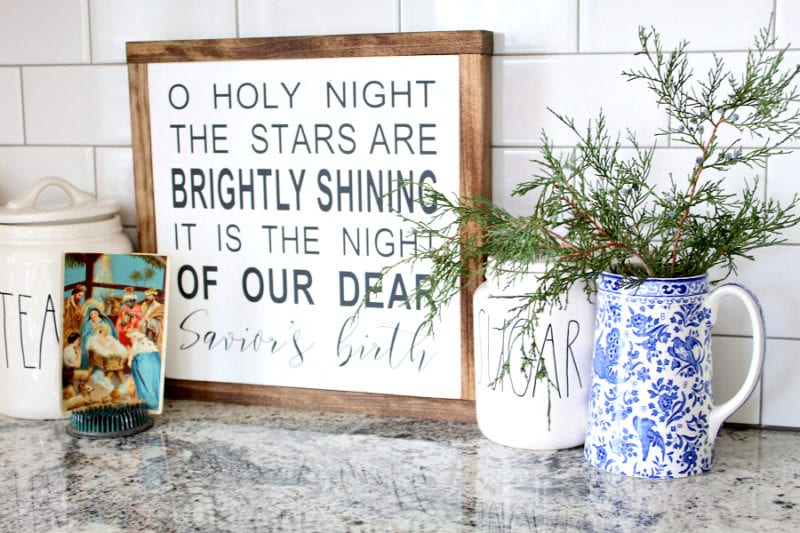 This sign and vintage postcard is what Christmas is all about. You can see more of our Christmas kitchen in the post I shared last week!
Our Family Room
Looking out from the kitchen you can see our family room. This is our where our main Christmas tree is and where I was all about adding blue. This year I had fun using many different blues on our wrapping, our tree and our mantel!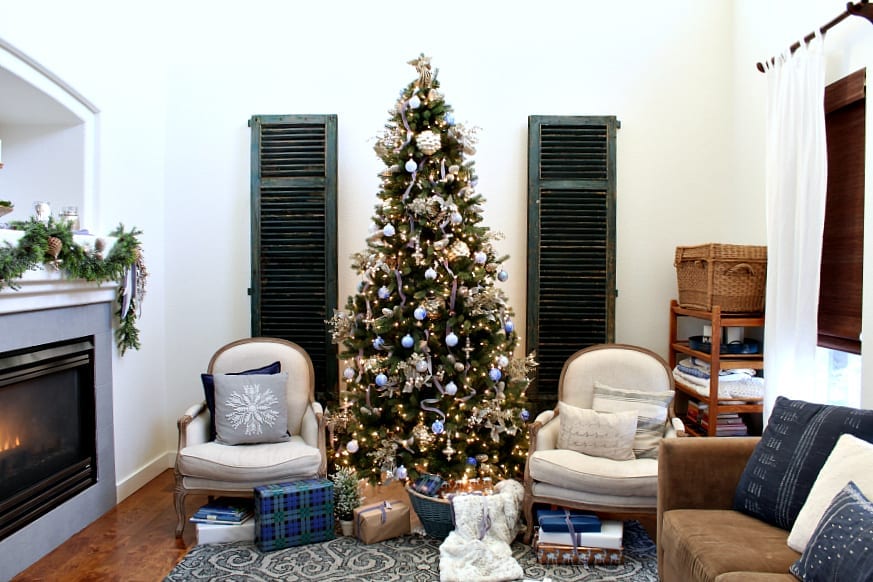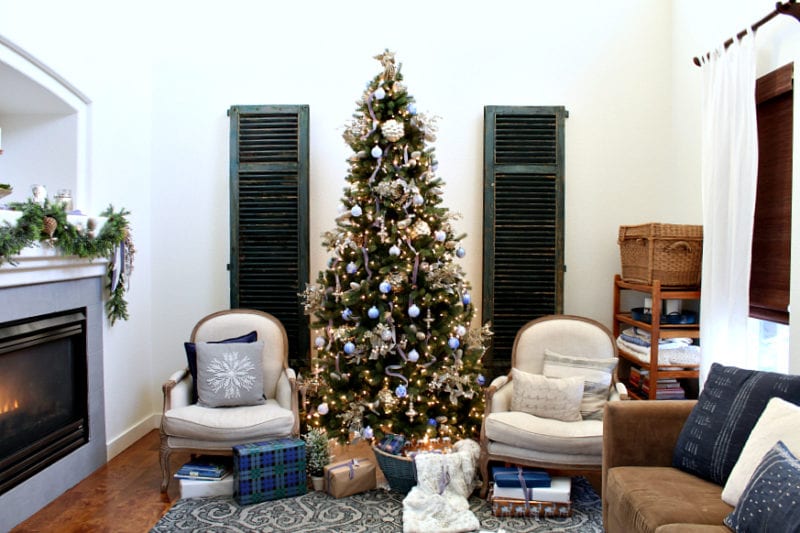 Okay…are you loving these huge amazing green shutters as much as I am?! Once again my friend Brooke from Brooklyn Finds came to the rescue and she let me borrow these. I'm thinking I might have to find a way to get her to sell them to me because they look like they are made for our house, right?! Thanks Brooke! 🙂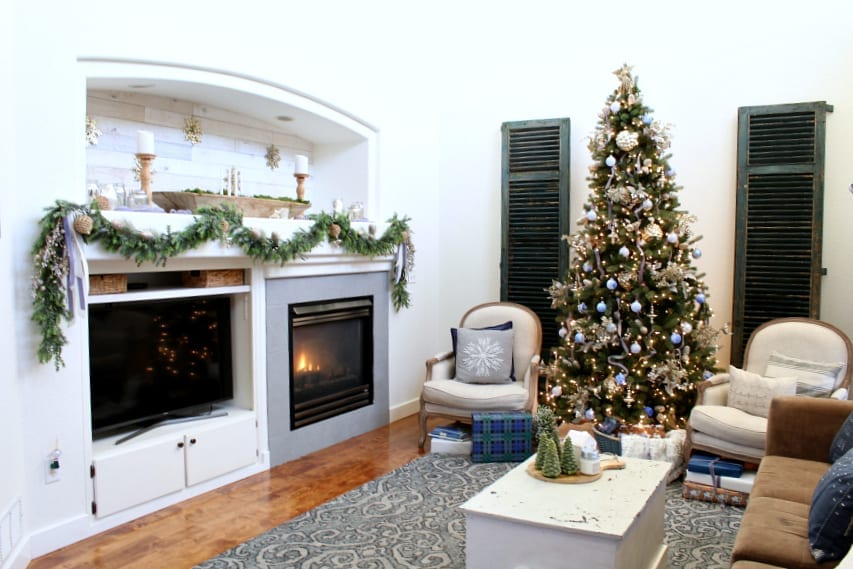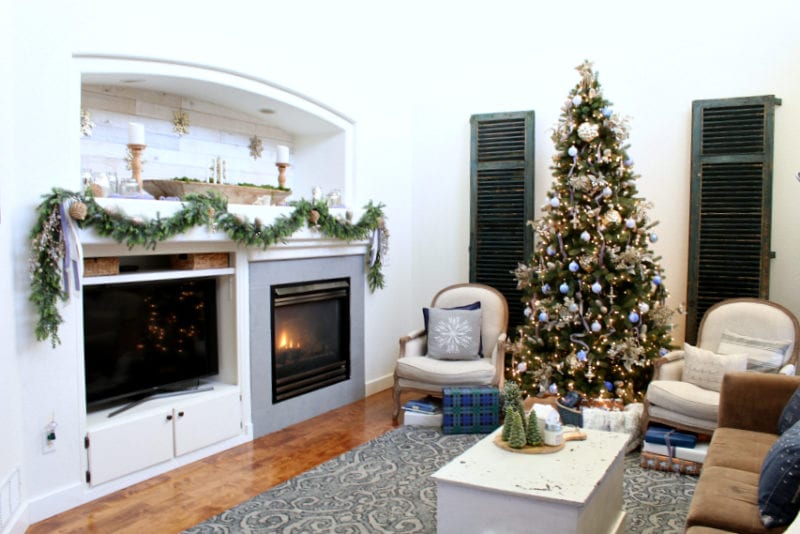 Thank You
Now you can see why I called this our cozy and eclectic Christmas home tour. It's important to decorate how you want and with what makes you happy. I am thrilled with how our Christmas decorations came together this year. I plan to enjoy it as much as possible!
xoxo,
Kelly
PS-If you missed our Christmas porch from this year you can see it HERE!
See below for even more Christmas inspiration from some of my blogging friends!
---

North Country Nest // Joy in Our Home // Postcards from the Ridge // Sand Dollar Lane // Town and Country Living

A Blue Nest // DIY Beautify // Making it in the Mountains // Twelve on Main

The Frugal Homemaker // The Tattered Pew // Virginia Sweet Pea
Aratari At Home // The Honeycomb Home // Life on the Bay Bush Blog // Frazzled Joy // Cozy Traditional Home